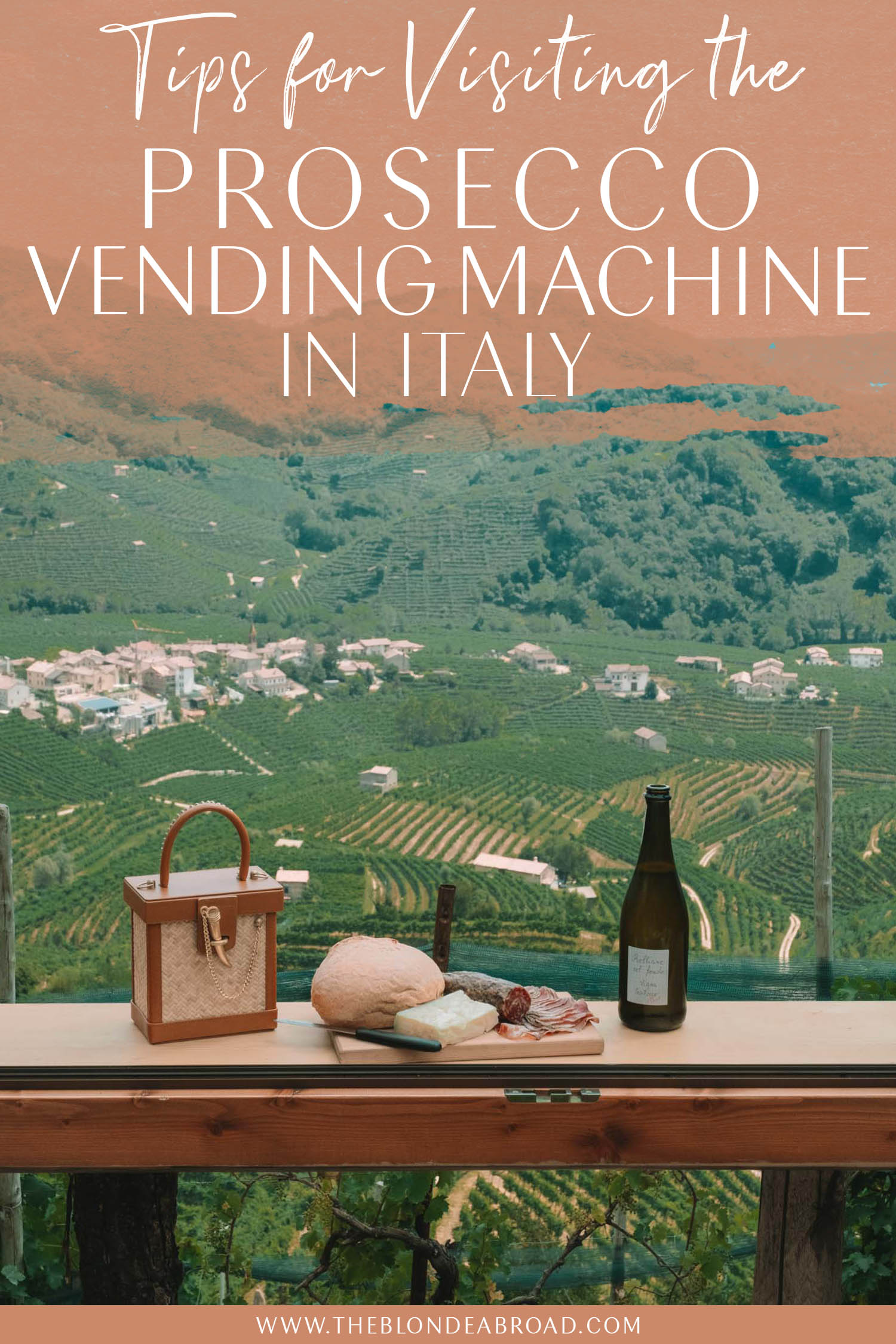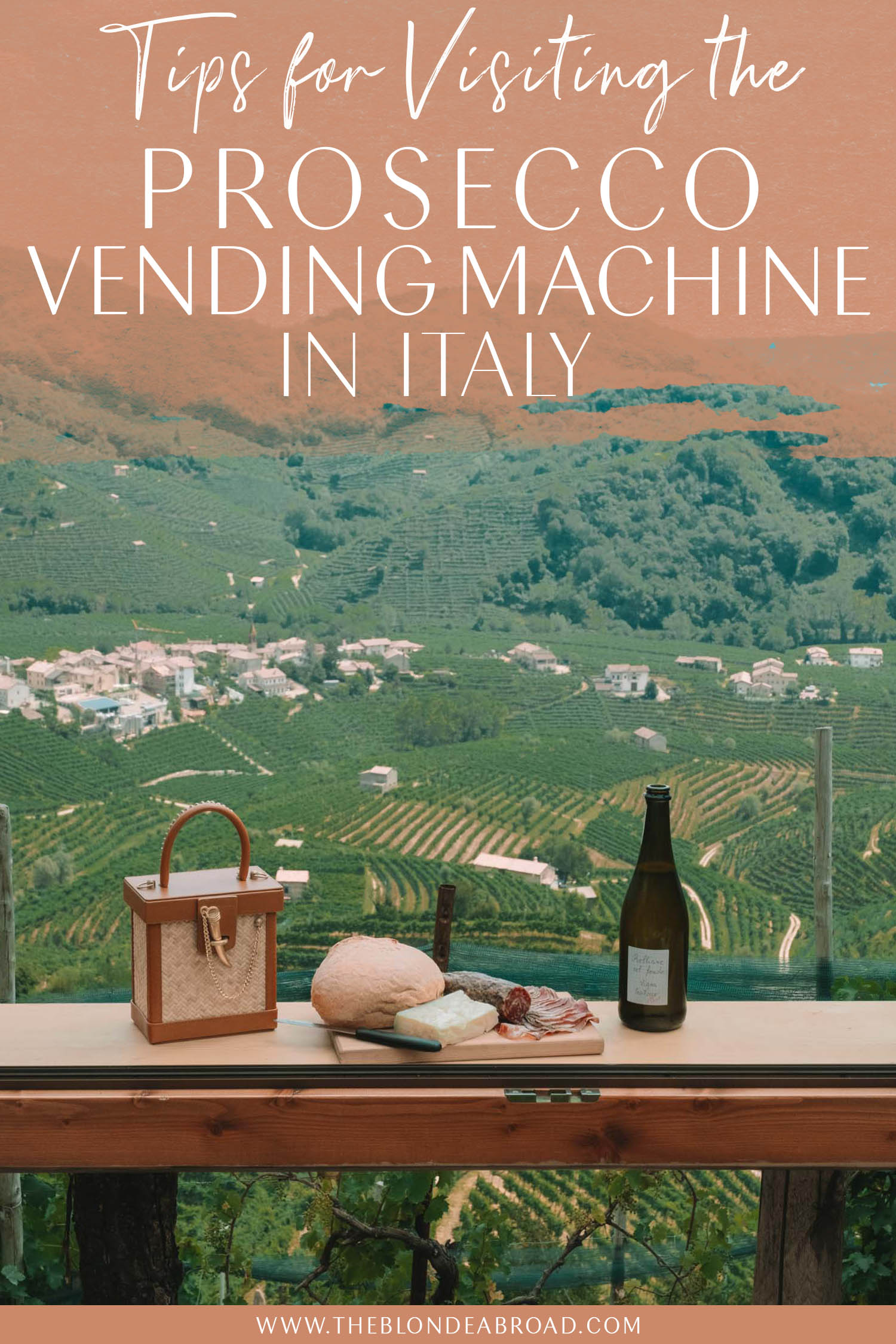 Is there anything more magical than sipping a glass of prosecco while taking in the idyllic views of Italy? Food and drink are at the heart of la dolce vita and everything in Italy centers around the culinary delicacies.
In my Ultimate Guide to Eating Like Local in Italy, I talked about devouring all the delights available in Italy—from Positano to Venice. But now, my friends, it's time to bring on the sparkling wine…in the form of one of the coolest vending machines in the world! Wait, what?
There is a vending machine in Italy that dispenses prosecco!
Move over Doritos and Coca-Cola! Not only can you select prosecco, but you'll also find wine, and even olives and biscotti! That's not to say that every machine in Italy is dishing out the goods but you will find this one in the Prosecco region in the northern part of Italy.
In case you missed it on Instagram, I was absolutely geeking out over the vending machine I found in Prosecco. Right next to the machine? An "honesty" kitchen in a remote stone farmhouse—where you can find local cheese, bread, and cured meats. Once you are fully stocked up, you move over to a picture-perfect picnic.
Here are my tips for visiting the Prosecco Vending Machine in Italy!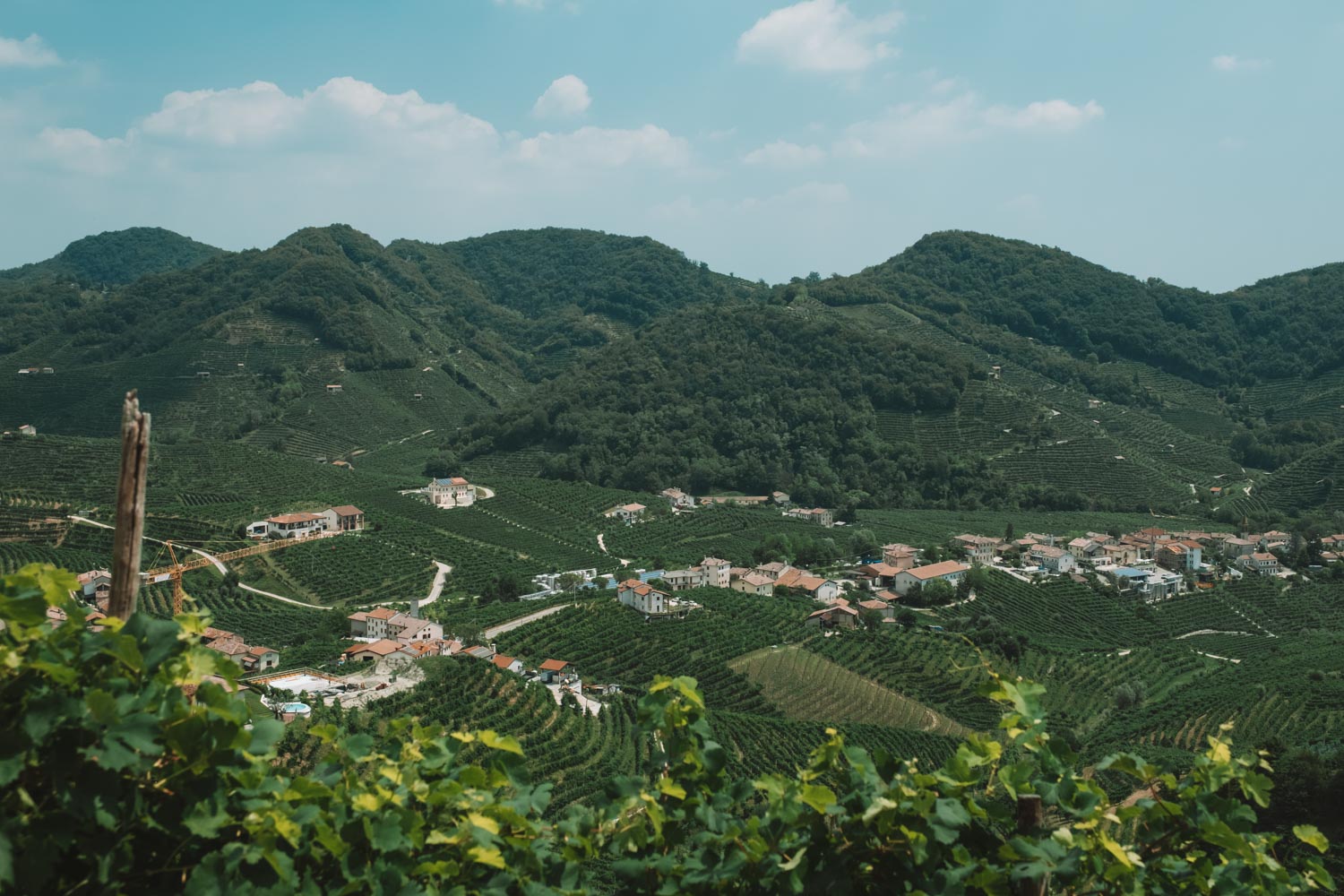 Le Colline del Prosecco di Conegliano e Valdobbiadene
Getting to the Prosecco Region
The Prosecco region, also known as the mouthful Le Colline del Prosecco di Conegliano e Valdobbiadene, is a European fairy tale. With wineries and old farmhouse nestled in the vine-covered terraces, this area is a foodie (and wino!) paradise.
To get to the Prosecco region, you'll want to fly into Venice or Treviso. Both cities have international airports and are well-connected by train. When you arrive and want to explore the area, you can hire a local taxi driver.
Fun fact: The Prosecco region is one of the latest and greatest additions to the list of UNESCO world heritage sites. It is also the only region in the world where Prosecco can be produced.
Helpful Tip:
Forget the town of Prosecco! While it is a lovely spot, it's not where you want to go on a wine tour. Indeed the drink of Prosecco was first created here in the sixteenth century but, in the twenty-first century, this place really has nothing to do with the production of sparkling wine.

My Tips for a Day Trip
I've been to amazing winelands in South Africa as well as vineyards around the world. However, the Prosecco region is drastically different. Pairings aren't a big deal, nor is learning about what makes the bubbly different from other varieties.
Don't expect a typical wine tasting experience.
The Prosecco area is less of a tourist trap than many areas, especially considering how famous their sparkling wine is. When you go to Le Colline del Prosecco di Conegliano e Valdobbiadene (you can refer to it just as Valdobbiadene), you will want to plan in advance. The best attractions aren't obvious on arrival.
Read up on the best places to visit and research which wineries or tasting places you'd like to go to. Heads up, there isn't much English spoken in the region and there's not much chit chat when sampling the sparkling wines. It's more about soaking in the scenery…and enjoying the slight buzz. 😉
Helpful Tip:
You will need a reservation for pretty much everywhere so book early!

How to Visit  the Prosecco Vending Machine
Once you've sampled a few varieties, it's vending machine time! The best place to begin your journey is at Osteria Senz'Oste (senz'oste means "without a host" in Italian)—this is the "honesty" kitchen I mentioned earlier. Here, you can pick up all of your picnic supplies in the open farmhouse.
You'll find areas to sit inside of the Osteria along with some picnic tables outside that offer a view of the hills. While it's a nice place for a break, keep going! Bag up your supplies and head up the hill to get your sparkling wine. Just follow the signs (like breadcrumbs) that say 'Prosecco.'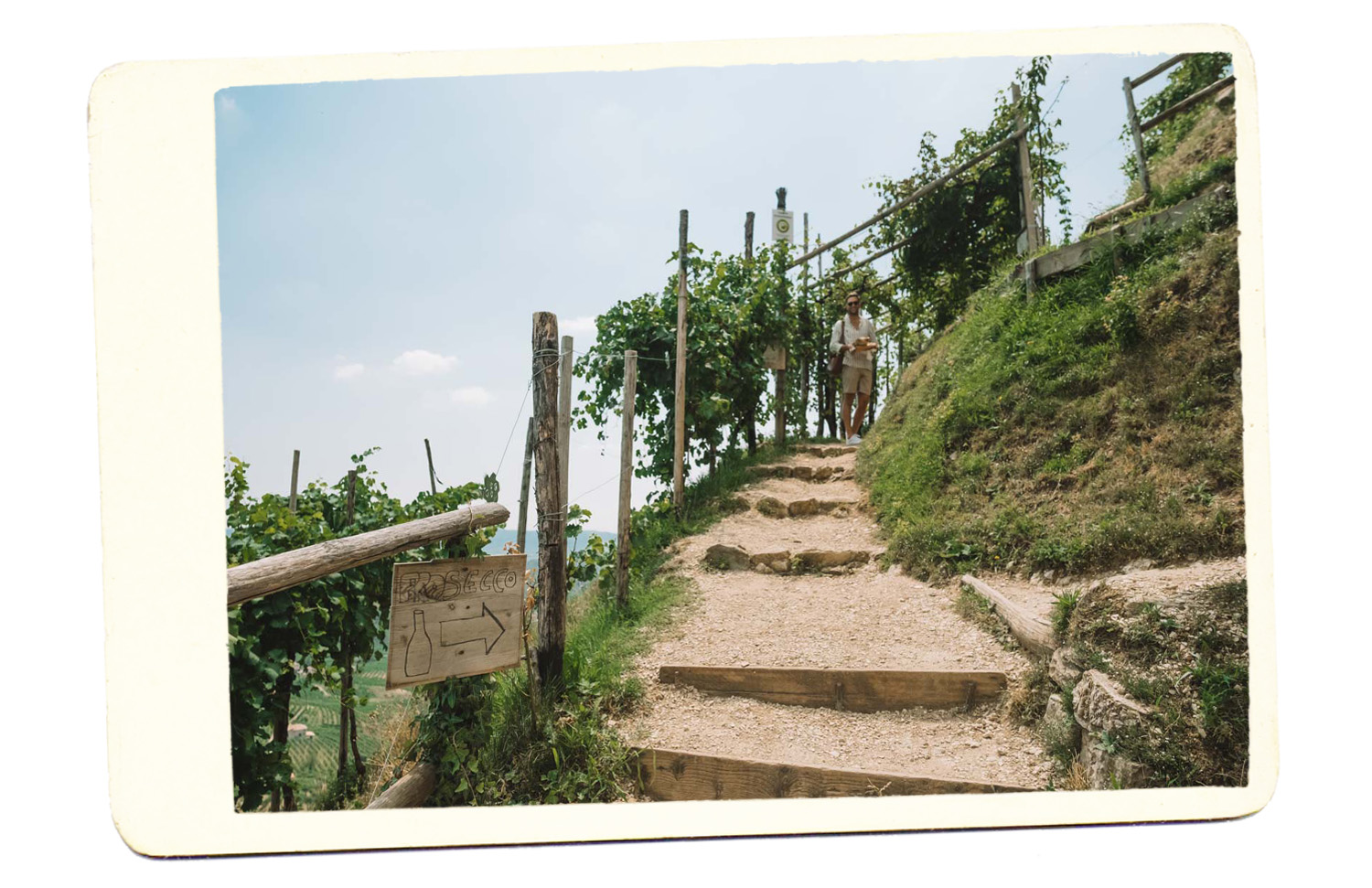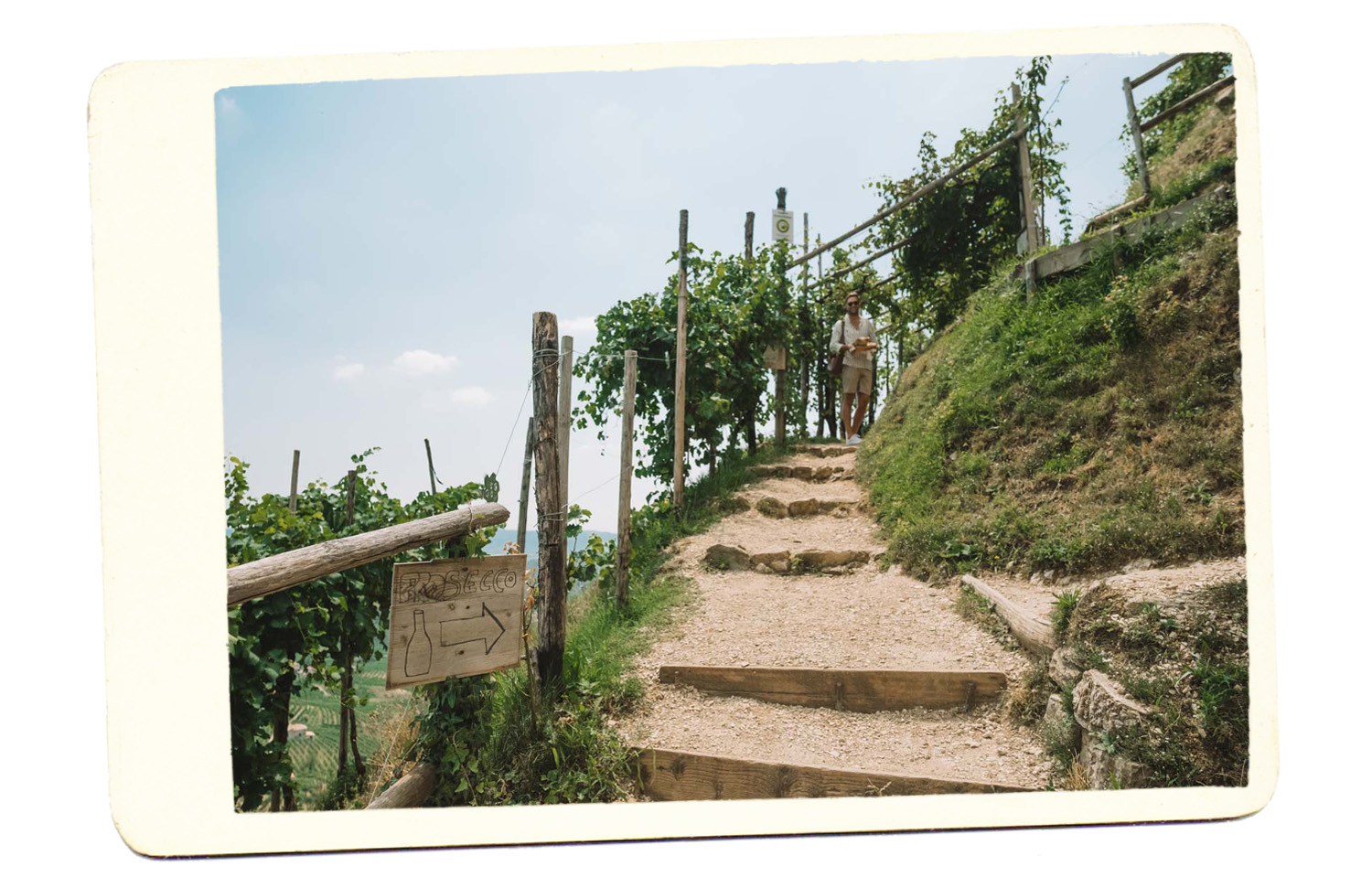 The Prosecco Vending Machine was easily one of the highlights of my Italian sojourn. It was just such a quirky little attraction! After all of the wine regions I've explored, the Prosecco region still managed to pull a trick out of its sleeve.
That said, it's a somewhat controversial object. Vending machines don't exactly have the best reputations so some people think they aren't fit to hold the renowned Prosecco wine. For me, wine doesn't need pomp and circumstance. A good bottle of wine is a good bottle of wine, whether it's served by a world-class sommelier or a vending machine.
The prosecco is very reasonably priced with options under 20 euros and some even under 10!
We opted for a brut wine and, with so many options, we went for the one with the coolest label (because how else does one choose?). There was a futuristic-looking arm that gently grabbed the bottle then handed it over.
Cheers to that!

Overall
While the Prosecco Vending Machine has become a small-time tourist attraction, it's the Italians who really love it. You'll find locals who use this as their local picnic space. It has a laid-back vibe that is just what I was looking for on my Italian escape.
I have heard that there are several different prosecco machines in this region. Know of another one? I'd love for you to share in the comments below!
Want to see what the Prosecco Vending Machine looks like in action? Check out the video in my Instagram post (I was so excited by it I forgot to snap a photo, but I did take a video!). Scroll through to see it!
View this post on Instagram