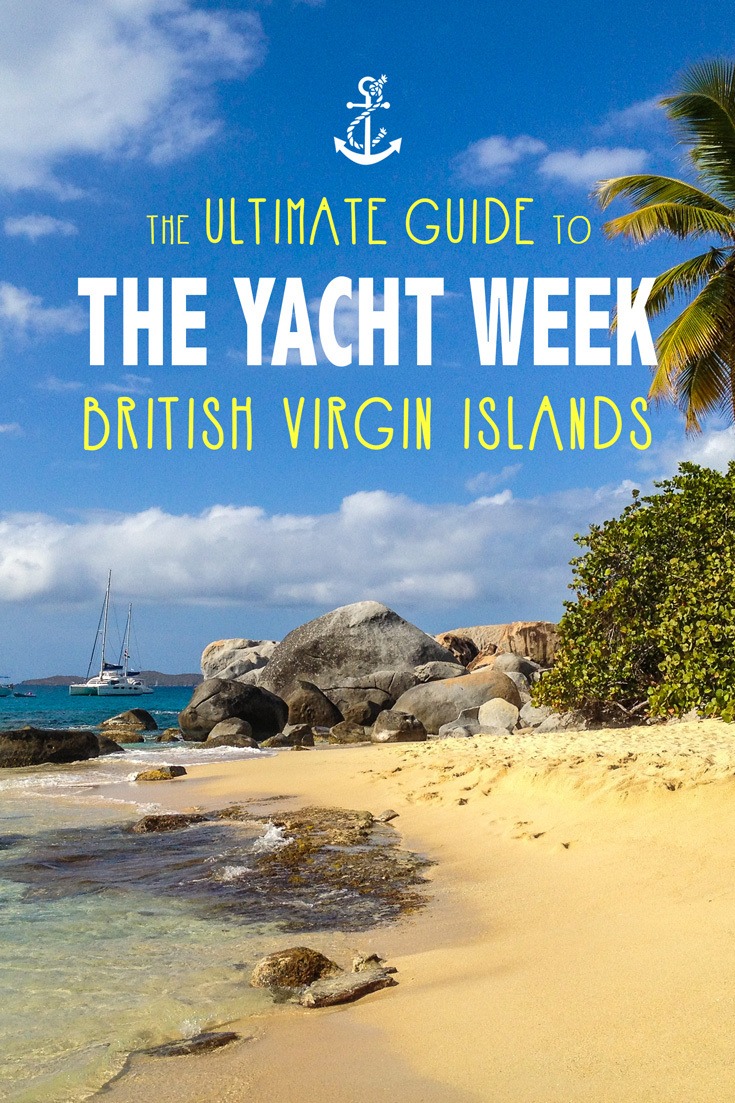 The Yacht Week British Virgin Islands was my second ever trip on The Yacht Week and stands as my all-time favorite sailing trip. The BVIs (British Virgin Islands) route is tropical, so expect beautiful sand beaches, clear blue water and lots of palm trees. Imagine warm nights, lobster dinners and tropical cocktails.
It's paradise!


Rated on a scale of 1 (low) – 5 (high)
Nightlife: 4
This is not a first-pumping electronic music destination. It's a laid back, reggae music and dancing under the stars with the sand between your toes kind of destination.
That's not to discount the nightlife. There's just a more Jack Sparrow feel to it. The only BVI's bottle service you'll find here is waking up under a palm tree with a bottle of rum in your hand.
Day Parties: 4
The BVIs route has some of the best day parties of all the routes. Again, the party is a bit different than the European routes because you will be sipping on rum cocktails on the beautiful white sand beaches all day.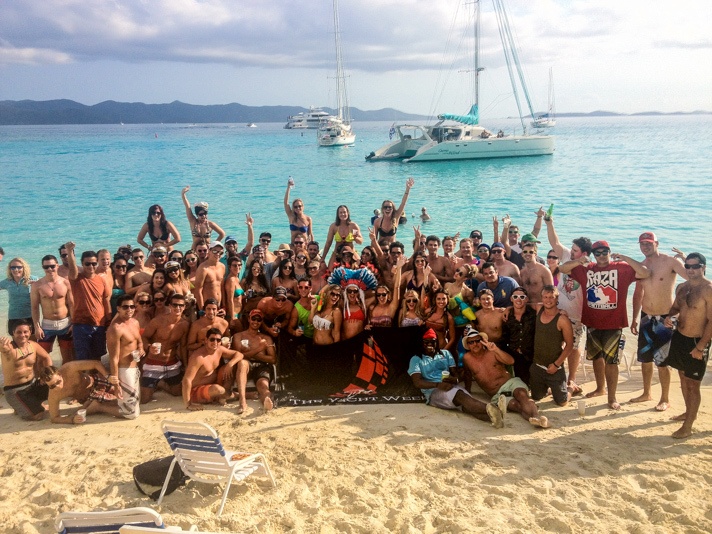 Activities: 4
The BVIs are great for ocean activities, whether you explore the caves and natural baths at Virgin Gorda or sail out for an afternoon of snorkeling.
Local Culture: 5
The island culture plays a big role in how amazing this experience is. Locals will have you in stitches (they're hilarious) and make a seriously delicious "painkiller" cocktail.
There is a lot of sailing tourism in the islands but most businesses are run by locals.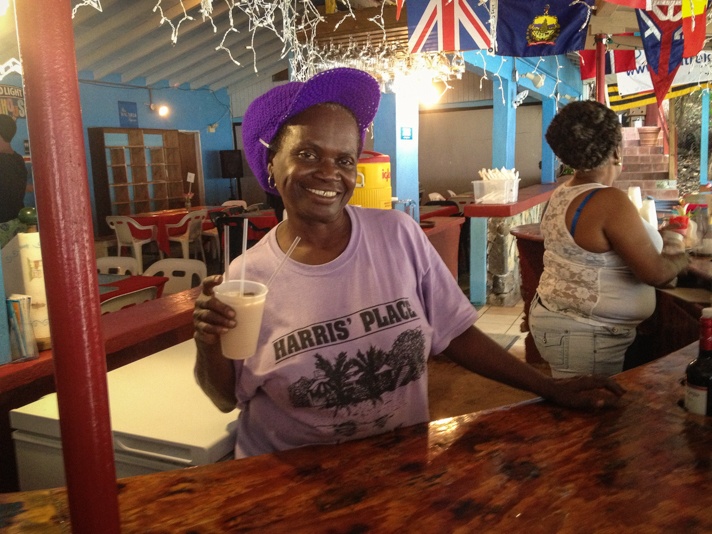 Sailing Experience: 5
The sailing in the BVIs is world-class and each destination along the route has a special and unique appeal. There is a reason Richard Branson built his island home here!
Size of Route: 3
Approx. 10-20 yachts per route
The BVIs is a bit more intimate with a smaller amount of boats on each route. We only had 10 boats on our route but the BVIs routes have gotten a lot bigger over the last few years.
You will find it easier to get a catamaran for this route than other destinations which is great for bigger groups. There is also the famous New Years route which I have yet to experience but looks like a blast and draws a lot more people out than the Spring routes.
Extra Costs: 5
Expect quite a lot of additional expenses in the BVIs. Port fees weren't too bad (approx. $25/night) but grocery shopping is expensive. There is only one shop in Tortola before you set sail and things are quite pricey. I think I paid something like $6 for a roll of aluminum foil!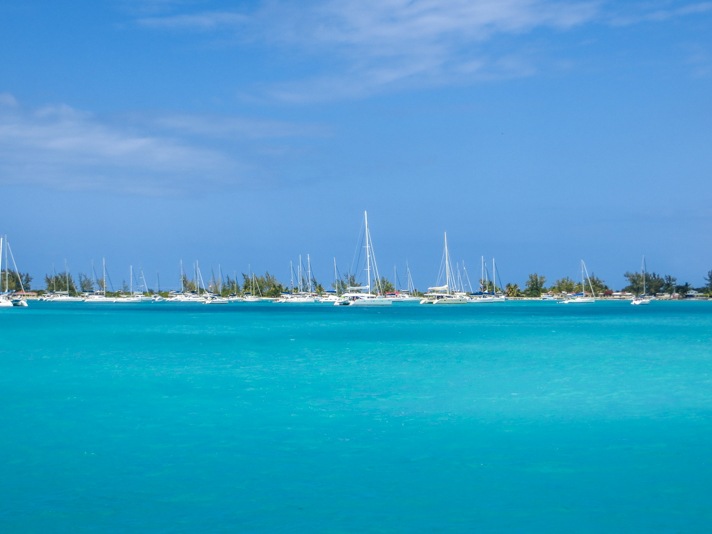 Pros of The Yacht Week BVIs:
Insanely gorgeous beaches
Tropical climate and islands
Delicious food & cocktails
Catamarans
Cons of The Yacht Week BVIs:
Somewhat harder to get to with flights and ferries
Expensive shopping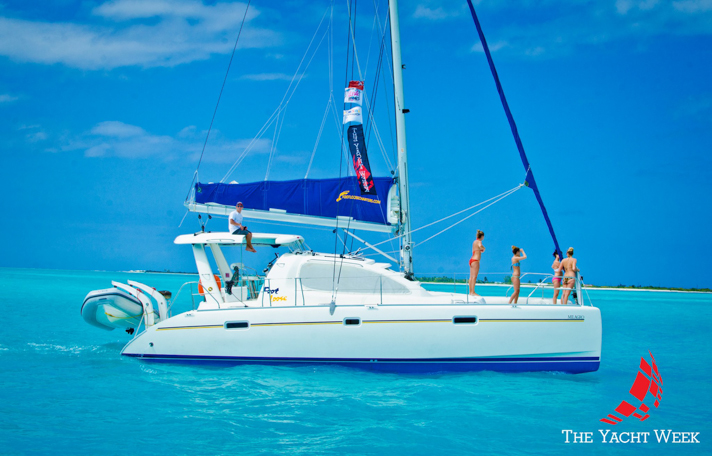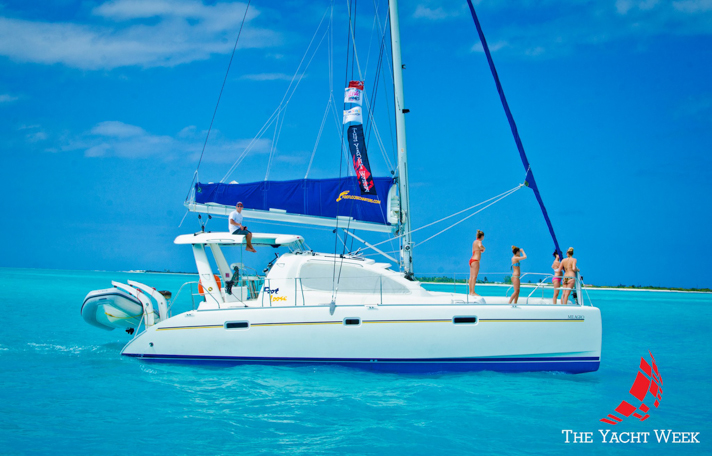 Before You Go
There are a few key things to prepare before any trip on The Yacht Week. Obviously, finding a killer crew, booking a boat and getting travel insurance are the most important!

Finding a Crew
Whether you have a group of friends ready to book the trip of a lifetime or not, there are a few key ingredients to putting together a crew. First off, you want a group of open-minded, fun-loving people (with at the very least, a mild sense of responsibility).
TYW is all about having a good time, but keep in mind that carrying your own weight on costs, cleanup on the boat throughout the week and planning is essential for all crew members. Also, keep in mind that TYW has a "gender ratio" on most routes- meaning you've gotta bring some girls. Nobody wants a bro fest.
If you don't have a big enough group of friends to fill your boat, The Yacht Week crew finder is the best resource for putting together a crew. If you're looking to join a crew, or are looking to fill your boat, you can find awesome people there to complete your tribe.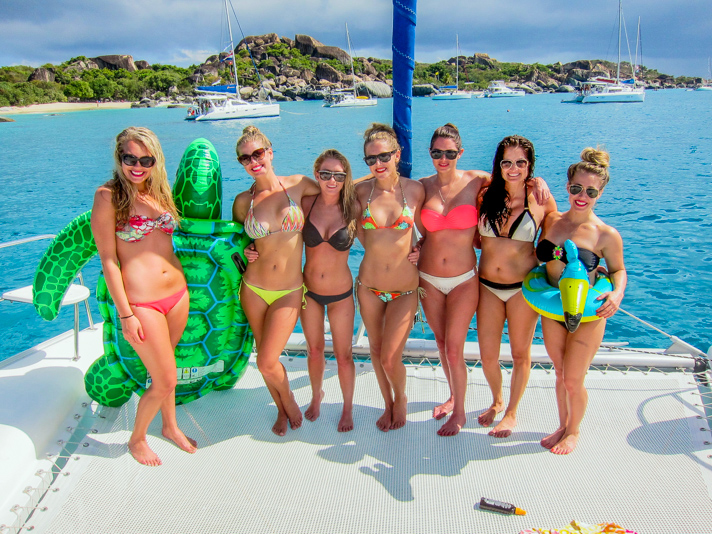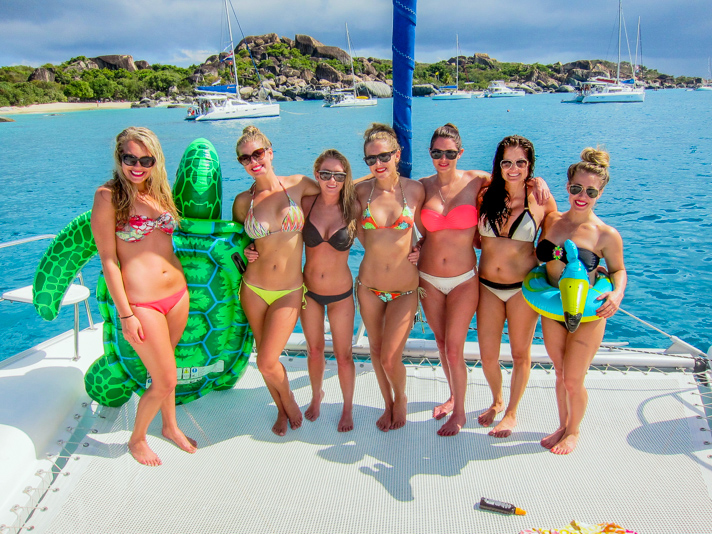 Booking a Boat
Once you're ready to book, the process is pretty straight forward. The British Virgin Island route now has 8 different weeks to choose from: two weeks over NYE, three weeks in the Spring and now three weeks in the Summer.
For the BVIs, I highly recommend getting a catamaran. Other routes of TYW don't have quite as many catamarans available, so take advantage of the extra space!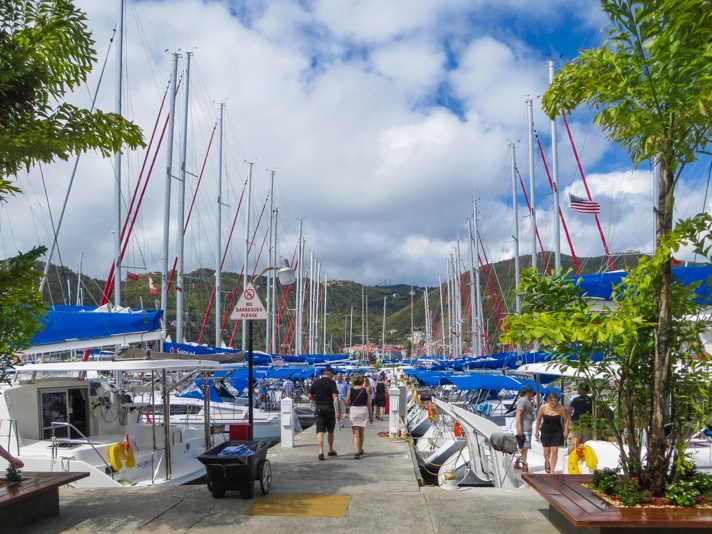 Getting Travel Insurance
I know. I know. Nobody likes to talk about this stuff. But, what do you get when you mix cocktails, sunscreen and a boat deck? A blonde and a broken arm. A broken arm on a remote island means a first-class helicopter ride and thousands of dollars in medical bills. Get travel insurance.
You can read more about why you need travel insurance, but consider it a small price to pay for the reassurance of a great trip. One person in your crew should also pack a First-Aid kit. Cuts and boo-boos happen all the time.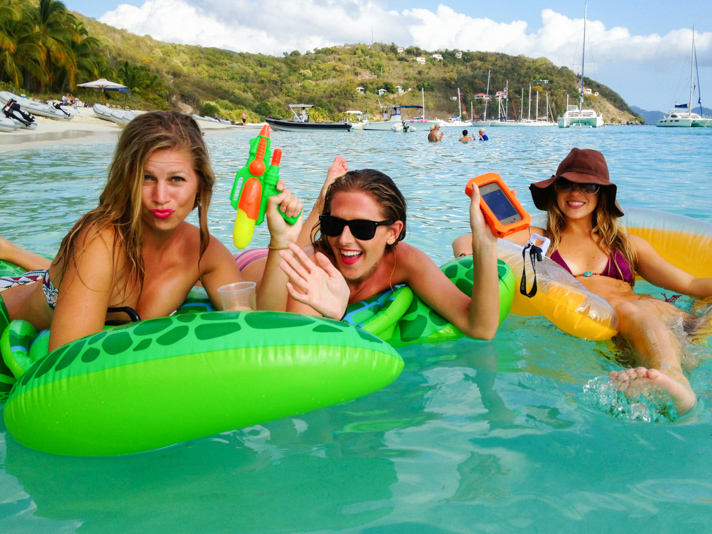 What to Pack for The Yacht Week
Packing for The Yacht Week is pretty much the same whether you're going to Croatia or the BVIs. Be sure to read my complete packing guide "How to Pack for The Yacht Week in a Carry On," but here is a list of the essentials:
Bag
First things first, do everything in your power to pack in a soft duffle bag. If everyone arrives with big, hard suitcases there is nowhere to store them and they will lay on top of your beds or in the living room. It's the worst. Most cabins have mini-closets so you're able to unpack most of your things and roll the duffle bag up to store completely out of your way.
Props & Toys
Misc.
CD's- Each boat has a different sound system setup. To be safe, I always bring an auxiliary-cord and make a handful of CD's as well. Throw some 90's songs on there just for nostalgia.
GoPro with Floaty Back
Selfie Stick – I know they don't make you look cool, but this is one trip you'll want one
Floating key chain (optional)
Dry-bag (optional) – if you are bringing a camera or any electronic that is not waterproof
Battery powered fan for your cabin (optional) – some boats have A/C, some have fans… and some do not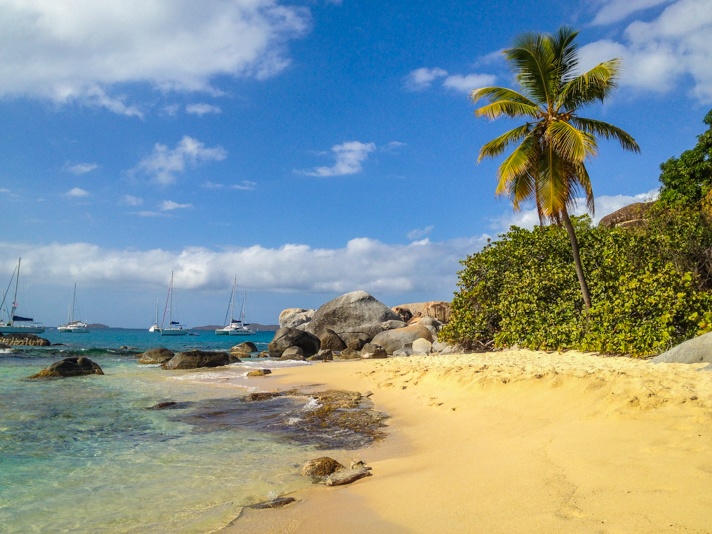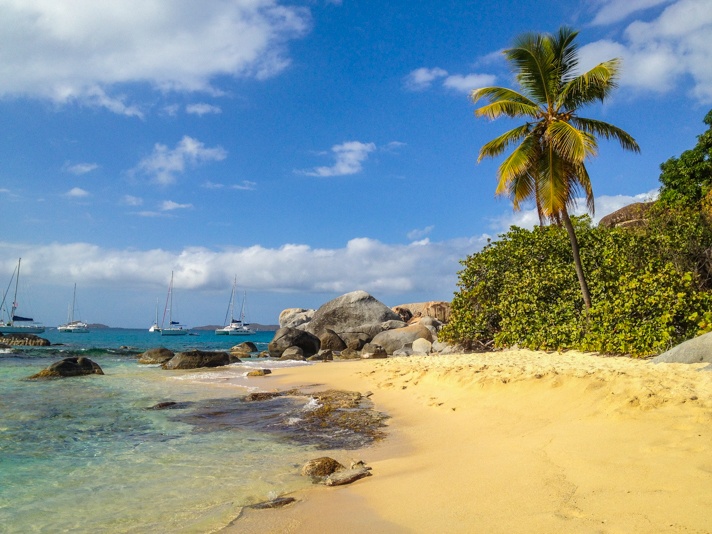 Getting There
The Yacht Week BVIs leaves from Road Town, Tortola, where you'll find the main marina and check in. NOTE: There are no direct flights to Tortola from the EU or the US, but there are plenty of connecting destinations.
When I went on The Yacht Weeks BVIs, I flew directly to St. Thomas (STT) in the US Virgin Islands. If you fly into St. Thomas, you take a short ferry ride (around $55 pp) to Tortola. The ferry to Tortola goes on a regular basis and takes about 45 minutes.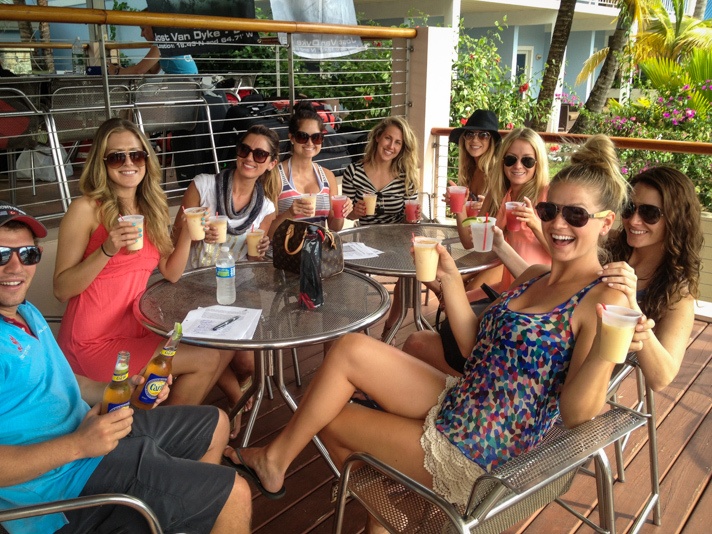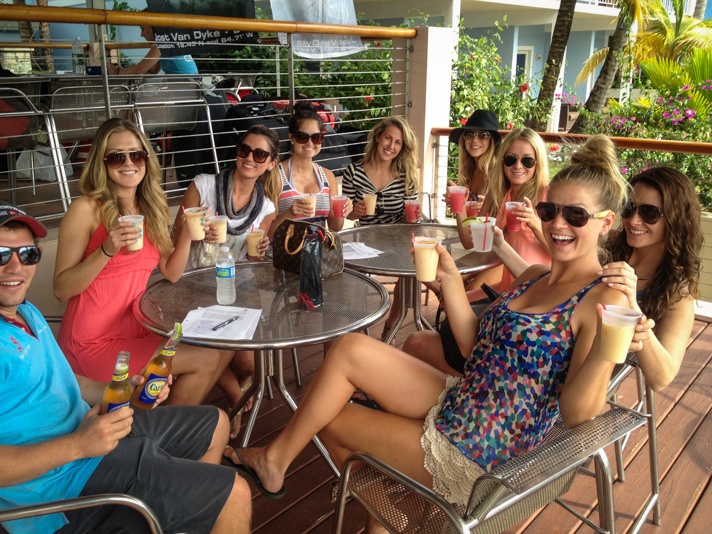 Arrival Day and Time
Everyone arrives at different times on Saturday and access to your boat usually isn't until 6pm, but it's best to arrive that day by 3pm to take care of check-in, grab a cocktail with your crew, then do your grocery shopping. The first night you will stay in the marina in Road Town and Sunday morning you set sail.
Departure Day and Time
You will get back to the marina on Saturday morning and have to check out and leave the yacht by 11am, so don't book any flights until Saturday evening.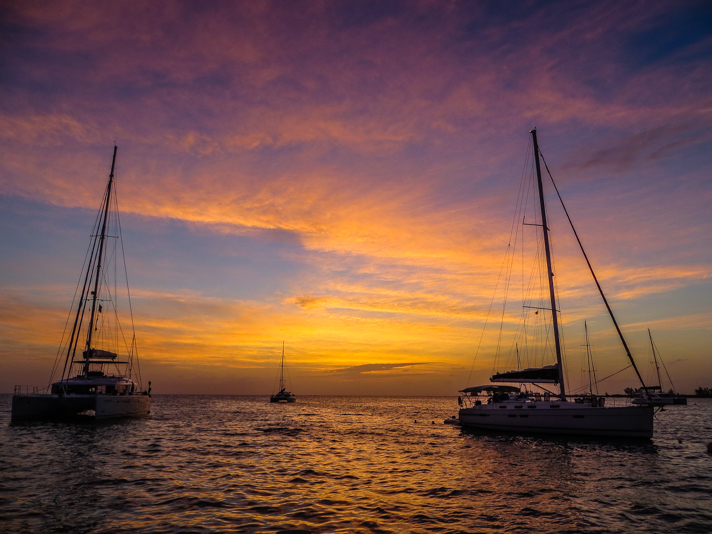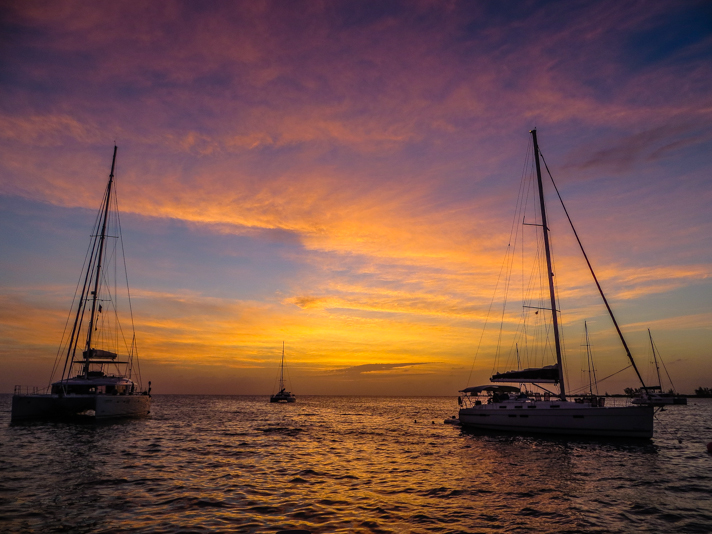 Extra Costs
In addition to the cost of the yacht, meals and transportation costs,  you will also have to pay for the fuel and port fees during the week that you sail.
Some days, you may have to use taxi boats to get from your yacht to the shore depending on where you decide to spend the night. I've included the different prices from The Yacht Week website in the list below.
The prices you see below are calculated on a Bavaria 45, which is a yacht with 10 beds. The prices will vary depending on what size of boat you choose.
| NAME | PORT | MARINA | BUOY | ANCHOR | TAXI SERVICE |
| --- | --- | --- | --- | --- | --- |
| Peter Island & The Baths | none | none | $25-35 | $20-25 | none |
| Jost van Dyke | none | none | $25-35 | $20-25 | $5-10/person |
| Marina Cay | none | none | $25-35 | $20-25 | none |
| Anegada | none | none | $25-35 | $20-25 | $5-10/person |
| Virgin Gorda | none | none | $25-35 | $20-25 | None |
| Norman Island | none | none | $25-35 | $20-25 | None |
TOTAL PER YACHT
| WATER | TAXIS | FUEL | PORT FEES | TOTAL |
| --- | --- | --- | --- | --- |
| $115 | $232 | $580 | $290 | $1,200 – $1,2050 |
And last, but not least, don't forget to tip your "skip" at the end of your trip. (They're not just there as eye-candy. That's just a huge bonus.)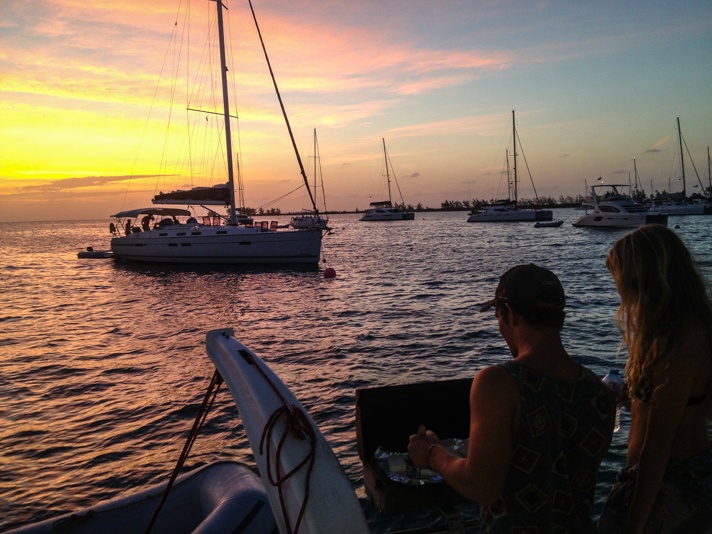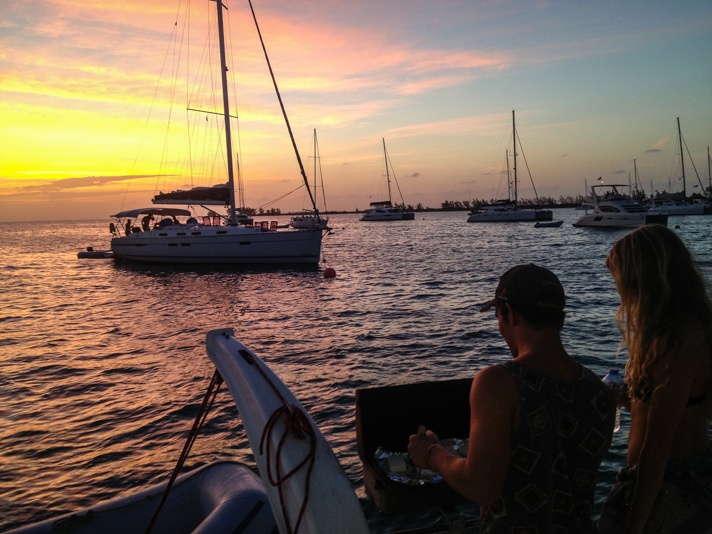 Grocery Shopping Guide
I've consistently found that grocery shopping for a boat of 10 people costs between $1000-$1500 for the entire week. So, assume approximately $120 minimum needs to be pooled from each crew member.
(NOTE: Consider your skipper an extra head to count when doing your food and booze shopping for the boat. A well-fed skipper is a happy skipper.)
The only shop in Road Town requires a taxi ride to and from, so it's best to choose 2 responsible crew members to tackle the shopping. You need the extra space in the taxi for the ride home and it's easier to make executive decisions with 2 people vs the entire crew.
Helpful Tip: The Road Town grocery shop is seriously overpriced, so your budget may need to be higher for groceries than on other routes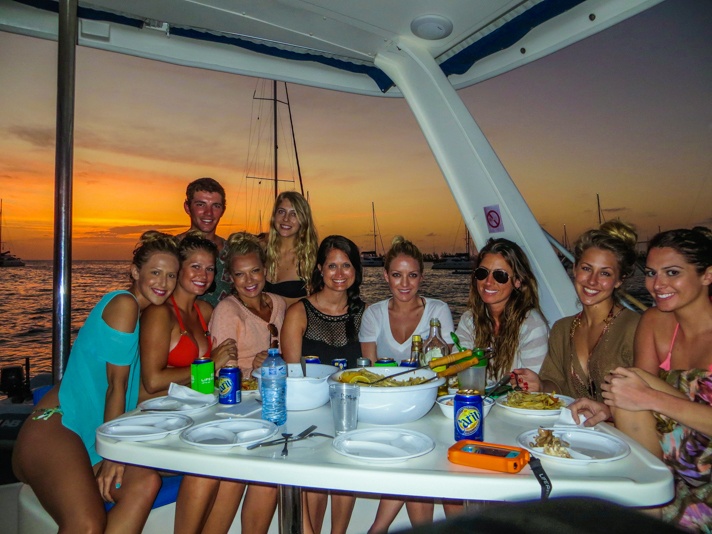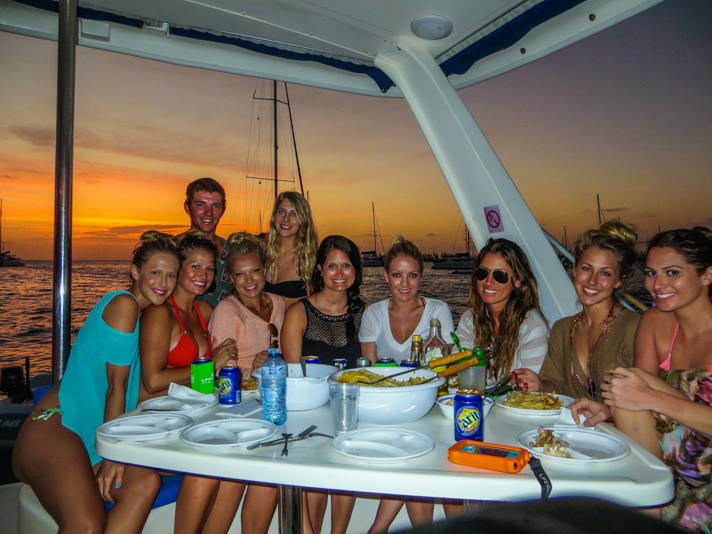 Breakfast
Yogurt and granola with fresh fruit is pretty much my go-to breakfast on sailing trips. But, eggs also keep really well! Buy bagels and the fixings and some fresh bread so you can make egg sandwiches or toast. Don't forget instant coffee if you are a morning coffee drinker!
Lunch
My go-to lunch to prepare is caprese salad. Buy lots of tomatoes, mozzarella (or any cheese really) and balsamic & olive oil. It's easy to prepare a big portion for everyone to share, then each person can make whatever else they feel like: canned tuna, a sandwich, pasta, etc.
Dinners
You can plan to eat out for most dinners. There are some lobster dinners pre-planned by TYW that shouldn't be missed! I would suggest preparing 2-3 dinners that you can enjoy on the boat at sunset.
Note: All boats have stovetops and small refrigerators, and most catamarans have a BBQ on the back, but double check before you head to the store.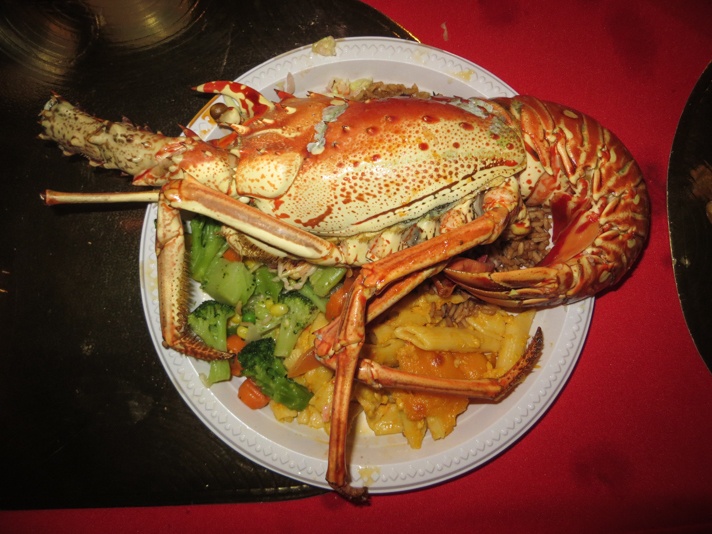 Snacks
Don't forget to buy lots of snacks! Stick to your senses- something salty, sweet, savory and sour! Lots of chips, some gummy candies, fresh fruit, dry meats & cheeses with crackers, etc. Hard boiling eggs and keeping them in a ziploc in the fridge is also a great idea for a quick protein packed snack.
Drinks
Buy lots of water. The rule of thumb is 1.5 liters per person per day. Best tip is that everyone brings their own refillable water bottle, then buy water in gallon jugs. As for alcohol- buy twice as much as you think you need! A few bottles of wine for meals, lots of champagne, rosé, beer, hard alcohol (rum is the liquor of choice in the islands) and mixers!
NOTE: You may find that you end up buying more cocktails at bars in the BVIs than on other routes on TYW. The local Painkiller and Bushwacker cocktails are delicious!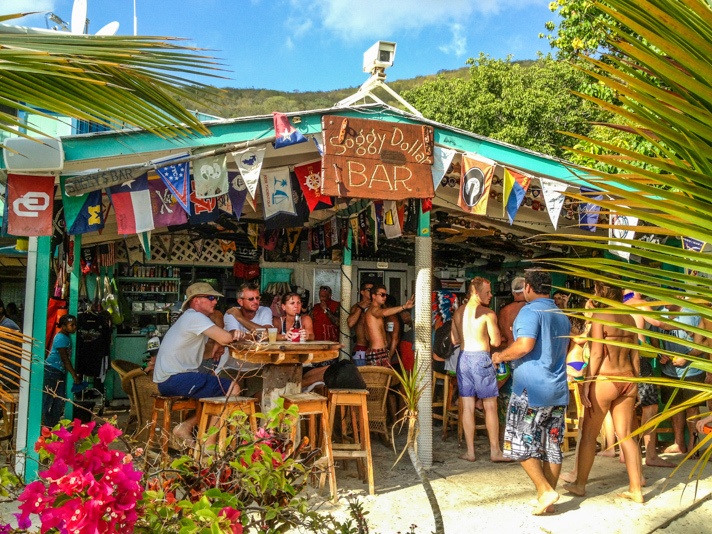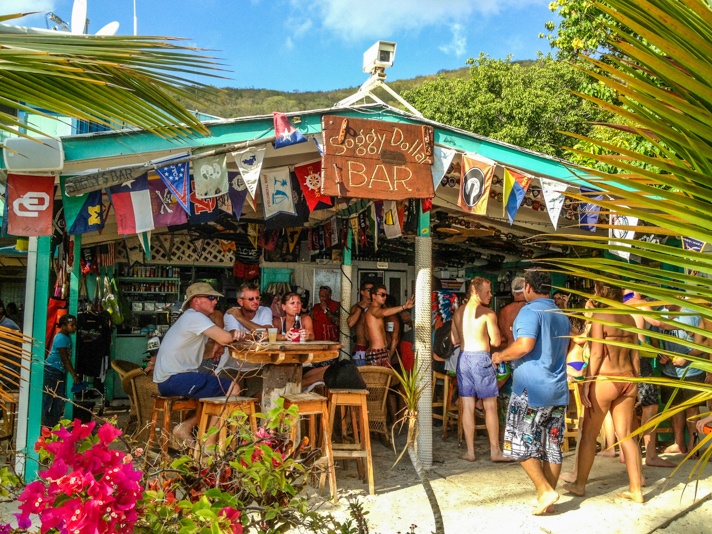 Condiments
There might be salt and pepper on the boat, but don't count on it. You'll need to buy your own spices, sauces, mayonnaise, ketchup, etc.
Supplies
Don't forget things like paper towels, toilet paper, garbage bags and ziplock bags! For grilling, the charcoal bricks make life really easy.

More Information