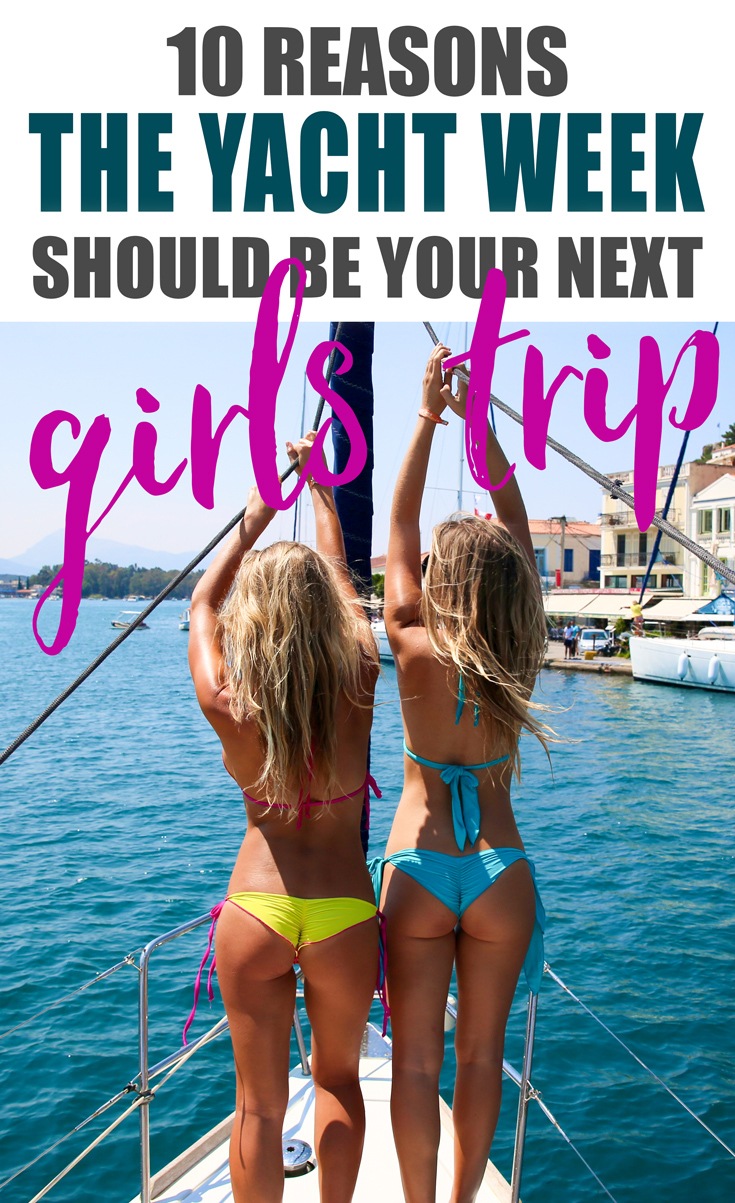 Ready for the ultimate girls' getaway? It is time to start planning your trip on The Yacht Week!
I've done FOUR all-girls trips on The Yacht Week and they're some of the best trips I've ever had. You'll make memories and have inside jokes for years to come.
The Yacht Week is a week-long sailing trip that takes you to different island destinations with activities and parties planned along the way. You can currently explore the shores of Croatia, Italy, Greece, or the British Virgin Islands with your girlfriends and people from around the world.
Each route is made up of about 15-30 boats with crews from around the world. No sailing experience necessary—just book a boat, grab your girls and get ready for the trip of a lifetime!
Here are ten reasons why The Yacht Week should be your next girls' trip!

It is Nothing Like the Real World
Where else can you travel with people of all different nations while getting to share quality time with your girlfriends — all while sailing to exotic destinations and experiencing some of the best parties in the world?
In the course of a week, I saw a beer-swing on a Mexican Catamaran, speedo-donning Canucks with super-soakers (no pun intended), Aussie girls taking body shots off inflatable dolls and, well, you get the idea. People from around the world come for a good time and a good laugh.
While the fun is just one element of the overall experience, I can't think of a better way to travel than by boat. You get to enjoy the beauty of the ocean, soak up the sun all while discovering a new destination.
It's no wonder their tagline is "It's nothing like the real world!"

Friends that Sail Together Stay Together
There's something so intimate and special about doing an all-girls trip on The Yacht Week. I can't tell you how many moments us girls found ourselves locking eyes and ear-to-ear smiling because we were all thinking the same thing — "this is the best trip of my life!"
Not only do you get a week to have the time of your life with your girlfriends, you get the opportunity to meet new people from around the world. I've made so many lifelong friends on TYW and I've seen more than a few soulmates connect here.
One of my favorite things about TYW is hopping from boat to boat and meeting new people. The average age of a "Yacht Week'er" is around 20-to-30-something and most people are young professionals. It's a great way to network, expand your friend group and maybe even fall in love.

Unpack Once
Forget about hauling gear from place to place. The beauty of sailing is that you travel to each new destination by boat. Unpack once and spend the rest of your time unwinding!
BONUS: This is one trip you really won't need to overpack for. Bikinis, a few summery outfits, and sunscreen is all you'll need!

Less Planning
Organizing a girls' trip can be a nightmare. Believe me, I've planned more than I can count. Having to organize all your friends, plan accommodation AND plan transportation is a mission.
So, if you want a girls' getaway without the stress, The Yacht Week is perfect.
When you go for The Yacht Week, your accommodation and transportation is covered, plus most activities, parties and dinners are also organized. Save your precious vacation time and do the things you really love, like relaxing with your friends!

Discover the World Together
Imagine waking up on a sailboat with your besties then sipping rosé all day in the Mediterranean sun. There really is nothing like The Yacht Week… In one week, you'll get to relax, spend quality time together, skinny dip in the sea, dance until the sun comes up and experience some of the most beautiful destinations in the world.

Quality Time Apart
We all know that even the best of friends won't always be on the same page with travel plans, and living on a boat for a week could spell disaster. However, the beauty of The Yacht Week is that every day you meet up with the rest of the group and will have countless opportunities to spend time apart.
This can be a HUGE game-changer for traveling. Rather than compromising on what you want to do, or spending too much time together, you can split up and enjoy parts of the trip alone or with new friends.

No Arguing Over the Bill
Traveling as a group can sometimes be annoying when it comes to splitting up costs. Who wants to waste time splitting every single expense with a big group of girlfriends for the course of the week?
Buzzkill!
The Yacht Week makes it simpler because you'll do one big grocery shop before your trip. My girlfriends and I have always planned to have breakfast and most lunches on the boat, then go out for dinner.
The easiest way to organize everything is for one person to be responsible for a group fund. Have everyone on your boat pitch in around $200 toward the group fund. Pay for the groceries, booze, dock fees and dinners from the group fund so everything is easy and fair.

Dressing Up
I don't mean LBD's and high heels. One of the best parts of TYW is that dressing to impress means having fun and not taking yourself seriously. Pack the body paint, the swan pool float, and your all-white outfits. Go shamelessly loud and proud—let your freak flag fly!

Sexy Skippers
Not all girls that go on TYW are single and not all skippers are men! You can request a female skipper to keep it a 100% all- girls crew. Or, you might get lucky and score a handsome seaman 😉
Whatever you choose, all skippers on The Yacht Week have sailed countless crews and will take amazing care of you.

Memories to Last a Lifetime
"OMG, do you remember that time on The Yacht Week?" is how nearly every one of your conversations will start for a year following your trip.
Whether it's seeing dolphins off the shores of Greece, partying your face off on the Croatia route, going topless on the Italy route or drinking rum with your toes in the sand on the BVI route, your memories from The Yacht Week will last a lifetime!

So what are you waiting for? BOOK THE YACHT WEEK HERE