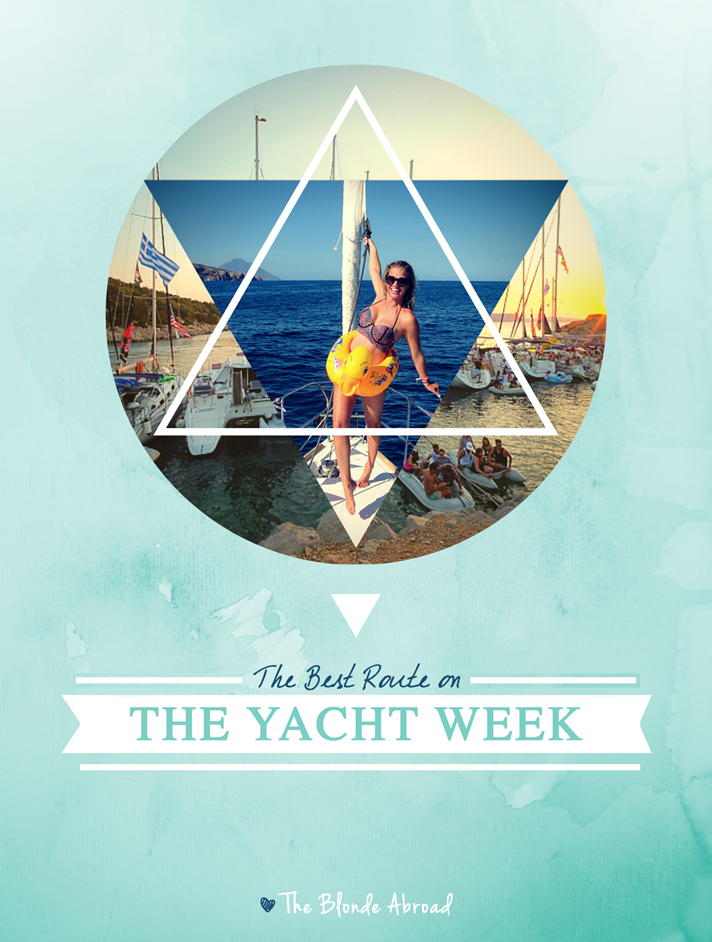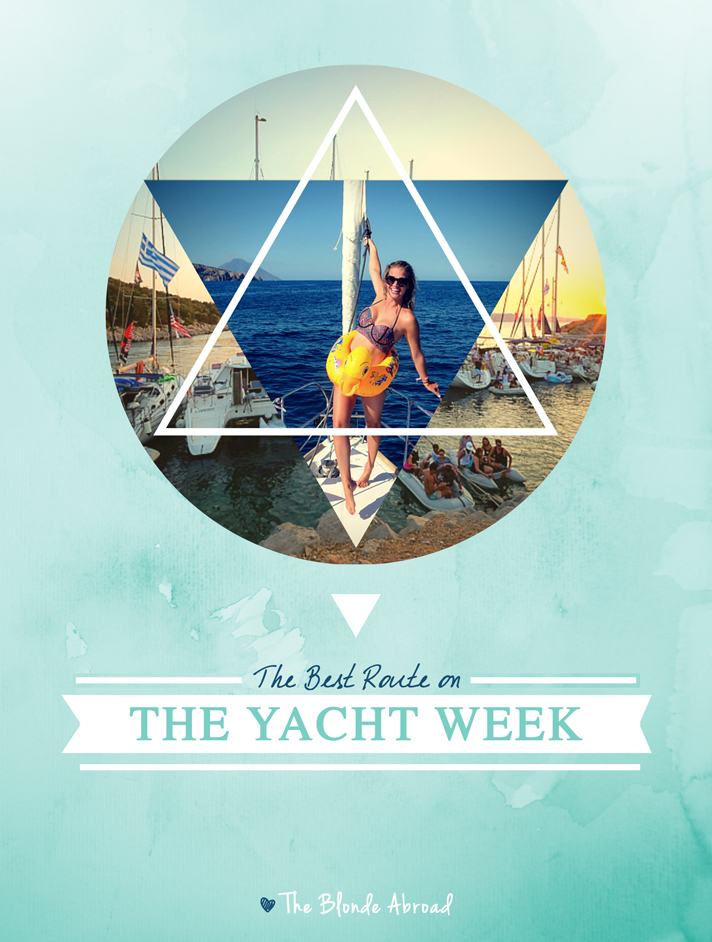 I know first hand that one of the hardest decisions when booking a trip on The Yacht Week is picking the "best" route.  Each destination has a different appeal, whether it's the party of a lifetime in Croatia or the beautiful sandy beaches of the British Virgin Islands.
I've been lucky enough to have been on 5 trips with The Yacht Week and wanted to share my own experience from each trip to help you decide which route is best for you. I've broken down each route by various interests (nightlife, sailing, extra costs, etc.) and given them a rating from low to high.
Below, you'll find four different tabs for information on The Yacht Week Greece, Italy, Croatia and BVI's. I haven't been on the newer Montenegro or Spain routes (which is why it's not included in the comparison) BUT, I have been to Spain on my own and can imagine the sailing and nightlife are out of this world!
Here is my take on the best route on The Yacht Week!

The Yacht Week Greece
For me, The Yacht Week Greece is the most well-balanced route of them all. You get the gorgeous sailing experience, incredible island destinations, delicious Greek food, and fun parties.
Rated on a scale of 1 (low) – 5 (high)
Nightlife: 4
You're guaranteed to have some really fun nights on the Greece route. Bottle service is available at nearly every party and is great because you can save money on drinks with a big group. There are a LOT of organized parties on this route so bottle service costs can rack up quickly.
Day Parties: 4
One of the best day parties of all of the routes is the White Party on Ermioni island. There are lots of day party options along the route and plenty of opportunities to sail out and tie up to other boats for a little sipping and swimming.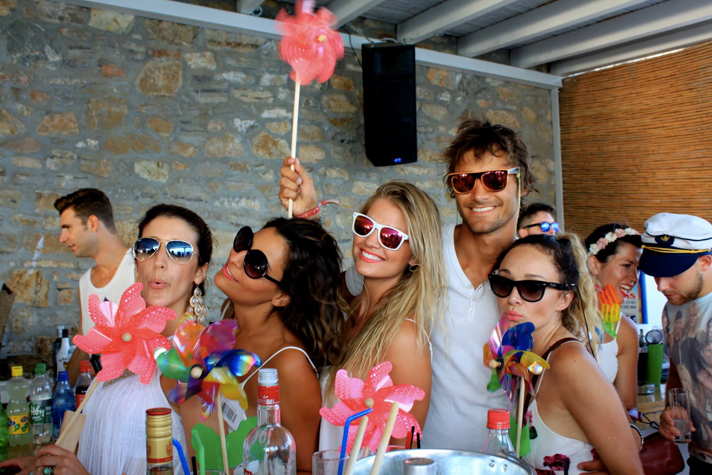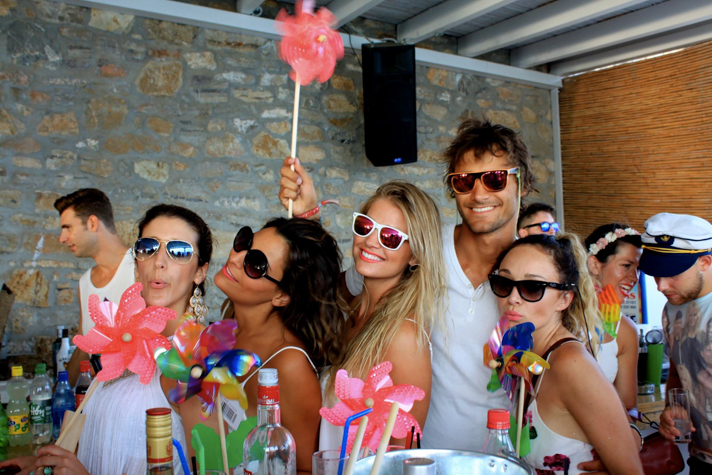 Activities: 4
The Greece route is by far the best-organized route. Sometimes things felt a little TOO organized at times but, remember, each activity organized on The Yacht Week is a suggestion and completely optional. If you want more free time to explore a destination, don't get FOMO and skip some of the organized parties.
Each island destination has something special to offer, whether it's a donkey ride in Hydra or some island exploring.
Local Culture: 3
As with most places in Greece, there is a lot of tourism throughout the islands. It's great in some ways because you won't have any problem finding things to do or places to eat. But, you may get the tourist treatment (and prices)!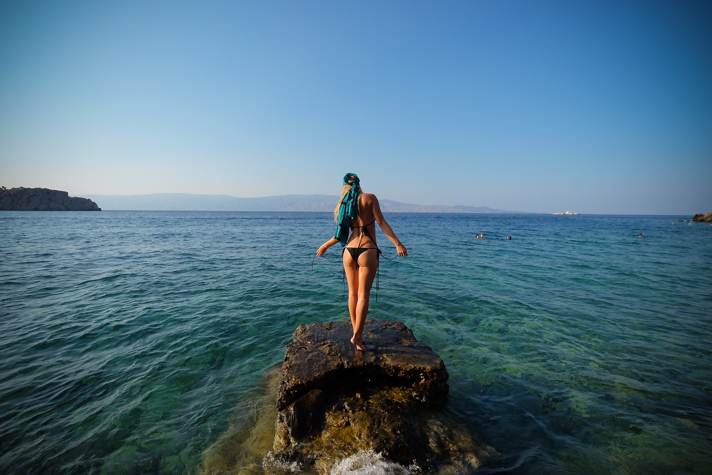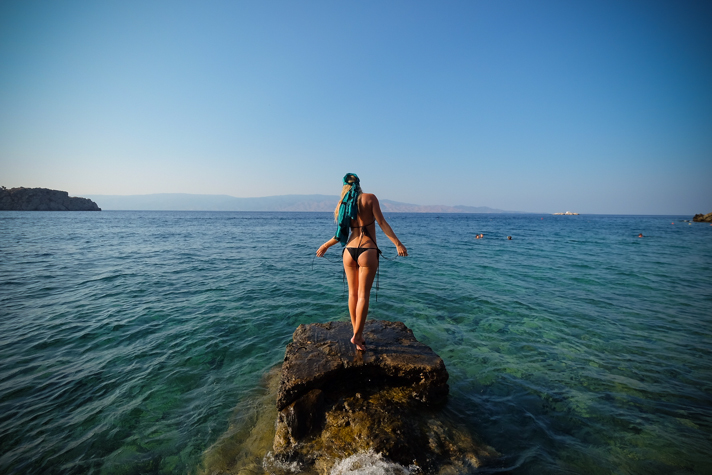 Sailing Experience: 3
Greece has some of the longest sailing days of all the routes. Like, 6 hours of sailing on some days. And most days you'll be motoring, not sailing.
It's absolutely gorgeous and you will most likely spot dolphins along the way but, it can also feel like a really long day at sea depending on your experience with sailing. Fuel costs can also add up because of all the motoring.
Size of Route: 4
Approx. 15-25 boats per route
The Greece routes can vary in size but we had about 12 boats on our route. It's a good number of people for some really fun parties and you get to meet a lot of people from around the world.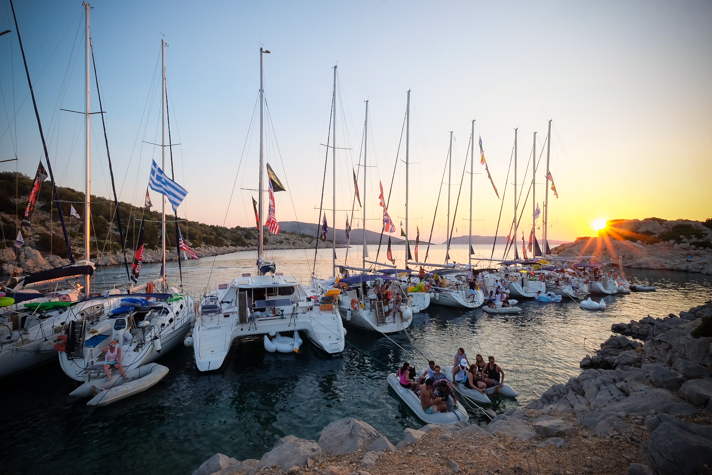 Extra Costs: 3
One of the best things about the Greece route is that you almost never have to pay port fees cutting out a major expense you would incur on other routes. It's definitely the least expensive route in terms of additional expenses.
Food markets are also quite inexpensive and eating out can easily be done on a budget if necessary. Fuel will most likely be your biggest expense but overall costs still remain quite low.

The Yacht Week Greece
Pros: Easy access to start location, well organized, gorgeous destinations
Cons: Long sailing days, bottle service at parties can get expensive


The Yacht Week Italy
Leading up to The Yacht Week Italy, I have to admit it was the route I was most excited about. The route is actually in Sicily which is still part of Italy, but has its own unique culture and highlights.
This is definitely the poshest (or luxurious) route in terms of destinations. Each little port town has major appeal for luxury travelers… and for good reason.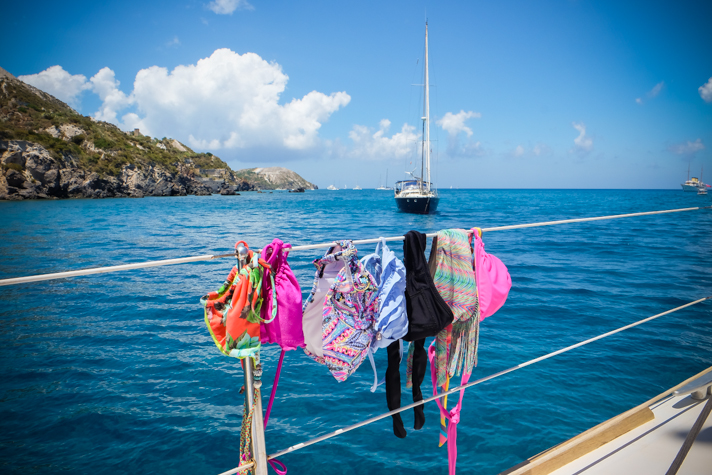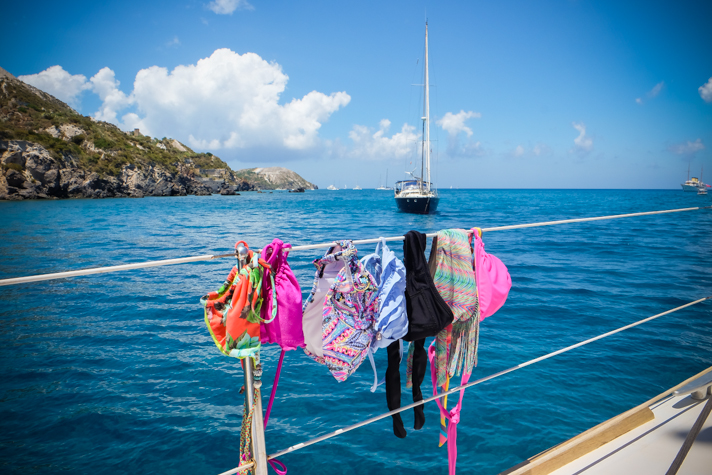 Rated on a scale of 1 (low) – 5 (high)
Nightlife: 3
The Yacht Week Italy is tamer than some of the other routes, though there are some great clubs and parties. There's a different sophistication about the nightlife making the Italy route unique from other routes.
Day Parties: 2
There aren't really any organized day parties on the Italy route but you get the opportunity to see a LOT of the destinations you travel to. If you do want to day-party, come prepared to "bring a cup of sugar." There are some incredible opportunities to sail with other boats to gorgeous grottos and tie up for your own "rosé all day" party.
Make some friends and get the party started!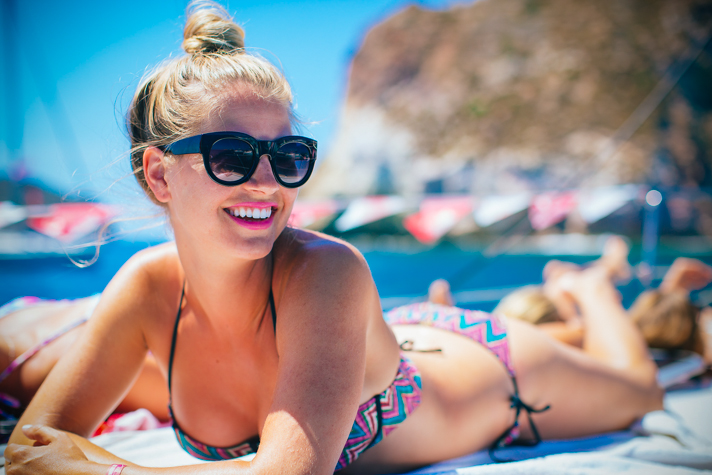 Activities: 5
Italy was one of my favorite routes for fun-filled days. We did SO much exploring with sailing to smaller islands to swim and roaming the cute Sicilian port towns.
You also get the incredible opportunity to trek an active volcano on Stromboli island. It was actually erupting the day we were supposed to hike it, so we watched the lava explode into the sky from the island of Panarea instead.
Talk about a once-in-a-lifetime experience!
Local Culture: 4
Sicily is a special place for both food and culture. The locals are proud to be Sicilian and eager to share their unique culture with you. You'll still find delicious Italian food here, but a traditional Sicilian meal can't be missed.
You also get to sail to some spectacular islands, like Panarea, which is frequented by the rich and famous for its gorgeous vistas and beautiful marina.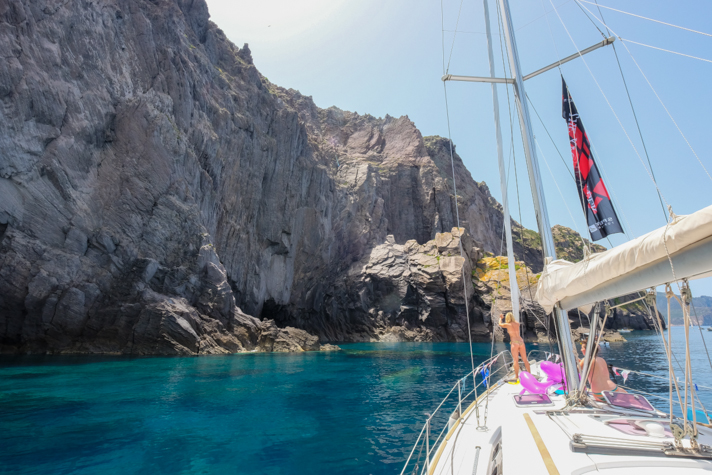 Sailing Experience: 5
In the famous words of Borat, "wah wah wee wah!" The Italy route brings you to some insanely beautiful locations. We saw dolphins, a smoking volcano and gorgeous islands.
Side Note: Ladies, this is also the best route to go topless without people gawking. Many days, you get gorgeous destinations all to yourself! Say buh-bye to tan lines!
Size of Route: 2
Approx. 15-25 boats per route
The Yacht Week Italy is a smaller route which is hard to believe because it is so amazing! It's the best route for a little bit of luxe, a whole lotta rosé, and some incredible sailing.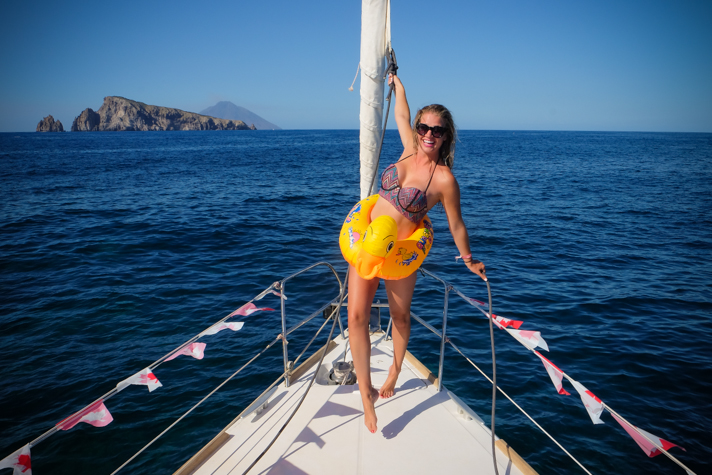 Extra Costs: 3
There are a couple days on the Italy route with expensive port fees. The market in the marina at Portorosa is extremely limited and expensive so hire a taxi and drive a ways to another nearby market to save some cash.

The Yacht Week Italy
Pros: Gorgeous island destinations, lots of fun things to see and do
Cons: Inconvenient and expensive shopping, remote start destination


The Yacht Week Croatia
The route that rules them all! Where do I begin? I have a soft spot for The Yacht Week Croatia route as it was my first experience on The Yacht Week and I obviously had such a good time that I came back… 4 more times.
Because of the massive interest in this route, they now have a black and red route that runs the same route but starting and ending in opposite directions.
NOTE: I've done both the "original" route and the ULTRA route and I personally prefer the original route. The ULTRA route had a completely different vibe than what I feel The Yacht Week is all about. You sort of lose the magic of the experience being all about the sailing and the destination because it's centered around a music festival.
Rated on a scale of 1 (low) – 5 (high)
Nightlife: 5
The parties can't be beaten- whether it's the Fort George "party in a castle" or the world-famous parties on Hvar island.
If you want a once-in-a-lifetime party experience, then nothing compares to the Croatia route. If you aren't a huge "partier" and are more interested in a cultural travel and sailing experience, I'd suggest one of the other routes.
Day Parties: 5
Some of the best day parties are also on the Croatia route. Whether it's a massive raft party (where the boats are tied up in a big circle) or Carpe Diem club on Hvar, this route definitely takes the cake.
The final regatta is also best on the Croatia route where the crews of each boat dress up and race for eternal glory.
(Well, more like bottle service at Club Vanilla but who's counting?)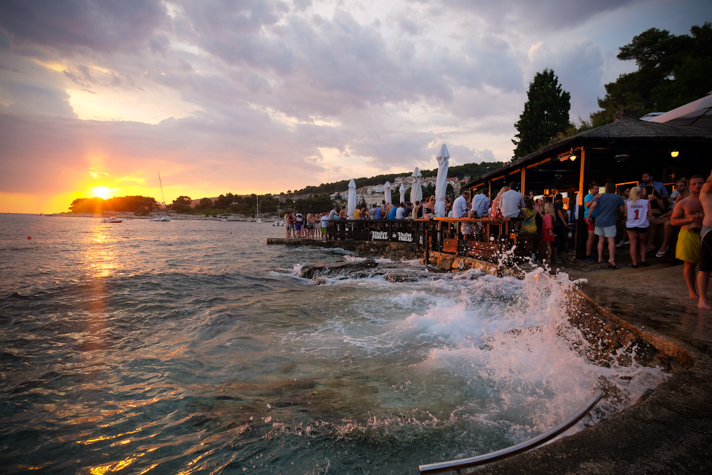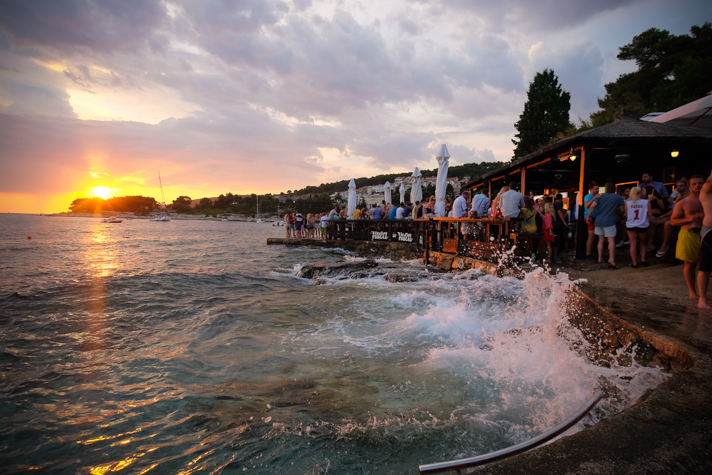 Activities: 3
Most of The Yacht Week routes offer daily activities to explore the destination but Croatia doesn't offer too much outside of the organized parties. I highly suggest coming to Croatia a few days early or staying a few days after too, at the very least, see nearby Krka National Park.
Local Culture: 2
The Croatia route is 110% about partying, so this route kind of misses any real interaction with Croatian culture unless you go seeking it. While it is about having a great time, there's a level of sophistication that has been upheld by TYW and its guests that has kept it an amazing experience and not a trashy version of MTV's Spring Break Cancun.
Because of the massive amount of tourism on the Croatian coast and islands (on and off of TYW) do your best to be a respectable visitor to this region. Party tourism is a touchy subject, so do your best not to be a drunk asshole outside of the party environment.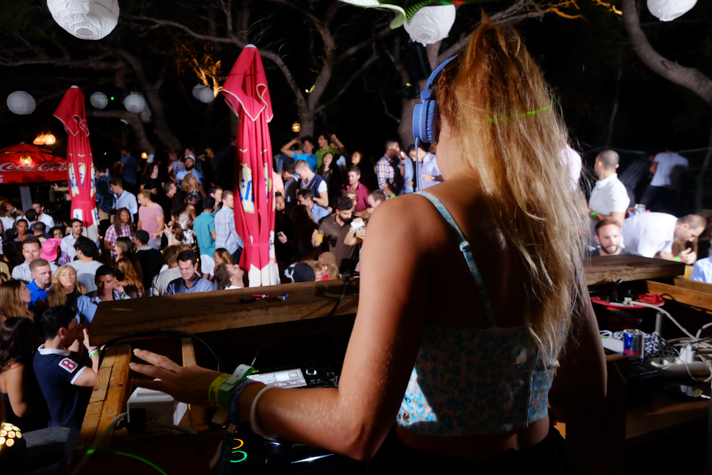 Sailing Experience: 3
Since this route is more focused on the partying I highly suggest getting a skipper, even if you sail and it's your passion. If you want to sail yourself for the sailing experience, consider another route. You don't want to leave the party early or sail drunk.
The Croatian coast is known for its incredible beauty but there aren't many days where you actually sail. The sailing days can be short, which is a good or a bad thing depending on how you look at it (or how hungover you are).
Size of Route: 5
Approx. 50 boats per route
This route is the most well known and draws a LOT of people from around the world. I loved that in the course of the week I made friends from over 10 different nations. Most of whom I still remain close friends with years later.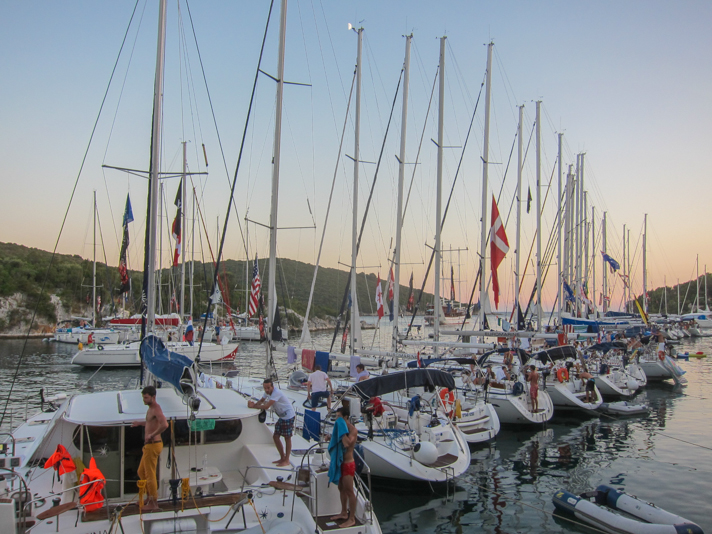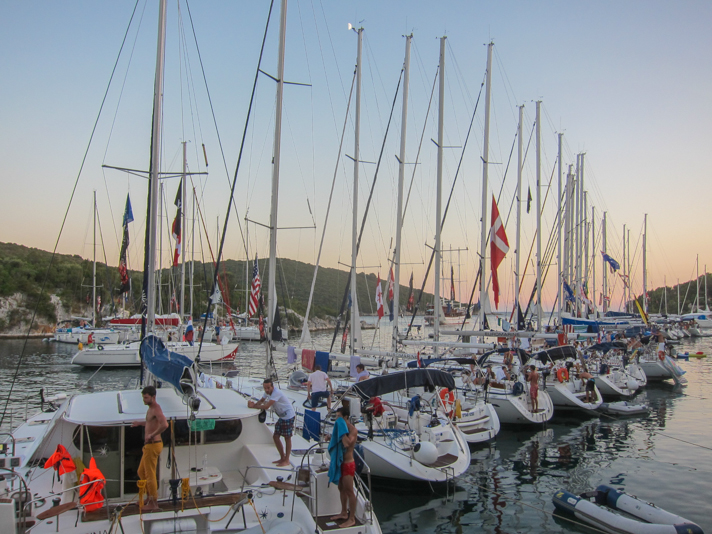 Extra Costs: 5
While grocery shopping isn't too expensive in general in Croatia, this route can rack up some serious extra costs. Port fees can cost more than $100 a night and you will burn through some fuel.

The Yacht Week Croatia
Pros: Original and biggest route, best nightlife, great day parties, LOTS of fun
Cons: High additional costs along the route, low emphasis on local culture, weather can be unpredictable


The Yacht Week BVIs
The Yacht Week BVIs was my second ever trip on The Yacht Week and stands as my all-time favorite sailing trip. The BVIs (British Virgin Islands) is a tropical route so expect beautiful sand beaches, clear blue water and lots of palm trees. Imagine warm nights, lobster dinners and tropical cocktails.
It's paradise.

Rated on a scale of 1 (low) – 5 (high)
Nightlife: 4
This is not a first-pumping electronic music destination. It's a laid-back, reggae music and dancing under the stars with the sand between your toes kind of destination.
That's not to discount the nightlife. There's just a more Jack Sparrow feel to it. The only BVI's bottle service you'll find here is waking up under a palm tree with a bottle of rum in your hand.
Day Parties: 4
The BVIs route has some of the best day parties of all the routes. Again, the party is a bit different than the European routes because you will be sipping on rum cocktails on the beautiful white sanded beaches all day.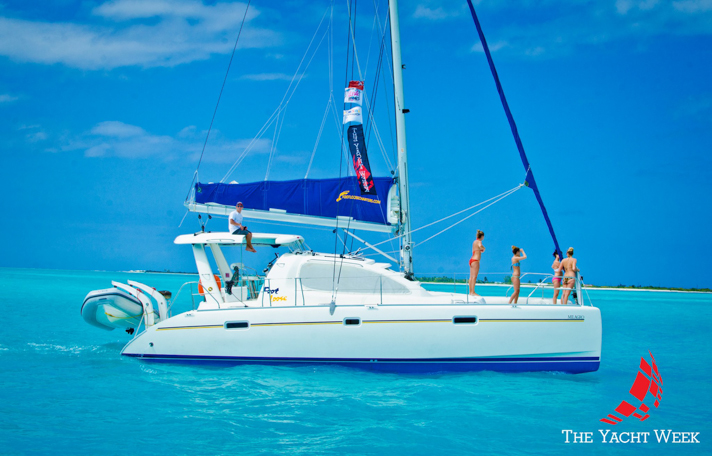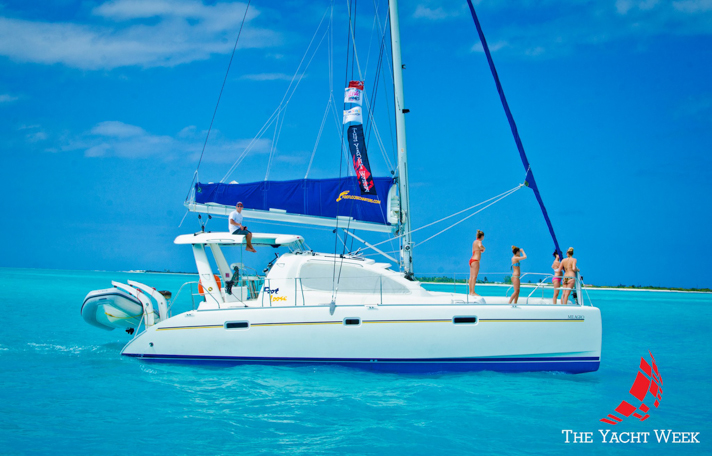 Activities: 4
The BVIs are great for ocean activities, whether you explore the caves and natural baths at Virgin Gorda or sail out for an afternoon of snorkeling.
Local Culture: 5
The island culture plays a big role in how amazing this experience is. Locals will have you in stitches (they're hilarious) and make a seriously delicious "painkiller" cocktail.
There is a lot of sailing tourism on the island but most businesses are run by locals.
Sailing Experience: 5
The sailing in the BVIs is world-class and each destination along the route has a special and unique appeal. If Richard Branson built his island home here there's a reason for it!
Size of Route: 3
Approx. 10-30 yachts per route
The BVIs is a bit more intimate with a smaller amount of boats on each route. We only had 10 boats on our route but the BVIs routes have gotten a lot bigger over the past year.
You will find it easier to get a catamaran for this route than other destinations which is great for bigger groups. There is also the famous New Years route which I have yet to experience but looks like a blast and draws a lot more people out than the Spring routes.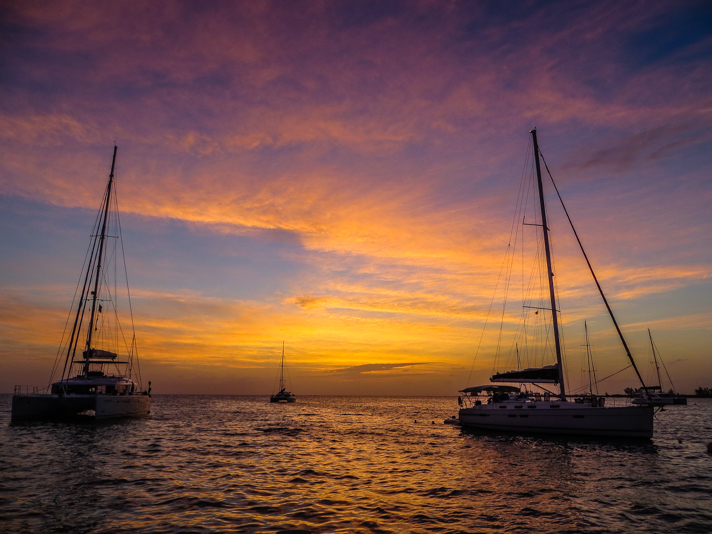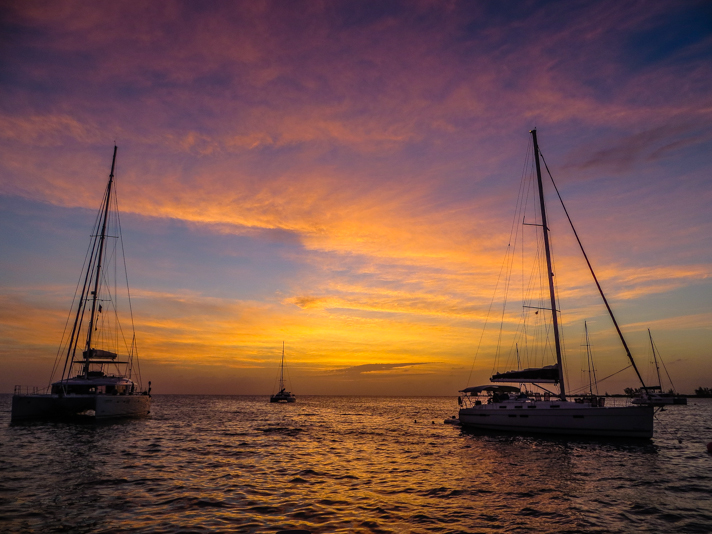 Extra Costs: 5
Expect quite a lot of additional expenses in the BVIs. Port fees weren't too bad (approx. $25/night) but grocery shopping is expensive. There is only one shop in Tortola before you set sail and things are quite pricey. I think I paid something like $6 for a roll of aluminum foil!

The Yacht Week BVIs
Pros: Insanely gorgeous beaches, tropical climate and islands, delicious food & cocktails, catamarans
Cons: Somewhat harder to get to with flights and ferries, expensive shopping


There's truly no best route on The Yacht Week, but there are routes that are better for certain people. Whether you're looking for an incredible girls getaway or a wild party yacht experience, there's something for everyone!

Taking your first trip on The Yacht Week?

Questions? Advice? Comment below!