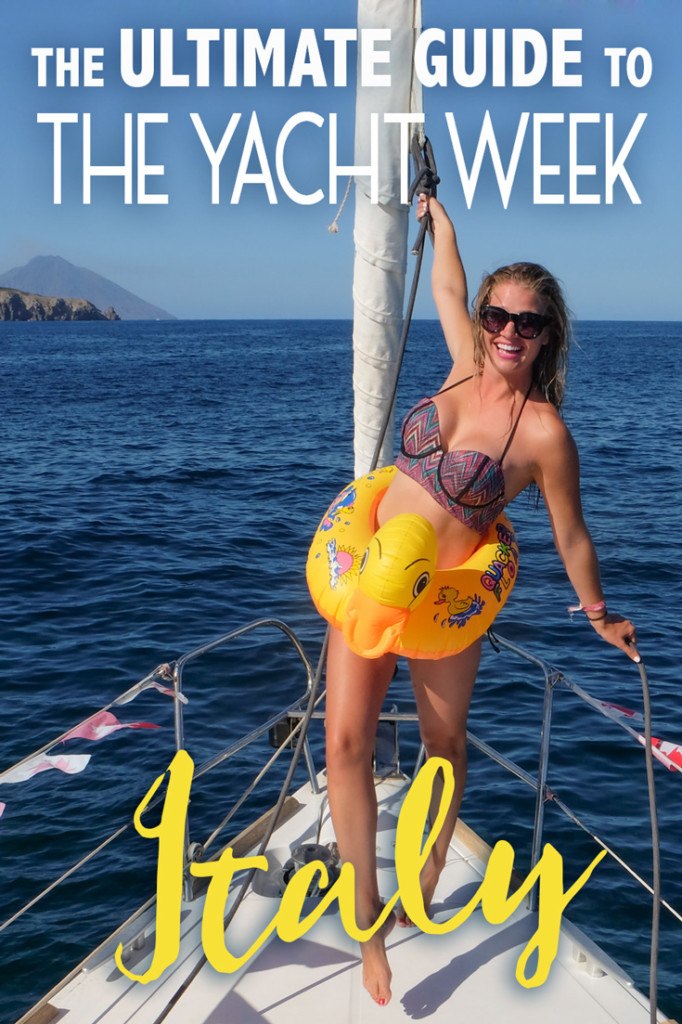 Leading up to The Yacht Week Italy, I have to admit it was the route I was most excited about. The route is actually in Sicily which is still part of Italy, but has its own unique culture and highlights.
This is definitely the most posh (or luxurious) route in terms of destinations. Each little port town has major appeal for luxury travelers… and for good reason.
For that reason, I've included information below that highlights The Yacht Week Italy!

Rated on a scale of 1 (low) – 5 (high)
Nightlife: 3
The Yacht Week Italy is more tame than some of the other routes, though there are some great clubs and parties. There's a different sophistication about the nightlife making the Italy route unique from other routes.
Day Parties: 2
There aren't really any organized day parties on the Italy route but you get the opportunity to see a LOT of the destinations you travel to. If you do want to day party, come prepared to "bring a cup of sugar." There are some incredible opportunities to sail with other boats to gorgeous grottos and tie up for your own "rosé all day" party.
Make some friends and get the party started!

Activities: 5
Italy was one of my favorite routes for fun-filled days. We did SO much exploring with sailing to smaller islands to swim and roaming the cute Sicilian port towns.
You also get the incredible opportunity to trek an active volcano on Stromboli island. It was actually erupting the day we were supposed to hike it, so we watched the lava explode into the sky from the island of Panarea instead.
Talk about a once-in-a-lifetime experience!
Local Culture: 4
Sicily is a special place for both food and culture. The locals are proud to be Sicilian and eager to share their unique culture with you. You'll still find delicious Italian food here, but a traditional Sicilian meal can't be missed.
You also get to sail to some spectacular islands, like Panarea, which is frequented by the rich and famous for its gorgeous vistas and beautiful marina.
Sailing Experience: 5
In the famous words of Borat, "wah wah wee wah!" The Italy route brings you to some insanely beautiful locations. We saw dolphins, a smoking volcano and gorgeous islands.
Side note: Ladies, this is also the best route to go topless without people gawking. Many days, you get gorgeous destinations all to yourself!
Say buh-bye to tan lines!
Size of Route: 2
Approx. 15-25 boats per route
The Yacht Week Italy is a smaller route which is hard to believe because it is so amazing! It's the best route for a little bit of luxe, a whole lotta rosé and some incredible sailing.
Extra Costs: 3
There are a couple days on the Italy route with expensive port fees. The market in the marina at Portorosa is extremely limited and expensive so hire a taxi and drive a ways to another nearby market to save some cash.

Pros of The Yacht Week Italy:
Gorgeous island destinations
Local culture
Lots of fun activities
Cons of The Yacht Week Italy:
Inconvenient and expensive shopping
Remote start destination

Before You Go
There are a few key things to prepare before any trip on
The Yacht Week
. Obviously, finding a killer crew, booking a boat and getting travel insurance are the most important!
And remember, a detailed itinerary of your week will be released 2 weeks before the event.

Finding a Crew
Whether you have a group of friends ready to book the trip of a lifetime or not, there are a few key ingredients to putting together a crew. First off, you want a group of open-minded, fun-loving people (with at the very least, a mild sense of responsibility).
TYW is all about having a good time, but keep in mind that carrying your own weight on costs, cleanup on the boat throughout the week and planning is essential for all crew members. Also, keep in mind that TYW has a "gender ratio" on most routes- meaning you've gotta bring some girls. Nobody wants a bro fest.
If you don't have a big enough group of friends to fill your boat, The Yacht Week crew finder is the best resource for putting together a crew. If you're looking to join a crew, or are looking to fill your boat, you can find awesome people there to complete your tribe.

Booking a Boat
Once you're ready to book, the process is pretty straight forward. There is only one Italy route and two different weeks to choose from in either June and July.
It is important to remember that most of the boats don't have A/C or fans in the cabins, so bring you own battery-powered fans!

Getting Travel Insurance
I know. I know. Nobody likes to talk about this stuff. But, what do you get when you mix cocktails, sunscreen and a boat deck? A blonde and a broken arm. A broken arm on a remote island means a first-class helicopter ride and thousands of dollars in medical bills. Get travel insurance.
You can read more about why you need travel insurance, but consider it a small price to pay for the reassurance of a great trip. One person in your crew should also pack a First-Aid kit. Cuts and boo-boos happen all the time.

What to Pack for The Yacht Week
Packing for The Yacht Week is pretty much the same whether you're going to Italy or the BVIs. Be sure to read my complete packing guide "How to Pack for The Yacht Week in a Carry On," but here is a list of the essentials:
Bag
First things first, do everything in your power to pack in a soft duffle bag. If everyone arrives with big, hard suitcases there is nowhere to store them and they will lay on top of your beds or in the living room. It's the worst. Most cabins have mini-closets so you're able to unpack most of your things and roll the duffle bag up to store completely out of your way.
Props & Toys
Misc.
CD's- Each boat has a different sound system setup. To be safe, I always bring an auxiliary-cord and make a handful of CD's as well. Throw some 90's songs on there just for nostalgia.
GoPro with Floaty Back
Selfie Stick – I know they don't make you look cool, but this is one trip you'll want one
Floating key chain (optional)
Dry-bag (optional) – if you are bringing a camera or any electronic that is not waterproof
Battery powered fan for your cabin (optional) – some boats have A/C, some have fans… and some do not

Getting There
The Italy route is located between the Palermo Airport or Cantania Airport, so you can fly into either. You will begin in Marina di Portorosa in the town of Tonnarella.
Arrival Day and Time
Everyone arrives at different times on Saturday but it's best to arrive that day by 1pm to take care of check-in, grab a cocktail with your crew, then do your grocery shopping. The yachts normally set sail between 4-6pm.
Departure Day and Time
You will get back to the marina on Friday afternoon and have to check out and leave the yacht before 9am on Saturday morning. Remember the big closing party is Friday night, so pack up and get organized before you head out for the night (you may not come back to the boat until sunrise!)

Extra Costs
In addition to the cost of the yacht, meals and transportation costs,  you will also have to pay for the fuel and port fees during the week that you sail.
I've included the different prices from The Yacht Week website in the list below.
The prices you see below are calculated on a Bavaria 45, which is a yacht with 10 beds. The prices will vary depending on what size of boat you choose.
Total Per Yacht
| COUNTRY |  WATER | FUEL | TAXI | PORT FEES | TOTAL |
| --- | --- | --- | --- | --- | --- |
| Italy | $105 | $300 | $210 | $410 |  $1,000 – $1,050 |
And last, but not least, don't forget to tip your "skip" at the end of your trip. (They're not just there as eye-candy. That's just a huge bonus.)

Grocery Shopping Guide
I've consistently found that grocery shopping for a boat of 10 people costs between $1000-$1500 for the entire week. So, assume approximately $120 minimum needs to be pooled from each crew member.
(NOTE: Consider your skipper an extra head to count when doing your food and booze shopping for the boat. A well-fed skipper is a happy skipper.)
I found the Italy route to be the most difficult for grocery shopping. There is a measly little shop in the marina that is incredibly limited and expensive. We picked two "responsible" shoppers from our crew to catch a taxi to the nearest "bigger" grocery shop to finish the majority of our alcohol and food shopping. It was definitely more of a hassle than any other route, but we managed to get everything we needed.
Be aware that there will be limited choices because it is a small town, so if there's something you absolutely need, plan to bring it with you from home!
Breakfast
Yogurt and granola with fresh fruit is pretty much my go-to breakfast on sailing trips. But, eggs also keep really well! Buy bagels and the fixings or some fresh bread so you can make egg sandwiches or toast. Don't forget instant coffee if you are a morning coffee drinker!
Lunch
In Italy, you can't go wrong stocking up with supplies to make a giant salad every day for lunch. Buy lots of tomatoes, onion, cucumbers, romaine lettuce, olives, mozzarella cheese balls and balsamic & olive oil. It's easy to prepare a big portion for everyone to share, then each person can make whatever else they feel like: canned tuna, a sandwich, pasta, etc.
Dinners
You can plan to eat out for most dinners — and, in Italy, you'll find most meals organized by The Yacht Week are worth attending!
Note: All boats have stovetops and small refrigerators, and most catamarans have a BBQ on the back, but double check before you head to the store.
Snacks
Don't forget to buy lots of snacks! Stick to your senses- something salty, sweet, savory and sour! Lots of chips, some gummy candies, fresh fruit, dry meats & cheeses with crackers, etc. Hard boiling eggs and keeping them in a ziplock in the fridge is also a great idea for a quick protein packed snack.
Drinks
Buy lots of water. The rule of thumb is 1.5 liters per person per day. Best tip is that everyone brings their own refillable water bottle, then buy water in gallon jugs. As for alcohol- buy twice as much as you think you need! A few bottles of wine for meals, lots of prosecco, rosé, beer, hard alcohol and mixers!
Condiments
There might be salt and pepper on the boat, but don't count on it. You'll need to buy your own spices, sauces, mayonnaise, ketchup, etc.
Supplies
Don't forget things like paper towels, toilet paper, garbage bags and ziplock bags! For grilling, the charcoal bricks make life really easy.

More Information