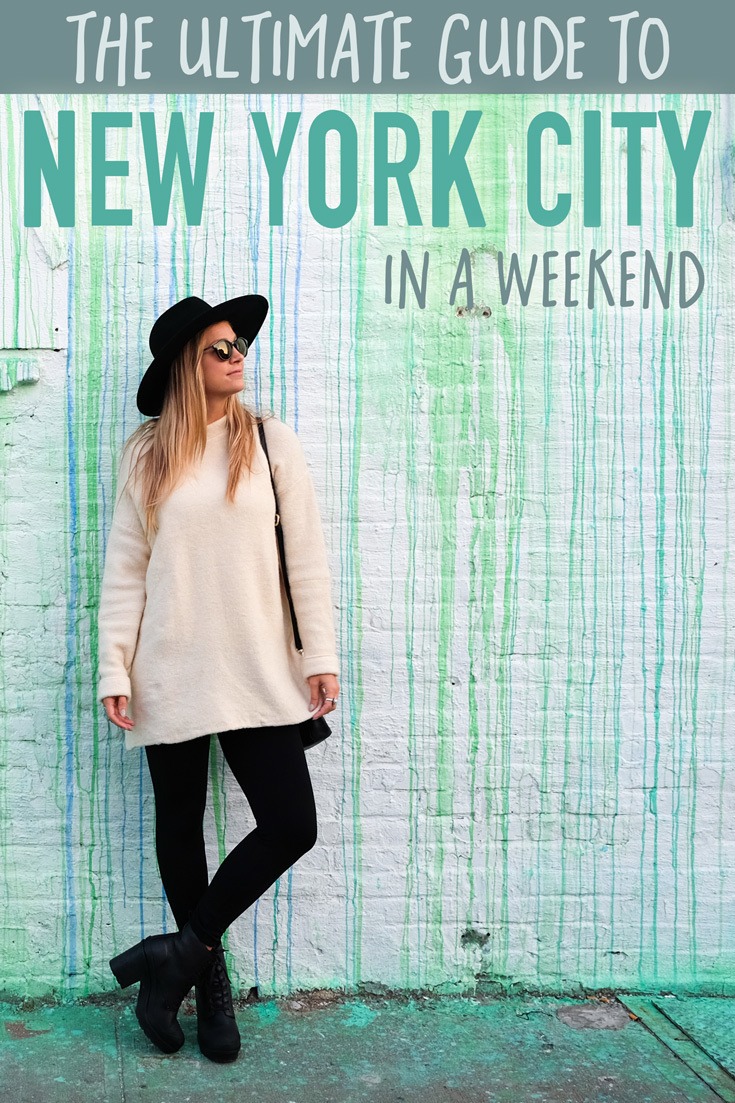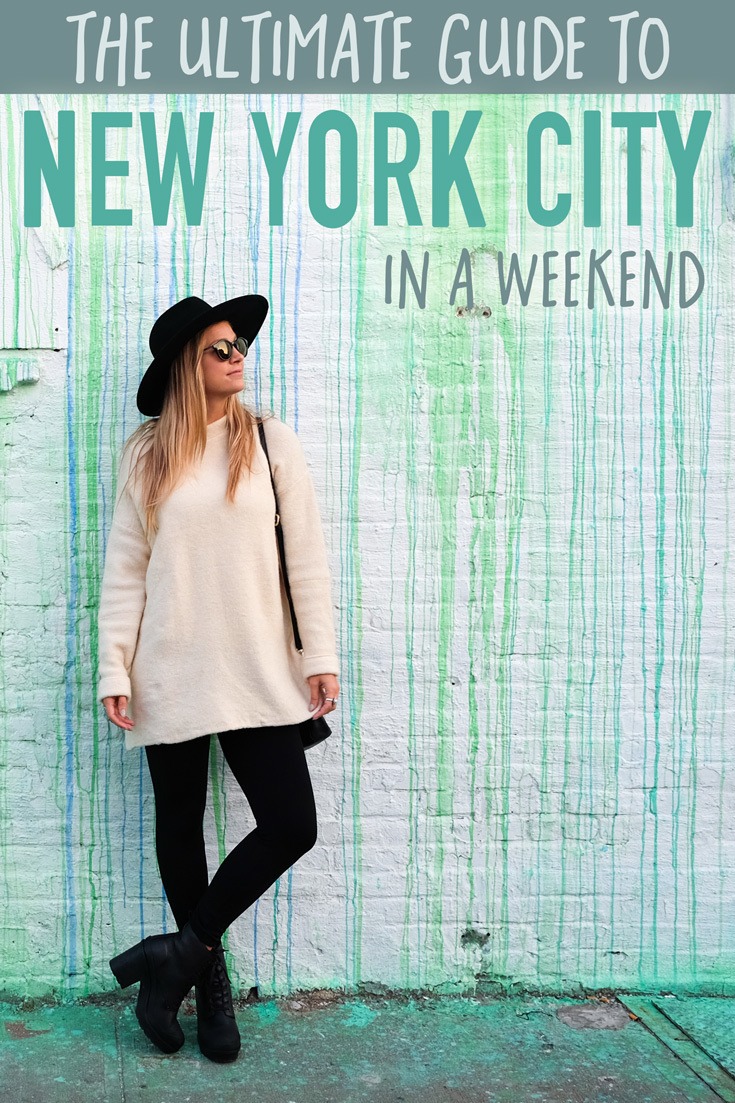 From the Empire State Building to the SoHo to The Statue of Liberty to endless brunch spots. New York is a city that truly has it all. If you've never been to the Big Apple before, trying to figure out what to do, especially in a short period of time, can be overwhelming to say the least.
This guide will help you plan the most epic trip to one of the most epic cities in the world. And don't forget to check out my 10 Tips for Your First Visit to New York City while you're at it!
Here's my ultimate guide to New York City in a weekend!

Saturday Brunch in the City
Brunch: love it or leave it. Either way, New York City is the place to go for a midmorning hankering.
One of my personal favorites that came recommended to me is Cafe Mogador with its Middle Eastern egg platters: two eggs any style with hummus and tabbouleh, and halloumi eggs—poached served with oven-roasted tomato, haloumi cheese, olives, and za'atar pita.
Chalait is a café on Fourth Street specializing in all things green tea, and they also serve a mean plate of avocado toast.
Or there's the fun and interesting Egg Shop, which specializes in all things egg, including egg sandwiches, egg bowls, pickled eggs, and egg salad.
Leisurely enjoy an Australian-style brunch at Bluestone Lane where you'll find delicious dishes, such as quinoa porridge, gluten-free banana bread, and green baked eggs served with chimichurri.

Sightseeing
Of course, there's no limit to the things to do or see in NYC, but you'll definitely not want to miss climbing to the top of the iconic Empire State Building. This Art Deco beauty was the tallest building in the world for 40 years so the panoramas from the top are awe-inspiring, to say the least.
You can climb up to the popular 86th floor, but consider splurging a little for the 102nd to get a private view. Afterward, be sure to stop by the 9/11 memorial, One World Trade Center, locally dubbed "Freedom Tower." It is the tallest building in the Western Hemisphere at 1,776 feet.
Another must-see is Grand Central Park—a glorious 843 acres of gardens, meadows, and waterways.
There are also bunches of cool attractions, including various statues, Belvedere Castle, Central Park Carousel, and the Obelisk, a towering Egyptian monolith, which dates back 2,000 years.
There's plenty to do here too—you can go bike riding or skating, join a yoga class, groove to live concerts, or simply enjoy the fresh flowers and trees throughout the year.

Gardens
Central Park also houses the famous Conservatory Garden, a calm and relaxing sculpted garden of nearly six acres. It's a quiet place for a stroll in English-, French-, and Italian-style gardens.
Here you'll find fountains, a pergola, crabapple trees, germander plants, tulips, Korean chrysanthemums, Japanese holly plants, and much more. The beautiful Washington Square Park is in the Greenwich Village neighborhood and is a popular place to meet and sit in the summertime.
Its characteristic arch is on the model of the Arc de Triomphe in Paris.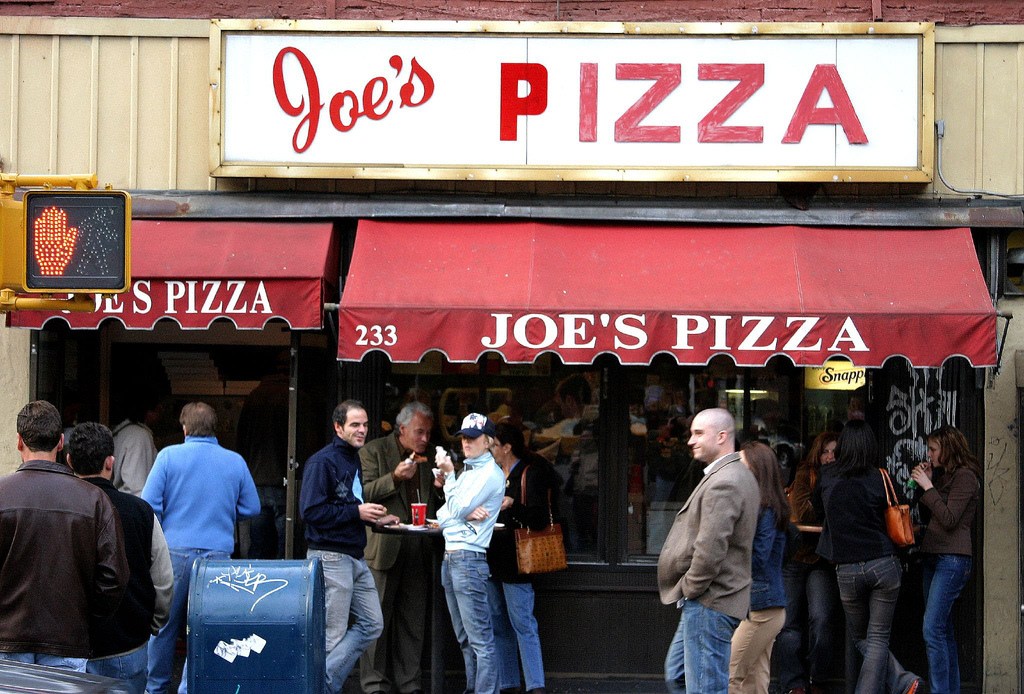 Pizza, Pretzels, and Hotdogs
You can't visit NYC without diving headlong into the glorious and unpredictable world of street eats. While you're wandering around, stop for a quick snack at a random hotdog or pretzel stand. This is the quintessential New York experience.
If you're looking for a sit-down joint, look no further than Joe's Pizza on Carmine Street. This old-style New Yorker pizza is a thin and flexible triangle of cheesy deliciousness. The crust is lightly toasted and the toppings are just right—not too rich or heavy.

Visit High Line
High Line is a public park built on a historic freight rail line. The park has a lively calendar of events, which includes walking tours, spoken word nights, tai chi sessions, and art installations.


Coffee
New Yorkers love their coffee; why not start your day with something new and try some matcha tea latte? Chalait is also the perfect place to grab a matcha lattes, matcha latte with chocolate sauce, matcha cortado, iced matcha latte, and more.
Toby's Estate has a few locations in Manhattan (and a brew school!). You'll want to head to the West Village Cafe and Brew Parlor for the best coffee. Two Hands Cafe is a bright, community-based restaurant and café owned by two Aussie expats in Little Italy.
It is known for its cheery baristas and tasty beans, so be prepared for long lines—it's quite popular!

Markets
Stock up on your culinary treats and fashion at Chelsea Market, an indoor food and shopping hall. They have everything from the latest threads at Anthropologie to quirky thrift goods at Artists & Fleas. Or gulp down goodies at the Doughnuttery, Num Pang Sandwich Shop, or L'Arte del Gelato.
Also be sure to stop by the Union Square Greenmarket, a great farmers' and fishermen's marketplace chock-full of fresh produce, breads, jams, pickles, ciders, and much more.

Brooklyn Bridge
Built from 1869 to 1883 by 600 workers, the Brooklyn Bridge has influenced the hearts and minds of New Yorkers for decades.
You can join a guided walking tour or do your own jaunt across the suspension. The entrance begins at the intersection of Tillary Street and Adams Street. Look for the collection of love locks near the Manhattan Tower—the padlocks there are a tribute to everlasting love.

Street Art and Thrifting in Bushwick
Bushwick is a fun neighborhood of restaurants and shops in Brooklyn. The spectacular street artwork is reason alone to visit. The sometimes-thoughtful, sometimes-comical graffiti make for great selfie backdrops!
This trendy area is also home to numerous thrift shops—just wander down the roads and chances are you'll come across one. Pick up your vintage dress at Brand Hunters, your bright necklaces at The Lion's Den, and that weird, classic cabinet at Green Village Used Furniture & Clothing.


Join a Tour
To make the most out of your time, I'd highly recommend joining a Take Walks tour around New York City! Find the one that speaks to you! I've been on tours with Take Walks all around the world and am always so intrigued by what they have to offer—plus it's a great way to see the city in a whole new light!