I arrived at my hostel in Siem Reap by way of the craziest Tuk Tuk ride ever from my night bus from Phnom Penh! After 2 weeks and oodles of noodles, while traveling in Thailand, I took full advantage of my egg and toast breakfast at the hostel.
My friend Lindsay and I were absolutely ecstatic to be in Siem Reap and spend the next few days exploring Angkor Wat. We had arrived without a plan, but the hostel helped us organize a 2-day tour of Angkor Wat.
Here's my guide to visiting the Temples of Angkor in two days!

Facts about the Temples of Angkor
Angkor extends over 400 square kilometers and consists of more than 1000 temples!
From the 9th to 15th century, Angkor was the center of the Khmer Kingdom.
During the course of the 15th century, nearly all of Angkor was abandoned, except for the temple Angkor Wat, which remained a Buddhist shrine.

Tips for Visiting the Temples of Angkor
When we arrived at each temple, we would be swarmed by little kids trying to hustle us and sell us guidebooks, bracelets, etc. They were pretty relentless and at one temple Lindsay had a little girl follow her almost in tears for 10 minutes. It breaks your heart, but the guides tell you not to buy anything because the local adults give kids quotas of things to sell and it has become a huge problem. It definitely put the consequences of the effects of tourism in developing countries into perspective.
Overall, I think most people would get enough sightseeing out of a two-day tour. Our days were exhausting and, by the end of the day, you had seen enough of the temples.
We had great weather but I would try to plan your visit during the time of year with the best sunrise behind the Angkor Wat temple.
Siem Reap is a very cool city and deserves a good exploration. Also, the night markets were better than any market I went to in Thailand – less expensive, and less touristy.
Onederz Hostel Siem Reap is a great option and offers daily tours and recommendations — it has private and dorm room options. Definitely recommend their Angkor Wat tours.
A three-day pass to explore the Angkor temples costs $62 USD. A single-day pass is available for $37 USD or a week-long pass can be purchased for $72 USD.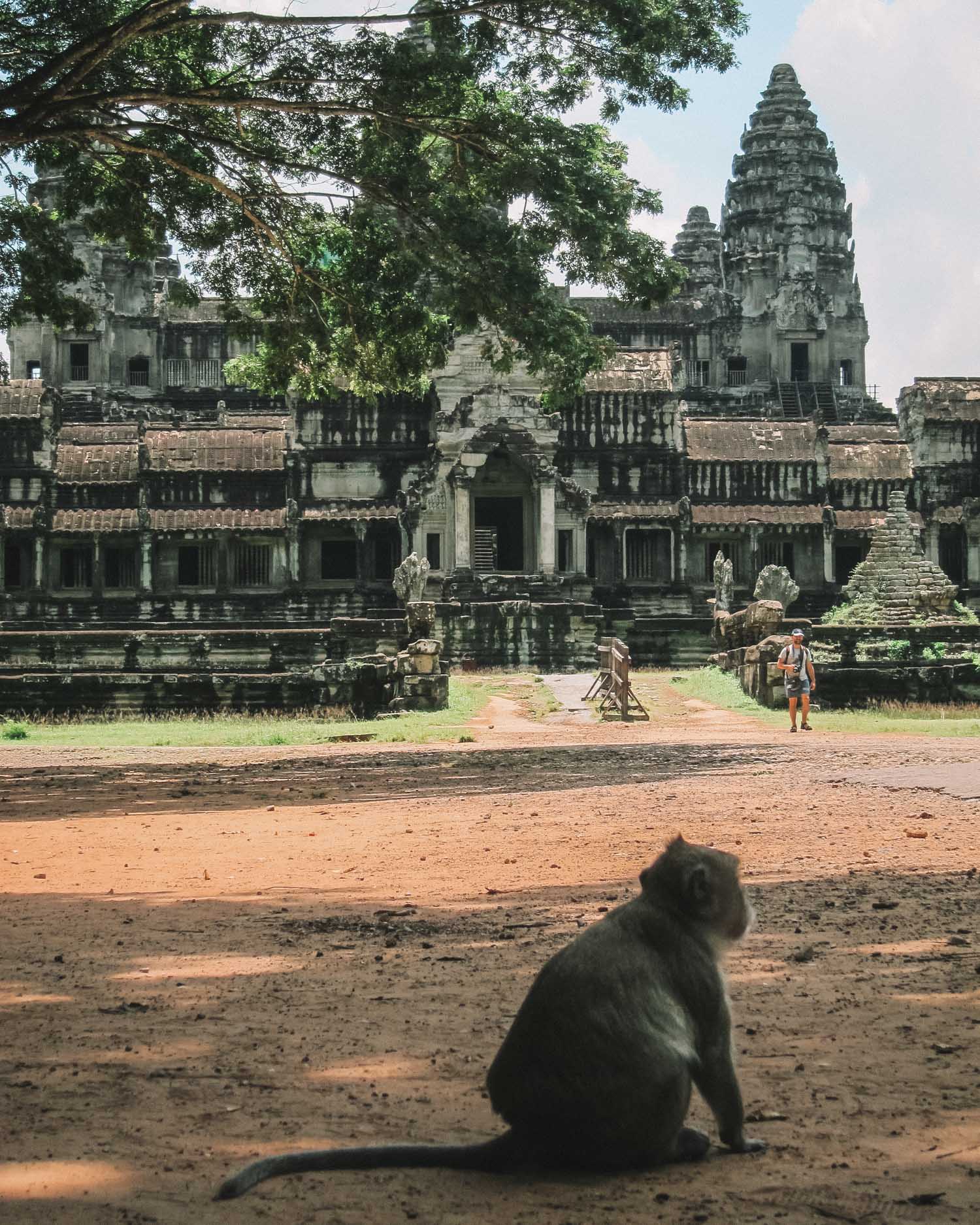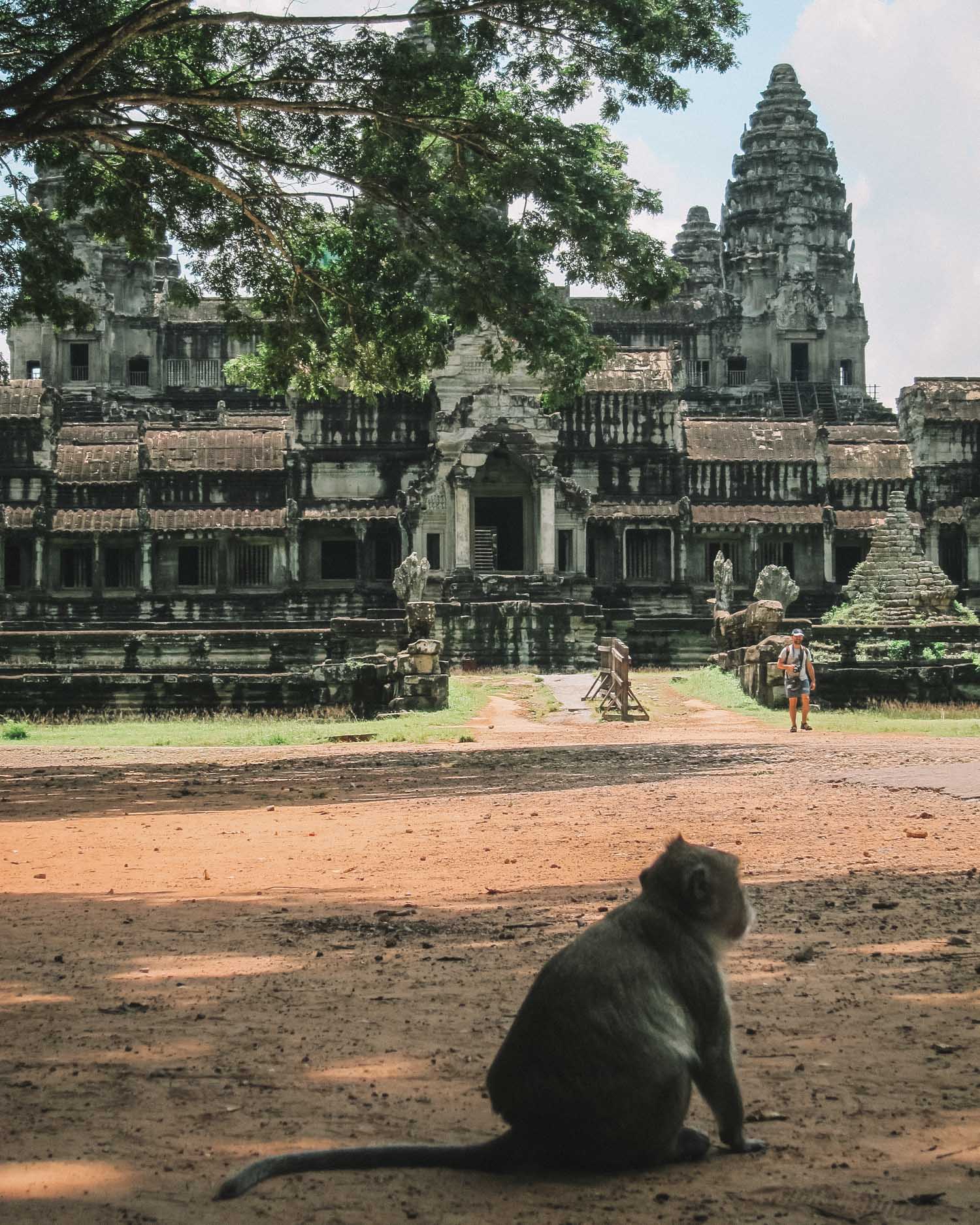 Day 1 of the Tour
We met a couple from Spain, Sara, and Carlos, who joined Lindsay and me on the tour. Once introduced to our guide, we all boarded 2 separate tuk-tuks, and headed to our first temple, Angkor Wat. We spent the day visiting various temples and exploring their ancient wonders.
Angkor Wat
Angkor Wat was built between 1113 and 1150 and is the largest religious monument in the world. Half of all tourism to Cambodia is credited to international tourists wanting to visit Angor Wat.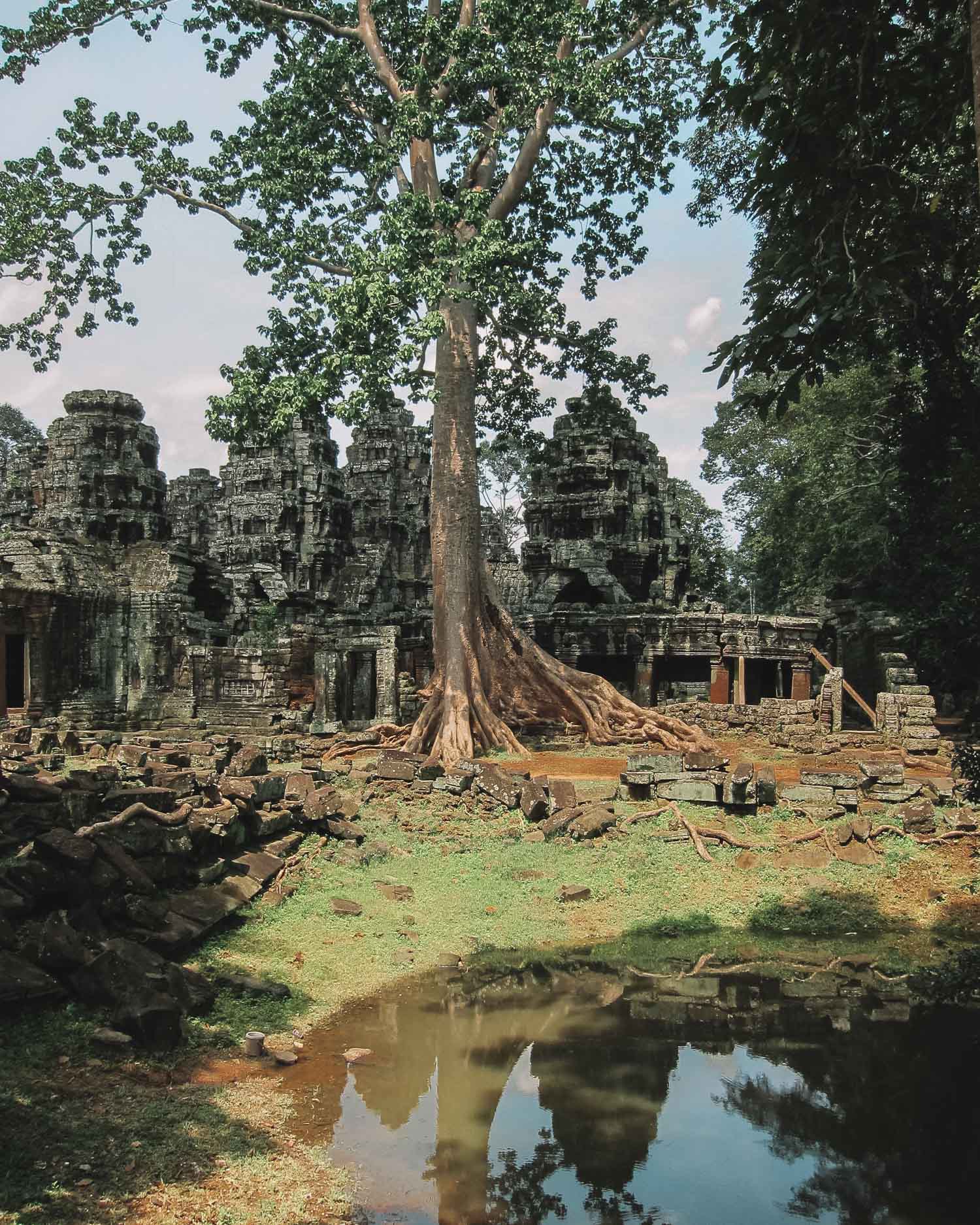 Banteay Kdei
Banteay Kdei is known as the Citadel of Monks.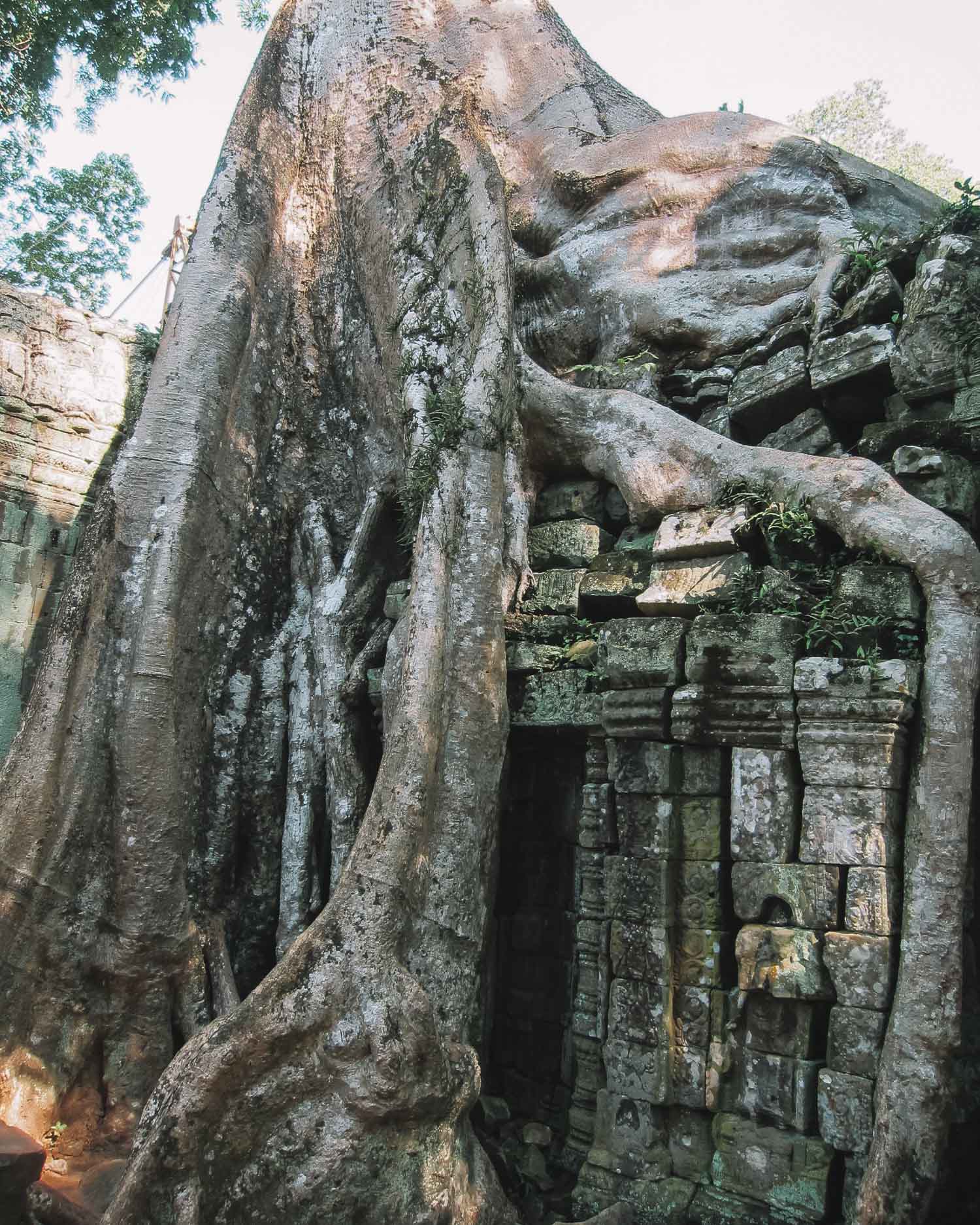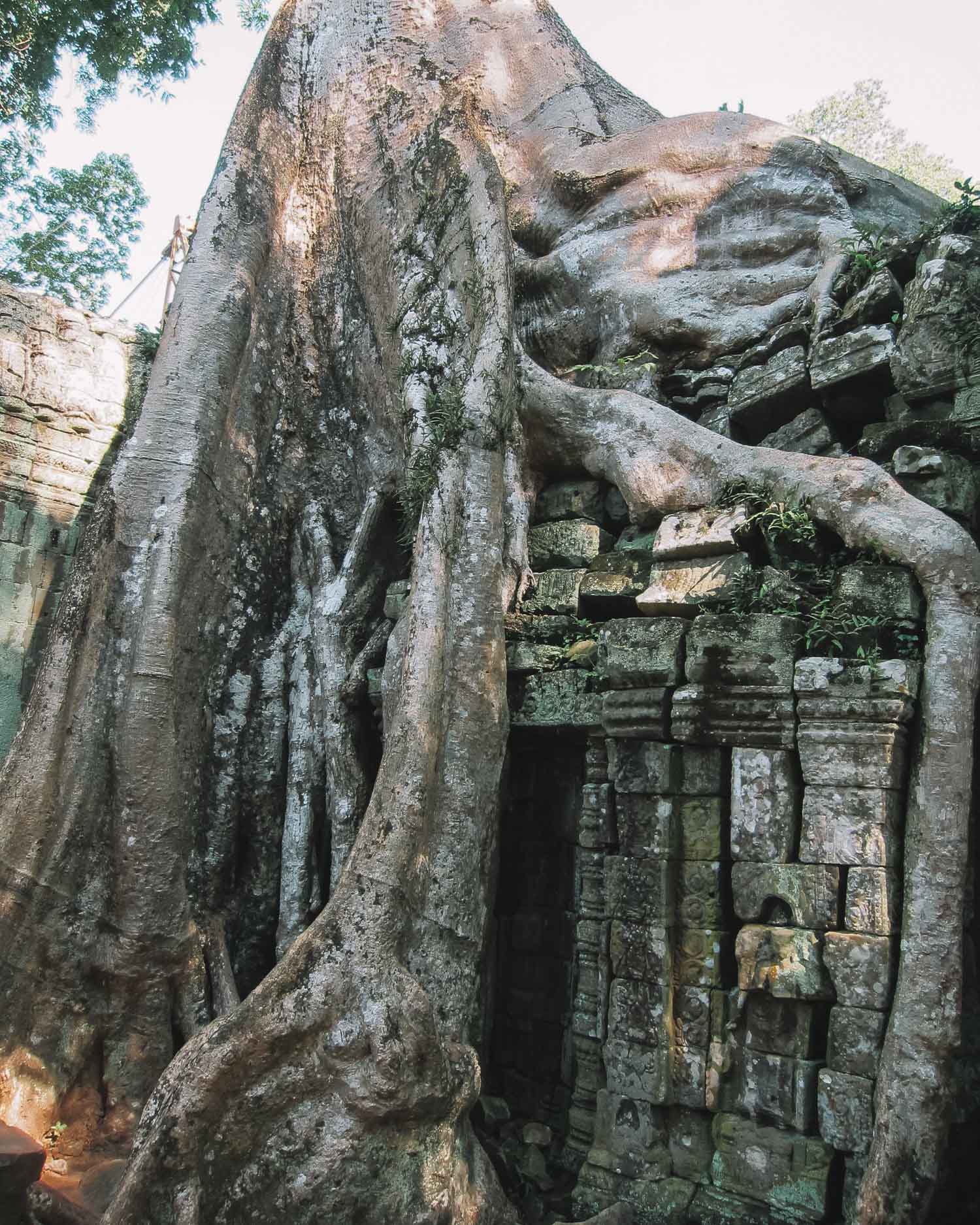 Ta Prohm
The Angkor temple Ta Prohm is easily recognized (and famed) as the set for the movie Tomb Raider. Large vines cover the ruins creating a fantasy setting like something from a storybook.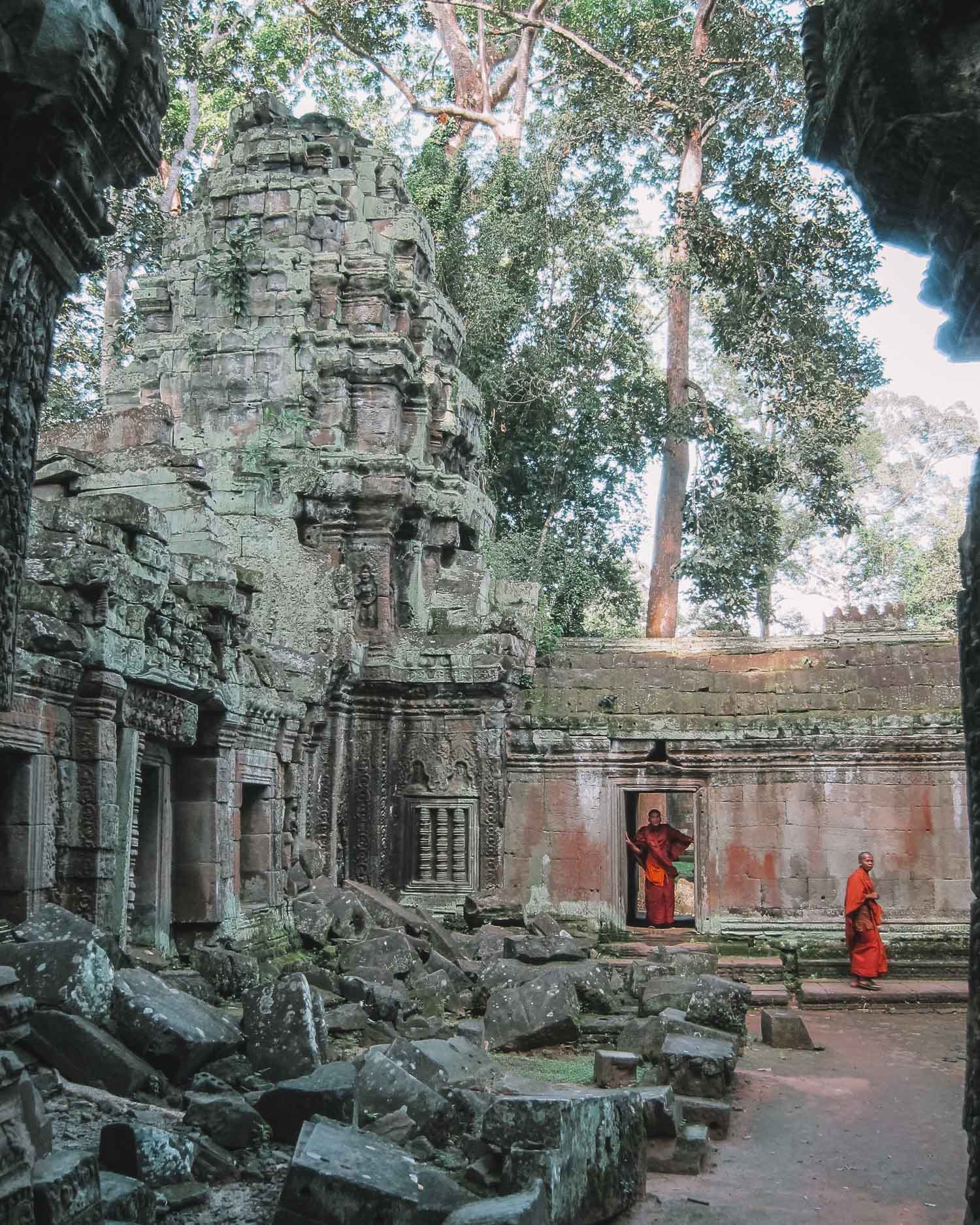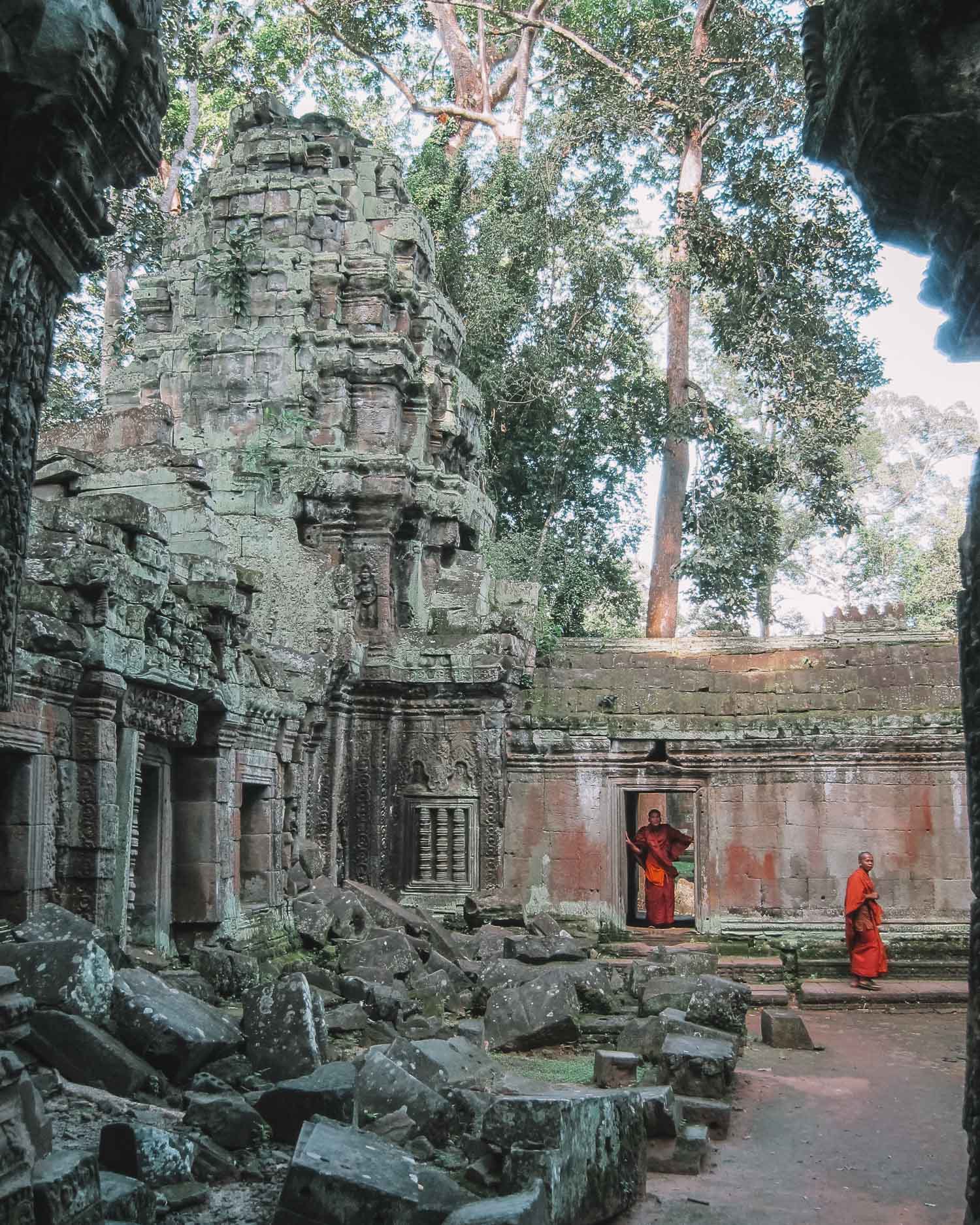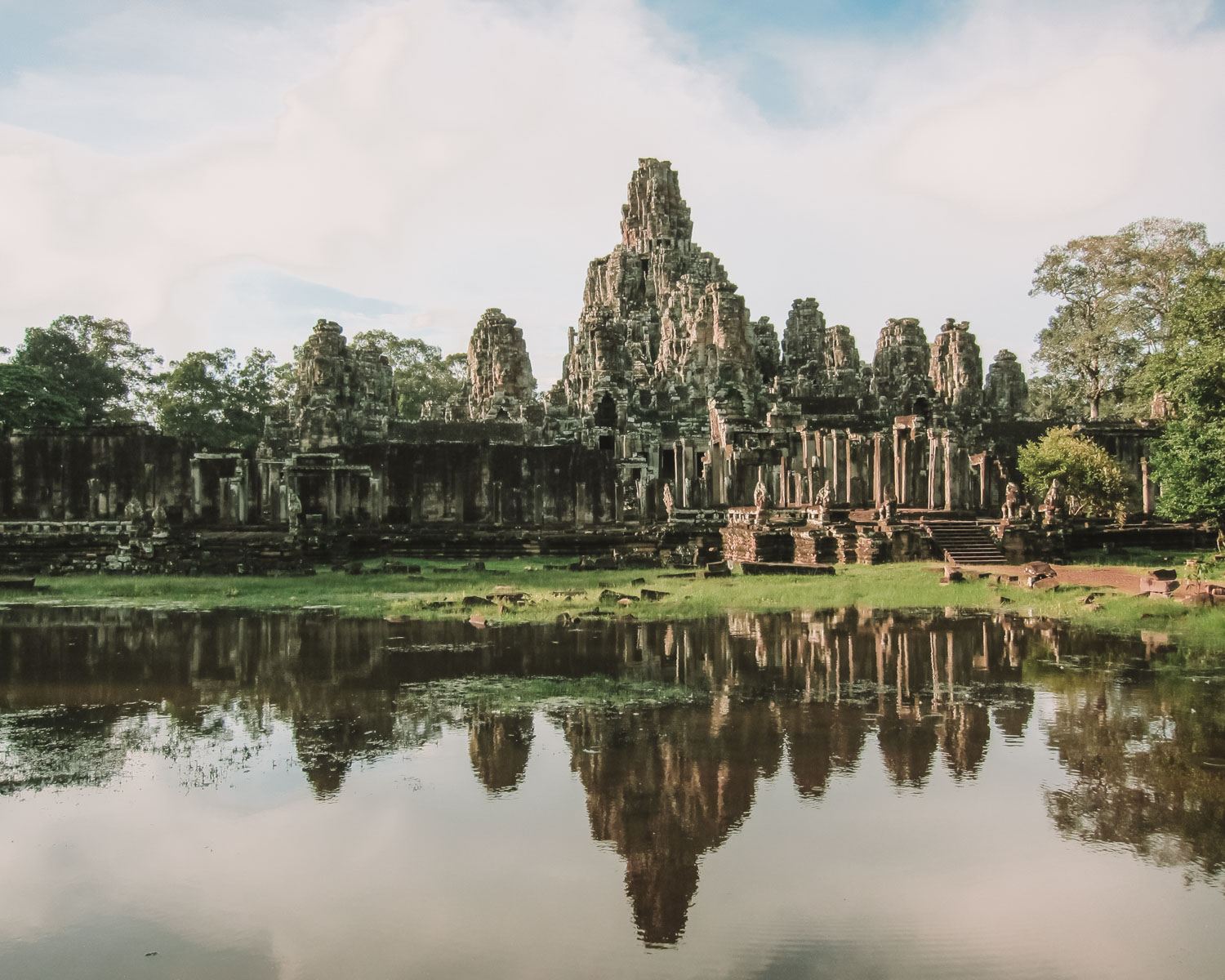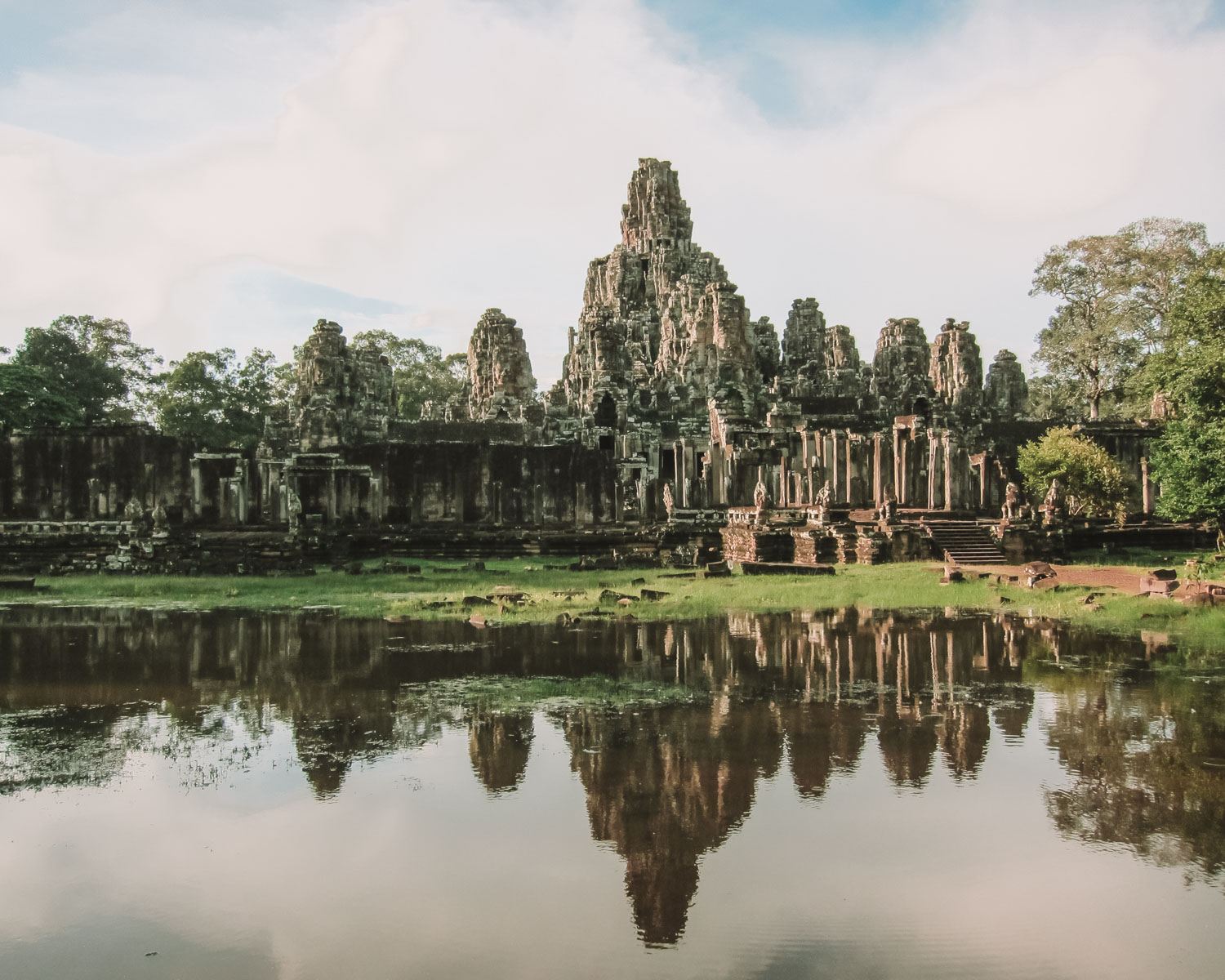 Bayon
Bayon was one of my favorite temples. Its unique construction features a number of smiling stone faces on its towers. There's a (not-so-secret) spot here where you can get a photo touching noses with one of the statues.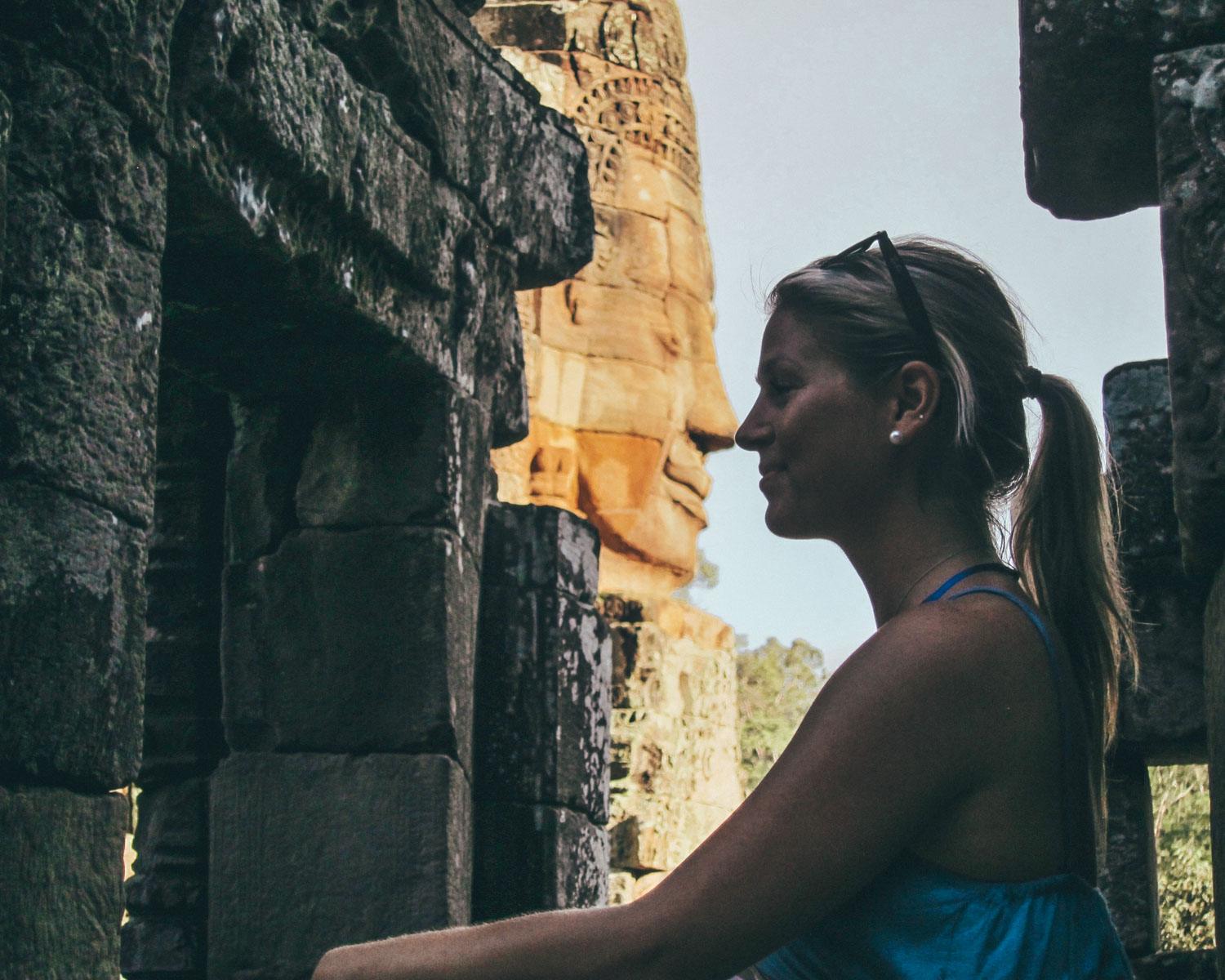 Phnom Bakheng
Phnom Bakheng is a symbolic representation of Mount Meru, home of the Hindu gods. We ended our day here and made the long climb to the top to watch the sunset. It was breathtaking!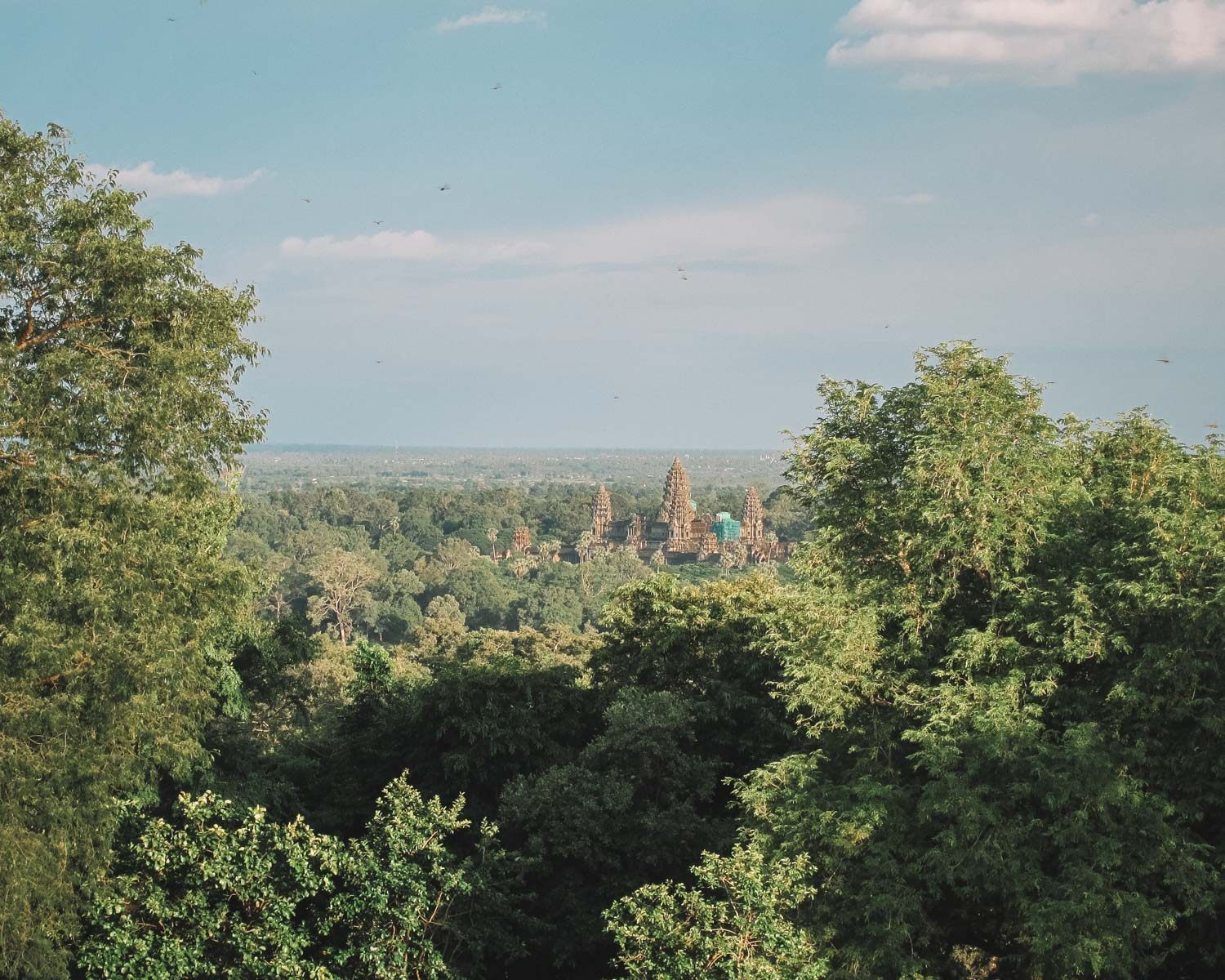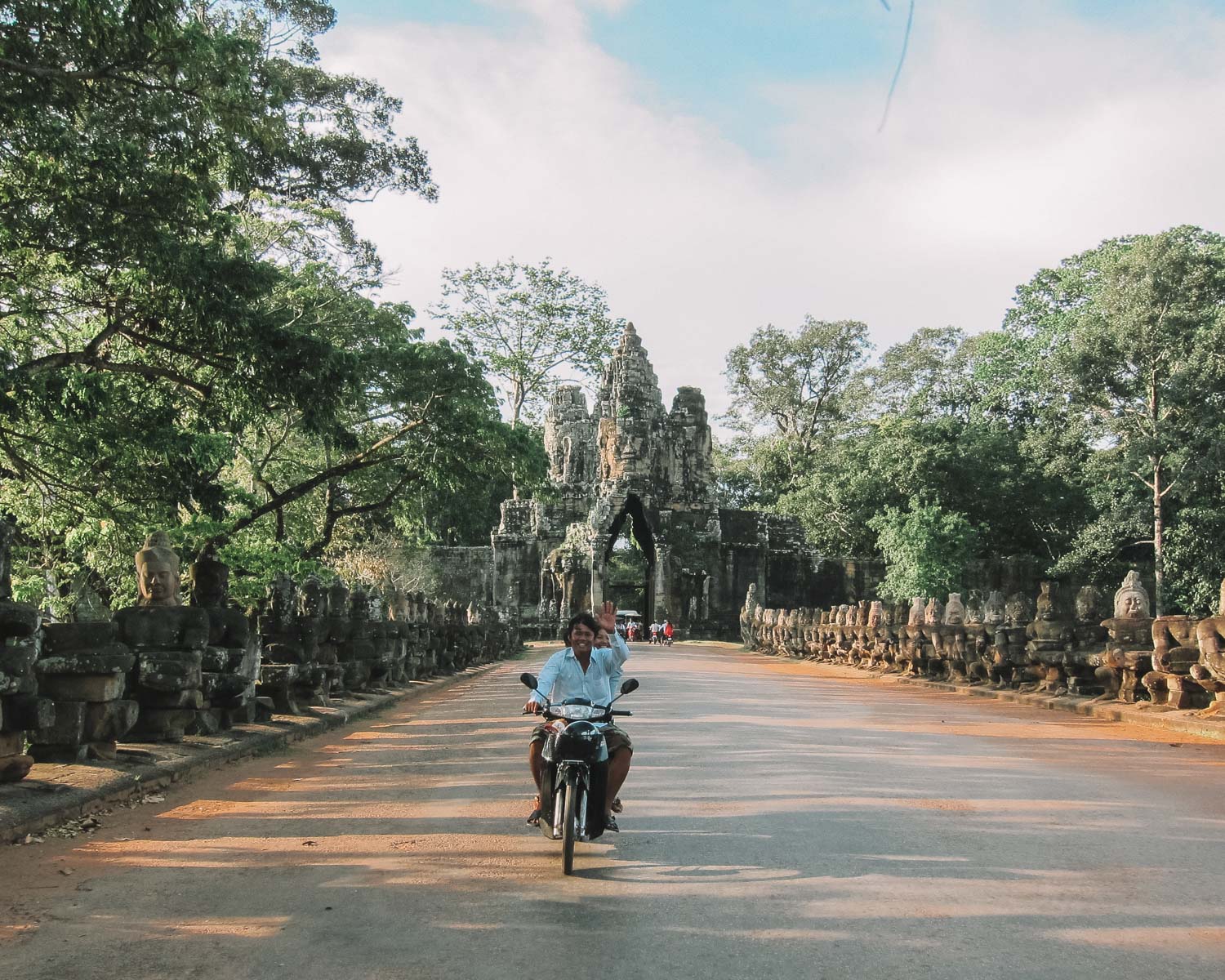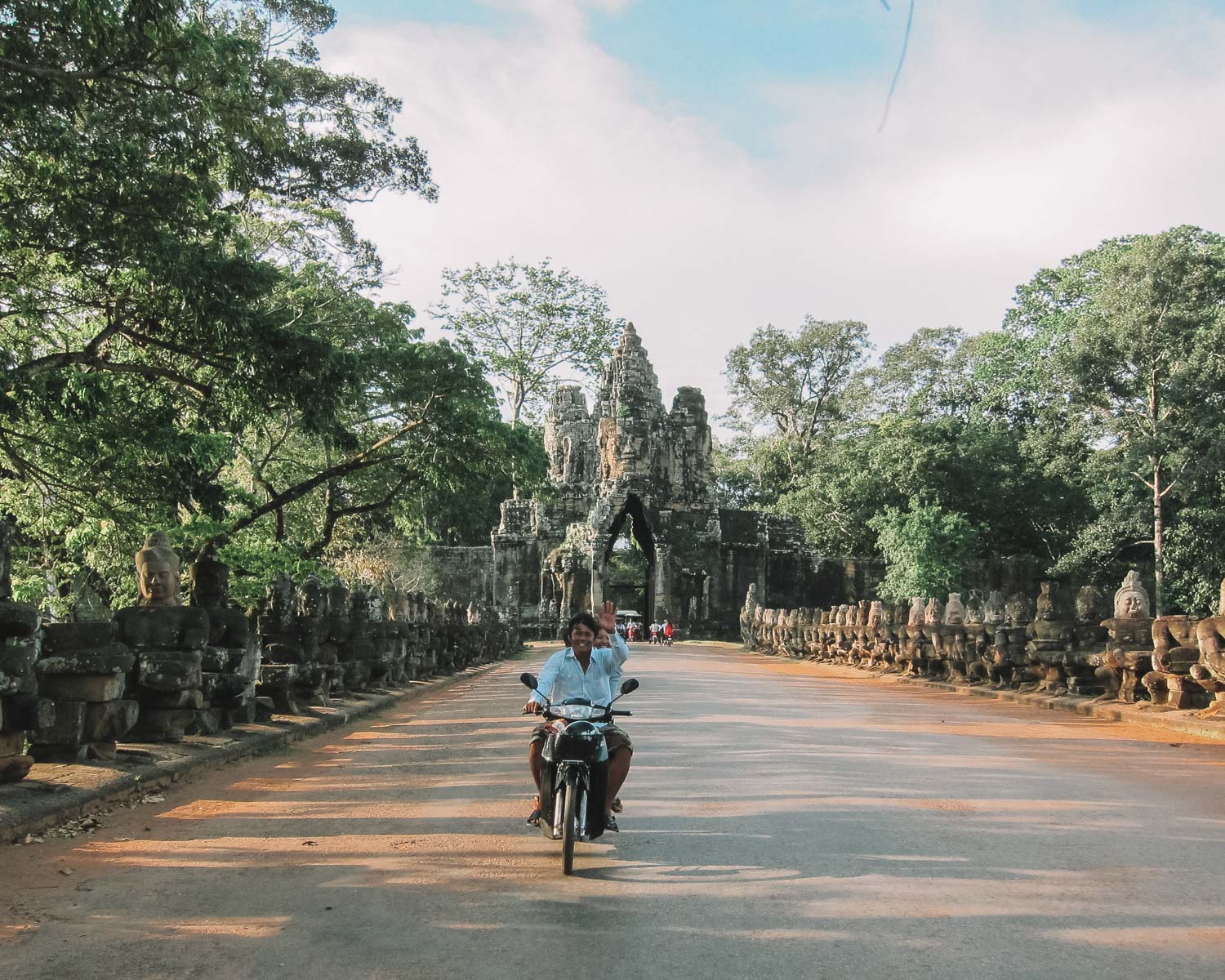 The Hindu and Buddhist history, along with the history of the different ruling empires, felt absolutely unreal. It's mind-blowing to think of these incredible temples as they were during the reign of their Kingdoms. Nearly a millennium ago, someone envisioned and created these wonders that we still revel in.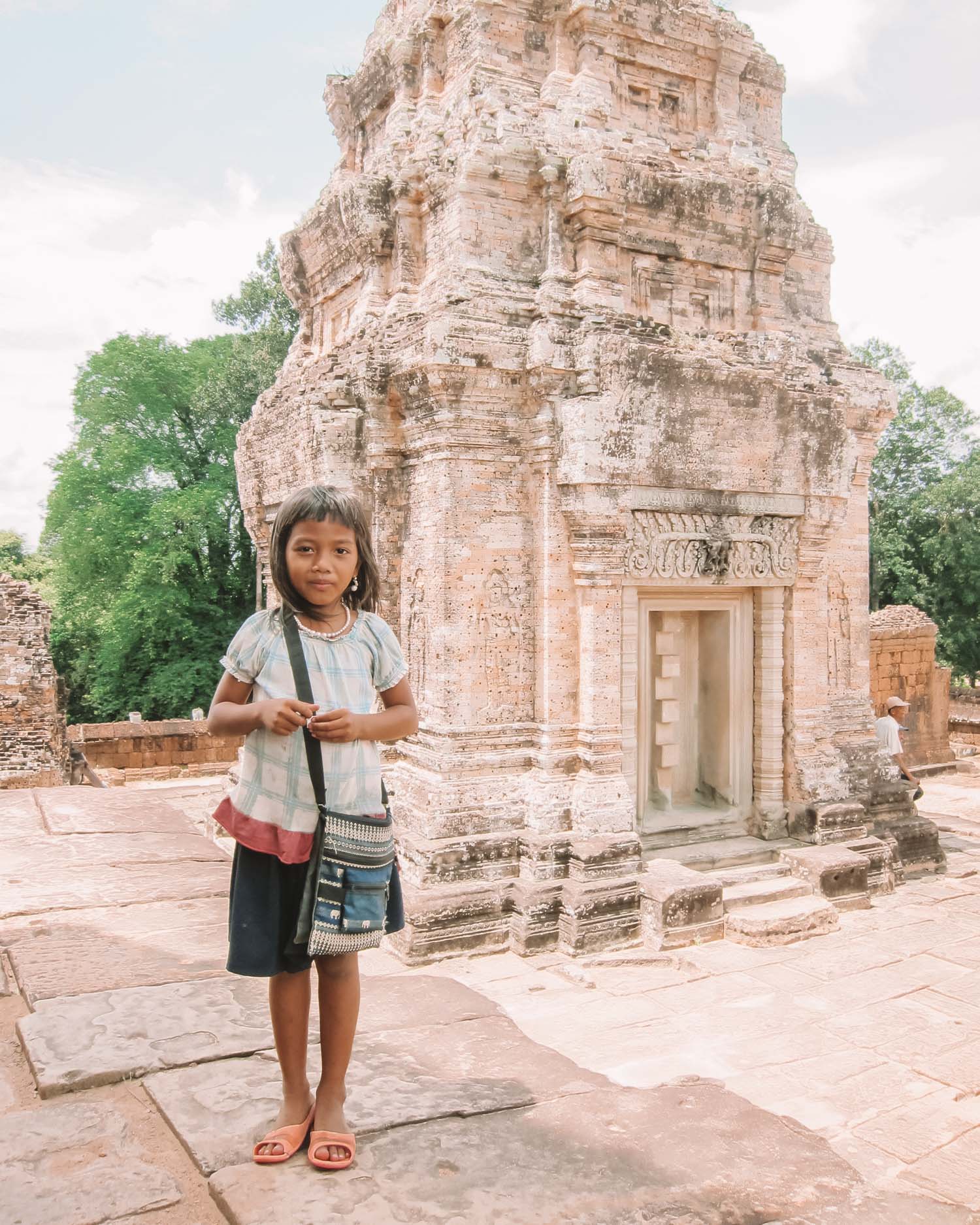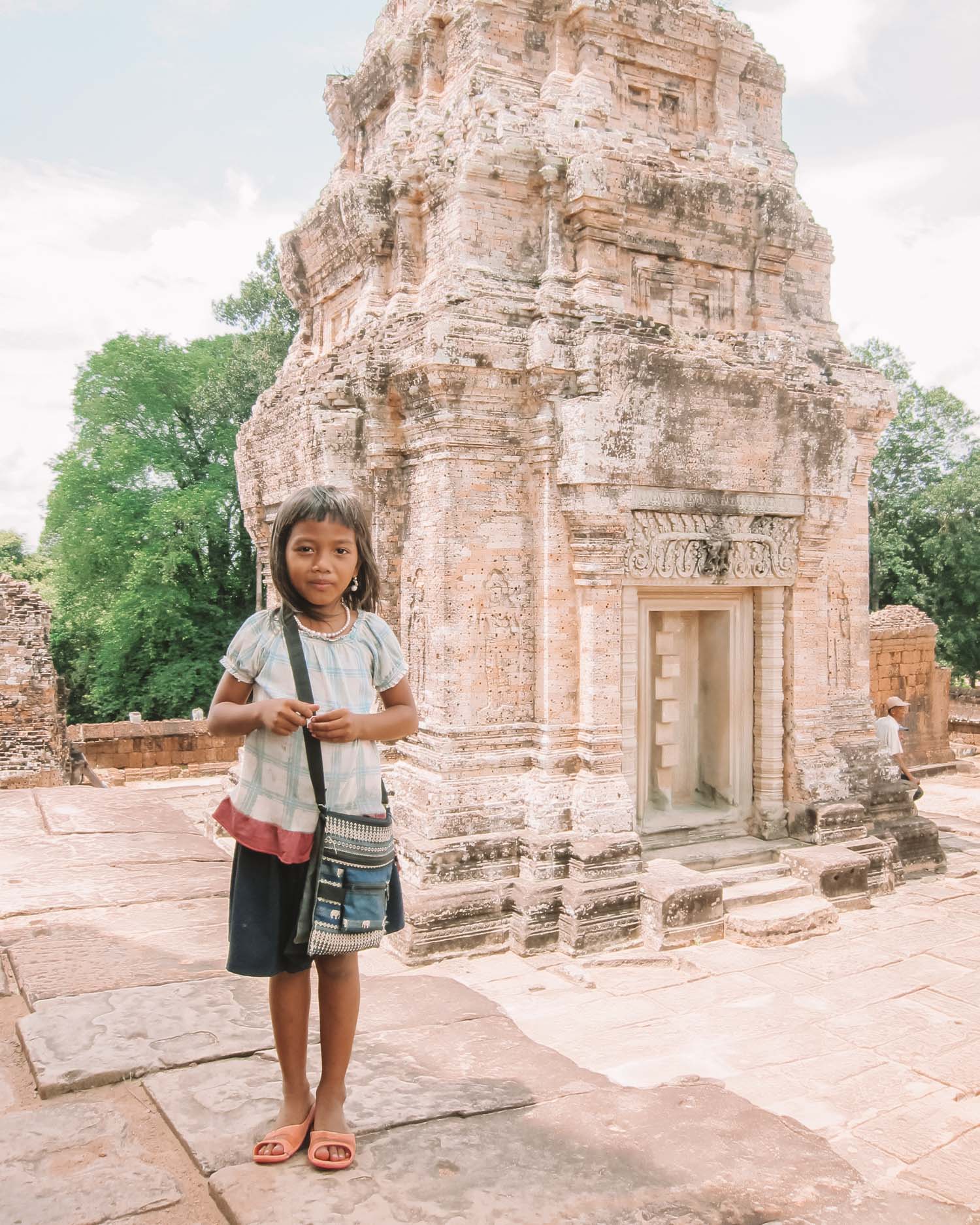 Day 2 of the Tour
We accidentally slept through our alarm on our second morning! We were woken up by our hostel staff and has to rush out to our Tuk Tuk at 5 am to make it to Angkor Wat for sunrise. Unfortunately, it ended up being too cloudy, but the haze made the temple look just as magical as it felt.
Apparently, the sunrise is only really good twice a year.
The rest of our day was packed with adventures and even more temples. We climbed to the 3rd floor of Angkor Wat which, during its reign, was reserved only for the king and queen.
After that, we went to Pre Rup (a funeral temple), Banteay Srei (the jewel of Khmer art), Banteay Samré (named after the ancient people of Indochina), East Mebon (used to be on a manmade island), Ta Som (overgrown by a sacred fig tree), Neak Poan (the sacred island), and Preah Khan (contains a stupa that looks like a lit candle from a sunlit opening).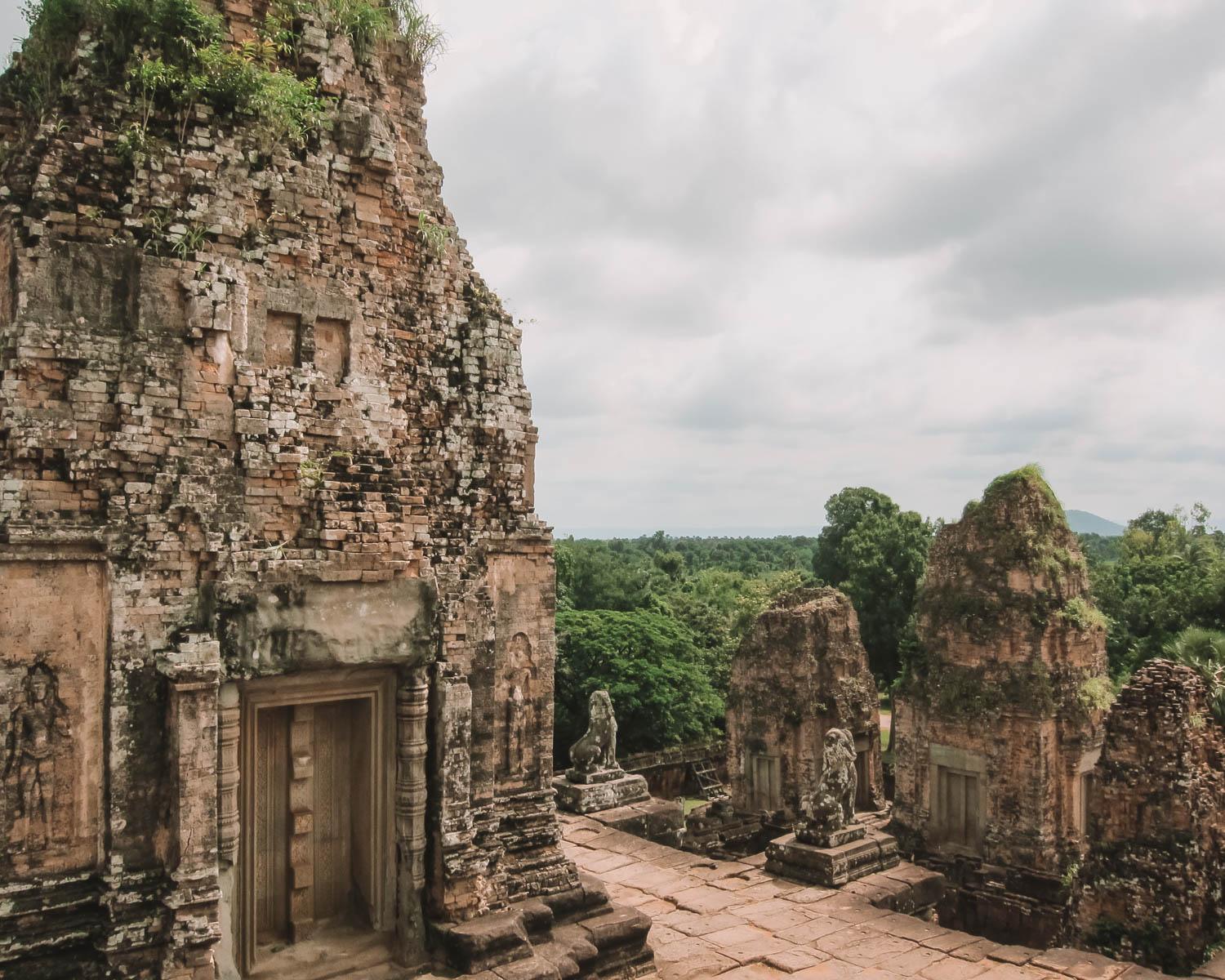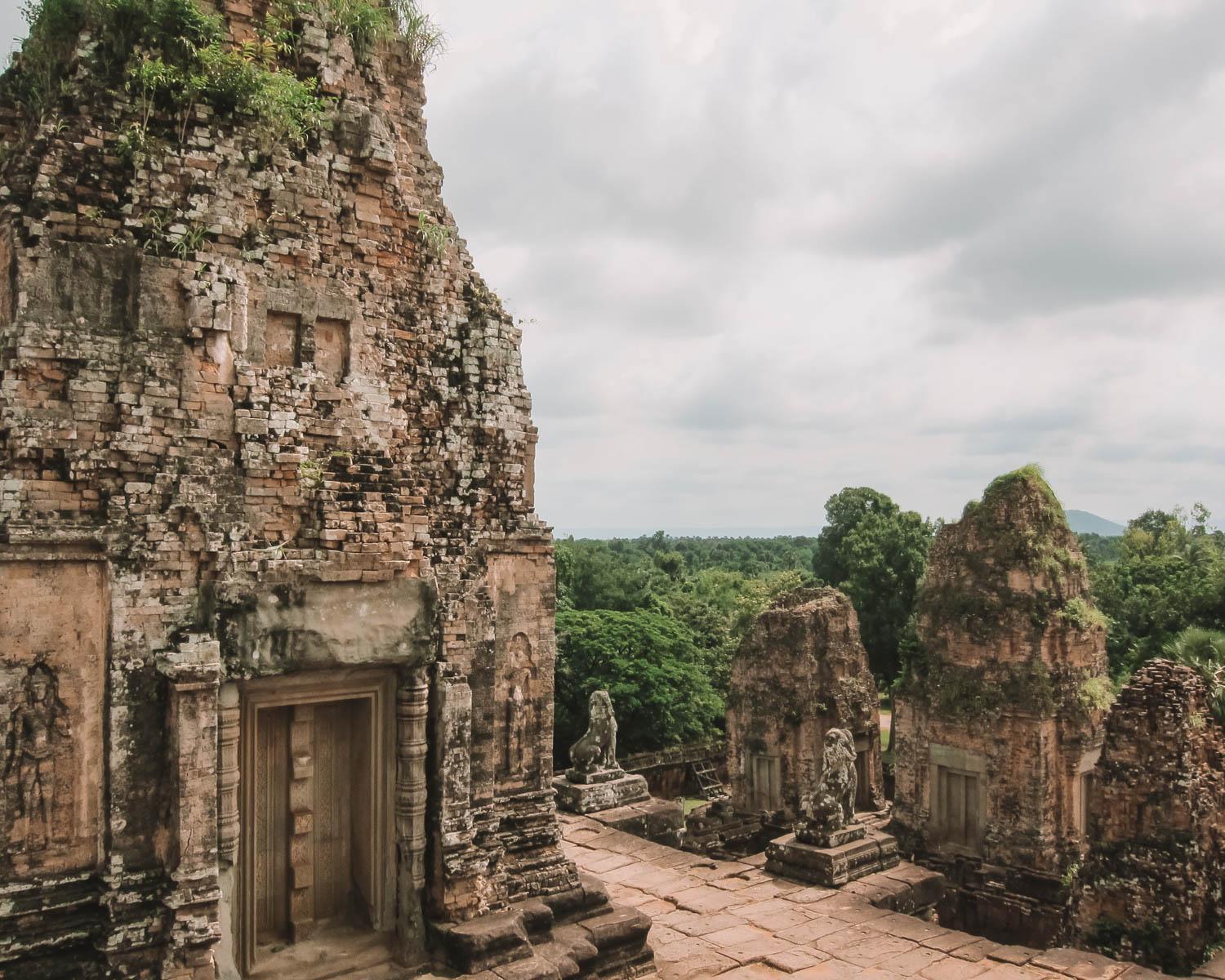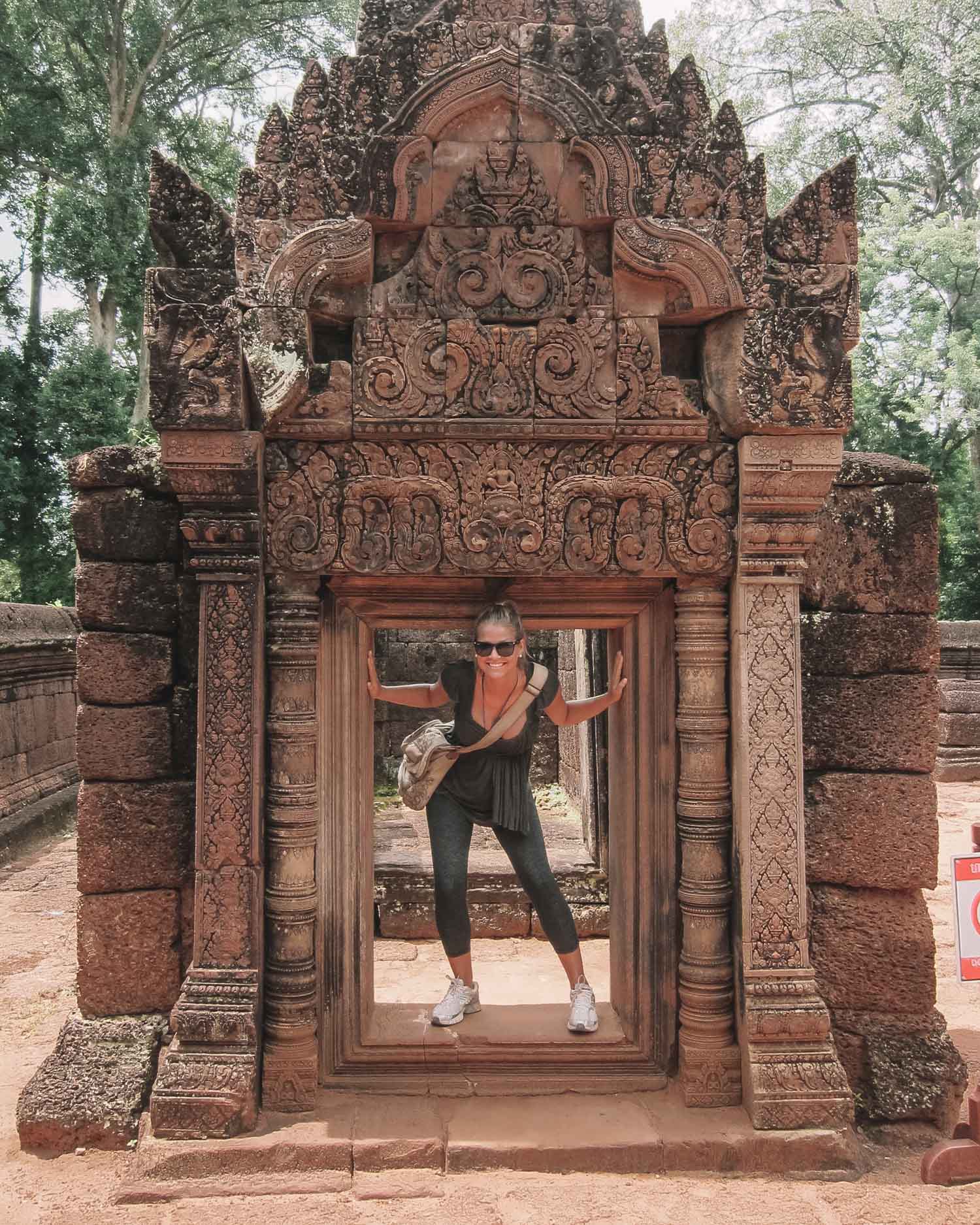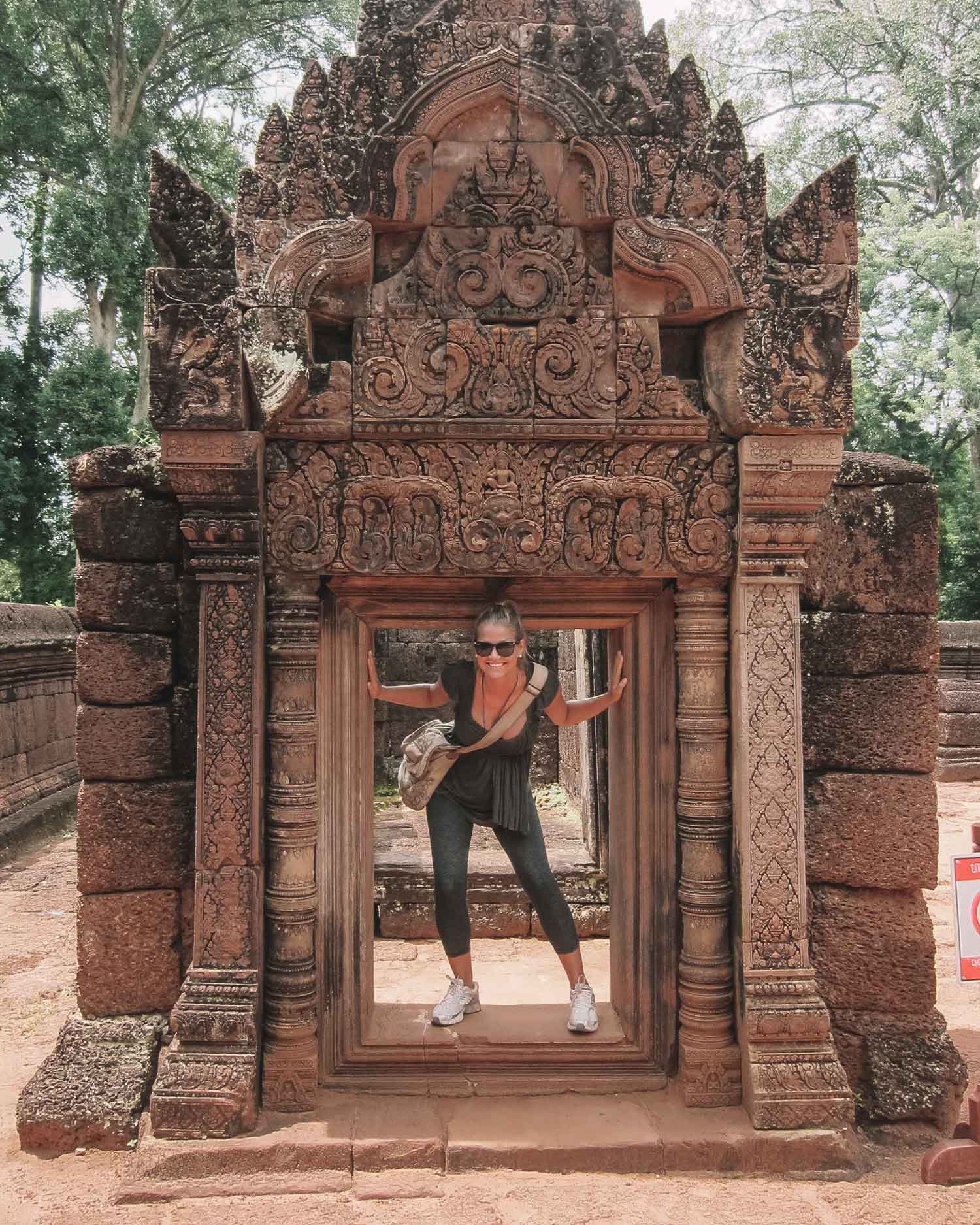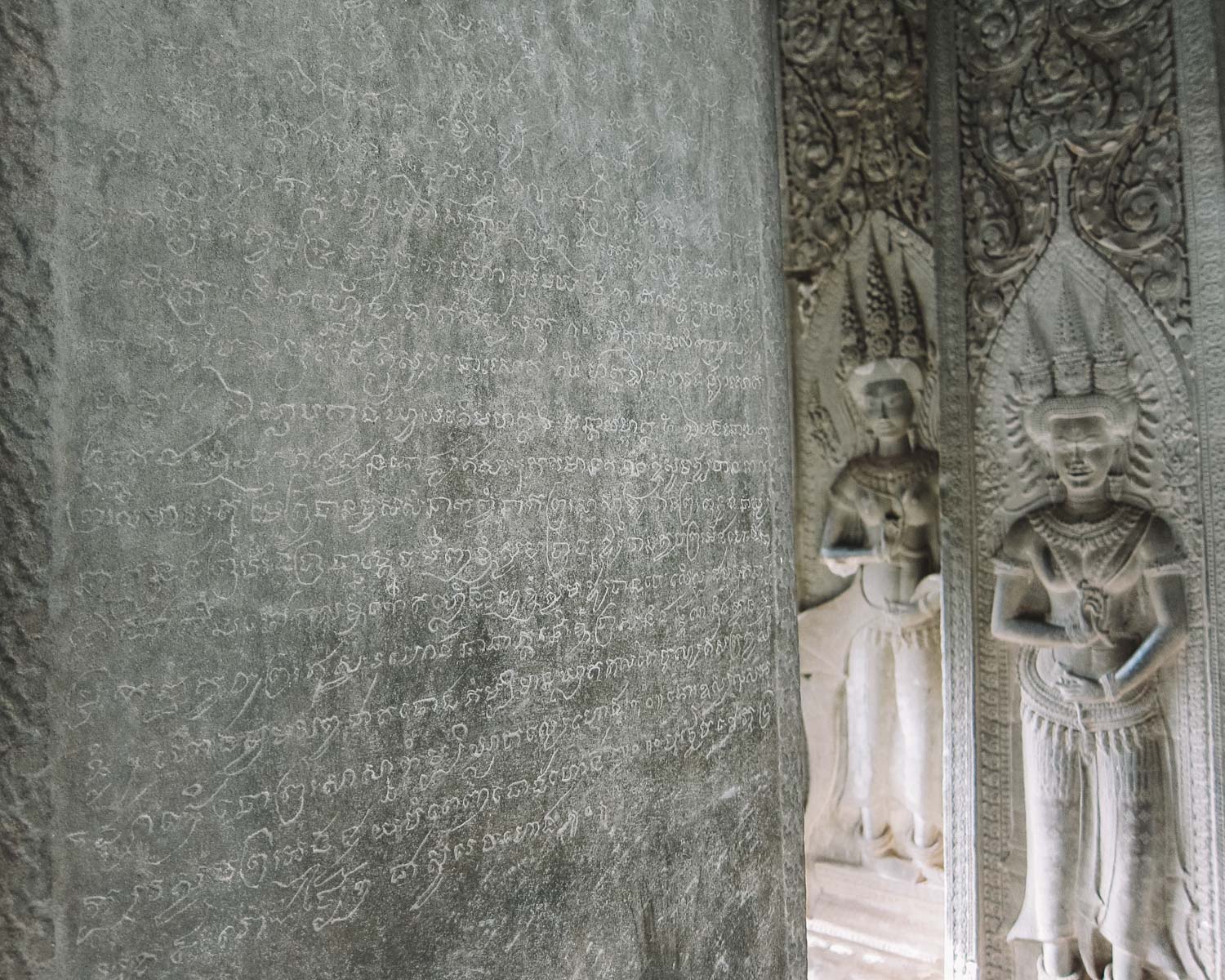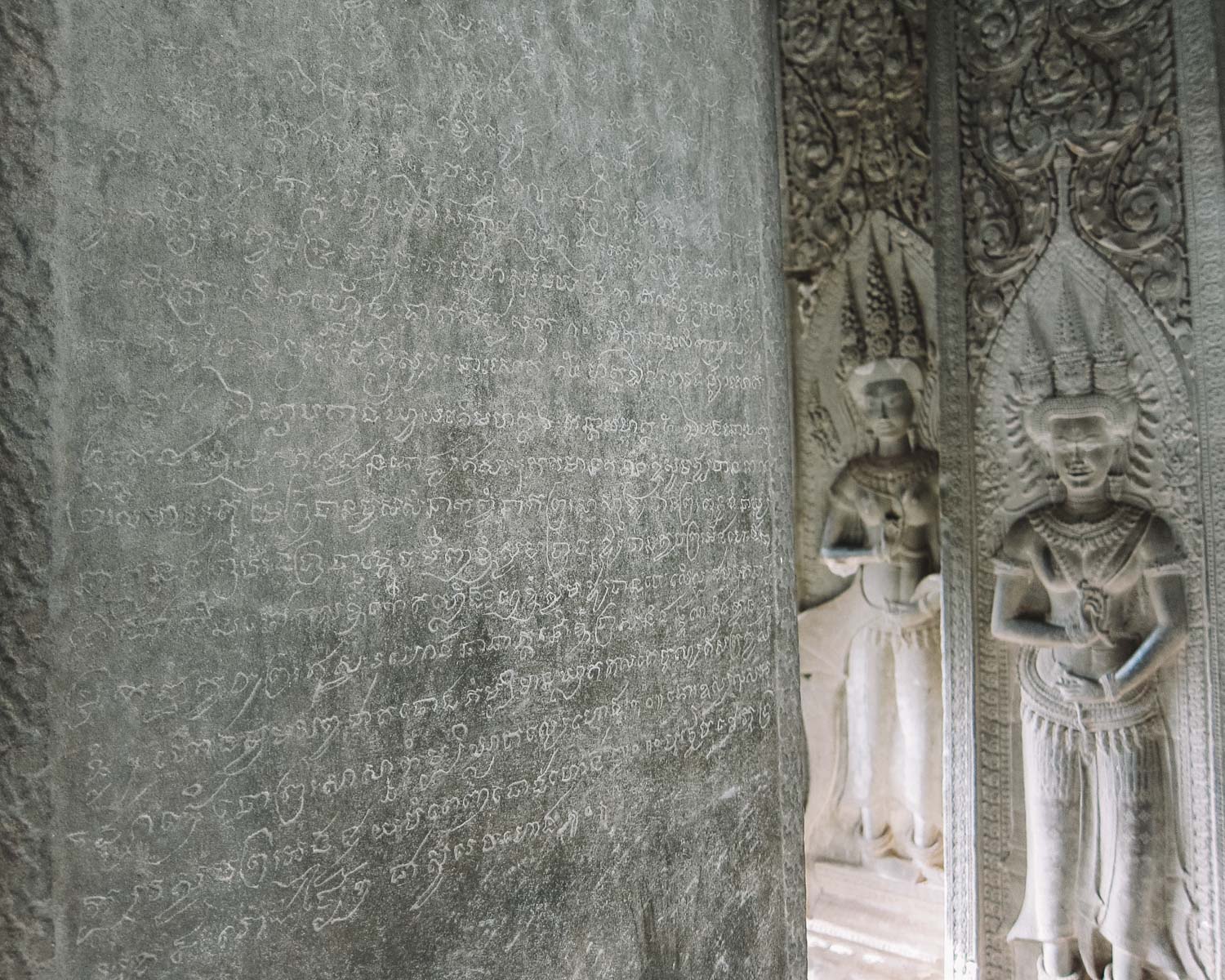 It was a long tuk-tuk ride out to Banteay Srei, but hands down the most incredible drive I've ever experienced. We drove past endless green rice fields, children playing, people cooking & working and countless smiles.
We even packed some roadies. Cracking a cold one on a tuk-tuk needs to be on everyone's bucket list.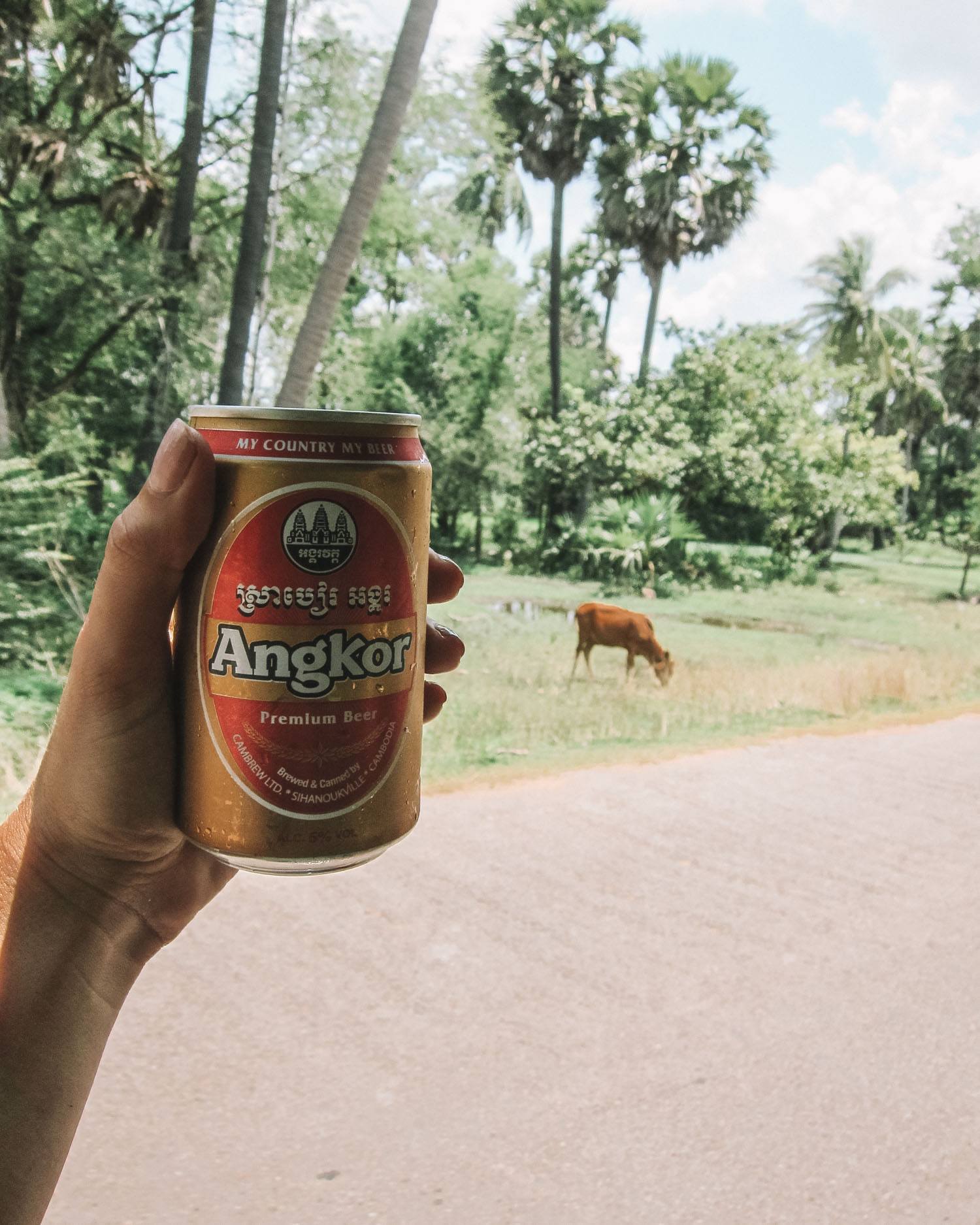 At the Neak Poan temple, we sipped on coconuts and had a couple of local boys help us break them open… or at least help us attempt to open them. We sat down in the ancient temple and sipped away. Definitely a surreal experience!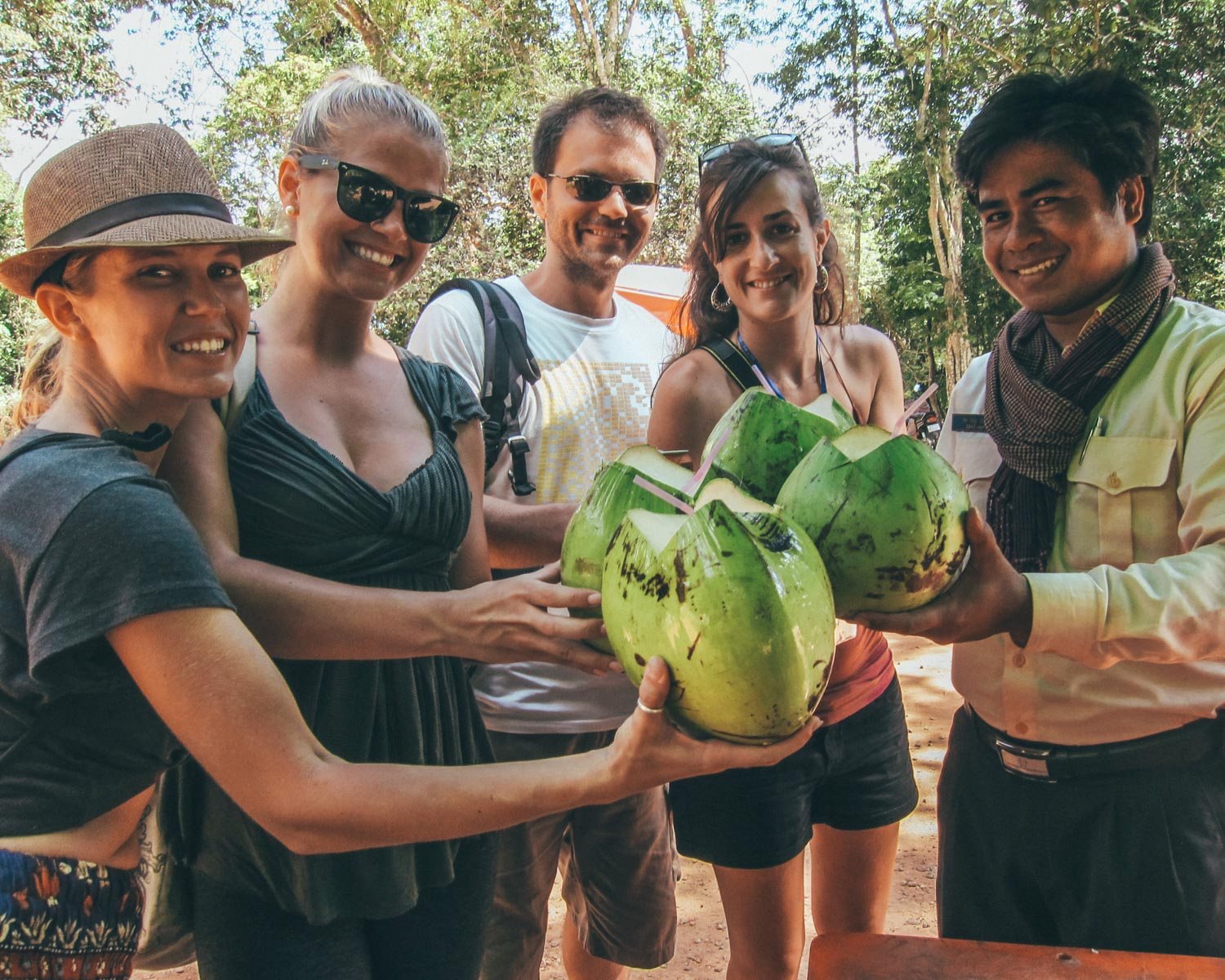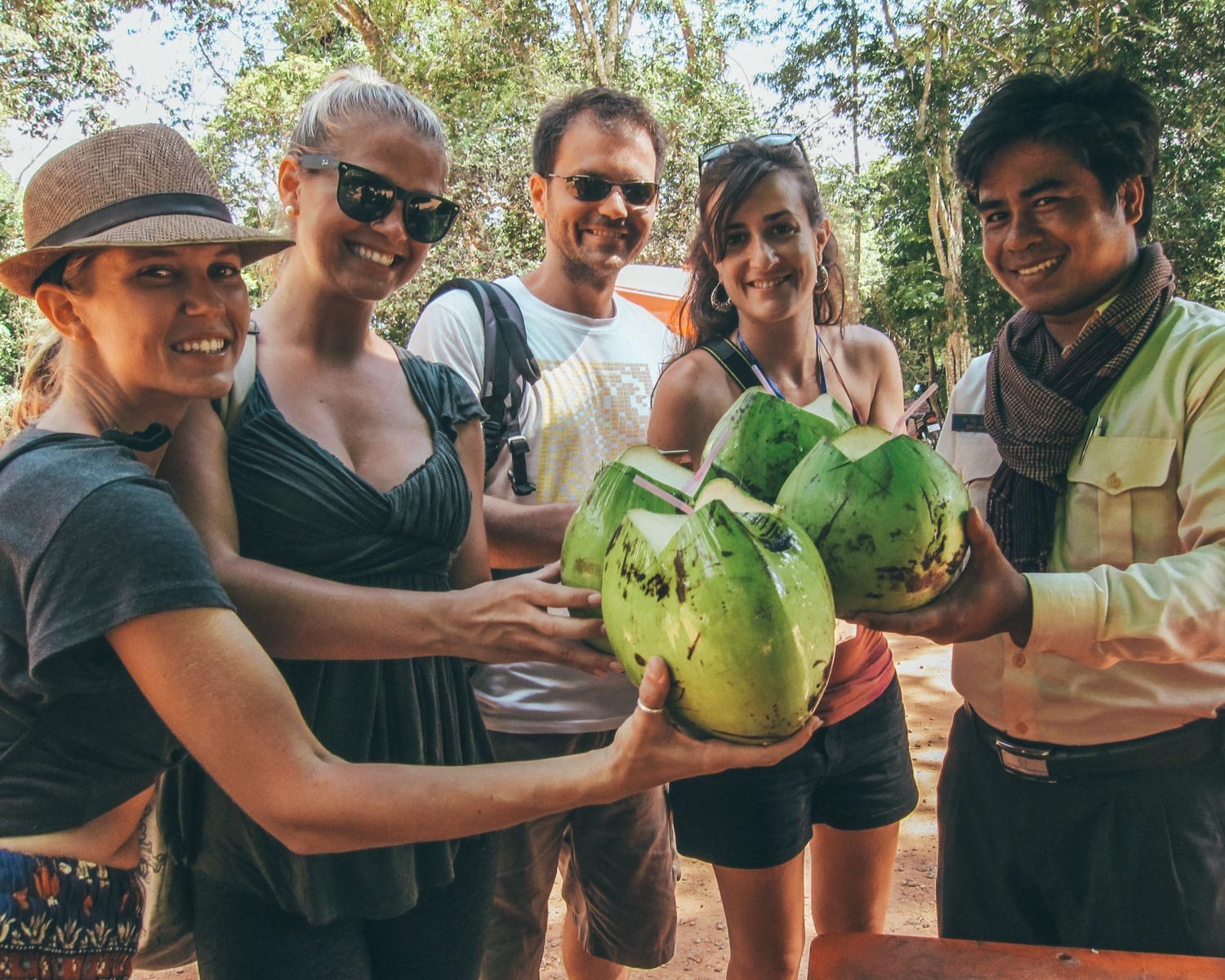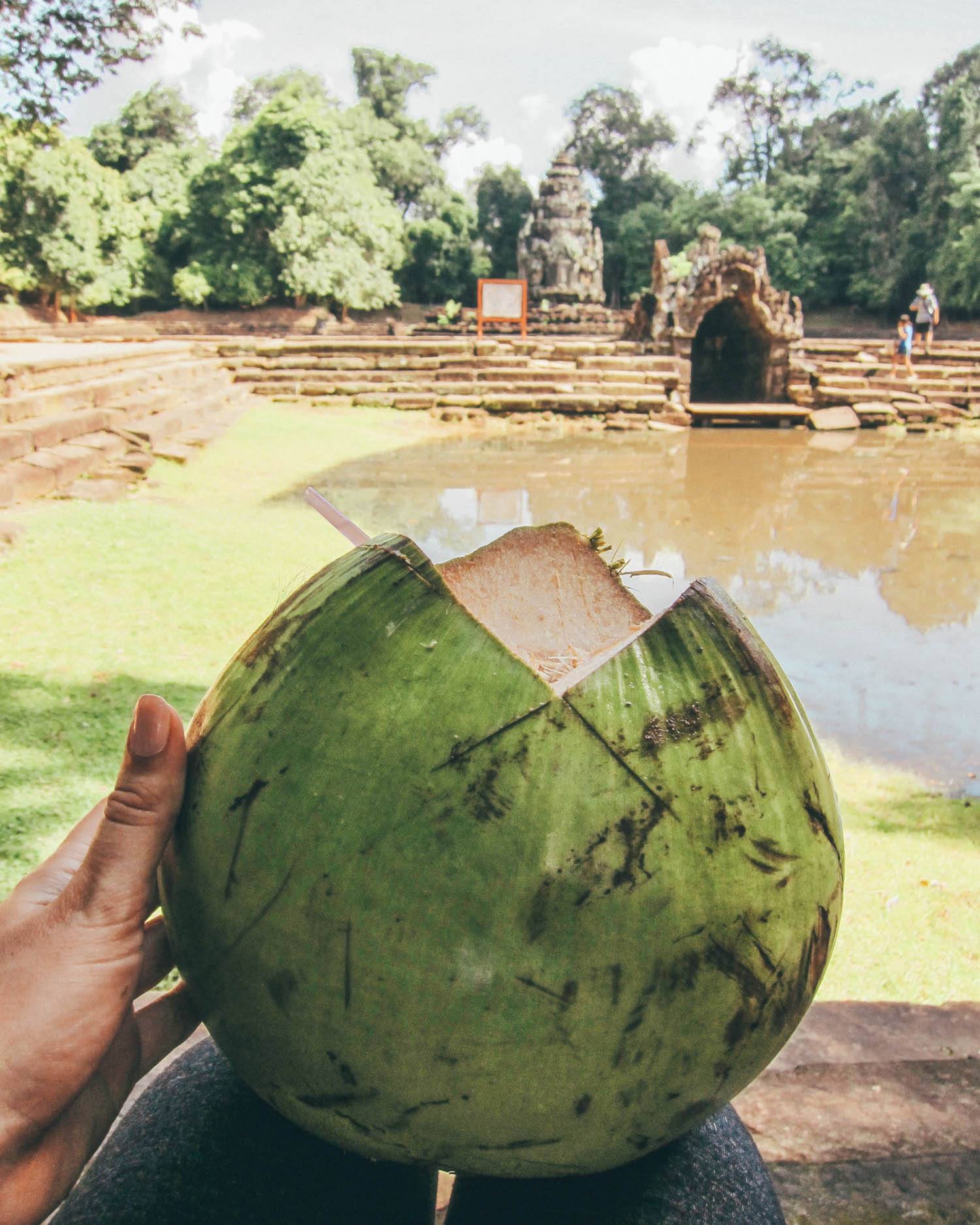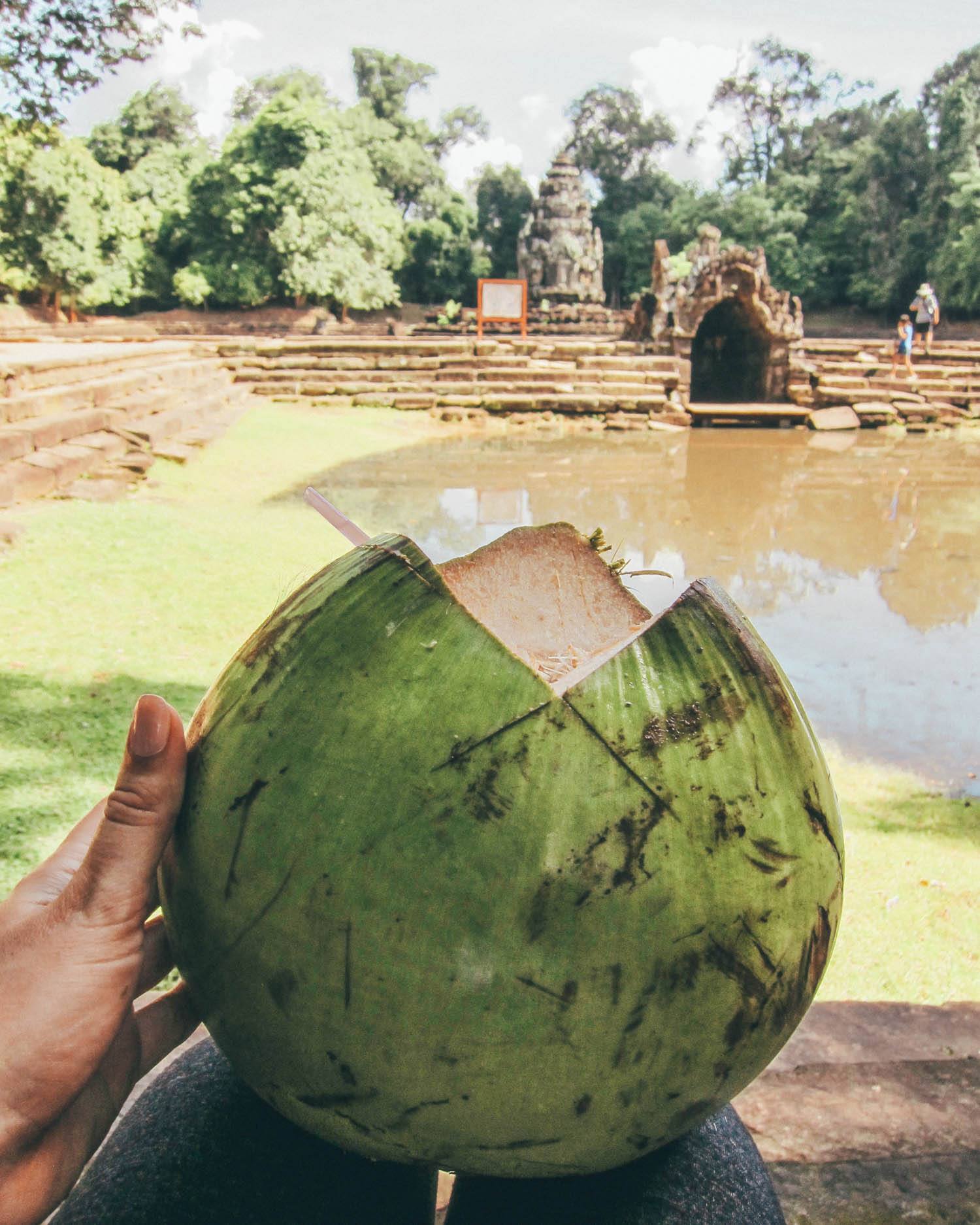 On our way back to Siem Reap, we stopped to make reservations at Koulen Restaurant for dinner and a traditional Apsara dance performance. We made a quick turnaround at the hotel and then left for our dinner performance.
The dinner was set up buffet style and literally had every Cambodian dish you could think of… and then some! We stuffed ourselves and watched the beautiful Apsara performance. It was really cool to see!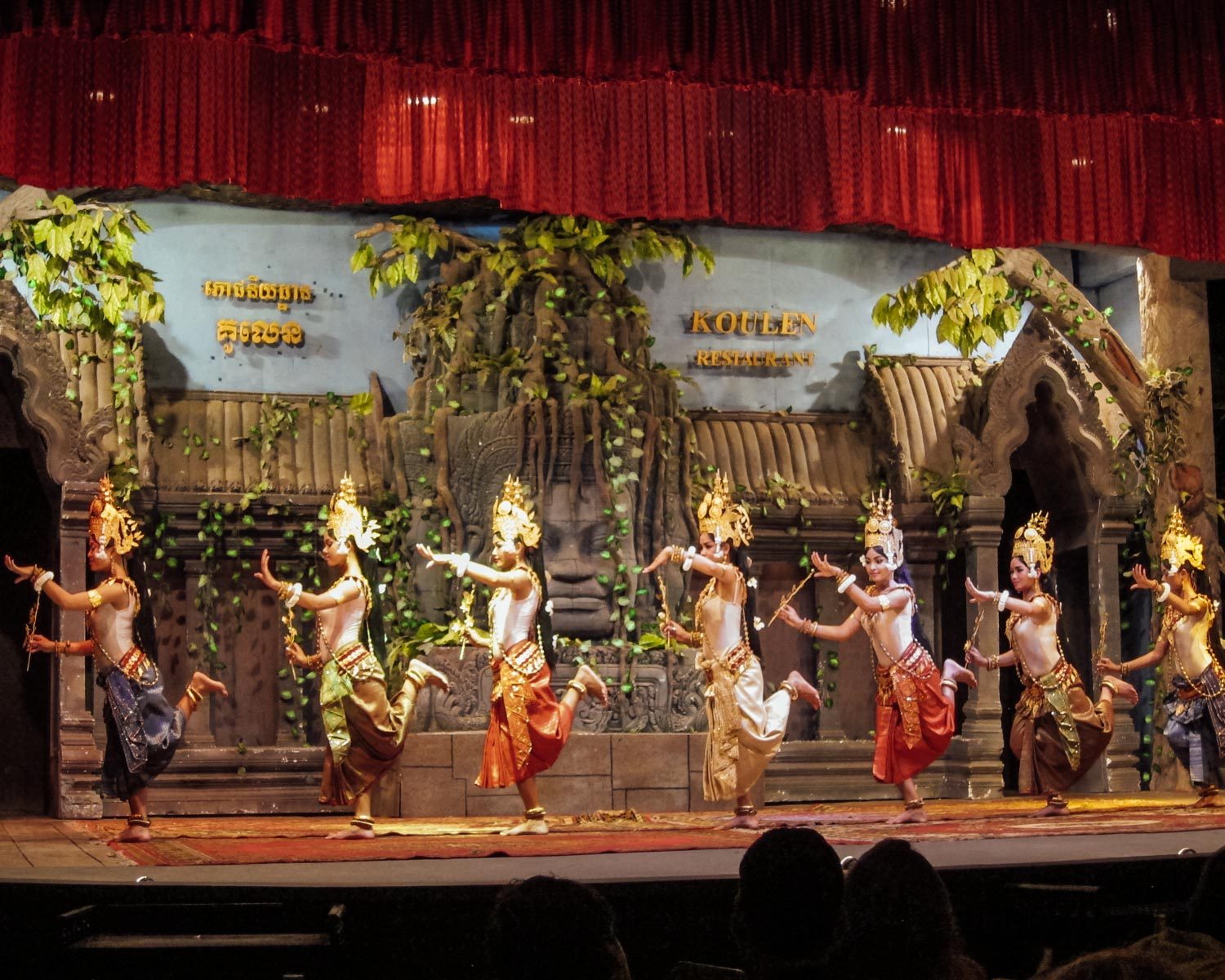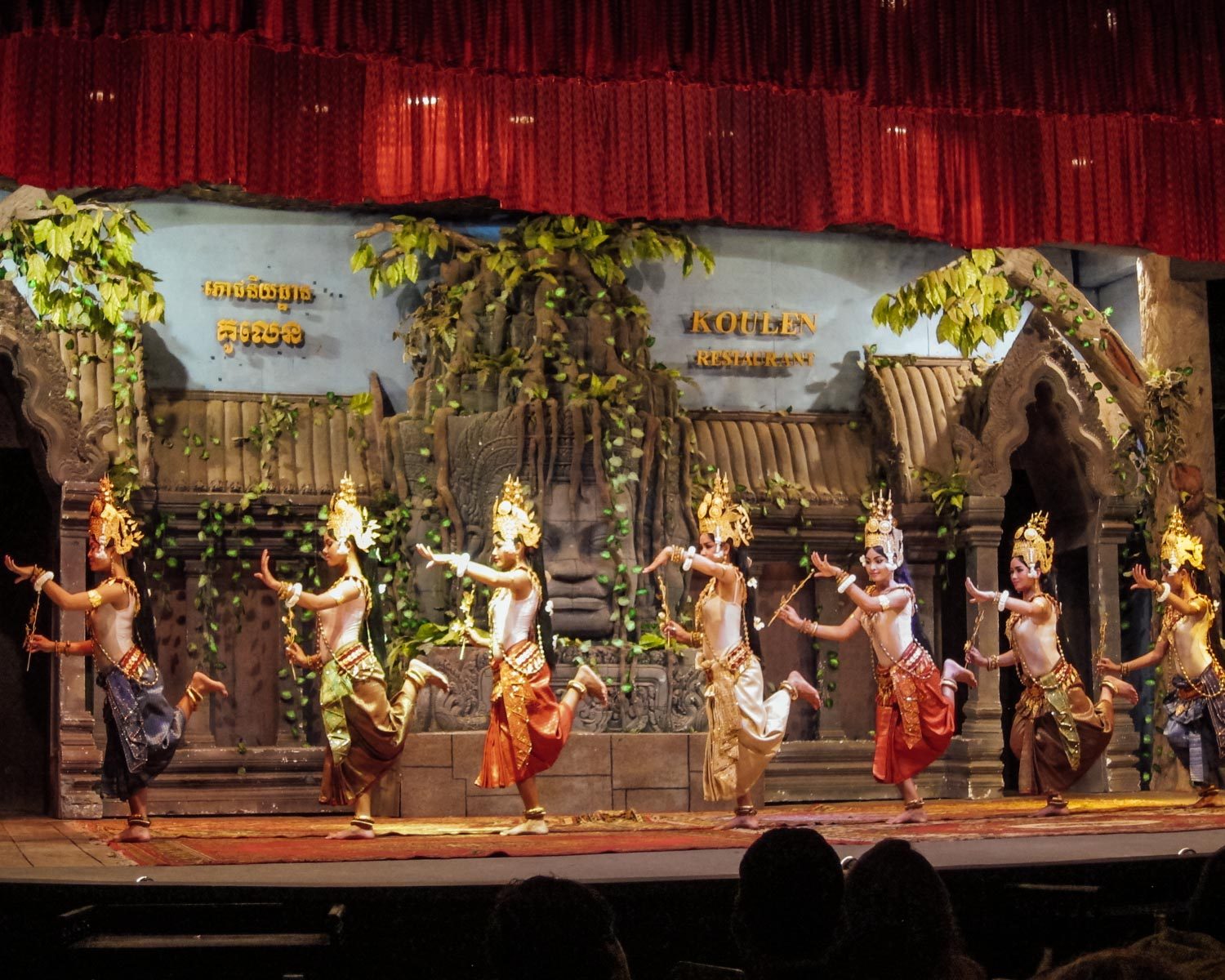 Do you have any tips for visiting Angkor Wat? Let me know in the comments below!