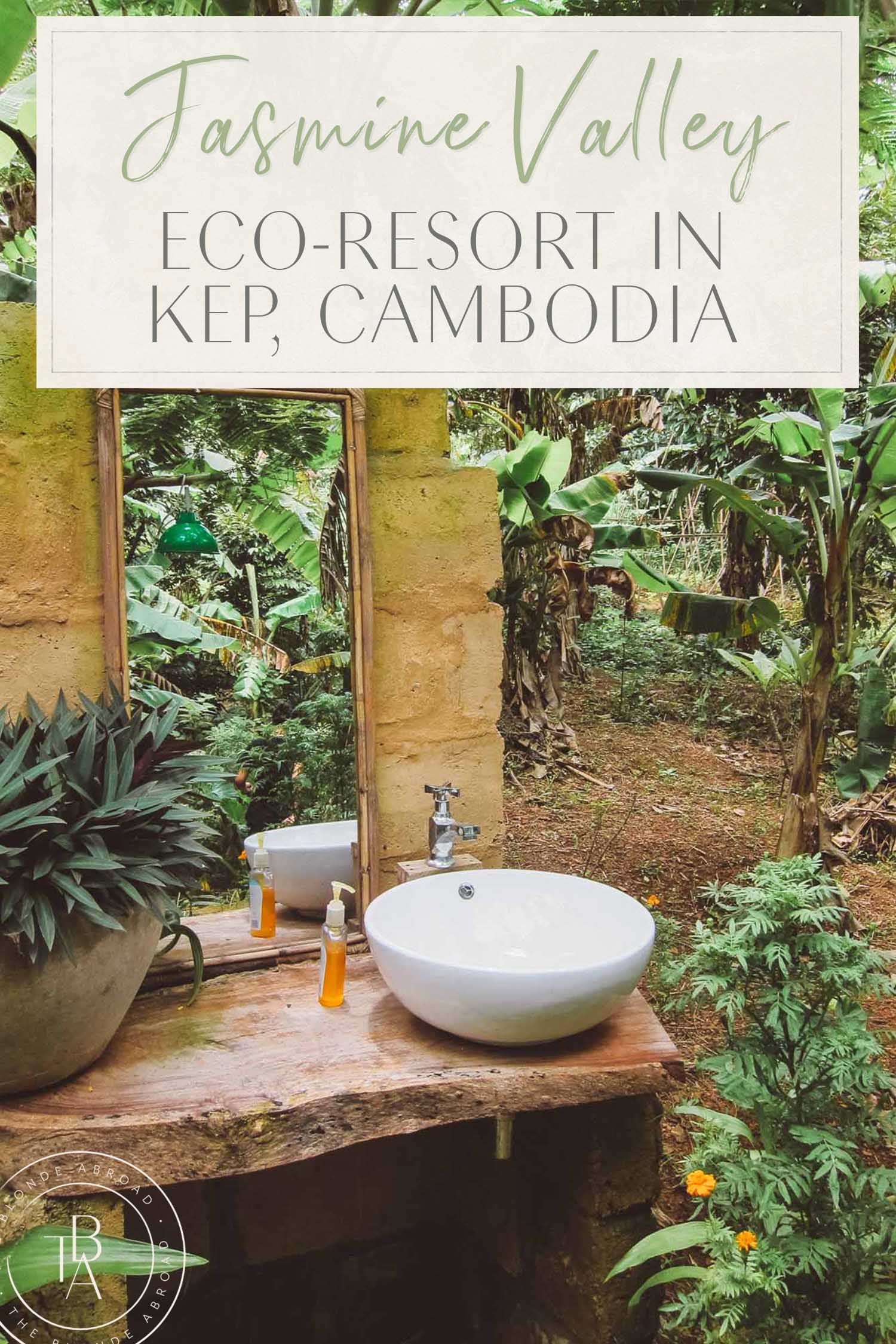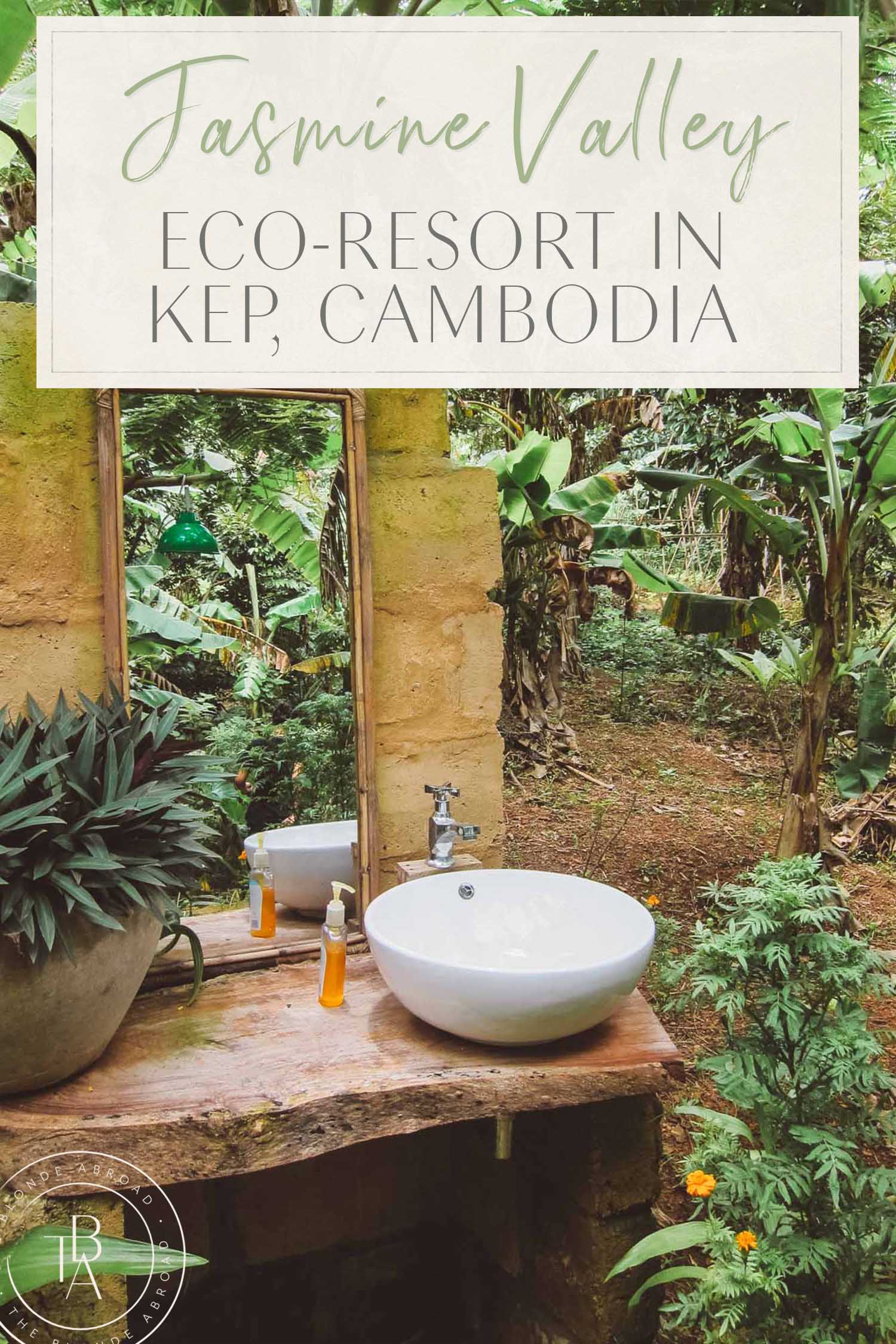 Update
It is with great sadness that I share that Jasmine Valley Eco-Resort has closed down since my visit over 5 years ago. My warmest regards go out to Owen and Jasmine. Thank you for an unforgettable experience.
Updated: June 2020
After a short stay in Kampot, a small French-Cambodian town in the south of Cambodia, I hopped a motorbike to explore the seaside town of Kep.
The drive took about 30-45 minutes as the scenery changed from endless rice fields to the lapping waves of the sea.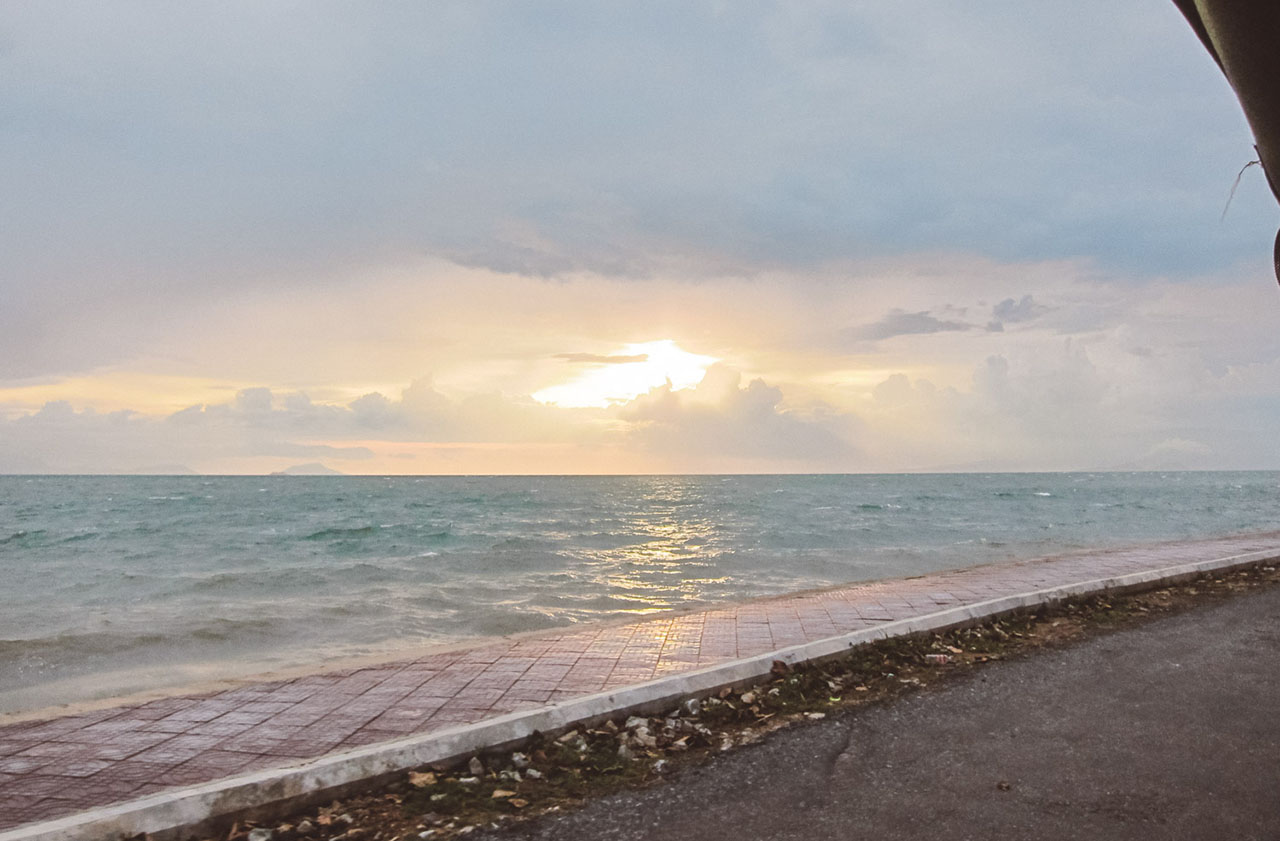 Despite Kep's dark past, it is currently one of the fastest developing tourism areas in Cambodia.
About Kep
Kep was once Cambodia's most popular and prestigious beach destination for the French and Cambodian elite. But, after decades of civil war, the town is now haunted by the abandoned remains of old French villas. While much of Kep was destroyed during the Khmer Rouge days, some of the charm still remains.
The national park, an island archipelago, beautiful beaches, fresh crab, and world-famous black pepper are just some of the reasons I was determined to visit Kep.
I only had a single night to spend in Kep but made plans to stay at the Jasmine Valley Eco-Resort per the recommendation of a fellow traveler I met in Bangkok.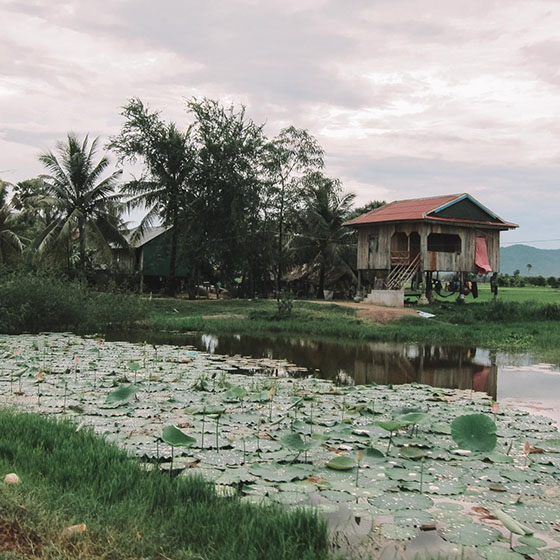 Cambodia Travel Guide
Cambodia is a popular stop along the Southeast Asia backpacking route. The main attraction being the awe-inspiring ancient temples of Angkor Wat. Learn more about the country before you go!
Read More!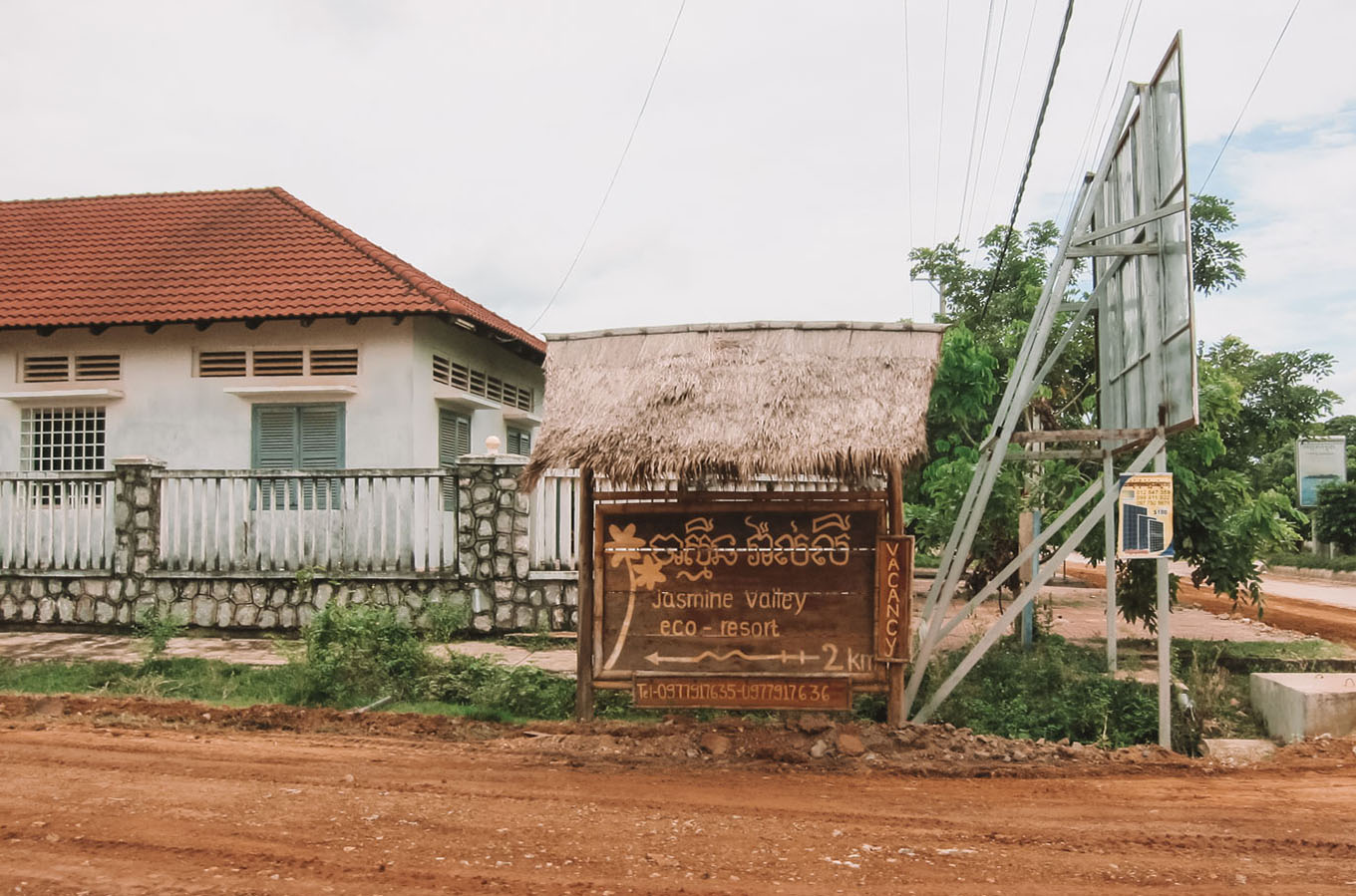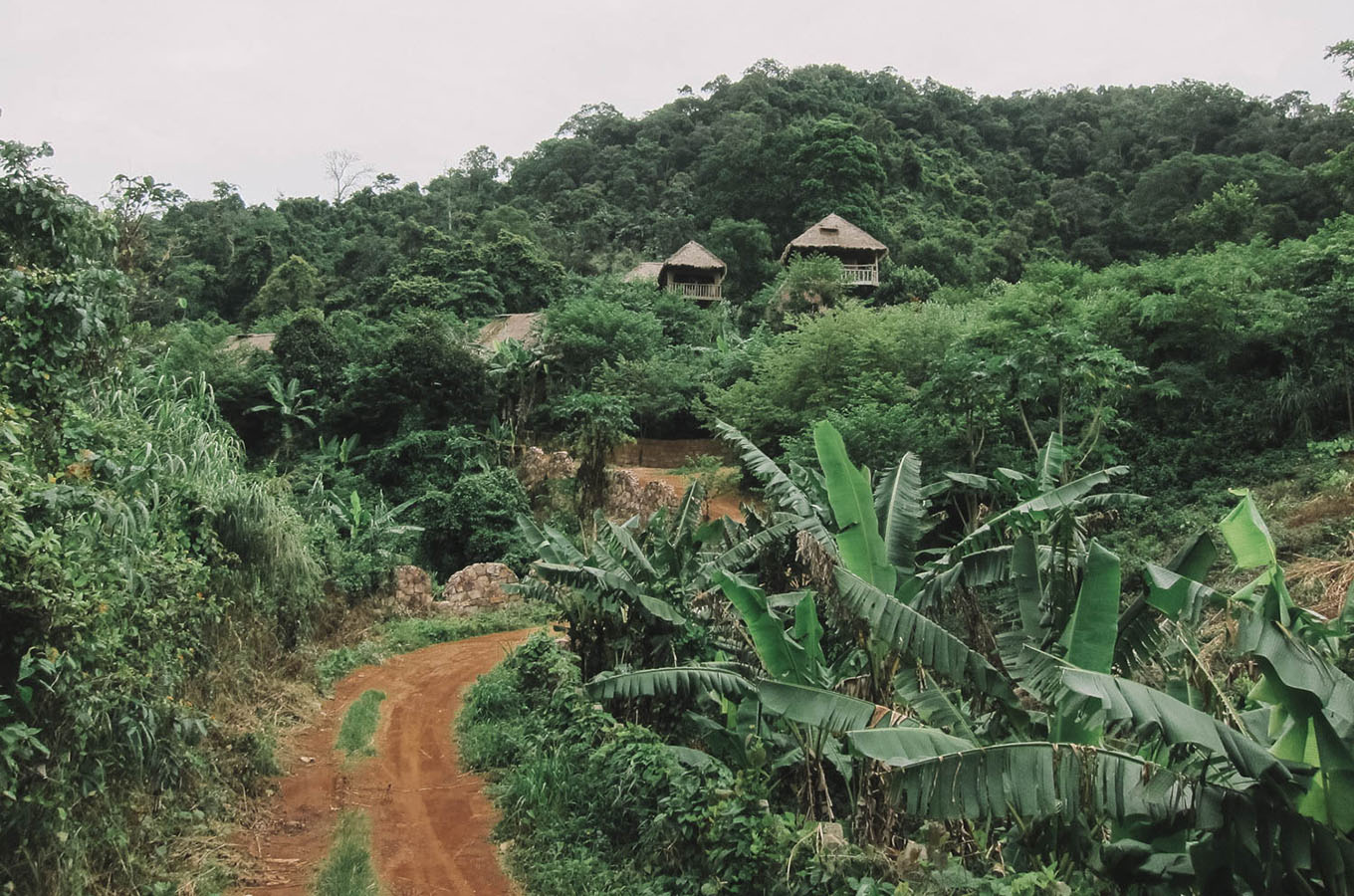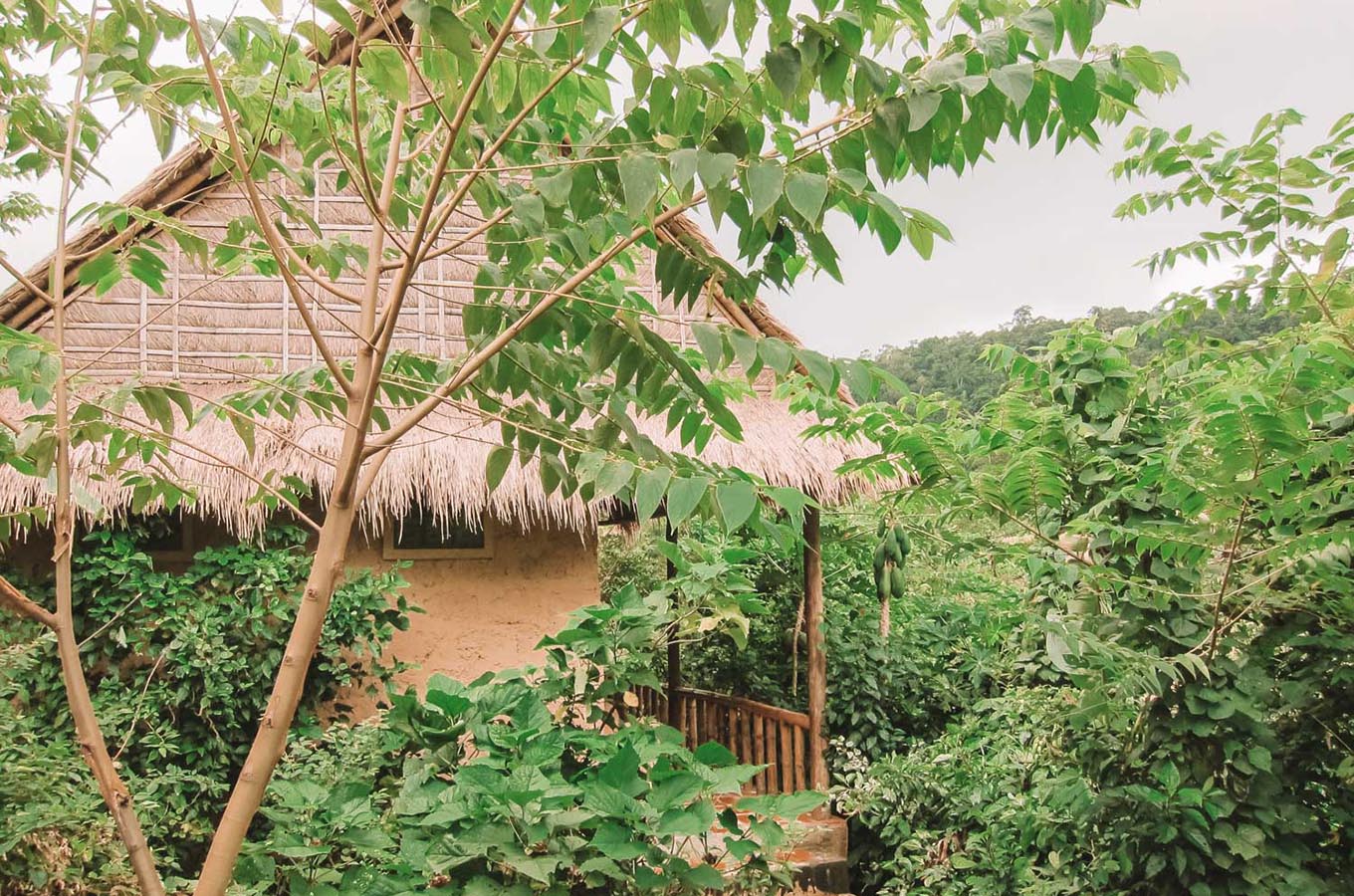 Staying at Jasmine Valley
Jasmine Valley features solar-powered accommodation, healthy, home-grown foods, the sound of the Cambodian jungle, magnificent views across islands to Vietnam, and the sweet fragrance of jasmine and jungle blossom.
Upon arriving, I was warmly greeted by the loveliest staff. The receptionist offered me ice blended lime juice and a wet towel. I quickly checked my emails and then was showed to my room.
My accommodation was an amazing ensuite mud-brick and thatch bungalow right in the middle of the Kep jungle!
The owner, Owen, and his beautiful wife, Jasmine, keep the resort running using as few resources as possible. It's the perfect "off-the-grid" accommodation for travelers to relax, completely.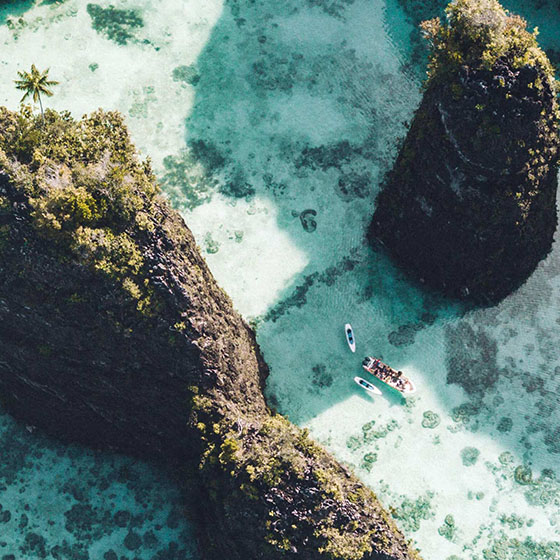 If you want to ensure your lifestyle is more eco-friendly when you travel, I've compiled a guide on all the things you can start doing to be more "green". Even if you can only do a few things on this list, every little bit helps!
Read More!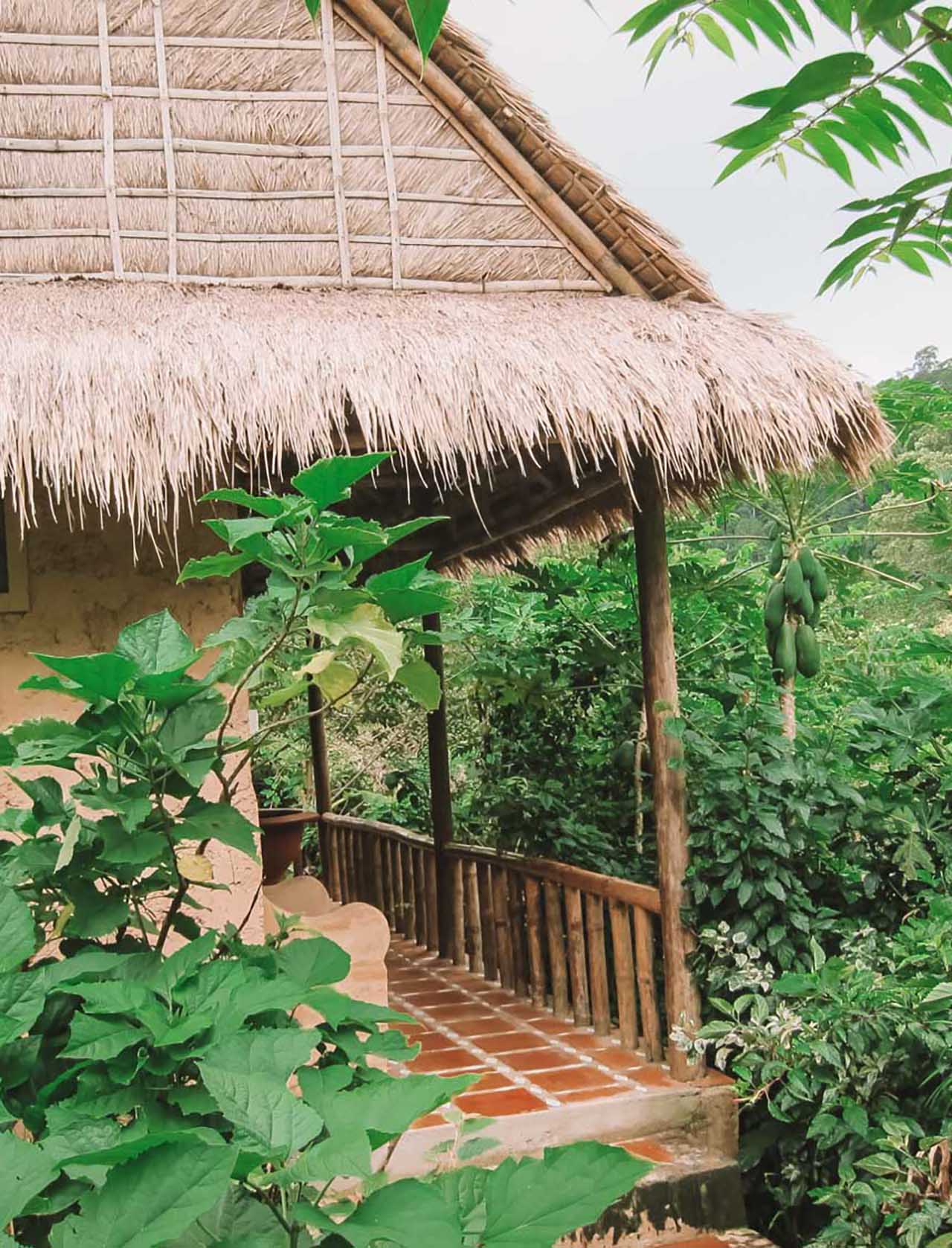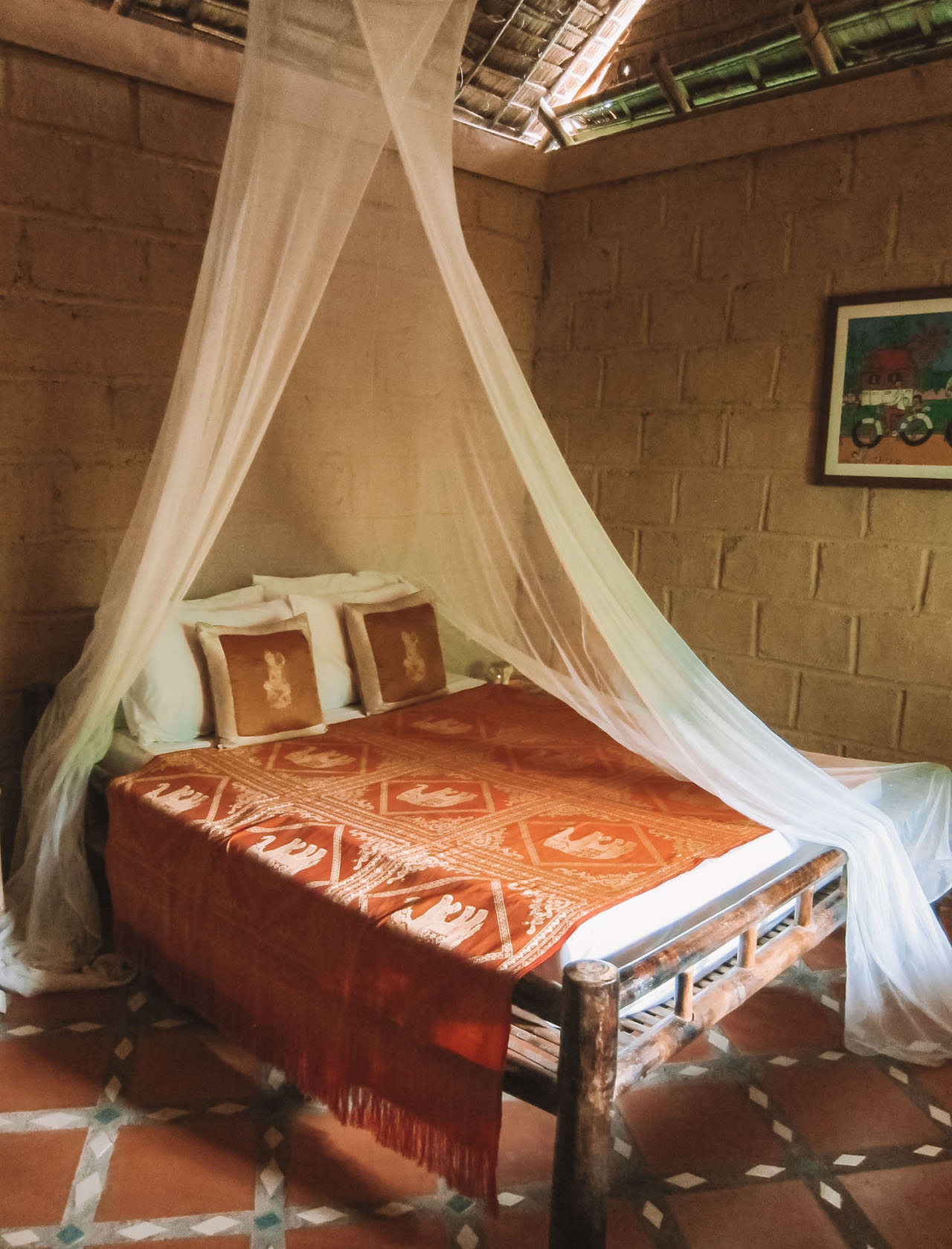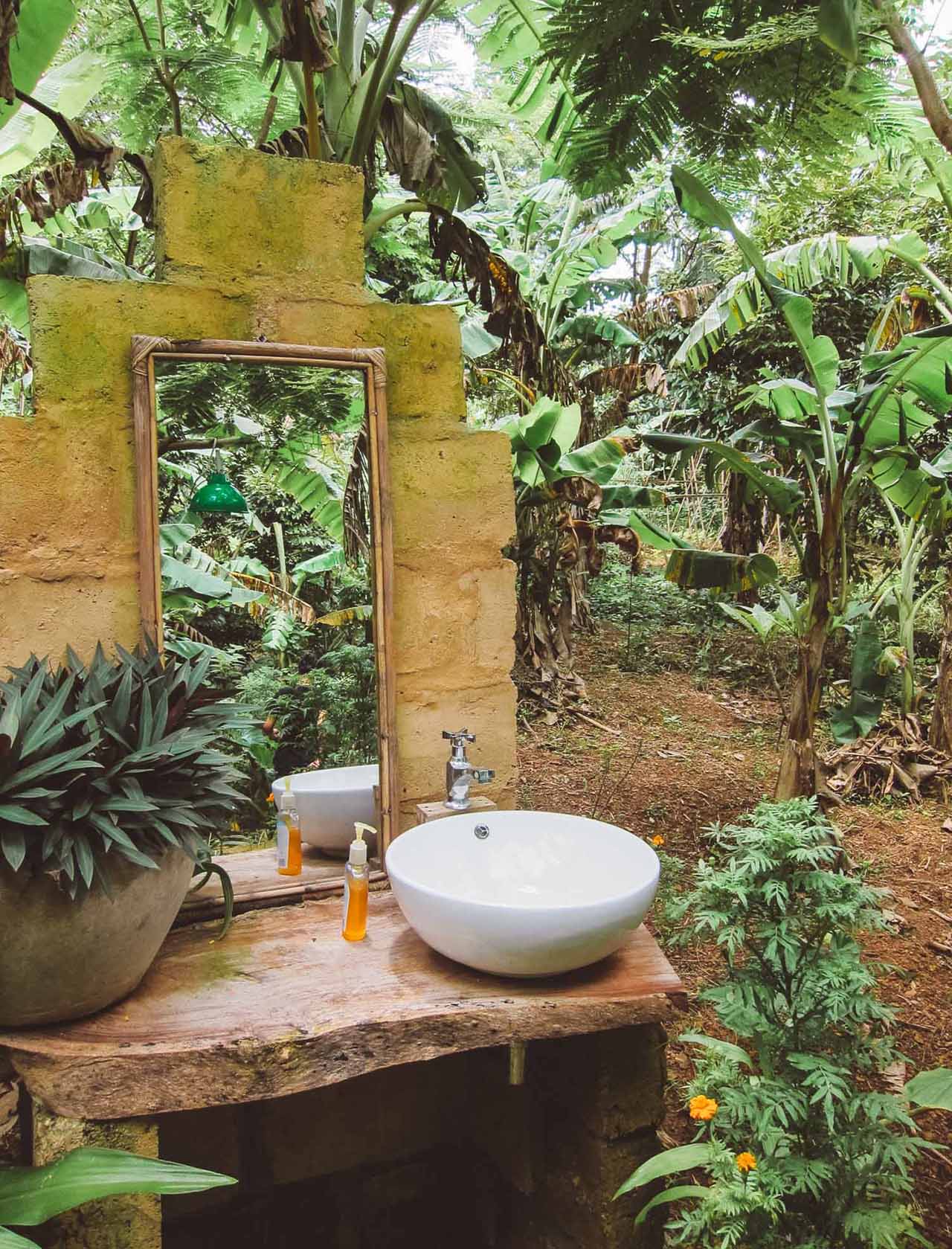 Hanging Out at the Property
I hung out around the resort all afternoon, relaxing and catching up on my last few days of blogging. I was just a few days into my first-ever solo trip and loving the independence and confidence I felt as I organized the rest of my travels from Cambodia to Vietnam and then to Bali.
When deciding what to do for dinner, the owner, Owen, suggested I indulge in fresh-caught crab at the restaurant Srey Kev at sunset.
I took the rainforest trek from the resort up the mountainside and back down to the coast to the famous Kep Crab Market. The trek took about an hour and I can't even begin to describe how humid it was.
My clothes were absolutely drenched by the time I arrived!

The Freshest Seafood
It took a bit of trial and error to figure out which beachside crab shack was Srey Kev (and I may never know for sure if I actually ended up there) but wherever I arrived was a little slice of heaven.
The view from my table was absolutely surreal. Immediately after ordering fried crab with Kep pepper (said to be the best pepper in the world) and an ice-cold Angkor beer, I watched as a Cambodian woman walked out of the restaurant and enter, about knee-deep, into the water to pull up a cage and literally fetch my dinner.
I'd say that's fresh seafood!
The sunset was the most beautiful one I'd seen in my entire journey in Cambodia. The sun burnt the sky in orange and pink as rays of light reflected off the surface of the ocean and glimmered endlessly towards the horizon.
The warmth of the humidity subsided as the sea air blew through my hair. For a moment, all I could hear were the crashing of small waves onto the shore.
I was revived from my daydream as the smell of freshly prepared crab arrived at my table. While it may sound like an exaggeration, it was, quite literally, the best meal of my life. Literally. Life-changing.
(I even asked the young boy serving me for the recipe!)
Two young German guys, Nicolas and Sebastian, (curious about my lack of company at dinner) asked if they could join me. After cracking open another Angkor beer, we shared stories about each others' travels.
They were on a similar trip as myself, only they are spending more time in Vietnam which I wished I could have done too. Nicolas told me about a man he ran into in Phnom Penh who spent 15 months traveling from Madrid to Cambodia by bicycle. I'm not sure how that's even possible!
I never could find his blog, so if anyone knows who they were talking about, be sure to comment below!
It was an incredible (albeit short) stay in Kep, but it was unforgettable nonetheless. I highly recommend visiting if you're traveling through Cambodia and be sure to book a stay at Jasmine Valley Eco-Resort.

Do you have any accommodation tips for Kep, Cambodia?