My friend Lindsay and I had returned to Phnom Penh after visiting the Temples of Angkor and we had to organize a Tuk Tuk to take us to our separate destinations… Lindsay to the airport and Kampot for me. We were overwhelmed by about 10 drivers, as usual, but managed to organize our trips.
We said our goodbyes and I was officially on my own!
I got a shared taxi. By shared, I mean SHARED! I paid to have the passenger seat while two people shared the driver's seat and five people shared the backseat! We even hit a dog on the way in! The driver pulled over and checked to make sure his car wasn't damaged and then we were off again.
Apparently no big deal when there are hundreds of mangy dogs running around everywhere. It took about 2 hours to get to my destination, Les Manguiers guesthouse, where I planned to spend two nights.
Les Manguiers, or "Mango" in English, is a little French getaway in Kampot, Cambodia that was recommended to me by a fellow hostel mate in Bangkok. She said it was a MUST for anyone traveling through Cambodia in need of a little R&R.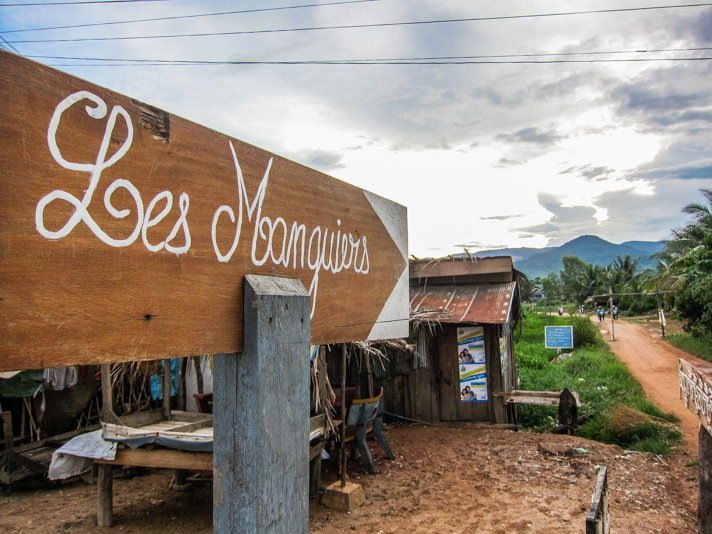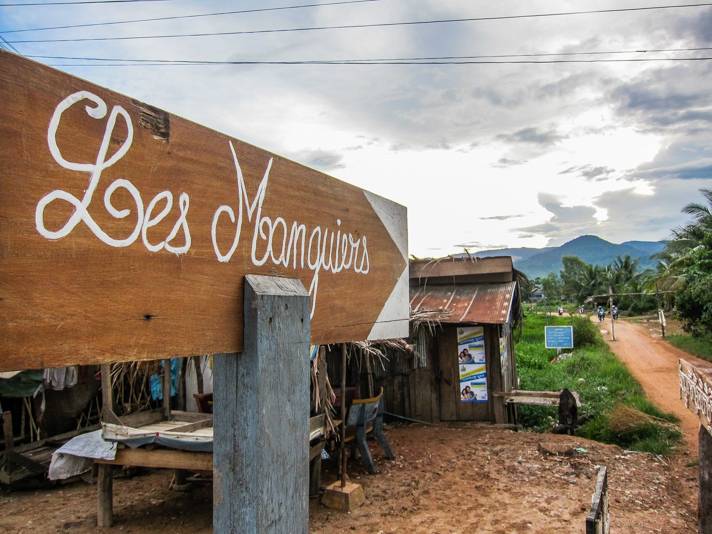 The driver dropped me off on the side of the road where the owner of Les Manguiers was going to pick me up. I was bombarded by little kids shouting "Hello! Hello!"
I felt like a celebrity or something.
It's really remote so I assume tourists are scarce and seeing a white blonde girl is probably like seeing a unicorn. The owner picked me and my bag up on a motorcycle and we drove past rice fields along a little dirt road to the guesthouse. The area is just outside of Kampot and sits on the Kampot River.
It is absolutely beautiful!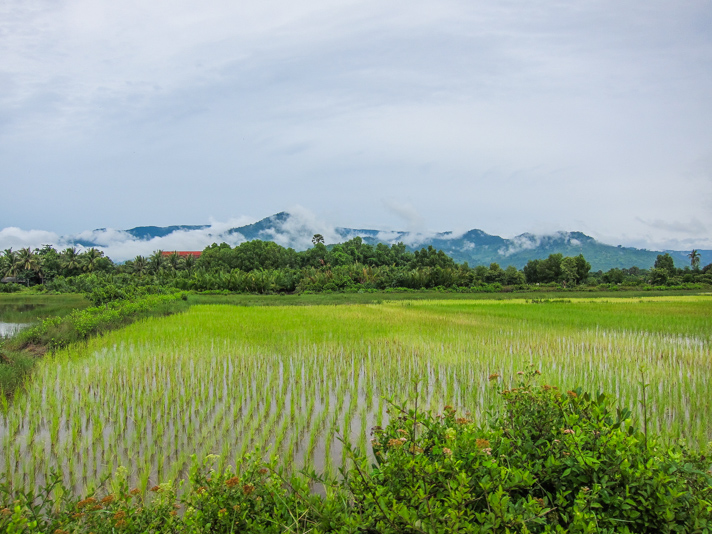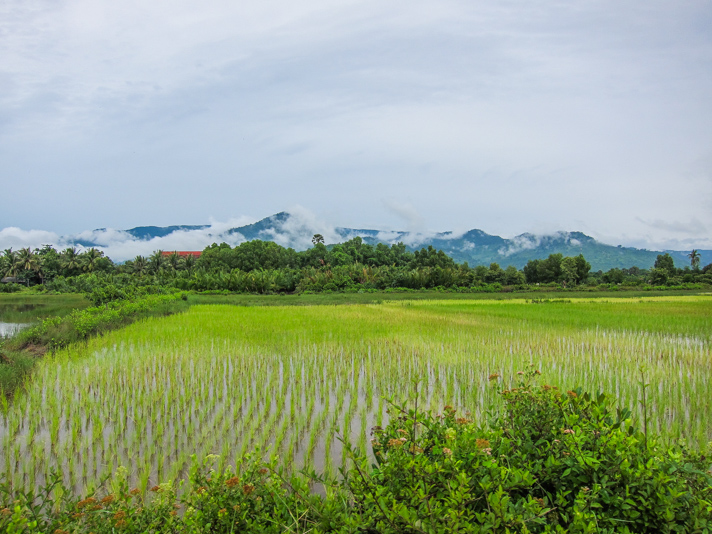 The owners are French Cambodian so it has a lot of beautiful European influence. I got my things settled in my room and enjoyed dinner in a bungalow on the river. The sunset was incredible and just as usual during my time in Cambodia, a lightening storm lit up the sky for the rest of the evening.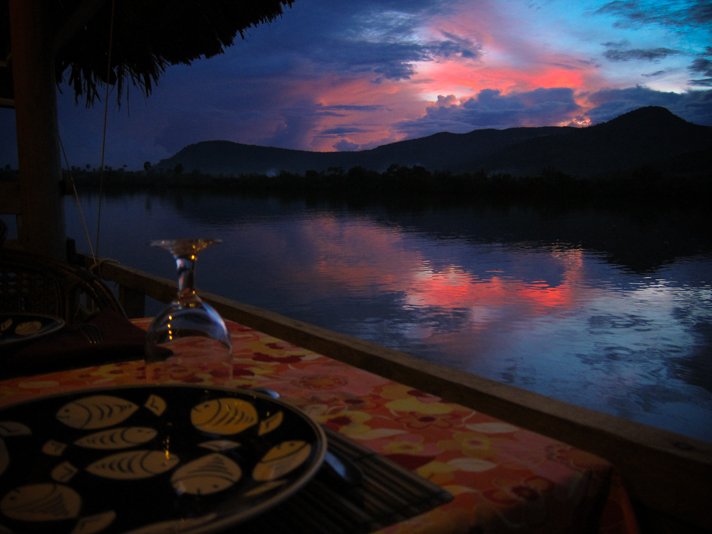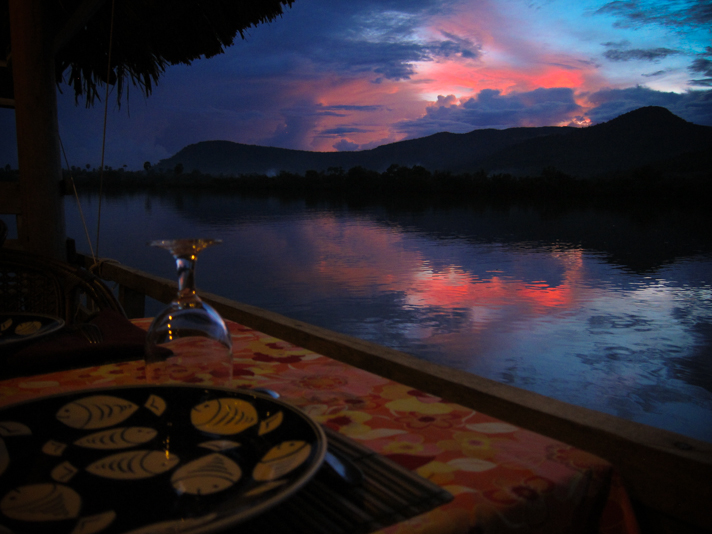 I got an early start and had a 7 am breakfast. For $3, I got an amazing French breakfast that included: homemade organic mango, passionfruit banana, and guava jams, fresh honey, peanut butter, chocolate sauce, cheese, a baguette, fresh fruit, coffee, and orange juice.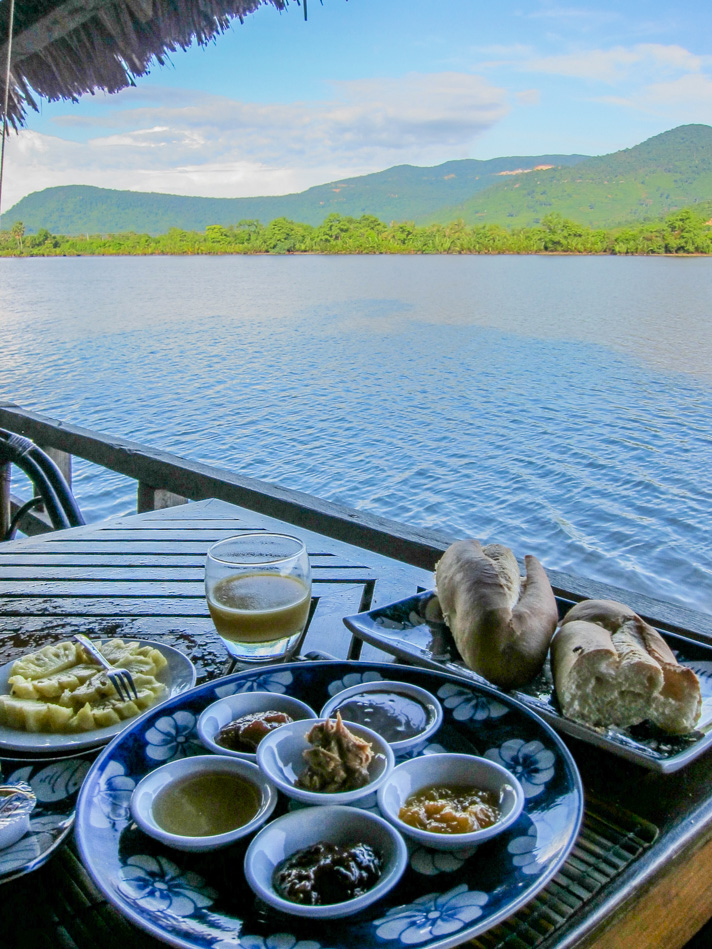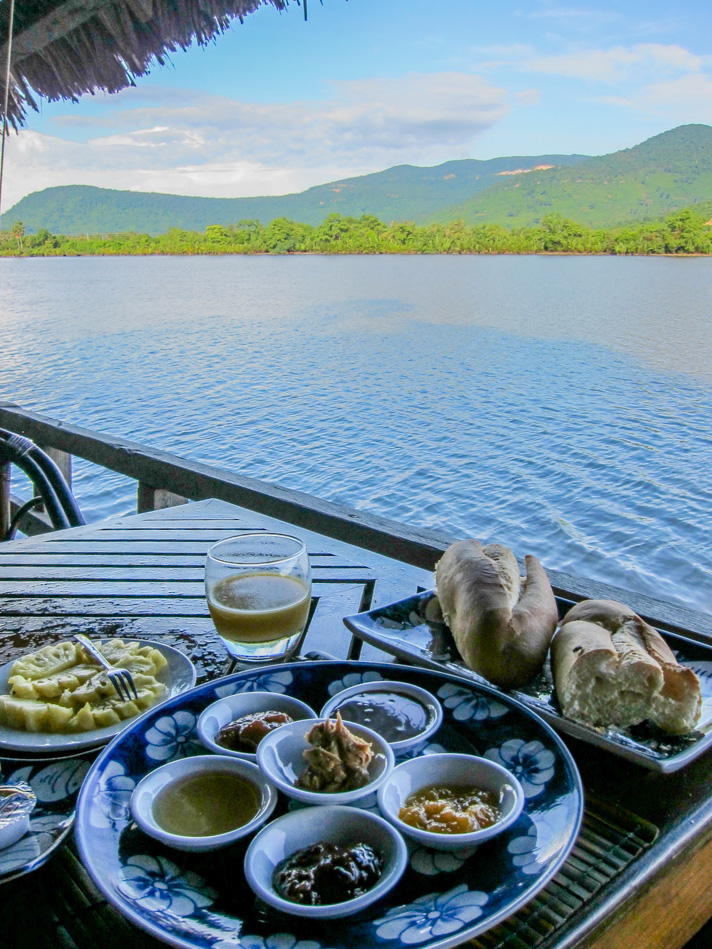 Needless to say, it was delicious!
Before heading out for the day, I walked the property to take in all of my surroundings. Arriving at night is always disorienting and I was so surprised with how cute everything at Les Manguiers was! There were cute Khmer style bungalows on stilts and lambs tied up to palm trees.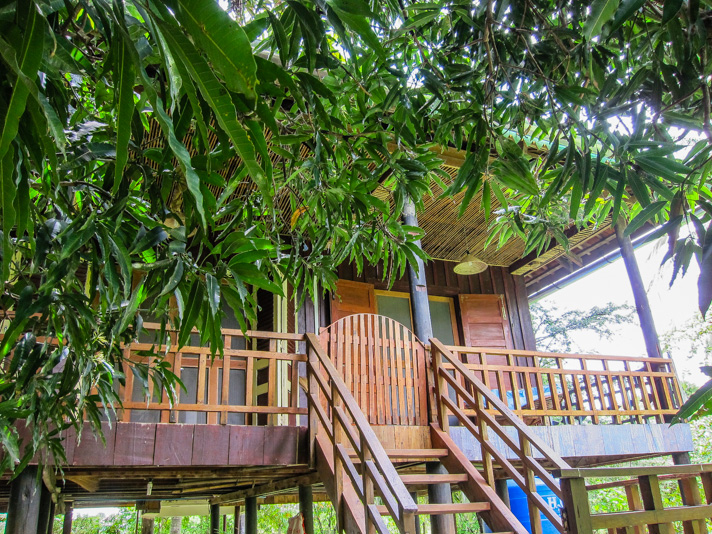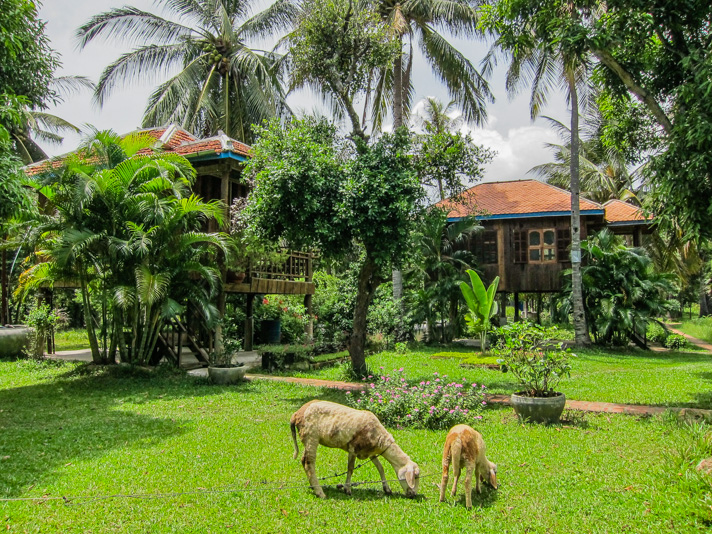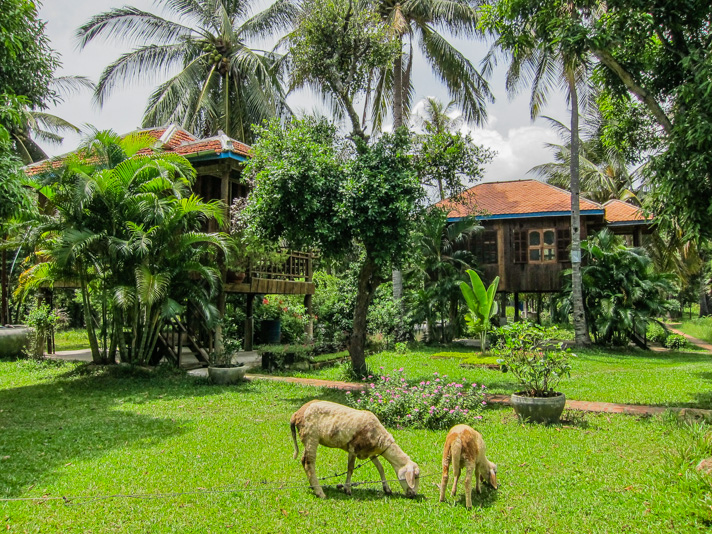 I decided to spend my morning kayaking. The owner of Les Manguiers suggested I take a boat up the river and get dropped off with a kayak to paddle my way down through the Emerald Palace loop and to make a stop at a café on the riverside.
The entire kayak trip felt like I was in the Jungle Book as I paddled through the lush tropical loop. Nobody else was around. Just me and the winding water surrounded by the tropical banks of the river.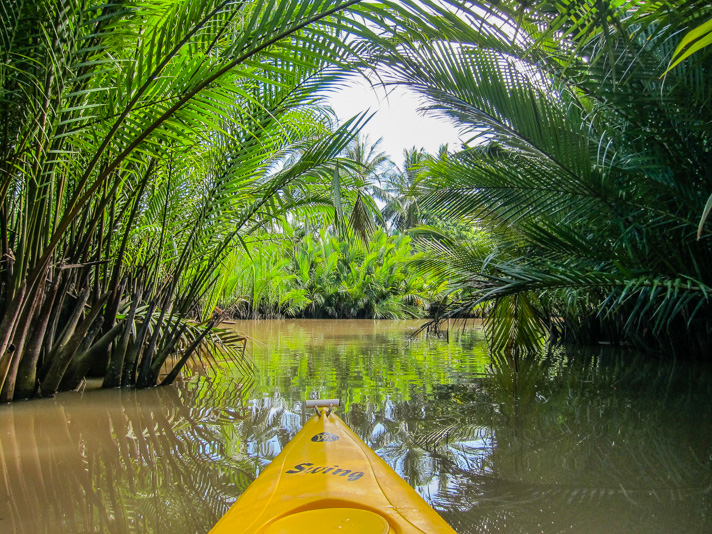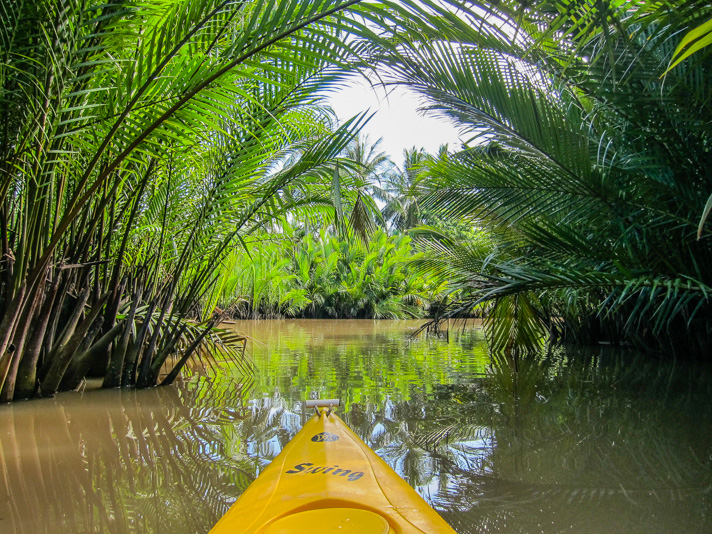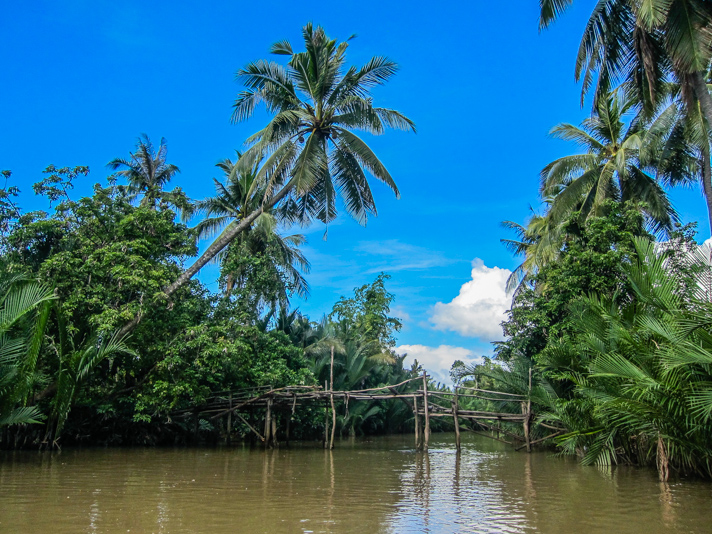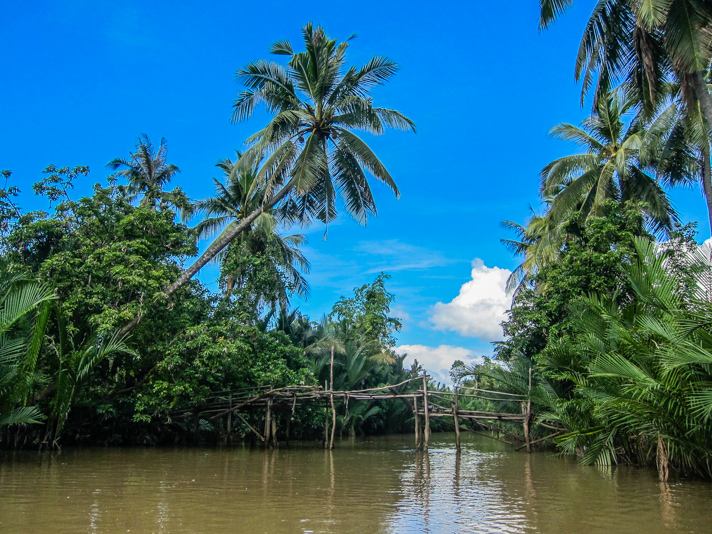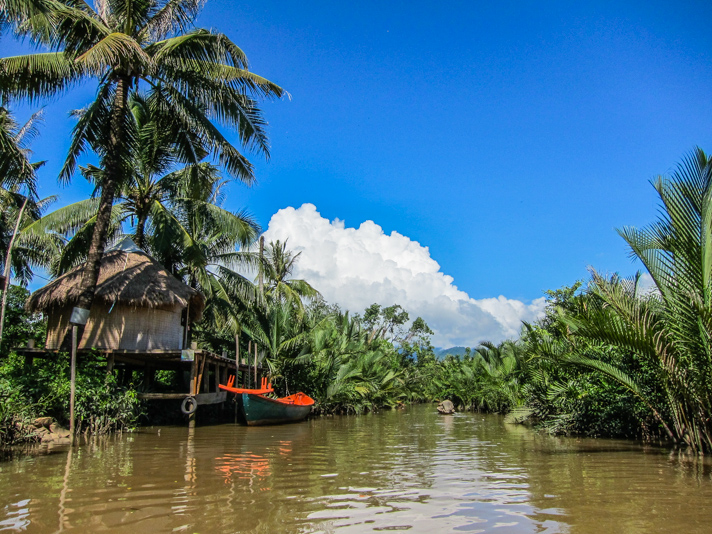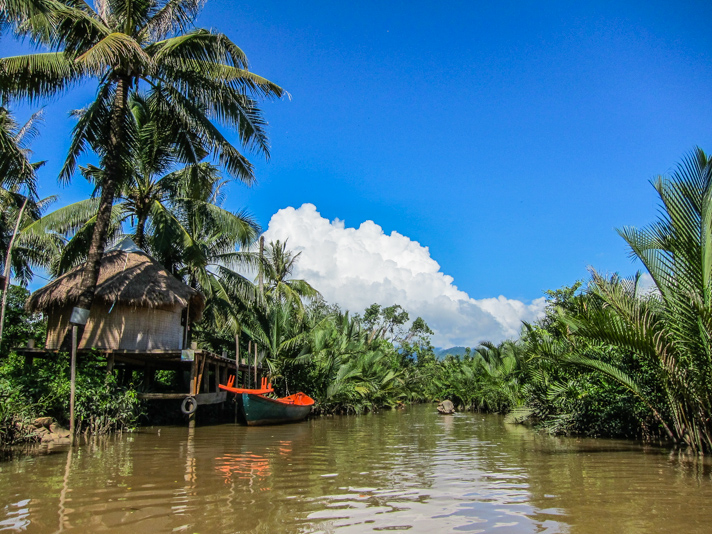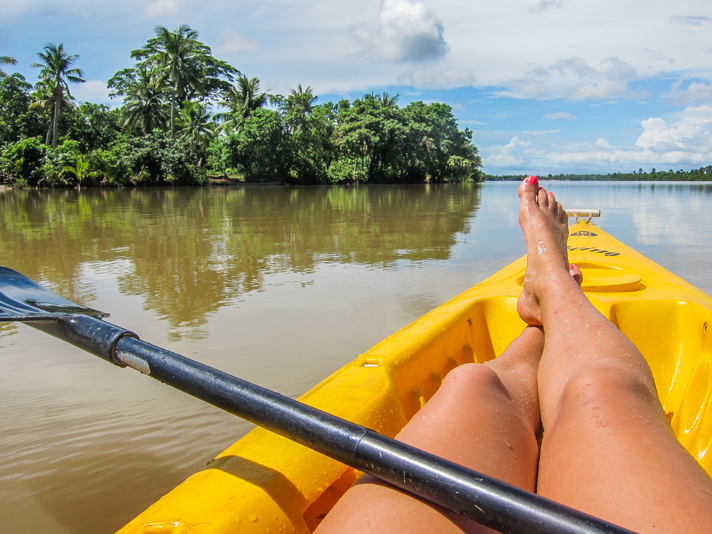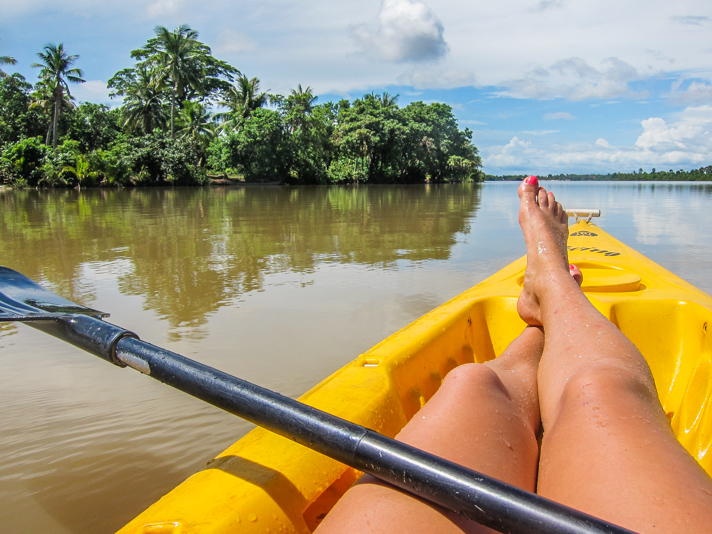 When I got to the café, it had long since been closed down but a local boy took me on a little walk and told me a bit about the history of the town. There are seashells all along the fresh water river and the boy told me about a legend his grandmother believes in that says the seashells came from the ocean that used to reach this town.
After a short stop I finished my kayak trip back down to Les Manguiers and enjoyed a passion fruit and banana smoothie from the comfort of a hammock. That afternoon I visited the Epic Arts Center in town with an Australian family staying at the guesthouse.
The Epic Arts Center was developed for local disabled children as a haven to establish their own community and receive artistic education. The owner's daughter Marie led us to the center and we had a full day of arts, crafts and got to enjoy a performance by the kids.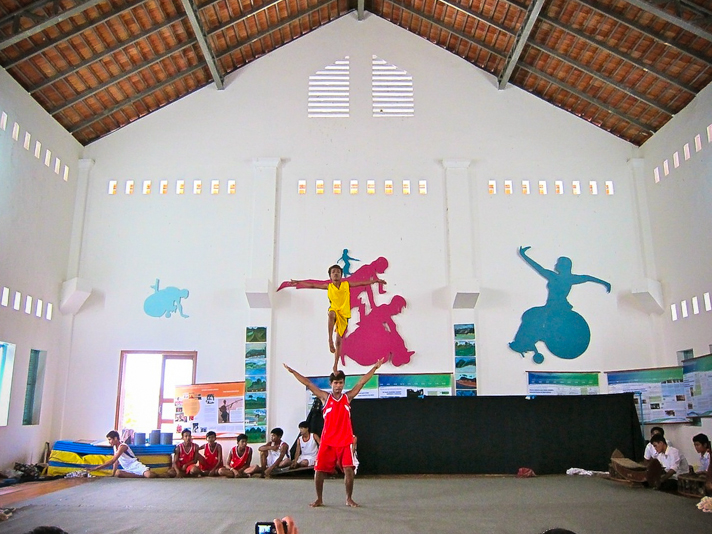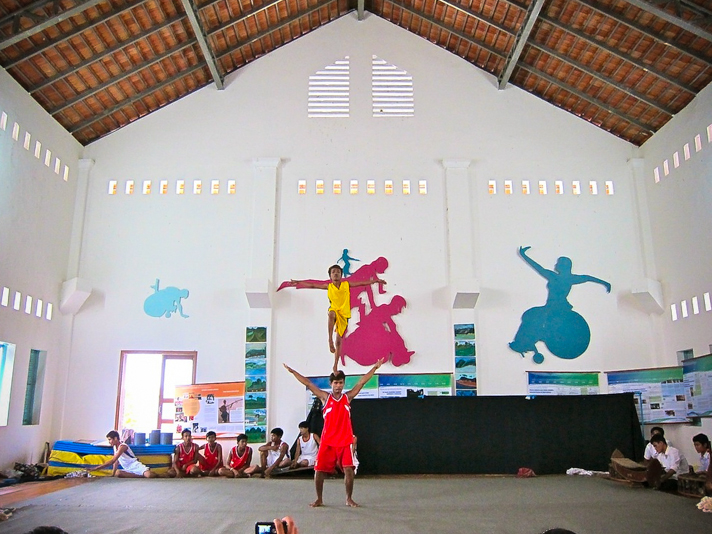 We got back to the guesthouse just before a lightening storm hit. The Australian family I met, Louise and her two children, Liam and Alice, all shared dinner together and Louise gave me some advice on traveling in Vietnam and where to stay tomorrow night in Kep. Kep is only 30 minutes from the Vietnamese border so I'll hopefully be moving on to Vietnam the day after next.
I had such a wonderful time in Kampot and can't wait to see Kep tomorrow!