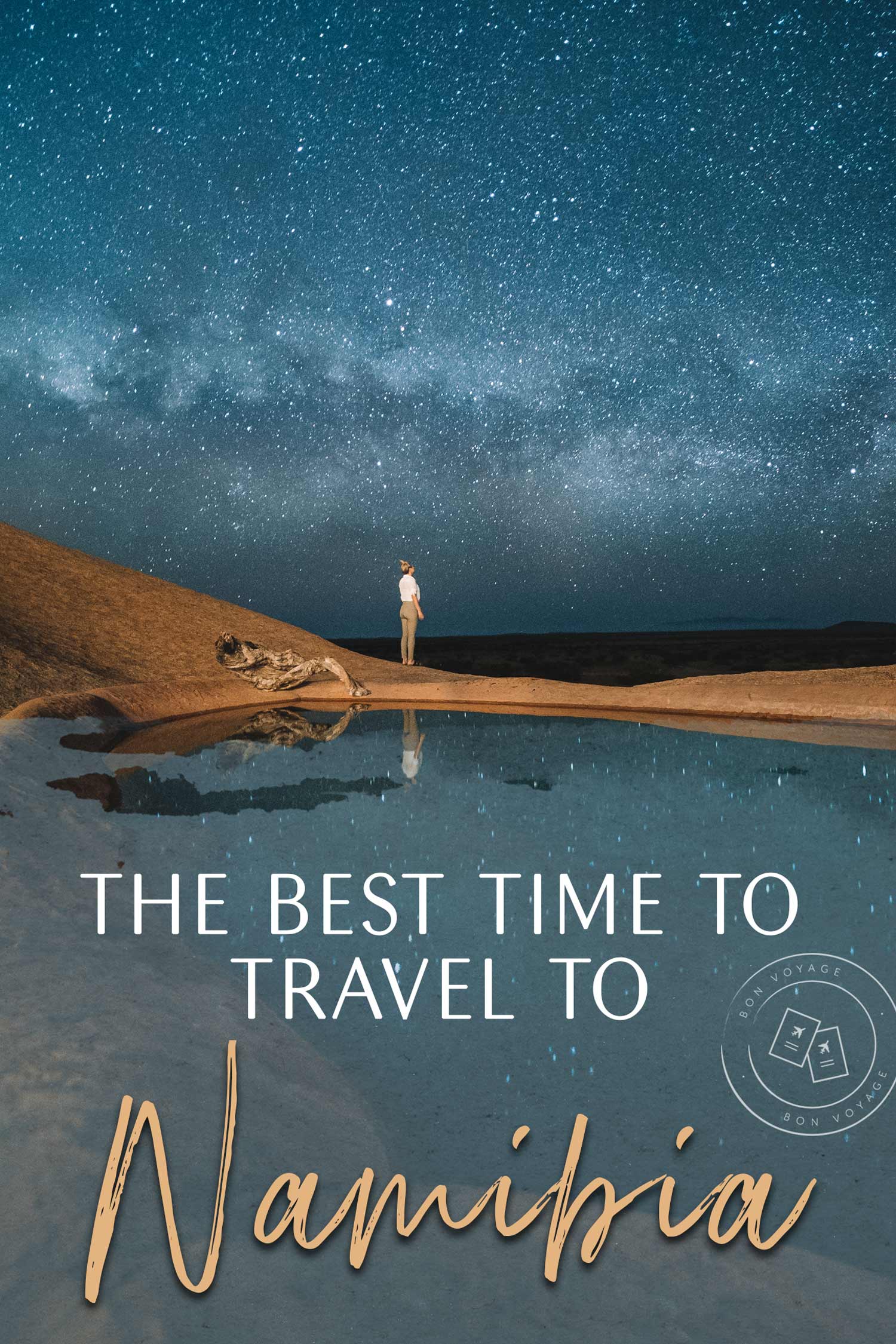 It's no secret that Namibia is one of my all-time favorite destinations in Africa. I've gone twice, and there is still so much that I want to explore!
From the remote Skeleton Coast to the beautiful Sossusvlei dunes and the beautiful luxury accommodation, it's an incredible destination for travelers who love road trips, nature and adventure.
Your itinerary for Namibia and the regions you want to visit will play a big part in deciding when to travel to the country. If you're after a world-class safari in Etosha National Park, you'll want to skip the hot summer months, but if you're a budget traveler, that's when you'll find incredible flight deals.
To help you plan your trip, I've put together a guide on the best time to travel to Namibia!

 July to October
July to October is peak season in Namibia. The winter and spring temperatures mean cooler weather, making Namibia road trips across the desert more bearable.
You'll also have excellent game viewings at Etosha National Park in the north, and you'll get to see some of Namibia's unique desert wildlife along the Skeleton Coast and Damaraland.
If you're a photographer, the winter months are also excellent for astrophotography!
The only downside to visiting Namibia during this time is the prices. Accommodation at the best lodges and even the campsites book out months in advance and flights are at their most expensive.
The winter months are considered the best time to visit Sossusvlei. The air is clear of dust, and you'll have a beautiful contrast of the red dunes against the blue skies.
If you can, plan to enter the park as soon as it opens at 6 am. The morning light is perfect for photographers, and you'll get to watch the dunes change colour as the sun rises.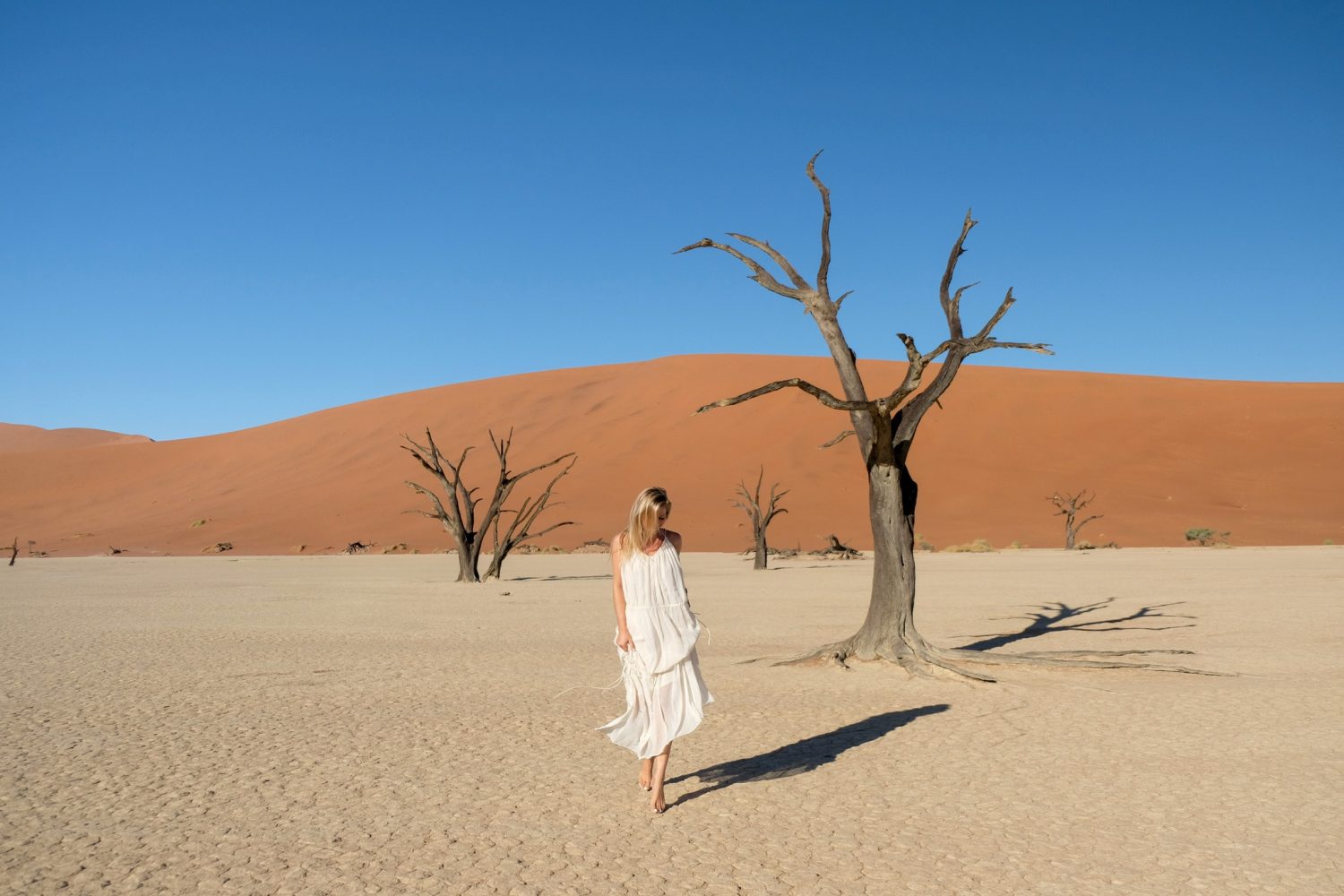 Deadvlei
April to June
April to June is Namibia's shoulder season months. The hot summer temperatures start to cool down, and the landscape is green from all the rain.
It's an excellent time to visit the country's national parks as the high season crowds have yet to arrive and game viewing starts to pick up. However, I'd still book your accommodation well in advance, as South Africa has school and public holidays over these months and tourism to Namibia starts picking up.
Keep an eye on flight prices for Namibia as well. The airlines will start to increase airfares as the country enters winter and high season for tourism begins.

November to March
Between November and March, the temperatures in Namibia are at their hottest. You can expect an average day to reach well over 100 degrees Fahrenheit, making it an unpopular time to travel to the country.
However, if you can handle the heat, it's the best time to visit Namibia if you're a budget traveler. Airlines drop their rates to make up for the seasonal lull, and you won't have to deal with long lines of people outside top attractions like Sossusvlei.
Be sure to pack a reusable water bottle and stay hydrated!
I'd also skip Etosha National Park and plan a road trip through Skeleton Coast National Park. There's less fog in the summer months and the nights are warmer, making it ideal if you're camping your way through the country.
If you're a bird lover, the summer months are the best time to visit Namibia. Many of the country's migratory birds arrive with the rains, and you'll see thousands of pink flamingos and Blue Cranes.
You can also head to Damaraland to see the Herero chat and Monteiro's hornbill!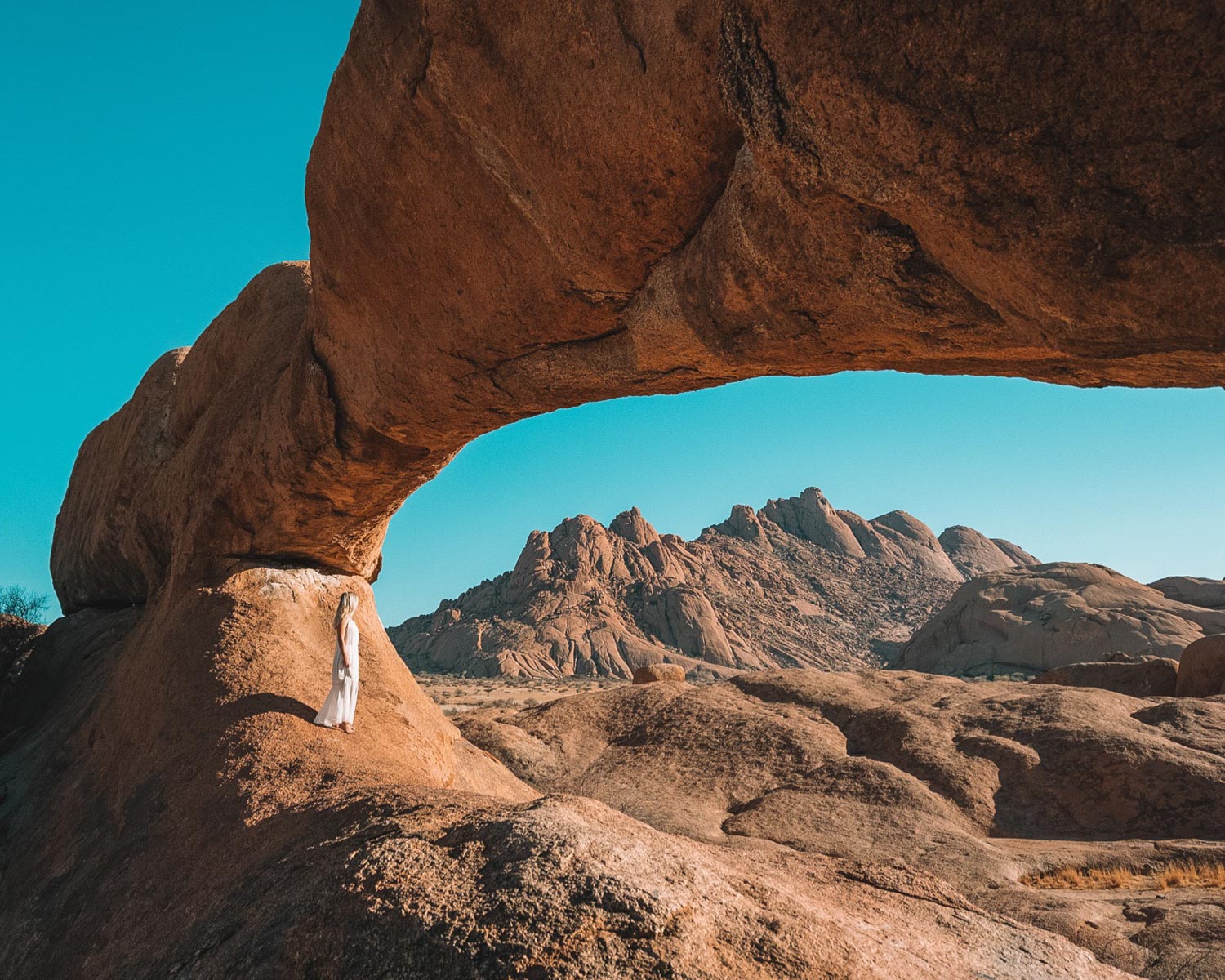 Spitzkoppen
Overall
Namibia is a great year-round destination. There's always something different to see and explore no matter which season you decide to visit the country!

Do you have any tips for visiting Namibia? Let me know in the comments below!