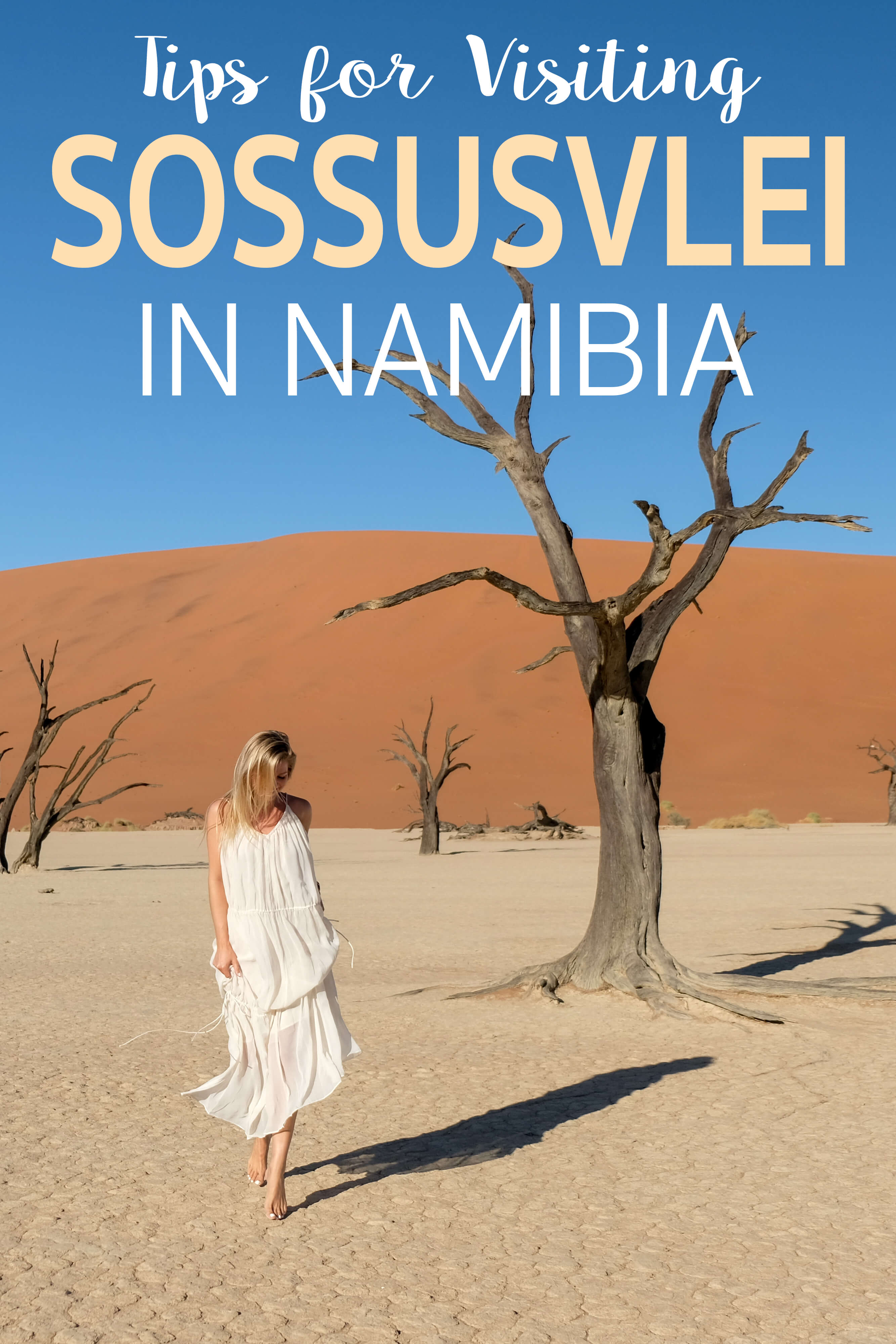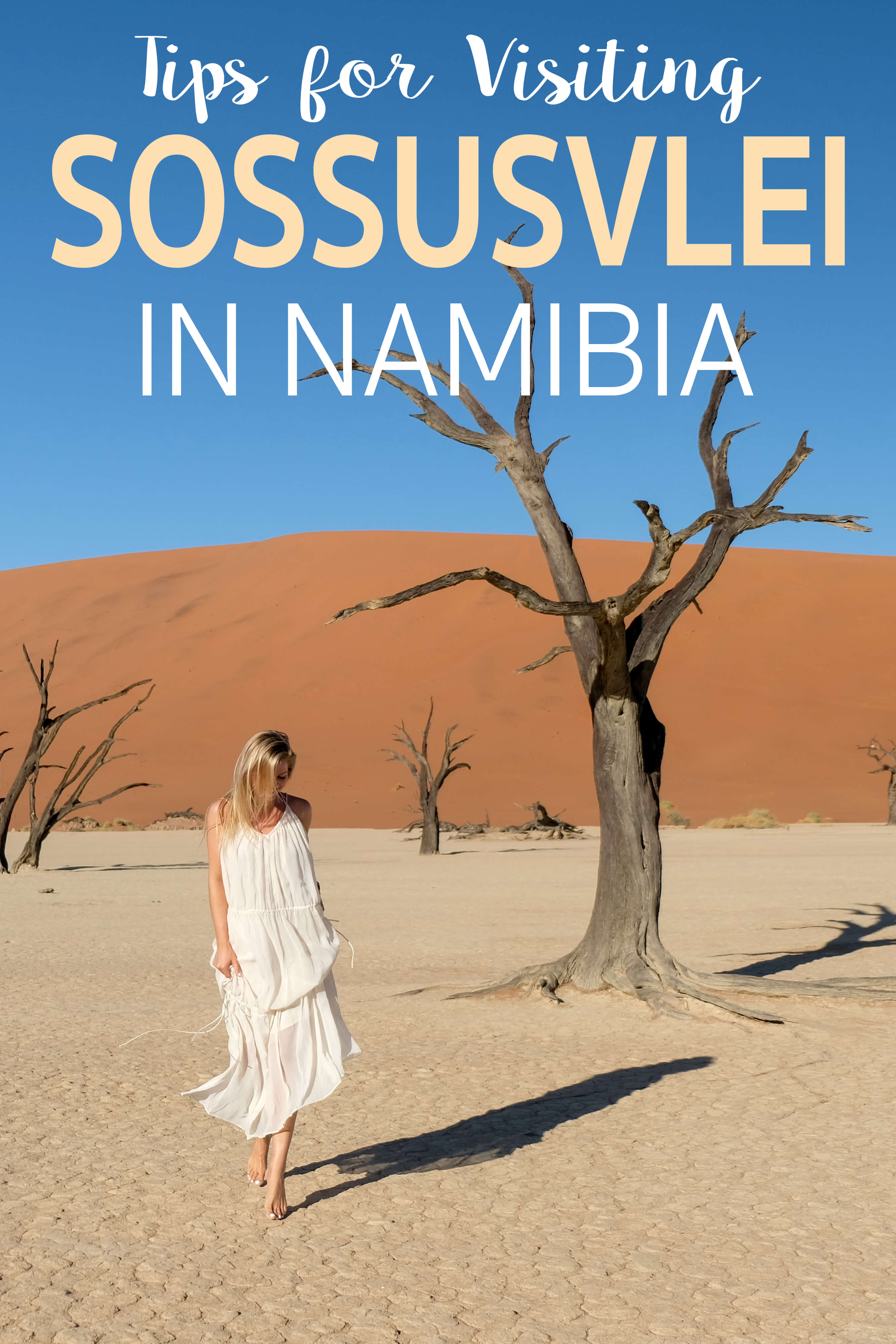 Located in the largest conservation area of Africa, Sossusvlei is truly breathtaking. This incredible part of the Namib-Naukluft National Park is Namibia's most beloved attraction and is a must-see for anyone traveling through southern Africa.
Surrounded by vast red dunes, the prehistoric river bed that is now Sossusvlei makes for stunning photo opportunities. It features some of the tallest dunes on the planet, reaching more than 1,300 feet tall, and they create a completely otherworldly look.
Here are a few handy tips for visiting Sossusvlei in Namibia!
And, don't miss my The Ultimate Namibia Road Trip Itinerary!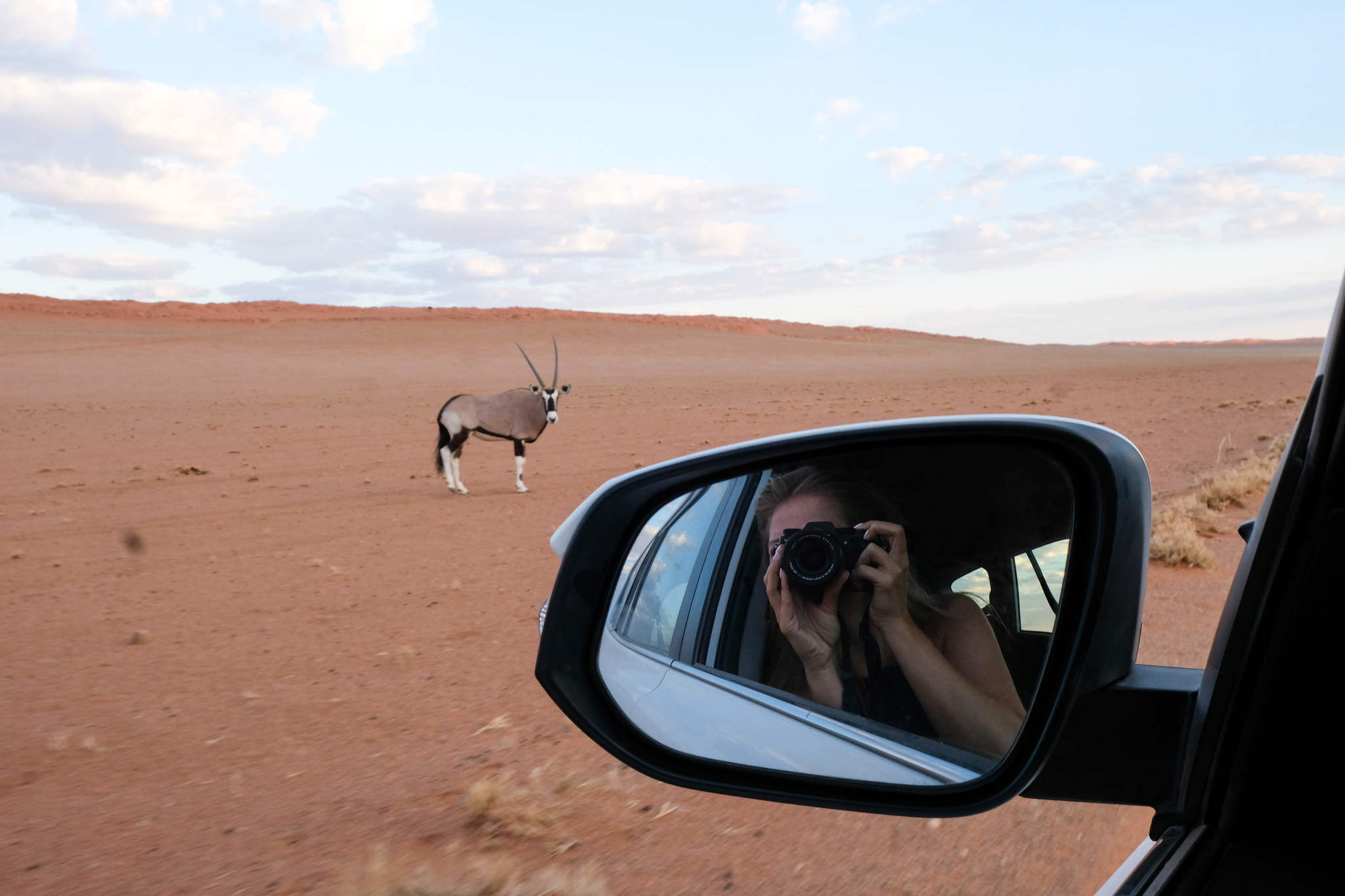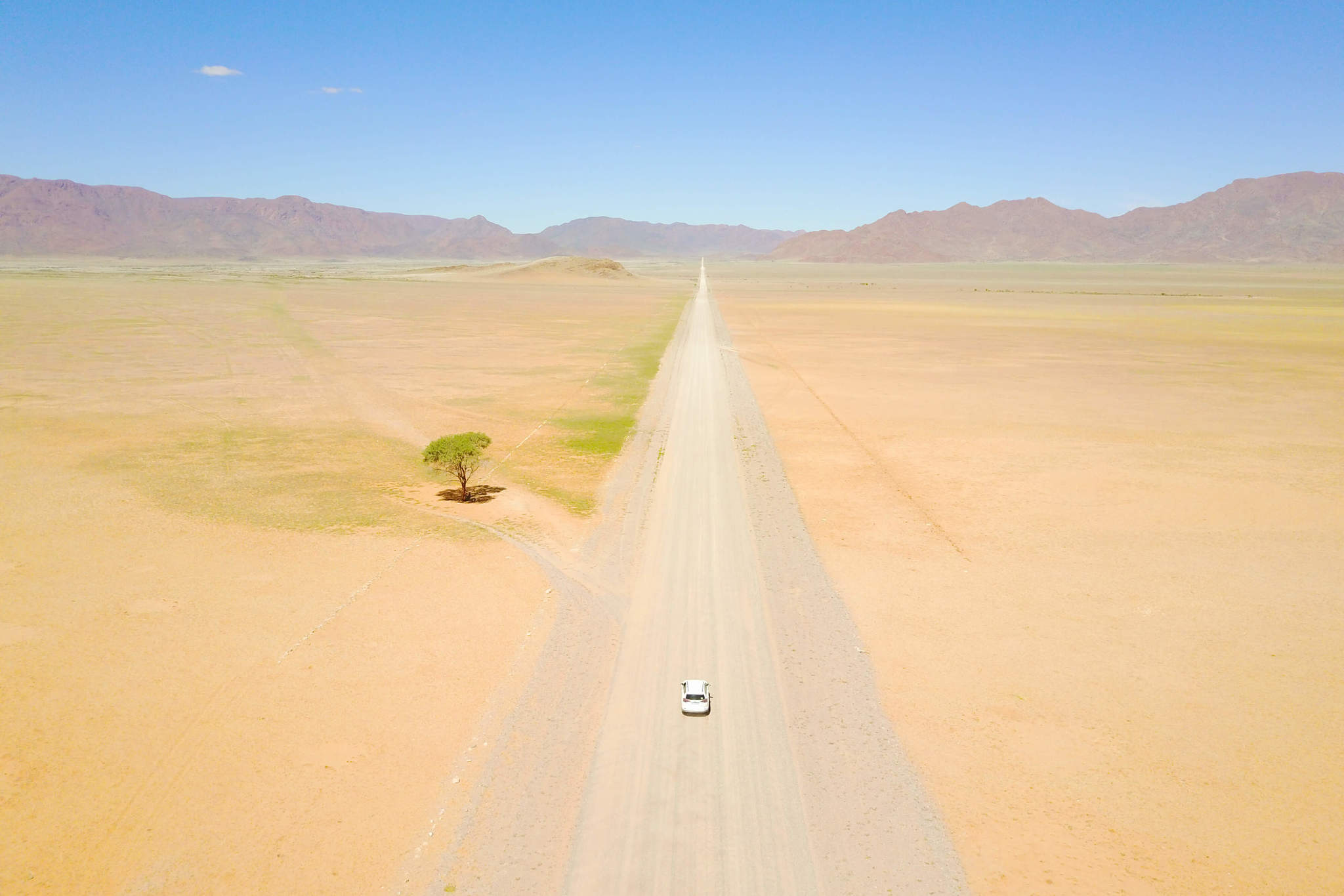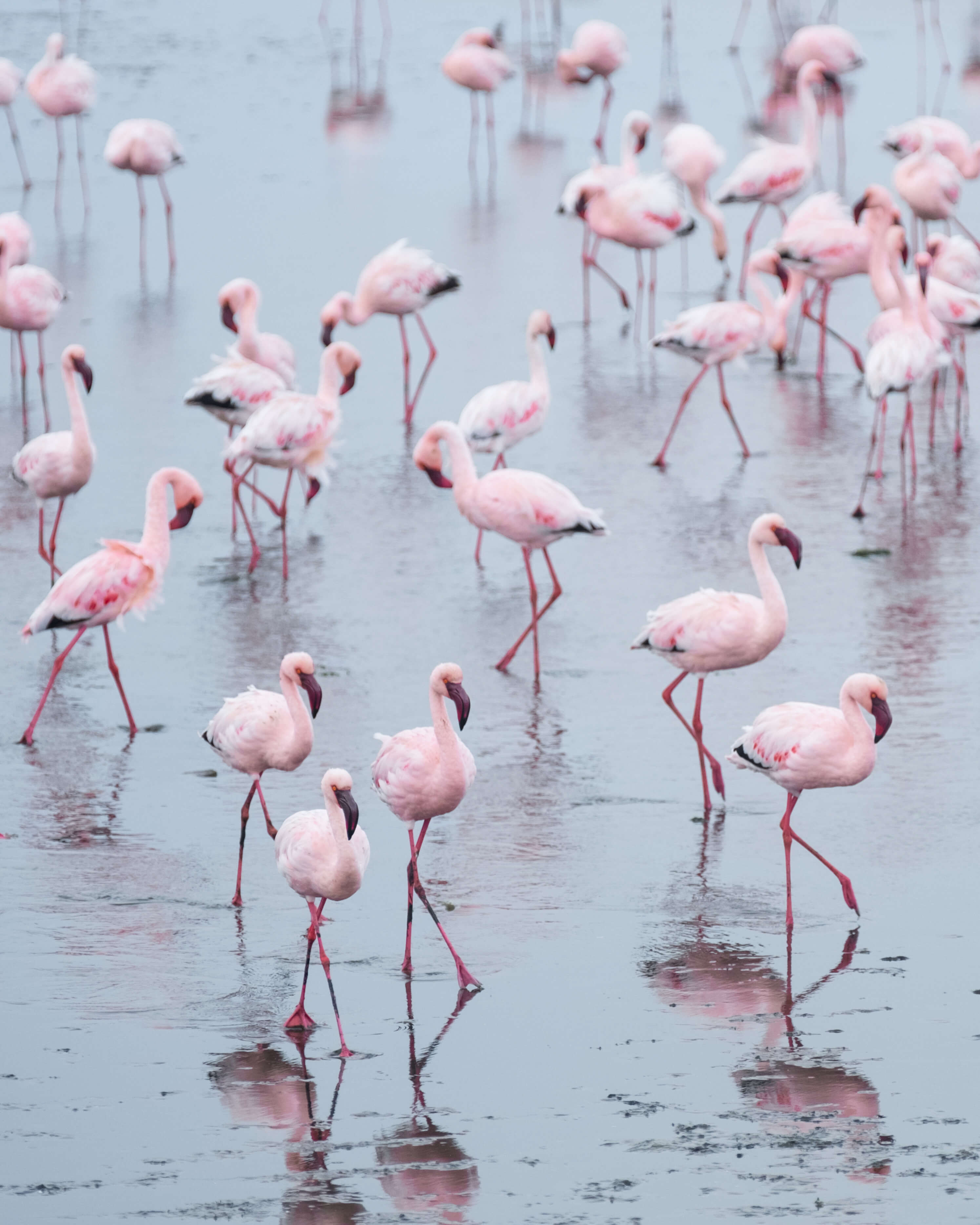 Getting to Sossusvlei
From Walvis Bay
I arrived in Sossusvlei from Walvis Bay, which is about a five-hour drive. This small coastal town is famous for its surfing and flamingos. I didn't get a chance to get out to Skeleton Bay for surfing, but the flamingos were awesome! They crowd together on the water-front year-round, so you're very likely to see them.
I spent the night in the Flamingo Villas Boutique Hotel. It's got a beautiful beachfront location, and it is flamingo adjacent!
From Windhoek 
You can fly into Windhoek then drive out to Sossusvlei, which will also take around five hours. The capital and biggest city of Namibia, you'll have tons of overnight options in Windhoek. The most popular picks are the international faves, AVANI, and Hilton Windhoek.
If you're only there for one night, I'd recommend staying downtown so you can do some sightseeing. The Namibia Craft Centre is a perfect spot for souvenirs and Christuskirche is beautiful.
Road tripping in Namibia is different from doing it in the US or Europe, and you'll want to come prepared. Check out a few of my Tips for Renting a Car in Namibia.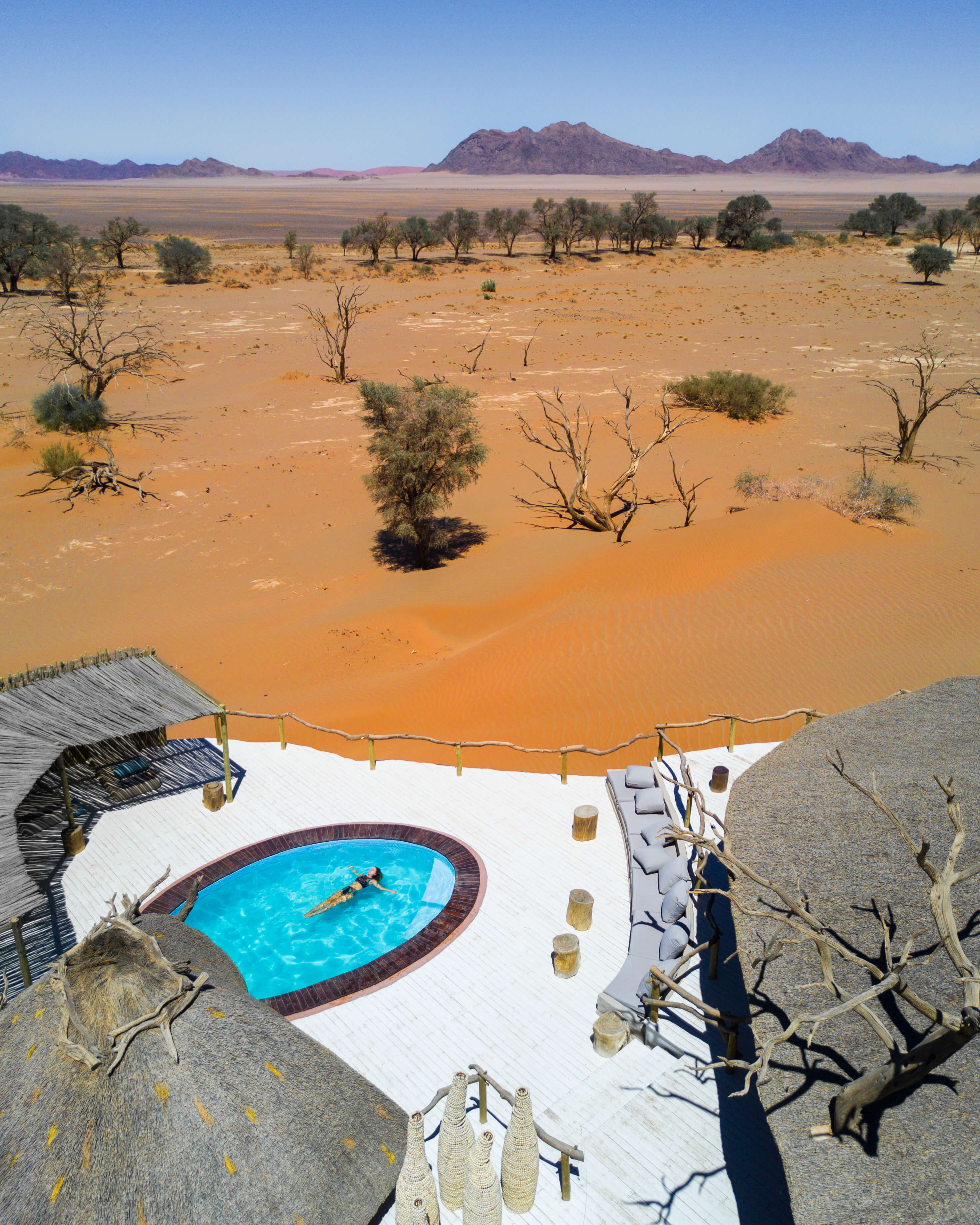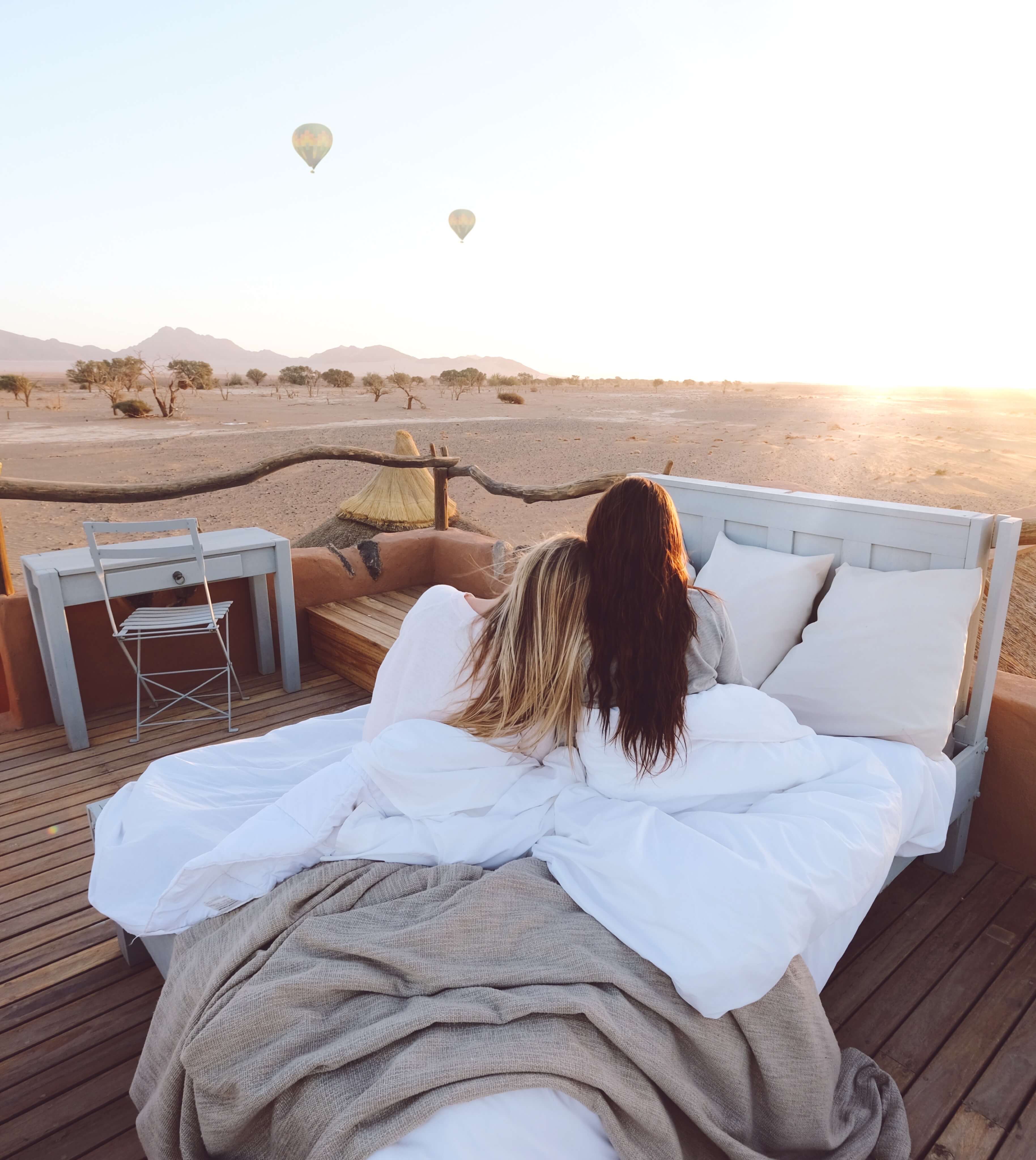 Where to Stay in Sossusvlei
andBeyond's Sossusvlei Desert Lodge: This intimate spot features just ten villas surrounded by wilderness as far as the eye can see. While it's a great spot, keep in mind that it is outside of the park so you won't be able to get in early.
Little Kulala: We stayed here in one of their 11 thatched suites. Set in a desert paradise, each suite features a private plunge pool, indoor and outdoor showers, and an amazing rooftop bed that was designed for stargazing.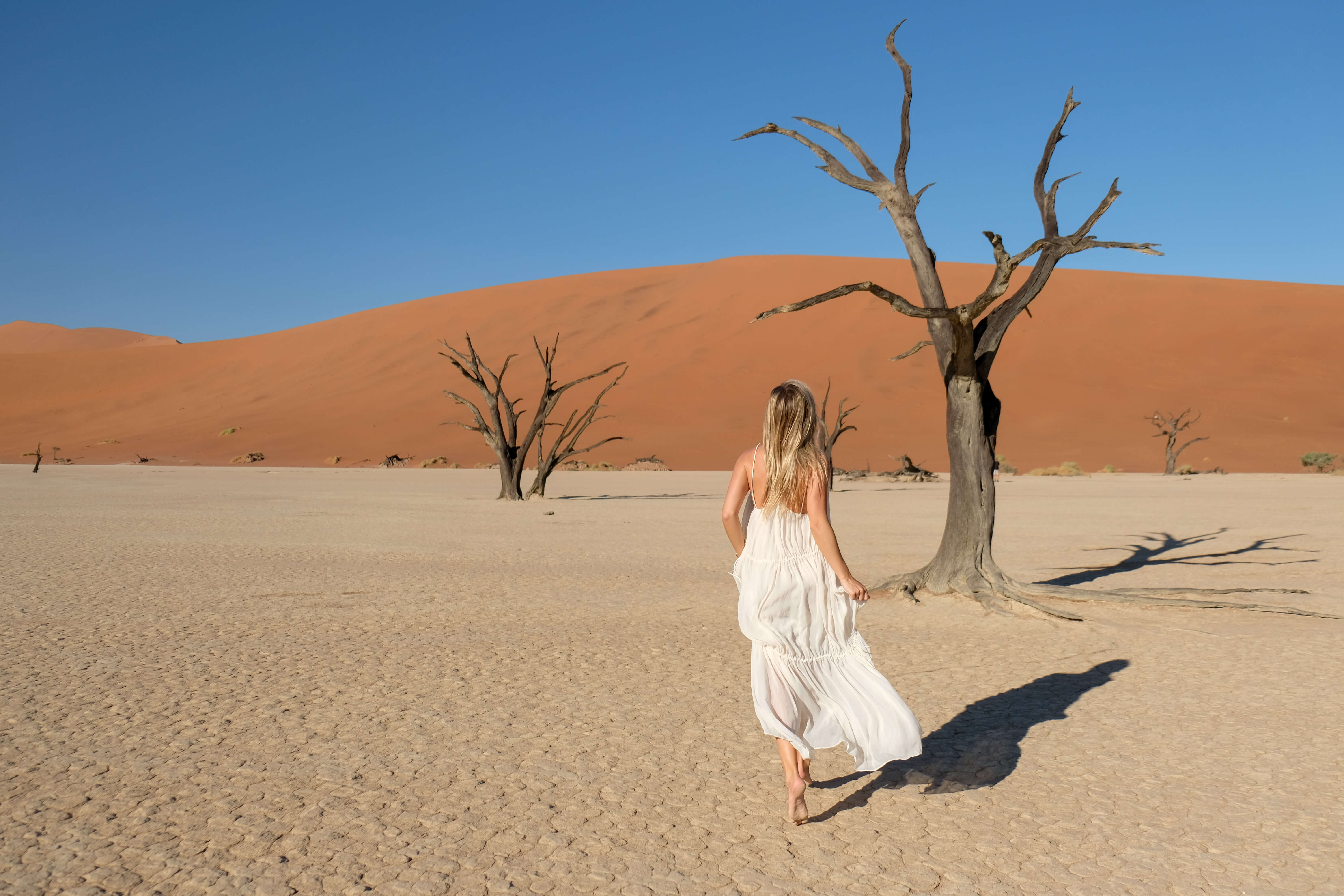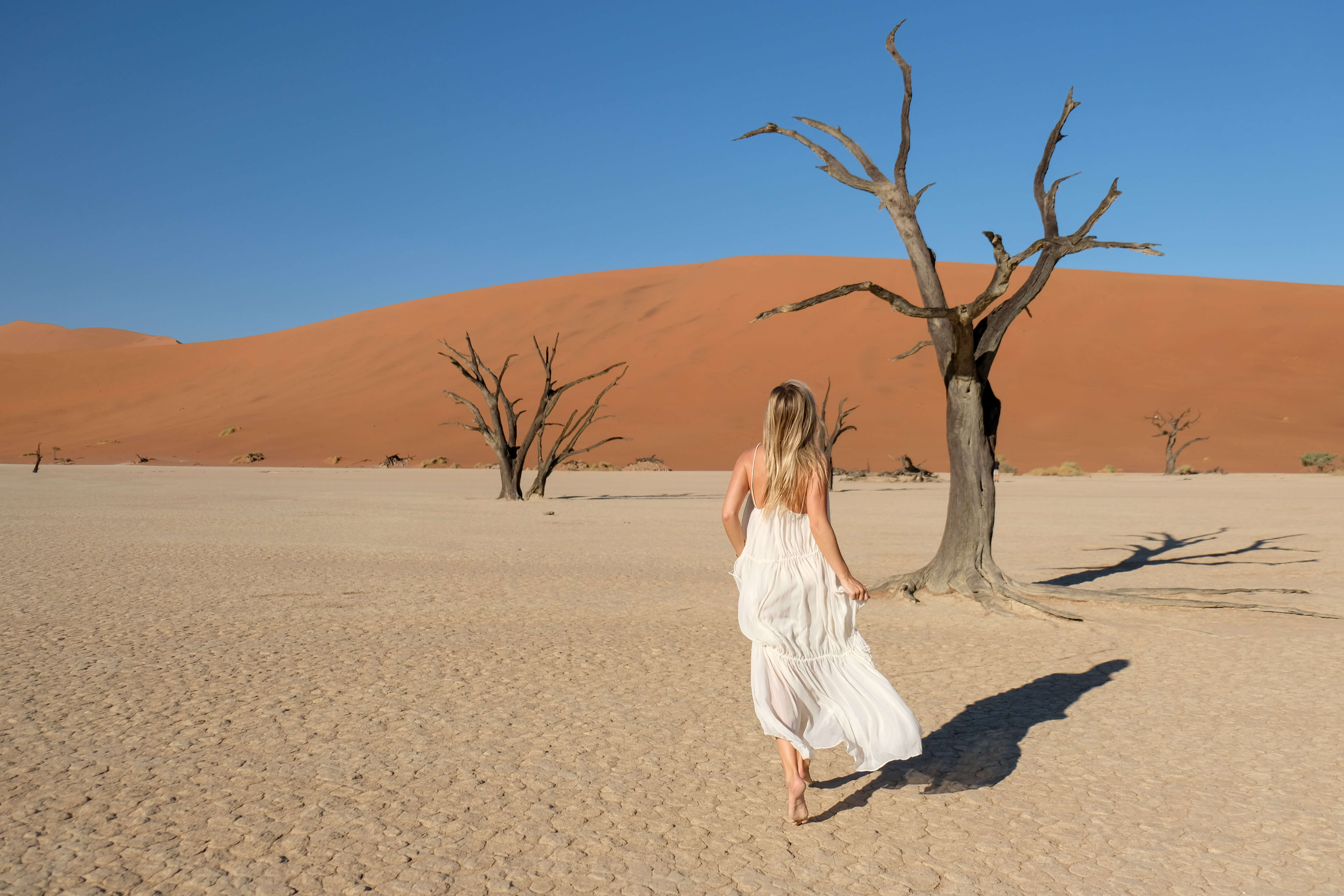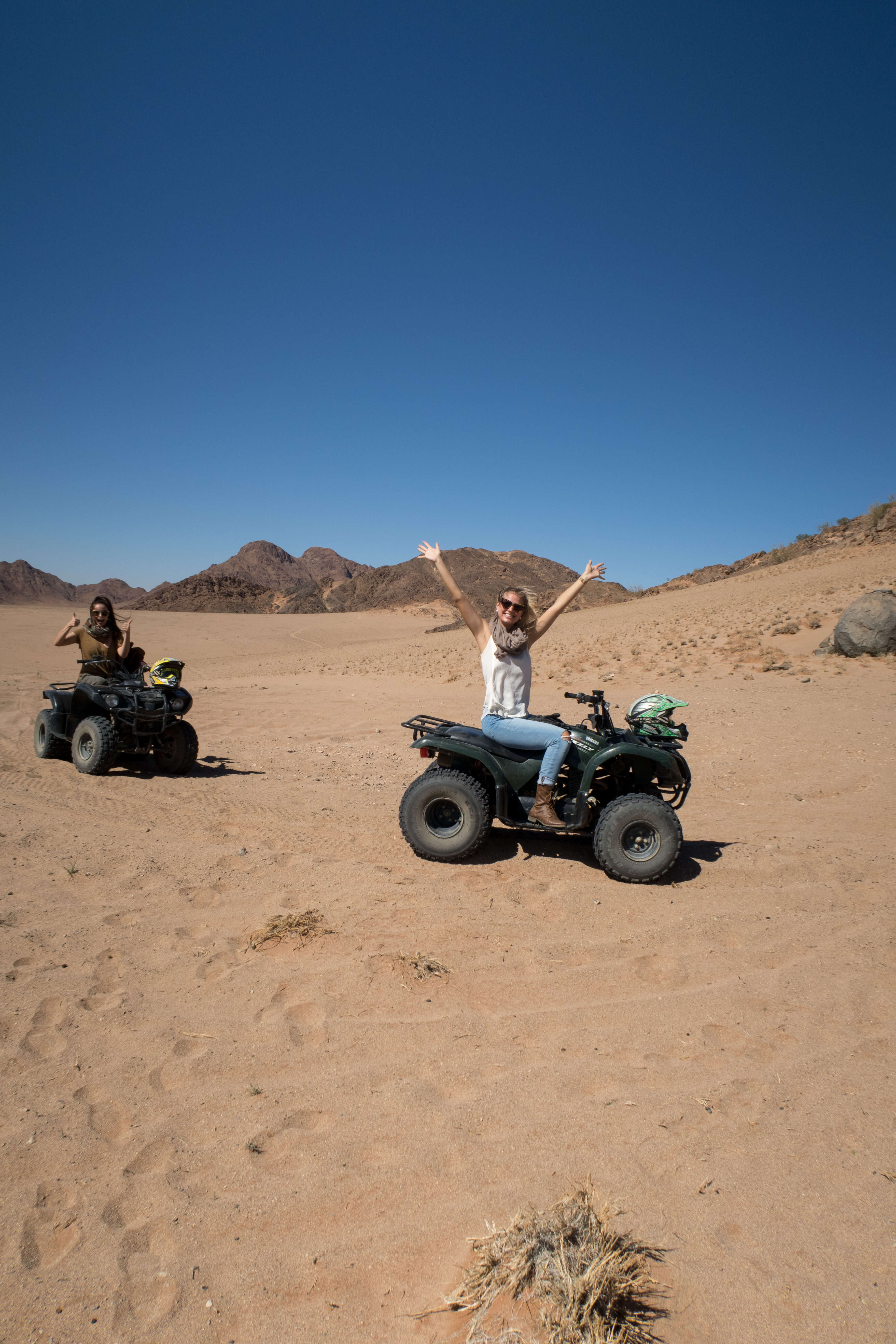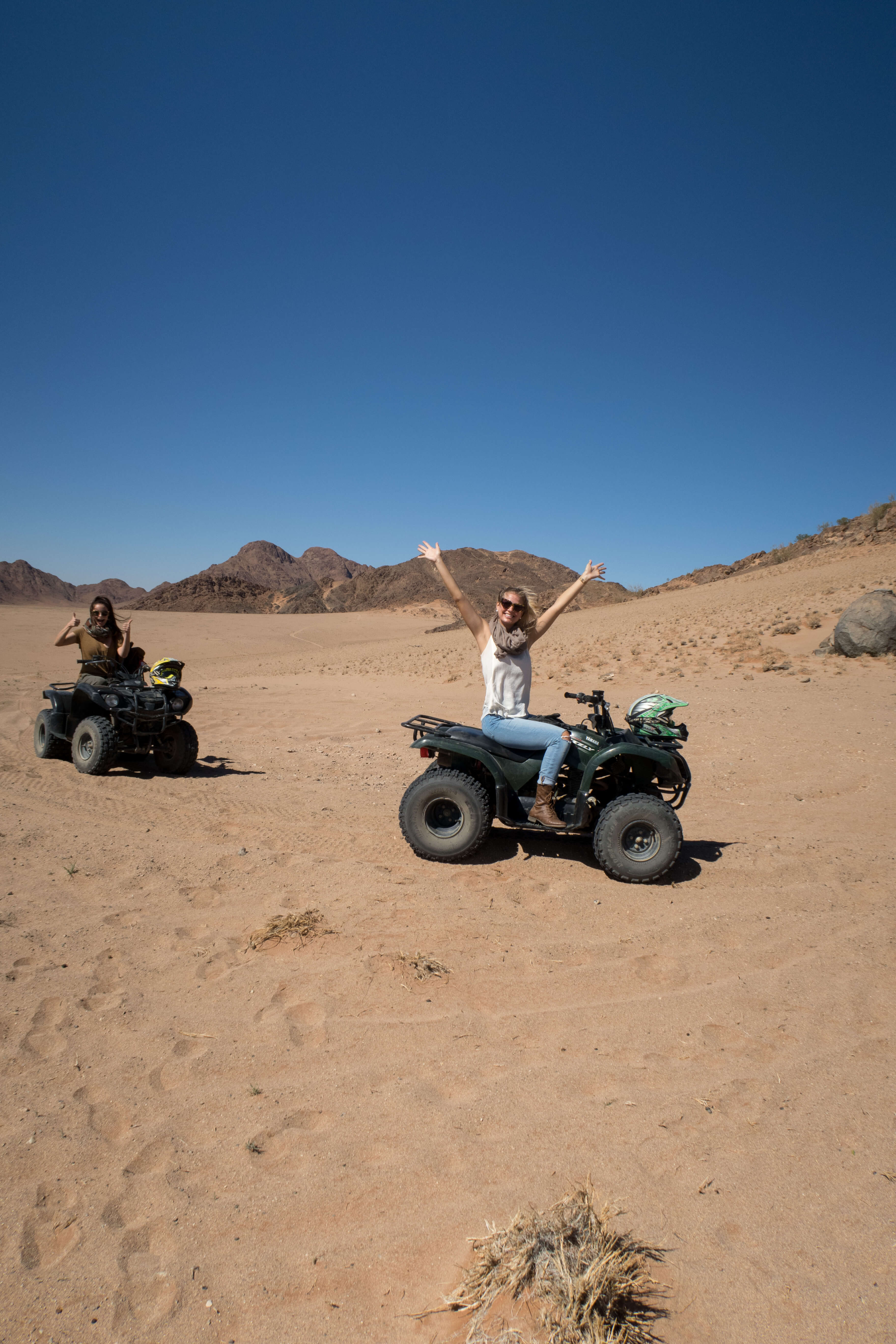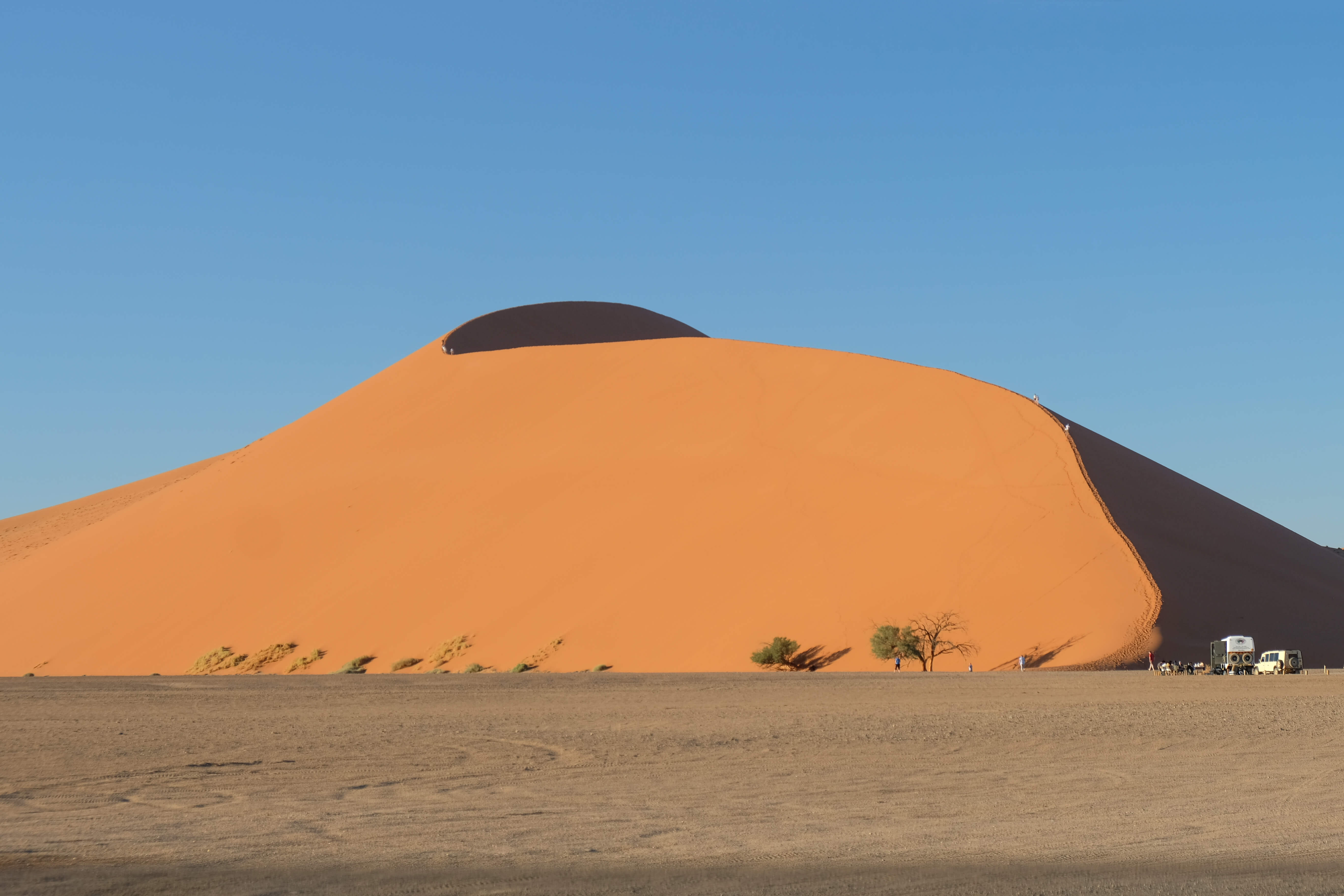 What to Do in Sossusvlei
Big Daddy Dune
One of the highlights of any trip, Big Daddy is the tallest dune in the Sossusvlei. Over 1,000 feet tall, this dune is breathtaking.
Hiking to the top is very doable, just make sure that you bring lots of water. If you're too hot or short on time, you can still get a beautiful view of it from ground level.
Dune 45
Standing at 500 feet, the Dune 45 is no less impressive than the famous Big Daddy. It gets its name from the fact that it is at the 45th kilometer of the road that between the Sesriem gate and Sossusvlei.
Made from five-million-year old sand, it's a truly awesome sight.
Deadvlei
One of the best photo ops in Sossusvlei, Deadvlei is dotted with 900-year-old dead camel thorn trees. These midnight black trees speckled across cracked white clay create an incredible vista.
You'll have to walk around 20 minutes from the parking lot to get to Deadvlei so, as always in the desert, bring plenty of water!
Quad Biking
The best way to see Sossusvlei is to get off the beaten path and into the depths of the desert. We took quad bikes around on a tour and were able to see some stunning views.
Keep your eyes peeled for the famous fairy circles (the desert's version of crop circles).
Star Gazing
Once you see the starry night sky in Sossusvlei, you'll be spoiled for life. One of the most remote places on the planet, there is zero light pollution here and the night sky is otherworldly.

Do you have any tips for visiting Sossusvlei?