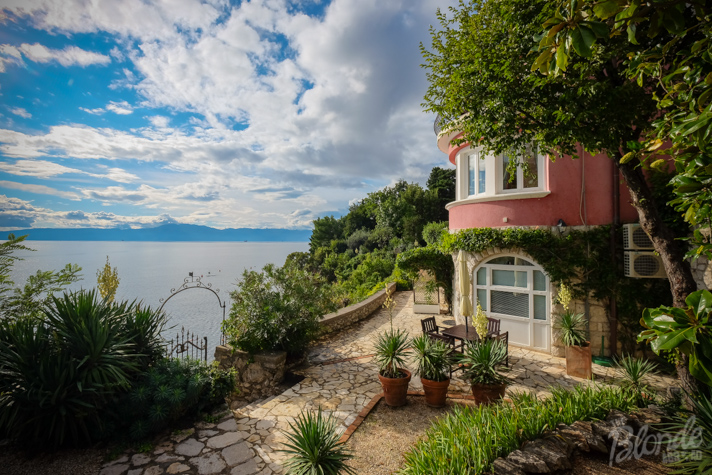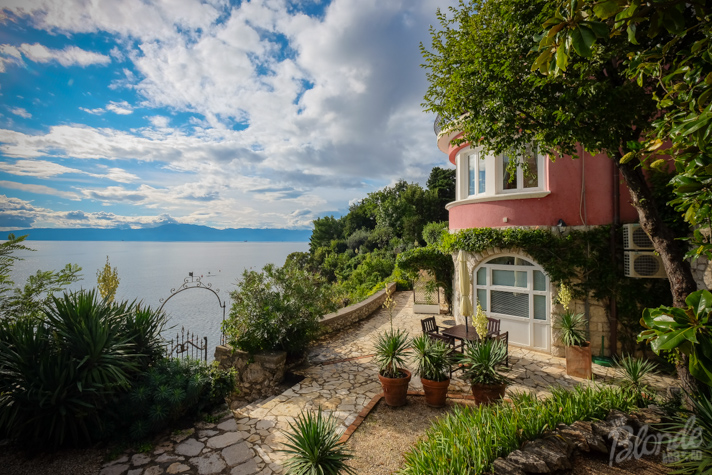 A little over a month ago I announced my move to Croatia, one of my favorite countries in the world. I planned to relocate to Kraljevica, a small town on the gorgeous Croatian coast, where I'd spend the next month. I had been jet-setting all over Europe for nearly 4 months and needed to slowwww things down.
As a long-term traveler, sometimes the greatest gift you can give yourself is the permission to go somewhere beautiful and do absolutely nothing.
The pace of tourism across Europe dies down a bit in the low-season (late September-October), so I knew that finding accommodation would be much easier than in the peak of summer.
I quite literally stumbled upon a holiday rental property, called Villa Dora, and couldn't believe my eyes. The pictures featured a beautiful Austro-Hungarian house from the 1930's situated (quite literally) steps away from sapphire blue Adriatic Sea.
It was love at first sight.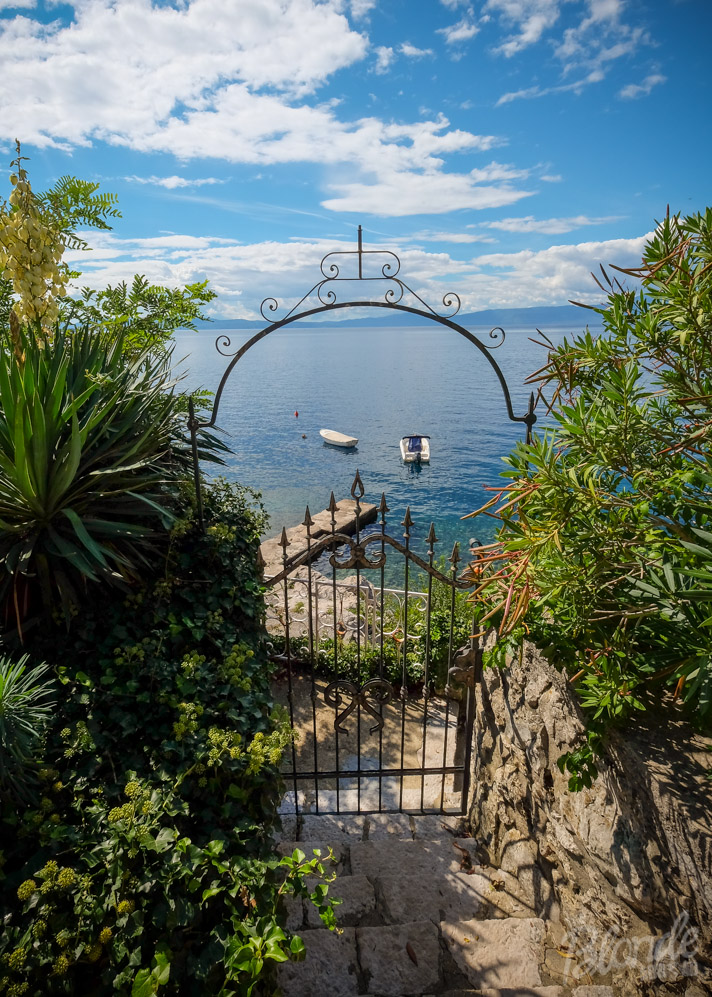 After reaching out to the owner, a wonderfully kind and loving woman named Renata, I knew that I had found my new home. The bungalow on the property, a beautifully furnished private 2-bedroom villa, would be available upon my arrival for a one-month rental at a price I couldn't refuse.
As a note: The biggest benefit of traveling to Croatia in the low-season is that most rentals are heavily discounted. Sometimes up to 50% off. You'll still get gorgeous weather and you will likely have the place to yourself.
And so I arrived at Villa Dora, mouth agape as I took in the landscape of the property. It was even more beautiful than the photos. The main house was a perfectly pink shade that contrasted beautifully against the lush greenery that blanketed the balconies and gardens.
The pool was sprinkled with sun-chairs & umbrellas and featured an unbelievable view of the sea down below. Even the gate leading down to the sea was charming in its own right.
Peaking through the rod-iron gate, sailboats passed by and the glimmer of the sun reflected off the rippling water.
There were also a few nice surprises tucked around the property. A small hidden area sat on the cliffside providing a panoramic view of the coastline. I would sit up there at sunset with a glass of wine and a book and practice the pleasure of doing nothing.
Oh, and the sunsets at Villa Dora?
wowzers…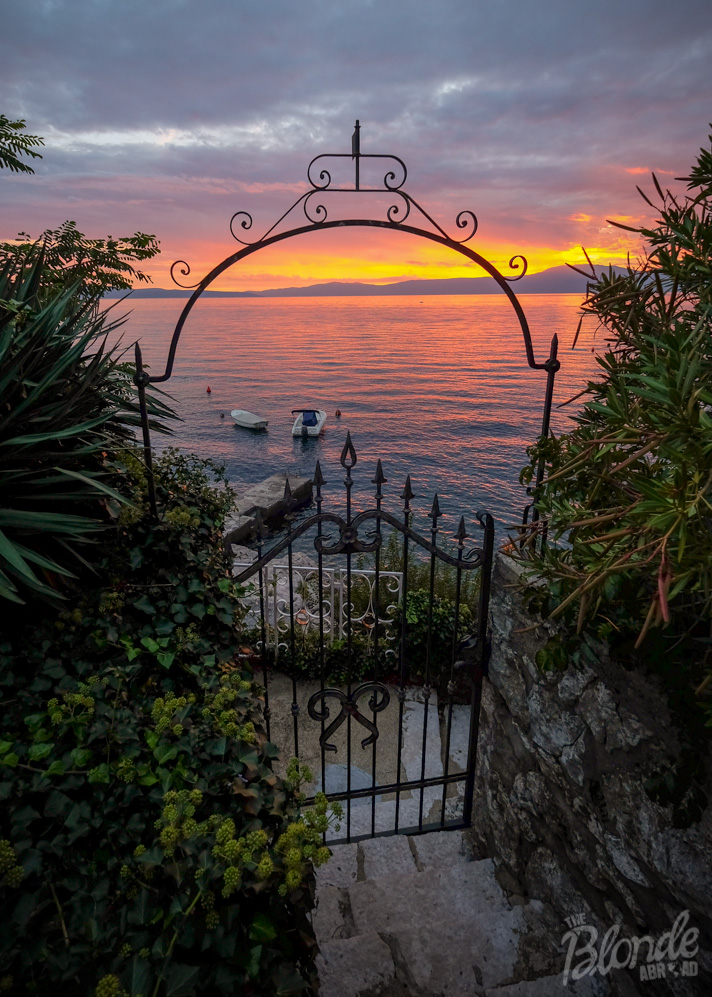 For the past month, my stay at Villa Dora has been unforgettable to say the least. I was finally able to unpack my bags, have my own kitchen, my own space and a place to do my laundry. I also had an address so that my mom could send me a care package.
Anyone traveling for an extended period of time knows what a luxury that is!
About 80% of my time felt like full-blown summer. Sometimes too hot to even lay out my the pool! The other 20% was rainy or overcast but still warm. It was the perfect balance to stay focused on work and still enjoy my seaside paradise.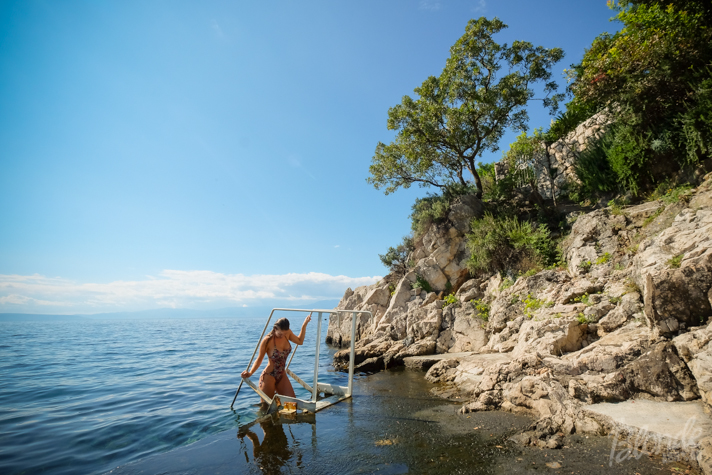 By the beginning of October, there were no other guests at Villa Dora. I literally have had the place to myself. I would read down by the sea or bring my laptop down to the pool to get some writing done.
Or, I'd laze around the villa all day in my OnePiece pajamas drinking coffee.
It was perfect.
Villa Dora is located in a great location for sightseeing around Croatia. I took a day-trip to the island of Krk for a seaside lunch and day on the beach. It was a short drive to spend a day in Trieste, Italy and grab a gelato and do some shopping.
I even got the chance to visit the gorgeous waterfall-filled Plitvice Lakes and fulfill one of my biggest travel dreams.
The owner, Renata, treated me like her own daughter. Even though I stayed to myself quite often to get work done, she always made sure I was taken care of. We'd share a laugh or a glass or wine. She helped me translate Croatian and gave me tips on the best things to see and do in the area. I'm so thankful for her hospitality.
It really is incredible to have a deeper connection with the people and places you visit while abroad. Villa Dora will always hold a special place in my heart and I know I'll return there again one day. Hopefully every year for that matter!

More Information
Hotel: Villa Dora
Location: Kraljevica, Croatia
Accommodation: Self-catering Villa
Price Range: $$$

For more information or to book a stay, visit the Villa Dora website!