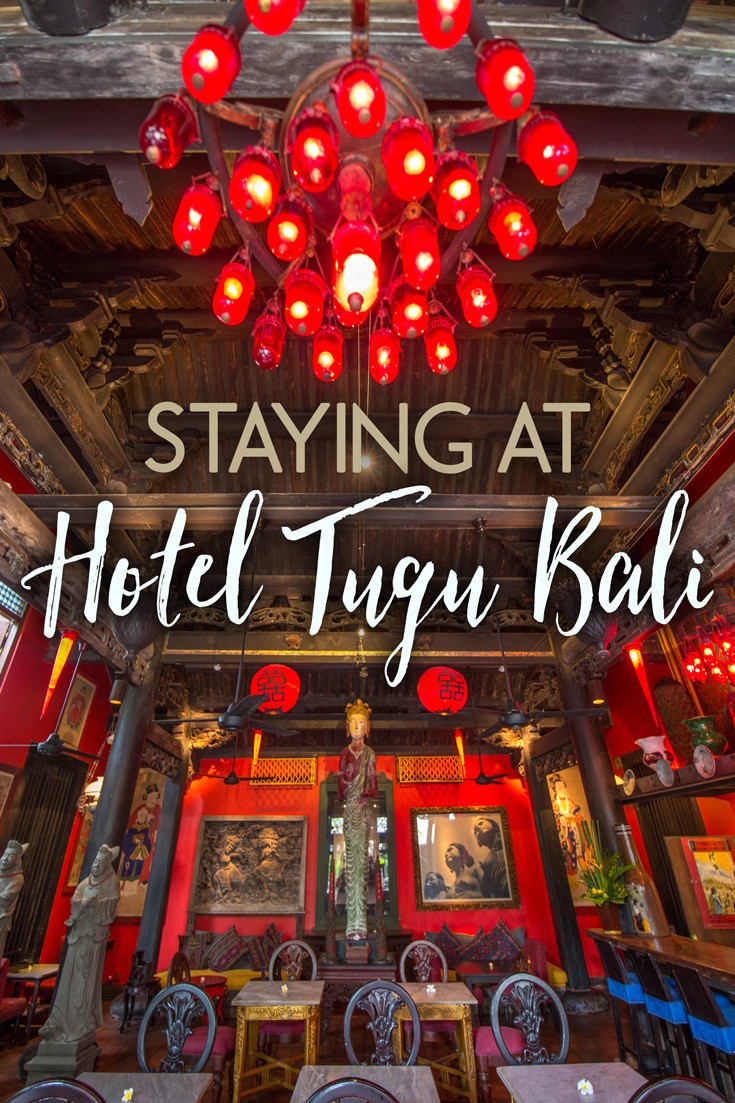 Traveling around this globalized world, sometimes I crave the days of old-fashioned adventure. I long for a time when crossing the globe meant leaving behind all that's familiar and embarking on a journey of unimaginable shocks and surprises.
I found some of the magic of vintage escapism at Hotel Tugu Bali!
Transporting me back to the most romantic times of Bali, this hotel is dizzying-ly beautiful and a far cry from the cookie-cutter properties you'll find everywhere else.

The Hotel
Part of a small, privately owned and designed collection of luxury art hotels and restaurants, Hotel Tugu Bali was built with love. The owner's mind-blowing collection of Indonesian art and antiques is housed exclusively in his gorgeous hotels.
For me, there's nothing more beautiful than Balinese architecture and design. Being able to get hands-on and stay among so many pieces of stunning art was such a treat for me. It brought to life the romance of days gone by in Bali.

Rooms
Every room in Tugu Bali is unique, from the massive Puri Le Mayeur Villa set atop a pond to the Walter Spies Pavilion, which calls back to Java's art deco era in the early twentieth century.
Each decorated with unique artwork, the Dedari, and Rejang suites feature oversized beds, sunken baths, private pools, and in-room spas. My favorite part, each room is nestled in private gardens and offers spectacular views of rice paddy fields and panoramic sunsets!
Whichever option you go for, you can look forward to a complimentary welcome massage and daily fresh tropical fruits and flowers.

Dining Experiences
The hotel offers amazing restaurant and dining experiences. Every time you go to eat you can enjoy a new atmosphere and cuisine. And this is no cheesy theme restaurant. The dining experiences transport you to another time and place.
See Indonesia's most beautiful dining room housed inside the 300-year-old Bale Sutra temple and take in the otherworldly beauty while you eat world-class food.
My favorite meal was dinner on the rooftop at
Ji
, their Japanese Fusion & Sake Bar! I highly recommend going for happy hour and getting the Coco Sexo cocktail- not only is it delicious but it comes out bubbling and smoking like a magical brew!

The Spa
For the last two years, the spas at Hotel Tugu Bali have ranked among the greatest spas on the planet. This is most definitely not your standard hotel spa experience!
You will forget about the world while you're indulging your body and soul in the unique therapies here.
Pamper yourself with traditional Balinese dance-based treatments, spiritual therapy, and exotic herbal oil treatments. Unwind with some yoga and Pilates in your tropical paradise.
Last but certainly not least, you absolutely cannot leave Tugu Hotel Bali without going for one of its heavenly hot stone massages with spice-soaked volcanic stones. It's easily one of the best treatments I've ever had.

Leisure Activities
Hotel Tugu Bali has some impeccable packages. Located on Canggu Beach (a popular surf beach with lots of cute boutiques and cafes), the hotel is in a great place to learn to surf or watch the sunset.
They've also got a yoga escape that will de-stress your body and leave you feeling like a million bucks.


More Information
Hotel: Hotel Tugu Bali
Location: Canggu, Bali
Accommodation: Luxury
Price Range: $$$

Special thanks to Hotel Tugu Bali for hosting me during my stay. As always, opinions expressed here are entirely my own.
Want to earn points for your hotel stays and earn miles toward your next adventure?