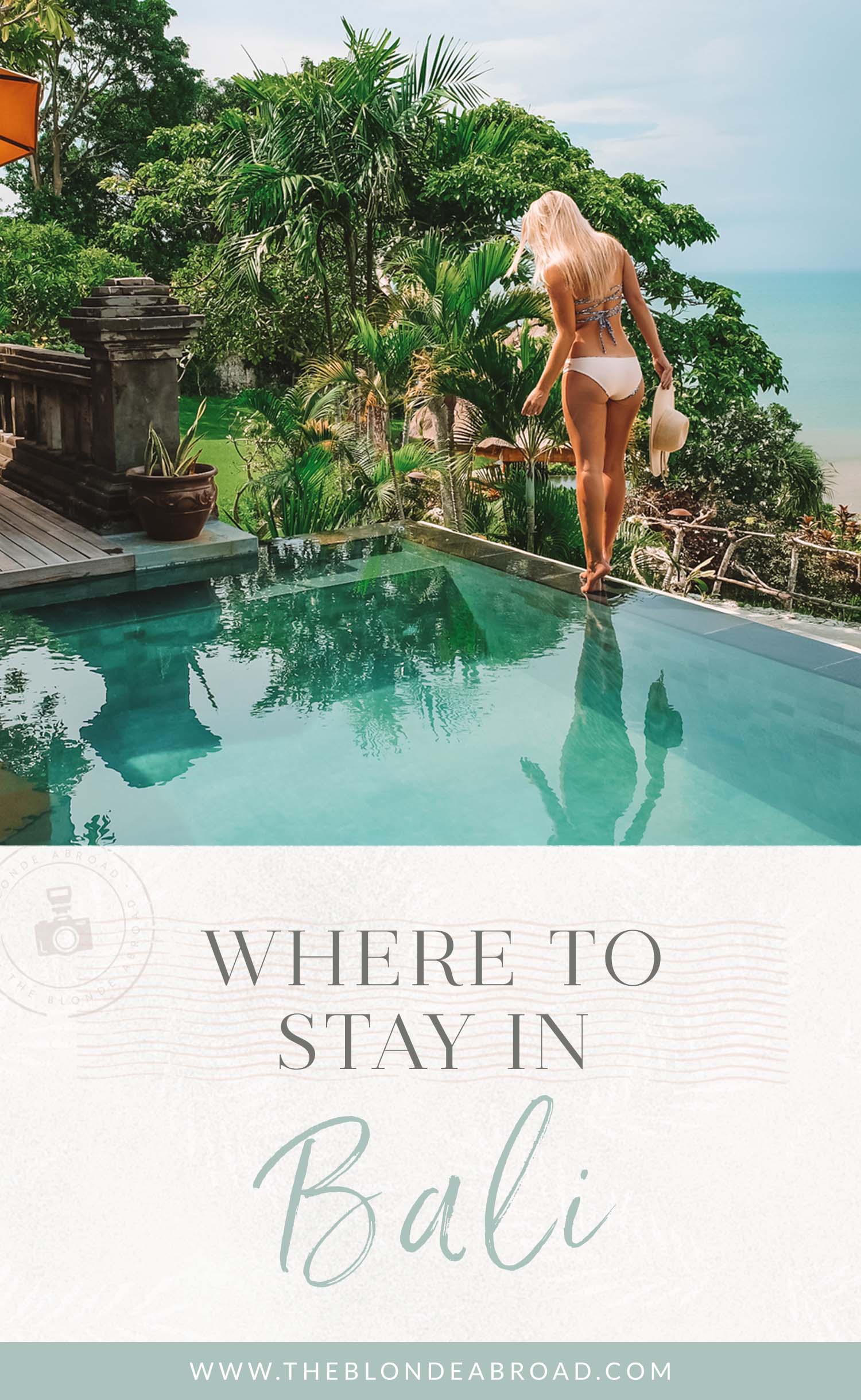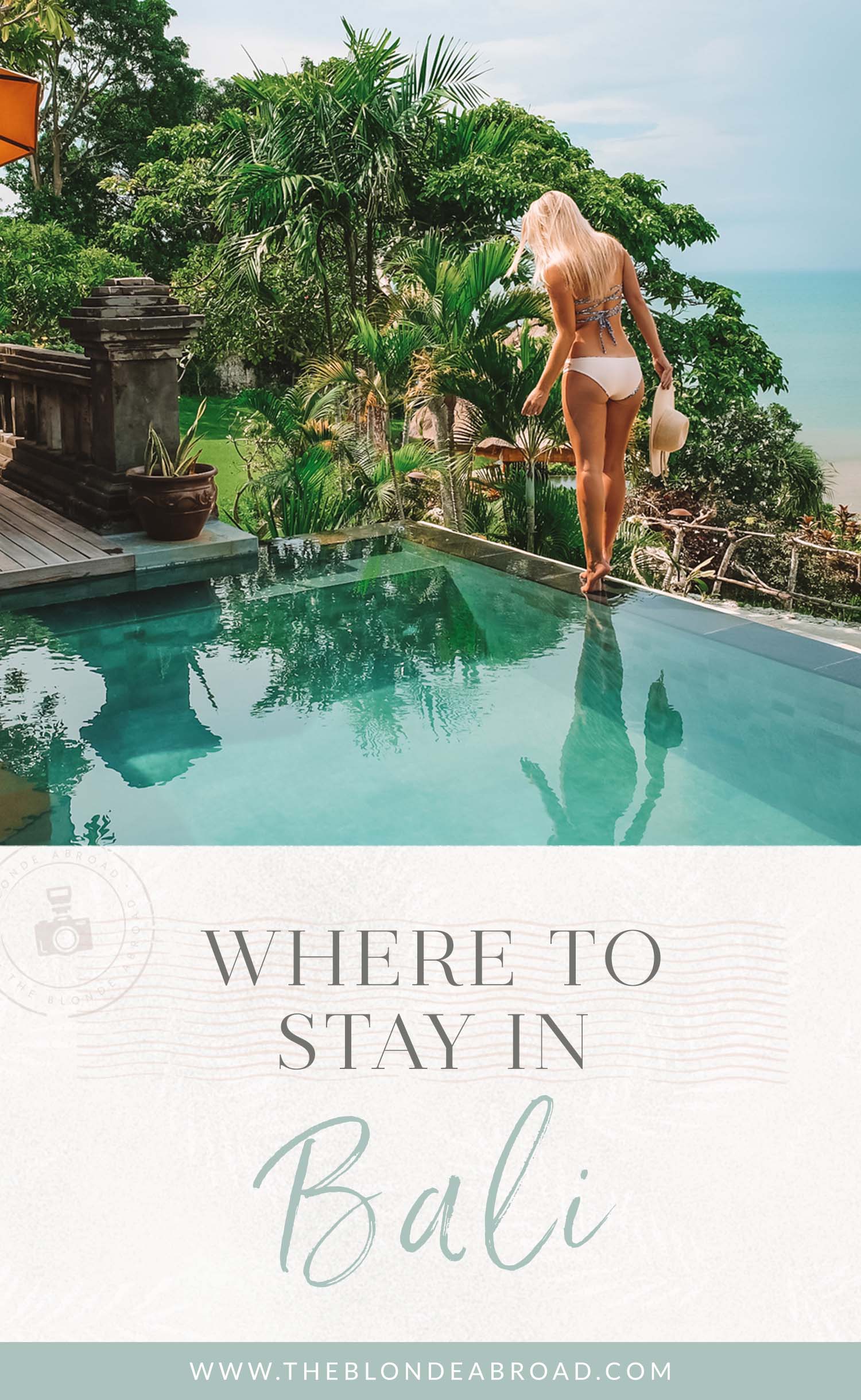 With lush green scenery, world-class surfing, a hip nightlife, and some of the best vegan food on the planet, Bali is one of those places that I find myself coming back to time and time again.
It's the kind of island where you can choose your own adventure and have a completely different experience every single time. I love traveling Bali as a solo female and it's ultra-romantic when you go as a couple. Bali for budget travelers? It's easy! When you are deciding where to stay in Bali, it is all about deciding what kind of experience you want to have.
Just be careful of the traffic! People tend to think their traffic is the craziest in the world, but when the Balinese say it their traffic is worse—they mean it. During rush hour, it can take a solid hour just get to get 10 km (6.2 mi). Before you book a place, decide what your core interests are…and how long it will take to get to other areas.
If you want to be near the beach, jungle, or yoga spaces most days, stay near them!
Before you go, you will want a guide to each neighborhood in Bali and figure out what suits you. Here's my guide on where to stay in Bali!

Ubud
It's all about the jungle vibes here! Close to the Monkey Forest, this is the lush region that you've definitely seen featured on Instagram from time to time. The sweeping rice paddies are dotted with shrines and waterfalls (with more than a few yoga centers in the mix).
If you are looking for an area where you can get a glimpse of local life, this is one of the best options. In the heart of Ubud, you will also find the largest market in the area that is perfect for finding souvenirs.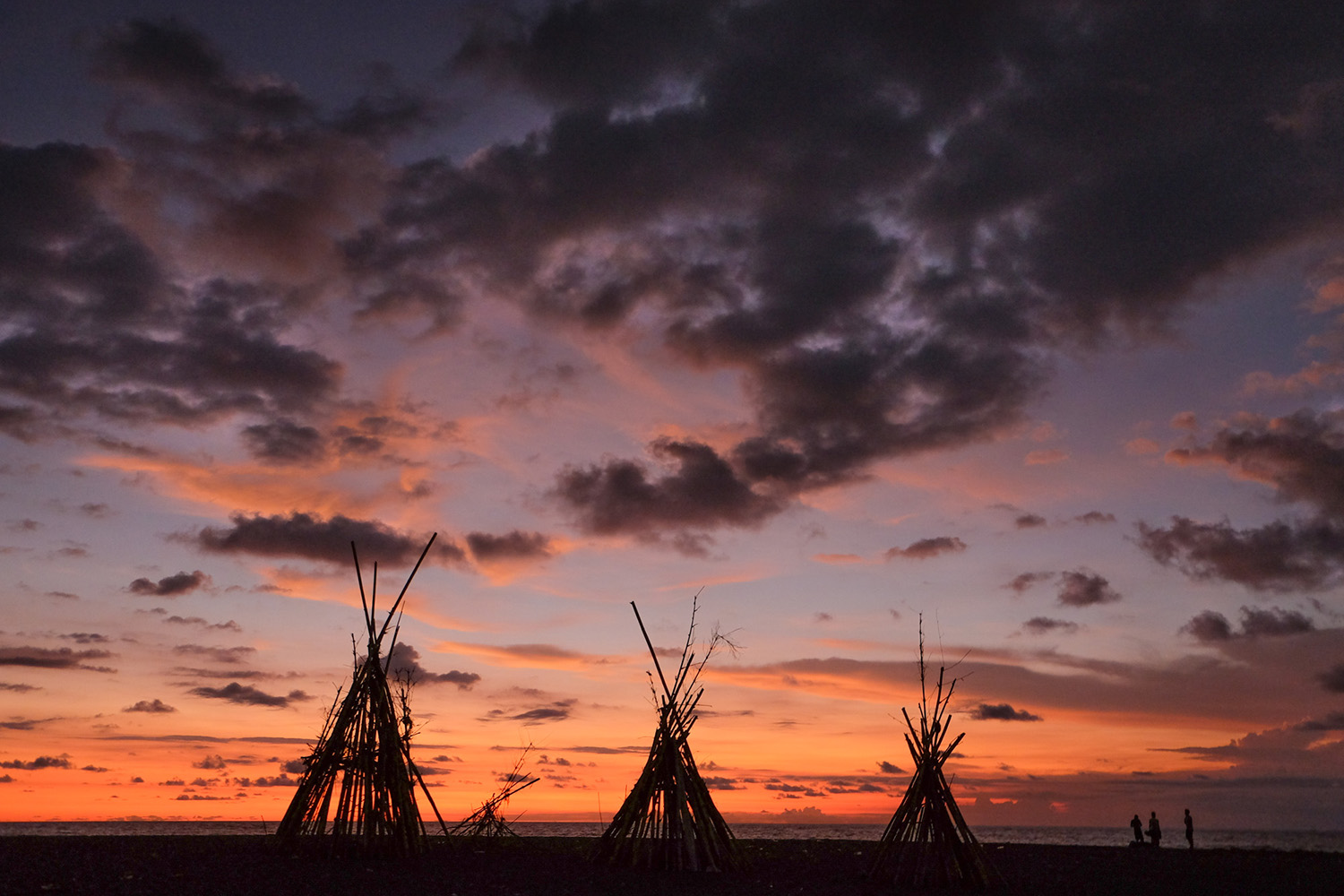 Canggu
Canggu
Canggu my fave spots! Everything is super close together and it's easy to walk around. It's also a very safe area so it is one of my first recommendations for solo female travelers in Bali. For this very reason, you will also be able to meet other travelers too.
There are lots of laid-back beach cafés and bars. If you're into surfing, the main road in town, Batu Bolong, is the place to be. Keep your eye out for quiet little warungs (roadside cafés) all over and some of the coolest street art!


Seminyak
Looking for a swanky, upscale spot on the sand? You are going to love Seminyak. This is one of the biggest beach communities and you will have everything outside of your doorstep. Luxe resorts, high-end shopping, and sleek bars are the standard here.
My fave areas to explore are the quirkier areas of Jalan Petitenget and Jalan Kayu Aya as well as the popular Eat Street. If you're into surfing be sure to check out Petitenget and Seminyak beaches.

Jimbaran Bay
If you are traveling with family, I'd highly recommend checking out Jimbaran Bay.
It is a lovely mix of a luxury resort with local communities. The water is calm in the bay and there are plenty of spots to try ultra-fresh seafood or just lounge by the water. For an afternoon on the town, browse the local market. While Jimbaran Bay can get a bit crowded, it isn't as touristy as some other spots.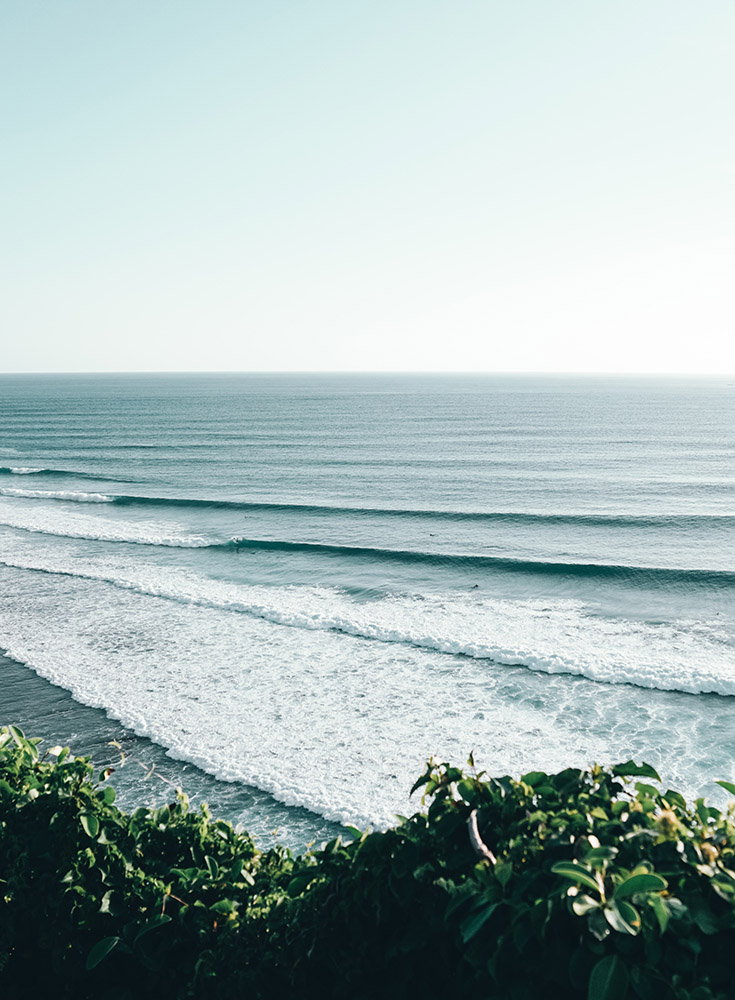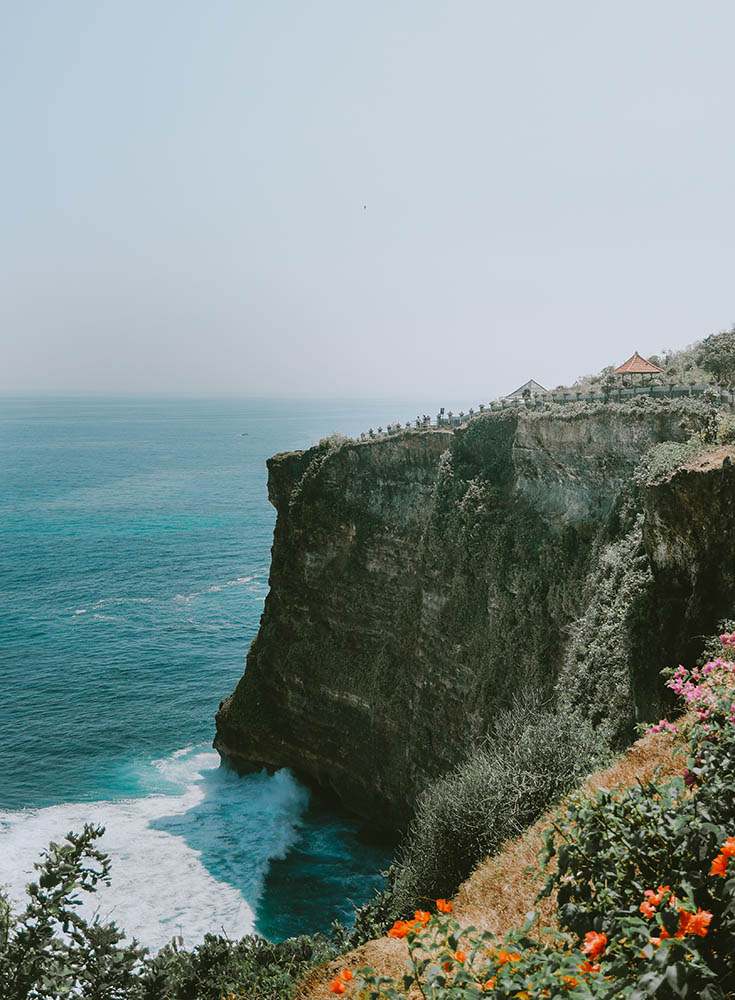 Uluwatu
If you are in Bali to just unwind, you are going to love Uluwatu. It is one of the quieter spots in the southern part of the island and it's stunning. You can choose between a well-appointed resort or a quiet villa on the coast.
Plan a day to walk up to Uluwatu Temple for a panoramic view. This area is known for its lush green surroundings and sparkling turquoise sea.

Tegalalang Rice Terrace
Tegalalang
Odds are you've seen pics of the beautiful Tegalalang rice terraces before. Travelers often pop over to take a few photos and spend a night or two. I'd recommend sticking around for a bit longer though in this underrated area.
Wherever you stay, get up early at least one morning for a sunrise hike up Mt. Batur!

Not Recommended
While I love Bali, there are a few spots that are simply not worth it. Out of the way or out of touch with what makes the island incredible, these neighbors are on my "miss" list.
Kuta
Known for the backpacker crowd, you can find a cheap place to stay here BUT Bali is not an expensive travel destination. There's no sense in staying in a crazy area to save a couple of dollars. The tourist packs can be overwhelming here compared to the more chill backpacker vibe you will find in Canggu or Seminyak.
Sanur
This is a family-oriented spot without a lot to do. It has a rather sleepy reputation and it can take quite a bit of time to get to other places. While there are resorts with nice places to relax, the main beaches aren't very well maintained.
Airport
Unless you are leaving in the early morning, it's not worth spending the night in the airport area. There is very little to do nearby and it is not a walkable area. If you find a nice hotel and are happy to just hang out there, it's fine for the night but it's not a long-term destination.