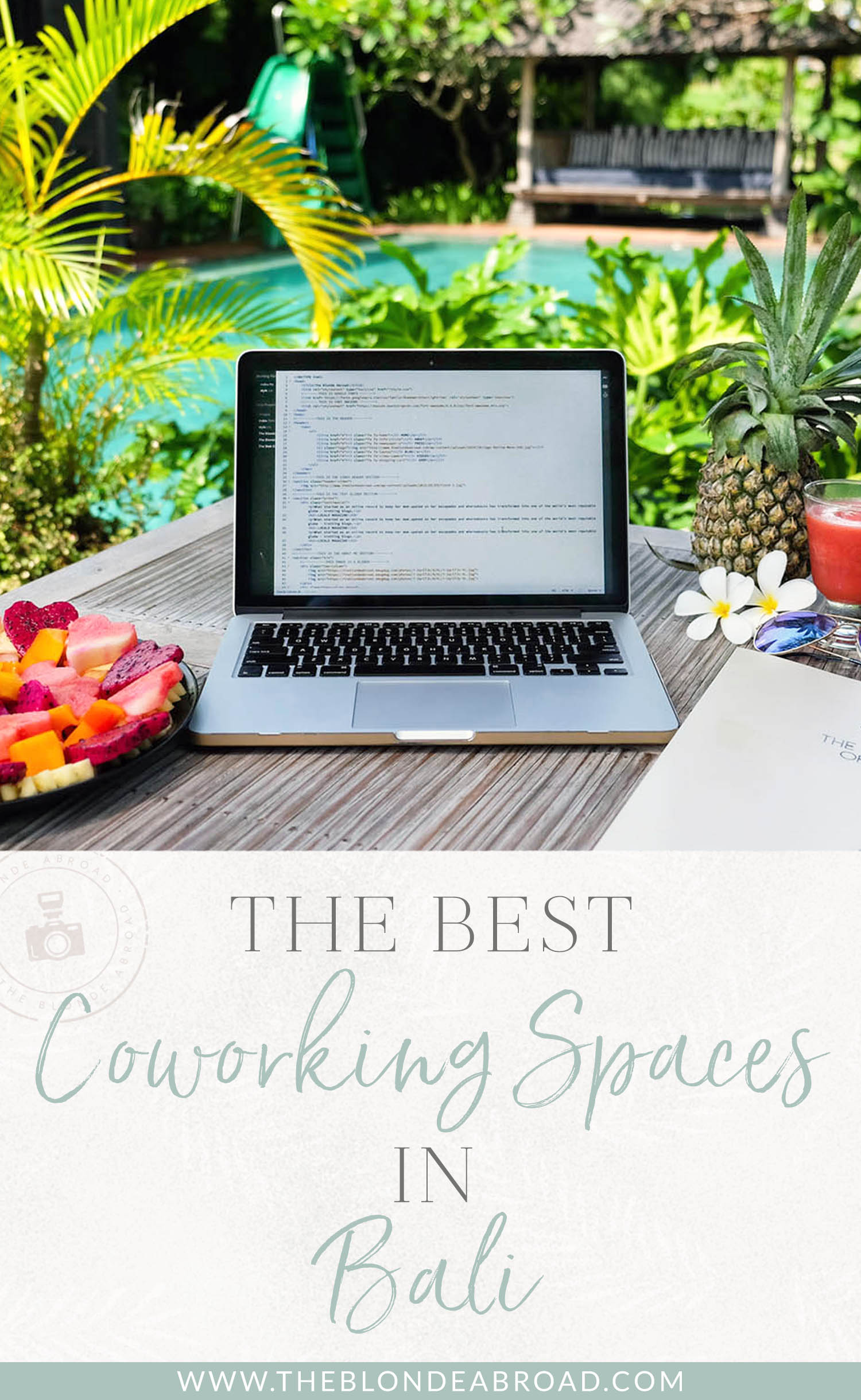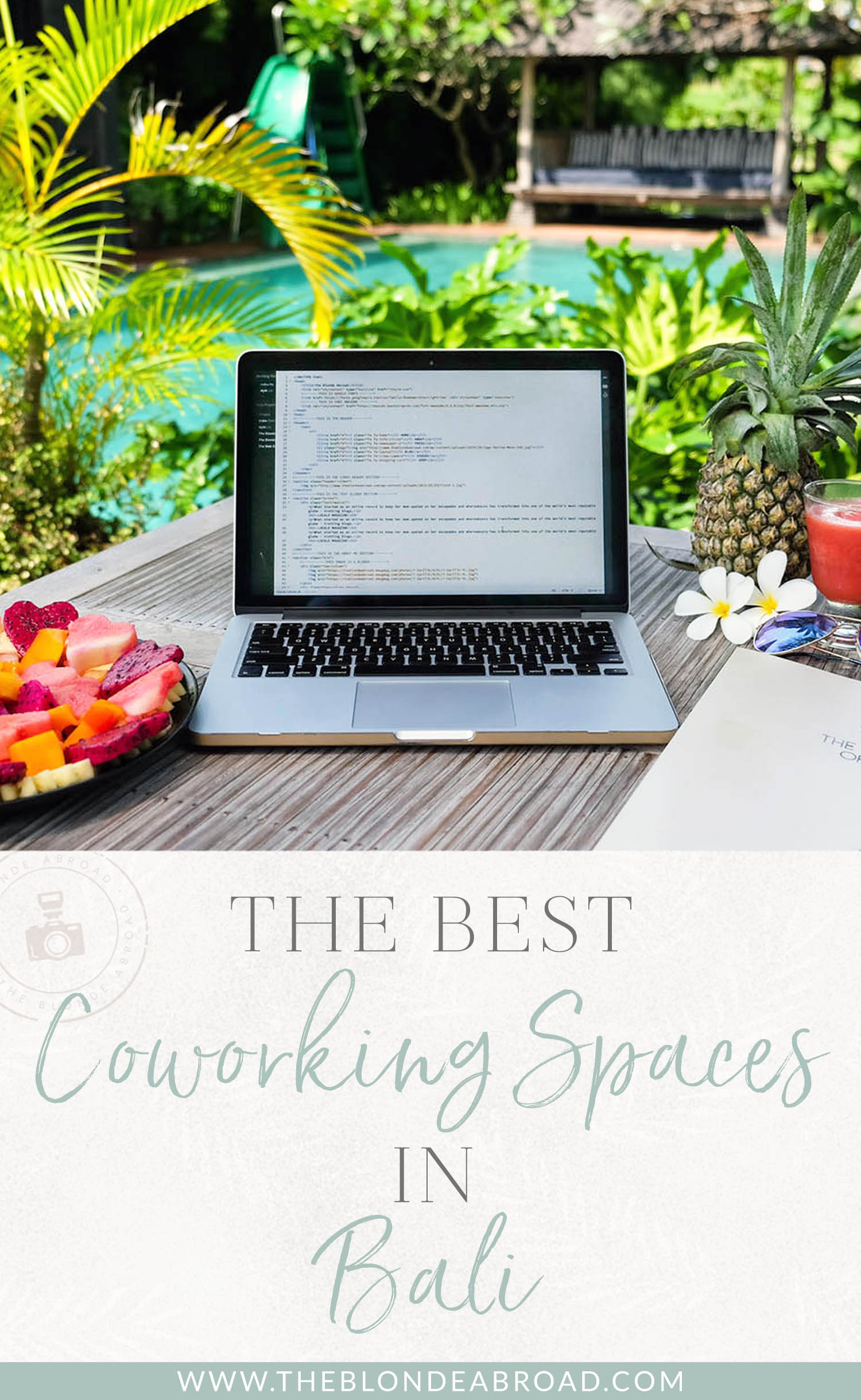 If you are a freelancer or you work from home, it is easy to get a bit stir crazy. Sometimes you just need to leave the house (or Airbnb if you're traveling) and find a coffee shop or coworking space that's more conducive to working to be productive.
Bali has a ton of coworking spaces that are perfect for every type of worker. Here's are some of the best!

Ubud
Ubud is is a mecca for remote workers, freelancers, bloggers, and other professionals. Located amongst rice fields, it's a place where you'll find monkies swinging from trees and temples sprawled along the lush landscape.
Outpost Ubud Penestanan

Outpost Ubud
At Outpost Ubud, you can set up shop in a large air-conditioned focus room or you can work away on the balcony with beautiful ravine views. Be sure to grab a seat here before sunset. You're not going to want to miss golden hour! There are also meeting rooms available for conferences, a large garden space, a kitchen where you can get your coffee fill, and a jungle pool.
Amenities include high-speed internet, 24/7 access, a swimming pool, Skype booths, and a printer and scanner.
Visiting Bali and want to stay there as well? You're in luck. They offer jungle-chic boutique villas and studios for overnight stays. If you're just looking to use the coworking space, the daily rate is $16. They also offer passes based on hours (you can get a 25 hours pass, 70 hours, and unlimited).
*The above pictures are from their newer location — Outpost Ubud Penestanan
Outpost // Penestanan: Jalan Raya Penestanan Kelod + Ubud: Jalan Raya Nyuh Kuning Mas
Hubud in Ubud
Listed as one of Forbe's top 10 coworking spaces in the world, Hubud is a coworking and coliving space made up entirely of repurposed bamboo.
It's complete with high-speed WiFi, bamboo meeting rooms, events and workshops from the world's leading experts, storage lockers, a healthy cafe, Skype booths, and 24/7 access.
For only $206 a month, you can get unlimited access which includes 24/7 access, access to every amenity on-site, and tokens that allow you to bring a friend. If that's more than you need, you can pay for 30 hours which will only cost you $57. Or, you can simply for a day pass which will cost you $16.


Canggu
Canggu is one of the most popular destinations for digital nomads as you will find no harassment to tourists (which you may find in other spots, though it is not overly common).
With beautiful year-round weather, incredibly safe conditions (especially for solo female travelers), and a low cost of living, it is no wonder that people from all over the world are flocking to Canggu to pursue their online dreams.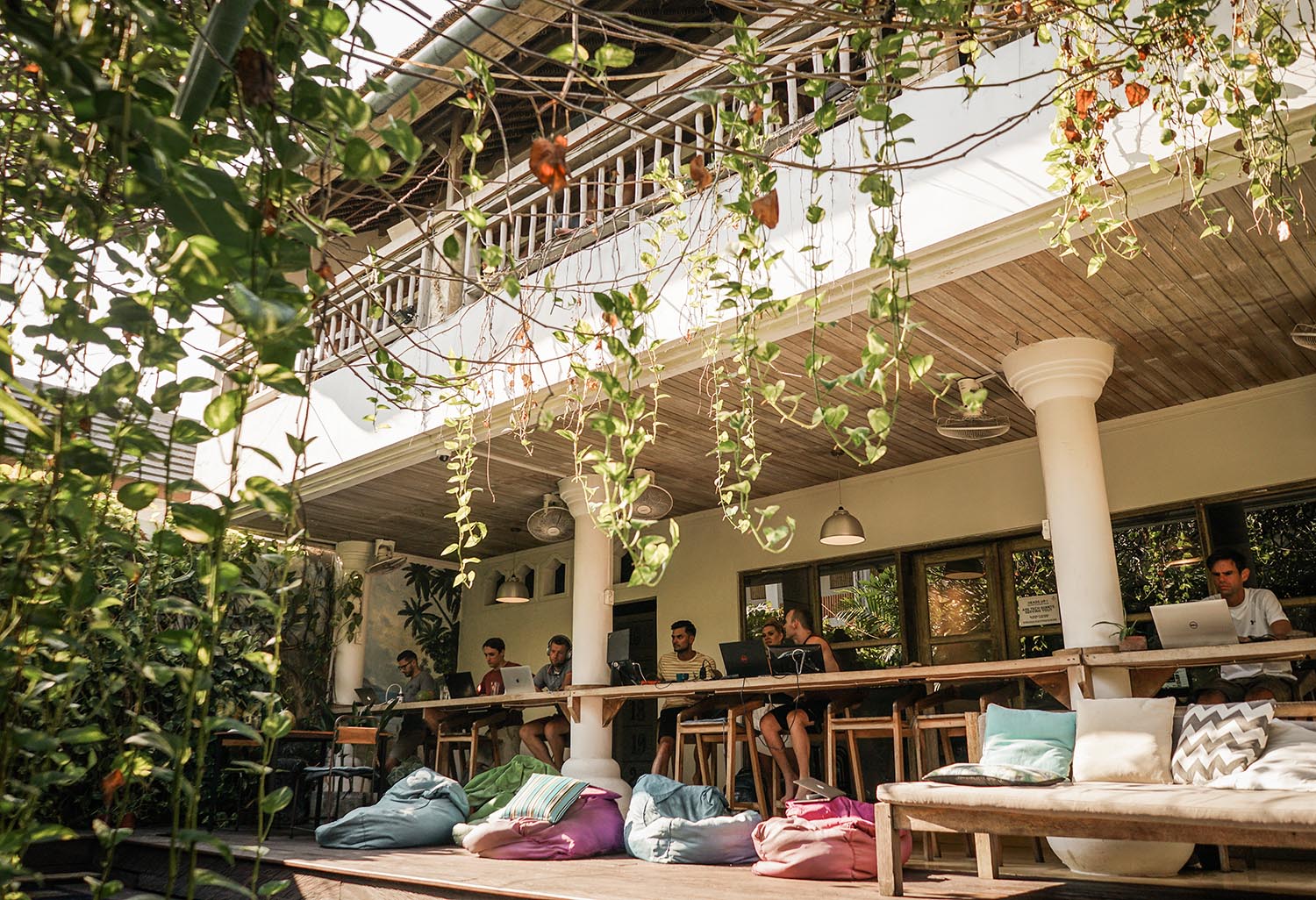 Dojo Canggu
Dojo Canggu
I can't think of a better place to get some work done than next to the beach, can you?
Located right next to Echo Beach, the property is a two-story space that boasts art facilities, a pool surrounded by tropical gardens, and a mixture of booths for every kind of professional. They even have a Skype Booth with AC, a booth where members can take private video calls, or record a podcast/vlog.
They host regular events and workshops along with community BBQs and social meetups where you can meet fellow travelers.
If you get hungry after a long day of work, enjoy a smoothie at the smoothie shack, Nalu Bowls. And if you become overwhelmed, take a break and watch the surfers catch a wave. Or take a ride yourself!
All of this will cost you $16 for a day or you can buy a package with hours ranging from 30, 50, 100, to unlimited.
Dojo Canggu // No. 88 Jalan Batu Mejan Canggu, Echo Beach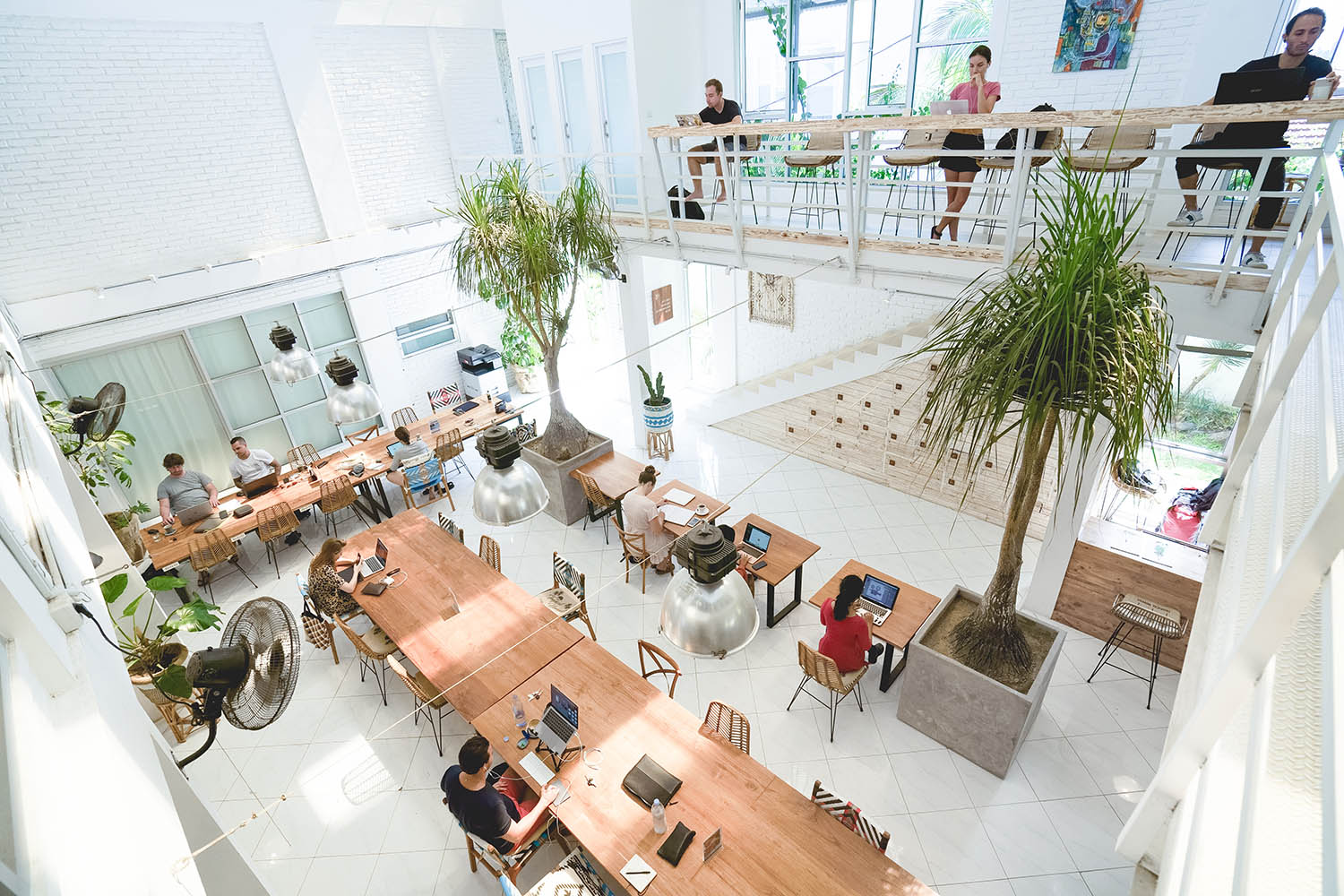 Tropical Nomad
Tropical Nomad
Established in November 2018, Tropical Nomad is one of the newer coworking spaces of Bali. Located in the heart of Canggu, in between two main roads Berawa and Batu Bolong.
With high-speed internet, private meeting rooms, balconies with views of the lush jungles, skype booths, mail service, and more, it's no wonder Tropical Nomad has gained quick popularity.
At just below $9 for a one-day trial pass, it is also one of the cheapest coworking spaces in Bali. And that includes a free drink and food! Unlimited monthly access will only cost you $197!
Zin@Work
What started as just a cafe (with arguably the best coffee in town), has become an Instagram-worthy coworking space. Grab a bite of one of their many healthy meals and then set up shop in the open-air bamboo co-working space to hustle.
Aside from the typical amenities that coworking spaces include, Zin has a rooftop bar, a gym, and a spa where you can treat yourself to a massage after a long day.
Because the property is so new, you can currently experience Zin@Work for free. That's right. 100% free with no time limit.
Zin@Work // Jl. Nelayan No.78F
Kinship Studio
Kinship Studio
Unlike many of the other coworking spots in Bali, Kinship Studio takes on a more modern approach. Set in the old remnants of a garment factory, the studio is sleek, with the factory aesthetic still intact. Membership to Kinship gives you access to private offices and studios, communal workspace, a photography studio, photography equipment rentals, a cafe, weekly yoga, and workshops.
A day pass will cost you $16 but if you want to enjoy all of the amenities (which I highly recommend), you'll have to purchase the monthly pass which is $145.
*Photos by Keira Mason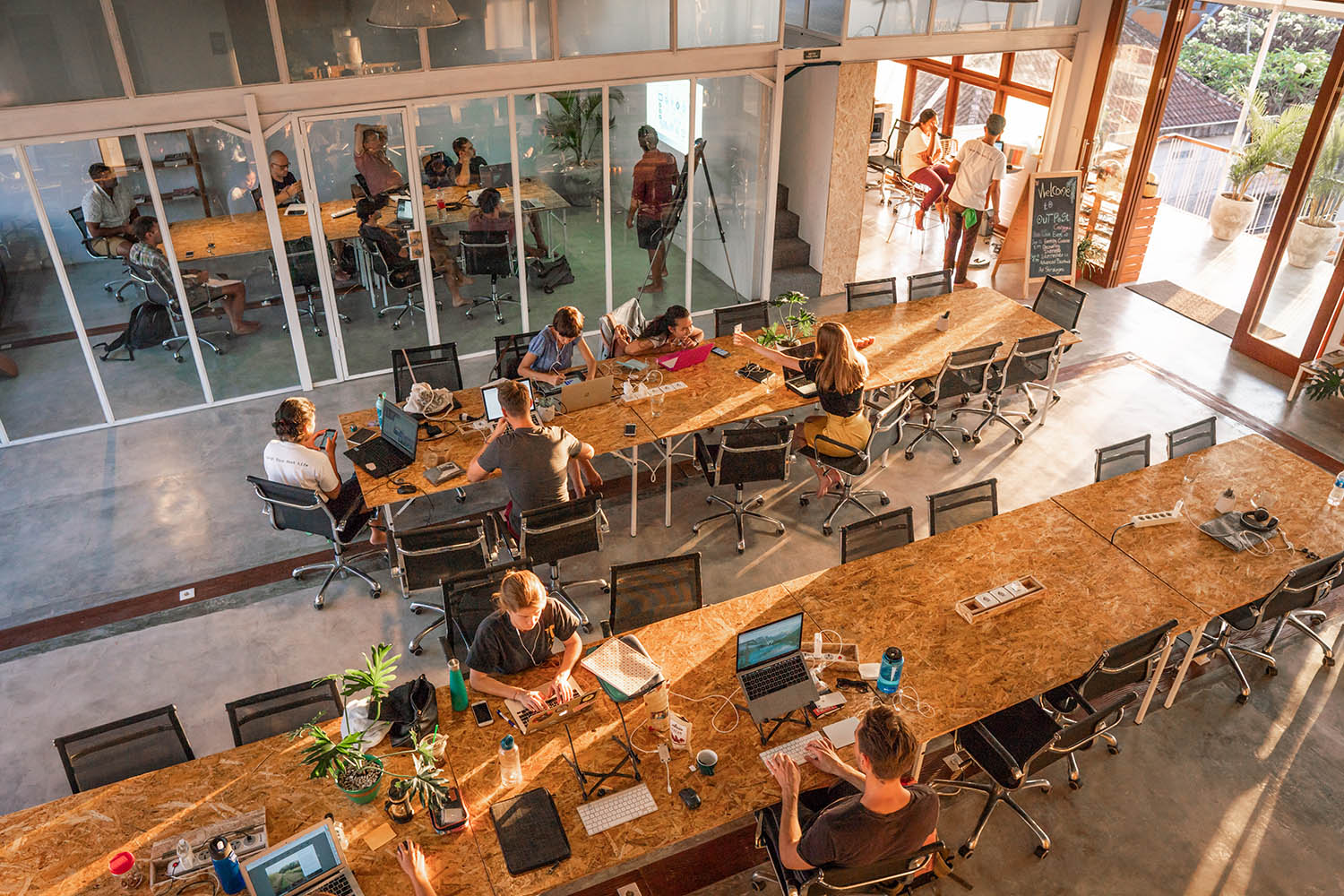 Outpost Ubud Penestanan
Outpost Canggu
Outpost Canggu was designed with comfort and productivity in mind. The open-air workspace will help bring out your creativity or you can get cozy on one of their big comfy couches. Feel more inspired when you work outside? Well, you're in luck. Outpost is complete with a sun-soaked terrace where you can get some vitamin D while working.
They also have an on-site pool where you can take a relaxing soak after some hard work and an on-site barista to help give you a caffeine pick-me-up. You can use it for one day for only $16 a day or purchase one of their passes which starts at $49.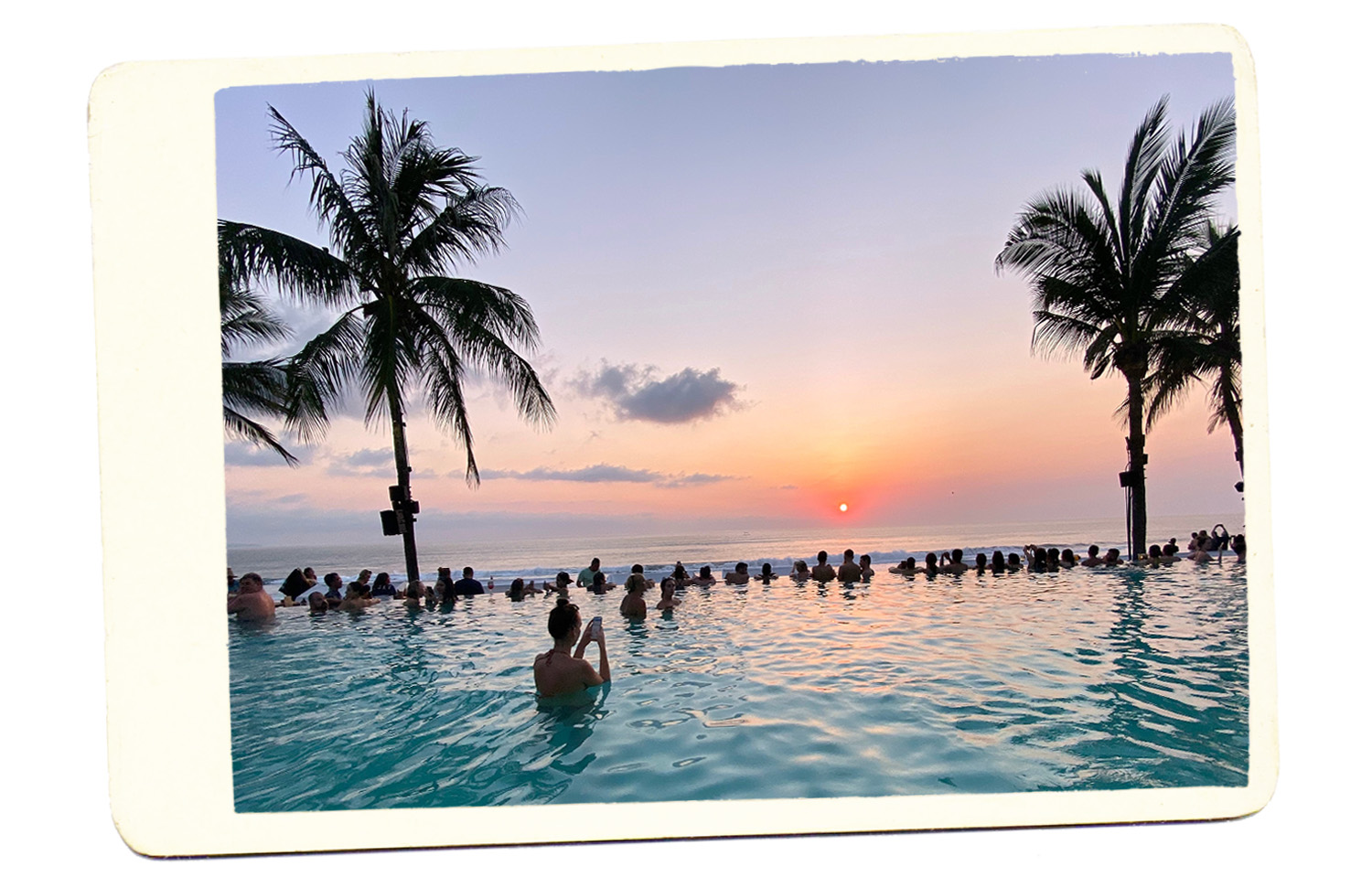 Seminyak
Home to arguably some of the best restaurants, bars, and villas, Seminyak is expatriate capital. Making it a hub for tons of cool places to work and hang out at.
Biliq CoSharing Space
Biliq CoSharing has earned its title as the highest-rated coworking space on Google and I can understand why. Whether you choose to work in the indoor space or the open-air outdoor space, you will feel as if you are working in the jungle.
Grab a double shot of espresso from their cafe or take a nap in one of the zen rooms. Better yet, take a dip in the pool to take your mind of the everyday stresses of work. Regardless of how you choose to spend your time at Biliq, you can do so for a day starting at only $11.

Jimbaran Bay
Located on Bali's west coast, Jimbaran Bay is known for its luxury resorts, scrumptious seafood, and its beaches. There are not many restaurants and shops in comparison to other parts of the island so it's a destination that forces you to relax.
Colabo Coworking
Because Jimbaran is not as full of ex-pats as other locations, there aren't too many coworking spaces.
However, Colabo Coworking is a premier space, perfect for entrepreneurs, freelancers, and other creatives. It provides indoor and outdoor space, onsite yoga, a venue for different events, Zumba classes, and more.
The best part is that it is only minutes away from some incredible surfing and you're only 20-minutes away from an airport in case you need to get some work done before you jet off to your next destination. For only $11, you can drop in and take full advantage.

Know of any other fantastic coworking spaces in Bali? Let me know in the comments below!