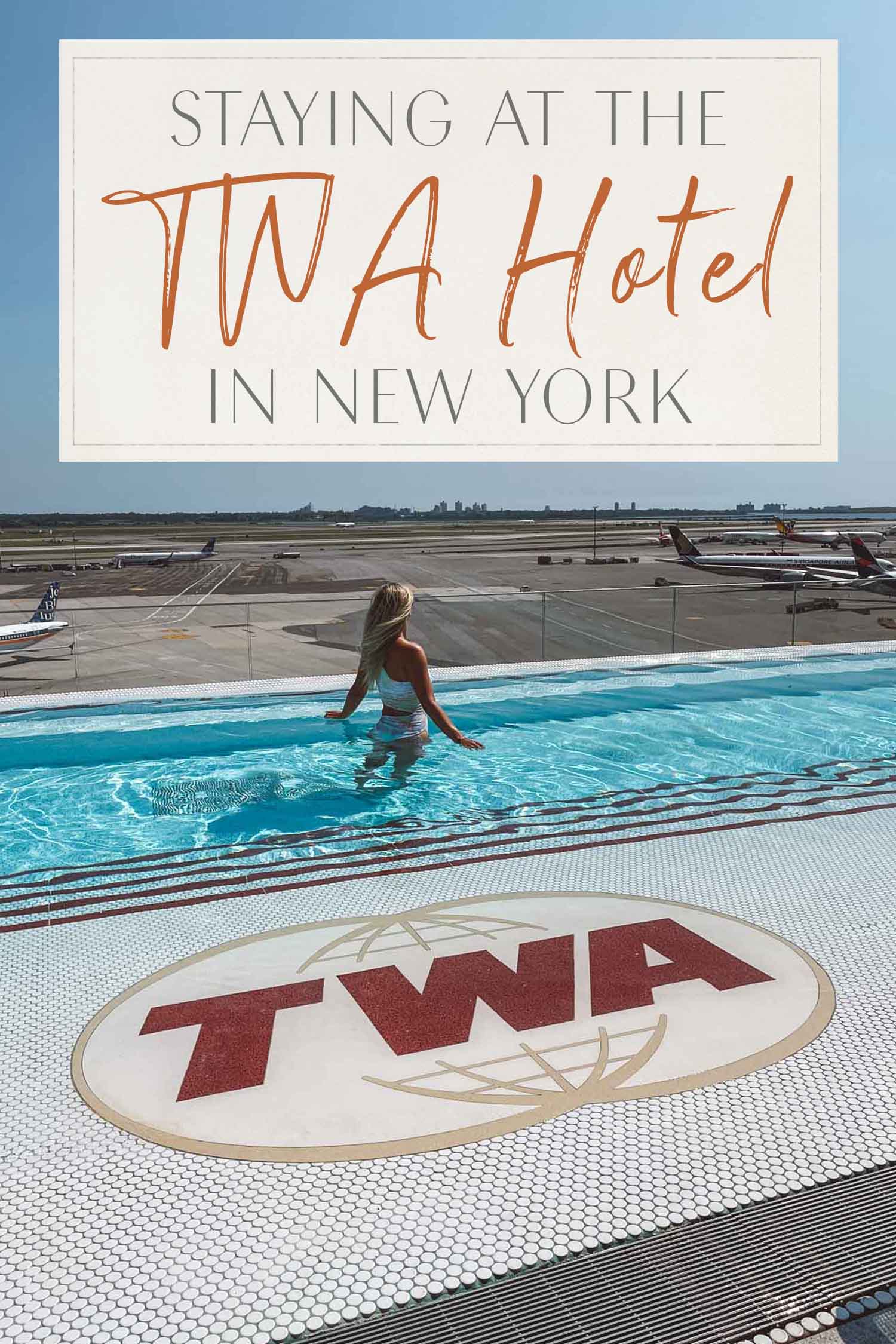 Once upon a time, in a world far away from the cramped economy seats and $5 peanuts of modern-day travel, there was a magical world. It was a time when people left their sweatpants at home and arrived at swanky airports in their Sunday best.
Inside those glossy jets, they lounged in plush seats with their feet up and were served on silver platers. Back in the day, flying was a very big deal.
I heard all about this extraordinary time first-hand from my late grandfather. He started at Trans World Airlines (TWA) during their golden years and stayed on board for more than 35 years. He rubbed shoulders with everyone from Marilyn Monroe to Howard Hughes.
Some of my favorite childhood memories were of hearing his stories about the early days of commercial aviation travel.
I have vintage memorabilia from TWA from him that I will forever cherish. While some people adore Disney or classic films, it's travel that gives me that warm feeling of nostalgia.
When I heard about the TWA Hotel in New York, it instantly went to the top of my bucket list. During a recent long layover, I finally got the chance to see if it lived up to the hype.
Here's my experience staying at the TWA Hotel! About  the Property 
The hotel is on the site of the original TWA Flight Center in the JFK International Airport in New York City. This center operated as an airport terminal from 1962 to 2001. The space was much-loved for its design and was officially listed as in the New York City Landmarks and the National Register of Historic Places.
Seeing the terminal today, it feels minuscule but that was the scale of travel back in those days. While JFK now sees more than 800 departures per day, it had fewer than 1300 flights per week back in the late 1950s.
I think many of us only realized the extent of the modern travel boom when it all came to a crashing halt in 2020. During the peak of COVID travel restrictions, when it seemed like no one was going anywhere, we abruptly returned to the travel numbers we were seeing back in the 50s.

Indeed, 2020 was the first time since 1954 that the US saw fewer than 100k passengers per day. Understanding how rare travel was in 2020 will give you a pretty good sense of the rarity of mid-twentieth century flights.
The TWA Flight Center transports you back to the 60s when travel was both rare and special.
The airline attendant uniforms are on display. You can admire the old advertisements which are, in my opinion, the best travel marketing campaigns I've ever seen. And maybe I'm partial! My grandpa handed me down an original linen-printed TWA poster for Rome that I have on display in my office to this day.

All the Nostalgia
It's all about nostalgia at the TWA Hotel. They have held onto an incredible number of original elements. As you're wandering around, you'll spot signs asking you to pardon the appearance of the rugs as they're still stained from the 60s.
Heads up, if stained rugs aren't your thing and you're expecting a luxe escape, this isn't the right spot for you. If you want to be transported to another era, however, this place is a true one-of-a-kind.
You'll stumble onto a fun little interactive area. Go for a laugh in the Twister game room. Sip a Control Tower Sour or Mile-High Margarita in The Sunken Lounge. Browse the TWA Flight Bags in the gift shop, then get a glimpse at a recreation of Howard Hughes' old office.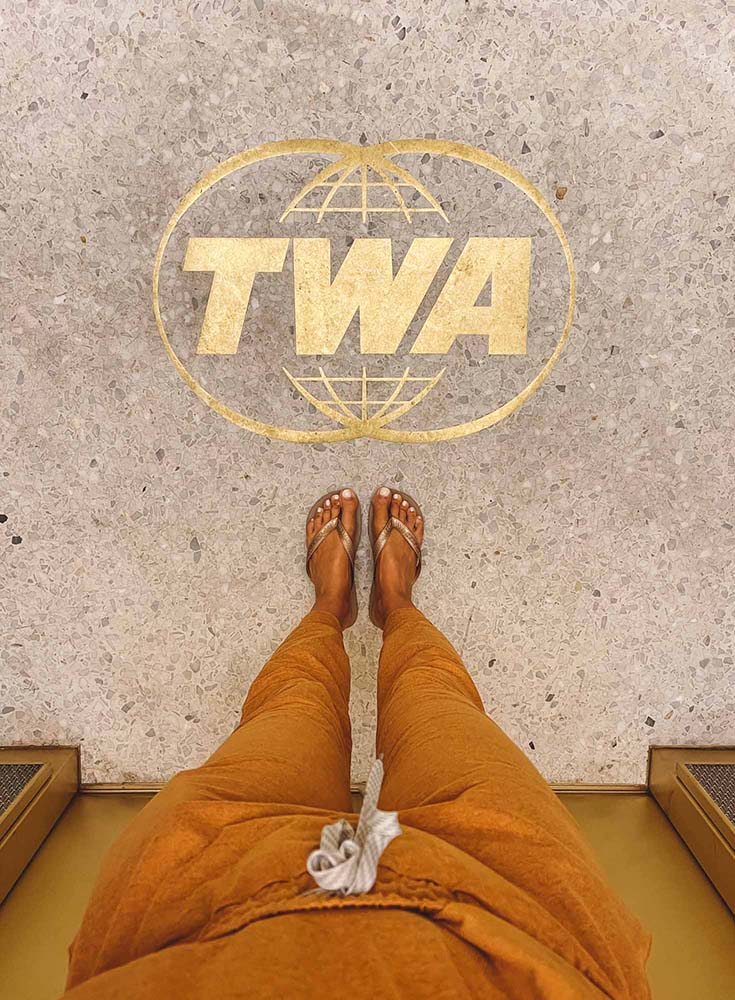 Check-In
As the one and only hotel in the airport, you can literally walk in the door. It's located right inside of Terminal 5 and it's super easy to get in and out. I was flying JetBlue and was able to hop on the AirTrain to get from Terminal 4 to the front door of the hotel.
There is onsite parking right outside the door, and it's easy to Uber over as well as if you're departing from NYC. Before we dig into the experience of staying here, it's worth noting that this is not a luxury hotel.
While it's a famous property, there are no bells and whistles. This is a transit hotel with no focus on five-star service or luxurious amenities.
When you arrive on the first floor, there is an iPad for check-in. There is not a human in sight. You simply grab your keys and go. You book it all online. If you want to reserve a seat at the pool, you go to the site and pay $20 to lounge poolside at an allotted time.

The Rooms
I booked a king-sized room. While that often still means cramped quarters in NYC, I was pleasantly surprised to enter a spacious suite. It was a beautiful space with plenty of room to move around.
You'll find a range of options for standard rooms as well as suites. If you love nerding out on airports as much as I do, you can also treat yourself to the Presidential Suites. There is one named after the eccentric former owner of TWA, Howard Hughes, as well as one named after the architect of the space, Eero Saarinen.
They both offer unforgettable views of the runway and a cool mid-century modern vibe.



Dining & The Pool
There's a restaurant in the hotel along with some handy grab-and-go picks. You can start your day at Intelligentsia Coffee and Fly-By Bagels, or nab a quick lunch in the vintage food hall from the panini shop or Coney Island hot dog vendor.
I opted for The Paris Café for a glass of wine and pizza, and there were a couple of vintage cocktail lounges on-site. For me, the highlight of the property was the rooftop pool.
It is one of the few airport pools in the world and the view is incredible.
Looking out over the tarmac, you can watch planes taking off and landing. For aviation nerds and kids, this is a dream come true. The one drawback is that you must book ahead of time. This is a COVID restriction, so it may change later on down the line, but during my stay, I had to plan ahead.
As a guest, I needed to book a two-hour window of time. With that, I had access to a poolside chair, towel, and the pool bar. I opted to have lunch at the pool bar and there was a range of food and drink options.
While it is outdoors, the pool is available year-round. During the cold winter months, it turns into a steamy "pool-cuzzi" with 95-degree water.


Overall
Worth it! It was a unique bucket list experience that I'll never forget. Best of all, it's a dream location. What's more convenient than having your own bed in the middle of one of the planet's busiest airports?
If you're transiting through NYC, it also saves you a trip into the city.
I chatted with another guest at the TWA Hotel who lives in NYC and came to the hotel for a staycation. It seems to be a popular pick whether you're a tourist or a local.
And don't forget you've always got the option of a long layover!
Rather than sitting in the airport for two hours waiting for your next flight, find an itinerary that offers an overnight stay. It's a prime opportunity to refresh and explore an additional spot.


More Information
Hotel: TWA Hotel
Location: Queens, New York
Accommodation: Mid-Range
Price Range: $-$$