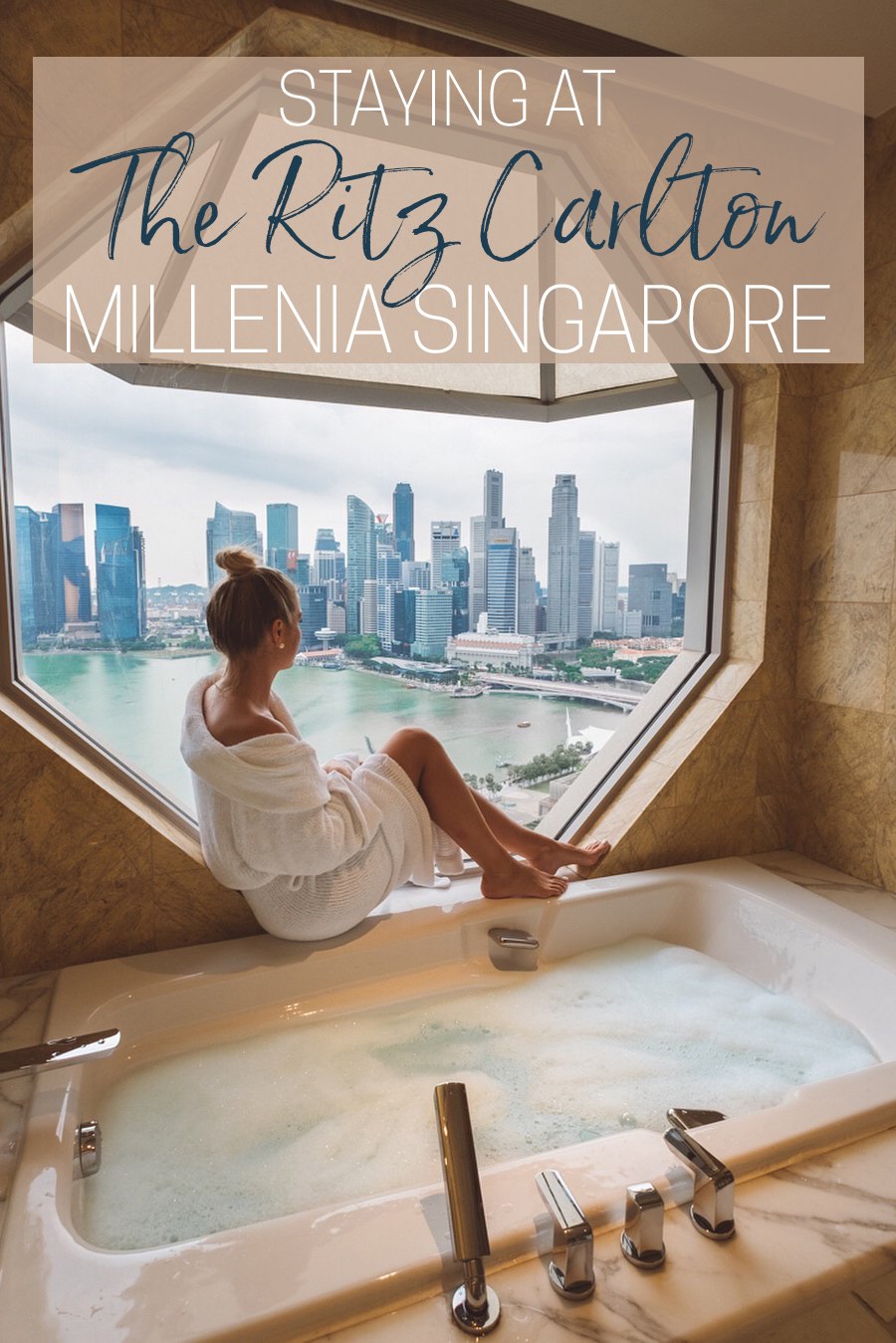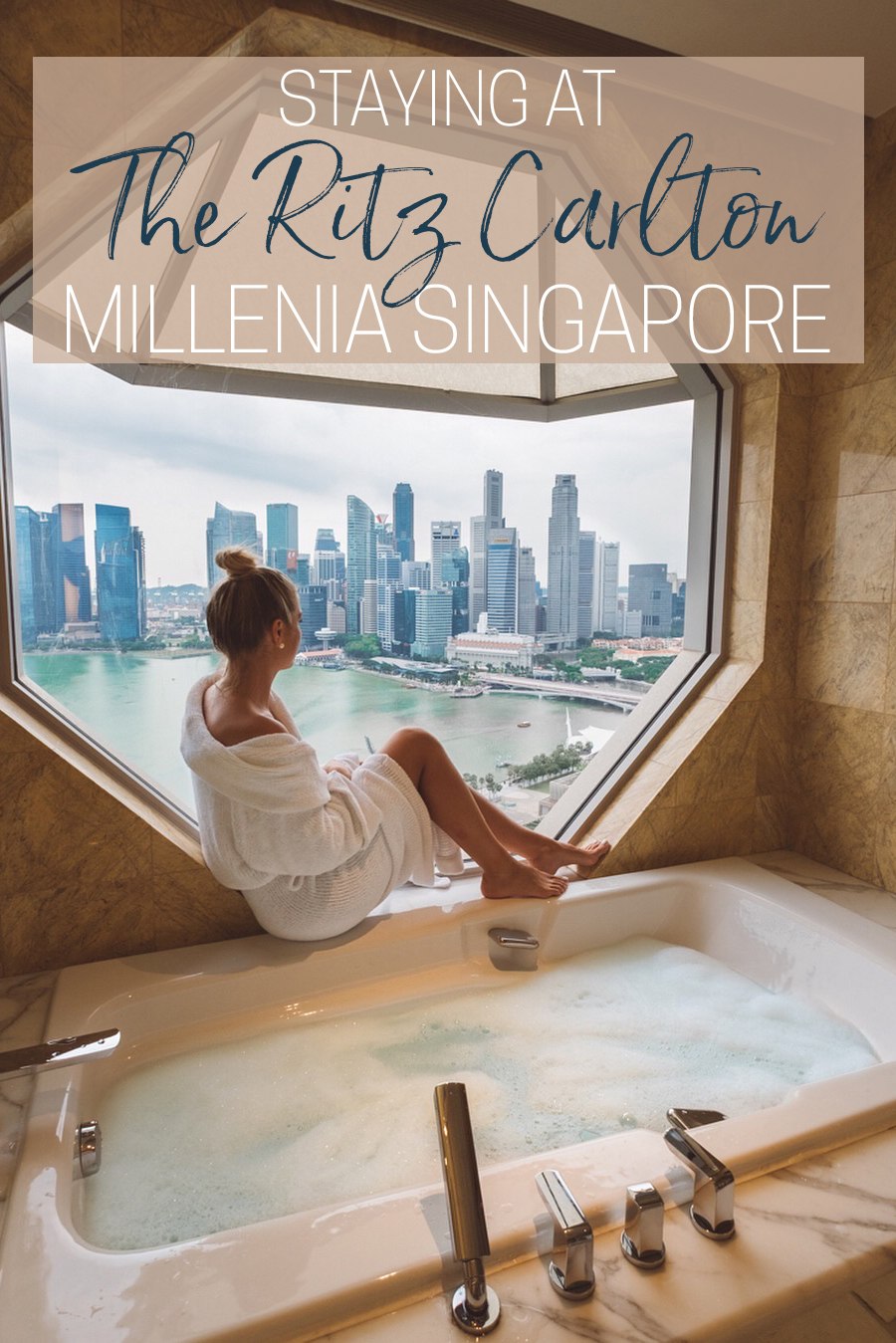 Is there anything more timelessly chic than The Ritz-Carlton? Synonymous with first-class accommodation, the Ritz is one place that never disappoints. On my recent trip to Singapore, I decided to have a five-star experience and see what it's all about here.
Here is my experience staying at The Ritz-Carlton, Millenia Singapore!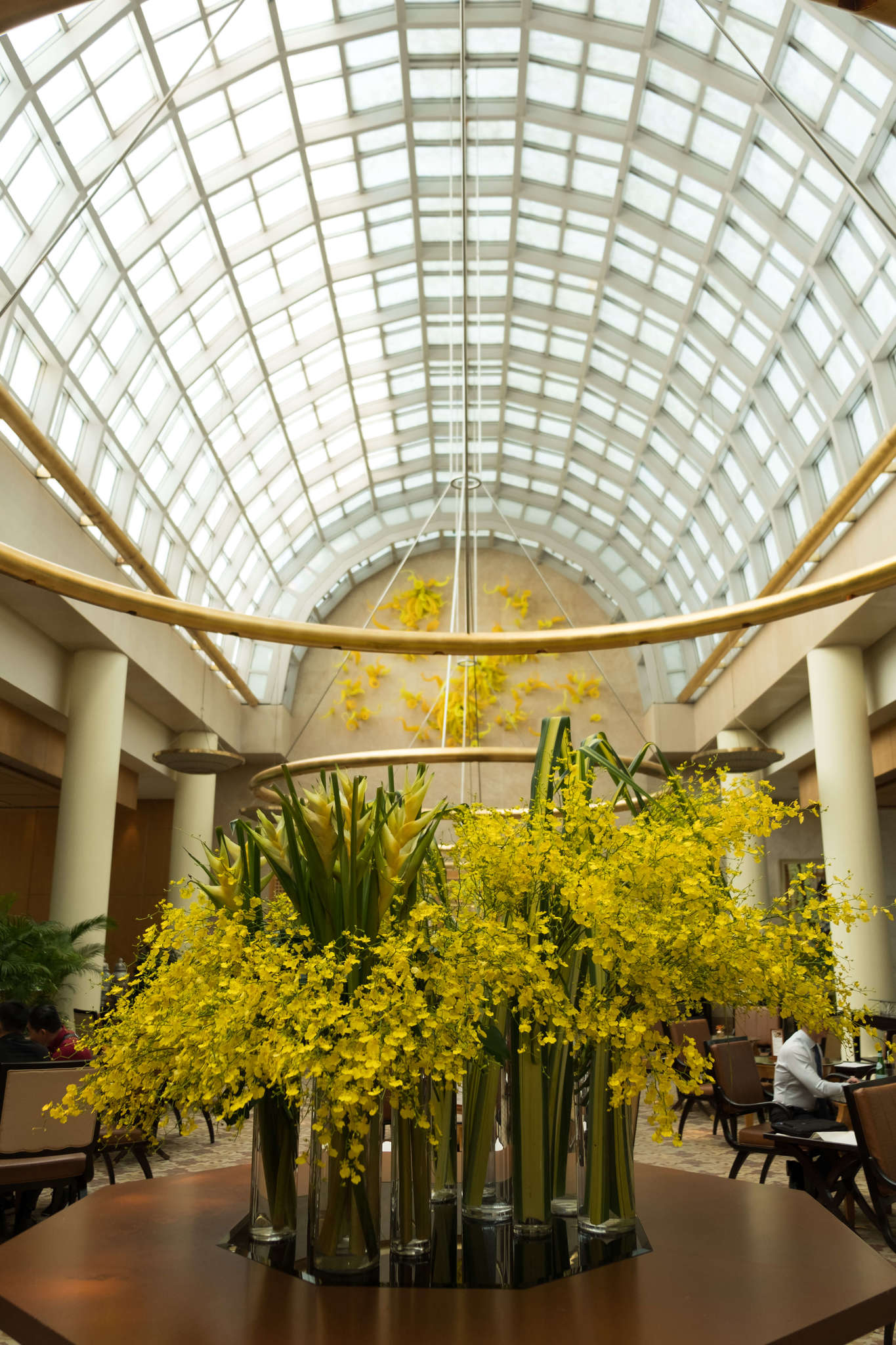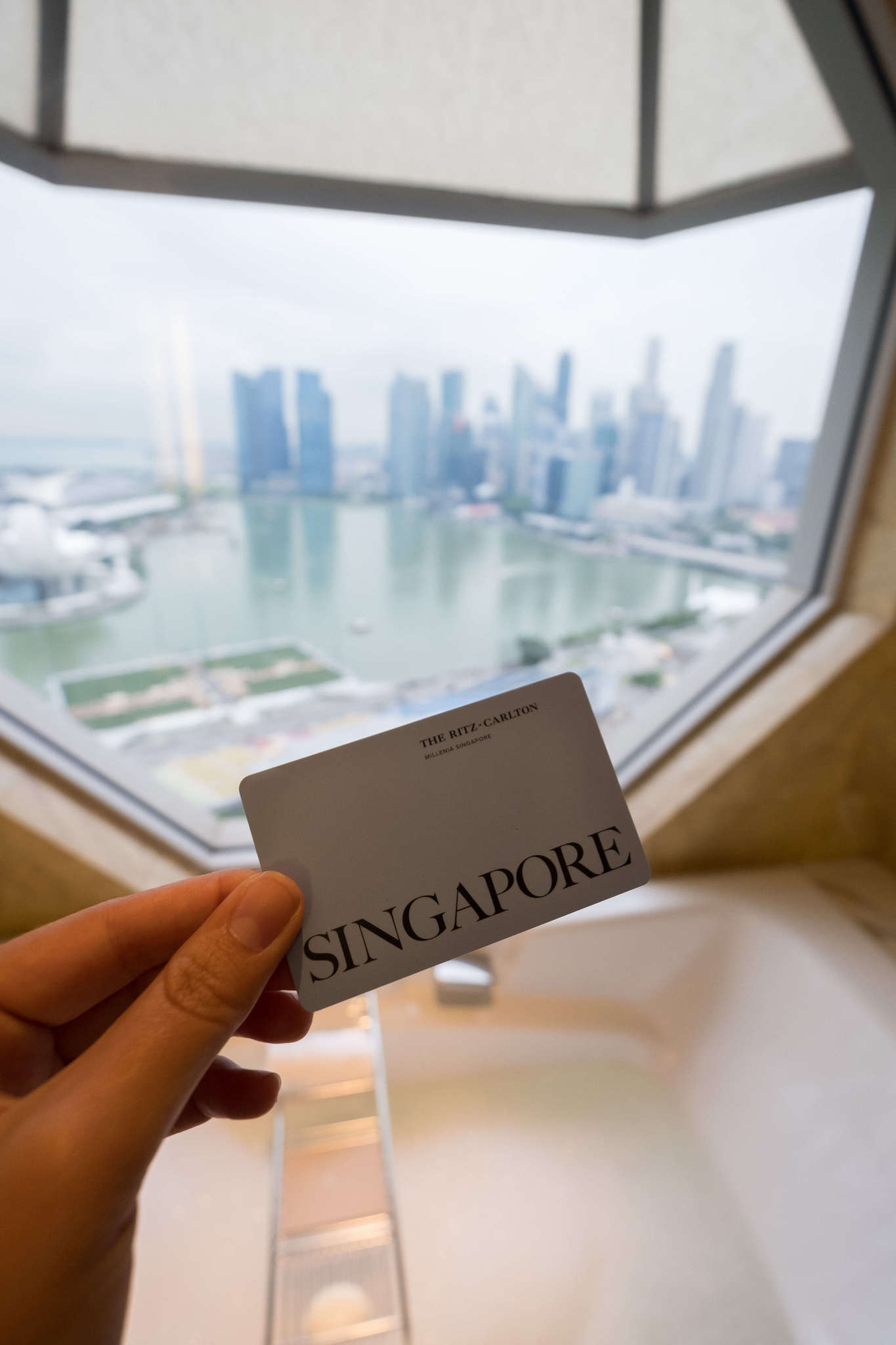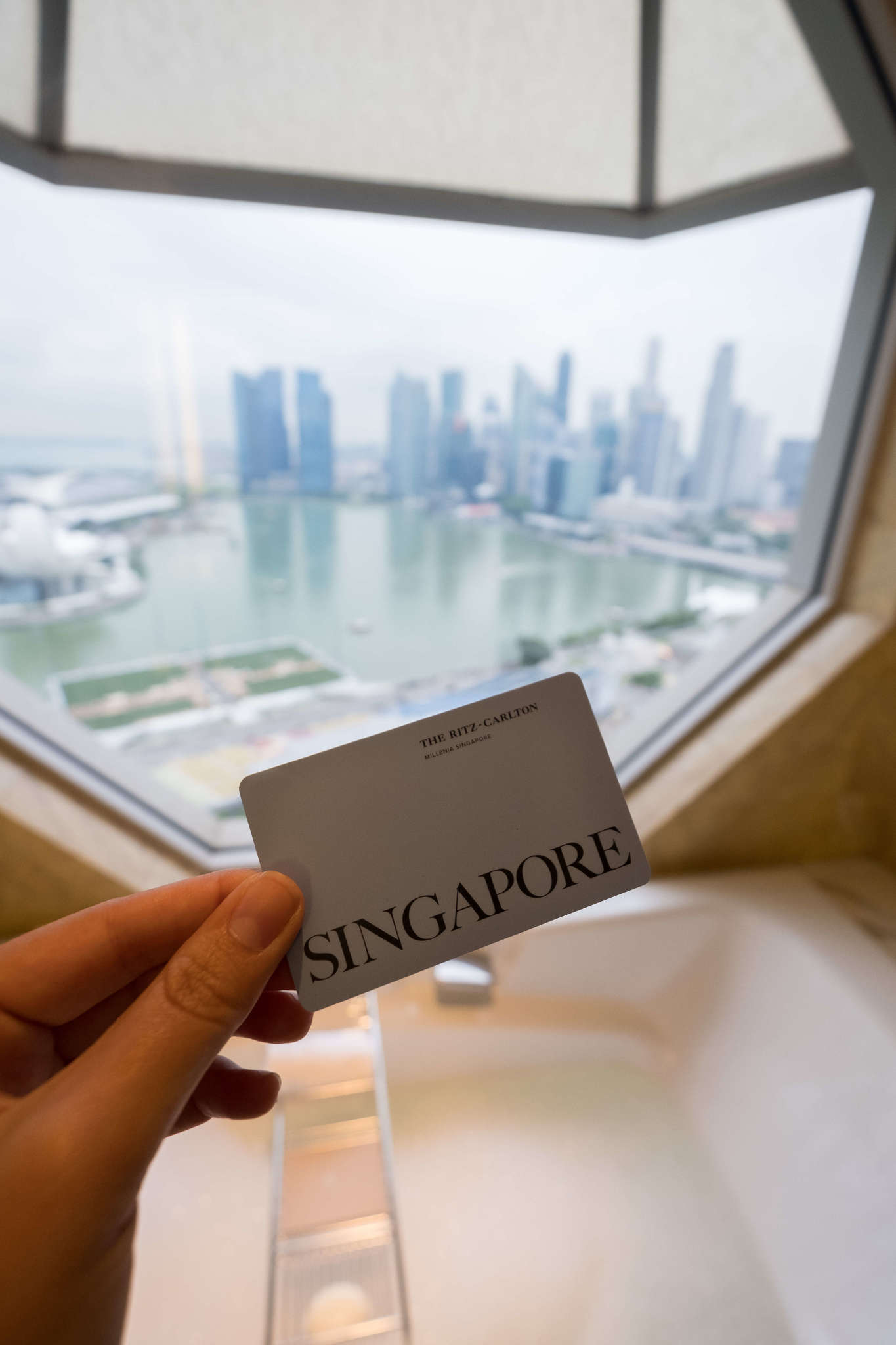 The Hotel
According to Travel & Leisure, this is the best hotel in Singapore. Along with an impressive art collection, impeccable design and a prime location, the 608 guest rooms here have a jaw-dropping view of the famous Singapore skyline over Marina Bay.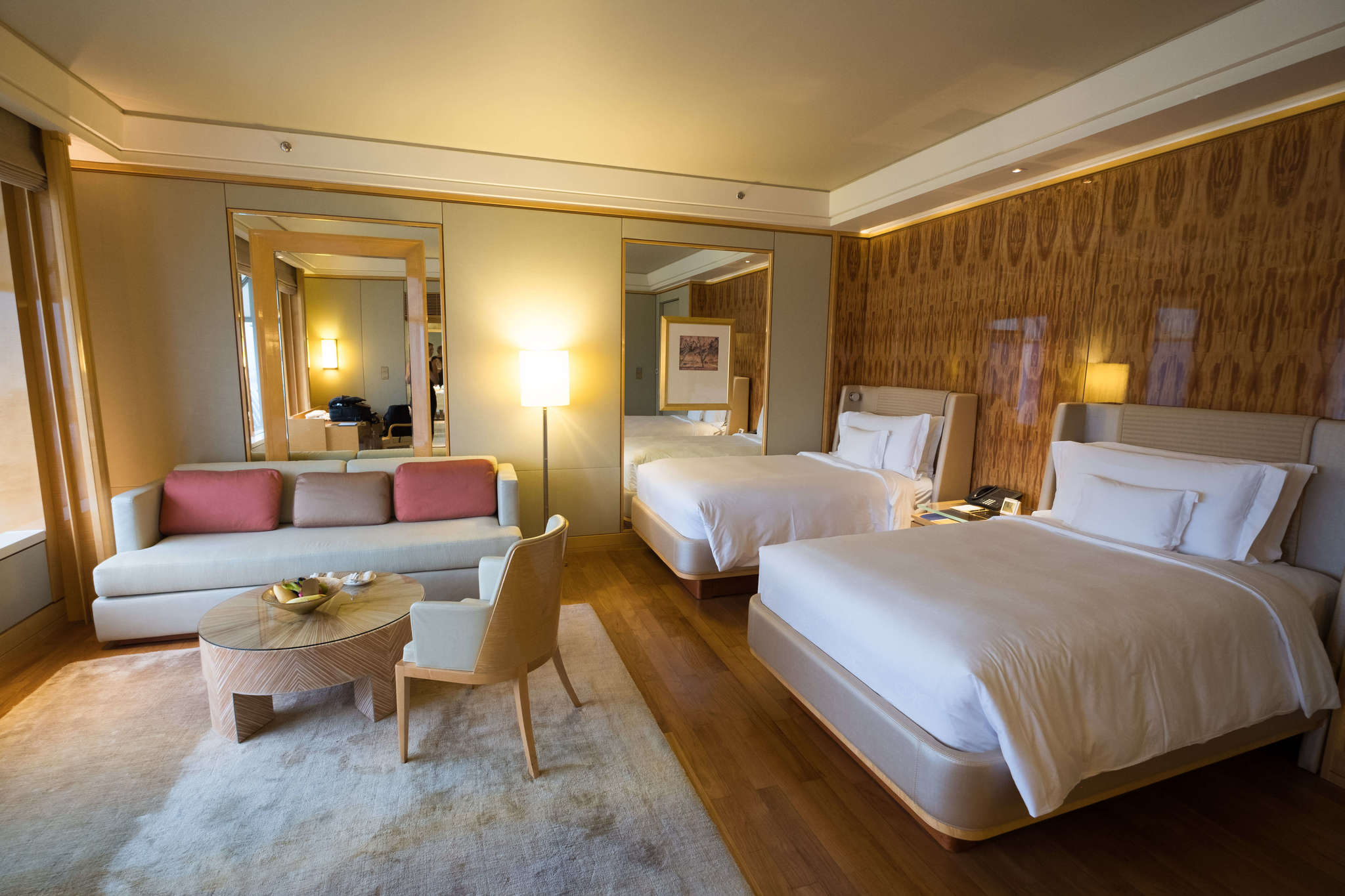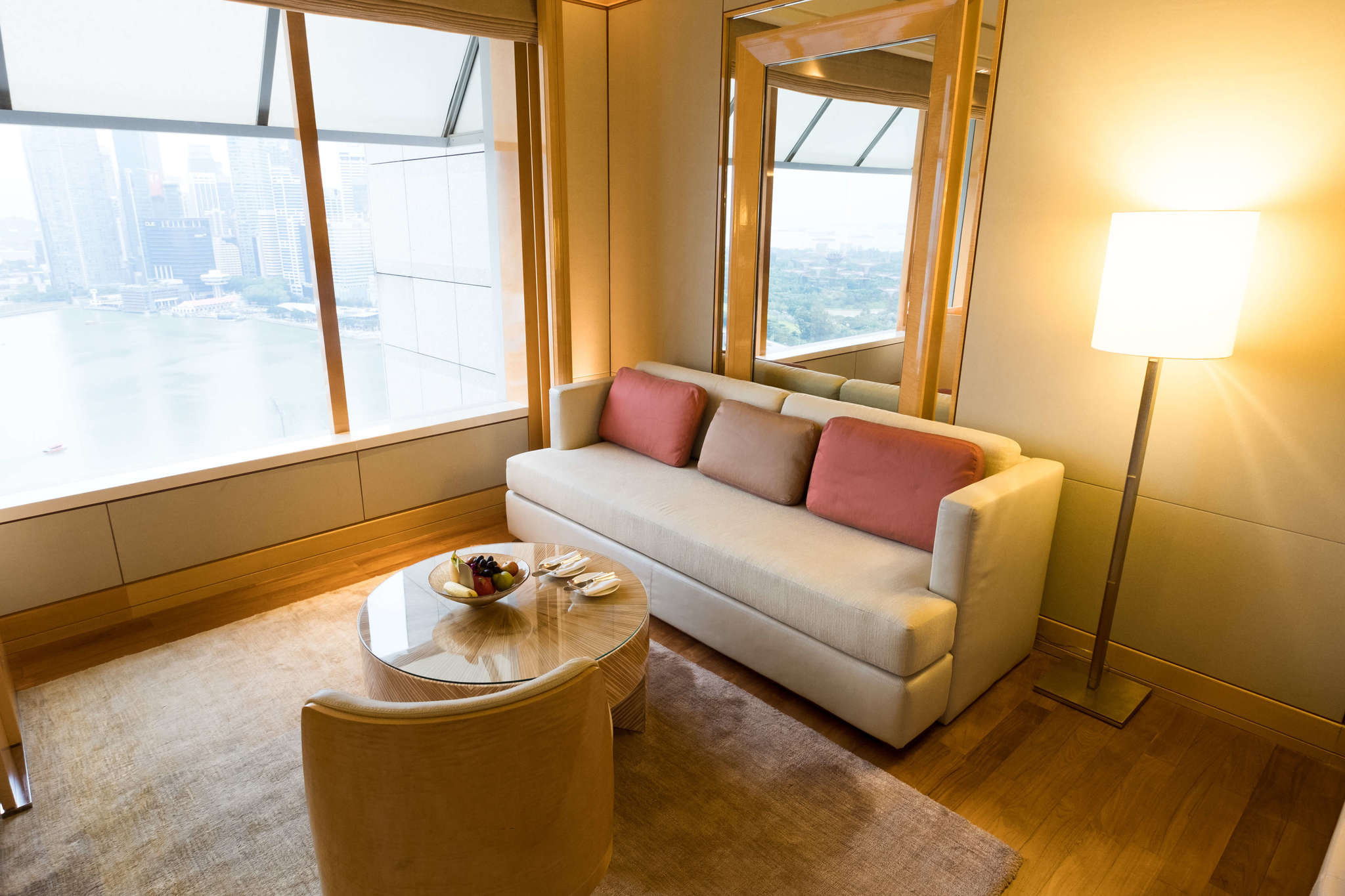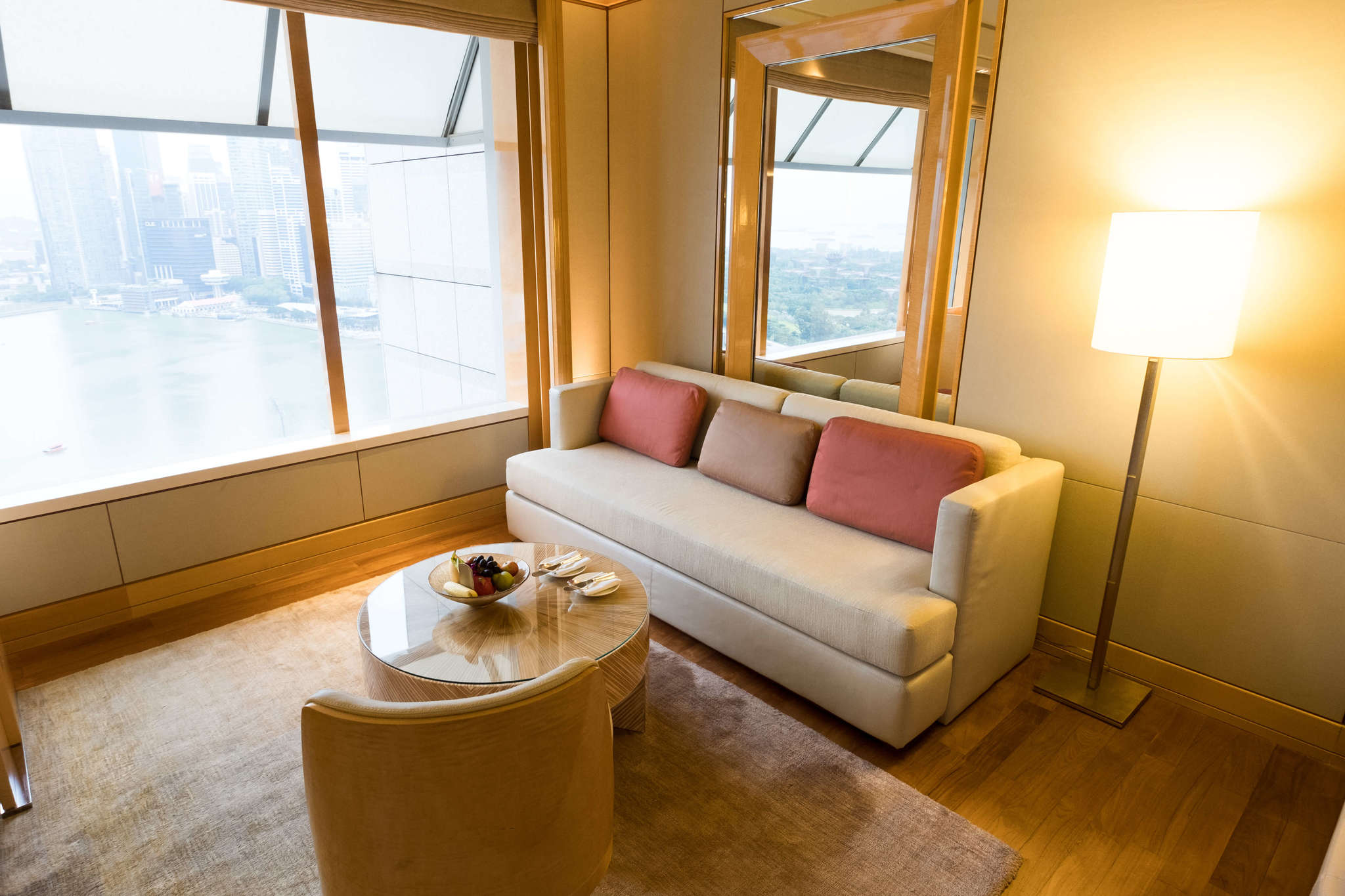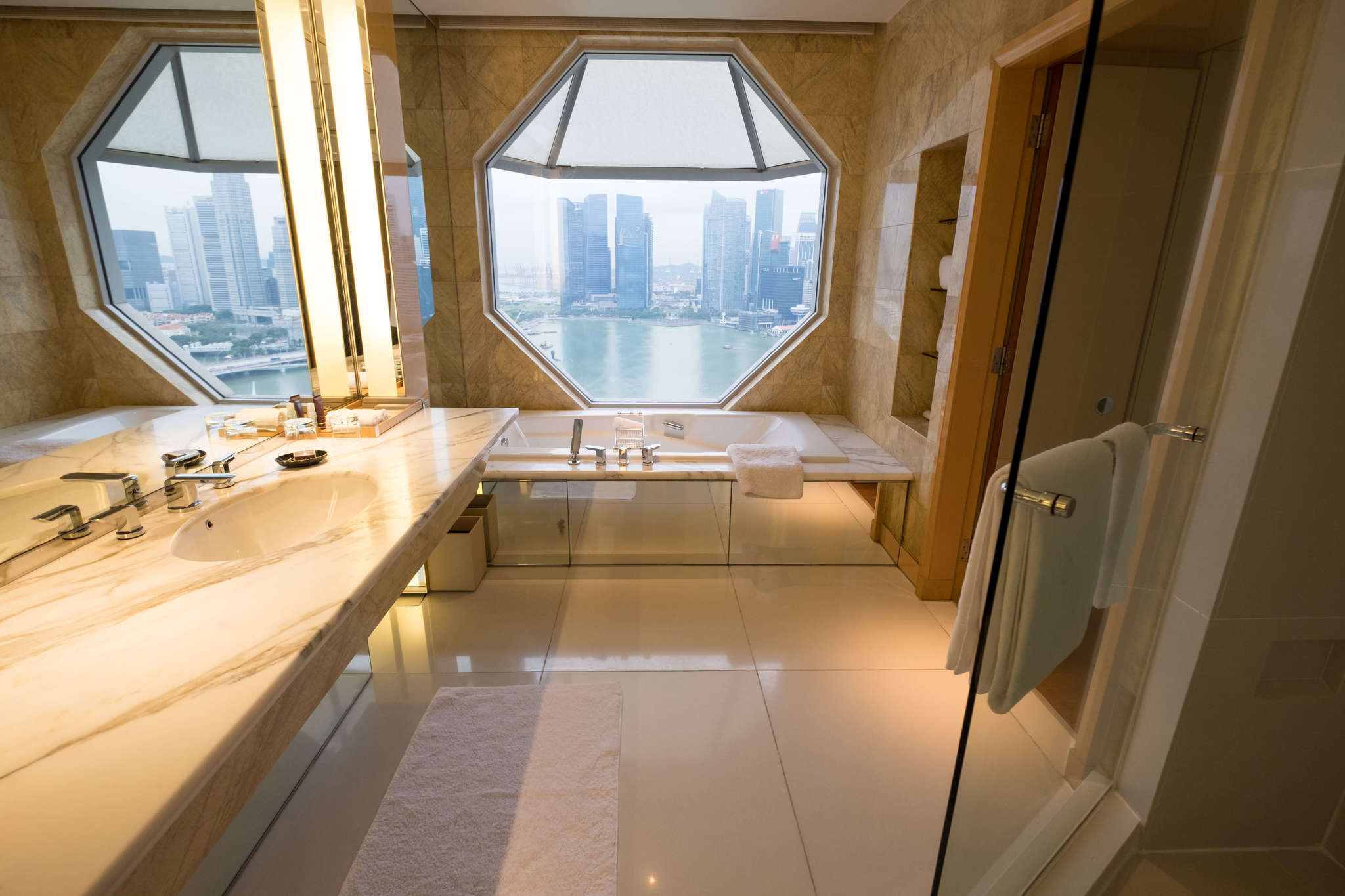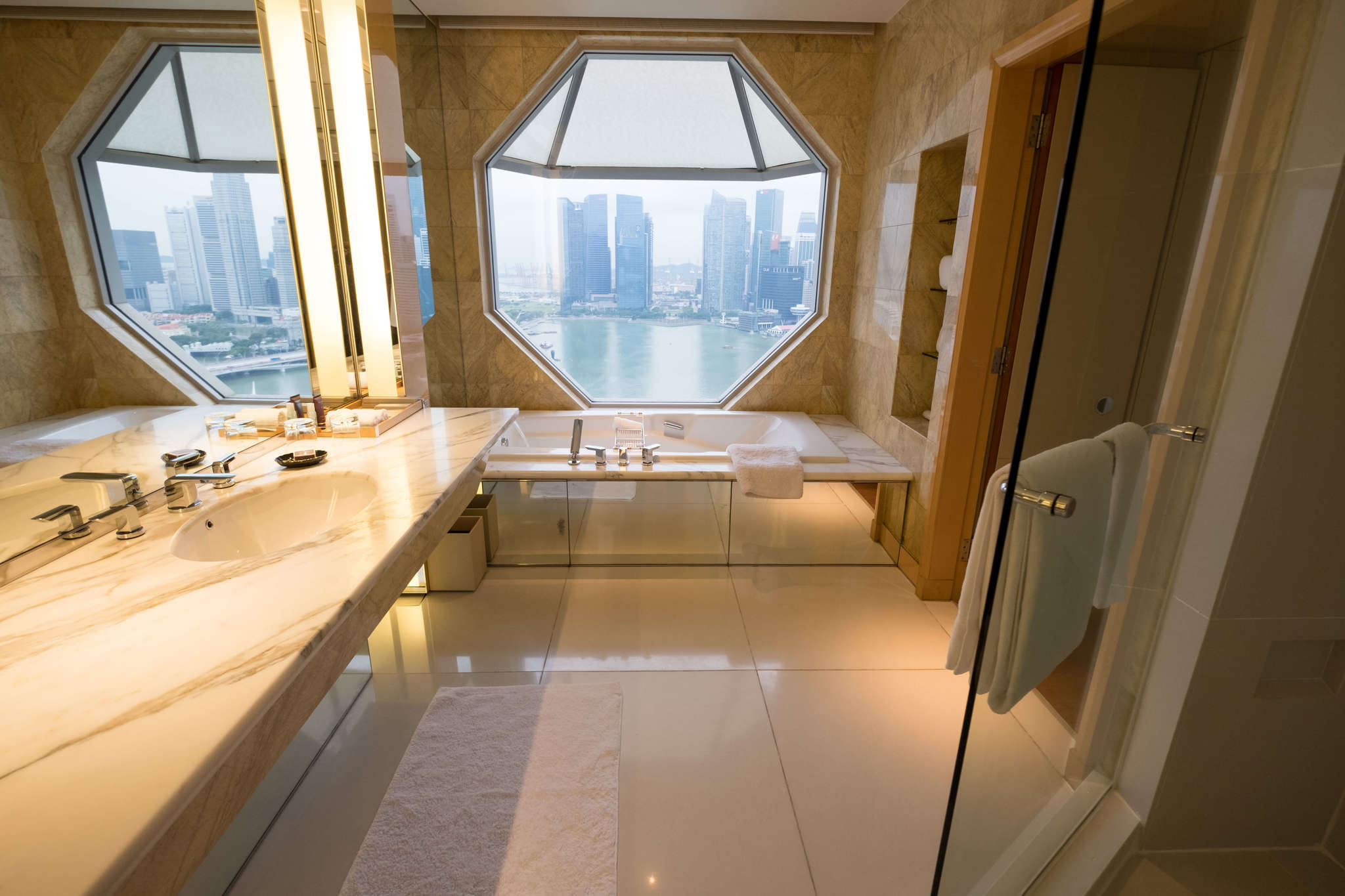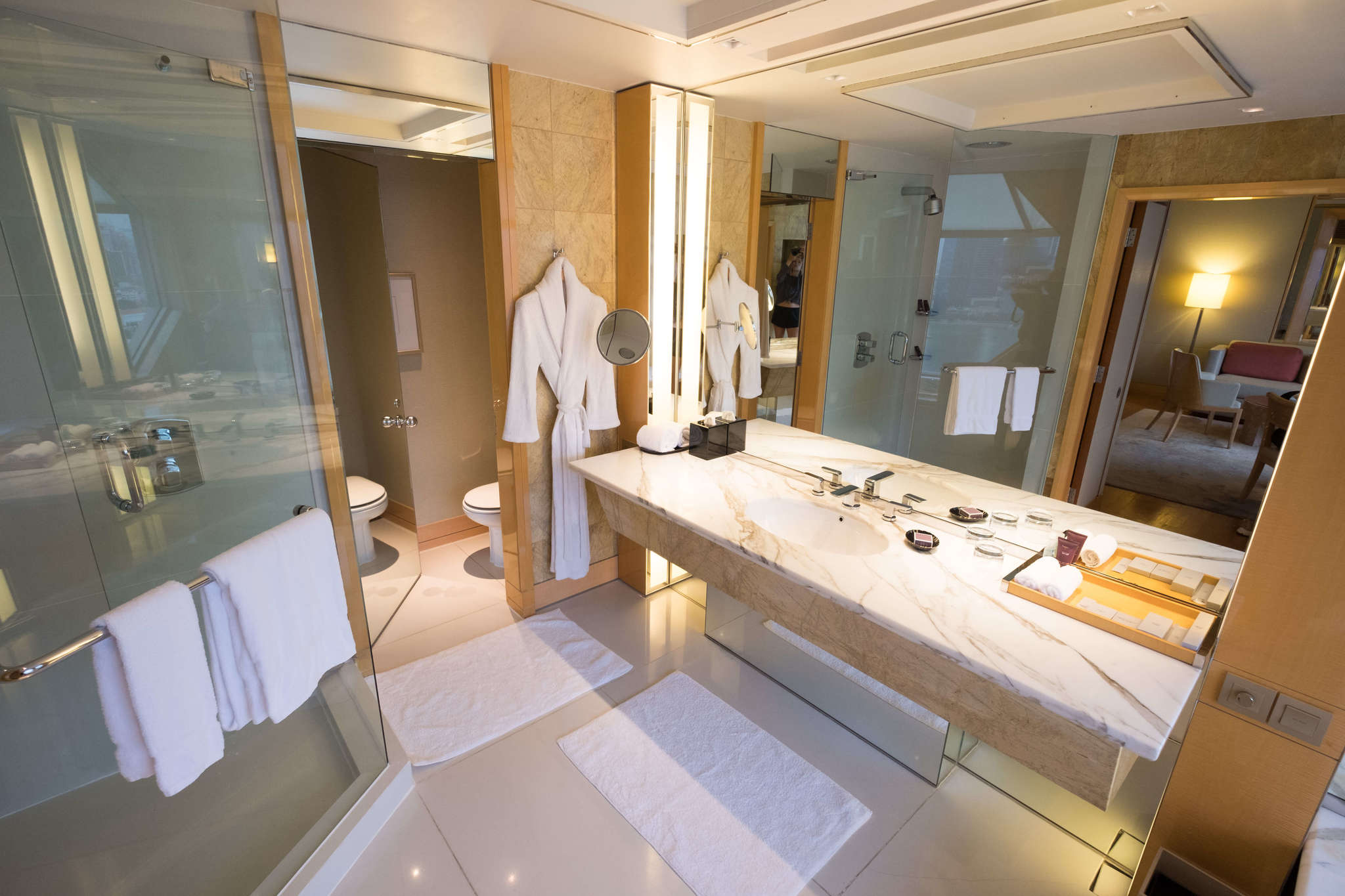 The Rooms
With rooms ranging from 776 to 2,358 square feet, the rooms at The Ritz-Carlton are among the biggest in Singapore. Rooms like the Premier Suites and Deluxe Suites offer separate bedroom and living room spaces, marvelous marble bathrooms, and striking views of the bay and the city.
The Club Premier rooms are equally nice options that will also give you Club Level access — which I HIGHLY recommend. If you want more room to spread out, the Millenia Suite offers one and two-bedroom options, which begin at 1,098 square feet. The suites also offer iconic views of Marina Bay.
Finally, if you are ready for the ultimate VIP treatment for up to six people, there is the Ritz Suite with 24-hour personalized butler service, a high-tech entertainment room, and an oversized jacuzzi tub in the master bathroom.
With all the hype, the rooms at The Ritz-Carlton, Millenia Singapore did not disappoint. We stayed in the Club Deluxe Marina room, and it was flawless. The view was truly stunning and the fabulous marble bathroom was basically a private spa.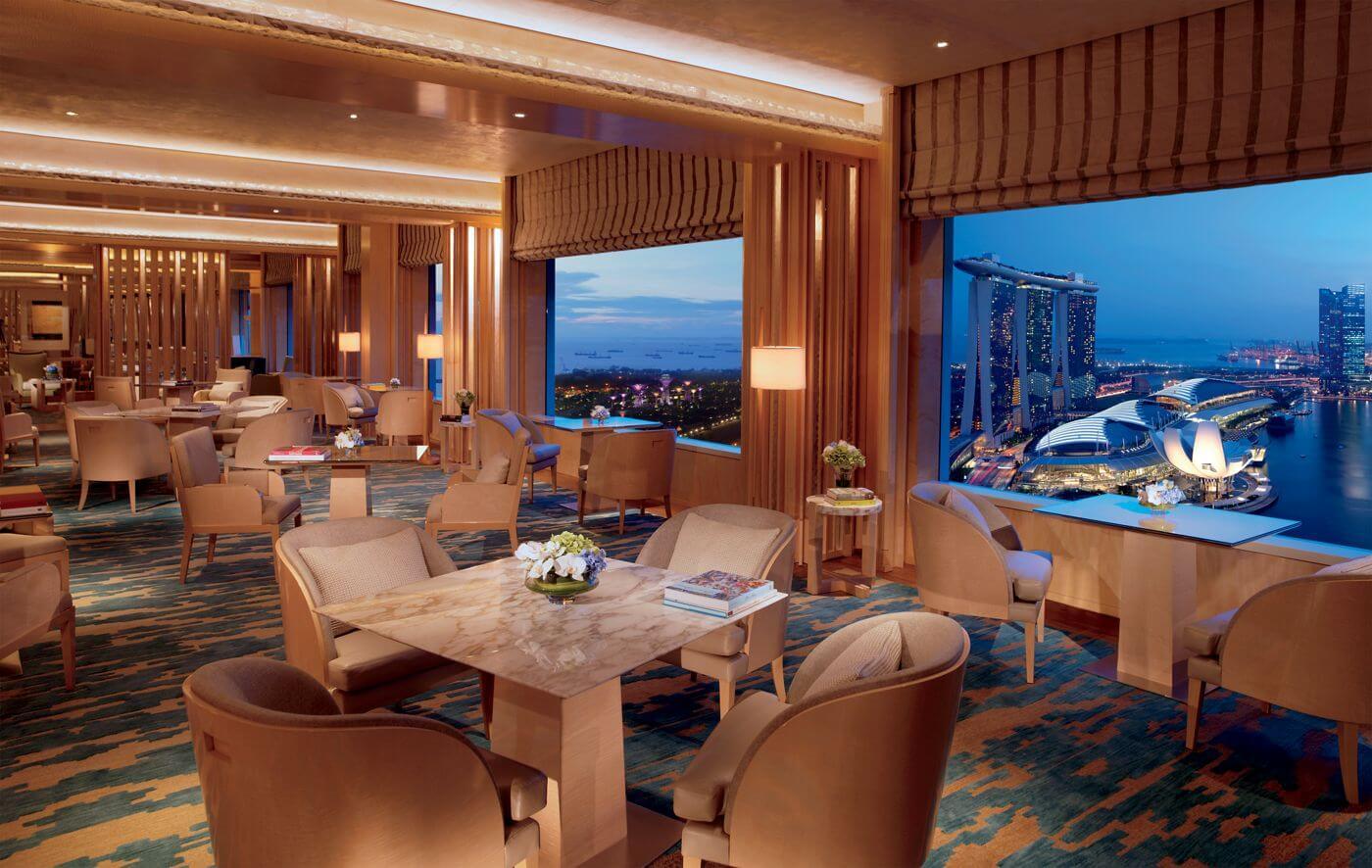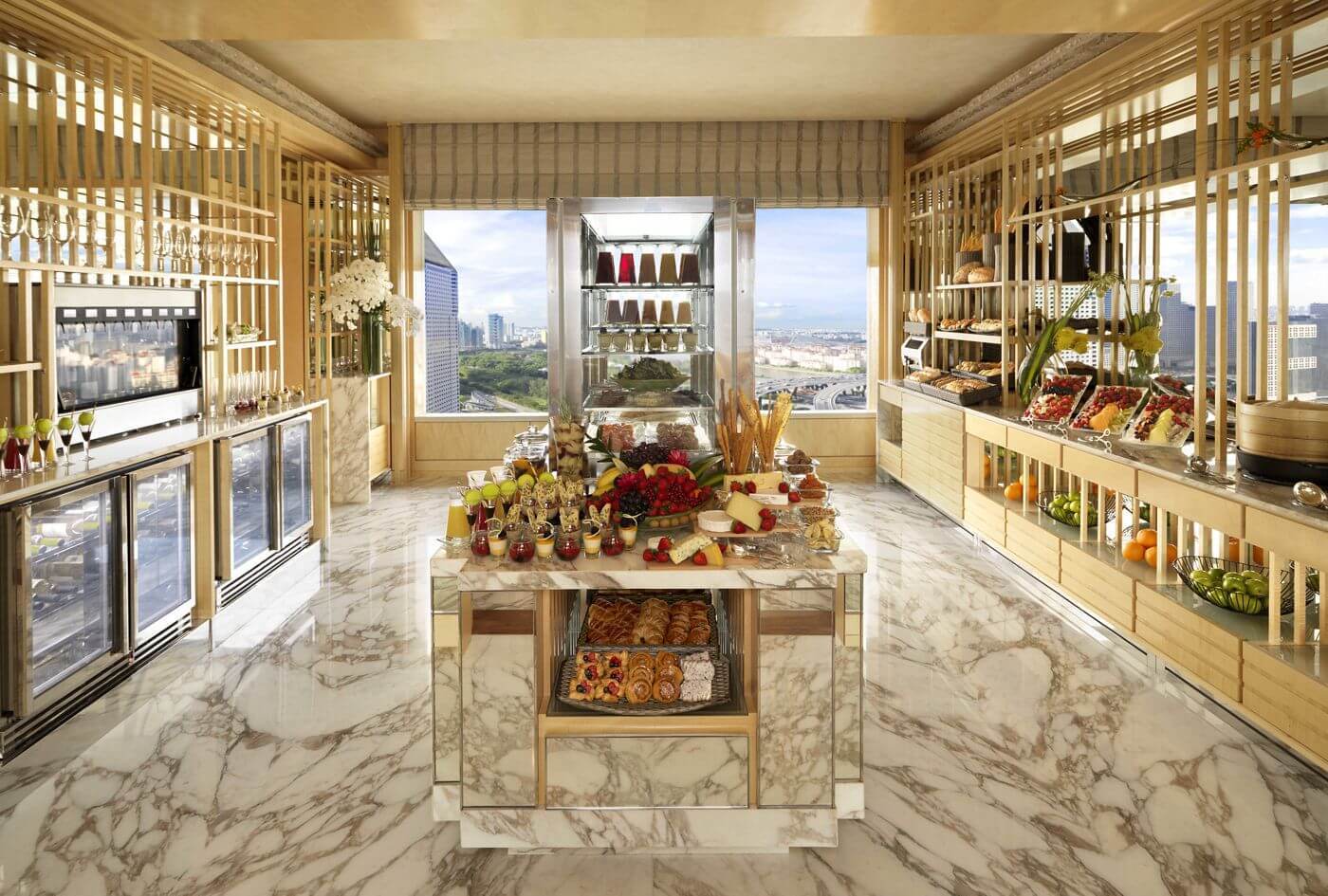 The Club Level Access
The Club Premier Suite, Club Deluxe Suite, and Millenia Suites offer access to The Ritz-Carlton Club Lounge. Located on the top floor, this is a place to chill, work, and be pampered.
With a buffet of tasty options available for breakfast, mid-day snacks, afternoon tea, hors-d'oeuvres, and cocktails, there are delicious treats served up here from morning until night.
I'd highly recommend adding club-level access to your room or booking a club room so that you can enjoy the club-level benefits during your stay. On top of having wonderful food, wine tastings, and handcrafted cocktails, it offers what is easily one of the best views in Singapore.
There's even a cool space with easels and drawing materials where you can try your hand at drawing the skyline. If you're there on business, there's also a boardroom available.
Last but not least, guests with club access can be driven around in the complimentary club town car. Available on a first-come, first-serve basis, you can get a ride anywhere within the Marina Bay area!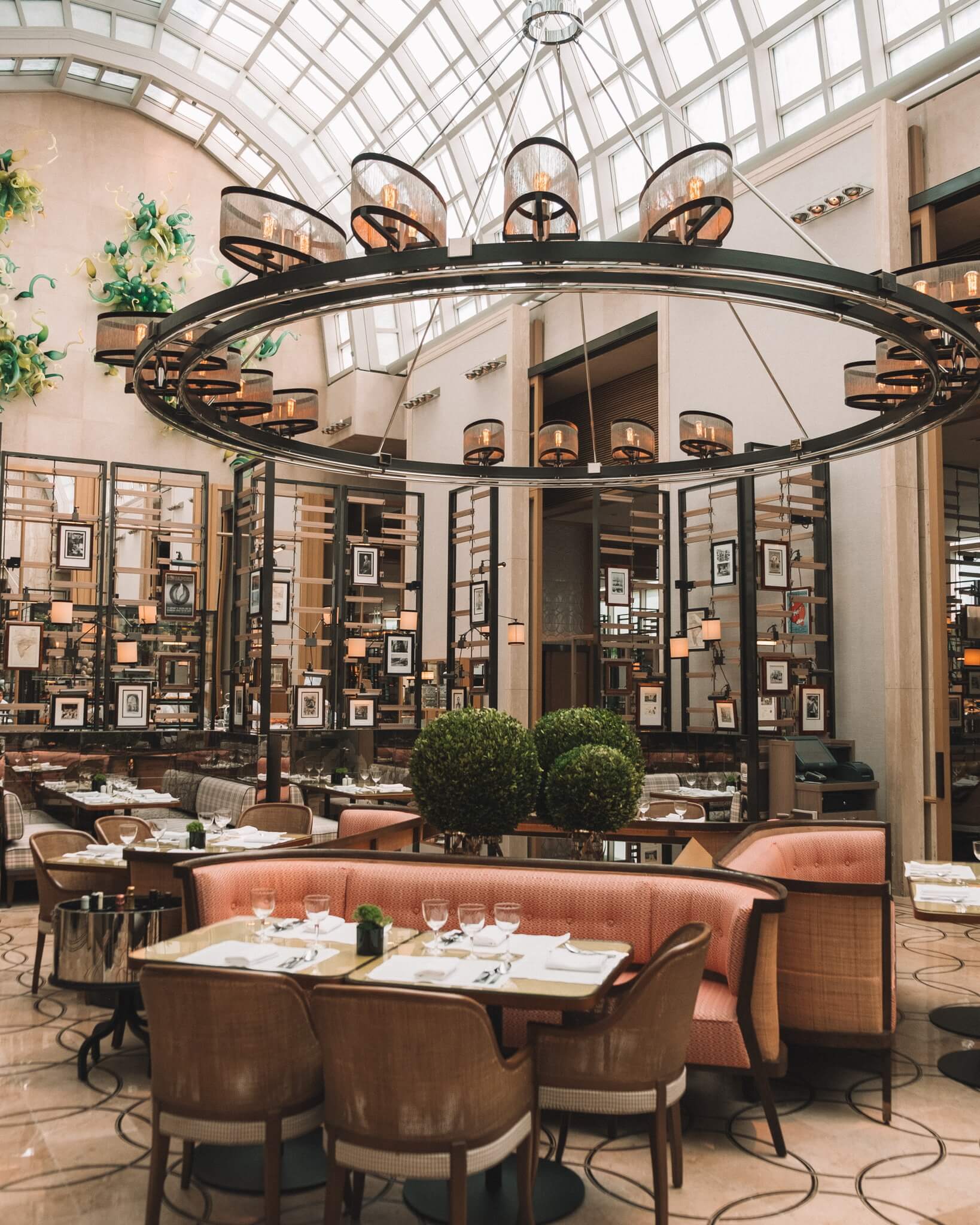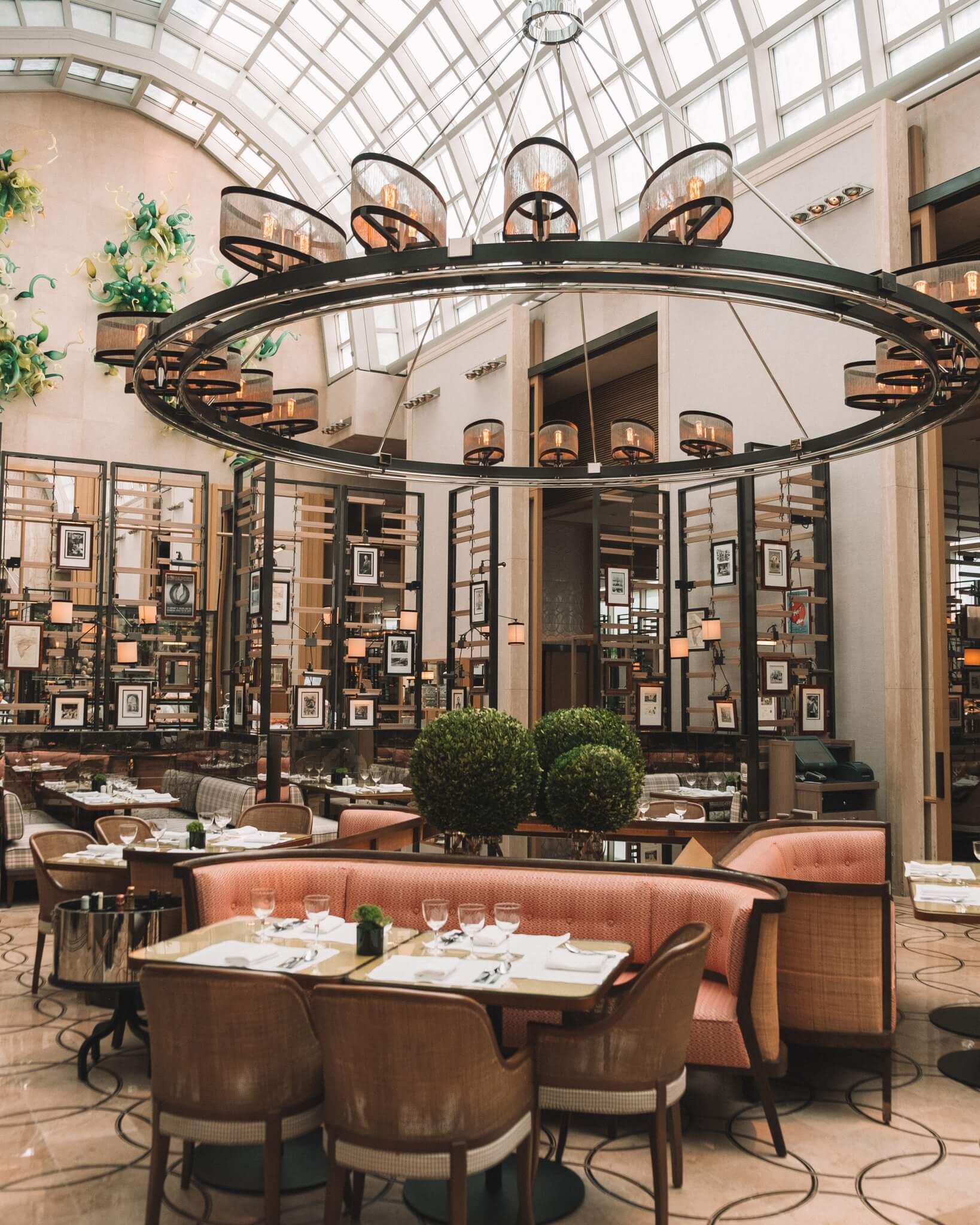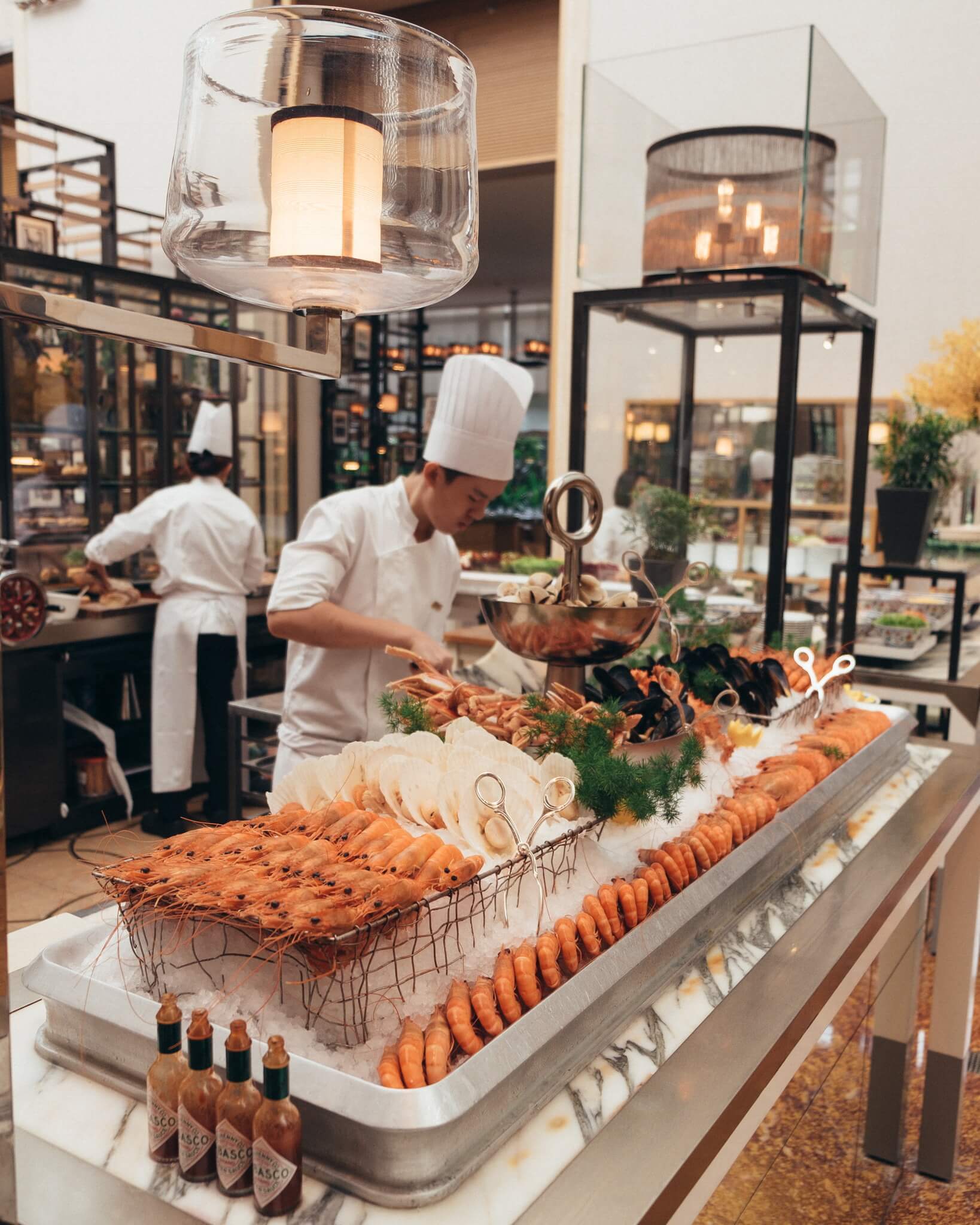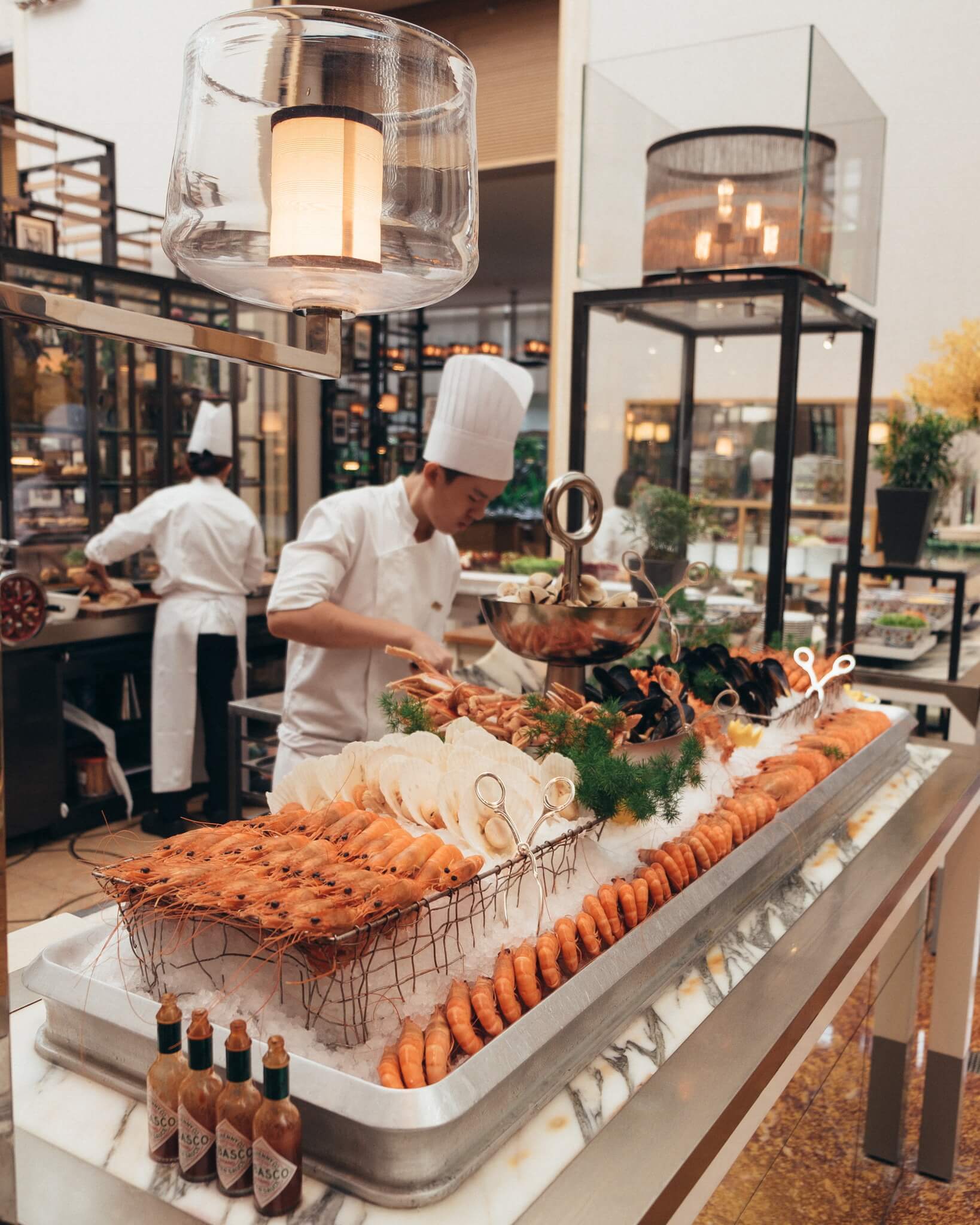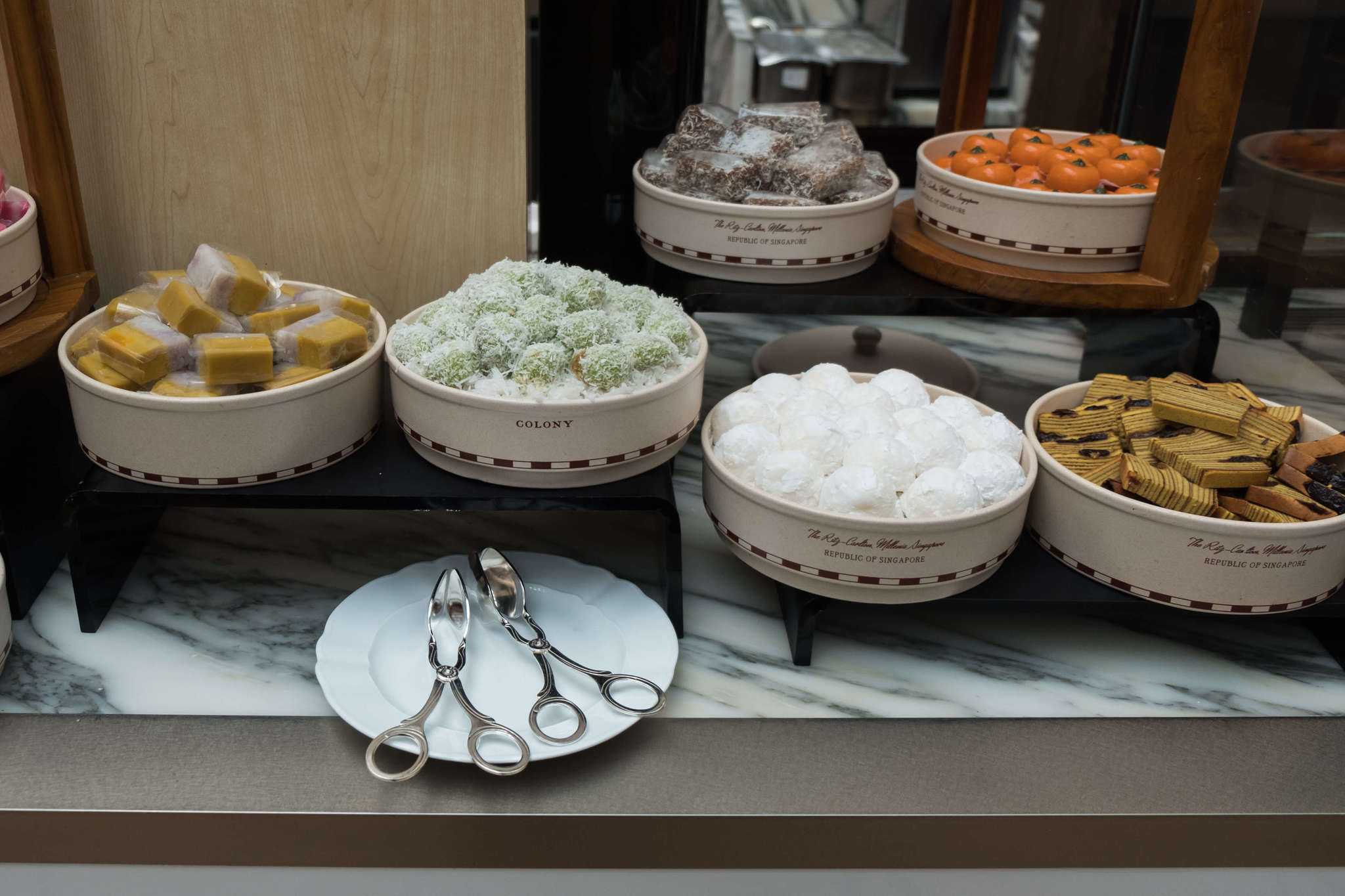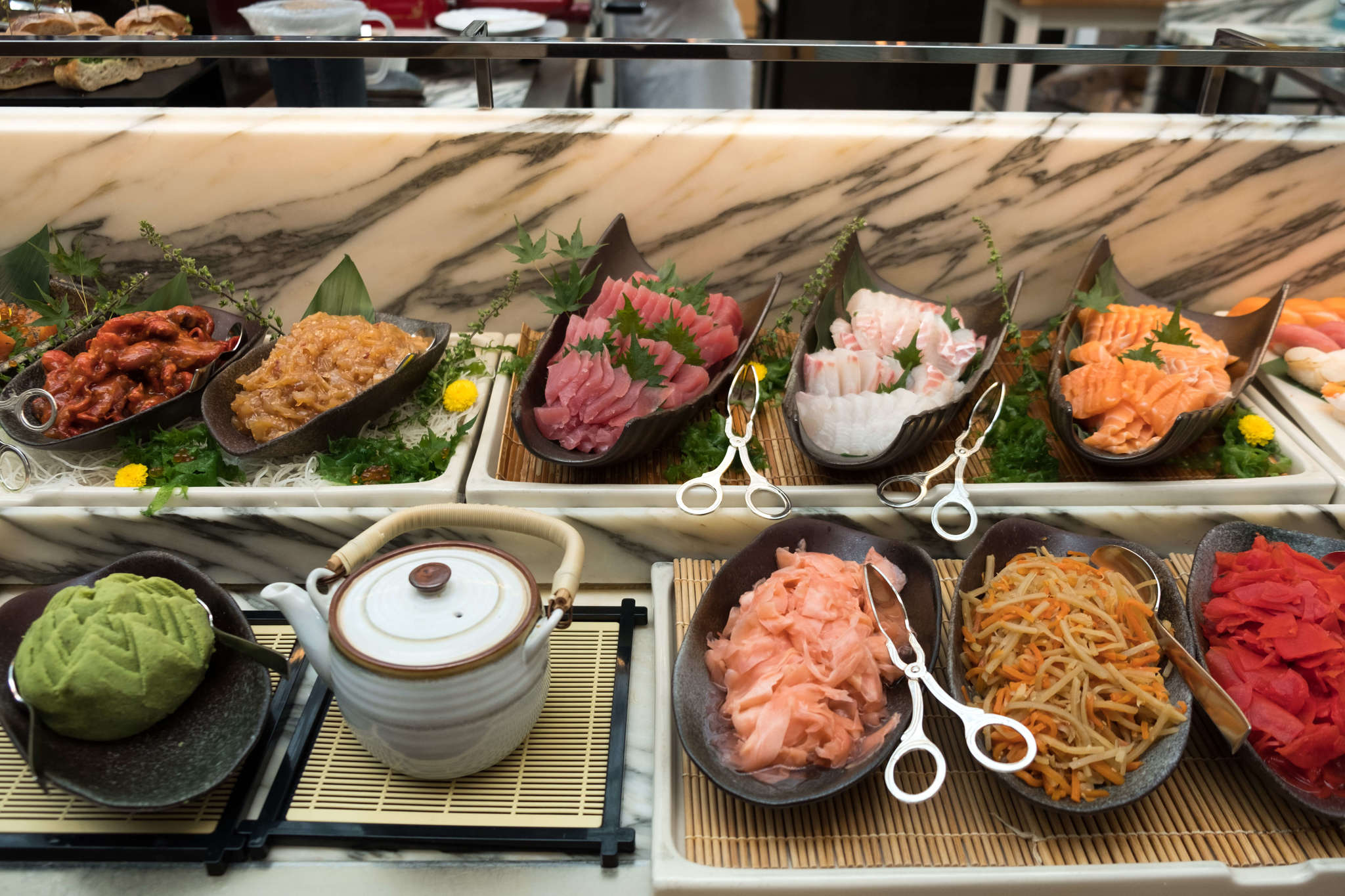 Food + Drink
One of the best things about Singapore is the food, and the food at The Ritz-Carlton has it all. With vibrant and multi-ethnic menus at their on-property restaurants, you can have a taste of anything. For fine dining, the Michelin-star-rated Summer Pavilion has some of the tastiest authentic Cantonese you will ever try.
For afternoon tea, a quick bite, or cocktails, the Chihuly Lounge is the place to be. But in my opinion, The Colony at The Ritz-Carlton, Millenia Singapore's dining experience is an absolute must!
The Colony serves every meal of the day, including afternoon tea from Monday to Saturday and a Champagne brunch on Sundays. It is a luxury buffet at a reasonable price, with a smart-casual dress code.
They have seven stations including an ice bar with salads, cold cuts, and cheese; a grill and rotisserie with a range of Western and Asian grilled meats and a steam basket with Asian noodles, soups and steamed dishes. They also have a wok with local specialties; a tandoor with Indian meats, seafood and bread; a fruit stall with fresh juices and fruits and a patisserie with desserts of all kind.
It was truly the most amazing buffet I've ever eaten at.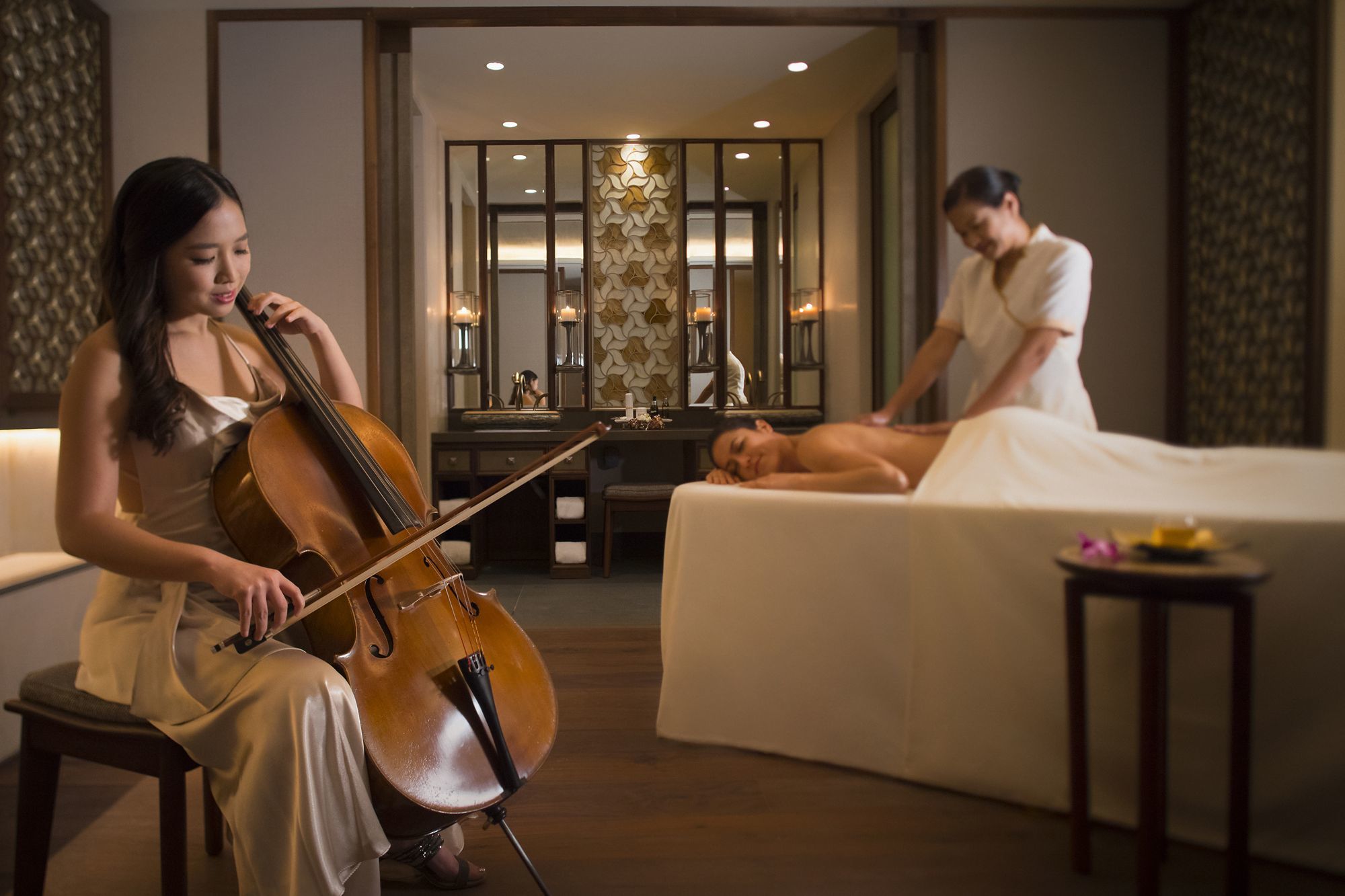 The Spa
The Ritz-Carlton Spa offers a full menu of massages, facials, and other spa favorites like full nail and salon services. I didn't get a chance to check it out, but they've got ten treatment rooms to treat yourself, plus romantic packages for couples.

In My Opinion
The Ritz is consistently impressive and this one was no exception. The staff went above and beyond to make our stay special and take care of anything we needed. I can't recommend the Club Level experience enough; it was luxury taken to the next level.
The location of the hotel was great and the access to the town car was very convenient. Plus, The Colony buffet was by far the BIGGEST and BEST buffet I have ever been to in the world! Definitely worth a visit if you're in Singapore!


More Information
Hotel: The Ritz-Carlton Millenia Singapore
Location: Singapore
Accommodation: Luxury
Price Range: $$$-$$$$

Thanks to The Ritz-Carlton Millenia Singapore for hosting me during my stay. As always, thoughts and opinions expressed here are entirely my own.