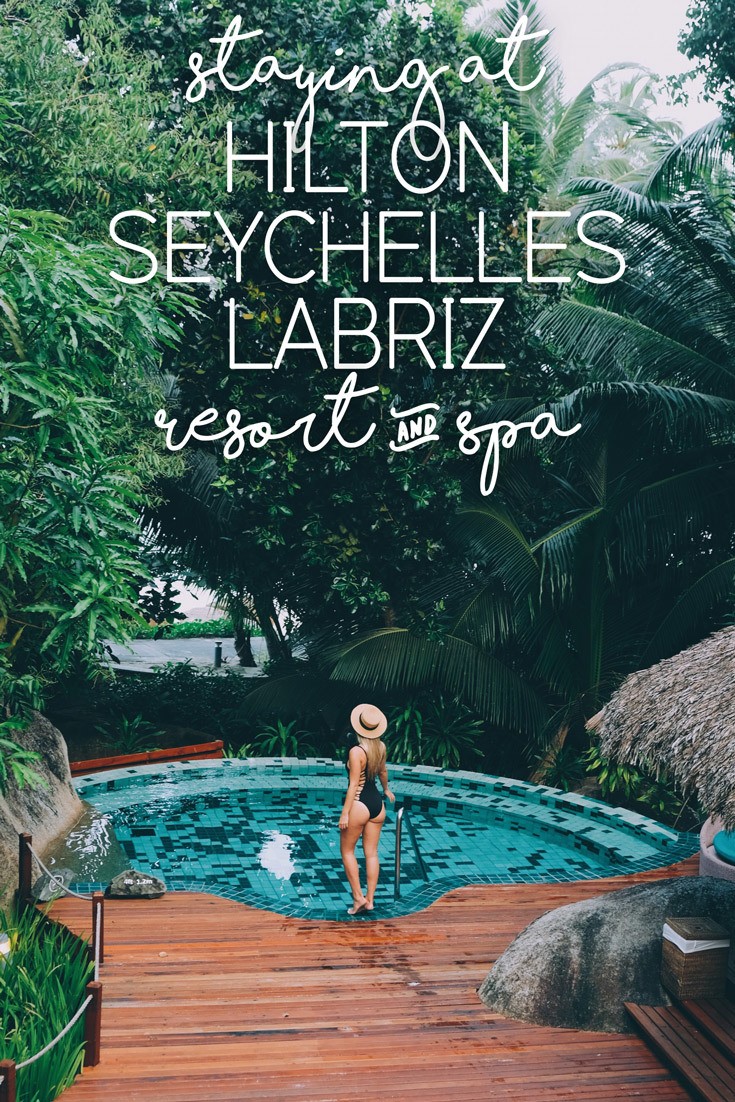 Do you love empty white-sand beaches surrounded by paths that wind through lush tropical forests? Of course you do! And so do I. That's why staying in a five-star resort in the Seychelles was a dream come true for me.
With stunning colonial-inspired villas, the Hilton Seychelles Labriz Resort & Spa on Silhouette Island is a beachfront resort with all that you'd expect from a luxury property (and then some).
Planning your own tropical escape?
Here's everything you'll want to know about staying at the Hilton Seychelles Labriz Resort & Spa.

The Hotel
Located about twelve miles northwest of Mahé, Silhouette Island has a dynamic history. Before the Hilton Labriz arrived there, it was home to pirates and plantation workers. 125-year-old giant tortoises roamed the island, and the land was thick with incense trees.
While Silhouette Island is now home to a luxury resort, not much has changed (except you probably won't run into any pirates these days).
In fact, more than 92 percent of the island is officially protected by the Seychelles government to preserve the native flora and fauna. The Hilton Seychelles Labriz Resort & Spa is pretty much the only touristy site on the island—and that's a very good thing.
The hotel is perfectly maintained and has integrated into the local environment.
Tucked away within the coves and gardens of Silhouette Island are amazing restaurants, a dive center, a spa, a fitness center, a tennis court, a Jacuzzi, a hammam, a freshwater lagoon, a kids' club, and beach equipment rentals.
Helpful Tip: You can arrive at the resort in style via a scenic 15-minute helicopter ride from Seychelles International Airport on Mahé, or a 45-minute boat trip operated by the resort!

The Rooms
The Hilton Seychelles Labriz Resort & Spa offers one- and two-bedroom villas. In your tropical home away from home, you will have all of your tech essentials like fast, free Wi-Fi and oversized flat screens along with gorgeous terraces to lounge on and enjoy the beautiful view.
Upgraded villas feature gazebos, private pools, and butler service.
Whatever villa you choose, all of the options at this Hilton are gorgeous. Every villa has an island chic vibe with a Creole-style roof and a modern entertainment system.
One of my fave perks is the oversized bathroom with dual sinks, a huge jetted bathtub, and an outdoor rain shower. It is a dream bathroom for a DIY spa day, which is an essential of any lazy beach vacation.

The Food
You'll never go hungry at the Hilton Seychelles Labriz Resort & Spa. It has a continental buffet, authentic Italian food, incredible Japanese cuisine, Créole specialities, and tons of other international and local options.
Start your day with the fresh breakfast options at Café Dauban, grab a poolside charcuterie selection or cheese platter, and then watch the sun set while you sip on island-inspired cocktails on the beach.
Treat yourself to dinner at one of the posh restaurants or indulge poolside; you can even have room service bring it right to you. There is an expansive menu that suits any taste, and it's really great with veggie offers and other dietary restrictions.
I also got the opportunity to take a cooking class with the resort chefs, and made some delicious, local specialties.
Yum!

Activities on Silhouette Island
Just because Silhouette Island is quiet doesn't mean it's boring—just the opposite in fact! It has everything you could ever want from a beach getaway.
The scuba diving is great, and the Hilton Seychelles Labriz has a five-star certified PADI diving center. Honestly, the diving wasn't the best I've experienced, but it was fun to explore. If you prefer to stay closer to the shore, snorkeling is also available.
You'll also definitely want to try your hand at fishing the tropical shores.
On land, you can work up a sweat at the fitness center or tennis courts and then explore the lush jungles. And, if you're bringing little ones, this place has you covered with an impressive kids' club.

In My Opinion
Labriz offers a unique experience in the Seychelles. The beach here is out of this world! It's definitely more of a resort vibe, with lots of restaurants options and a beautiful pool area. You can still find seclusion in your room and at the spa. The spa here was my favorite in all of the Seychelles.


More Information
Hotel: Hilton Seychelles Labriz
Location: Silhouette Island, Seychelles
Accommodation: Luxury
Price Range: $$$

Thank you to Hilton Seychelles Labriz for hosting me during my stay. As always, thoughts and opinions expressed here are entirely my own.