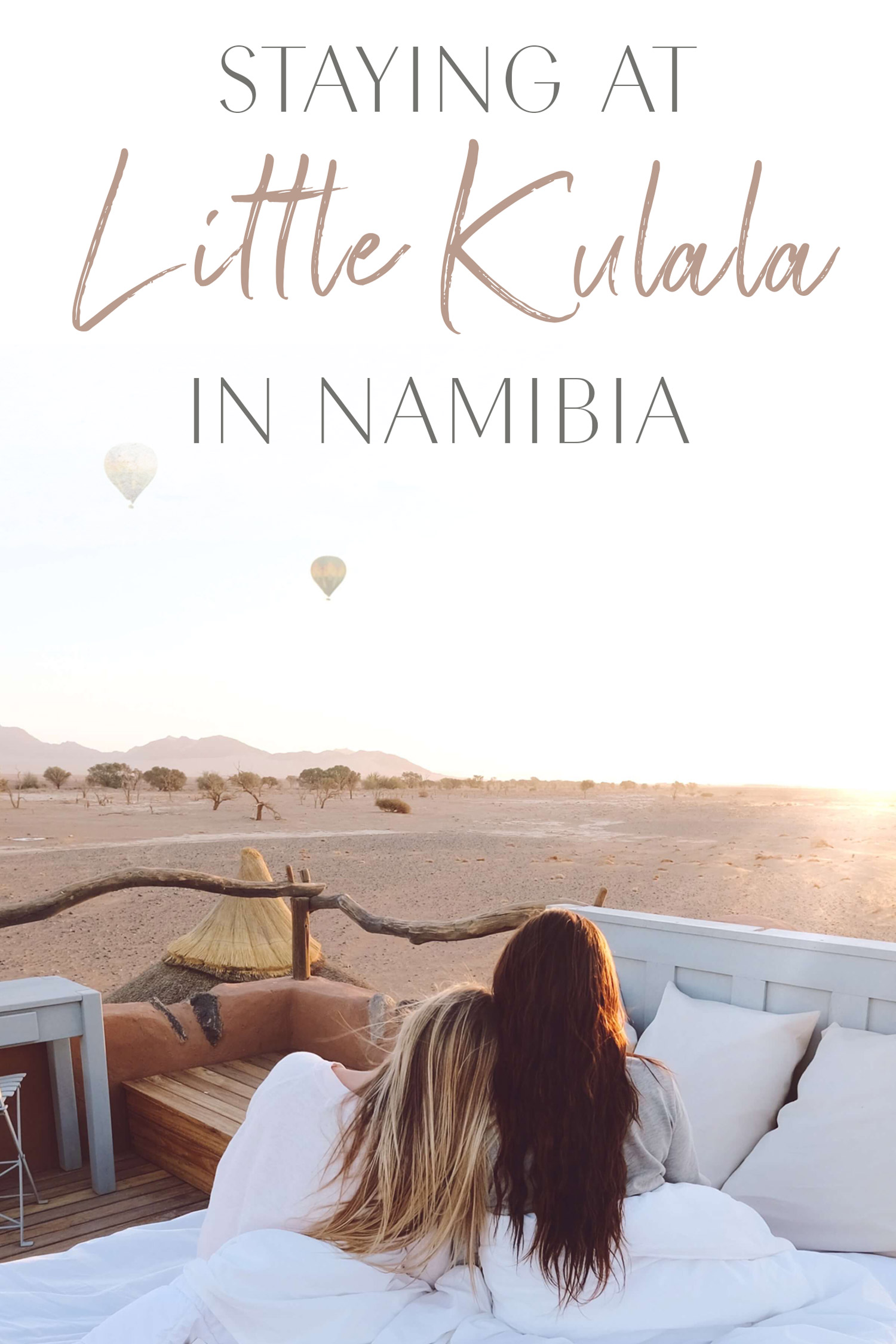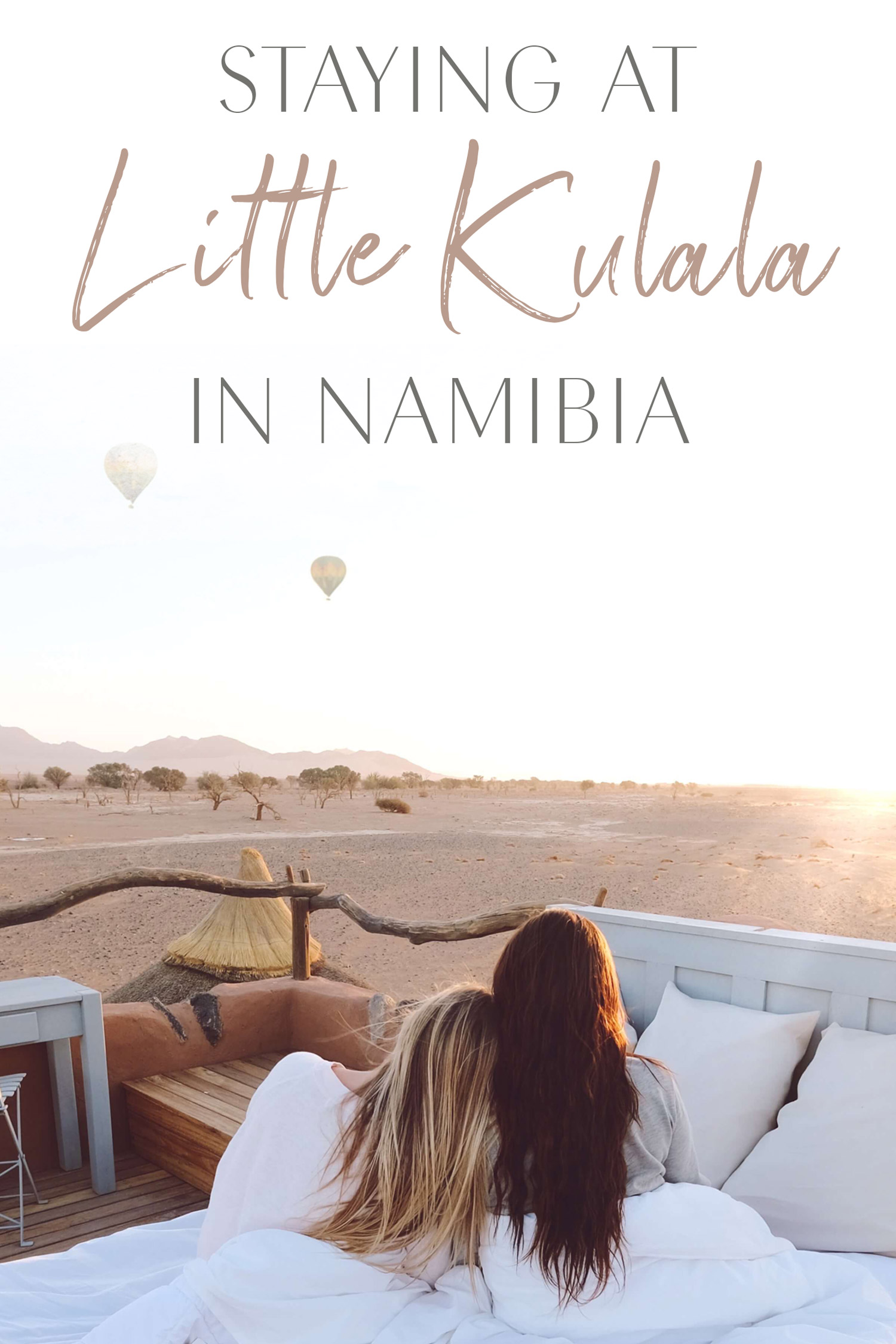 Namibia is one of my favorite African countries to visit. Just north of South Africa, the country is a photographer's dream with miles of empty deserts, skeletons of shipwrecks buried in dunes and national parks that boast incredible safari experiences.
During my first trip to Namibia, I stayed at the Little Kulala, a desert oasis that first opened its doors in 1996. The land used to have very little indigenous wildlife until Wilderness Safaris stepped in and helped rehabilitate the property to what it is today.
Most people stay at Little Kulala because it is located just outside of Sossusvlei making it easy to visit iconic landmarks like Big Daddy Dune and Deadvlei.
Ready for the ultimate desert oasis? Here's what it's like staying at the Little Kulala!


Getting to Little Kulala
The lodge is located inside the Kulala Wilderness Reserve. The entrance is only a short 10-miles from Sesriem and is the gateway to Namibia's Sand Sea.
If you're short on time, the quickest way to get here is to take a bush plane into Sossusvlei and then take a short car ride into the reserve. We opted to rent a car in Namibia and drove from Walvis Bay to the lodge in our 4×4 as part of a Southern Namibia road trip.

Little Kulala Lodge
Drawing a lot of inspiration from the surrounding environment, Little Kulala describes itself as an organic camp, with neutral colors, natural light, and a lot of texture. It's made up of 11-climate controlled villas, where guests get to experience ultimate escape in Namibia's desert.
Aside from the individual villas, the common area offers a library, wine cellar, craft boutique, lounge, and dining area.
There's also a larger pool in the communal area that's picture perfect with expansive views of the red desert.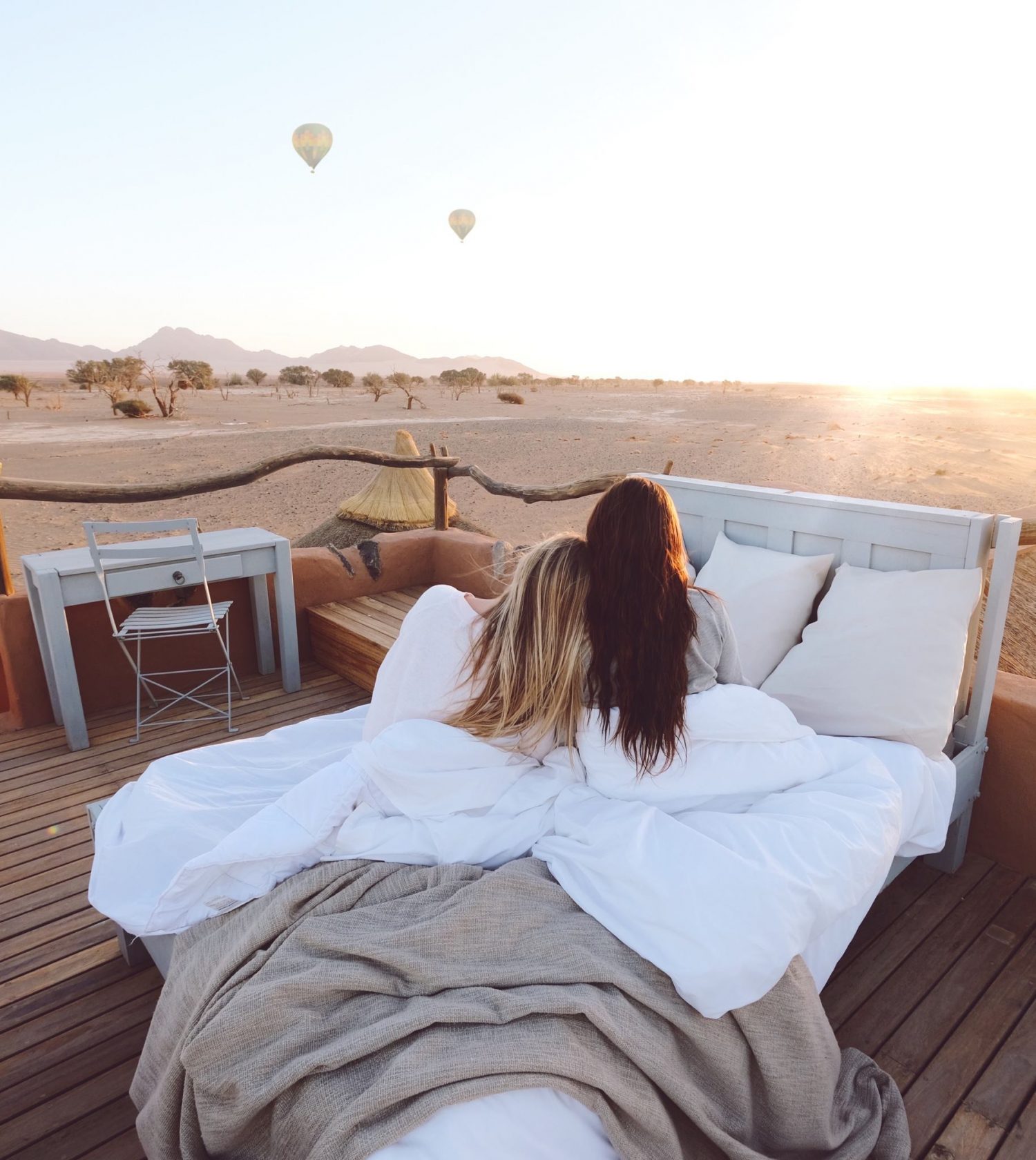 Sunrise Bed at Little Kulala
The Rooms
The rooms at Little Kulala are inspired by Deadvlei. Each of the 11 thatched "kulalas" come with a private plunge pool that overlooks the beautiful desert plains.
The villas also feature a romantic Star Bed – perfect for an evening of stargazing or a sunrise cuddle to watch the hot air balloons take flight!
I loved the minimalist African design of the interiors! The lodge has done an excellent job of bringing touches of the desert inside and creating a magical experience.

Food and Drink
There are a lot of delicious options when it comes to food and drinks at Little Kulala. Breakfast options include cereals, fruits, yogurts, toast, muffins, cold meats, and more to get you ready for your daily activities.
Dinner includes things like soups, salads, beef, chicken, and vegetarian options. There's both indoor and outdoor seating – I recommend arriving just before golden hour so you can snag a good spot to watch the sunset over the desert!

Hot Air Balloon Rides at Little Kulala
Activities at Little Kulala
Most activities that you can enjoy are included with the price of your stay, and you have the choice to do as you please.
Sossusvlei & Deadvlei: Only a short drive away, Deadvlei and Sossusvlei offer two unique landscape experiences. Sossusvlei is flanked by its famous dunes, and nearby Deadvlei is a white clay pan that's contrasted against the dead camel thorn trees.
You can also climb Big Daddy dune!
ATVing: This was one of the excursions that I went on, and I had a blast! We drove through the Kulala Wilderness Reserve and had the opportunity to spot wildlife like oryx, springbok, and the adorable bat-eared foxes!
Nature Drives: With over 91,000 acres of land, there are endless amounts of landscape and wildlife to be seen. Keep an eye out for the bat-eared foxes, brown hyaenas, bird life, and the oryx, known as the unicorn of the desert.
Hot Air Balloon Rides: While seeing the reserve from land is a great way to see all that it has to offer, taking a hot air balloon safari gives you a whole new perspective. Though this one is an additional cost, it is absolutely worth it to see the dunes from the sky!
Sesriem Canyon: Due to millions of years of water running, this canyon is well worth a visit. Today it sits just shy of 2-miles long and the views from the top are breathtaking!
Scorpion Night Walks: For a unique experience, venture out into Namibia's desert at night. After the sun sets, the arid landscape comes alive, and you can catch glimpses of scorpions that glow in the dark.

Overall
I had an amazing time at Little Kulala! The accommodation, food, and activities exceed my expectations, and I'd love to come back in the future.
The only downside is that the lodge is outside of the national park, which we didn't realize when we booked. You can only access the park before sunrise if you are staying within it.
If you are set on hiking Big Daddy at sunrise or visiting Deadvlei at the first light of the morning you'll need to choose other accommodation within the park limits.

More Information
Accommodation: Boutique, Luxury, Wildlife
Location: Kulala Wilderness Reserve, Namibia
Price: $$$