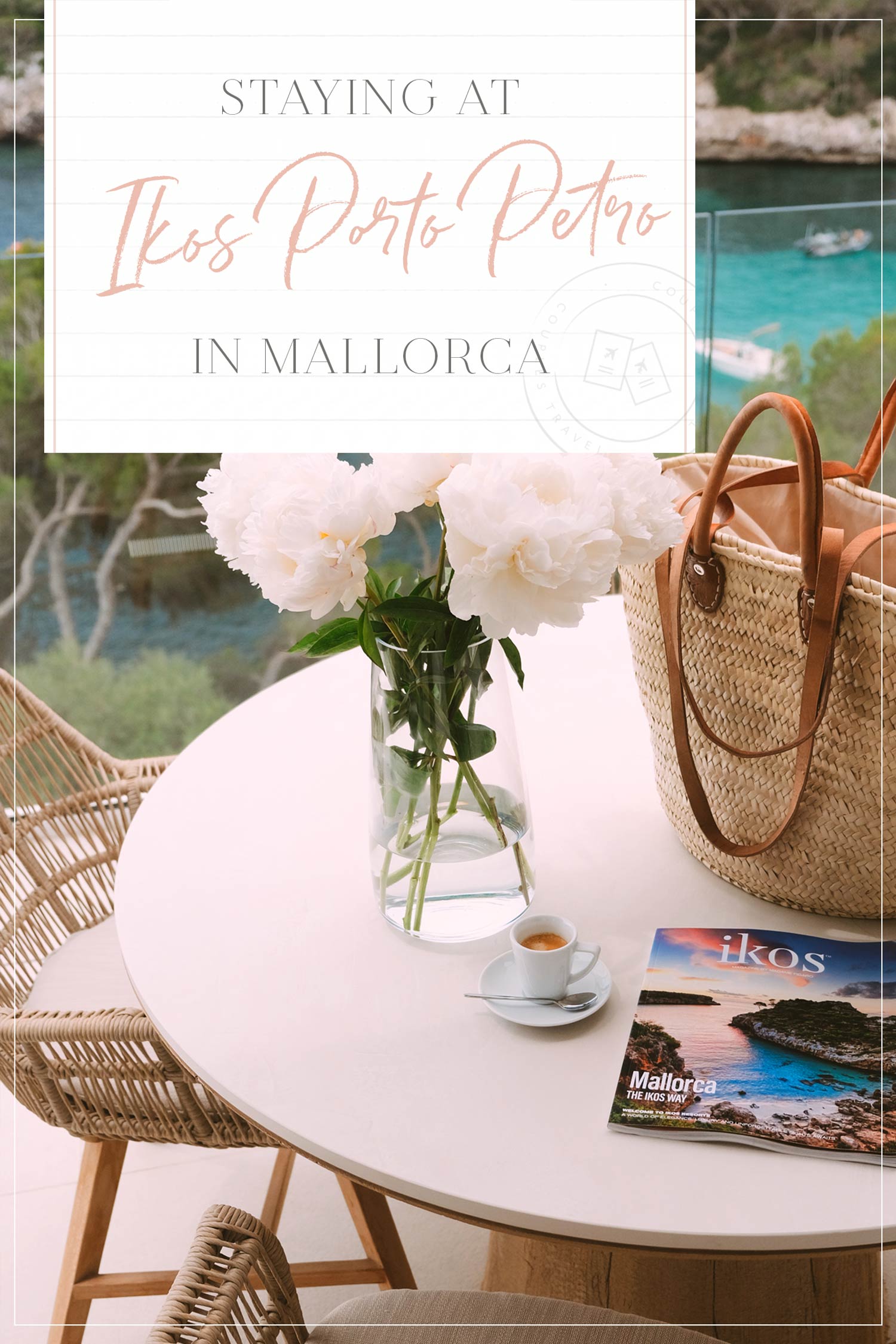 If you're anything like me, you're always on the lookout for your next slice of paradise. I was honored to be invited to experience the grand opening of a brand new all-inclusive resort in Mallorca—Ikos Porto Petro.
Nestled in the heart of the Mediterranean, this luxurious resort is the ultimate destination for those seeking sun-soaked relaxation, world-class cuisine, and unforgettable experiences.
Ikos Porto Petro features beautifully appointed suites (including some with private pools), five à la carte restaurants featuring international and local cuisine with menus created by Michelin-starred chefs, as well as a wine list with over 300 fine wine labels.
Here's what it's like staying at Ikos Porto Petro in Mallorca!

Getting There
You will fly into Palma de Mallorca Airport (PMI), which is the main airport on the island. Palma de Mallorca Airport is well-connected to major European cities, making it convenient for international travelers.
From Palma de Mallorca Airport, you have several transportation options to reach the resort, which is on the eastern side of the island in Porto Petro. The drive from Palma de Mallorca Airport to Ikos Porto Petro takes approximately 45-60 minutes, depending on traffic.
Private Transfer: You can arrange for a private car or taxi to pick you up at the airport and take you directly to the resort. This option provides door-to-door service and is the most comfortable but can be more expensive.

Rental Car: I normally always recommend renting a car when traveling to Mallorca. The island is pretty spread out, so if you prefer flexibility and plan to explore more of the island during your stay, consider renting a car at the airport.
Helpful Tip:
One major perk of staying at Ikos Porto Petro is the option to loan a Tesla for a day (for free) during your stay. I'll go into more detail about that later in the post, but organizing a private transfer and then taking advantage of the Tesla for a day of beach hopping is a great option!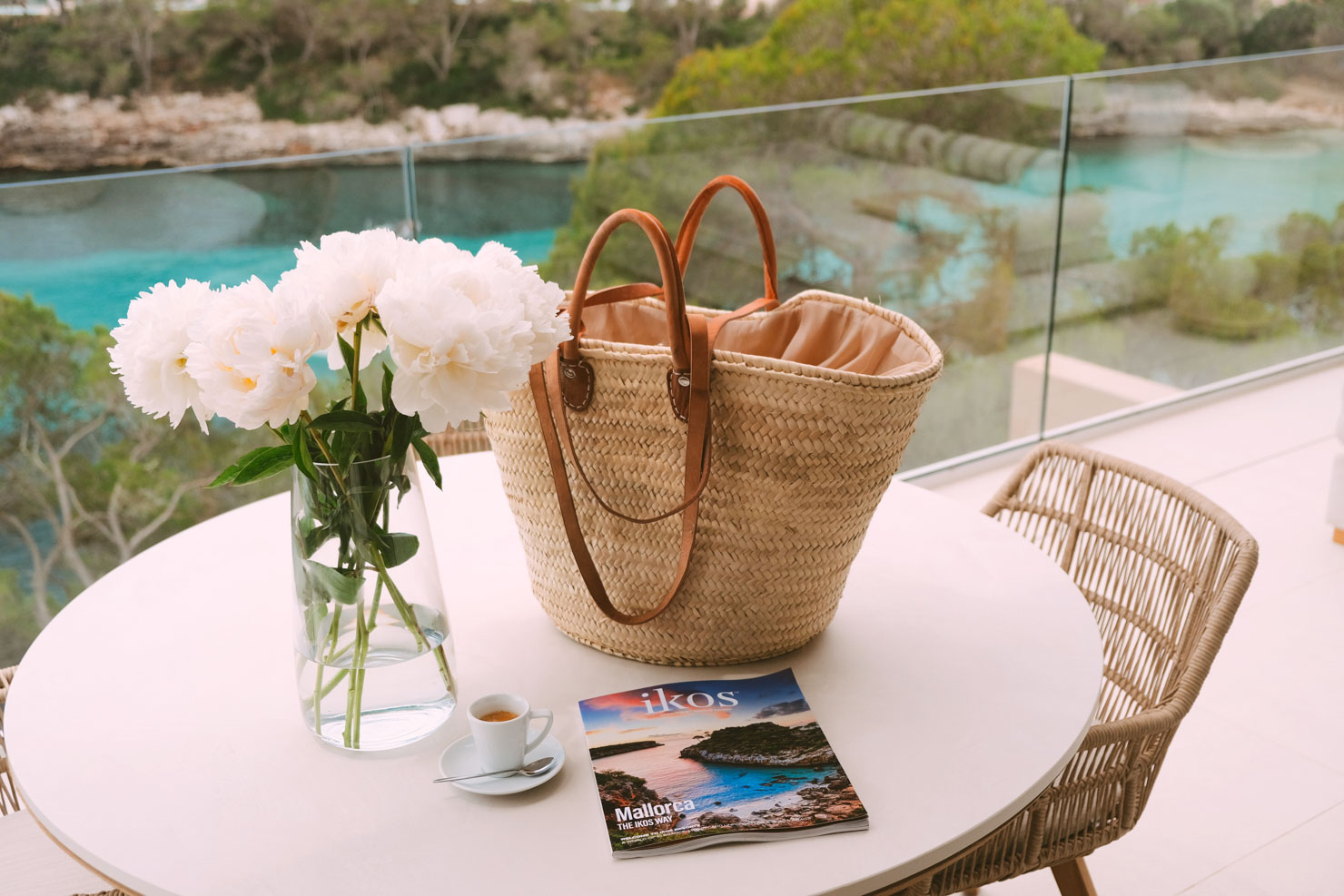 The Ikos All-Inclusive Concept
Ikos Resorts are scattered across some of the most stunning Mediterranean destinations, including Spain, Greece, and beyond. What sets Ikos apart, you ask?
It's their all-inclusive approach.
Imagine a vacation where you can truly unwind, indulge in gourmet cuisine, sip the finest wines, and explore an array of activities, all without constantly reaching for your wallet. That's precisely what the Ikos All-Inclusive concept is all about.
Culinary Excellence: One of the cornerstones of Ikos Resorts' All-Inclusive concept is their commitment to gastronomic excellence. You have access to a range of à la carte restaurants, each offering a distinct culinary experience. These aren't your typical all-inclusive buffets; we're talking gourmet dining created by Michelin-starred chefs.
Premium Beverage Selection: Ikos Resorts prides itself on its extensive selection of beverages. From fine wines and craft cocktails to top-shelf spirits, it's all included. Your minibar is replenished daily, and you can enjoy drinks at the bars and lounges throughout the resort without worrying about a tab.
24-Hour Room Service: Craving a midnight snack or a lazy breakfast in bed? No problem! Ikos Resorts offers 24-hour room service as part of their All-Inclusive package. You can order from a diverse menu and have it delivered to your room whenever you like.
Activities and Entertainment: The All-Inclusive concept extends to activities and entertainment as well. You'll find a wide range of options, from water sports and fitness classes to live shows and cultural experiences. These activities are designed to cater to various interests and age groups, ensuring that every member of your party can find something they love to do.
Excursions and Local Exploration: Some Ikos Resorts also include a selection of off-site excursions in their All-Inclusive packages. This means you can explore the local culture and attractions without additional charges. Whether it's a guided tour of a historical site or a trip to a nearby village, it adds a delightful dimension to your vacation.
Family-Friendly: Families are well taken care of within the Ikos All-Inclusive concept. Kids' clubs and activities are often part of the package, ensuring that young travelers have a fantastic time while parents relax.

The Location
Ikos Porto Petro is located on the eastern coast of Mallorca in the small town of Porto Petro. The resort location is incredible—you can drive just 20 minutes to Mallorca's most scenic beaches (Caló des Moro, Cala S'Almonia, and Cala Llombards) and visit the adorable towns of Santanyí and Cala Figuera.
If you're just starting to plan your trip to Mallorca, be sure to check out my Ultimate Mallorca Itinerary!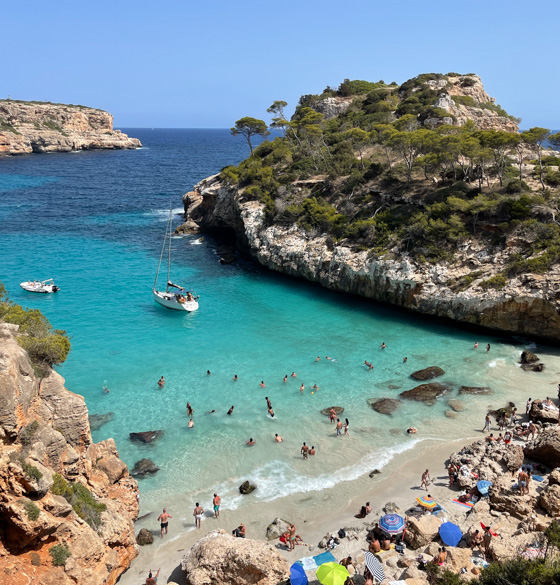 From romantic coves to surfing hotspots, here's my region by region guide to the best beaches in Mallorca!
Read More!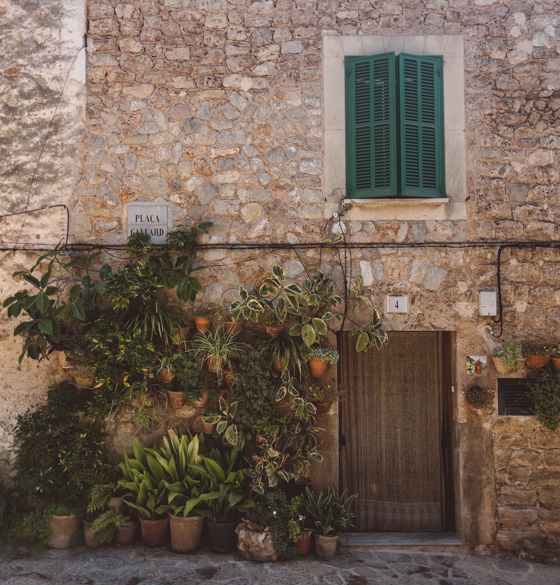 From the parties of Palma to the Roman and Moorish remains, here's your ultimate itinerary for the Spanish paradise of Mallorca!
Read More!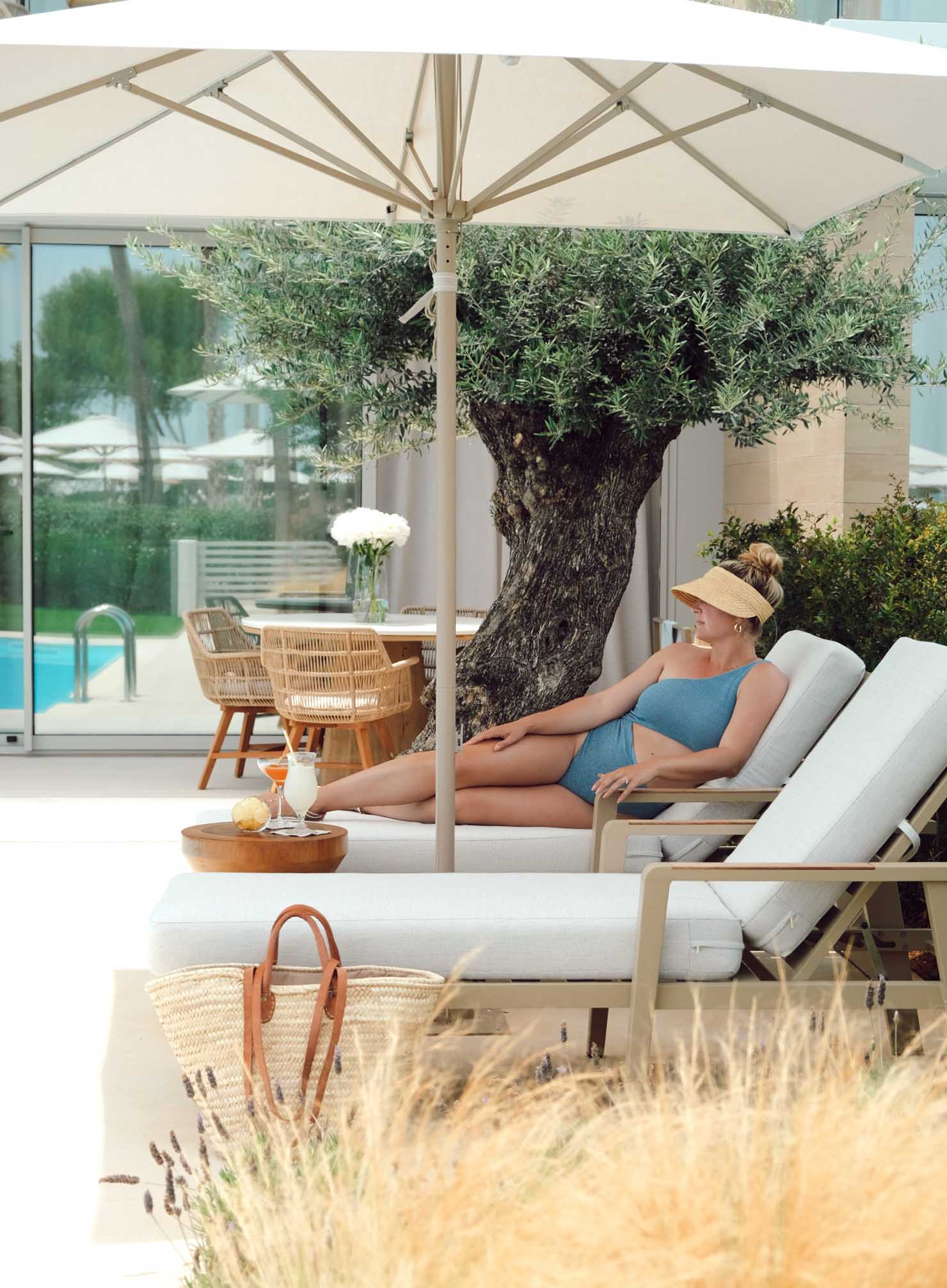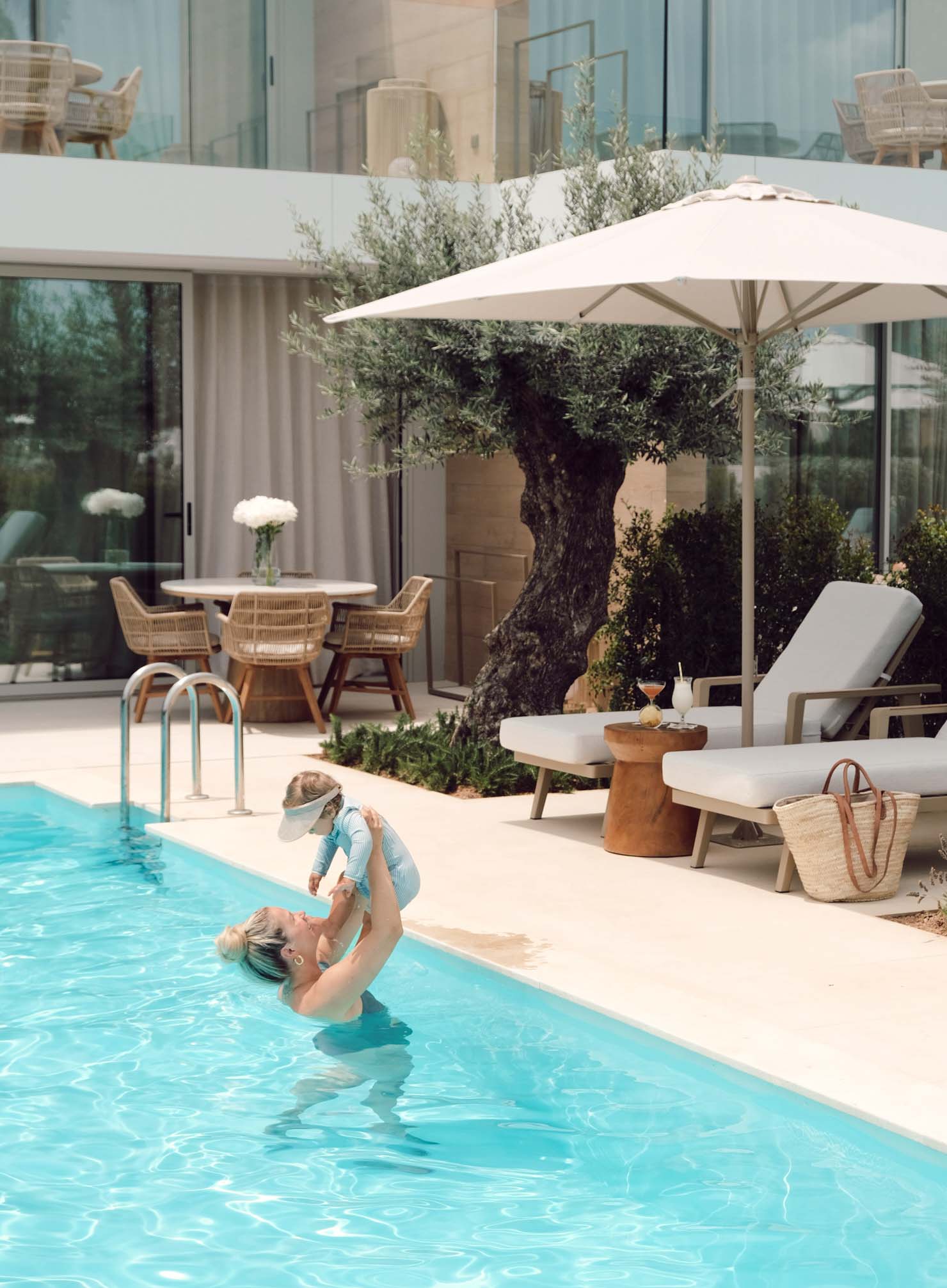 The Rooms
Ikos Porto Petro in Mallorca offers a range of luxurious and beautifully appointed rooms and suites to cater to the various preferences and needs of its guests.
Each room and suite at Ikos Porto Petro is elegantly decorated and equipped with modern amenities to ensure a comfortable and luxurious stay. Regardless of the room type you choose, you can expect a high level of comfort, attention to detail, and exceptional service throughout your stay.
We got to experience a one-bedroom private pool suite as well as a sea-view balcony suite. Everything from the decor to the perfectly plush beds felt luxurious.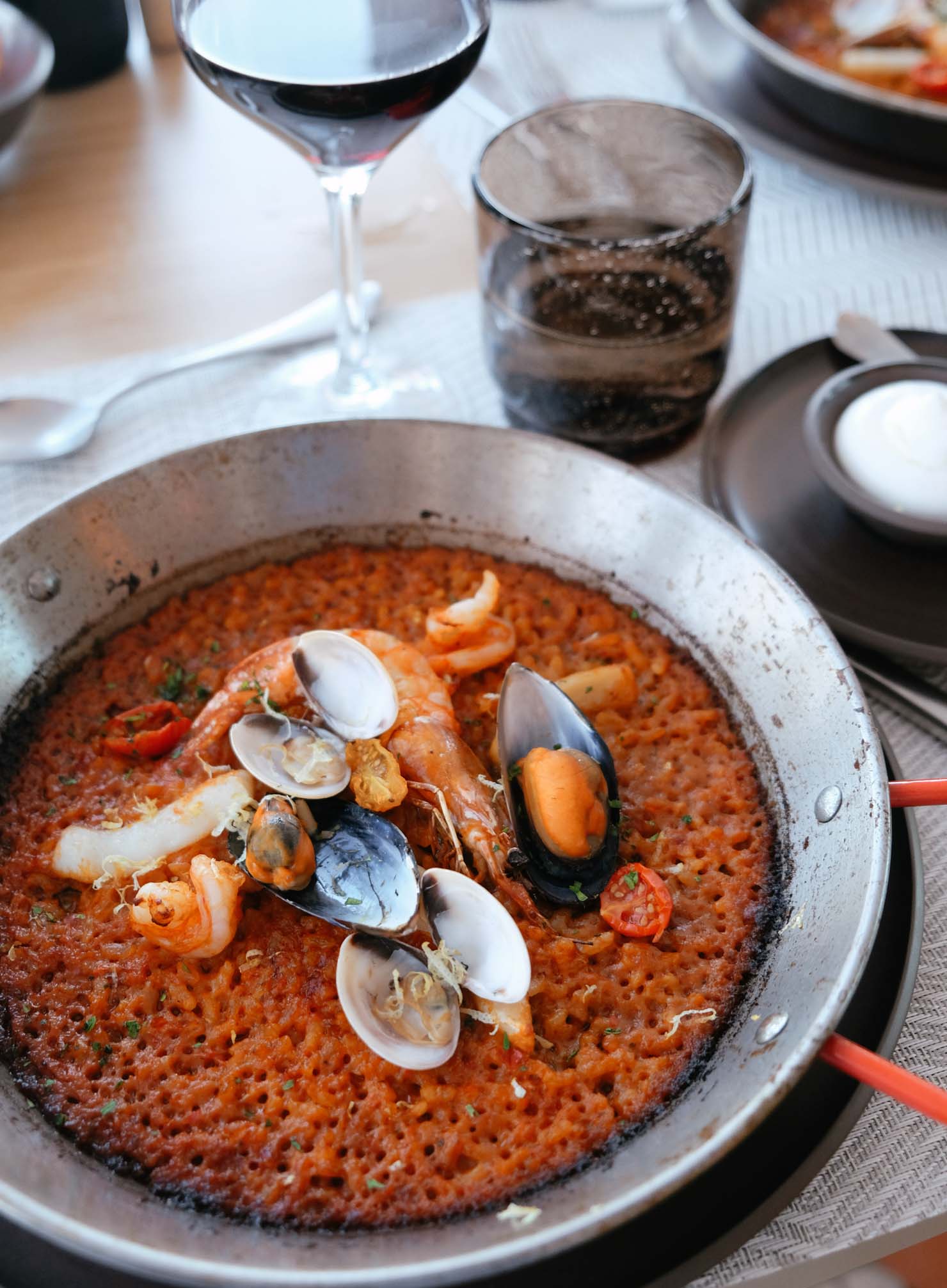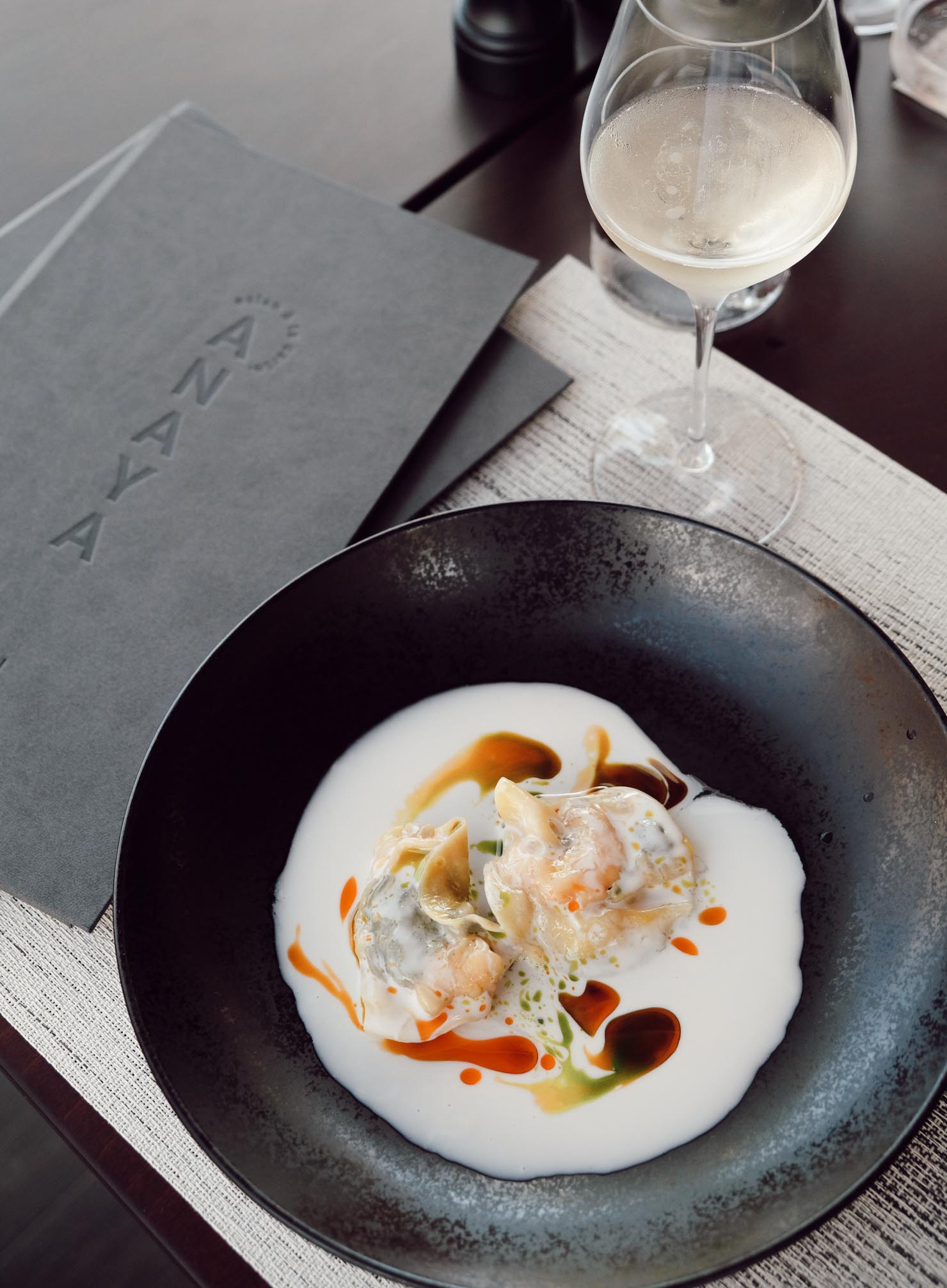 Dining
The Ikos concept is unlike anything I've experienced. "Unconditional Luxury" means dining on dishes crafted by Michelin-starred chefs, and sampling fine wines and cocktails crafted by award-winning mixologists.
All are included in your stay.
Taking a closer look at the dining experience at Ikos Porto Petro, our room was stocked with a mini-bar (with an array of refreshments and snacks) that was refreshed daily. The property had five à la carte restaurants featuring international and local cuisine with menus created by Michelin-starred chefs, as well as a wine list featuring over 300 fine wine labels!
Pool service, beachside food, and in-room room dining are also included!
The entire property was also extremely accommodating to dietary restrictions, including vegan menus at every restaurant.
The multiple bars around the property each featured multiple pages of zero-proof cocktails—something I LOVE and why I also think this would be an amazing babymoon destination!
On top of it all, Ikos has a renowned Dine Out program, so that guests can enjoy authentic Mallorcan cuisine at hand-picked restaurants in the local area, all at no extra cost! While most resorts are working hard to keep their guests on-site, Ikos has countless complimentary experiences and offers to encourage guests to explore the area to support local businesses.
So whether you are craving sangria and paella with a sea view, or an iced oat milk latte and breakfast in bed, Ikos Porto Petro has it all.
Helpful Tip:
Our experience at Ikos Porto Petro with an infant was absolutely wonderful. Not only does each restaurant feature a "kids menu" but they also have a "toddlers menu" with purées.

You can also opt to eat in the food hall for meals, which is super helpful if you want to skip a longer "sit-down" meal with kids. Or you can always take advantage of the 24/7 room service.

Any time we ate at one of the restaurants, we were always able to order for the baby first and bring it out first so we could feed him before our food came. (Parents, you know the struggle!)

Each restaurant is also equipped with high-end Stokke high chairs—no detail was overlooked!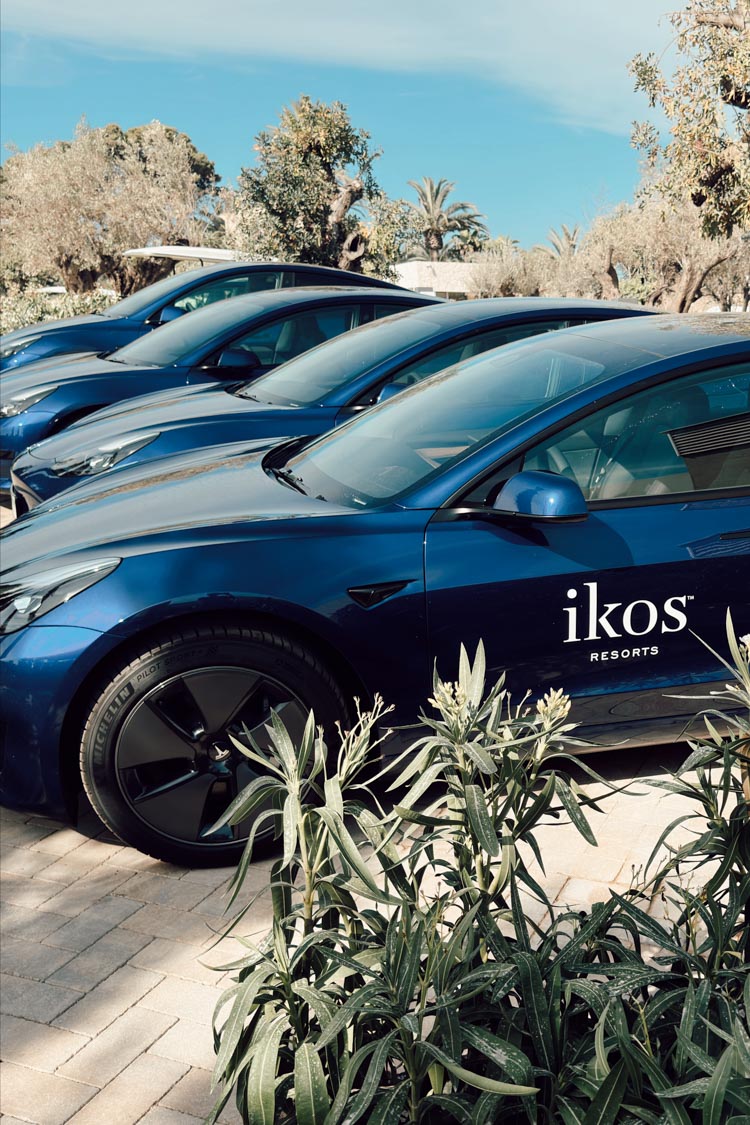 Activities & Experiences
While most resorts are working hard to keep their guests on-site, Ikos has countless complimentary experiences on and off-site — encouraging guests to explore the area to support local businesses!
Beach Club: Guests can enjoy exclusive access to the beaches at Ikos Porto Petro. They also have a beach club with an infinity pool located right ON the beach. This is totally unique in Mallorca! Most beaches in Mallorca can be challenging to get to and very crowded. Having a beach at the resort is very special!
Bike Rentals: Discover the unique charm of Mallorca's rugged coast with our complimentary bike rental. Avid explorers can head out to nearby villages and steep slopes or cycle along the charming waterfront, all at no additional cost.
Teslas: Teslas are available for complimentary use for ALL guests. Guests can take a Tesla for the day to explore surrounding towns and beaches.
Tennis courts: Put your tennis skills to the test on one of three modern tennis courts with stunning coastal vistas.
Watersports: Make a splash in the sparkling Mediterranean with canoeing*, paddleboarding* and pedalo* adventures. (*once per day for 30 minutes)
Wellness activities: Rejuvenate your mind, body, and soul at the gym and with relaxing stretching sessions, yoga classes, and Pilates classes.
Spa: Enjoy bespoke spa treatments in the luxurious spa Anne Semonin Paris, for body and mind rejuvenation. Tour steam rooms, saunas, and jacuzzis and relax at your leisure.
Culture Pass: Soak up the island culture that surrounds you and dig under the surface of beautiful destinations. From exploring local museums to visiting historical monuments, with the Ikos Culture Pass you can enjoy unique sightseeing opportunities and experiences, all part of your holiday experience.
Dine Out Program: On top of it all, Ikos has a renowned Dine Out program, so that guests can enjoy authentic Mallorcan cuisine at hand-picked restaurants in the local area, all at no extra cost!
Private Excursions & Activities: For an additional cost, Ikos can organize a private boat tour, private tennis lessons, and even scuba diving.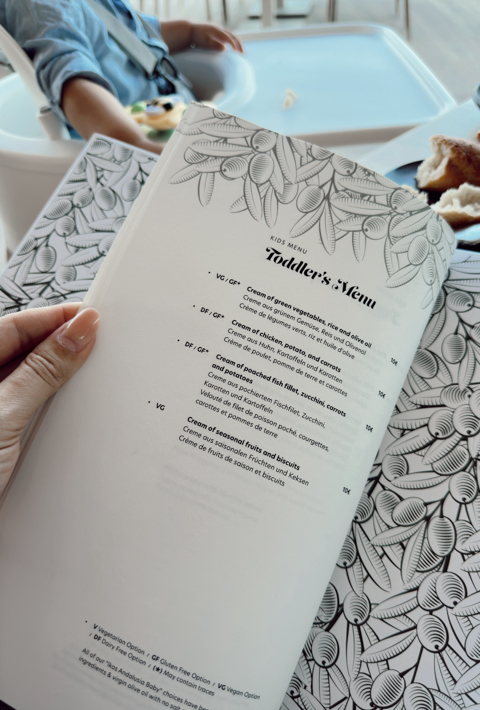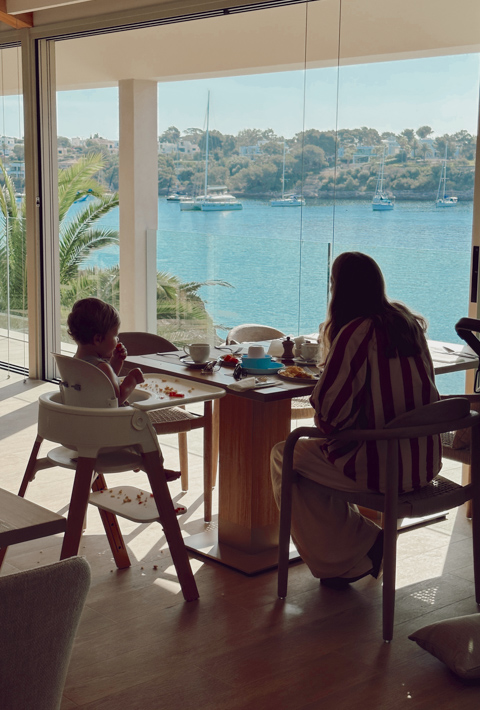 Ikos Porto Petro is an excellent destination for families with children, offering a wide range of amenities, activities, and services to ensure a memorable and enjoyable stay for both parents and kids.
I was traveling with my 11-month-old infant and was completely blown away by how accommodating the resort was for children—from dining to activities.
Here's what you can expect when visiting Ikos Porto Petro with children:
Family-Friendly Accommodations: The resort offers a variety of room and suite options suitable for families, including spacious suites with separate living areas and multiple bedrooms. Some accommodations may also feature private gardens or direct access to the pool, providing added convenience and comfort for families. The resort has high-end Stokke cribs and high chairs, infant tubs and toilet seats, and other amenities for kids that are available at no extra cost during your stay.
Kids' Clubs: Ikos Porto Petro has a well-organized and supervised Kids' Club with age-appropriate activities and entertainment for children. The club often caters to various age groups (from 4 months to 12 years+), ensuring that kids of all ages can have a fun and engaging experience. All children's activities and kids' clubs are run by qualified staff in line with UK Ofsted standards.
Children's Activities: Beyond the Kids' Club, the resort offers a wide range of activities and programs designed specifically for children. These may include arts and crafts, sports, games, and more, providing entertainment and opportunities for kids to make new friends.
Teen Activities: Older children and teenagers can enjoy a dedicated Teen Club or lounge, where they can engage in age-appropriate activities, socialize, and have their own space to relax.
Babysitting Services: If parents want some alone time, Ikos Porto Petro offers babysitting services (at an additional cost) so that they can enjoy a romantic dinner or spa treatment while their children are in safe hands.
Child-Friendly Dining: The resort's restaurants offer children's menus (and even toddler's menus) and kid-friendly dining options, ensuring that even picky eaters can enjoy delicious meals. High-end Stokke high chairs and special meal requests are available as well.
Water Sports and Pools: Ikos Porto Petro offers water sports and a variety of pools suitable for families.
Beach Access: The resort is located on the beach, and also has a beach club with an infinity pool, providing families with easy access to the sea and sandy shores for playing by the water. They even offer 30 minutes of complimentary childcare on the beach or by the pool!
Tesla Excursions: If you opt to use one of the resort Teslas for a day, car seats are available!
When planning your stay at Ikos Porto Petro with children, be sure to inquire about specific family amenities and services, as offerings may vary and be subject to seasonal changes!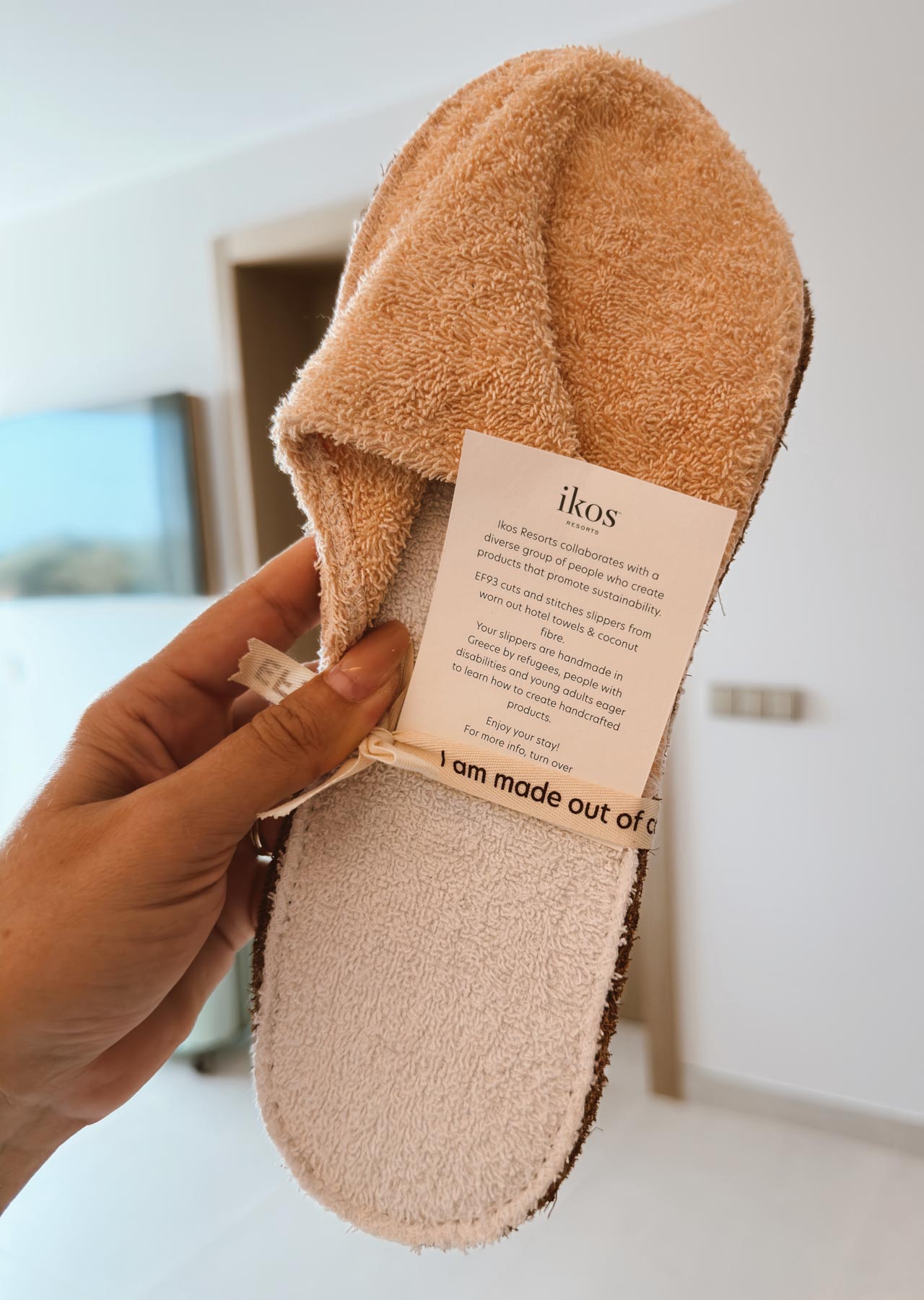 Sustainability
With so many incredible luxuries available to guests, I love that sustainability is at the forefront of their ethos. Ikos Resorts are Green Key certified, use 100% renewable energy, source products locally, and focus on offering eco-activities for guests!

In My Opinion
Overall, I would highly recommend Ikos Porto Petro in Mallorca — especially for families! After having traveled to Mallorca multiple times, I can say with confidence that this property is completely unique to the destination.
If you're looking for a fun-filled family vacation in Mallorca, this hotel has everything you need to make your stay comfortable, enjoyable, and unforgettable.


More Information
Hotel: Ikos Porto Petro
Location: Porto Petro, Mallorca
Accommodation: All-Inclusive, Luxury
Price Range: $$$


I was invited to experience the grand opening of Ikos Porto Petro in Mallorca. I was not asked to share a blog post or compensated for this review. All opinions are my own!