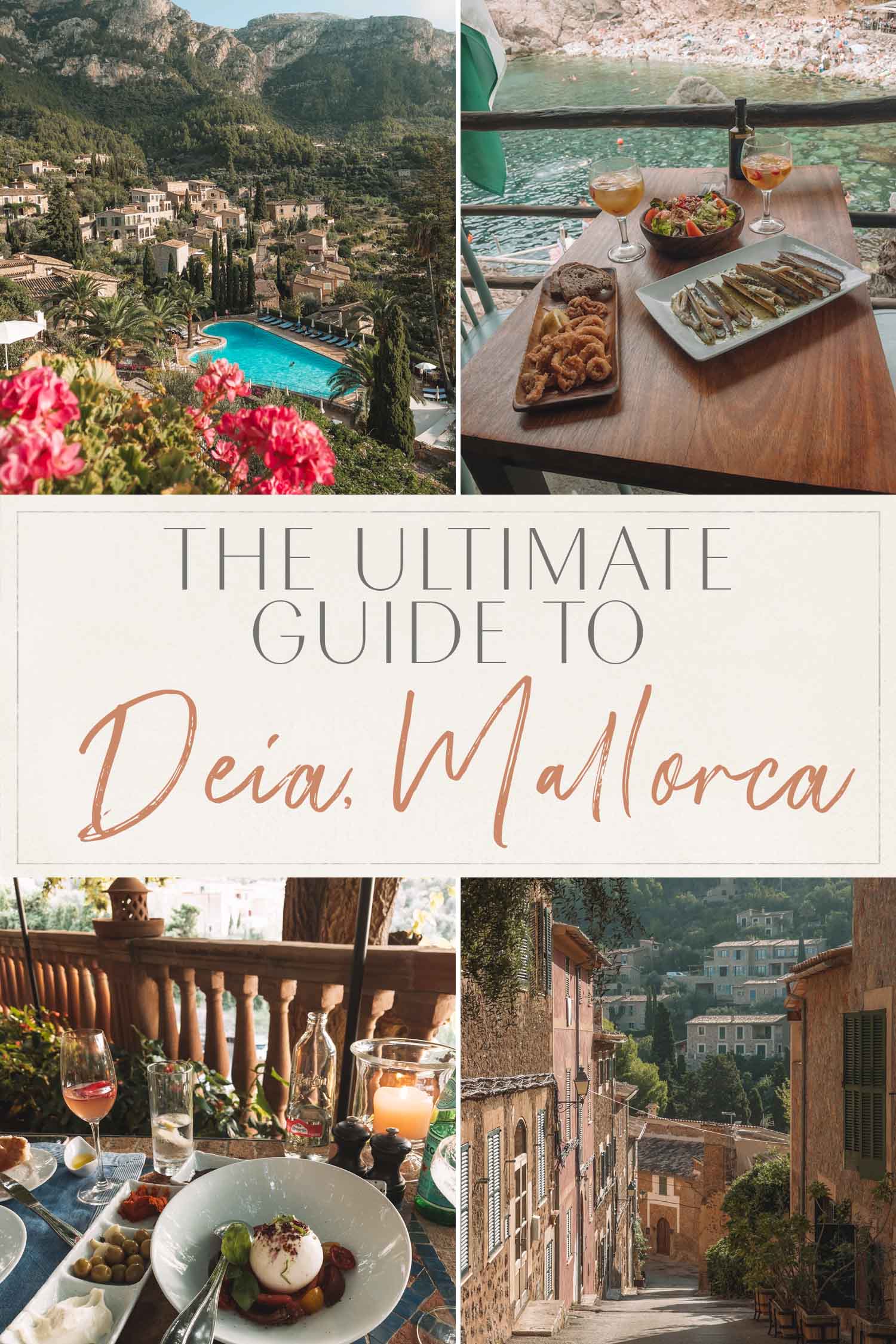 Spain was my very first international destination and it'll always be one of my favorite places on the planet. After exploring the sun-soaked beaches and urban wonderlands of mainland Spain, I was ready for a bit of island hopping.
Dotting the Mediterranean Sea about 55 miles (250 km) off the coastline of Barcelona, the Balearic Islands are one of Spain's most-loved destinations — with Mallorca being a serious highlight.
Known for its beaches, winding hiking paths, and Roman historical sites, Mallorca is a dream!
Whether it's a girls' trip, a romantic honeymoon, or a family vacation, you don't want to miss one of the most charming villages on the island: Deià.
Located on the northwest edge of the island, Deià is at the heart of the UNESCO World Heritage Site of Cultural Landscape of the Serra de Tramuntana. Away from the tourist traps and packed hotel zones, it's a true treasure.
This coastal village has fewer than 1,000 residents and has held onto much of the traditional Spanish and Moorish architecture and traditions that make this place so special.
While there has been a boost in tourism, Deià, and its literary and musical residents will give you a glimpse into what life was like on the islands before the travel boom.
From where to stay to what to do, here's your ultimate guide to exploring the charming town of Deià in Mallorca!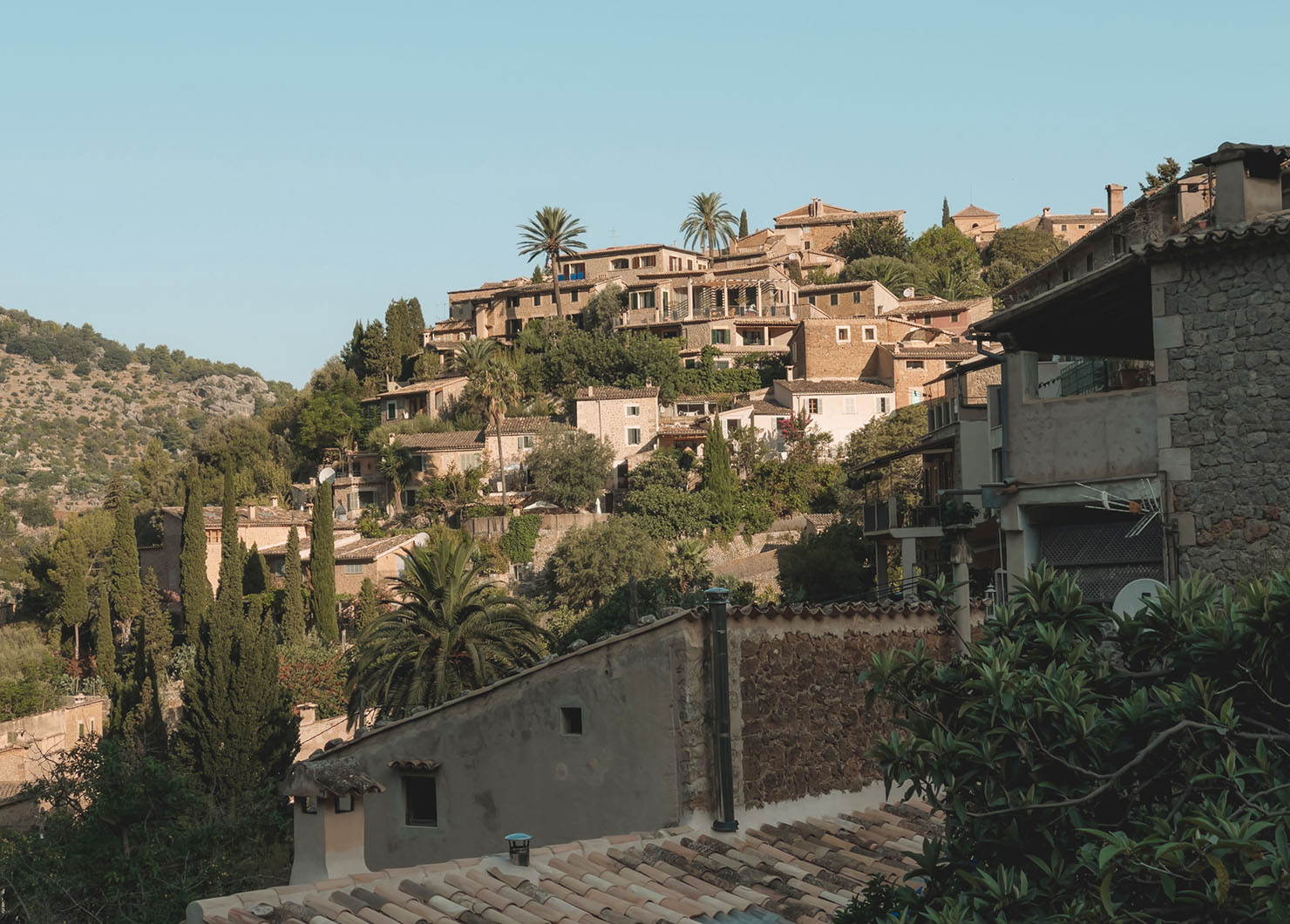 Getting There
Deià is located just ten kilometers (six miles) north of Valldemossa, which is about 45 minutes to an hour north of the capital city of Palma.
Palma is the largest city of the Balearic Islands and is the transport hub of the region.
You'll find a wide range of flights to Palma from Madrid and Barcelona every day of the week. It's a popular destination for the Spanish and international crowds alike, and you can sometimes find tickets as low as 20 euros.
Planning Tip:
Not sure where to start with planning your adventure around Mallorca? There's no way one way to do it, but after visiting twice, I put together my recommended itinerary for Mallorca!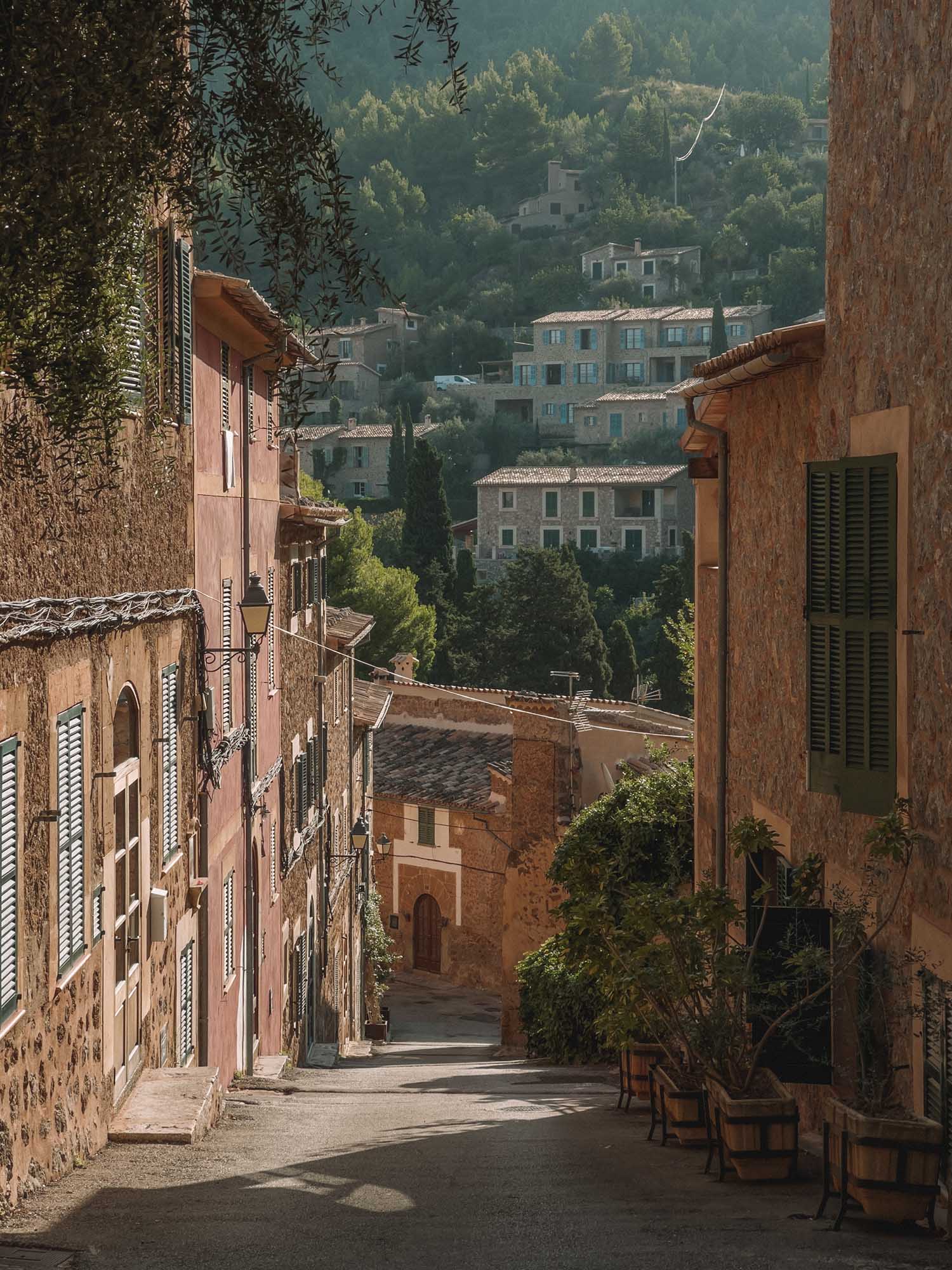 Getting Around
I'd highly recommend renting a car to get around Mallorca — and the smaller, the better! Parking is much easier with a compact car, especially when you are exploring Palma and the beach towns.
Keep in mind that the majority of European cars, and virtually all of the smaller models, are manual transmissions. If you are looking for an automatic car, you'll want to book as early as possible and expect to pay more.
Even as someone who has a ton of experience driving a manual transmission car, driving to Deià for the very first time was…enlightening.
The seaside is less hilly but Deià is exceptionally steep. While you can park at the bottom and schlep up the hill, it's a trek. At the same time, navigating these hills is not for the faint of heart or inexperienced manual car drivers.
Be prepared and honestly decide if this is something you can handle.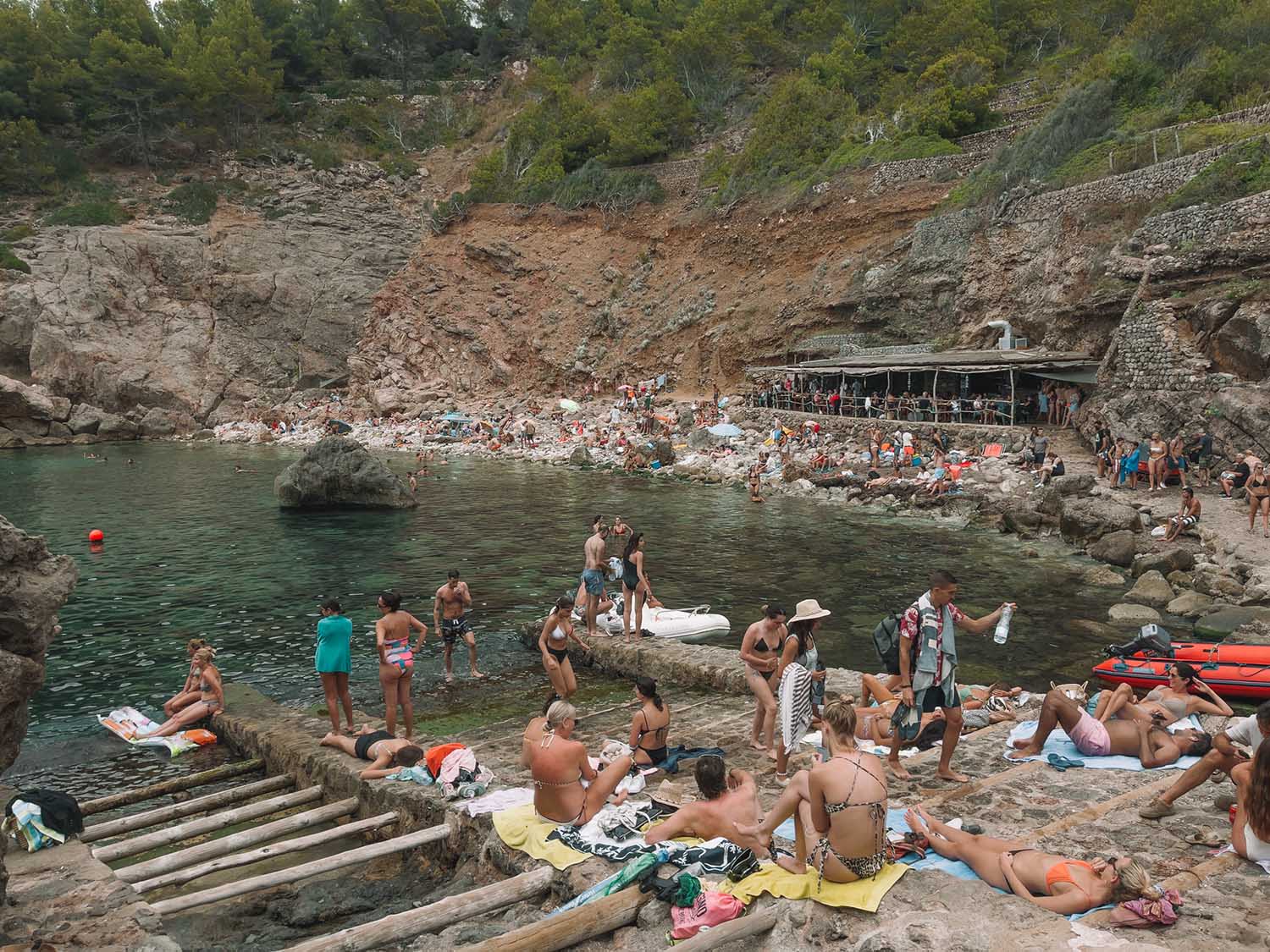 The Best Time to Go
Mallorca is gorgeous all year round…but a maybe bit less so during peak season. I visited in August 2021 and again in June 2023. There was a serious difference in crowds and, in August (peak season) we paid a premium for everything.
Everything was scarce and fully booked. Even renting a car was a challenge.
We paid a pretty penny for a tiny little Fiat with a manual transmission. Luckily, I do know how to drive a manual car, but it could have been a dealbreaker for others.
Driving is fundamental here so you'll want to secure your car before you even look at hotels.
And, most importantly: do as I say, not as I do! As much as I loved the island, I would never return during August and would definitely advise that you avoid it.
During the summer months, you're forever fighting for space amongst throngs of tourists. Meanwhile, all of the locals have fled the islands for their own vacations, and that authentic local appeal is missing without them.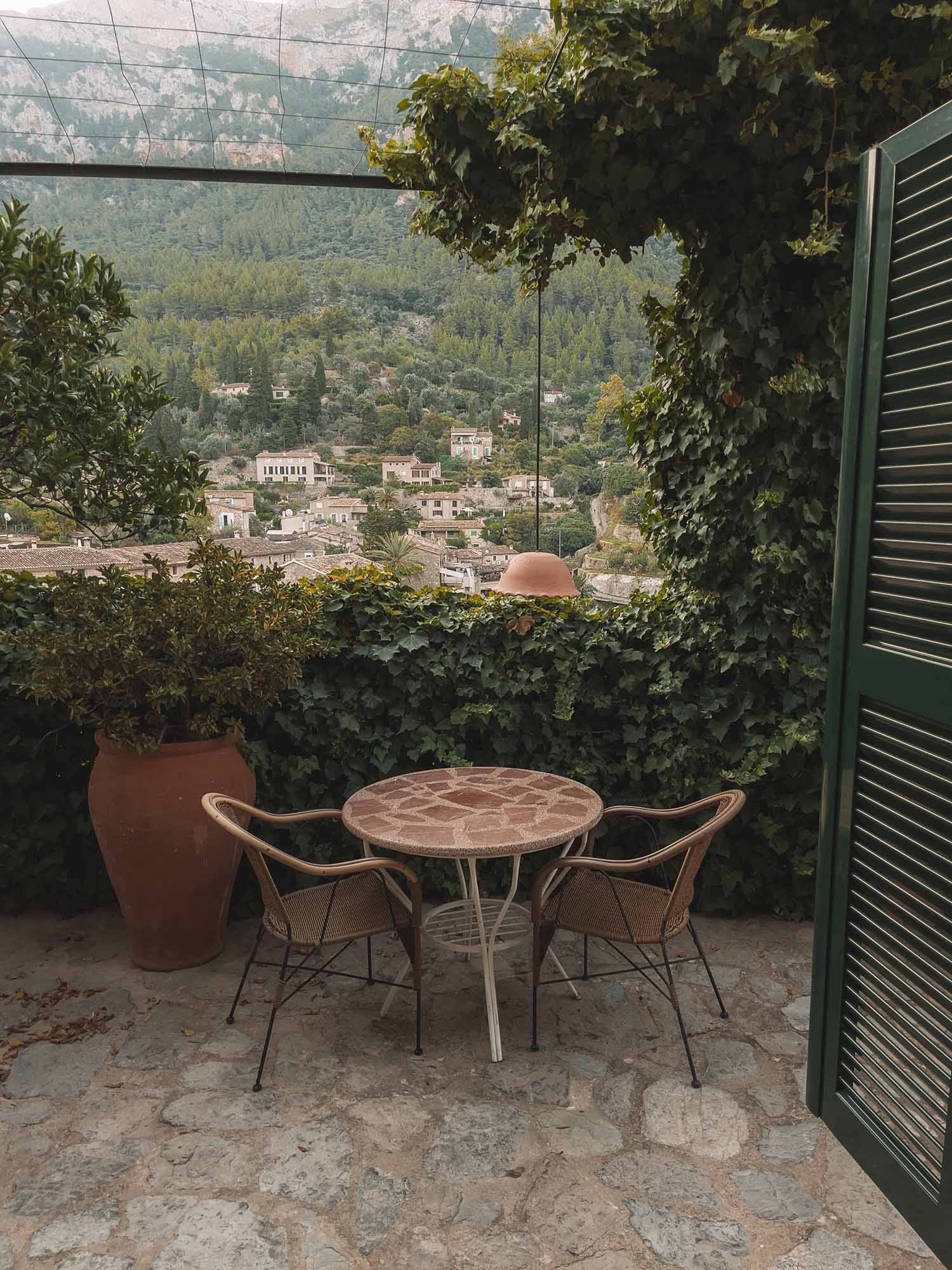 Hostal Villa Verde
Where to Stay in Deia
Deià is a small seaside village, so keep in mind that there are no huge international hotel strips. There are a couple of good options but they sell out quickly during the peak season.
Budget
We stayed at Hostal Villa Verde and paid far more than you'd expect to, and it was one of the last rooms they had available. While it was a simple accommodation with no air conditioning — the view was worth it!
On another trip, we stayed nearby at Hotel d'es Puig. We rented the apartment because we were traveling with my infant, but I actually wish we'd booked the hotel room at the same rate. I didn't think about stairs, but the apartments are on the 4th floor, while the hotel has an elevator.
That said, both spots have stunning views across the mountains.
Luxury
If you're looking to treat yourself, there's no place like Belmond La Residencia. This five-star spot offers an unforgettable level of luxury.
Perched in the Tramuntana Mountains beside the Mediterranean Sea, you can wander amongst the fragrant citrus trees and endless olive groves as you take in the 750+ works from local artists. More than just a posh stay, this historic property is a cultural experience.
The Belmond La Residencia books well in advance. Fortunately, we were able to nab a reservation at one of their restaurants: Café Miró. Even if you aren't a guest of the hotel, and can't get a dinner reservation, you can usually go early to grab a drink at the bar!
And, wow! Just look at the views from here.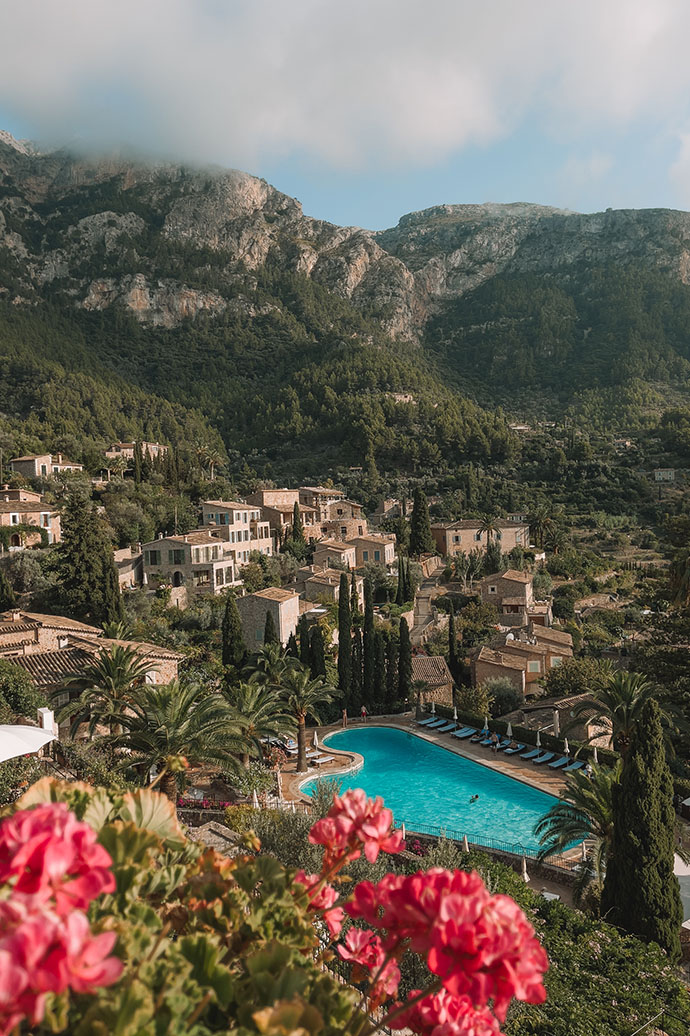 They've got a family pool, adult pool, luxe spa, and all of the bells and whistles you'd expect from a five-star property. Everything about this property is truly special.
The Belmond is a destination in and of itself for those looking to live like a royal for a few days.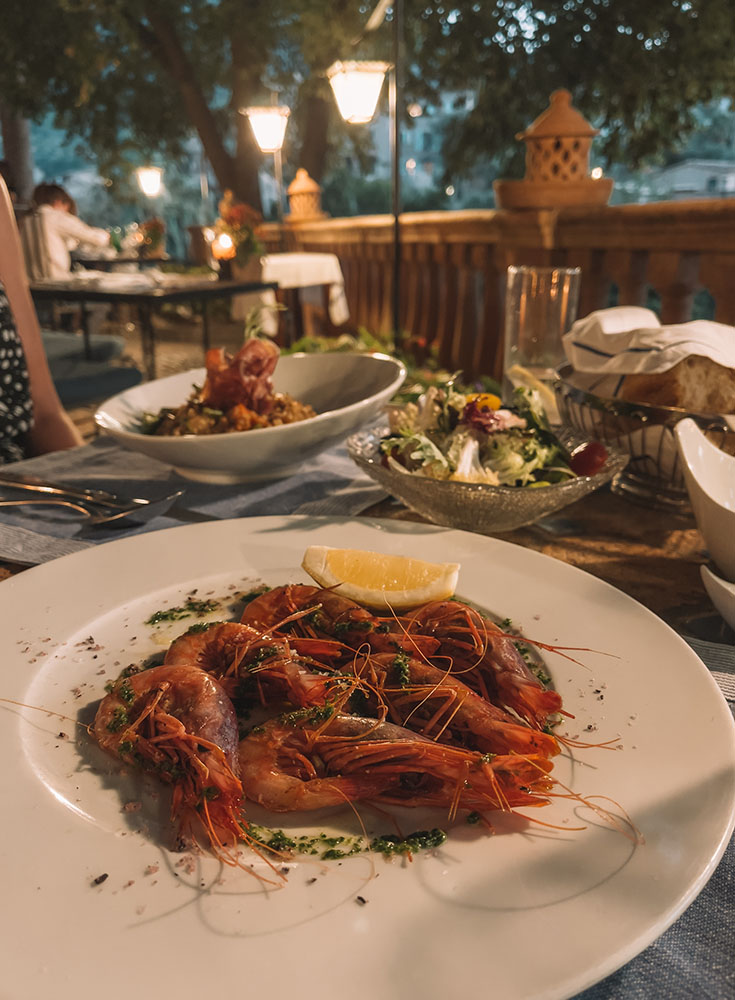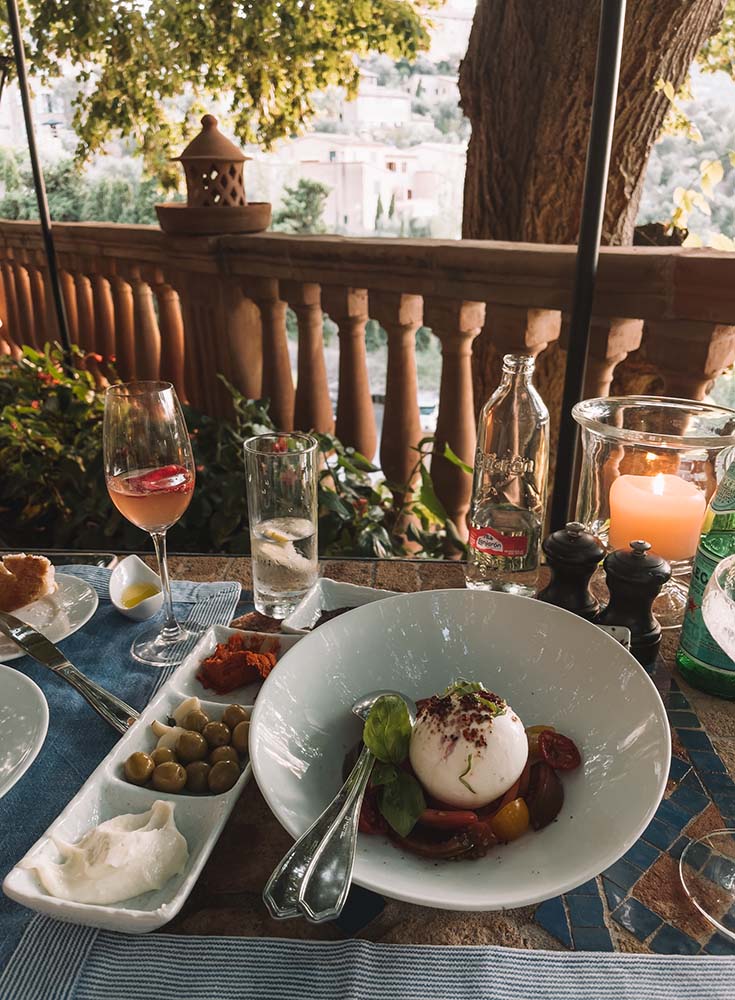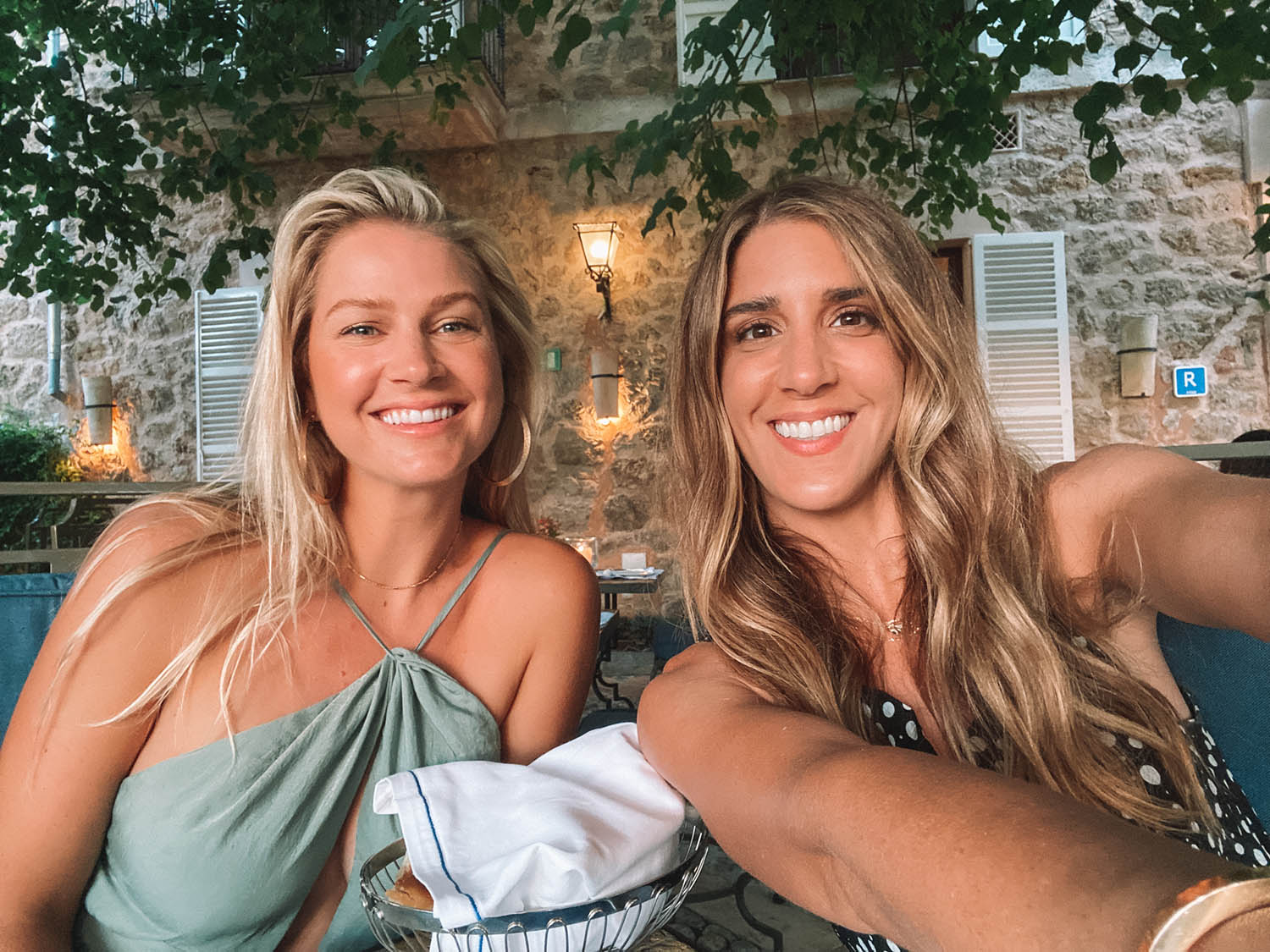 Café Miró
Where to Eat in Deia
Dinner at El Olivo at Belmond Residencia
Depending on the time of year you're visiting, you may or may not be able to get a reservation here. In the high season, it's hotel guests only. But it's definitely a bucket list dining experience regardless of the destination.
Though this swanky hotel was fully booked during our stay, they do allow non-guests to make a reservation at their cocktail bar or their seasonal El Olivo fine dining restaurant with insane views. It's all very much subject to availability here though. You will need to book up to SIX MONTHS IN ADVANCE to cross this gilded threshold.
Cocktails at Café Miró
If you can't get into El Olivo, you still might be able to get a table at Café Miró. The gorgeous cafe offers fresh local dishes in an ultra-instagrammable spot. If you go in the late afternoon, you can usually get a table for cocktails which is still a fab experience.
Helpful Tip:
Plan at least one evening at Café Miró or El Olivo. If you can swing it, make your reservation for 30 minutes or so before sunset. This will give you the opportunity to take pics during the golden hour and as the sun starts to set.
Breakfast at Sa Font Fresca
Things don't start gearing up in this sleepy village after 9 a.m. If you're a morning bird, you won't exactly be spoiled for choice but we found this little gem.
They have orange juice fresh from Sóller oranges, a local Mallorcan variety, and ensaimada, a type of light and flakey Balearic pastry cooked in lard (and that's tastier than it sounds!).
We ordered scrambled eggs with toast and were excited to see they had almond and oat milk for their cafe con leche. If you're looking for a full meal and a fab view, this is the place to start your day.
Lunch & Late Night Live Music at Sa Fonda
This bar is a great spot with a large outdoor dining terrace. The last time we were here, they were serving up tacos! In the summer months, you'll find live music and a fun crowd here in the evenings.
Dinner at Nama
Book in advance! You would easily pass this restaurant by on the streets, but the views from the dining terrace are incredible. We tried a ton of items from the menu and everything was absolutely delicious. They were also very accommodating to gluten and dairy restrictions.
"Our kitchen offers a unique combination of flavours drawn from the markets of South East Asia. Whether you're craving our mouth watering plate of Pad Thai, or you're looking to expand your dining experience with our delectable Crisp Vegan Vietnamese Rolls, you're sure to find a dish (if not a few) to satisfy your appetite." -Nama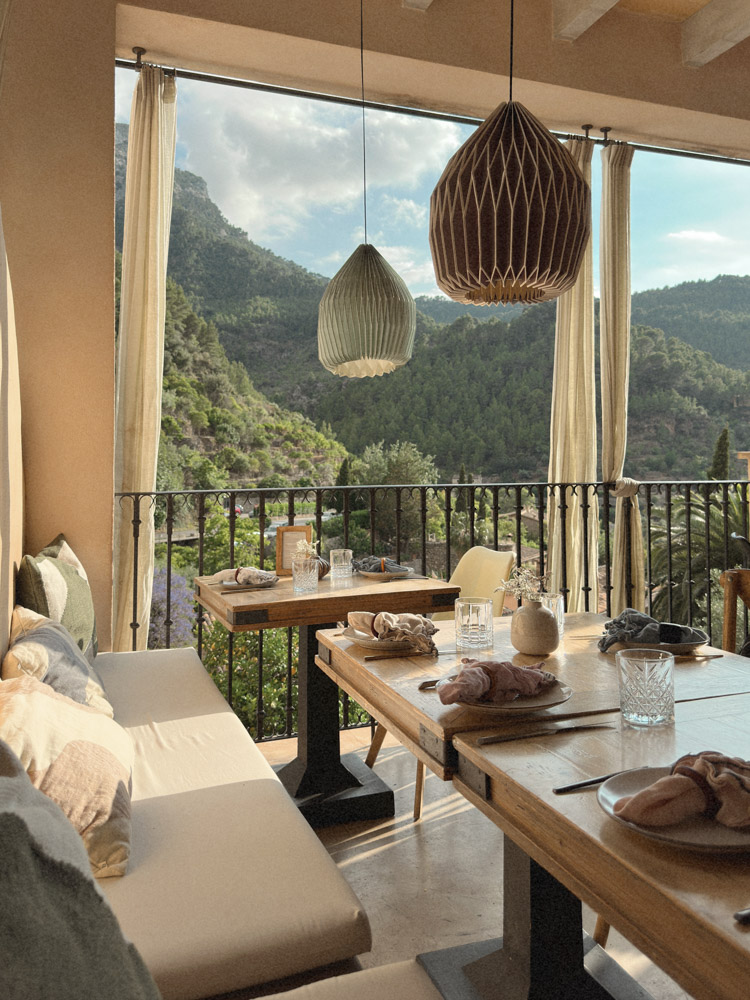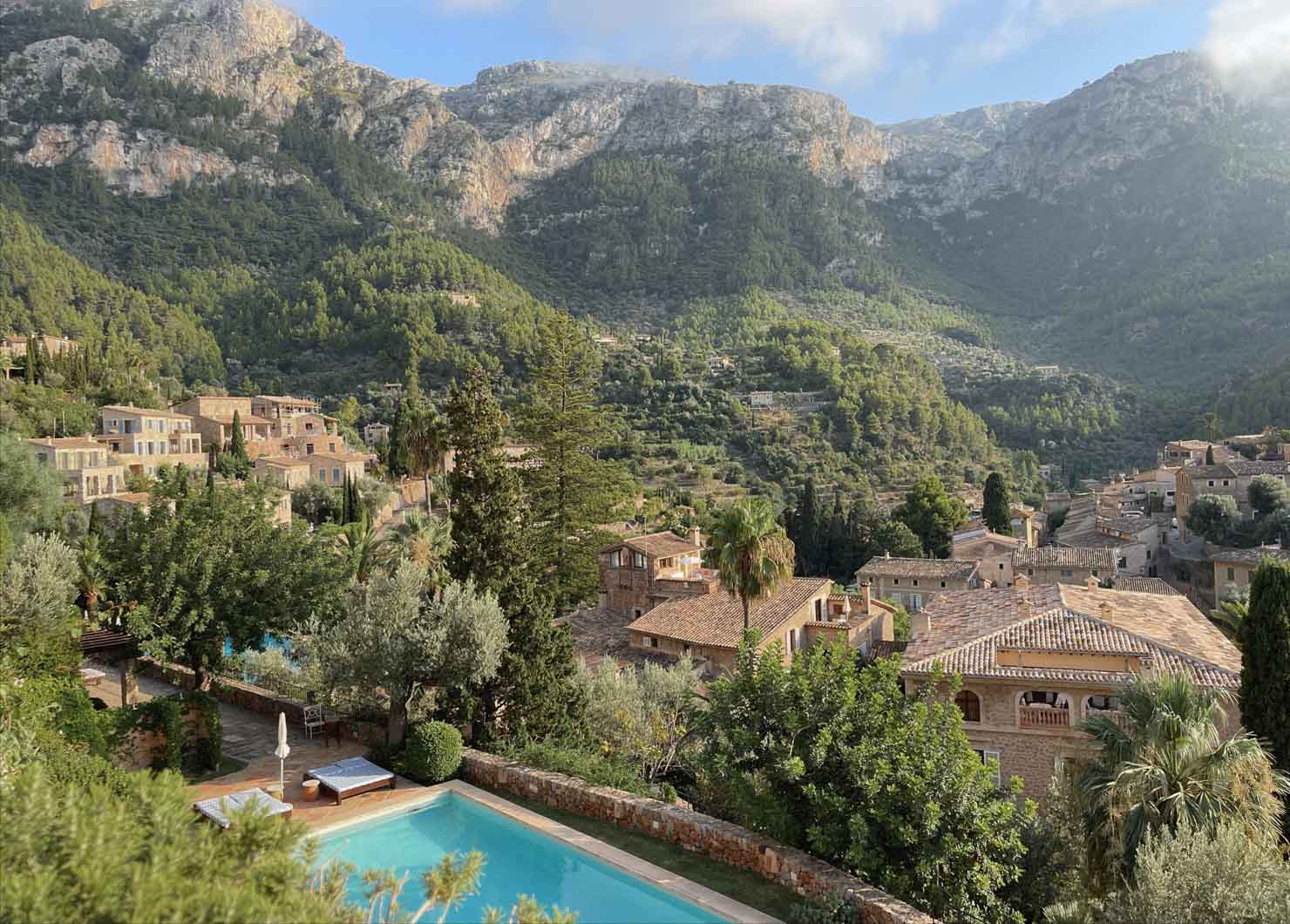 Top Things to Do in Deia
Visit the Beach at Cala Deià
Sounded by the Tramuntana Mountains, this rocky cove beach is a little slice of paradise. Come prepared though! There is only one entrance point during the summer. It's a steep and winding road that isn't wide enough for two cars.
That means that if you're going during a busy time, you might not be able to get into the parking lot.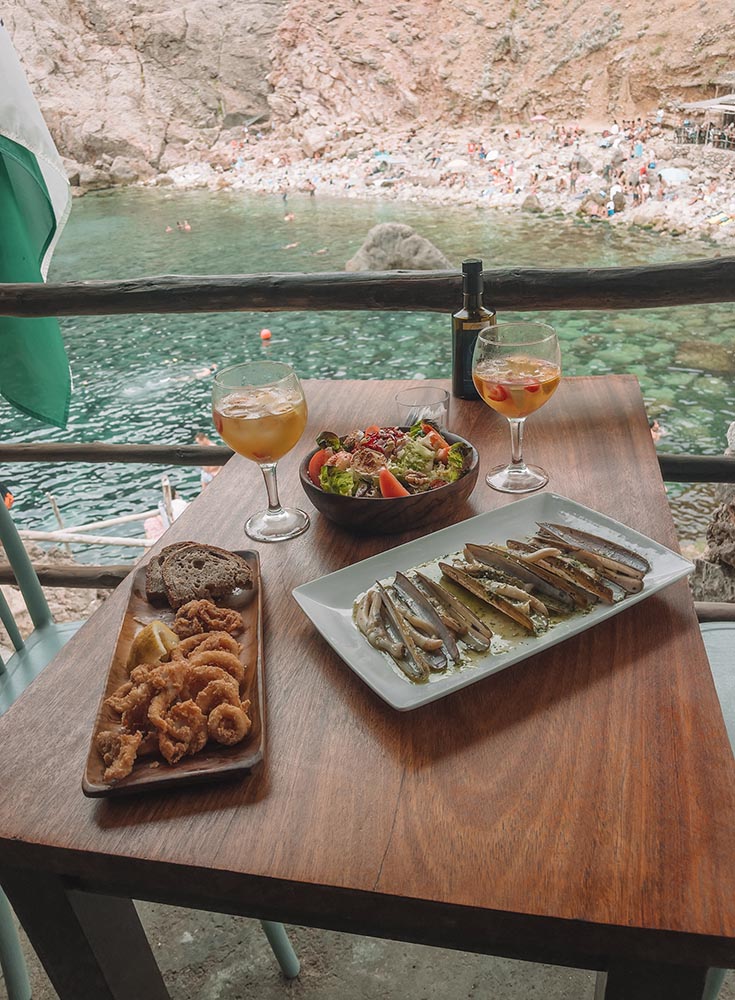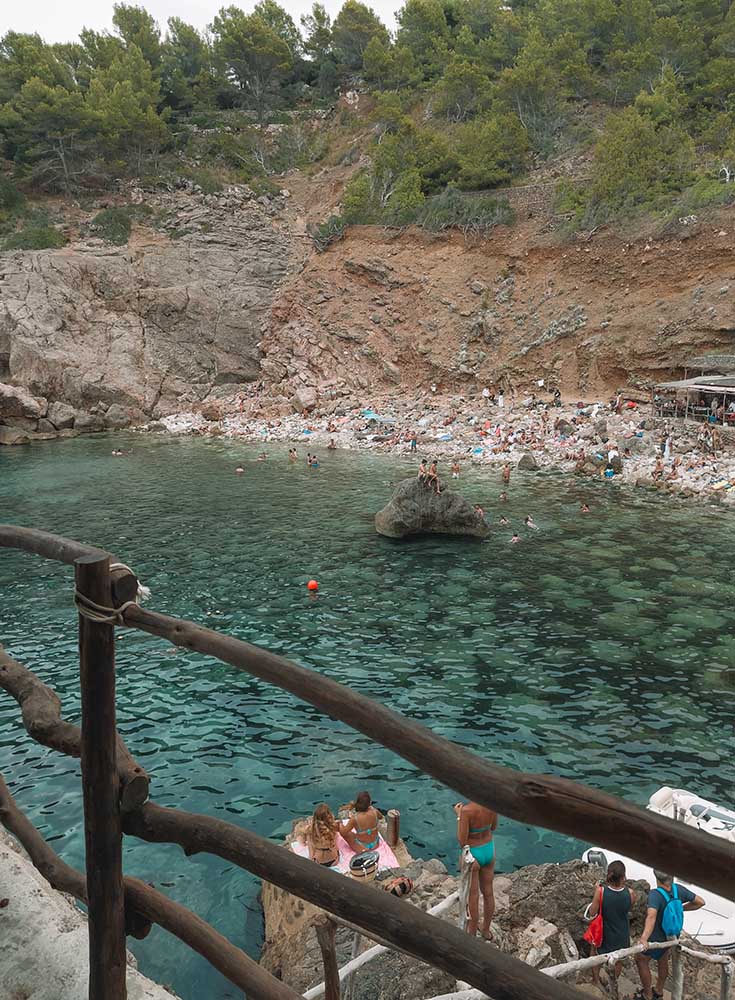 Have Lunch at Ca's Patró March
One of the best restaurants in Mallorca, this is another one of those places that you'll want to reserve before you even hit the ground. In the heart of the best beaches around and activities galore, this is a perfect lunch pick.
Once you arrive, make a beeline for the wooden railing to snap some pics from the sea.
When you're ready to dig in, check out the massive lobster with fried onion. It was just the two of us and a bit more than we were hungry for, but it's worth trying if you're traveling in a group.
Planning Tip:
The picture-perfect area beside the restaurant is a major part of the appeal of Ca's Patró March. If you have a booking, you might be able to talk the security guard into letting you through to the seaside.

If you go around without crossing through the restaurant, it's about 30 minutes down and an hour back, but you'll be down there in minutes if you cross the restaurant.
Cycling
You'll find locals and tourists alike getting around on two wheels. Whether it is a relaxed cycle along the beach or an intense adventure through the mountains, bikes are a quick and easy way to get around here.
Hiking
Trekking to the top of the cliffs of the Serra de Tramuntana or into the depth of the canyons of Barranc de Biniaraix is a perfect way to enjoy the endless Spanish sunshine.
Beaches
There are more than 200 beaches around Mallorca. In Deià, it's all about the tucked-away shores of Cala Deià.
Roam the Town
The charm of Deià is that it's a small seaside village. While it's adorable, it is small so you can get around to all of the hotspots pretty quickly. During the day, check out one of the local eateries for lunch then come back in the evening.
Sa Fonda is a local spot for live music and folks like Andrew Lloyd-Webber and Kate Moss have perched on the stools here.
Check out live music from Pa Amb Oli, a much-loved local band here.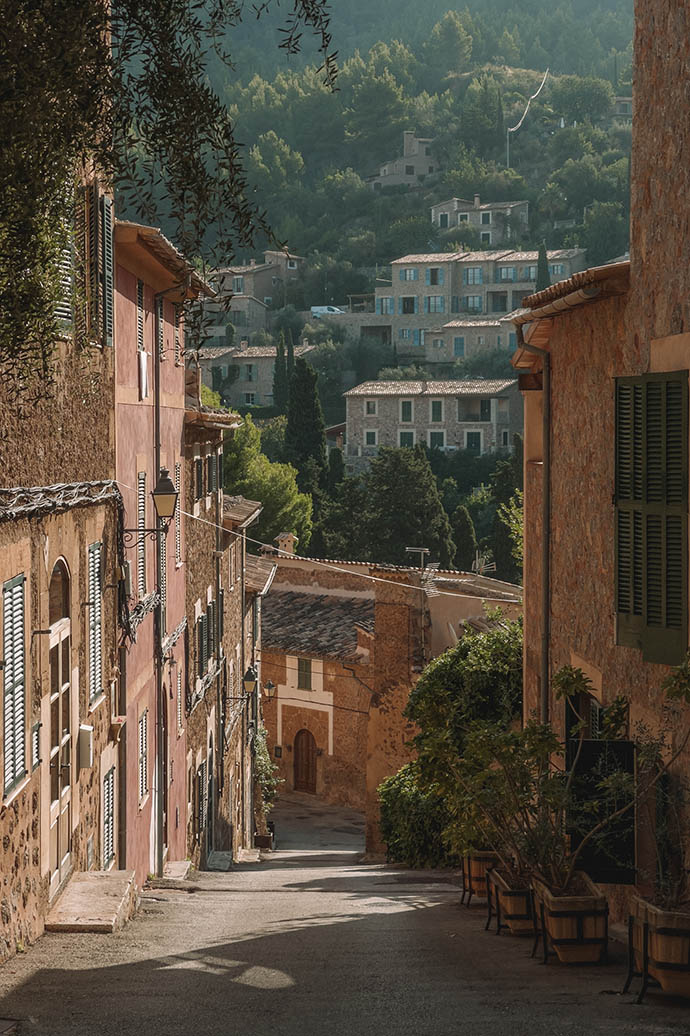 Continue on your journey through Mallorca and explore Valldemossa — about a 30-minute drive from Deià.
Need help planning your adventure in Mallorca? Check out my Itinerary for Mallorca!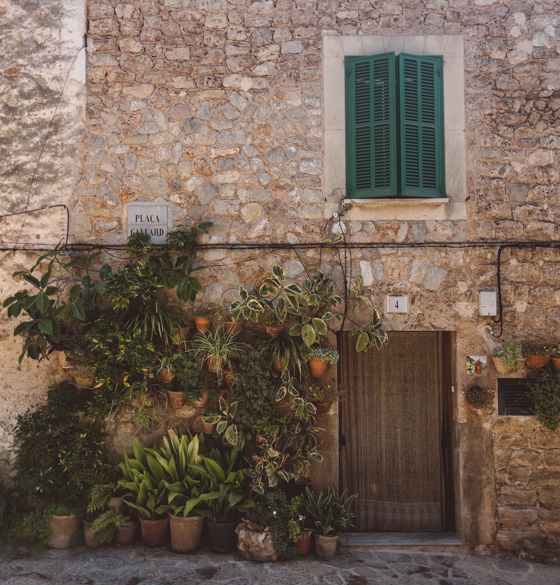 From the parties of Palma to the Roman and Moorish remains, here's your ultimate itinerary for the Spanish paradise of Mallorca!
Read More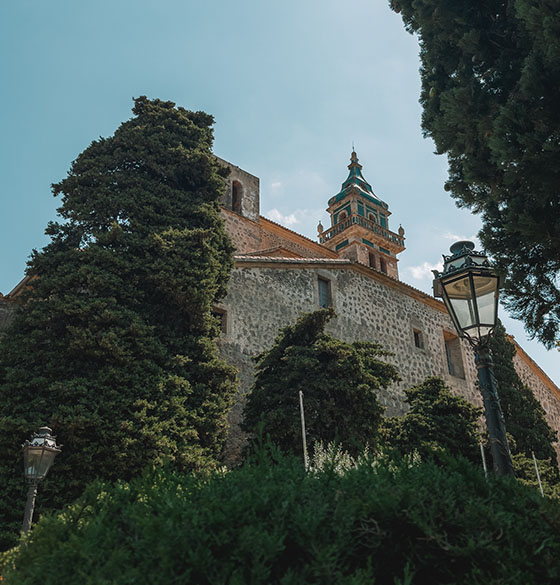 Just about a 30-minute drive from Deià, Valldemossa makes for the perfect day trip!
Read More