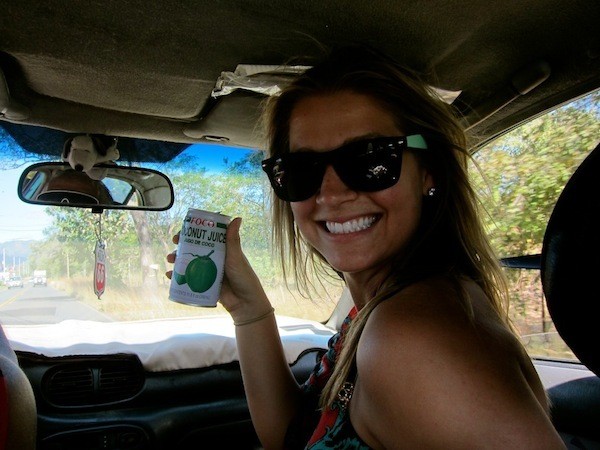 After ringing in the New Year in Playa Avellanas, our Costa Rica surf safari led us south to Playa Nosara. Avellanas is near the popular beach of Tamarindo so we caught a ride there to haggle a taxi and hopefully not break the bank. Christmas and New Years are busy times for tourism in CR so prices go way up! Most cabs weren't willing to budge from the $100 ride but we were able to talk a driver down to a more affordable fare.
The ride to Nosara was beautiful, but not without a few car problems. Costa Rica roads are famous for their not-so-great conditions and our cab was a simple four door car. We ended up getting stuck in a river crossing and my friend Lindsay and I had to get out of the cab and PUSH the car out while the driver floored it!
Be sure to always have a 4×4 vehicle if you're renting a car and planning on driving from beach to beach.
Once we arrived to the main area of Nosara, I immediately fell in love. The little town is a yoga and surf paradise!
There are yoga retreats, organic restaurants and little surf shops all around town.
We hadn't decided on our final destination within Nosara but, after asking a couple of locals, we figured that Solo Bueno Hostel was where we would go!
Solo Bueno is an awesome little surf hostel just a short walk from the beach. They have a full kitchen so you can cook your own food and the second story is a big dorm room where all the guests bunk up. The majority of our time was spent between the hostel and the beach and I wouldn't have changed a thing.
While I was only in Nosara for a few nights, it was my favorite little treasure of Costa Rica. Getting up before the sun to surf and catching a set at sunset… nothing beats it! I also saw one of the most beautiful sunsets I've ever seen. The sky literally looked like it was set ablaze with pink, purple and orange.
We got REALLY lucky and even got to see G. Love perform, who happened to be there at the time, at a private concert. Our last night in Nosara couldn't have been more perfect!
My advice is to rent a board from a local shop for no more than $10 a day and slow everything down. Personally, I always have a hard time doing "nothing." I literally get anxiety if I don't have a full day of things to do while I travel. In Costa Rica, you'll slowly fall into the lifestyle and leave your worries behind you.
Nosara really is Solo Bueno (only good) and get's a five star review from yours truly! It's a must see along the Nicoya Peninsula!