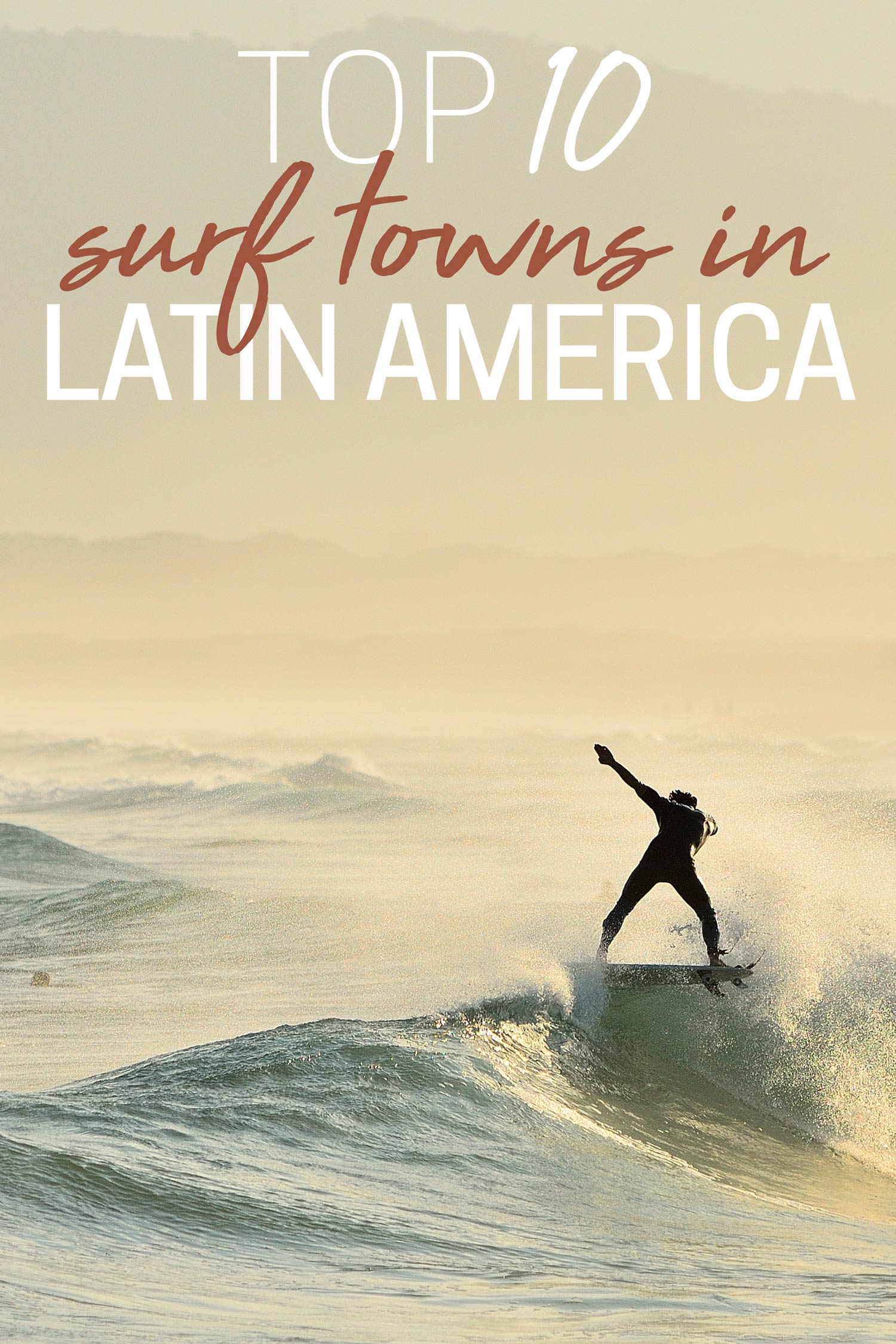 This post was written by expert vagabond, Ana, from The Art of Epic Living!
Mexico, Central America and South America are blessed with sunny skies, stunning coastlines and in certain locations- the ideal ocean currents for catching the perfect barrel! World renowned surf towns speckle both the Atlantic and Pacific coasts of countries in Latin America.
Although I am personally not a surfer, I have explored and lived in many surf towns throughout Latin America. I have always been attracted to the chilled out lifestyle, beautiful scenery and positive energy that characterize these locations, and I have realized that you don't necessarily need to be a surfer in order to enjoy all that surf towns have to offer.
Whether you are newcomer to the world of surfing, advanced with your skills on the board or prefer to remain on the sand as a spectator, this list will provide you with some of my top picks for surf towns in Latin America!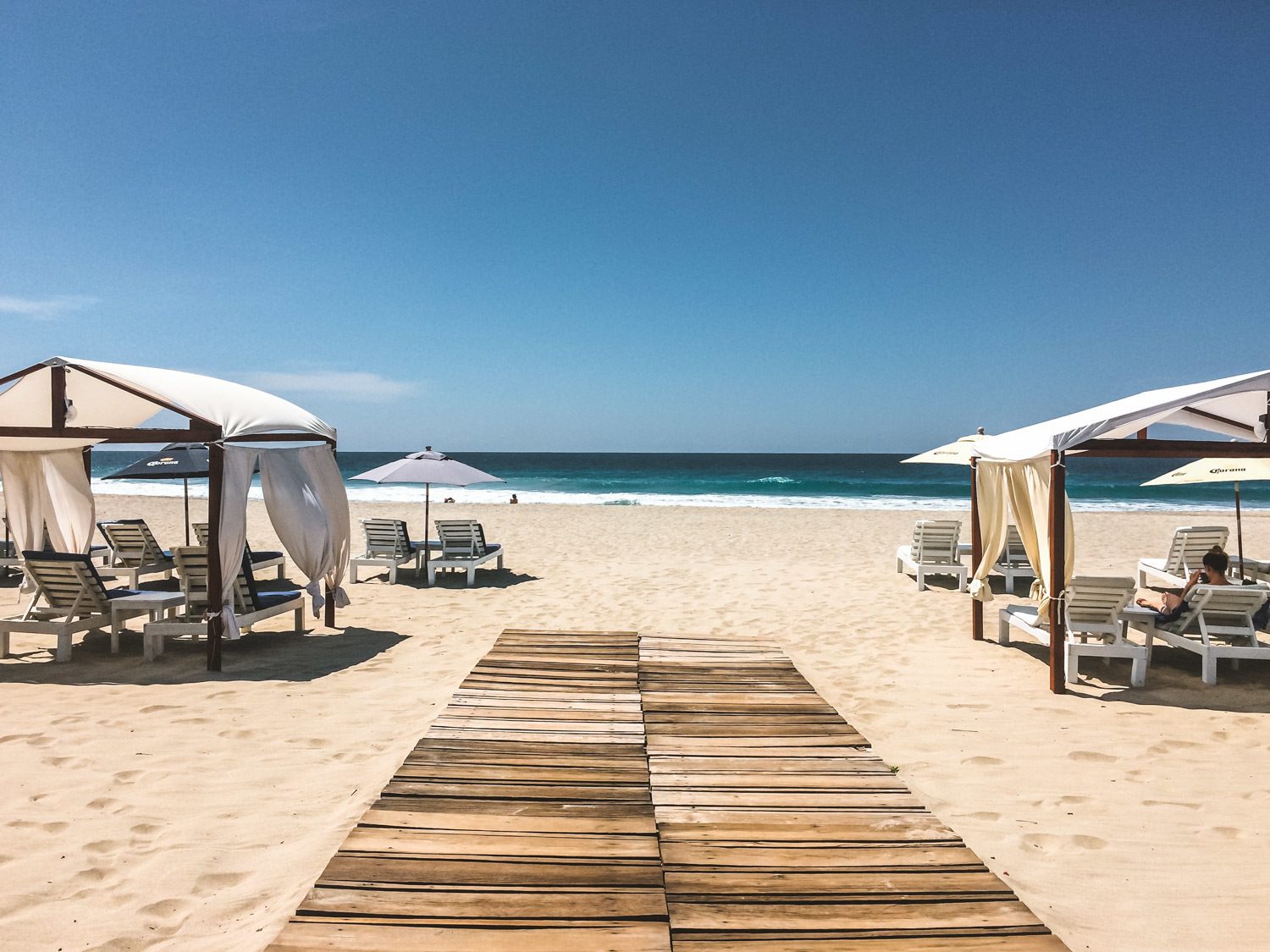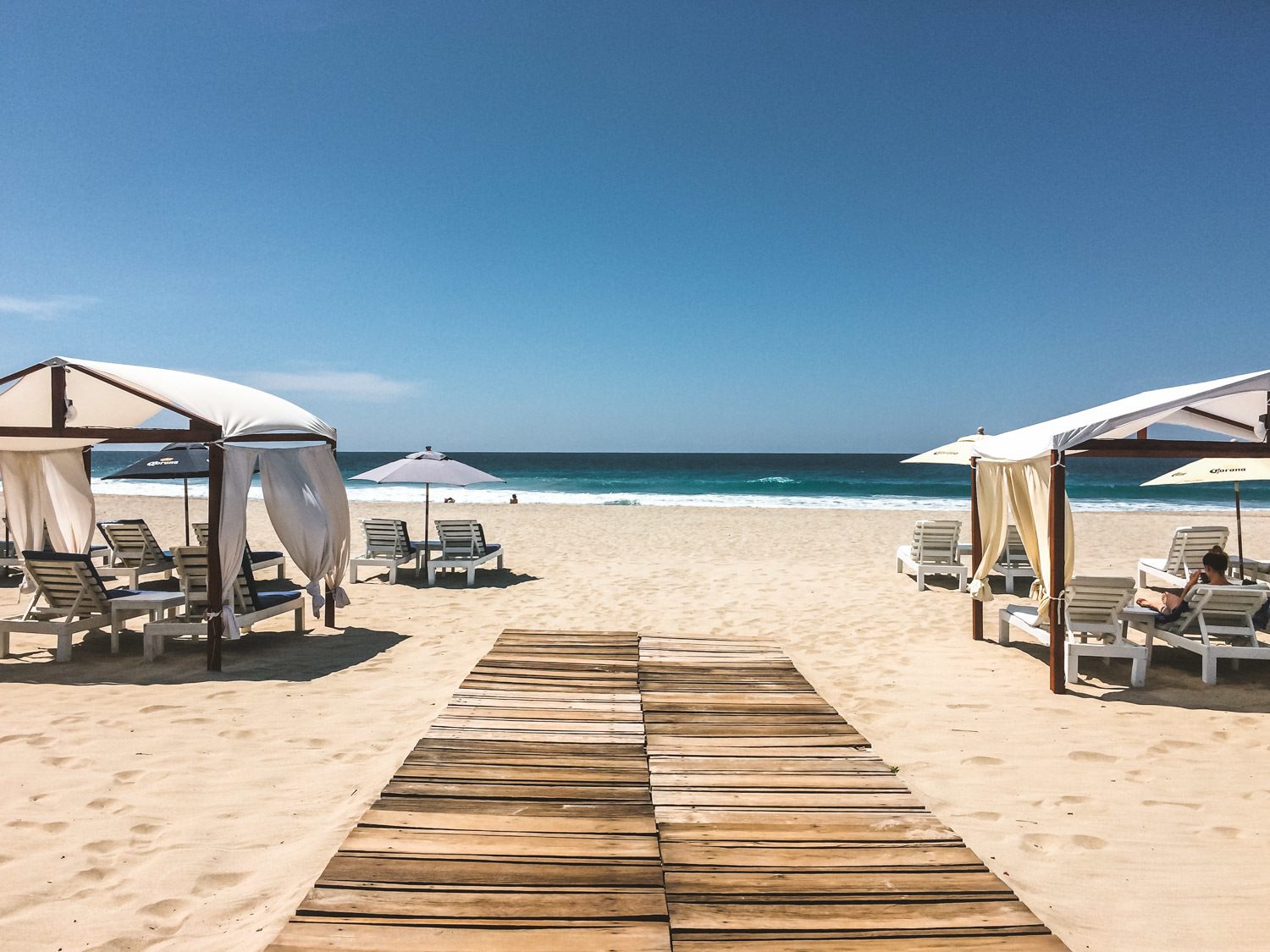 Puerto Escondido
Puerto Escondido is located on the Pacific Coast of Mexico, in the southern state of Oaxaca. The coast of Oaxaca is known as the "Mexican Pipeline" and for good reason, as it boasts the best waves in the country!
Beginners, pros and everyone in between flock to Puerto Escondido and other nearby towns to enjoy the surf! Puerto Escondido is a town comprised of many beaches, each with their own unique character.
Zicatela is a long stretch of beach running parallel to the main strip of the downtown. It's dotted with palm trees, restaurants, beach bars, lounge chairs, and tiki shaded-hammocks!
There are a variety of delicious food options and shops along the main street, as well as a pretty good nightlife scene- if that is your thing!
La punta, which is at the very end of Zicatela, offers the ultimate beach bum experience, with sand roads and a much more relaxed environment. Carrizalillo Beach is the most scenic in all of Puerto Escondido, and is a protected cove which is perfect for beginners to learn surfing!
I have lived in Puerto Escondido and the surrounding area on and off over the past few years, and I must admit that it might just be my favorite place on the planet!
Explore all Mexico Articles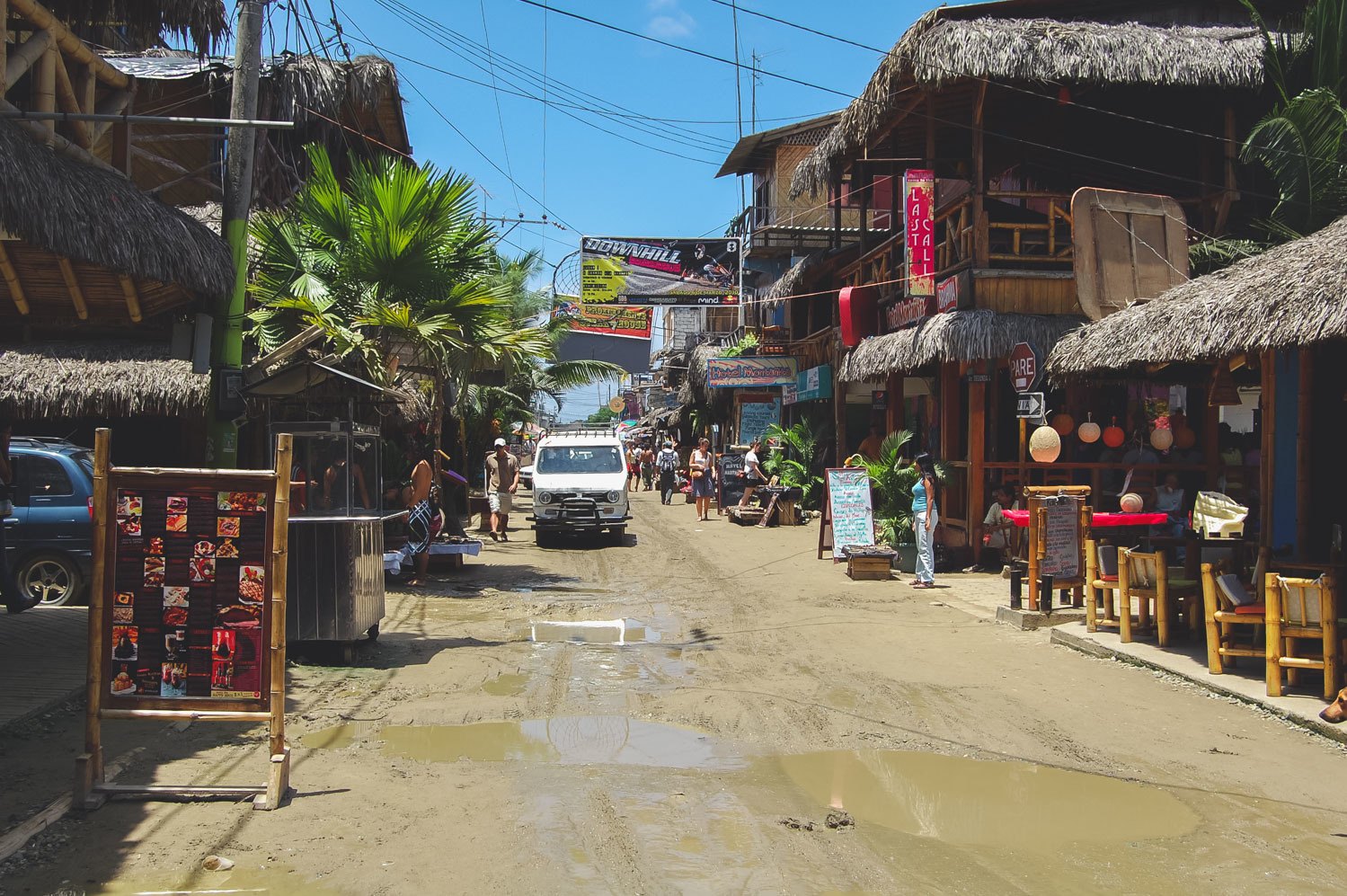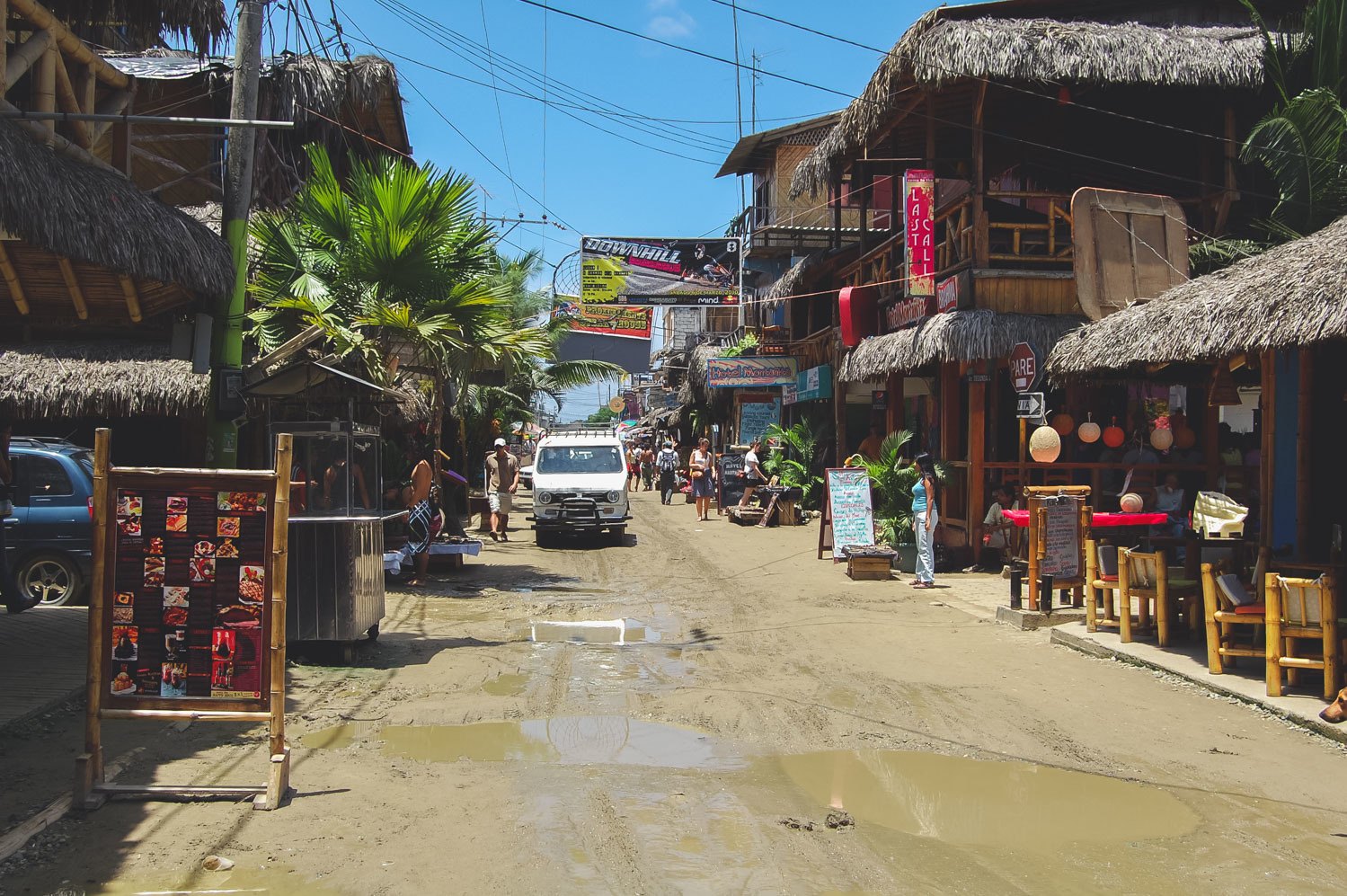 Montañita in Ecuador
Montañita is another location which is an absolute surfers paradise! It is located on the south coast of Ecuador, and is known for its strong and consistent waves!  
Montañita started out as a small fishing community stumbled upon by some hippies back in the '60s. Fast-forward to the present day, and this once-upon-a-time sleepy village is now a vibrant town which not only attracts surfers, but also backpackers, hippies, thrill-seekers & beachcombers.
In addition to amazing waves,Montañita is known for its variety of adventure related-activities, lively streets and nightlife shenanigans. You will find fresh ceviche stands, tiki bars and surf shops around every corner while exploring through the main town.
Montañita can be as low-key or as wild as you'd like, based on which section of town you stay in, so there is something for everyone!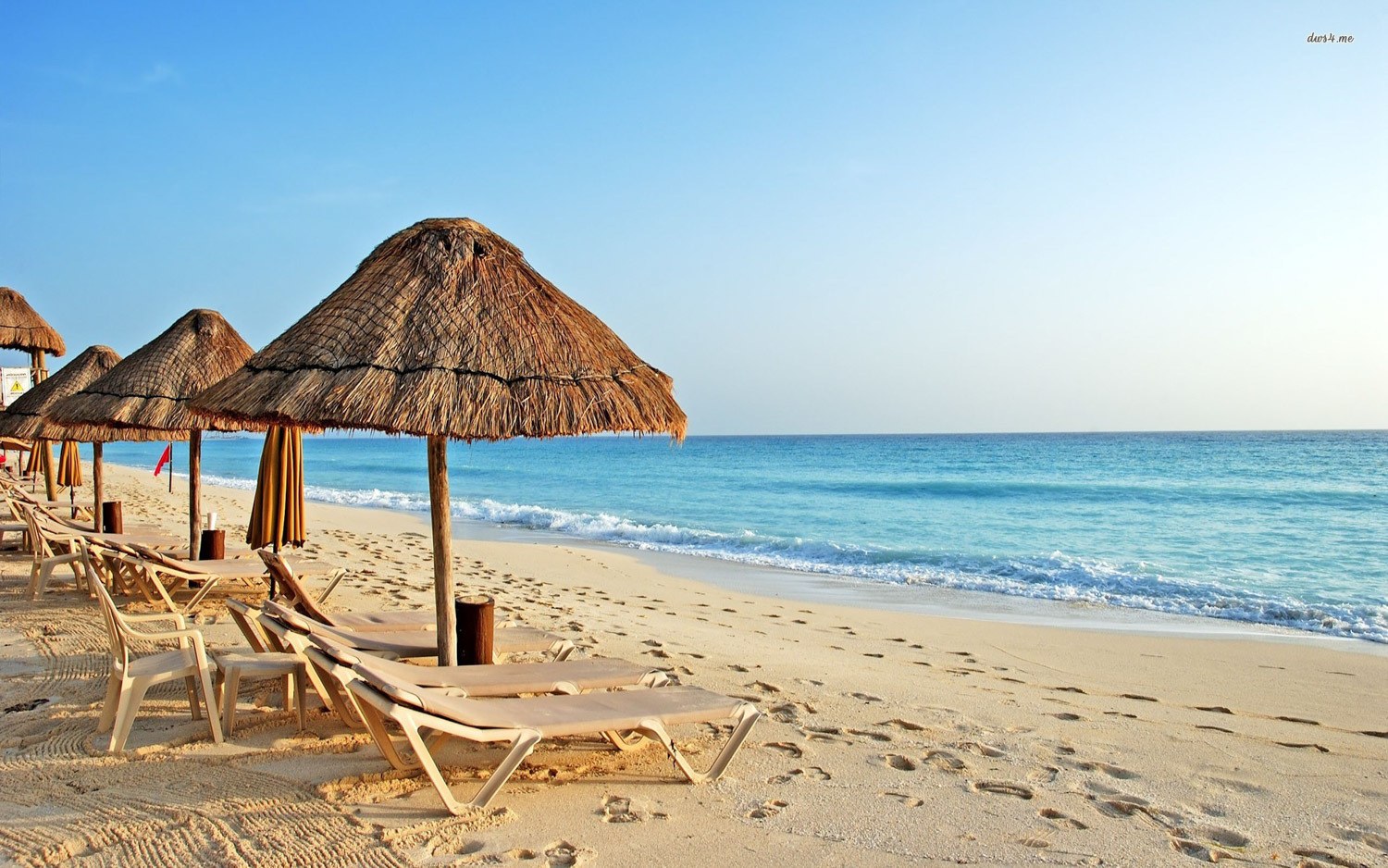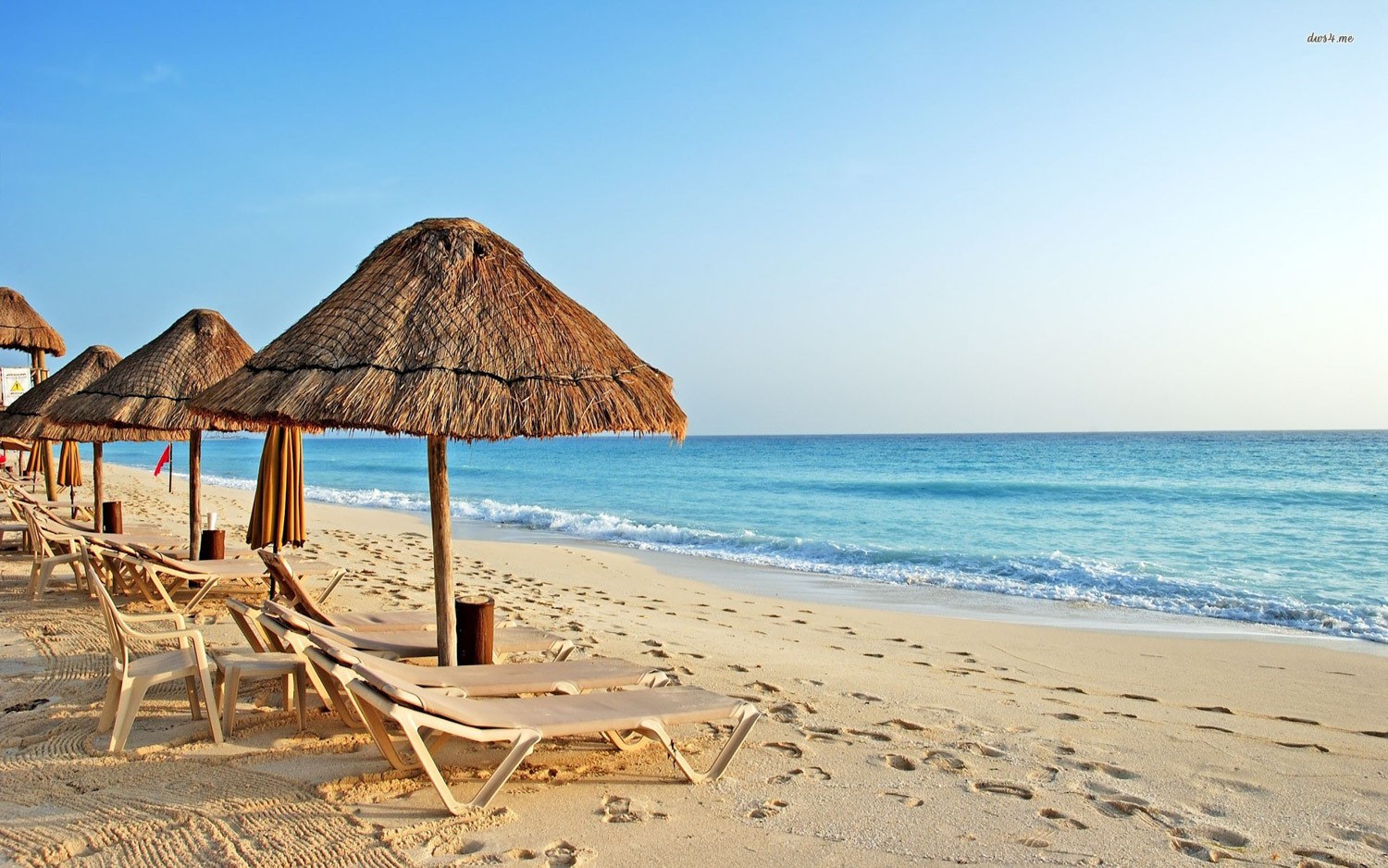 Mancora in Peru
If you head south of Montanitas, just past the Peruvian border to the north of the country, you will find yourself in the surf-gem of Mancora! Mancora is well-known for its sunny skies, long stretches of sand, warm waters and year-round surf.
Mancora is built right along the beach, and although small, offers a range of budget hotels, hostels, beach bars, street vendors and dining options! There is plenty to do in Mancora, but my favorite activity is actually not doing much of anything.
Sitting on a beach blanket, sipping on an ice cold coconut and watching the sun set over crashing waves is probably my favorite type of "activity".  I also recommend renting a scooter and making your way down the coast to the other surf towns such as Lobitos, Chicama, Huanchaco and Cabo Blanco.
Be aware that Mancora takes its nightlife seriously, so if you prefer a quieter time, I recommend that you stay a bit outside of town!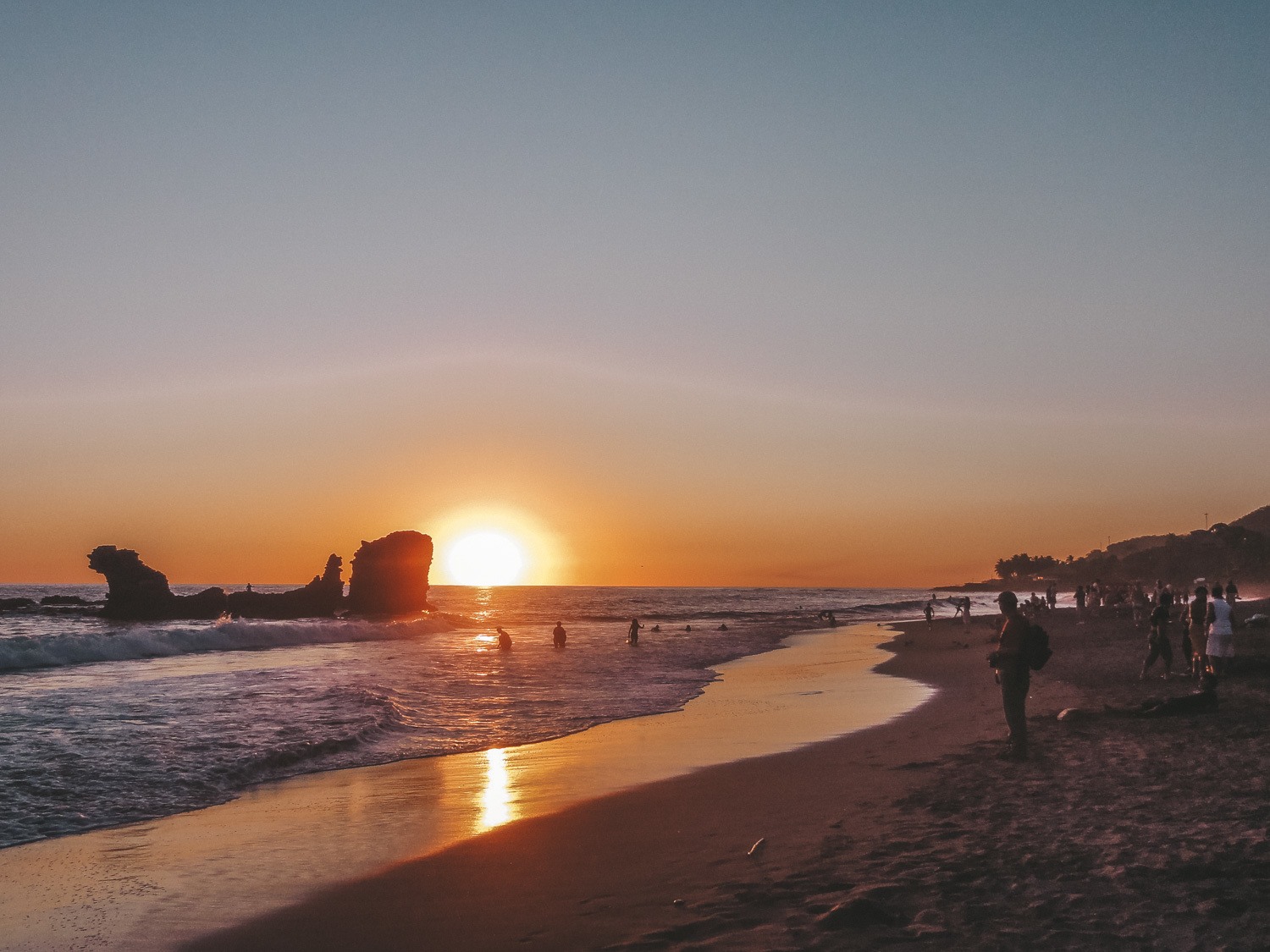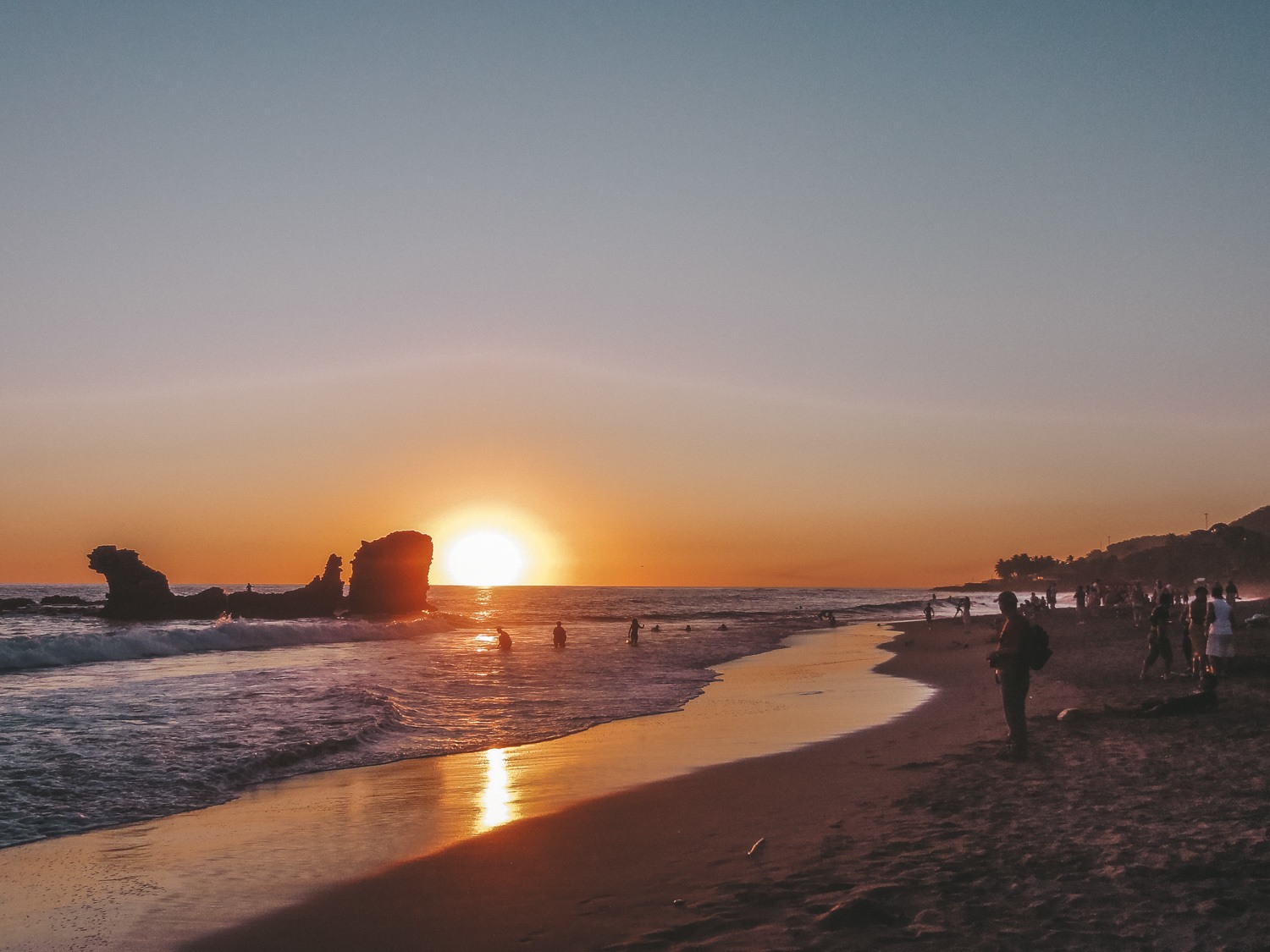 El Tunco in El Salvador
El Tunco is one of my favorite surf towns of all time! El Tunco is located in the tiny and often overlooked country of El Salvador.
Although El Tunco is a two street town, it has everything you need to enjoy an awesome surf beach getaway. Amazing vibes, fresh fruit stands, beach bars, live music, gorgeous sunsets, board rentals…the list goes on.  
In addition to enjoying the surf, feel free to explore the nearby beach caves, veg out by a pool, or enjoy one of the many sunset cocktail happy hours. El Tunco is all about taking it slow, and living easy.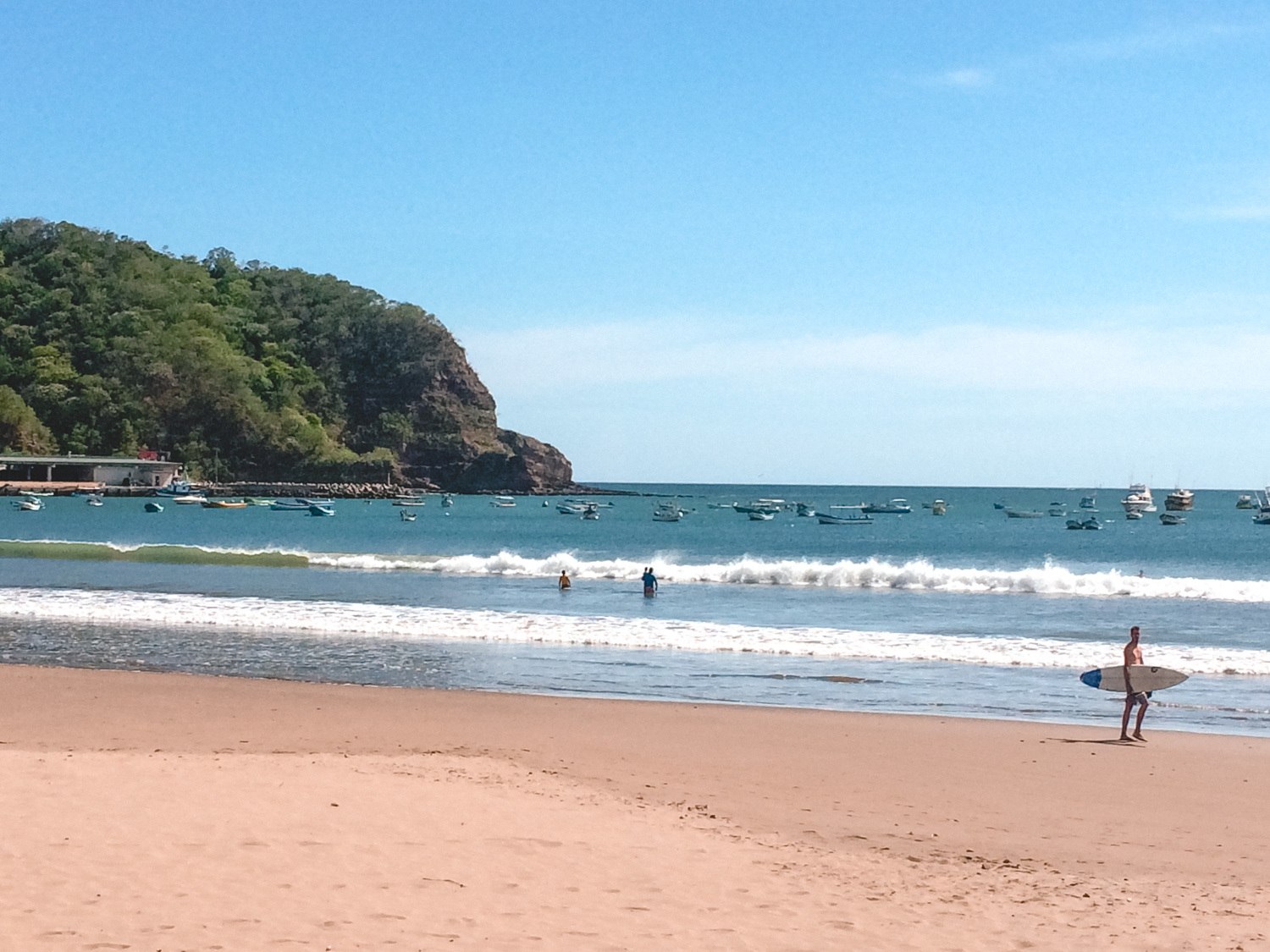 San Juan del Sur in Nicaragua
San Juan del Sur is probably the most popular vacation destination in Nicaragua. Although the surf in SJDS town isn't so impressive, a quick collectivo ride will get you to the beautiful Maderas Beach, about a half hour outside of town.
Things to do at Maderas Beach include surfing, drinking an ice cold beer, and staring at the endless crashing waves while lounging in a colorful hammock!
San Juan del Sur isn't nearly as relaxing as Maderas Beach. The lively streets are lined with a variety of bars, restaurants and clubs, and this town is known for its nightlife!
Sunday Fun Day is the main party of the week, which includes a massive pool party and bar crawl of sorts. I have added San Juan del Sur to this list because there is something for everyone in this town whether you are looking to mingle with other backpackers, relax at the nearby beaches or indulge in the wilder side of things.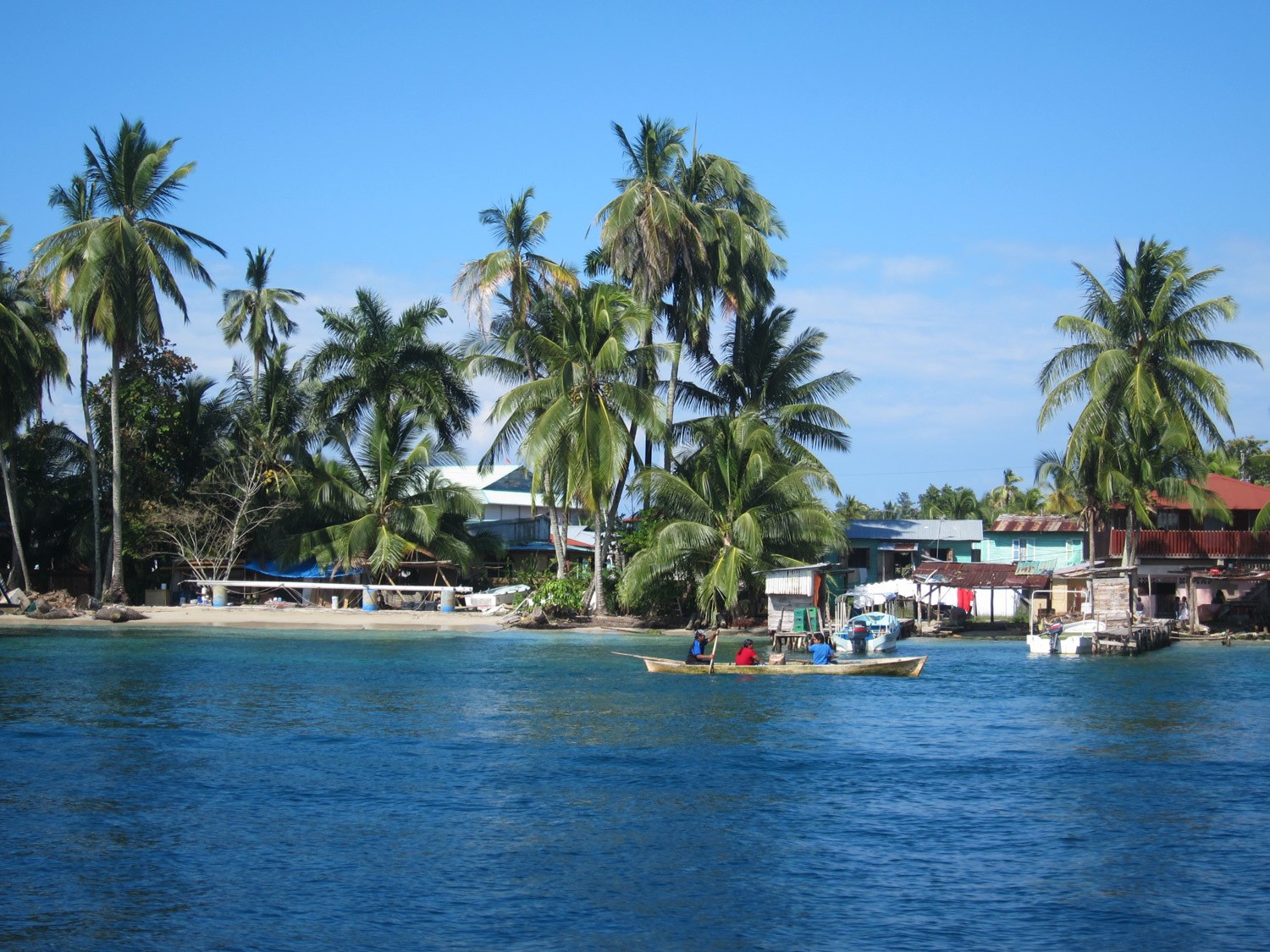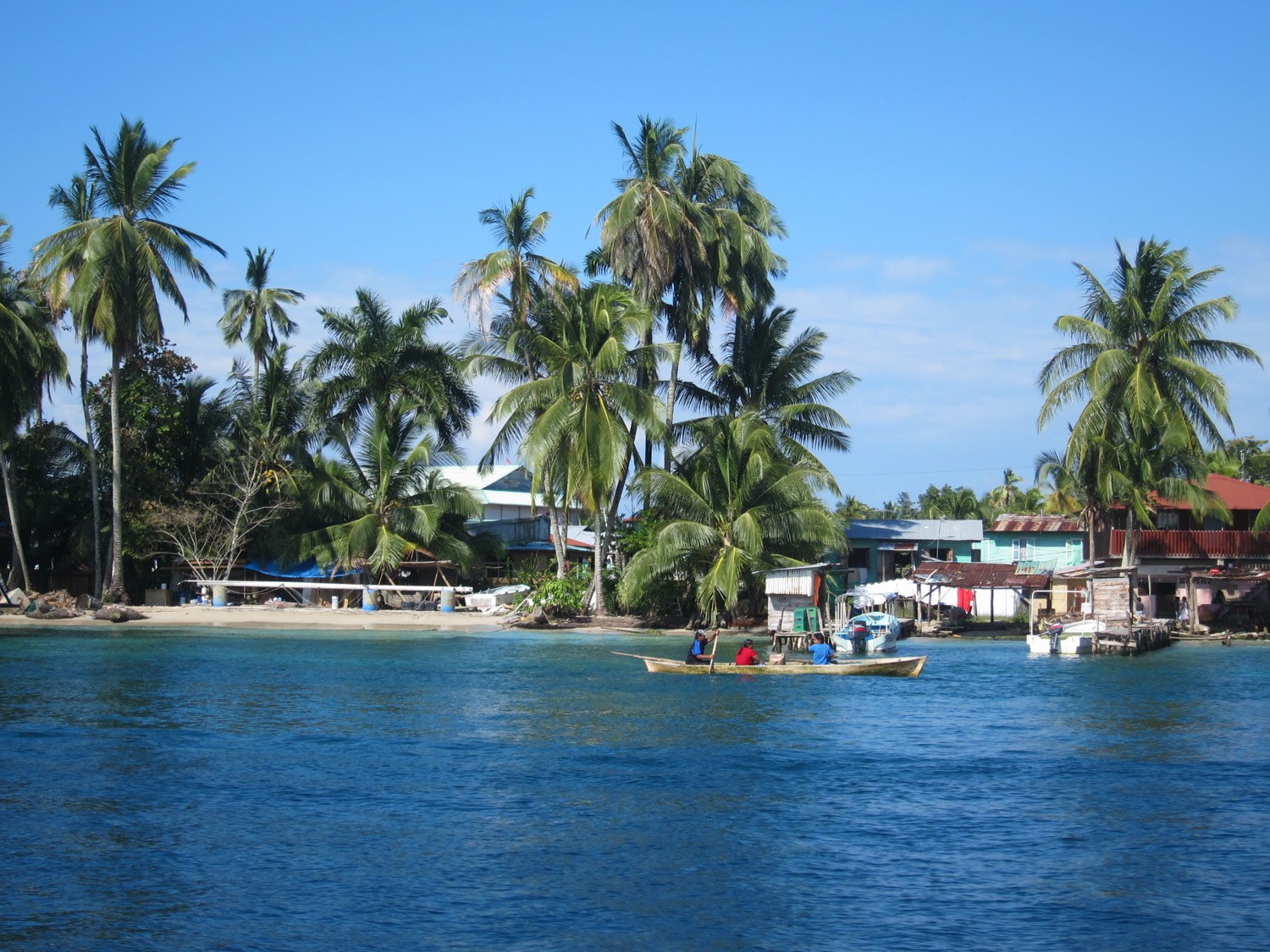 Bocas del Toro in Panama
Bocas del Toro is a tropical archipelago on the Caribbean side of Panama. It is well known for its friendly atmosphere, colorful streets, island vibes and natural beauty.  
Bocas offers a variety of watersports and other activities including surfing, diving, sailing and trekking. If you are specifically interested in the surf, then November to April would be the time for you to visit.
Bocas del Toro attracts world-class waves during this time on various beaches in the area.
Since Bocas is an archipelago, many surf breaks can only be accessed via boat or water taxi. It is recommended that you hire a surf guide or arrange a surf excursion with locals who know the area best.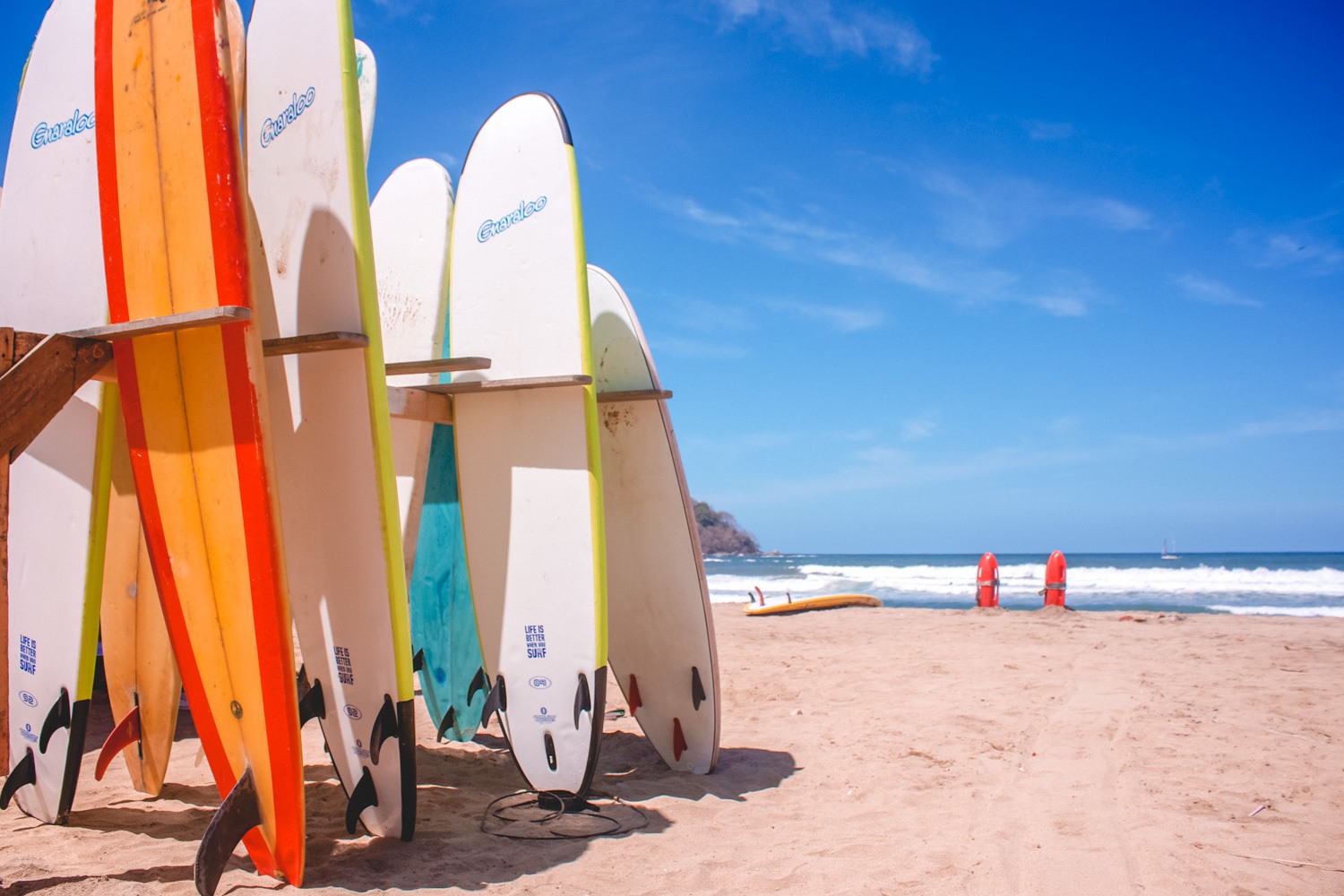 Sayulita in Mexico
Back to Mexico! This time, I want to tell you about Sayulita, a sleepy town located on the Riviera Nayarit, just north of Puerto Vallarta.
Sayulita has a chilled, hippie vibe and the streets feature local artisans, funky shops, taco stands and of course tequila bars. It is a hotspot for surfing and yoga.
You will find many surf camps, retreats and board rentals throughout the town!
Sayulita's beach is good for both beginner and advanced level surfers. The south end of the beach is perfect for practicing on smaller waves, while the middle and northern end of the beach cater more to experienced surfers.  
Pro Tip: if you travel north outside of Sayulita, you will stumble upon another quaint, and even more relaxed surf town called San Pancho/San Francisco- which is also worth a visit!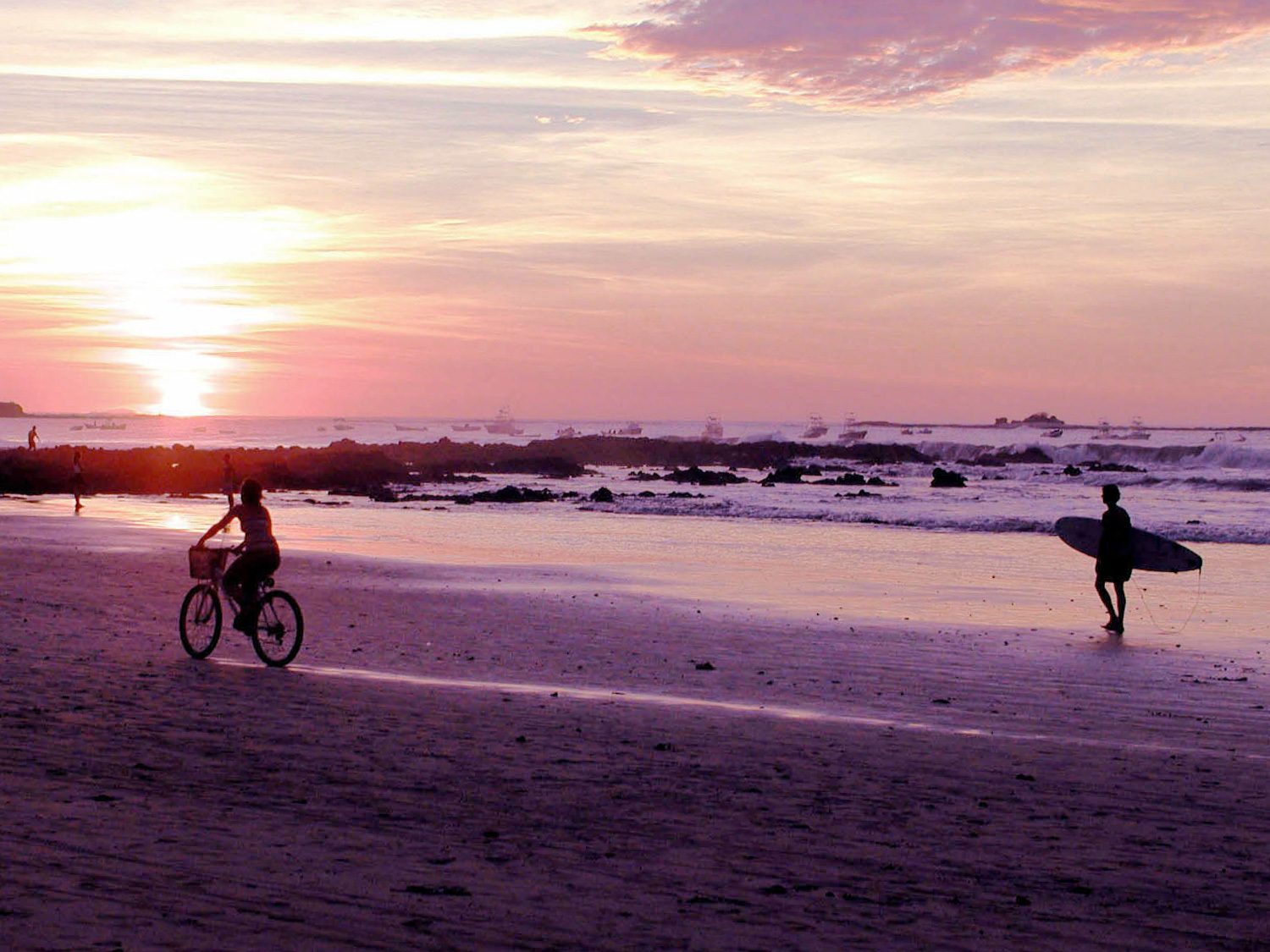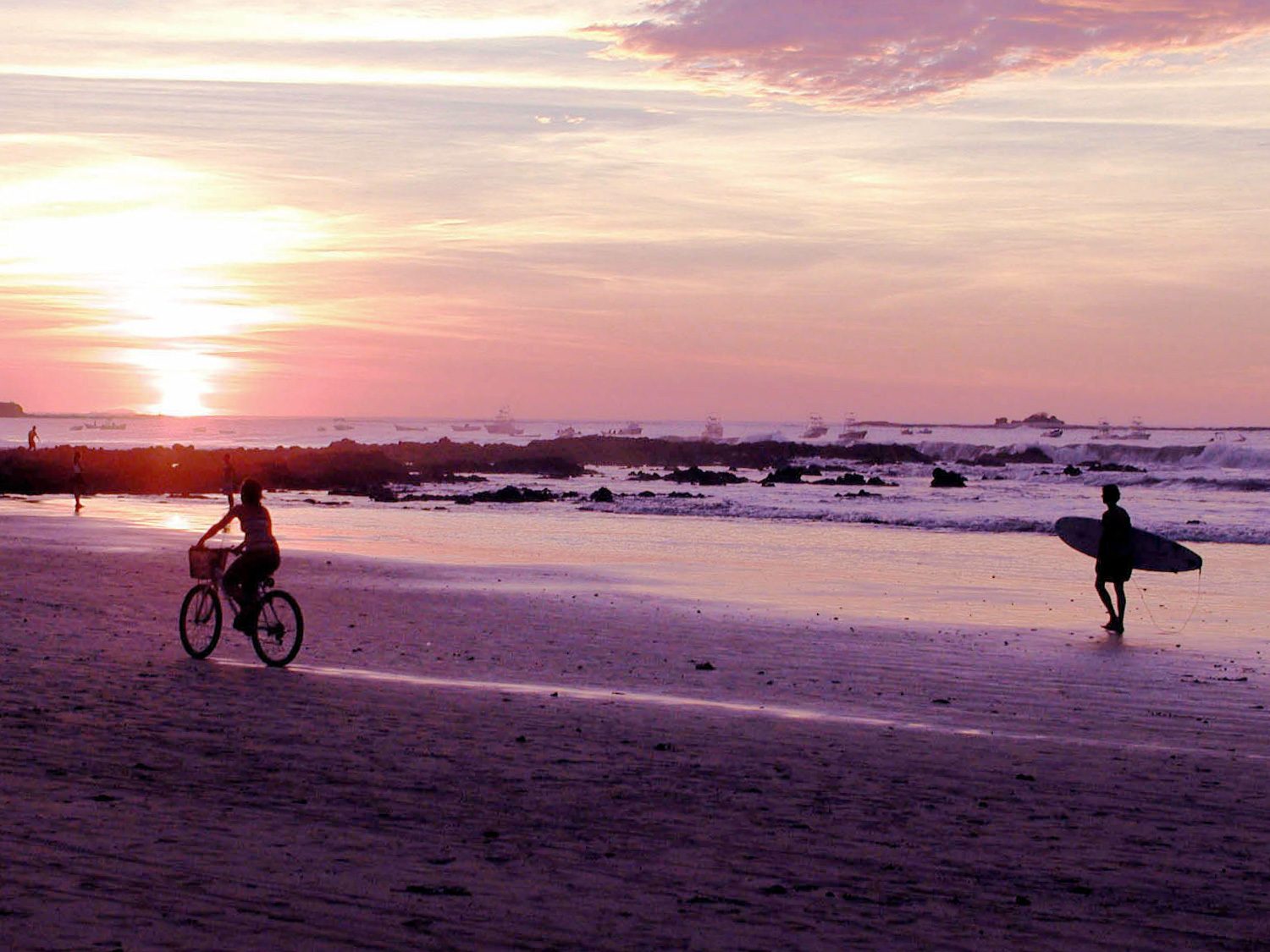 Tamarindo in Costa Rica
Honestly, I could write a whole article just on recommended surf towns in Costa Rica! Costa Rica is world renowned for having some of the best waves on the planet.
For now, I will just recommend you to look into visiting the laid back town of Tamarindo! Tamarindo is in the Northern-Pacific side of Costa Rica.
Tamarindo features a long beach with amazing year-round surf. It hosts a number of surf competitions, and attracts visitors from around the world.  
The town is just an hour away from Liberia International Airport, and is a good base point if you would like to explore other locations along the coast. In addition to surfing, this beach is perfect for swimming, fishing, lounging and exploring!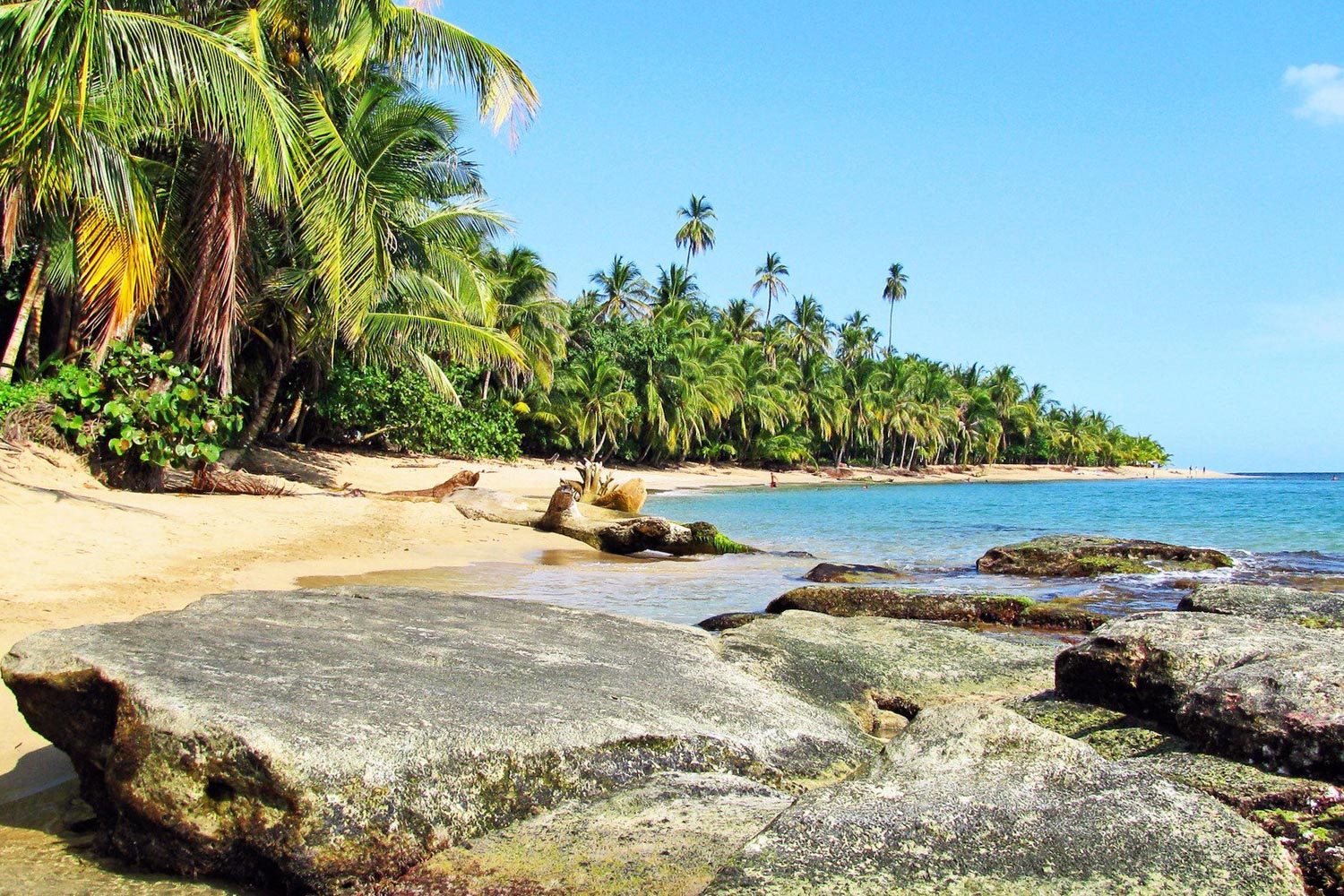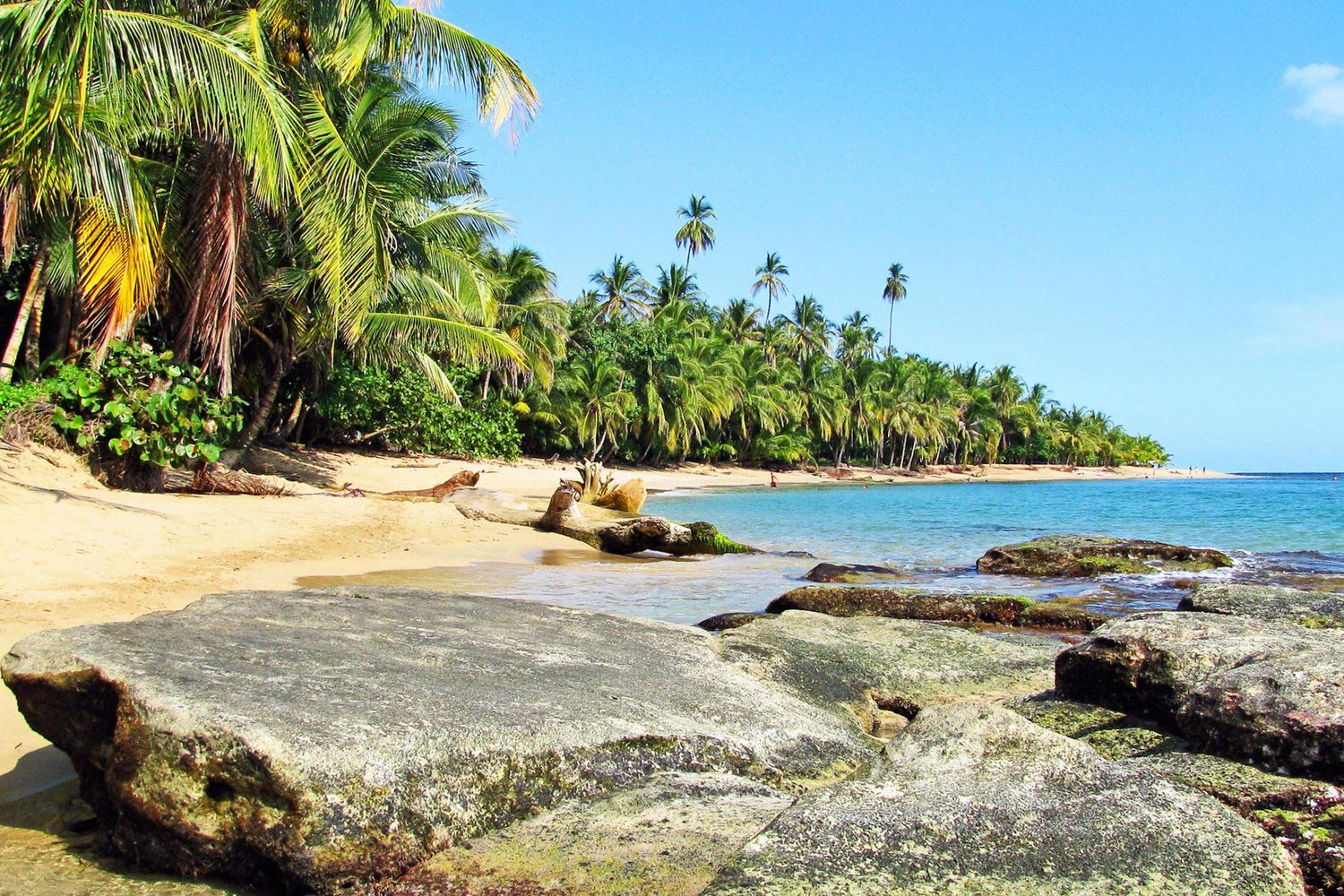 Puerto Viejo in Costa Rica
I might as well mention another funky Costa Rican surf town while I'm at it. If you prefer the warm, crystal clear waters of the Caribbean side, then I recommend that you pay a visit to Puerto Viejo de Talamanca.
Puerto Viejo caters more to serious surfers, so please be warned that the waves in this town are not meant for beginners.
If you're not advanced with your surfing ability just yet, don't worry. There are plenty more activities to do in the area, including kayaking, trekking, snorkeling and enjoying the vibrant town.
Puerto Viejo has a Rasta-kinda vibe, and offers a unique blend of Latino and Caribbean culture. It is the type of place you will surely fall in love with!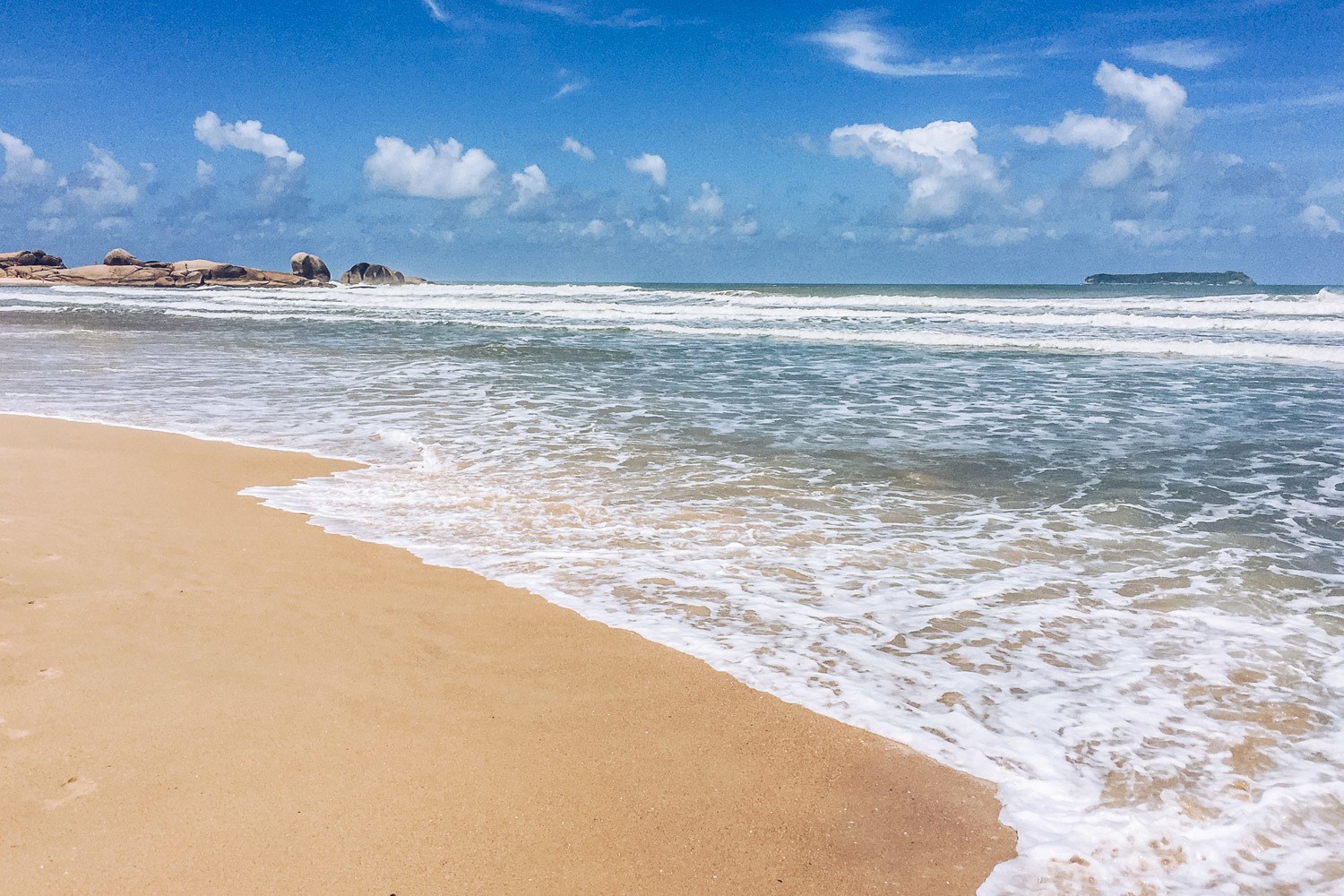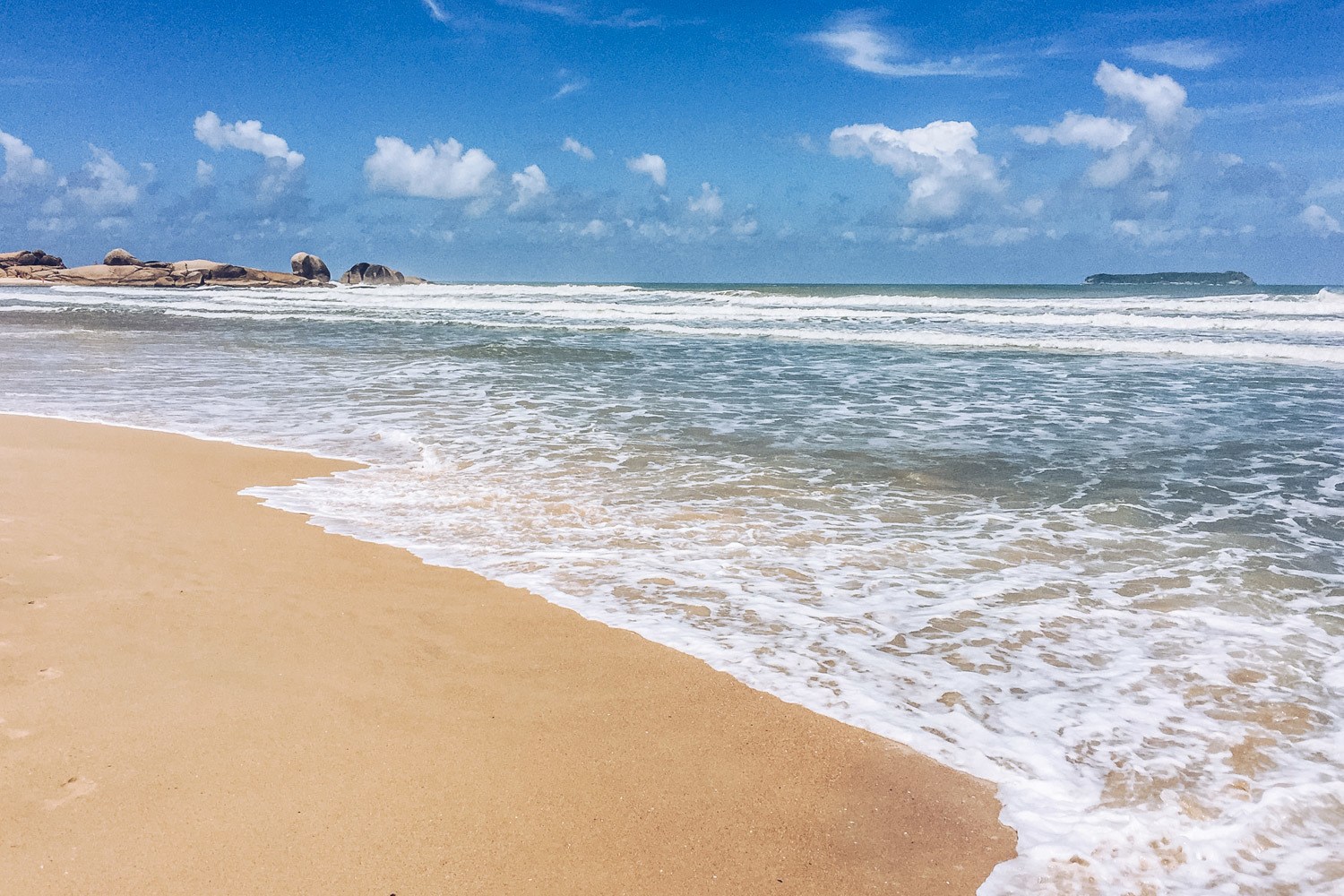 Florianopolis, Brazil
Florianopolis is an island-city located in the deep south of Brazil. It features a variety of surf and swimming beaches which can be enjoyed by beginner and expert surfers alike.
Florianopolis is much larger in contrast to the other towns I have listed in this article, but nevertheless it has that laid-back vibe similar to my other recommendations. As you might expect, because of its size, there is plenty to do in the area.
Enjoy a night of Samba, a day of trekking through the beautiful nature or a morning expedition to one of the 40+ beaches in the area!  
Surfing in Florianopolis is possible year-round, and this beautiful city features consistent waves, though particularly from March to late May and September to early November.