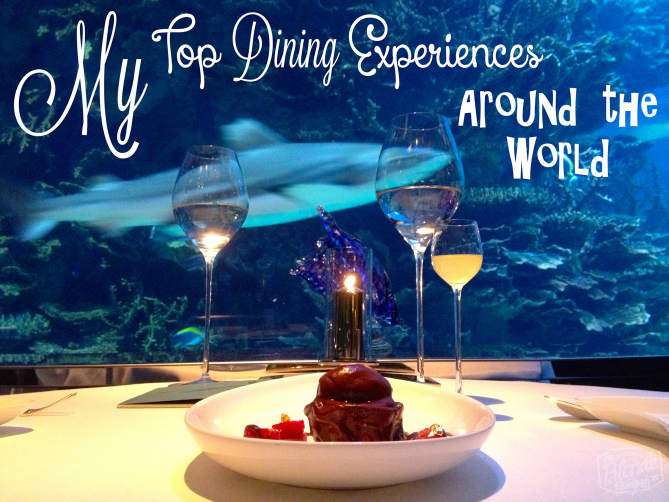 I realize that, as a serious foodie, I haven't posted nearly enough about the incredible food-finds I've discovered around the world. But, believe me. I'm eating. A lot.
Some of the most beautiful places in the world also conveniently offer epic dining experiences and unbelievable food; whether it's a cliffside sunset or a close encounter with a shark. Here are some of the most stunning, unique and cultural dining experiences I've encountered in my all of travels.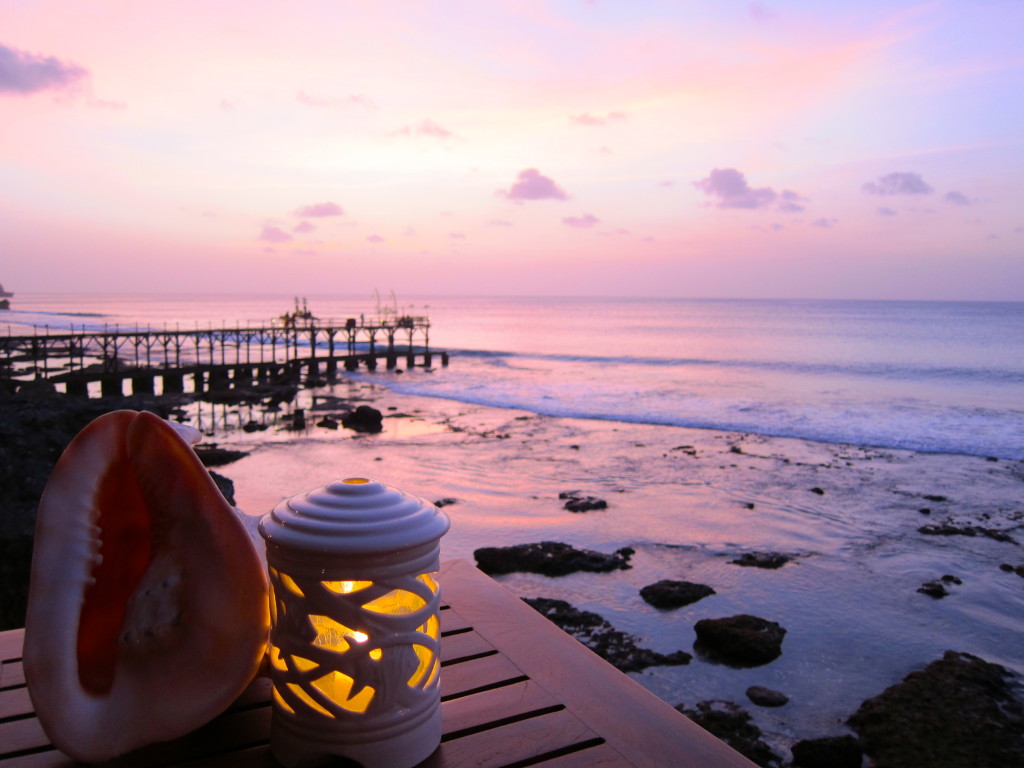 Kisik, Ayana Resort, Bali
While traveling through Bali with my Australia friend Benny, we literally stumbled upon the Ayana Resort in Jimbaran Bay. We made reservations at the cliffside seafood grill, Kisik, and were rewarded with this incredible pink sunset.
Aside from the view, the food was also mind-blowing. A fresh seafood display (just like a seafood market) was set up where you could choose from an array of options; lobster, mussels, oysters, etc. The chef then weighed your selections and prepared them on a grill to your liking.
The entire dinner was absolute perfection.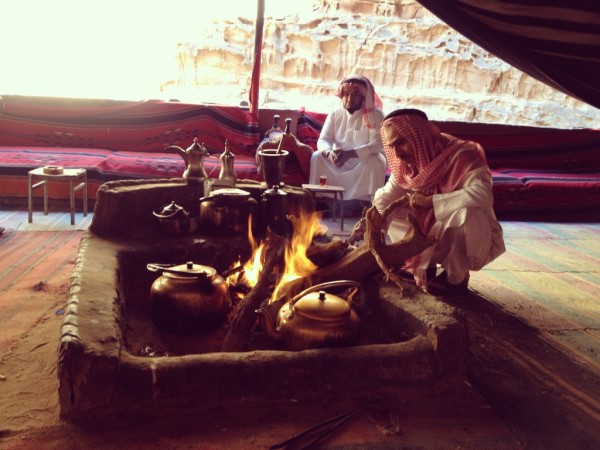 Zarb, Bedouin Camp, Wadi Rum, Jordan
I have to admit, Jordan is one of my favorite food destinations. But, I had a particularly special experience while camping in the Wadi Rum desert. Our campsite was run by the native Bedouin people of the desert and we were treated to a traditional dinner of Zarb.
Zarb, a Bedouin-style BBQ, is meat, potatoes and all kinds of vegetables cooked underground for extra deliciousness.
After cooking our dinner in a sort-of desert manhole, they lifted the covering and steam and the essence of slow-cooked BBQ rose in the air. The Zarb was served with hummus, fresh bread and an array of delicious camp-style Bedouin specialties.

Al Mahara, Burj Al Arab, Dubai
Yes, that's a shark swimming past my dessert.
The Burj Al Arab is one of the world's swankiest hotels. After your arrival by Rolls Royce airport transfer (or the convenient rooftop helicopter pad), you can indulge in world-class dining aside a floor-to-ceiling aquarium.
Ok, reality check!
I was very fortunate to have been invited to dinner by a dear friend and treated to the most luxurious dinner in my life. In true-backpacker spirit, I was dressed in a little black dress from Forever 21 and finished off the outfit with some drug-store brand red lipstick.
My best attempts at a fancy girl façade for a fancier than fancy evening.
Note: If you want to dine next in a seven-star hotel, prepare to pay a hefty price. Appetizers begin at around $300!

Belvedere, Mykonos, Greece
I spent a week in Mykonos basking in the Greek sun and partying until the sun came up. It's the island that never sleeps! Each night, my friends and I treated ourselves to dinners at the best restaurants in town. There are some seriously good eats in Mykonos!
This honorable mention though, goes to Belvedere for its picture-perfect sunset views looking out over white rooftops. I enjoyed a Lychee Caipiroska at the rooftop bar and experienced the best sunset of my summer. Belvedere also is home to Matsuhisa Mykonos, curated by world-renowned chef Nobu Matsuhia.

Aboriginal Eats, The Outback, Australia
I said dining "experience," right? While this DEFINITELY wasn't the most delicious meal I've eaten in my life, it was one of the most unique cultural experiences in all of my travels.
Plus, the Witchetty grub is a great source of protein!

Sirocco, Lebua Hotel, Bangkok, Thailand
You may recognize this insane rooftop restaurant from the movie, The Hangover 2. On my last night in Bangkok, I got to enjoy the view from the World's highest open-air restaurant. Even if you only have time (or the budget) for a cocktail, it's worth a visit!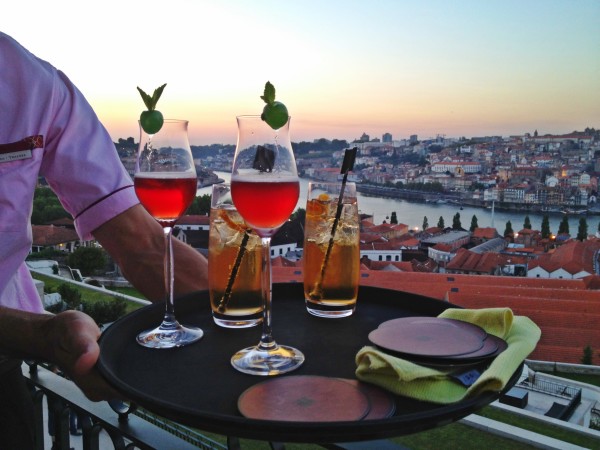 The Yeatman Hotel, Porto, Portugal
The Yeatman is a luxury wine hotel in Porto, Portugal. You read right, a WINE hotel! The entire hotel is themed to wine; from the Caudalie Vinotherapy spa to the decanter shaped pool.
The Restaurant at The Yeatman is the only restaurant in Porto to carry a Michelin Star… and how about that view?! I indulged in Port wine cocktails while overlooking all of Vila Nova de Gaia.
It's the ultimate wine-lovers destination!

Air New Zealand Economy Flight
It's not every trip that my in-flight food is something to write home about. In fact, it never really happens. A long-haul economy flight is one of my most-feared experiences; cramped seating, shitty food… the list goes on.
I was delightfully surprised during a flight from London to Los Angeles. It was my first time flying Air New Zealand and, for an economy flight, it felt luxurious! I was served New Zealand red wine with my preferred vegetarian meal. Normally, I have to mentally prepare for what could possibly be served.
"We have two choices on today's flight: cardboard or indigestion."
My meal was quite delicious, especially considering it was vegetarian. I was served a chickpea quinoa salad, with a curried veggie main, finished with an all-natural honeycomb ice cream.
I can only imagine what first class was offered!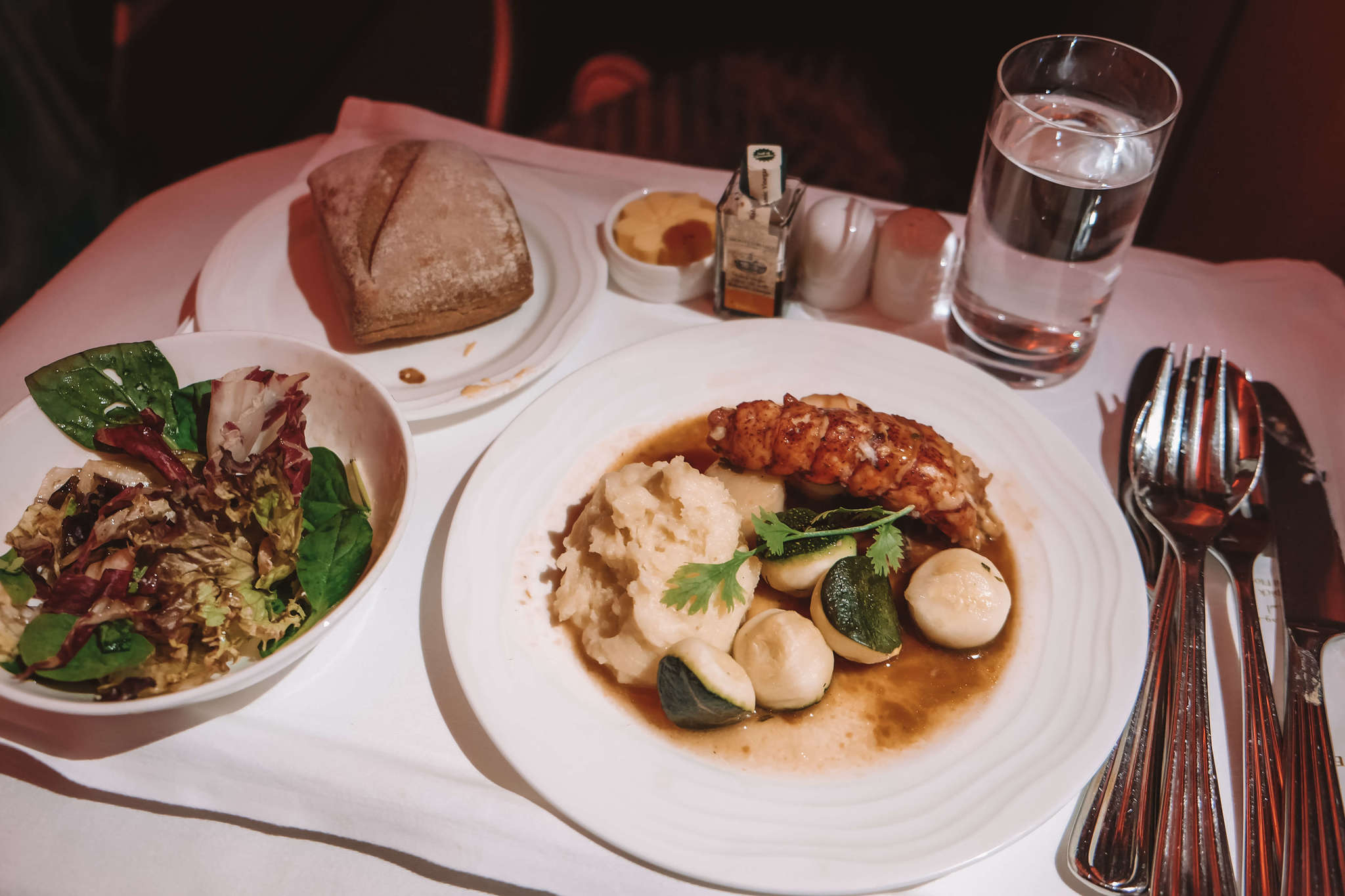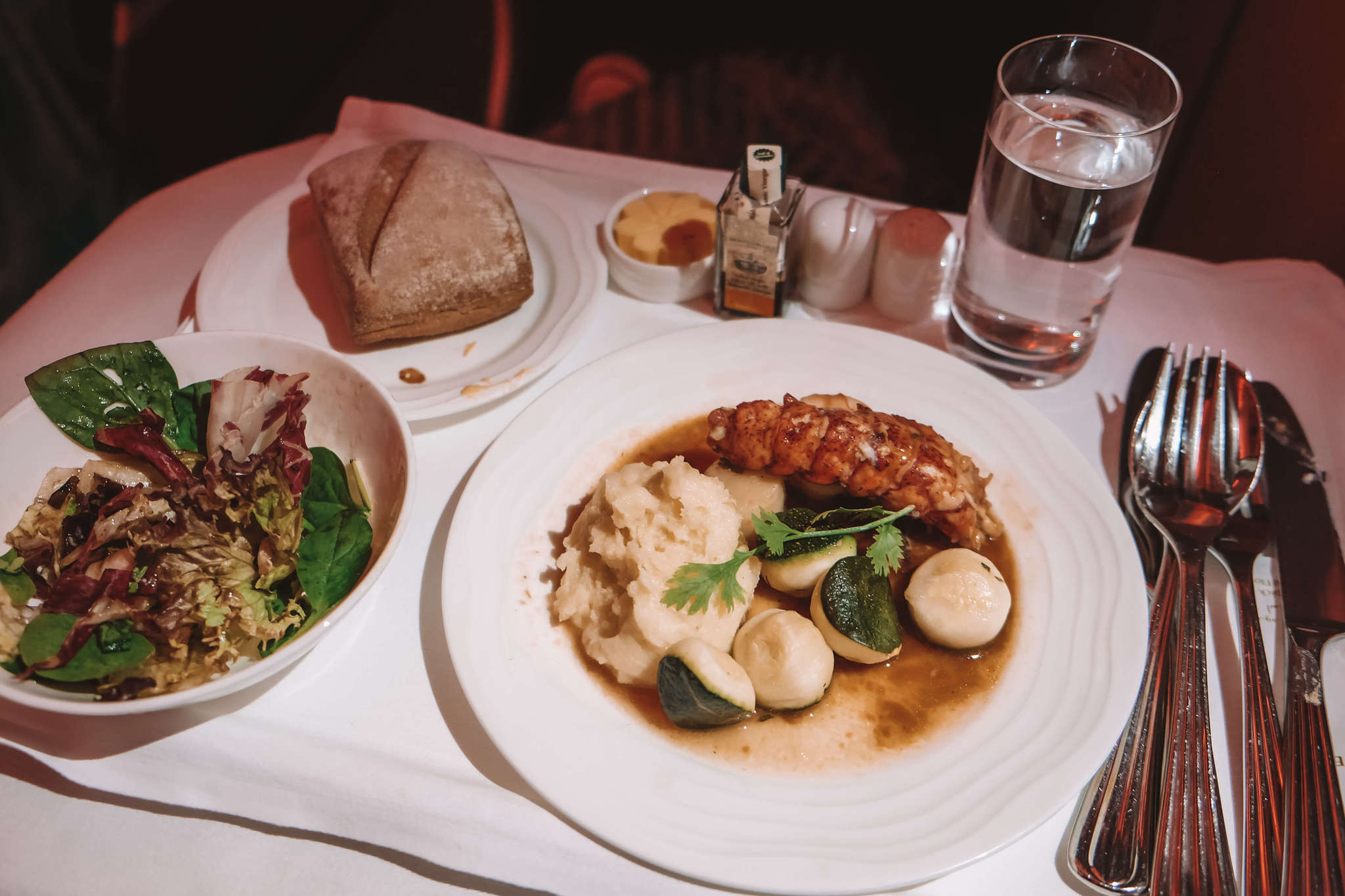 Emirates Business Class
Any airline that serves lobster tail deserves a warm hug. I've flown Emirates Business Class from Dubai to Los Angeles a few times now and it's the best long-haul business class experience I've had (followed closely by Turkish Airlines). The Turkish Airlines food was actually even better (with a 3-tiered mezze tray for your enjoyment).
However, Emirates also has a business class bar and lounge. Soooo, winner winner chicken dinner.
Emirates' lounge is amazing because you can get up and stretch your legs and stand while you nibble on light bites and sip your beverage of choice. They usually staff amazing bartender/attendants, so I love that I get a change to socialize a little at some point during at 15 hour flight.
Read More:

La Loma Jungle Lodge, Bocas del Toro, Panama
Imagine a treetop bungalow retreat where breakfast is delivered to your doorstep each morning and you sip your coffee while monkeys swing from the canopies all around you. This experience really happened!
In Bocas del Toro, I stayed at La Loma in an incredible open-air luxury bungalow with views of jungle canopies from my bed. Aside from the insane accommodation, this eco-lodge treats its guests to delicious meals, all prepared using local ingredients. I had the pleasure of spending Valentine's Day here and was not sad about being single (in the slightest).
My dinner included a perfectly spiced pumpkin soup, freshly-caught Snapper, yams & potatoes dressed in a homemade almond pesto and beet roots drizzled in a balsamic reduction. To finish: tres chocolates- a chocolate & ginger shortbread, a dark chocolate truffle and a chocolate rum shot.
I still dream about La Loma.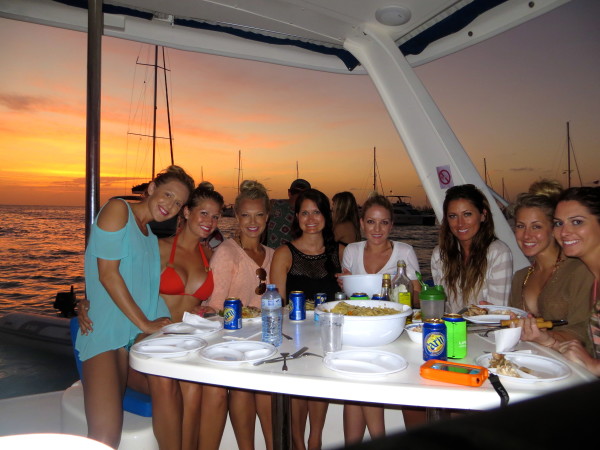 The Yacht Week, British Virgin Islands
During a week long trip on The Yacht Week, we would drop anchor, swim in the gorgeous blue ocean, and cook up family style meals right on the deck.
I can't think of a better dining experience than on a catamaran at sunset, in the British Virgin Islands, with 9 of my closest girlfriends. While we stuffed ourselves with giant lobster dinners and tasty Caribbean cocktails at some beautiful restaurants, nothing beat the full panoramic view from our boat.

Peppered Crab, Kep, Cambodia
While traveling through Cambodia, I allowed for a very short 24-hour stop in Kep. It was a quick trip but it definitely left an impression on me.
I stayed at an incredible eco-lodge amidst a tropical setting and took a long walk down to the beach for dinner. I was recommended a little market/restaurant called Srey Kev and was told to order the Peppered Crab. I was seated at a table with a seaside view, placed my order, and the same woman who took my order made her way out into the water to gather my dinner!
Now that's fresh!
Less than $5 bought me an Angkor beer and a HUGE portion of fried crab smothered in a buttery pepper sauce. To this day, it stands as one of the best (and cheapest) meals of my life.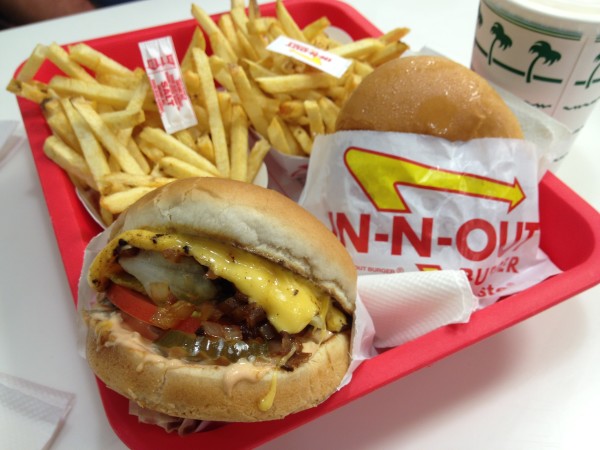 In-N-Out Burger, California, USA
It may seem like a joke and, while it seems silly, I am dead serious about my In-N-Out. After every trip I've taken, I've returned home and gone straight to the burger joint; whether it's 5 pm or 9 am. My order: A grilled cheese "animal style" with chopped chilis, fries and an iced tea.
You can take the girl out of California, but you can't take California out of the girl.

U Castille, Bonifacio, Corsica
A few summers ago, I went on a sailing trip with some of my Swedish and South African friends that I met on The Yacht Week in Croatia. We sailed around Sardinia and Corsica, soaked up the sun on the beautiful Mediterranean, and ate our hearts out.
While docked in Bonifacio, Corsica, my friends Bella, Åsa and I indulged in an incredible lunch with an even more incredible view. At U Castille, you are treated to a breathtaking balcony view overlooking the sea. We nibbled on yummy French cheeses, savory salads and sipped on Corsica's very own brand of Coca Cola.
Now THAT'S lunch with a view!