I was traveling through Iceland with fellow travel blogger Matt, of Expert Vagabond, and I was both thrilled and a little nervous about us partnering with Arctic Adventures, a local Icelandic adventure tour company.
Thrilled, because I would be exploring some of the best things to do in Iceland.
And nervous, because I am terrified of heights. And cold water. And small spaces. And the dark.
Yes, I'm a total scaredy cat. I'll be the first to admit it. I can't help the things that make my heart pound a little bit faster, but I've done my best to conquer my fears as I travel.
That's why I hurled myself out of a plane at 12,000 feet in New Zealand, despite wanting to throw up all over my tandem skydive buddy. And why I got my PADI diver certification, despite being scared to death of the deep ocean.
Matt and I would be joining Arctic Adventures on their Blue Ice Glacier Tour for a full day of icy exploration. We joined our group in the city center of Reykjavik and began our drive out to the Sólheimajökull (say that 5 times fast) glacier.
It took about 2 hours to arrive at the glacier. The weather was typically Icelandic (aka unpredictable) when we arrived in a downpour of rain. Regardless of the weather, the adventure goes on!
This was my first time doing anything that required ice axes and crampons and I have to admit I was a little intimidated by all the metal and spikes. All I could think was, "what did I get myself into?!"
We suited up in our gear and began glacier hiking and ice climbing adventure in Iceland!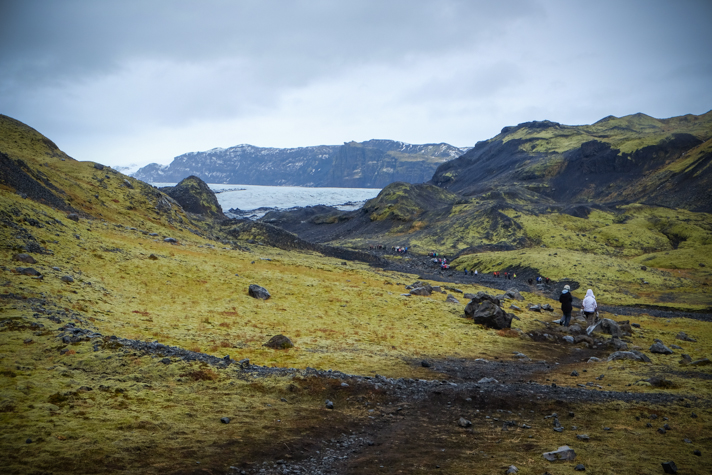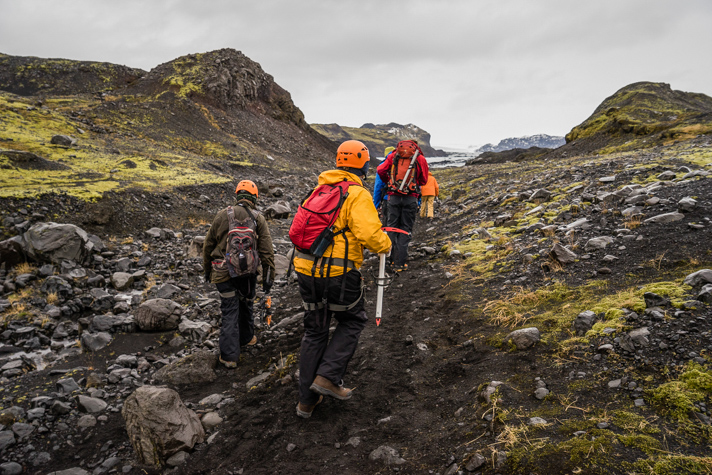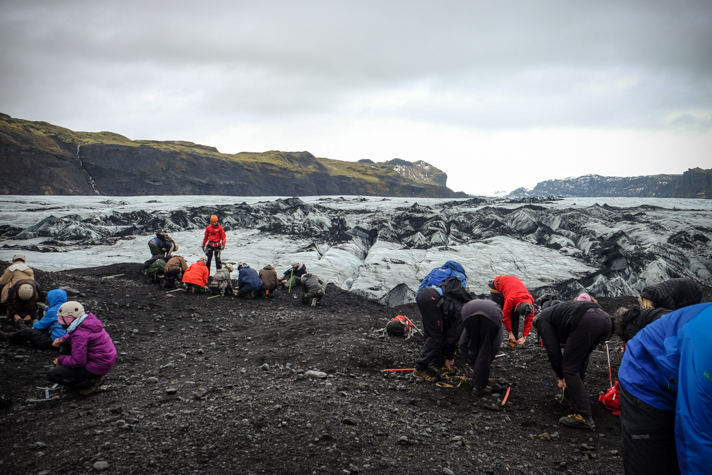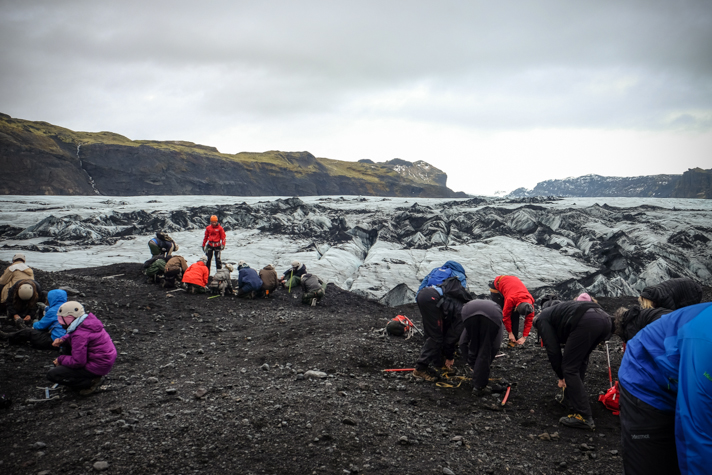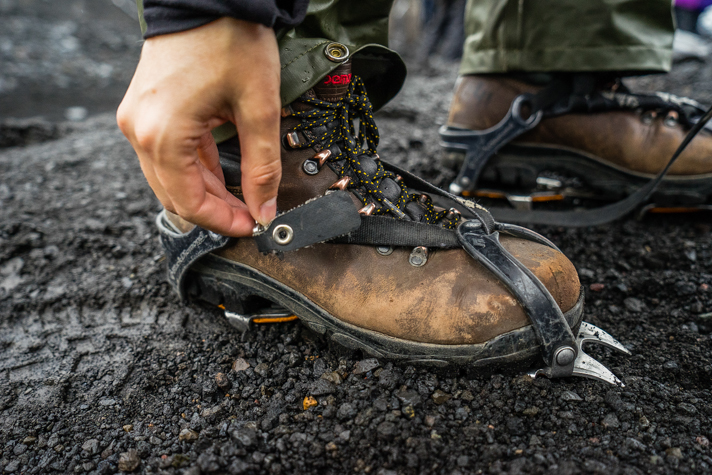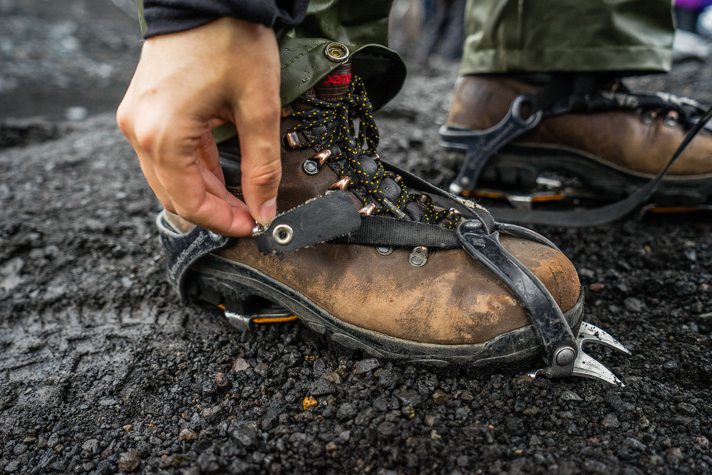 Since the glacier is a "crawling" glacier, it is constantly moving. It grows and shrinks every day changing the ice formation. If you were to visit in the Winter and come back in the Spring, it might look completely different.
That kinda blew my mind.
I always pictured glaciers as big old blocks of ice floating in the middle of the ocean. But, Sólheimajökull is a glacial tongue that is rugged and riddled with ice caves, ridges and sink holes.
We arrived at the glacier and were guided through safe areas of the glacier that we could trek. Blue ice and black volcanic rock appeared like a painting of colors upon the glacier.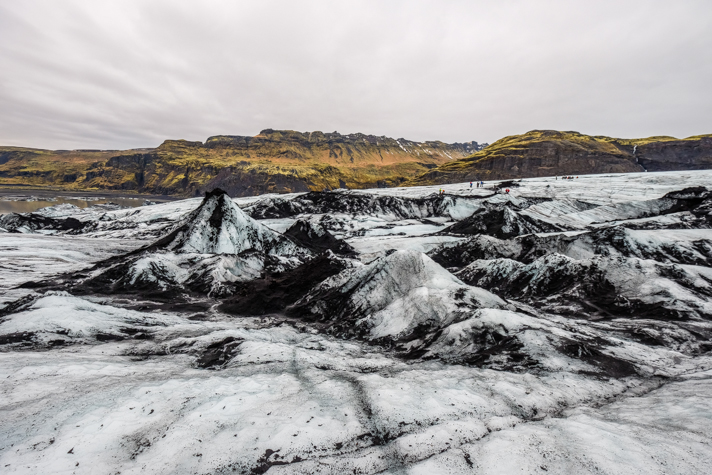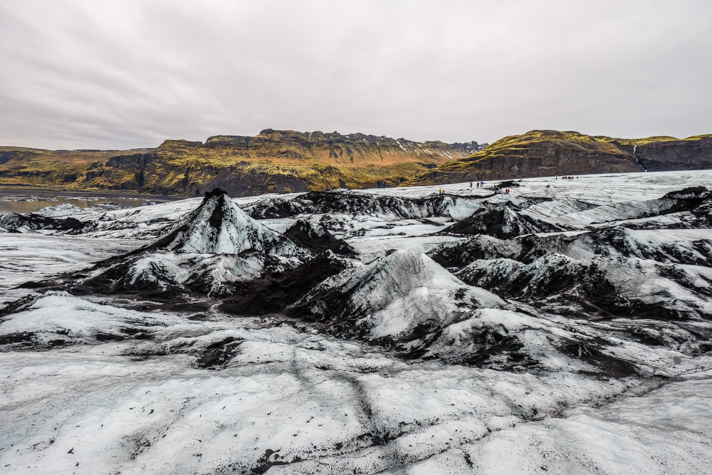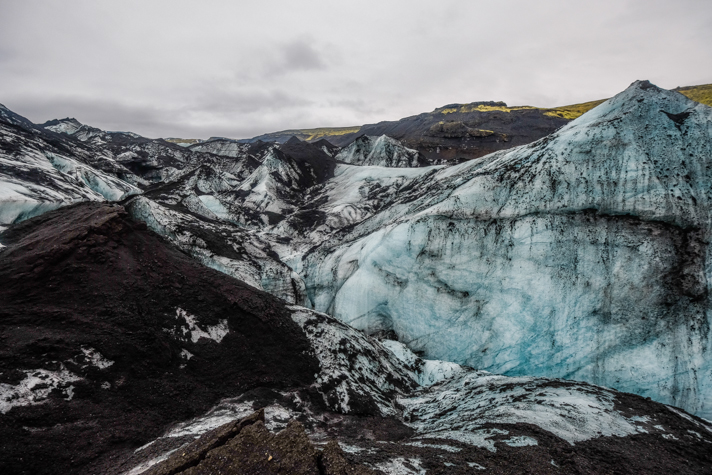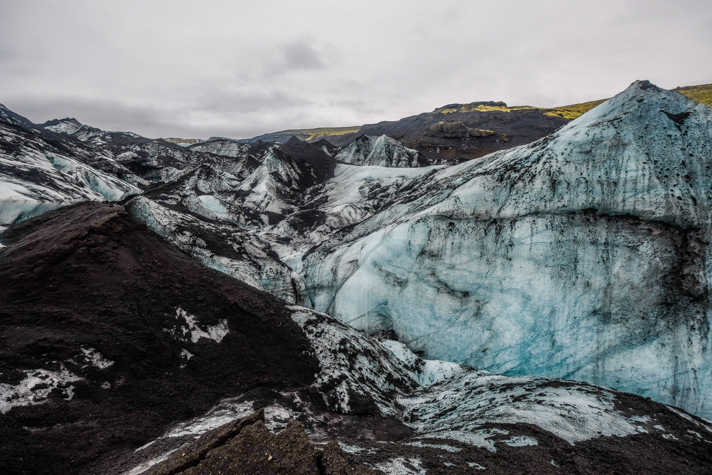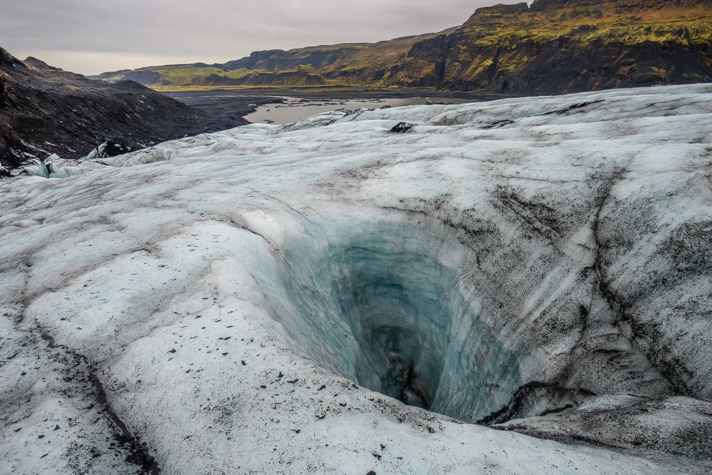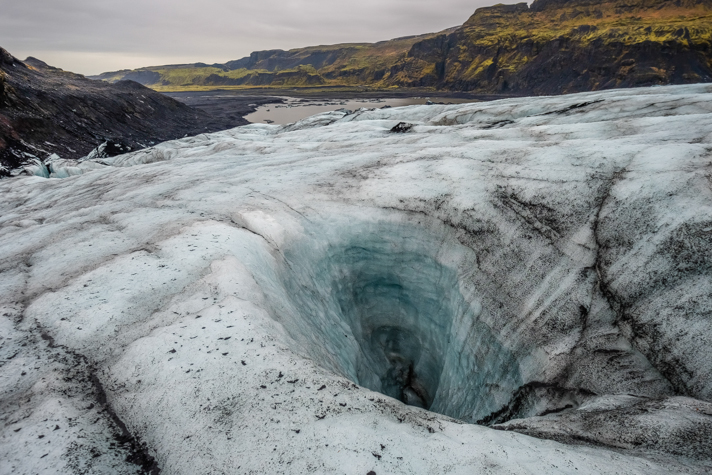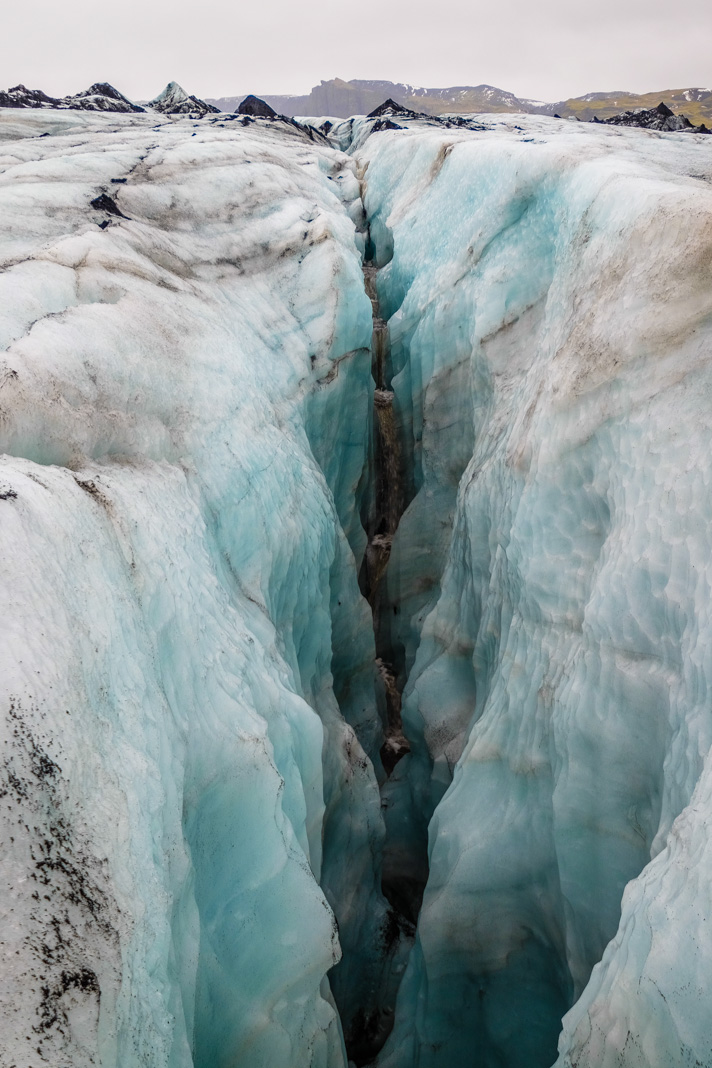 Once we had passed massive cracks, holes and glacial waterfalls, we came to the ice wall that we were going to climb. And that's when the fear set in.
I didn't want anyone to know how scared I truly was, so I offered to be one of the first to go. I was given ice climbing axes and harnessed to a line that was anchored at the top of the wall. One of the guides would be holding the other end of the line and adjusting the slack so I wouldn't fall.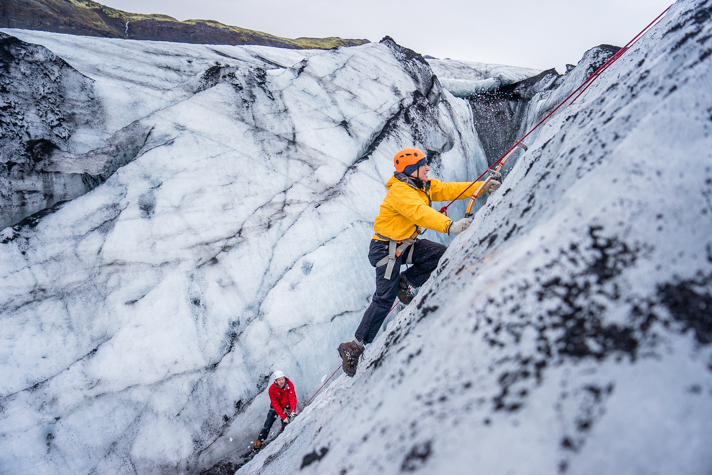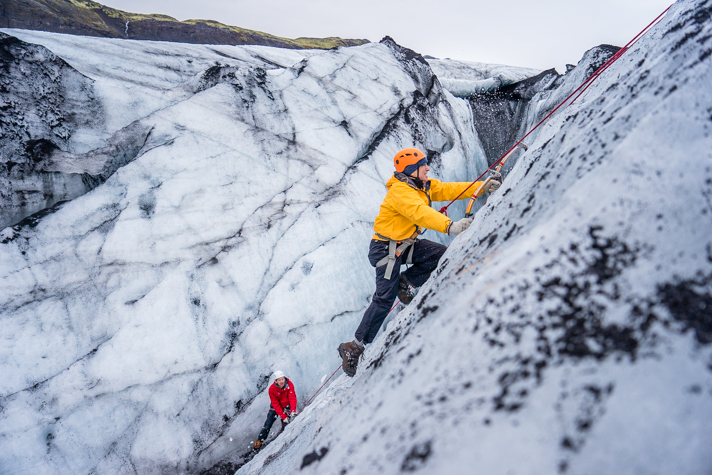 There was no real danger and, even if I fell off the wall, I was tightly harnessed and would have merely hung like a Christmas ornament. Going up wasn't the scary part. It's always the down part I have a hard time wrapping my head around.
I kicked my crampons into the ice wall and slammed my ice axes in until they felt strong enough to hold, and then I began my ascent to the top. It was surprisingly easy to maneuver the ice wall and I made it to the top without falling.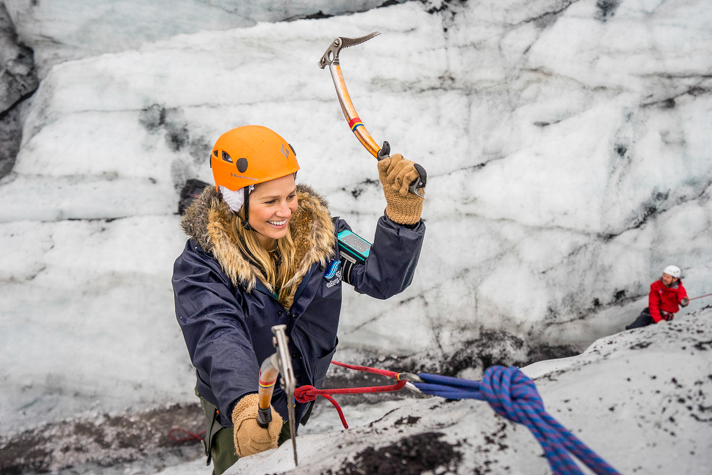 Then, I closed my eyes and prepared myself for the "trust fall" of a lifetime.
I leaned back, as I was instructed, the rope remained strong and I was able to slowly moonwalk back down the ice wall to where I began. When I planted my feet securely back onto the ground, I let out a big sigh of achievement.
I definitely earned my Outdoor Explorer Badge for this one.
As we were finishing up the tour, the guides stumbled upon a really cool ice cave that we were able to explore. The light shined through the ice making it appear bright blue. It was beautiful!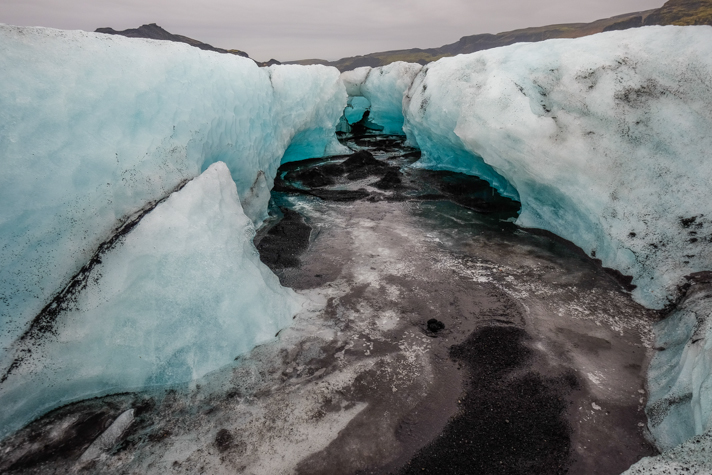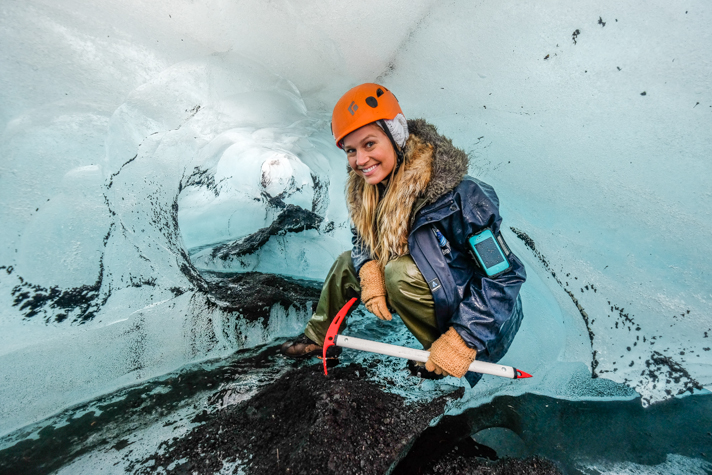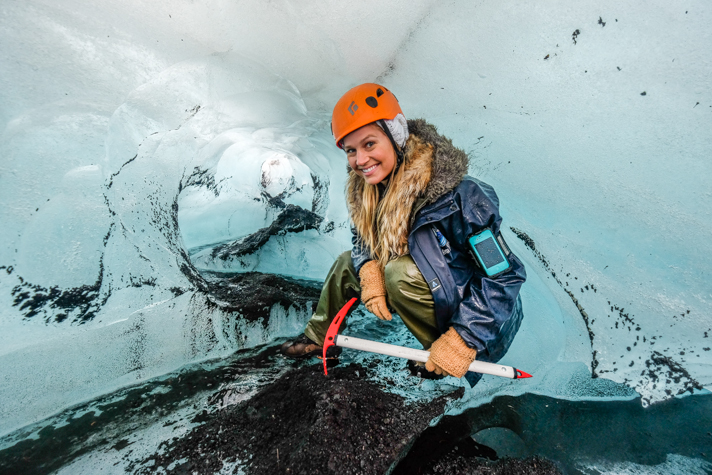 We wrapped up our hike on the glacier and, as if the day needed to be any more amazing, we made one last stop on the drive back to Reykjavik at the iconic Icelandic Skógafoss waterfall. The weather didn't make for great photos, but it was seriously impressive to see in person.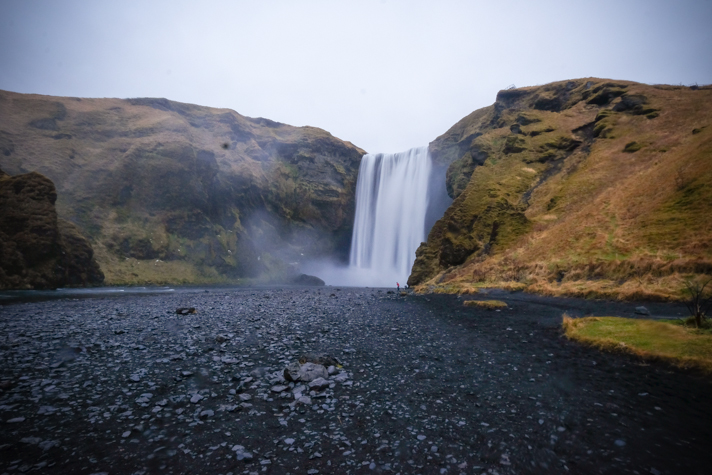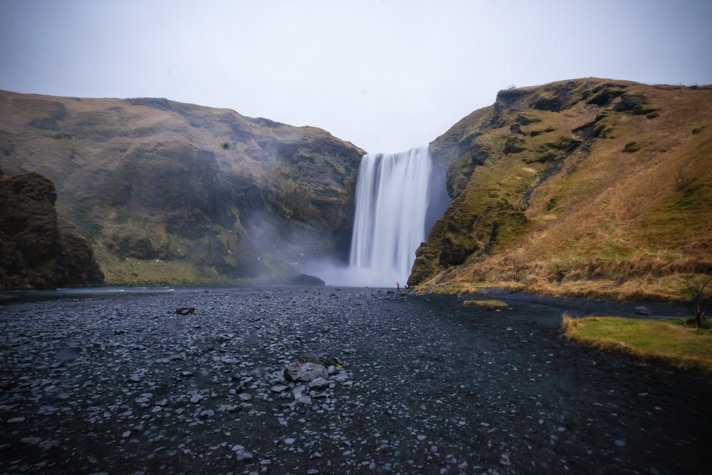 Our guides did an amazing job of leading us through the glacier. Even in the rain, it was a seriously cool experience and I highly recommend it for anyone visiting Iceland. Especially if you're a big old scaredy pants like me.

More Information
Tour: Blue Ice
Company: Arctic Adventures
Cost: From 15.990 ISK per person (approx. $150 USD)
Useful Notes: I rented hiking boots and waterproof pants and a jacket for the tour. I didn't pack anything too adventure-proof for my trip to Iceland because I really only needed them for this tour. Save the luggage space and rent what you need, unless you'll need them for your whole trip.
I should mention the ice climbing part is totally optional, so if you are scared or physically unable to climb, you can skip that part. There were people of all ages on our tour, included younger kids and seniors.

Special thanks to Arctic Adventures for helping me fulfill a travel dream and conquer my fears. As always, the content & opinions expressed here are entirely my own.