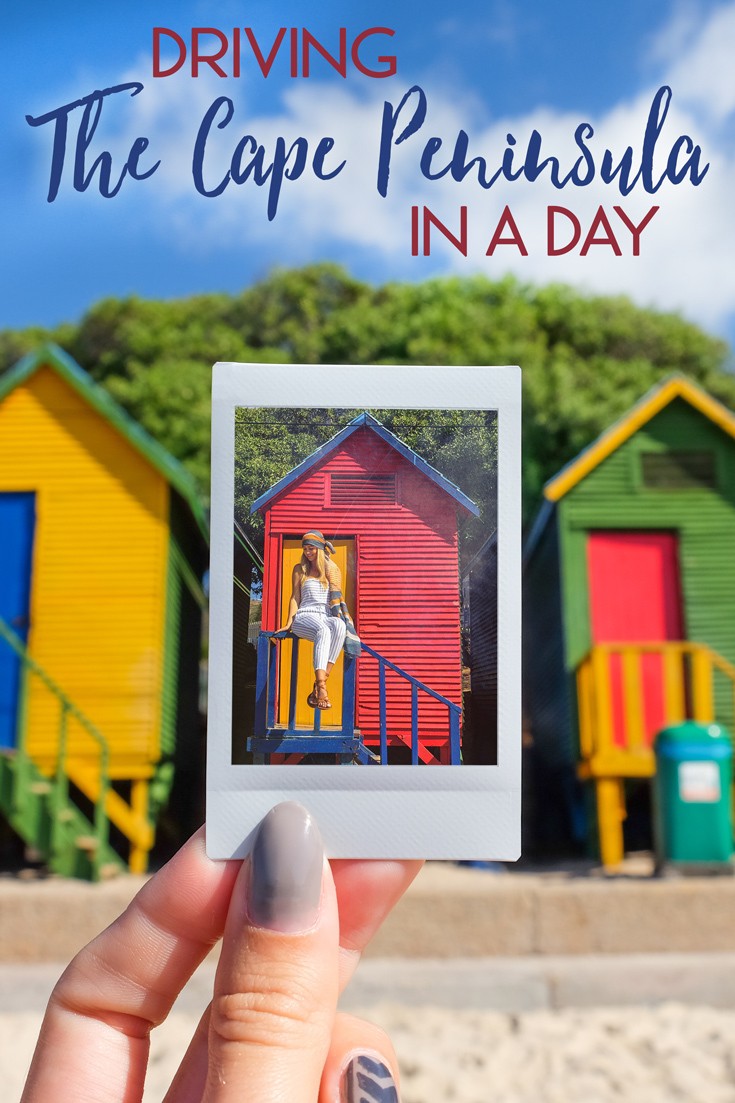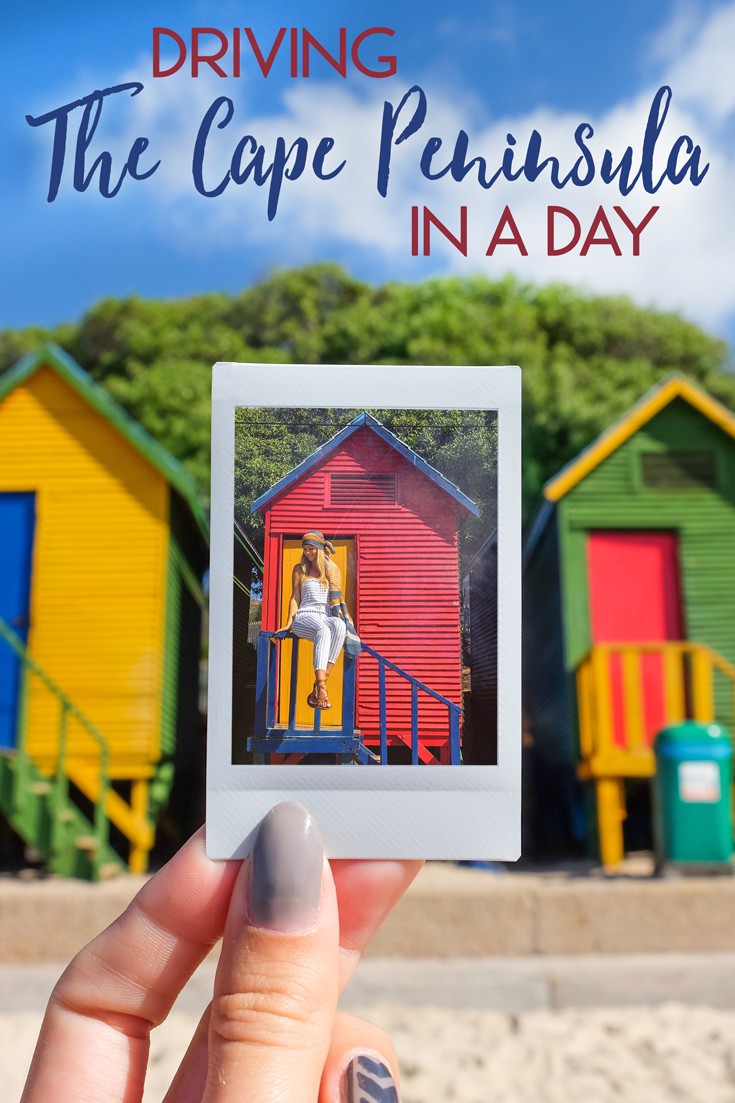 Post Updated: 4/10/2019 | April 10, 2019
There are few vistas as breathtaking as the oceanic drive along the famous Cape Peninsula road trip in South Africa. Start your day experiencing the best sites along the Indian Ocean and end it with a sunset view over the Atlantic.
It's easy to do the road trip in one day but you can easily break it up into two days so you have more time to explore and experience things along the way. I've been living in Cape Town for over 2 years and have driven this road trip more times than I can count!
Here's my ultimate guide to driving the Cape Peninsula road in a day!

Stop 1: Catch the Sunrise in Cape Town
Option 1: Hike up Lion's Head
Option 2: Drive up Signal Hill
Catch the first light of the sun from the top of Cape Town. Hike up to Lion's Head for a blood-pumping hike and a unique panorama of the city.
Start while it's still dark so you reach the summit in time for sunrise!
If you know you won't be quite awake enough to hike in the early morning hours, you can also drive up Signal Hill, a nearby, flat-topped hill, for spectacular views over the city center and the Atlantic seaboard.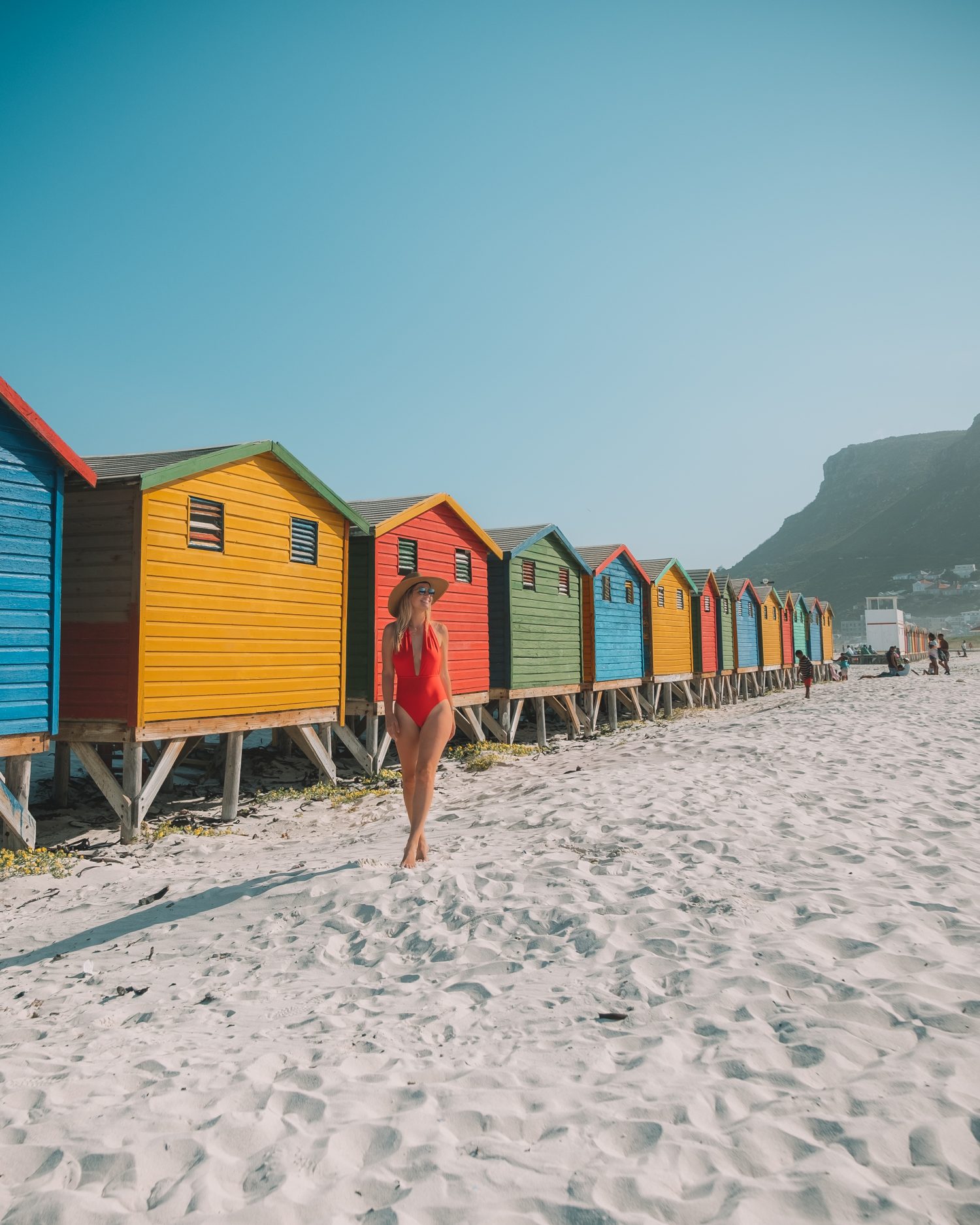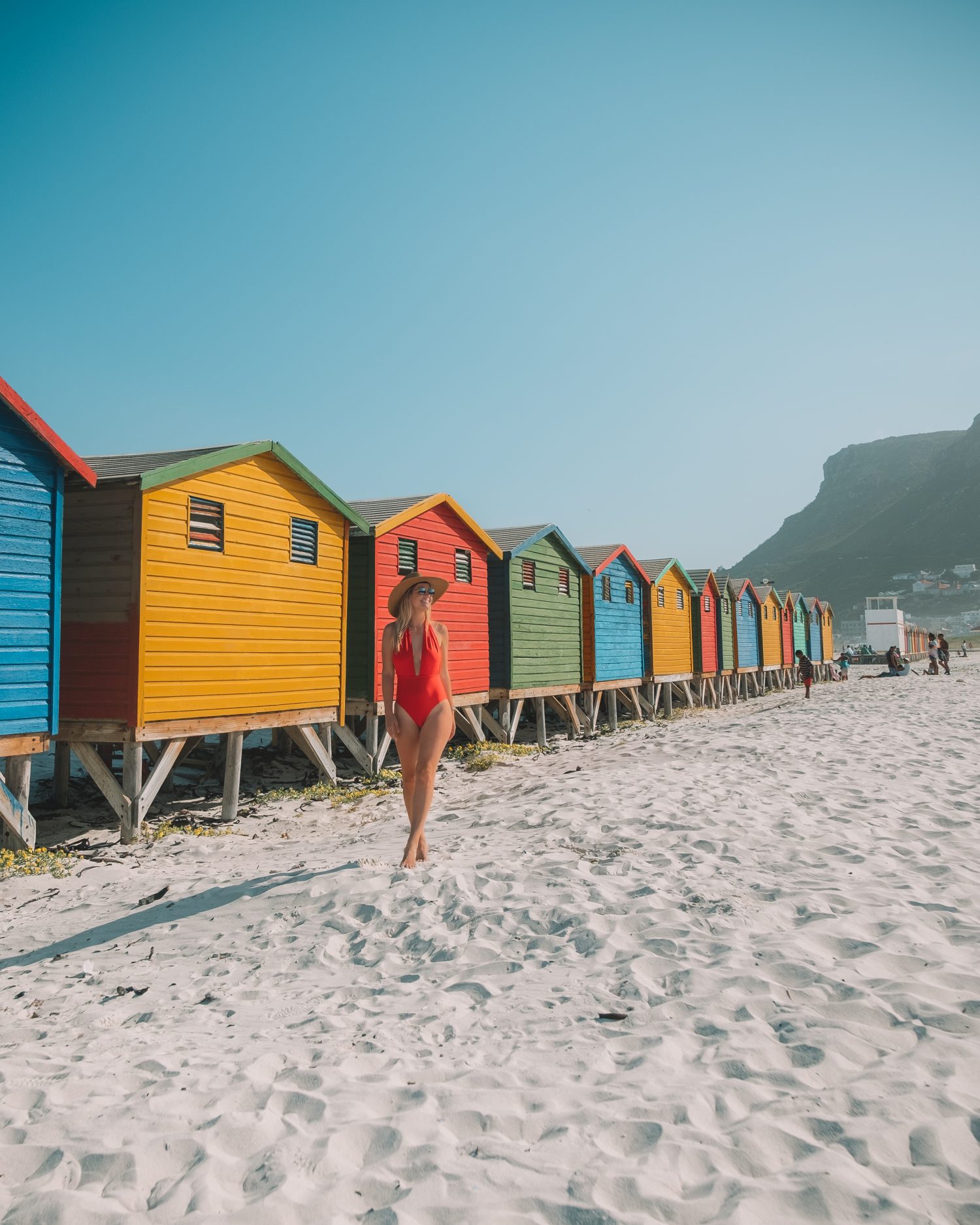 Stop 2: Muizenberg's Colorful Beach Huts
Itinerary Recommendation (Option 1): Have a coffee and a light nibble in Muizenberg, but save yourself for breakfast in Kalk Bay
Itinerary Recommendation (Option 2): Have a light breakfast in Muizenberg upon arriving, explore the beach, then have lunch in Kalk Bay or Simon's Town
Head to Muizenberg for a coffee at the beach! Stop at Bootlegger for your favorite cuppa, or sit down for a full meal at Tiger's Milk. If you can hold out, I'd recommend nibbling on something small and saving your appetite for an early lunch!
Muizenberg is one of the most popular surf spots in Cape Town because it's easy for beginners and enthusiasts alike. Take a quick surf lesson or stroll the beach. You'll find Cape Town's famous colorful Victorian bathing huts here!
Optional Stop: St. James Beach
From Muizenberg to St. James, you'll pass a number of large, spectacular stone houses that show the history of the area, commonly known as "Millionaire's Mile", and traces of the wealthy colonial past.
Wander along St. James Beach, where you'll find a tidal pool (perfect for kiddos to swim) and more bathing huts!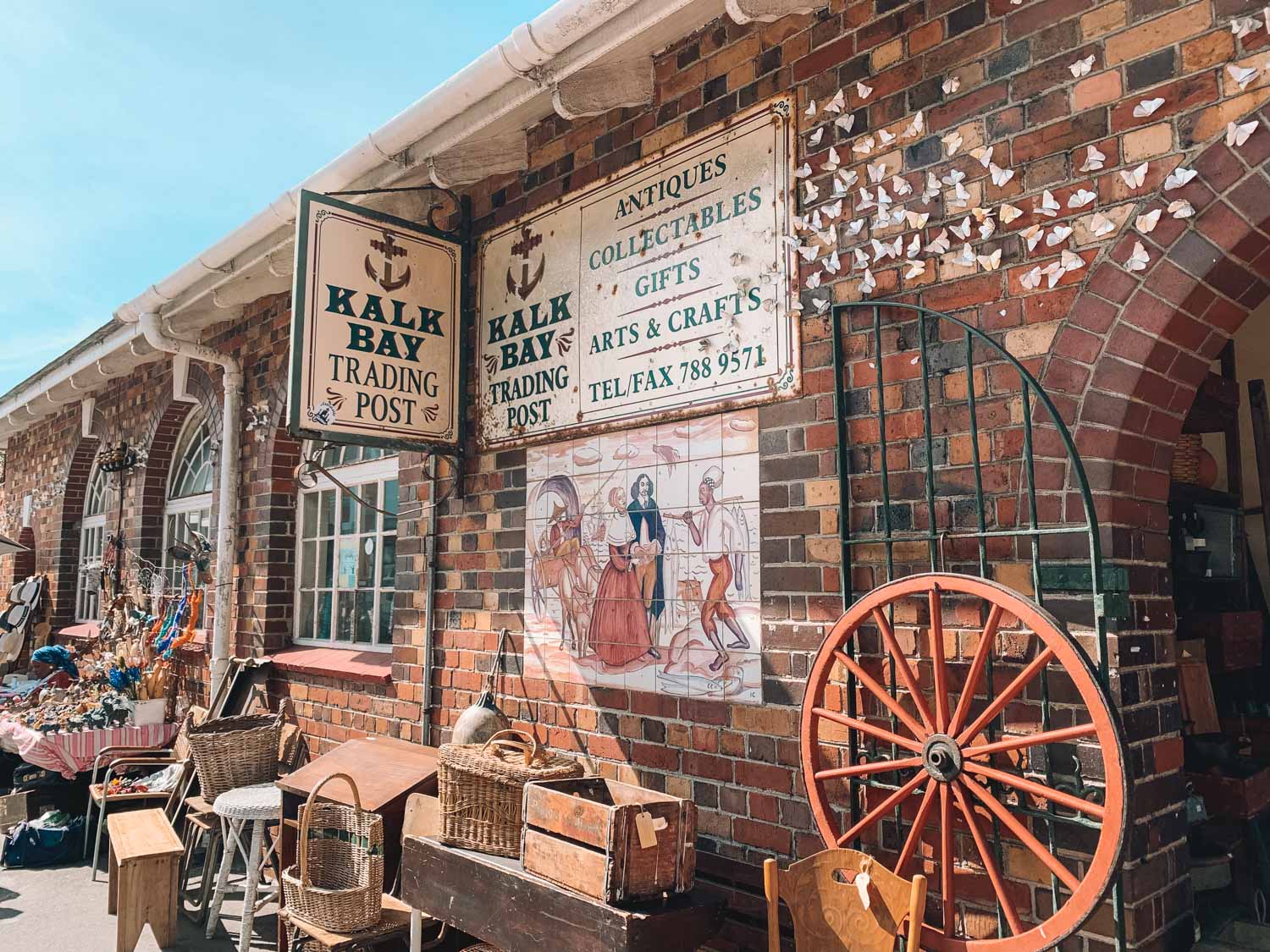 Stop 3: Kalk Bay for Antiques & Lunch
Itinerary Recommendation (Option 1): Have a light breakfast at Olympia Cafe in Kalk Bay when you arrive, explore, then have lunch in Simon's Town
Itinerary Recommendation (Option 2): If you're ready for lunch, explore the town, then have fish & chips in Kalk Bay Harbour
You'll notice that towns in this area are tiny and only span the length of a few blocks. Kalk Bay is a 5-minute drive from Muizenberg, but the two towns couldn't feel more unique! While Muizenberg has a very distinctly "surfer"-culture vibe to it, Kalk Bay is packed with antique shops, handicraft stalls and lots of art & book stores.
I absolutely love stopping in Kalk Bay for a stroll through the past. The antique shops are some of the best in all of Cape Town, so if you're looking for a really unique souvenir, don't forget to stop here!
Most people opt for fish & chips for lunch in Kalk Bay (it really is the most delicious spot for the famous seaside dish) but, if you're in the mood for breakfast, I'd recommend Olympia Cafe! They serve delicious baked goods and have a great cup of coffee.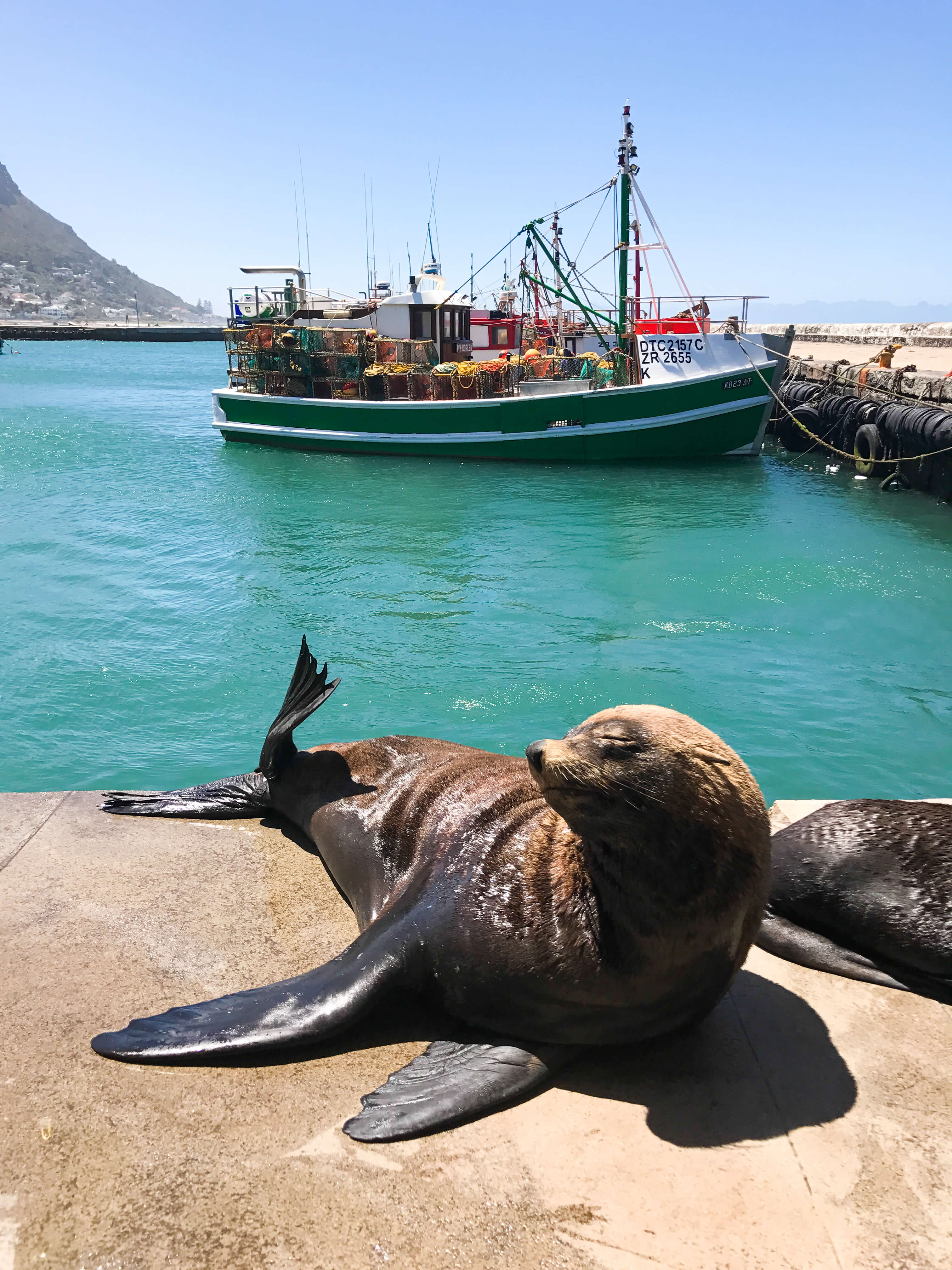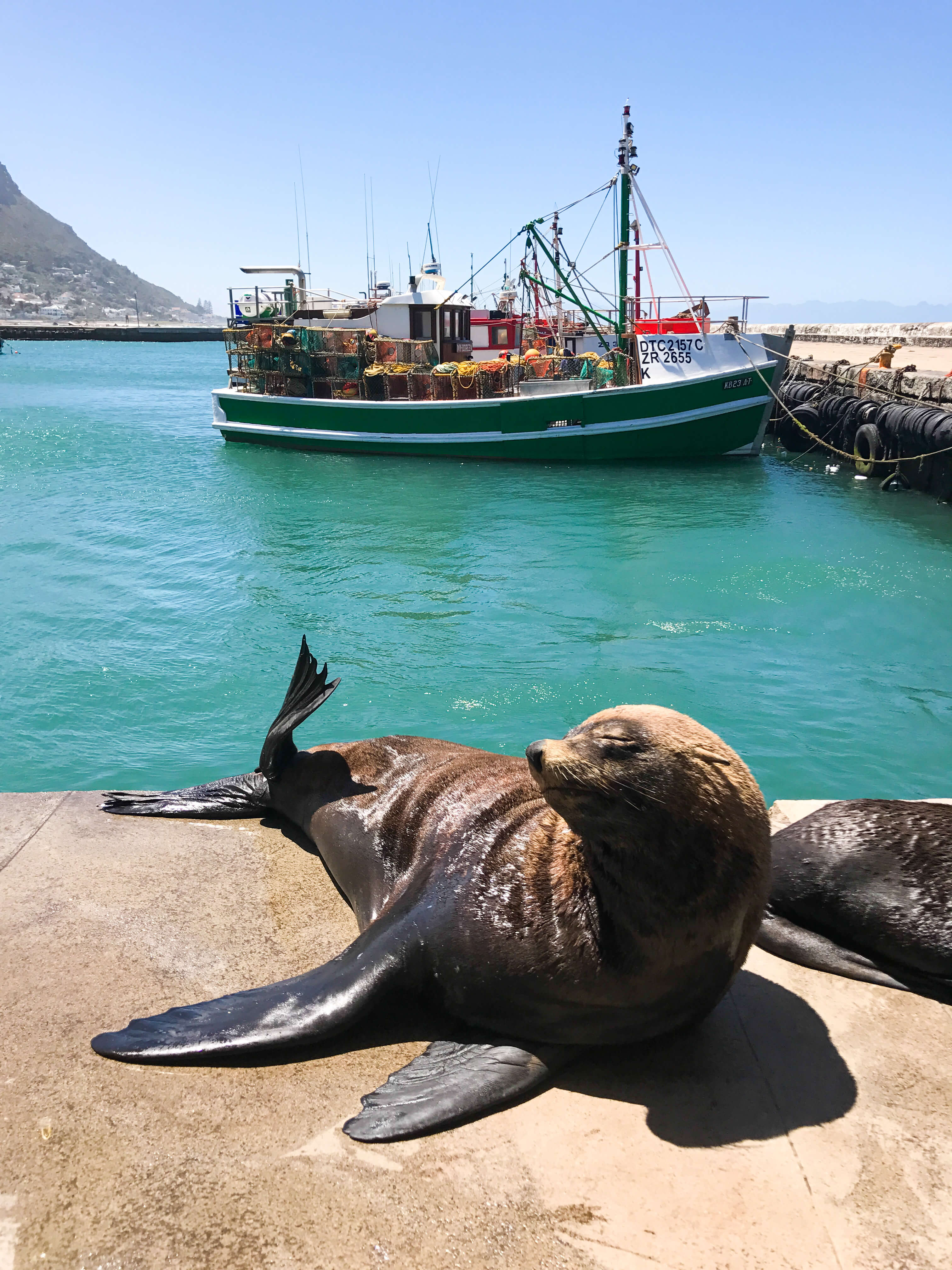 If you're ready for lunch, head to the little fishing harbor in Kalk Bay. Fish & Chips is the thing to order, but there are quite a few shops to choose from.
For no-frills fresh seafood, Lucky Fish & Chips is my go-to. If you want fish & chips with an ocean view, head to Live Bait. Or, if you're looking for something a little fancier, Harbour House is always delicious (however, they don't always have Fish & Chips on the menu).
Afterward, stroll the harbour to meet the local sea lions!

Stop 5: Simon's Town
Itinerary Recommendation (Option 1): Have lunch in Simon's Town and stroll the shops
Itinerary Recommendation (Option 2): Skip and head straight to Boulder's Beach
Simon's Town is a friendly harbor town with a rich Naval history.
If you've saved yourself for lunch in Simon's Town, grab a table on the waterfront. I'd recommend Saveur for great food and nice views, or Berthas for "ok" food but a seat right on the water. (To be honest, I usually stop at Bertha's for a bottle of rose and oysters and haven't tried anything else from their menu).
Simon's Town is worth a stroll if you have the time, but if you're full on food or pressed for time, you can press on and skip straight to Boulder's Beach.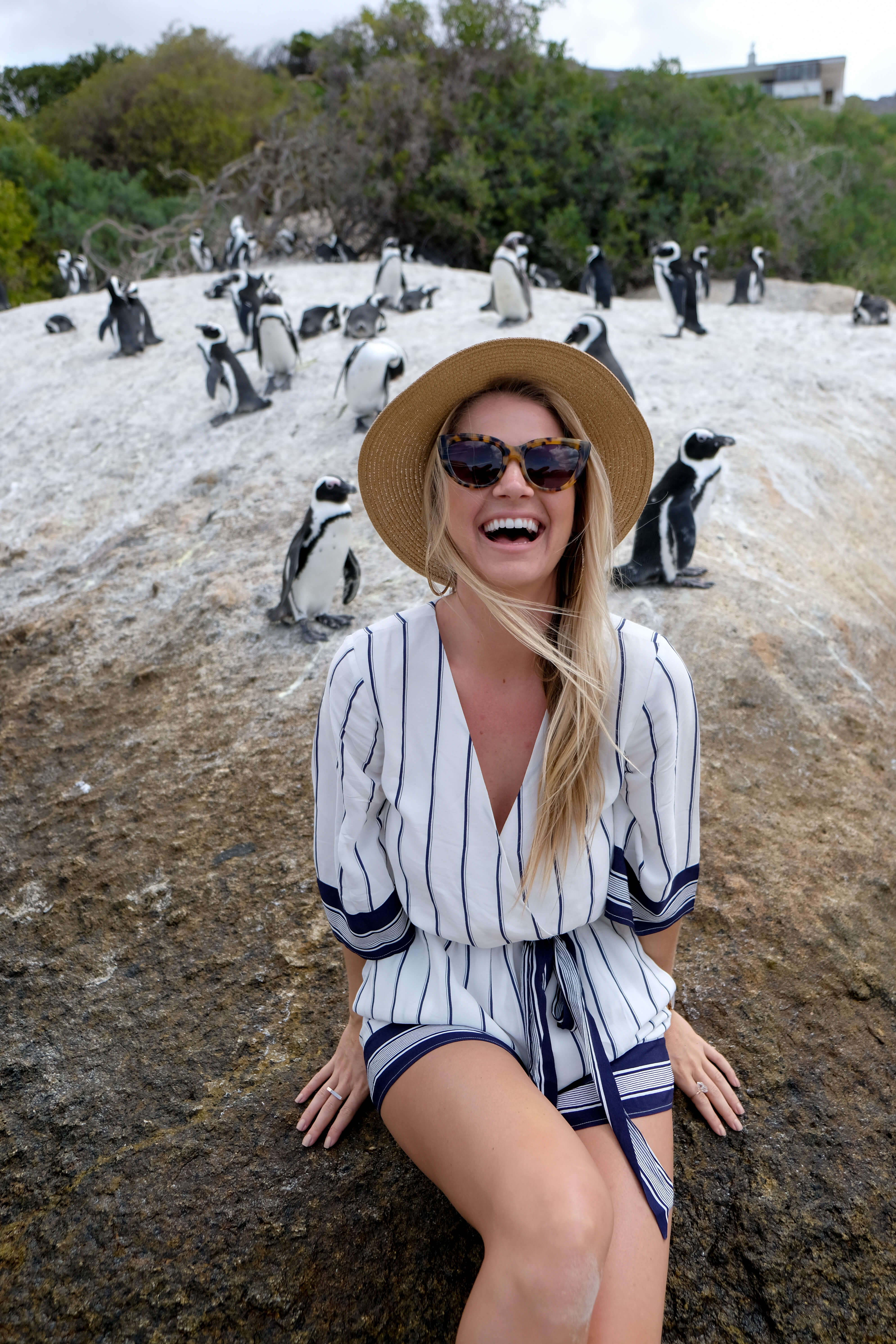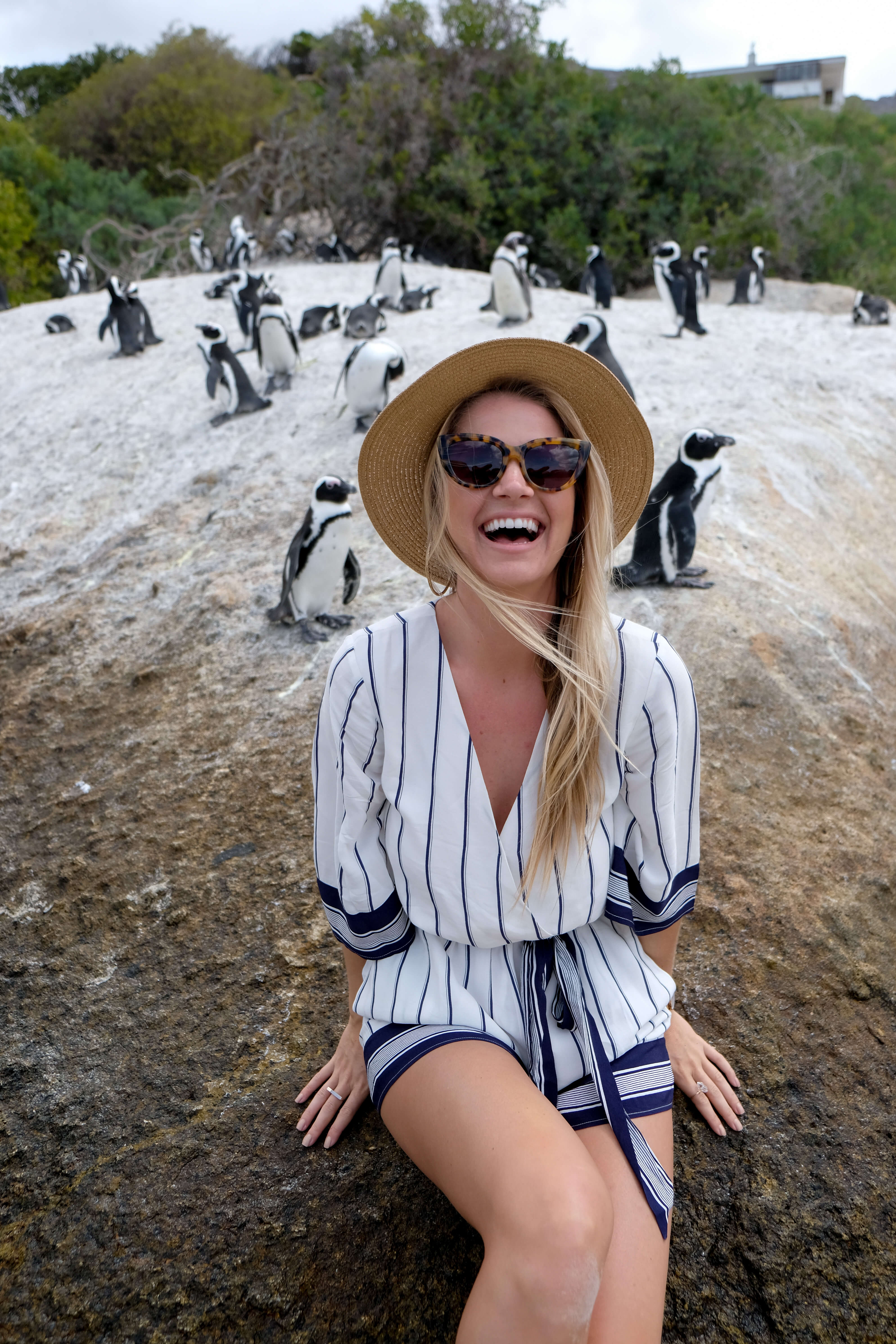 Stop 6: Boulder's Beach
Now, what most of you have been waiting for, my tips for visiting the African Penguin colony at Boulder's Beach!
African penguins love the crystal clear waters and granite boulders of Boulder's Beach— which makes for an unbelievable photo opp. Don't miss these lovable birds and their donkey-like calls!
There are two ticket entrances for Boulder's Beach. The penguin observatory deck and the beach entrance (at the other side of the footpath). You can also drive and park at either entrance. Your ticket is good for re-entering each side in the same day.
Helpful Tip: SANparks just doubled their entrance fees for tourists, so the current fees are R152 per adult and R76 per child.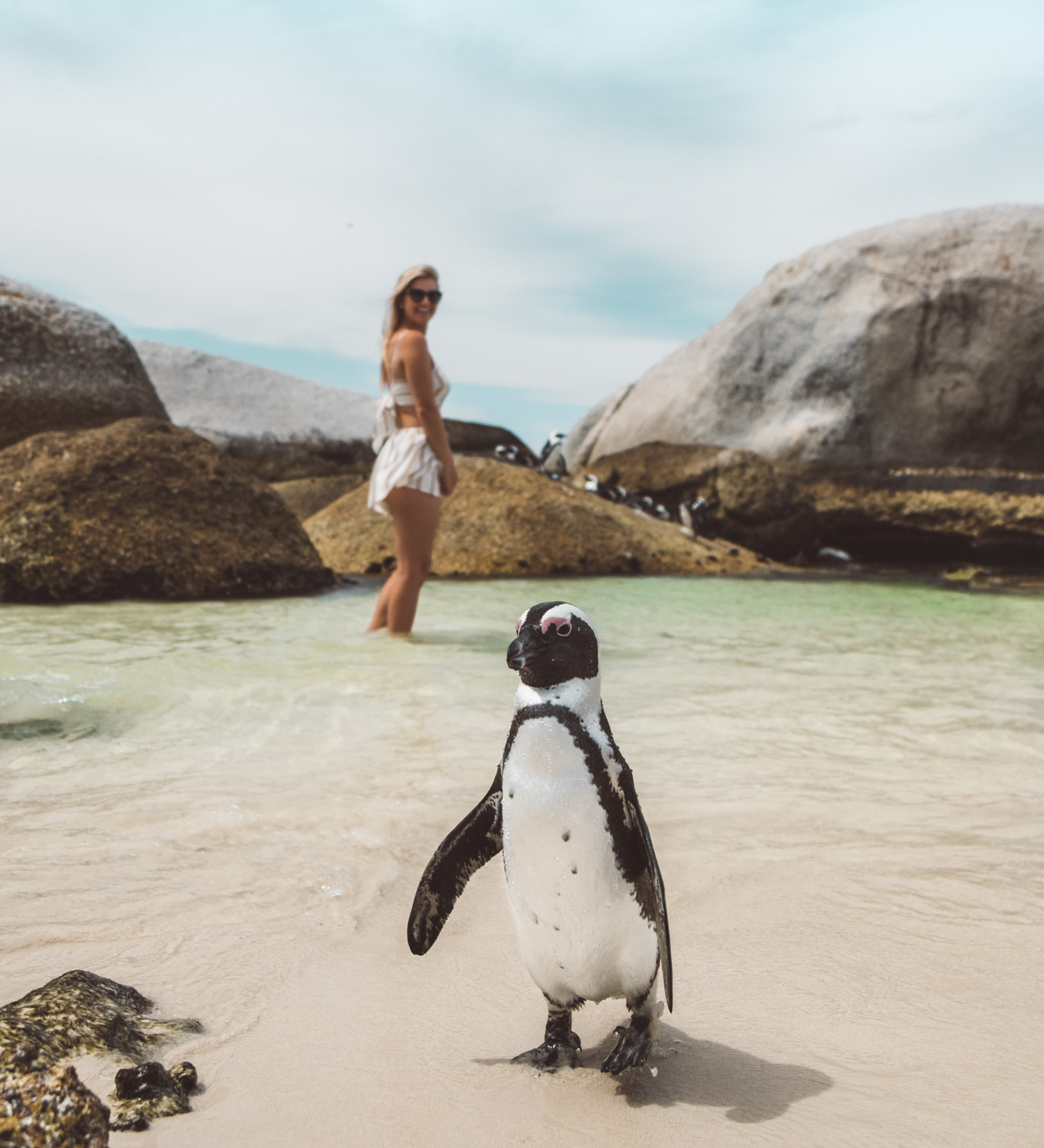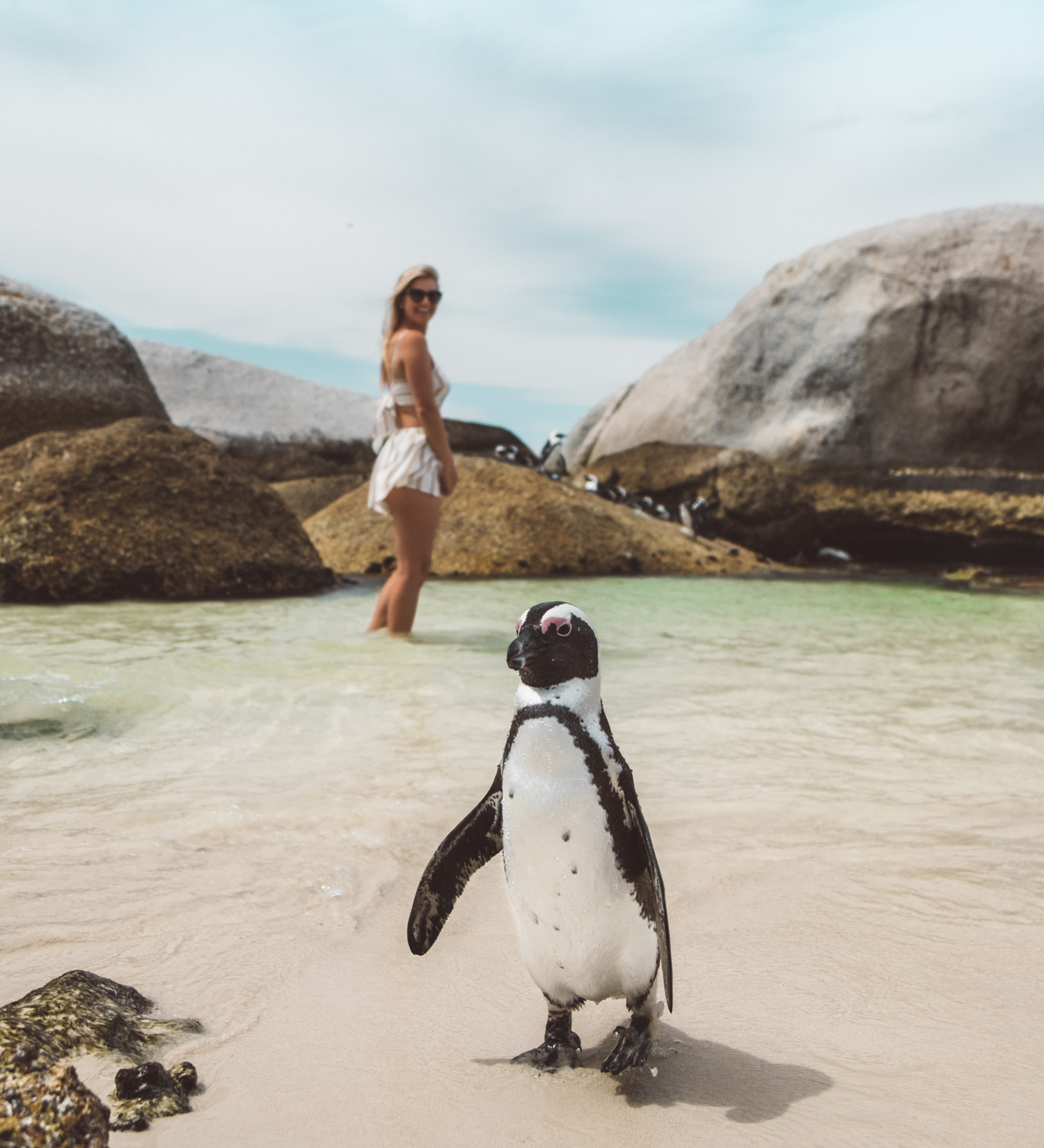 Stop 7: Cape of Good Hope
The Cape of Good Hope is the most south-western point of the African continent! Step out of your car for stunning views of the coastline, deep oceans, fierce cliffs, and sandy beaches.
Stop at the Cape of Good Hope sign before making your way to the parking lot at the base of Cape Point.
Visitors can hop on the Flying Dutchman Funicular to the base of the lighthouse for an amazing panoramic view. Walk up to the old lighthouse, a now-defunct tower perched atop the peak of Table Mountain sandstone.
Cape Point falls within the Cape Floral Region, a World Heritage Site, and is home to nearly 20 percent of Africa's flora.
Have a brief hike around the vegetation and keep your eyes open for wildlife—seafowl, ostrich, and chacma baboons are all common here. You can also make your way to the Two Oceans Restaurant for a glass of wine or early dinner.
Helpful Tip: SANparks just doubled their entrance fees for tourists, so the current fees are R303 per adult and R152 per child. A roundtrip ticket for the Flying Dutchman is R80 per adult and R35 for kids.
Honest Opinion: While I know the whole point of this itinerary is to go to Cape Point, I honestly feel that because they have raised prices so dramatically, it adds 1-2 hours to your itinerary, and wind conditions are often unbearable, that it's simply not worth the stop. Curveball, I know. Personally, I feel that the road trip features all of the major highlights without the Cape of Good Hope.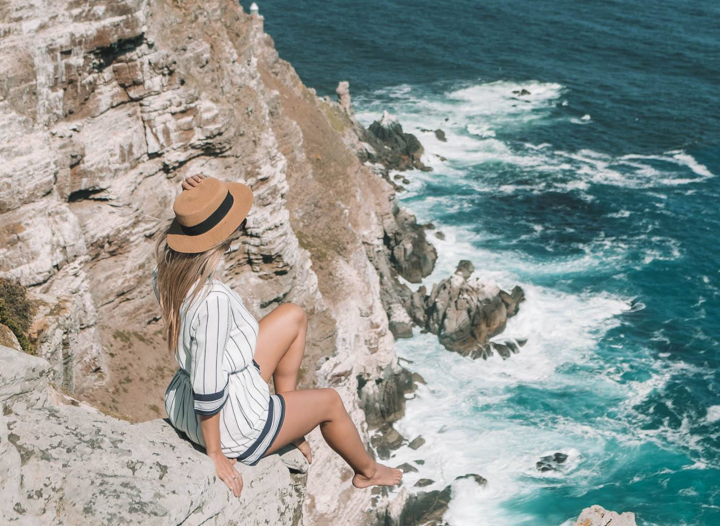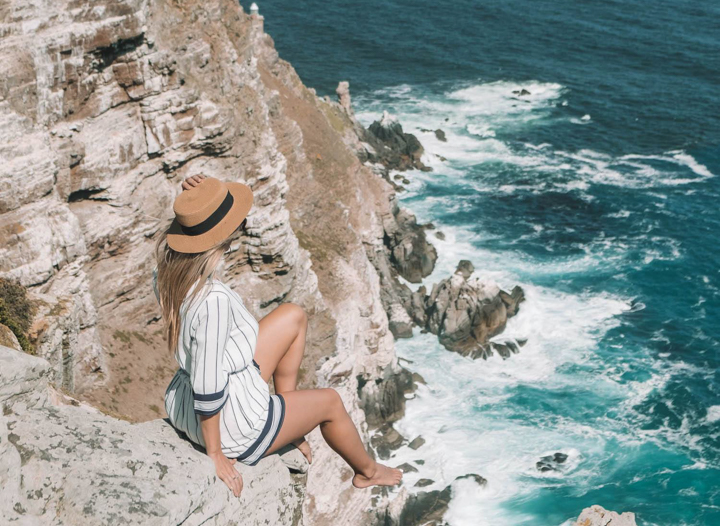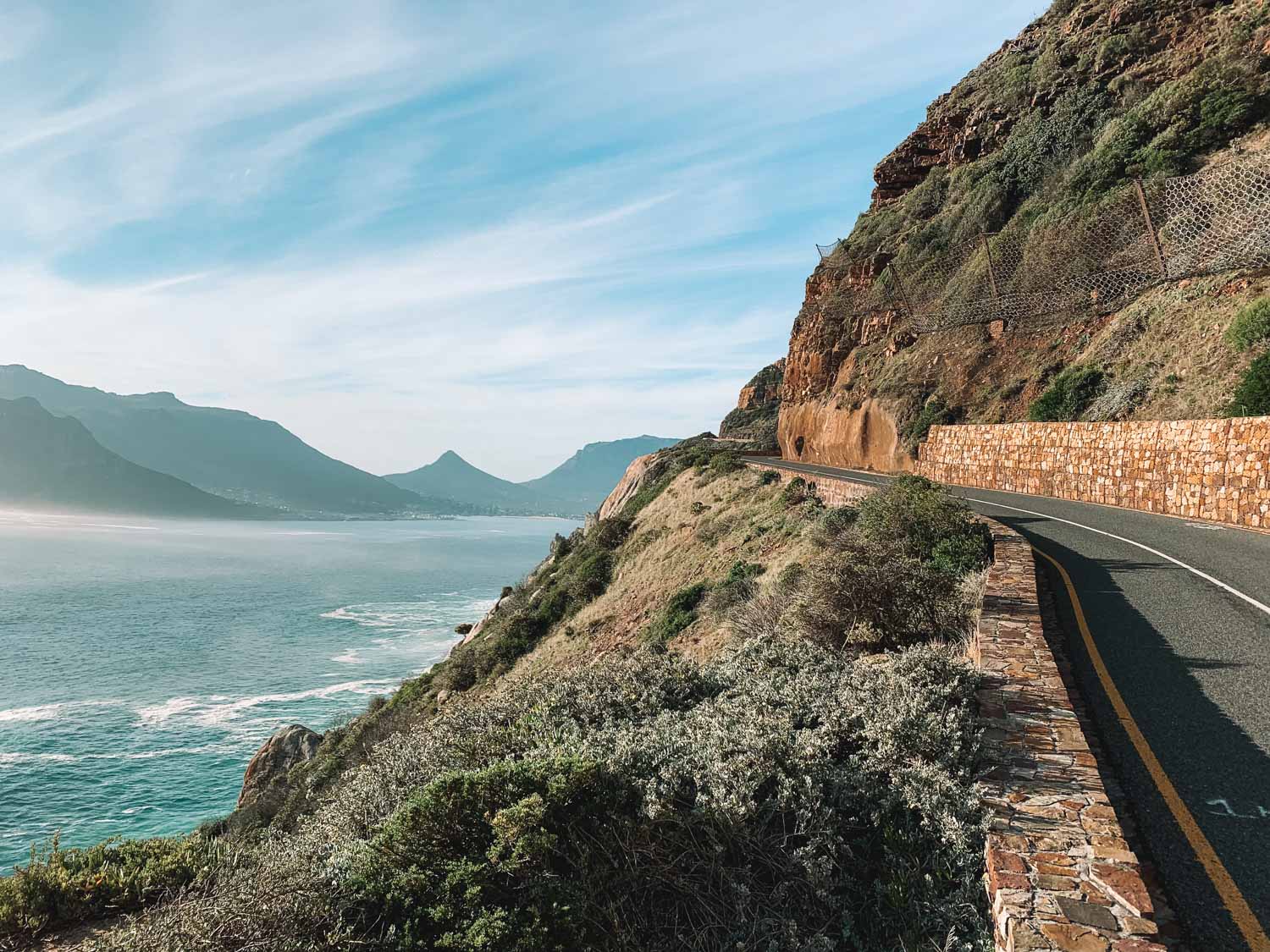 Stop 8: Chapman's Peak for Sunset
From Cape Point, you're looking at an hour's drive to Chapman's Peak (so plan accordingly)!
Take the scenic route through Scarborough, past Misty Cliffs, and, if you have time, stop at the Kommetjie lighthouse. Otherwise, cut through Ocean View and continue up and around Chapman's Peak Drive until you reach the Chapman's Peak Lookout.
I come here often with my boyfriend to enjoy a bottle of wine and watch the sunset!
Helpful Tip: Chapman's Peak Drive is one of the most beautiful drives in the world. But, in my opinion, it is a dangerous road and, if you aren't a confident driver, skip it and drive back to Cape Town via the inland route or drive VERY slow (don't be distracted by the views!).
You will pass a toll road that doesn't accept foreign credit cards, so be sure to have cash handy. The rates change seasonally, but for a normal passenger car expect around R50-60.
Please Note: A young woman recently fell and died from falling off Chapman's Peak Lookout. I'll be honest in that I have also gone over the rails with locals where there are warning signs. While her fall was an accident, the rock here is very unstable, which is why there are barriers and signs. I would recommend staying behind the railing for your own safety (even if you see locals crossing them).