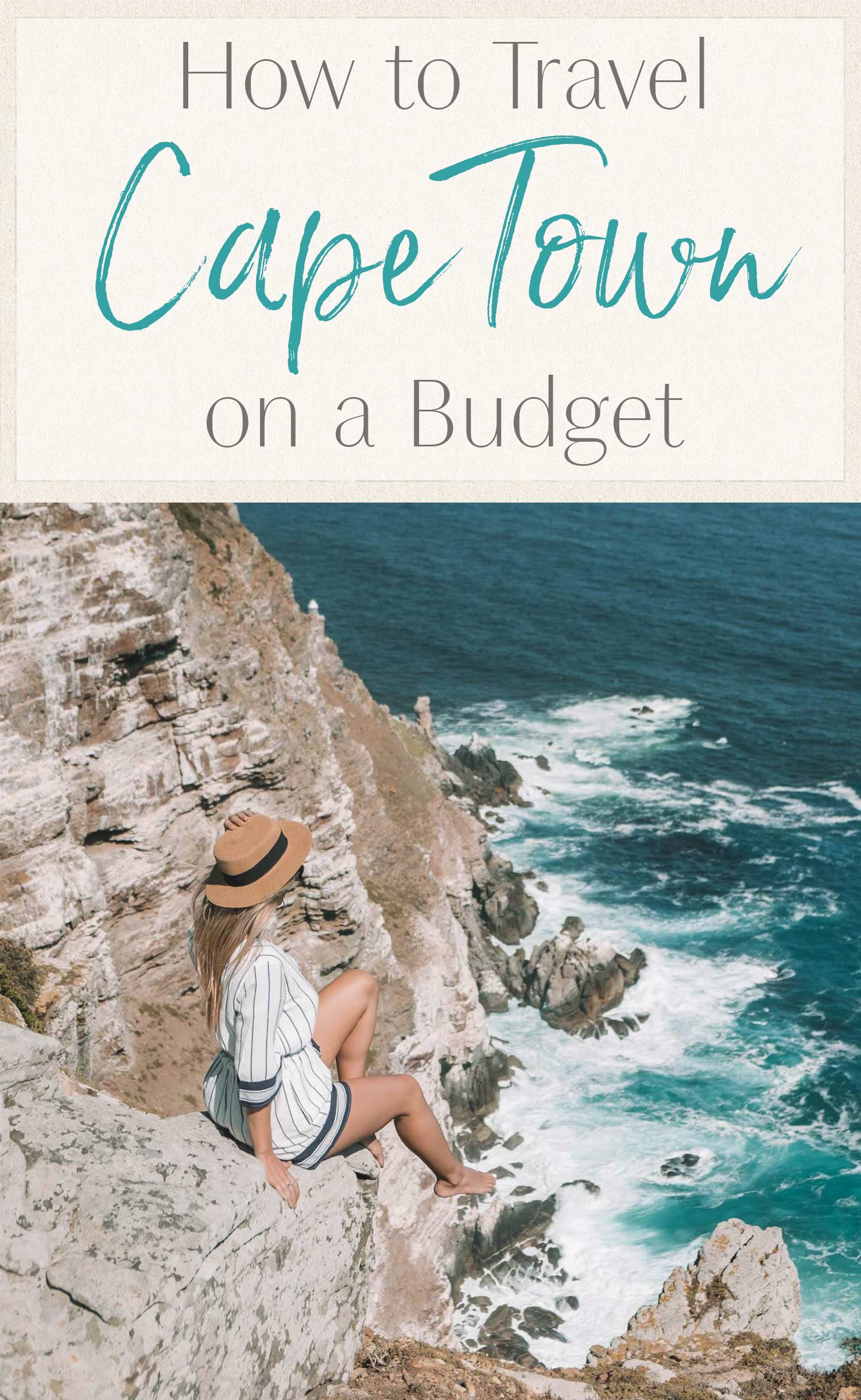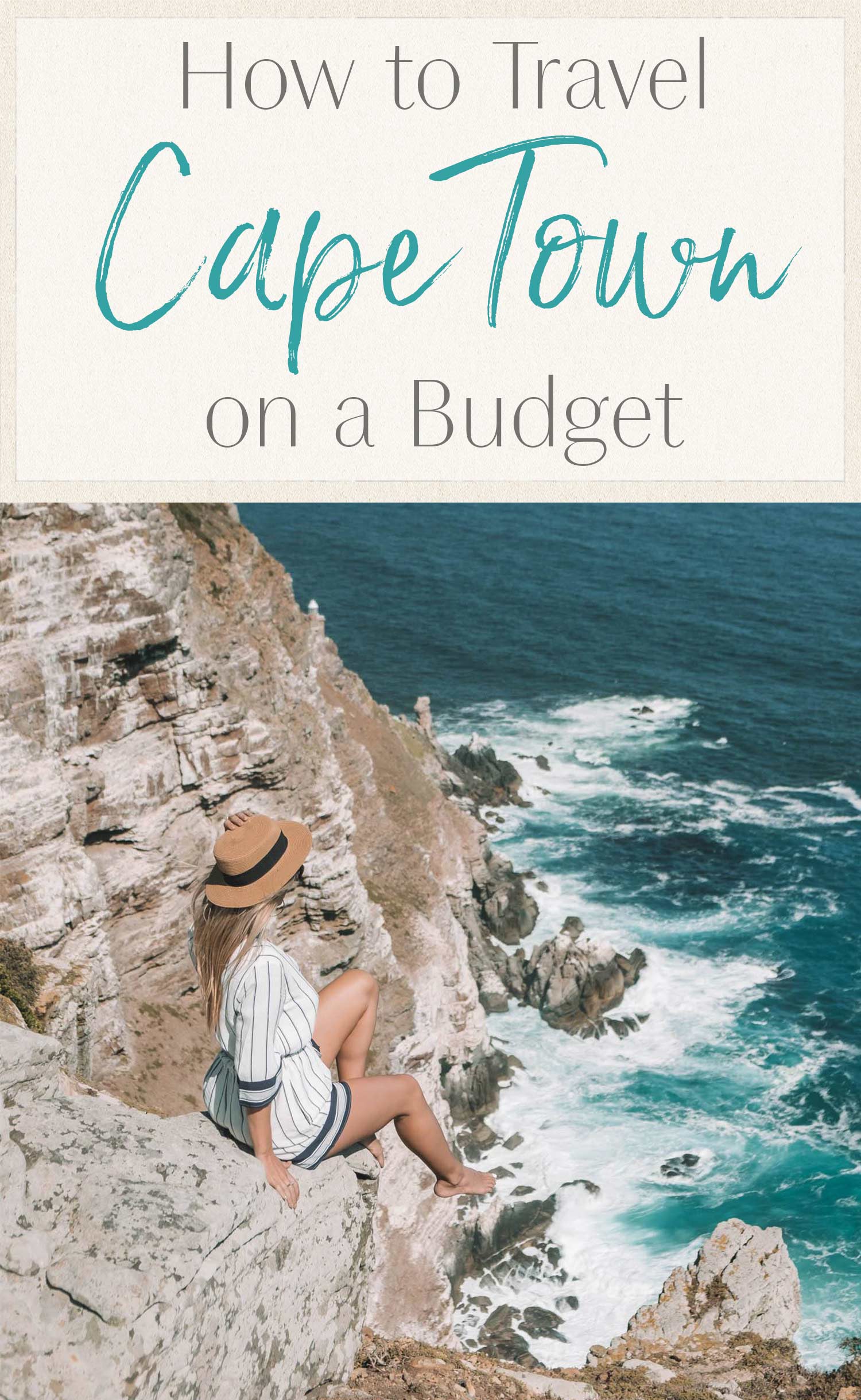 Cape Town is one of the most affordable destinations for US citizens. With an exchange rate that favors the dollar, you can stretch your money far in the Mother City.
A good cup of coffee will cost you around $2 and most breakfasts & lunches at Cape Town's top restaurants will only set you back $4 to $6. When it comes to activities, there's an endless list of things to do in Cape Town that will cost you little to nothing.
Here's my guide on how to travel Cape Town on a budget!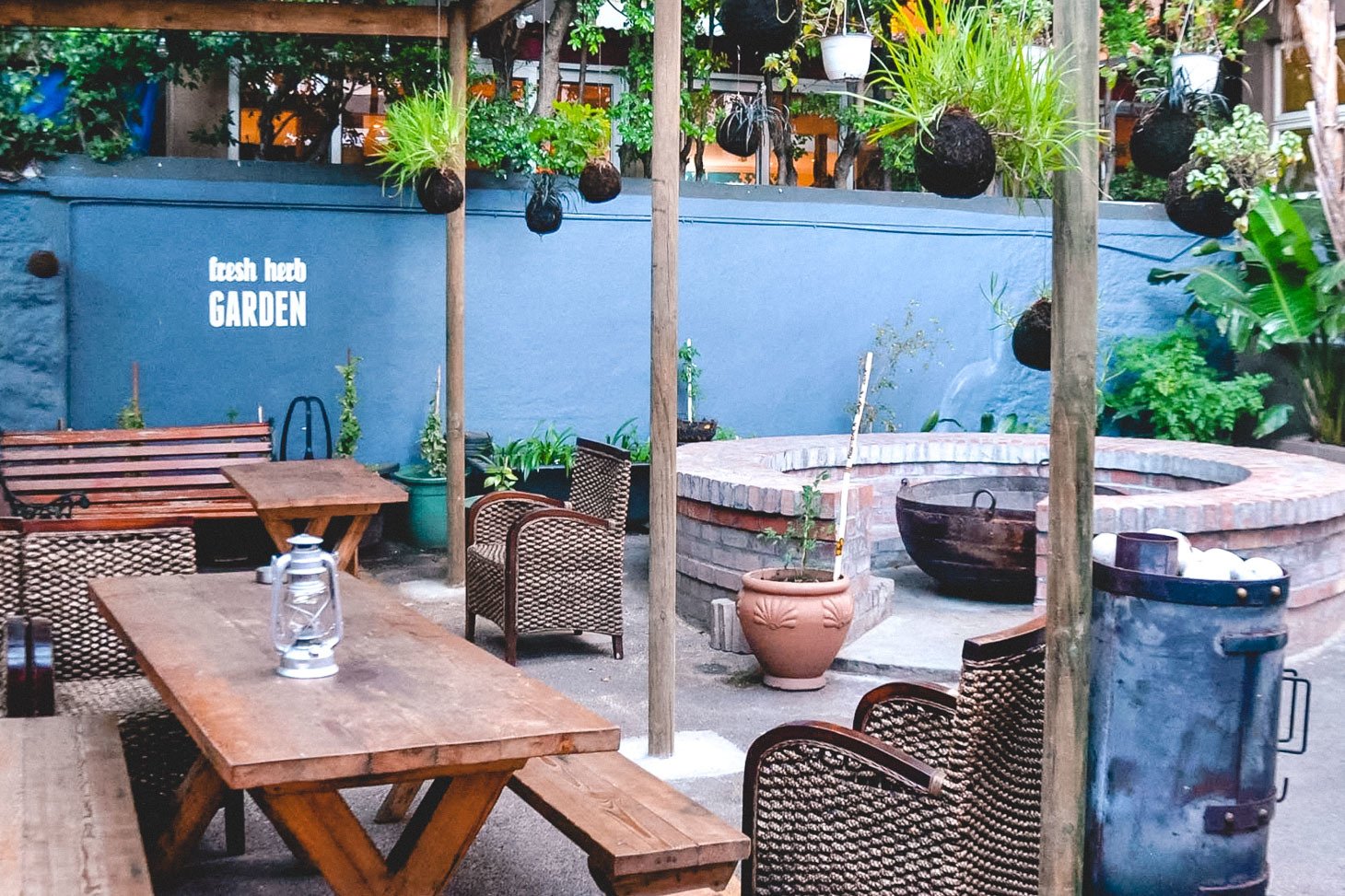 Once Hostel
Where to Stay in Cape Town
There are so many amazing boutique and luxury hotels in Cape Town, some are ultra-romantic— and there are many budget accommodation options as well! There are a lot of vacation rental properties, so there's something for every traveler.
Once Hostel is my favorite budget stay in Cape Town. The property has three on-site restaurants, it's in a great location near the city's nightlife, restaurants, and other attractions and there are plenty of room options.
Alternatively, 91 Loop Boutique Hostel is also a great option!
I'd also recommend booking an apartment or vacation rental near the beaches! I love being able to stay around locals and experience a more authentic side to a destination.
It's also a better budget option if you're traveling in a group.
If you're traveling to Cape Town in the summer, accommodations book up well in advance, and you'll have slim to no options to choose from if you leave it to the last minute.
For more mid-range to luxury options, check out my ultimate Cape Town travel guide!

Getting Around in Cape Town
Uber: Uber is the best way to get around Cape Town on a budget. It's the city's most reliable, safest and affordable transportation option. With most of the top sights close to each other, a one-way trip will only cost a couple of dollars. I would avoid the normal metered taxis if possible. Uber South Africa vets all their drivers, and you have all their details in case anything happens.
My CitiBus: While the My CitiBus is a cheap way to get around the city, it's not the best option. The buses are often unreliable, and it will take you a LONG time to get between destinations. If you're not in a rush, you can buy a transport card from one of the stations and use the free app to get the latest information on timetables, fares, and routes.
Rent a Scooter: If you're a confident (and defensive) driver, rent a scooter and explore Cape Town at your own pace. I personally drive a Vespa because it's the easiest and fastest way to get around the city. Plus, it only costs me R 70 to fill it up every week, making it a super budget-friendly option.
Depending on when you visit Cape Town, you can expect to pay around R 300 a day or R 3,000 a month for a scooter. Keep in mind that Cape Town is notorious for its strong winds. Even my 6'5″ boyfriend has been knocked over by the wind when driving his scooter through the city!
Rent a Car: For road trips along the Cape Peninsula, I recommend renting a car for the day. You don't need to have one for your entire trip, making it an affordable option for day trips outside of the city. Prices will vary depending on what sort of vehicle you get, but they can be as low as R 260 per day. Request an auto-transmission vehicle if you don't know how to drive manual.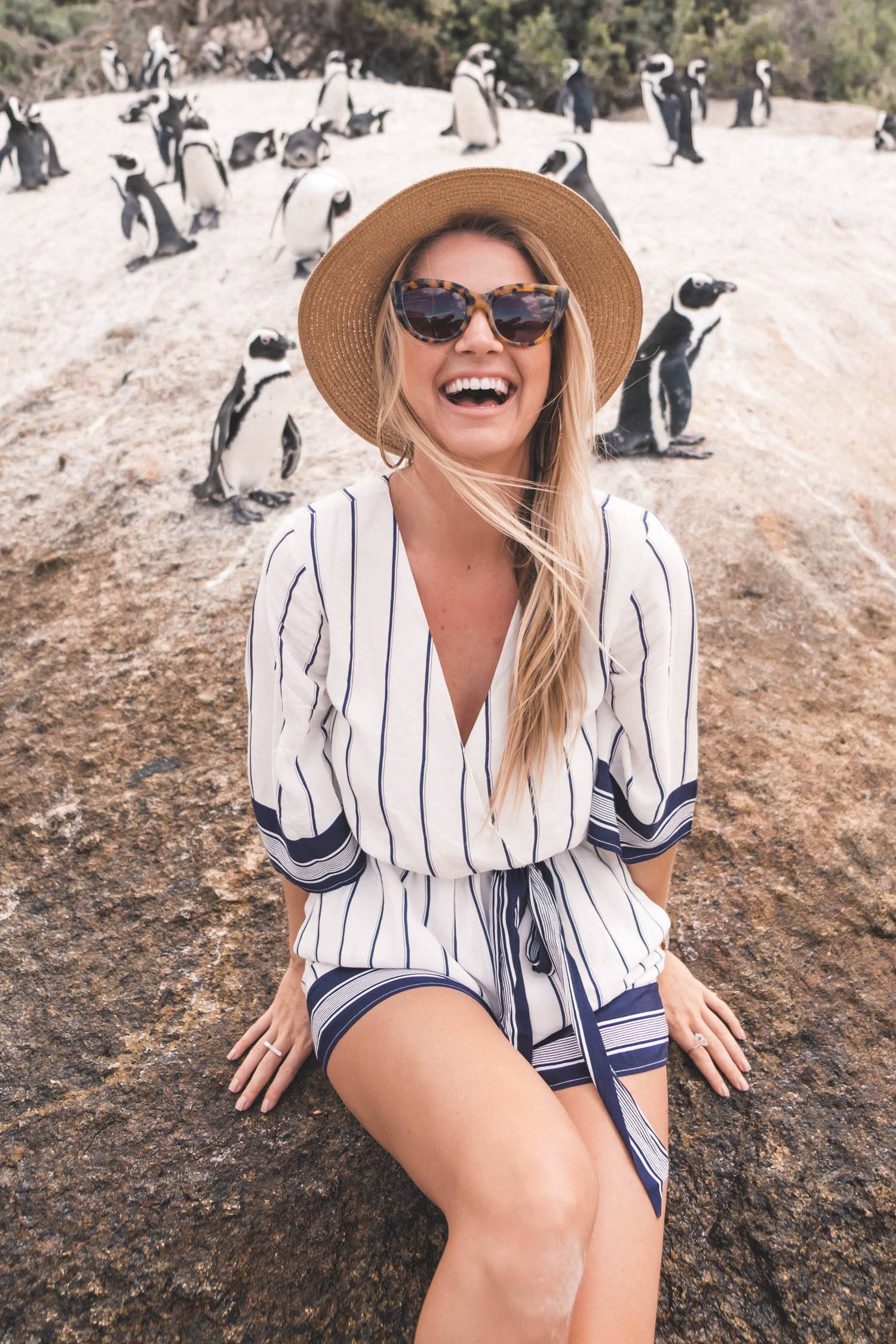 Boulders Beach
Cheap Things to Do in Cape Town
Boulders Beach: Boulders Beach is famous for its colony of African penguins. Situated along the coastline of Simons Town, the nature reserve looks like the Seychelles with its ancient granite boulders, turquoise waters, and soft white sand. Entrance is R 152.00 for international visitors and R 39.00 for locals.
Go Wine Tasting: Just outside of Cape Town is where you'll find South Africa's award-winning Winelands. Stellenbosch, Franschoek and Elgin Valley boast a massive number of wine farms that you can explore. The best part is that most tastings will only cost between R 25 to R 100 at each farm. I'd also highly recommend taking the Franschhoek wine tram. You can choose from a number of routes and hop on and off at the different wineries. Tickets are R 240 per person and don't include the wine tasting fees at each estate.
Kirstenbosch Botanical Gardens: Kirstenbosch is one of the best things to do in Cape Town. If you're visiting the city during the summer months, you can attend one of the sunset concerts. During the day, you can wander along the many walking trails, get a birds-eye view of the gardens from on top of the Boomslang Walkway or have a picnic. Entrance is R 70 per person.
Labia Theater: The Labia Theater is the oldest running Independent Art-Repertory theater in South Africa. It shows independent films, foreign films, and historical cinema. Plus, tickets only cost R 40!
Sea Point Pool: The Sea Point Pool is a beautiful public pool that's only minutes from my apartment in Cape Town. It only costs R 23 per person for the entire day, and you'll have access to a 50m Olympic size pool, a fun pool, and a kiddie splash pools.
Visit the Food Markets: Cape Town is home to delicious food markets that sell everything from gourmet avo on toast to fresh produce. My favorite one is Oranjezicht City Farm Market (followed closely by the Neighbourhood Market in Woodstock), Mojo Market in Sea Point and the V&A Waterfront Food Market.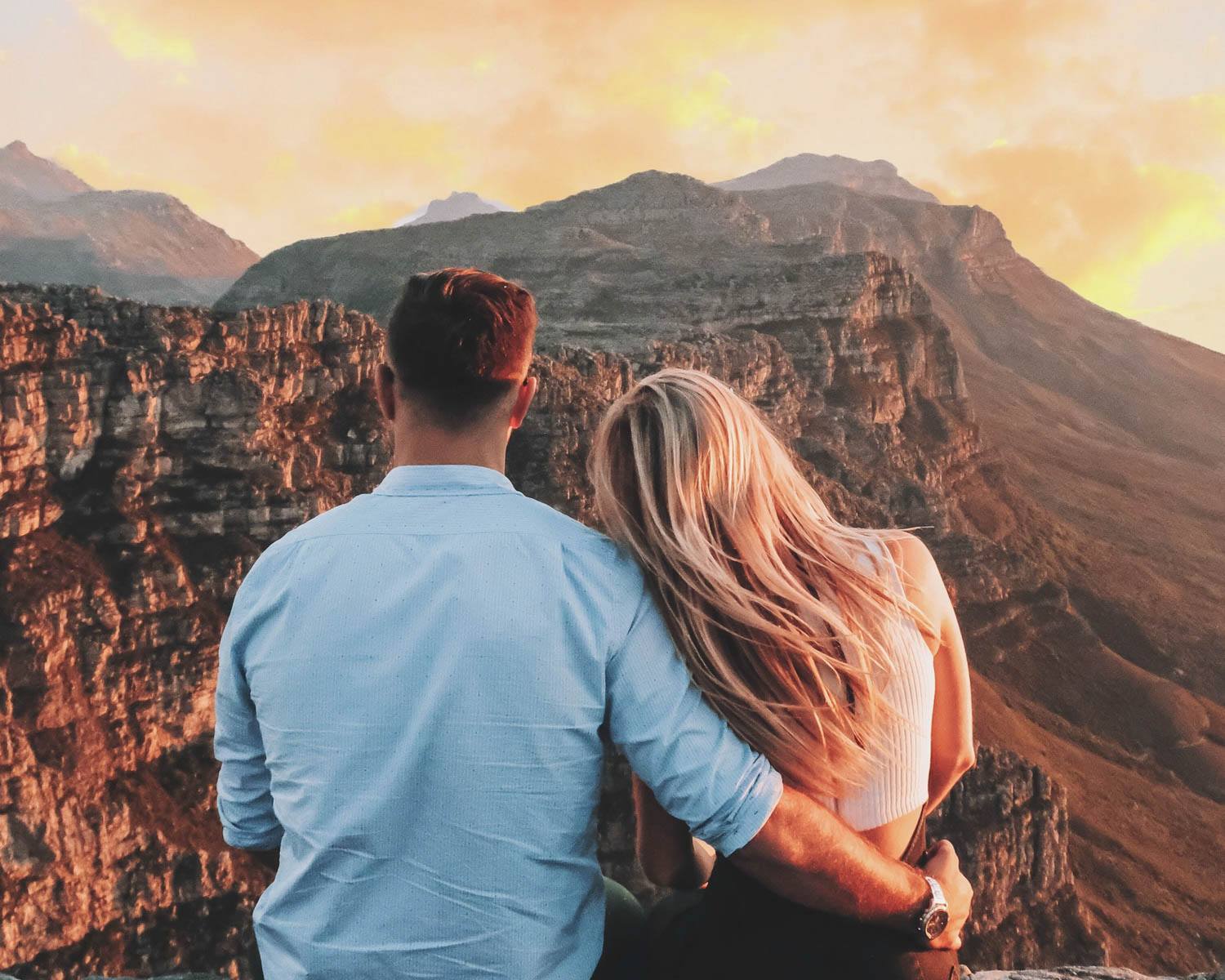 Table Mountain
Free Things to Do in Cape Town
Bo Kaap: The Bo Kaap is a colorful neighborhood in the heart of the city. It's free to walk around past the houses, but please be respectful to the residents.
Hiking: One of the best parts about living and traveling to Cape Town is the city's outdoor lifestyle. There are dozens of free hiking trails that zigzag around the city. You can easily spend your entire vacation tackling one route each day. Some of my favorites are Lion's Head, the Pipe Track, Kloof Nek and the walking trails on top of Table Mountain.
Go to the Beach: While the ocean around Cape Town is freezing, the city's beaches are beautiful. My go-to's along the Atlantic Seaboard are Clifton, Camps Bay, and Llandudno. If you're traveling around the Cape Peninsula, don't miss Noordhoek Beach, Dias Beach inside Cape Point and the colorful beach houses along Muizenberg Beach.
Table Mountain: If you're an avid hiker, you can walk to the top of Table Mountain for free. The most direct route is Platteklip Gorge and will take around 2-3 hours. However, it is a steep ascent. If you're looking for an easier way to the top, you can take the Aerial Cableway. A return ticket costs between R 290.00 – R 330.00 or, if you hike up, you can get a one-way ticket for R 145.00-R 165.00.
First Thursdays: First Thursdays is an institution in Cape Town. The event takes place on the first Thursday of each month, and the city center becomes a massive walking street after hours. All the art galleries, bars, and restaurants stay open late and there's plenty of free wine, drink specials and other events that take place.

Suggested Daily Budget
Overall, I recommend budgeting for R 460- 600 ($35-35) per day for Cape Town. If you're not staying in hostels, cooking your own food or mostly doing free activities, you'll need to bump your daily budget up a bit more.

Do you have any tips for traveling Cape Town on a budget? Let me know in the comments below!