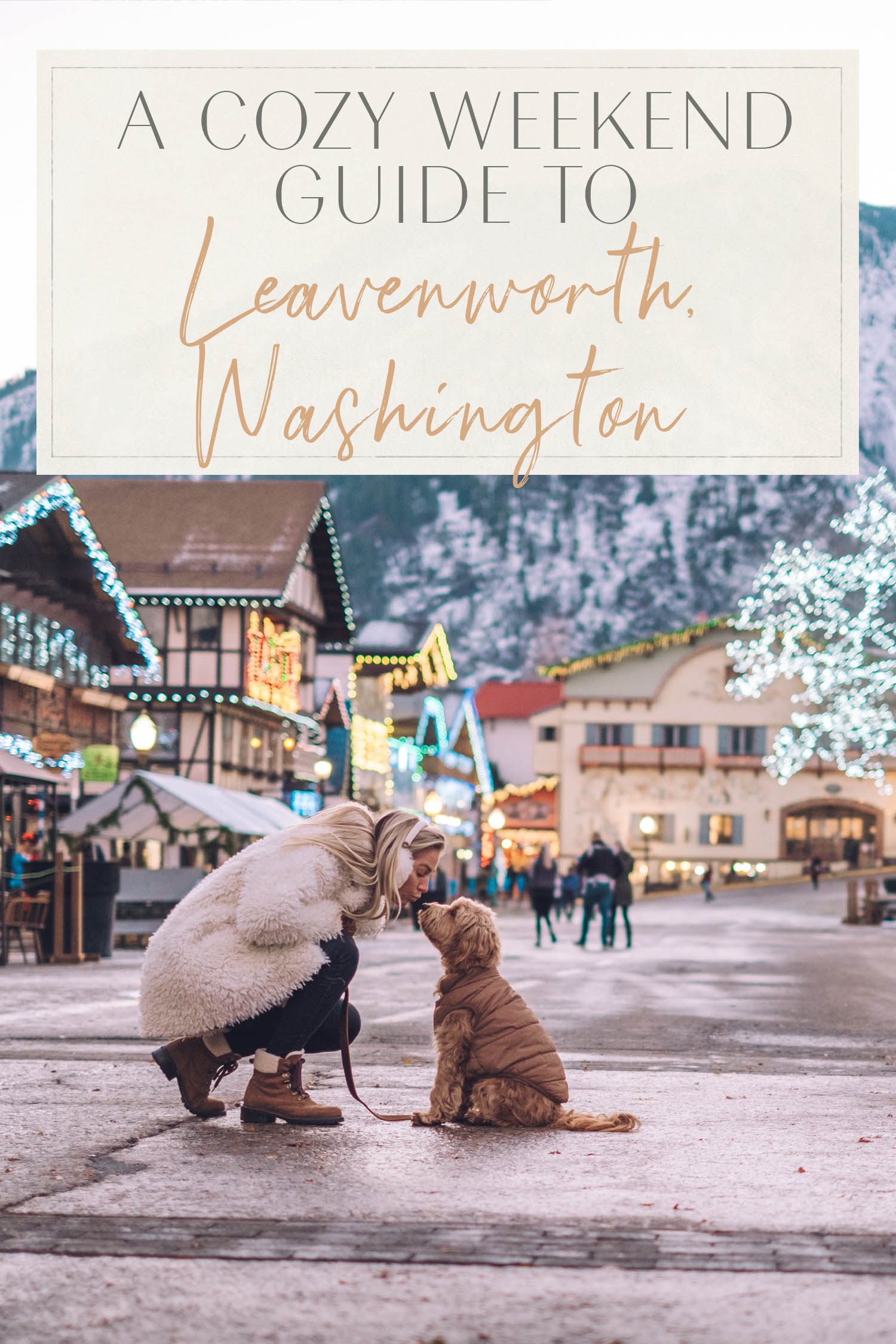 Traveling closer to home has opened my eyes to the incredible number of hidden gems we have on the West Coast. After taking a whirlwind Pacific Northwest Road Trip, I'd been dreaming about getting back to the area during the winter.
At the top of my list was Leavenworth, Washington.
This quaint little town is the perfect Pacific Northwest winter weekend getaway, especially if you can visit during the holiday season. If you're looking to embrace all those European Christmas market vibes without leaving the US, Leavenworth is like a little Bavaria.
While you would see the best of the town in 24 hours, I would recommend making a weekend out of it to truly get the chance to soak it all in. If you're going to explore the area, don't miss my tips for planning a winter road trip.
Ready to light the fire and start feeling those cozy cabin vibes? Here is your guide to a weekend in Leavenworth, Washington.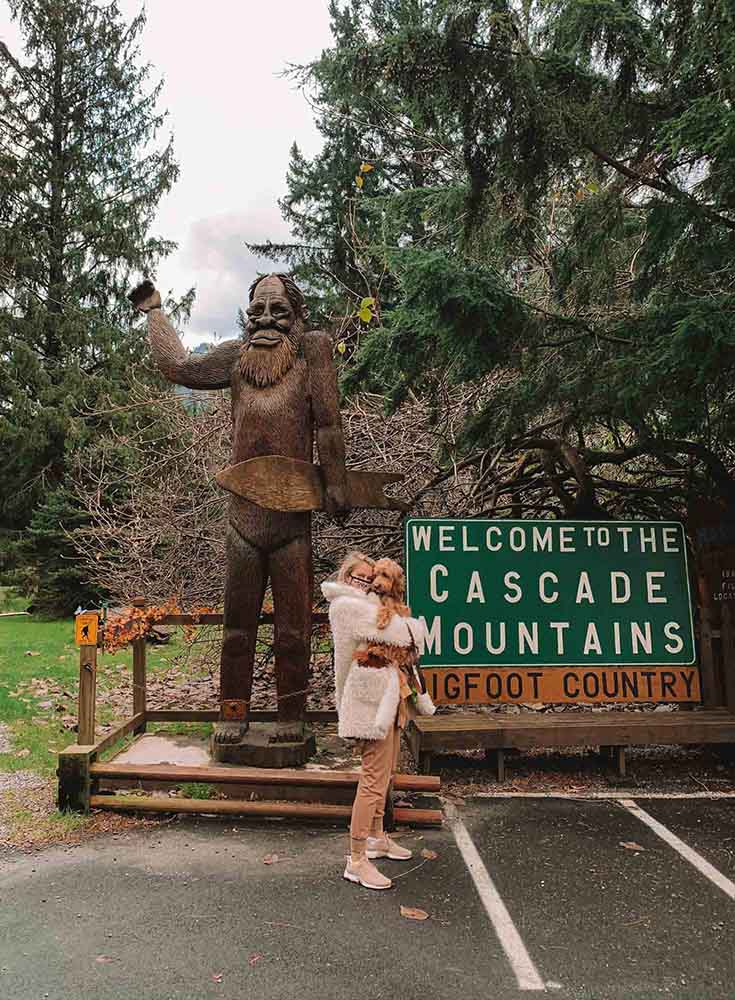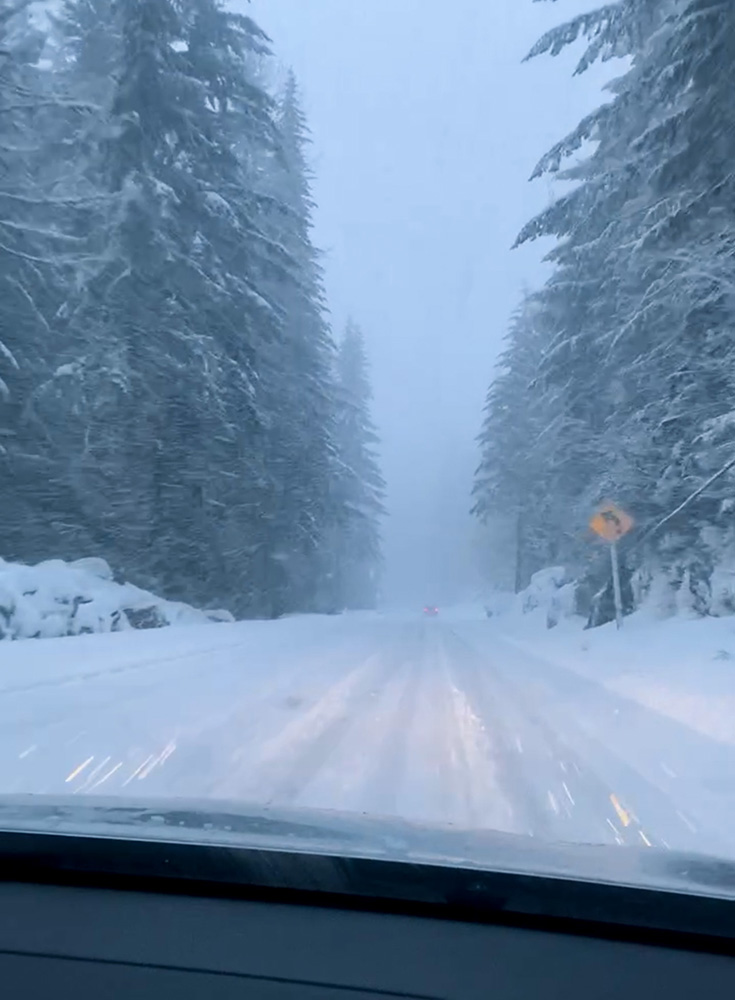 Getting There
Quick disclaimer before we get started: This can be a scary driving trip in the winter and it's not for the faint of heart.
As a California girl, I've only ever driven in the snow a handful of times. If you're like me and not used to facing rough winter weather, it is essential to come prepared, both mentally and physically.
Although it is a doable trip (and gorgeous even, if you're not getting snowed out), you most definitely don't want to be caught off guard.
While the trip is only two hours from Seattle during good weather, it took us four hours as we hit a snowstorm on the way in. Coming from Seattle, we went East on 2 (Stevens Pass HWY) and traveled through Sultan, Index, Gold Bar, and onto Stevens Pass.
My suggestion is to arrive in Seattle in the morning so you can drive during the day. It will make the journey much safer and easier. We definitely didn't want to drive this area in the dark.
I'd also highly recommend renting an AWD car and learn about driving in the snow if you're a relative newbie like me. Having that basic knowledge under your belt will make you more confident and safe on the road.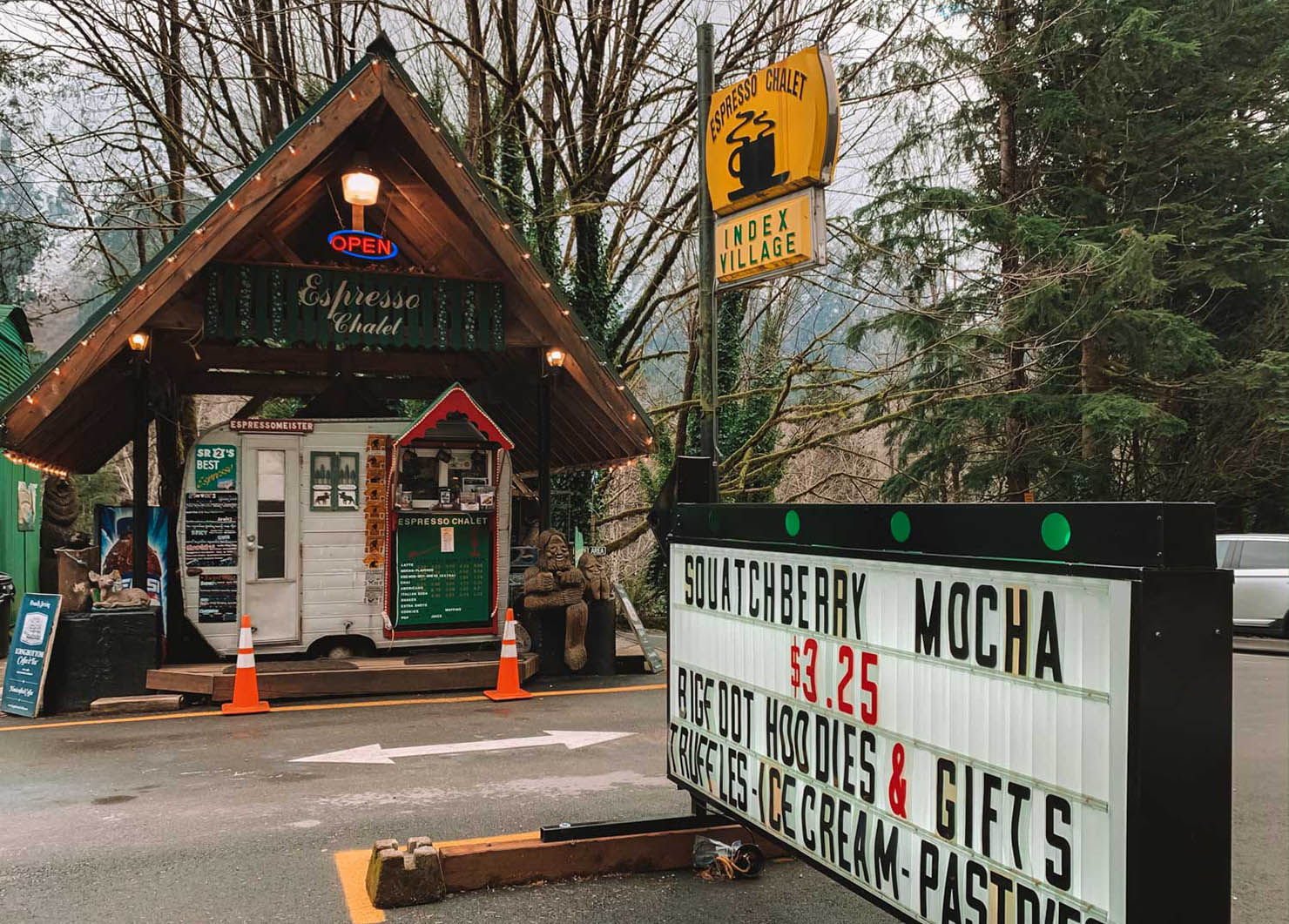 For a Coffee Break
Plan for a pitstop! My knuckles were as white as the snow trying to drive in a storm and Espresso Chalet was the perfect coffee break spot.
It was a sasquatch coffee hut in the middle of nowhere, but it could give any trendy hotspot a run for its money. From coconut to hemp milk to oat milk to goat's milk, they had a drizzling array of milk alternatives.
With more than 100 different syrups and flavors, you'll be spoiled for choice!
I loved their holiday coffee flavors and I'd highly recommend trying a sampling if you're here during the winter. We tried their sugar-free brown sugar cinnamon latte and eggnog on the way up and repeated our order on the way down the mountain.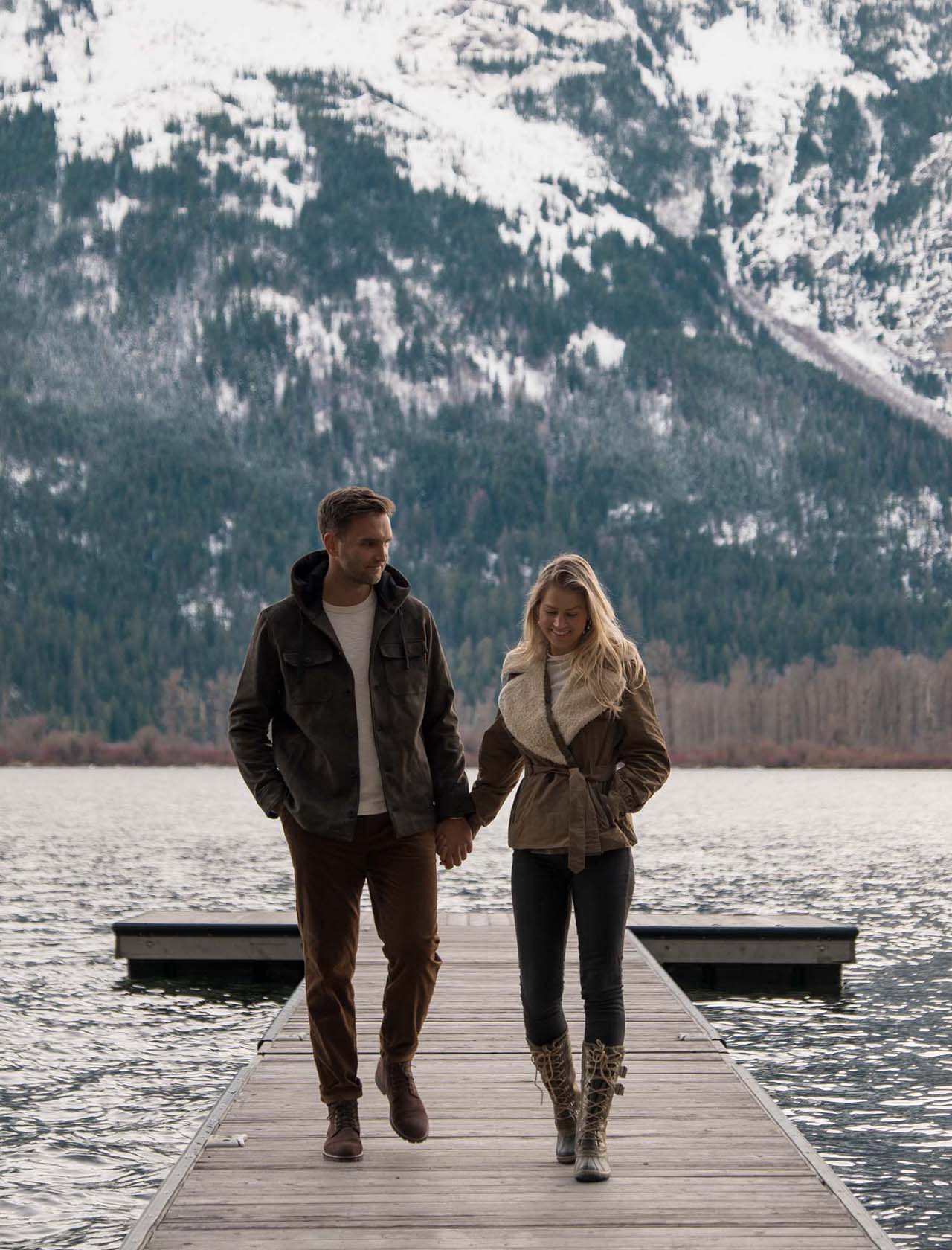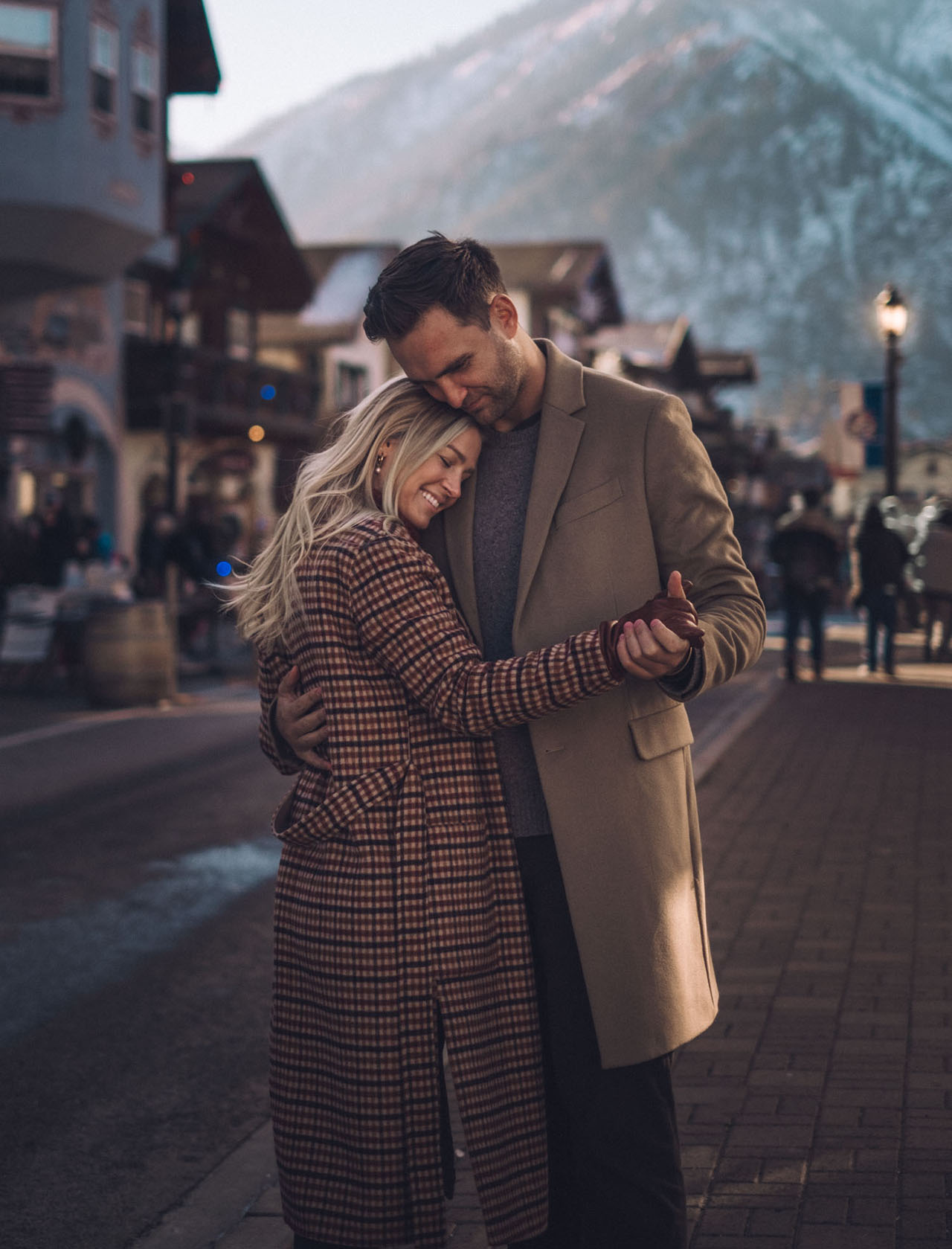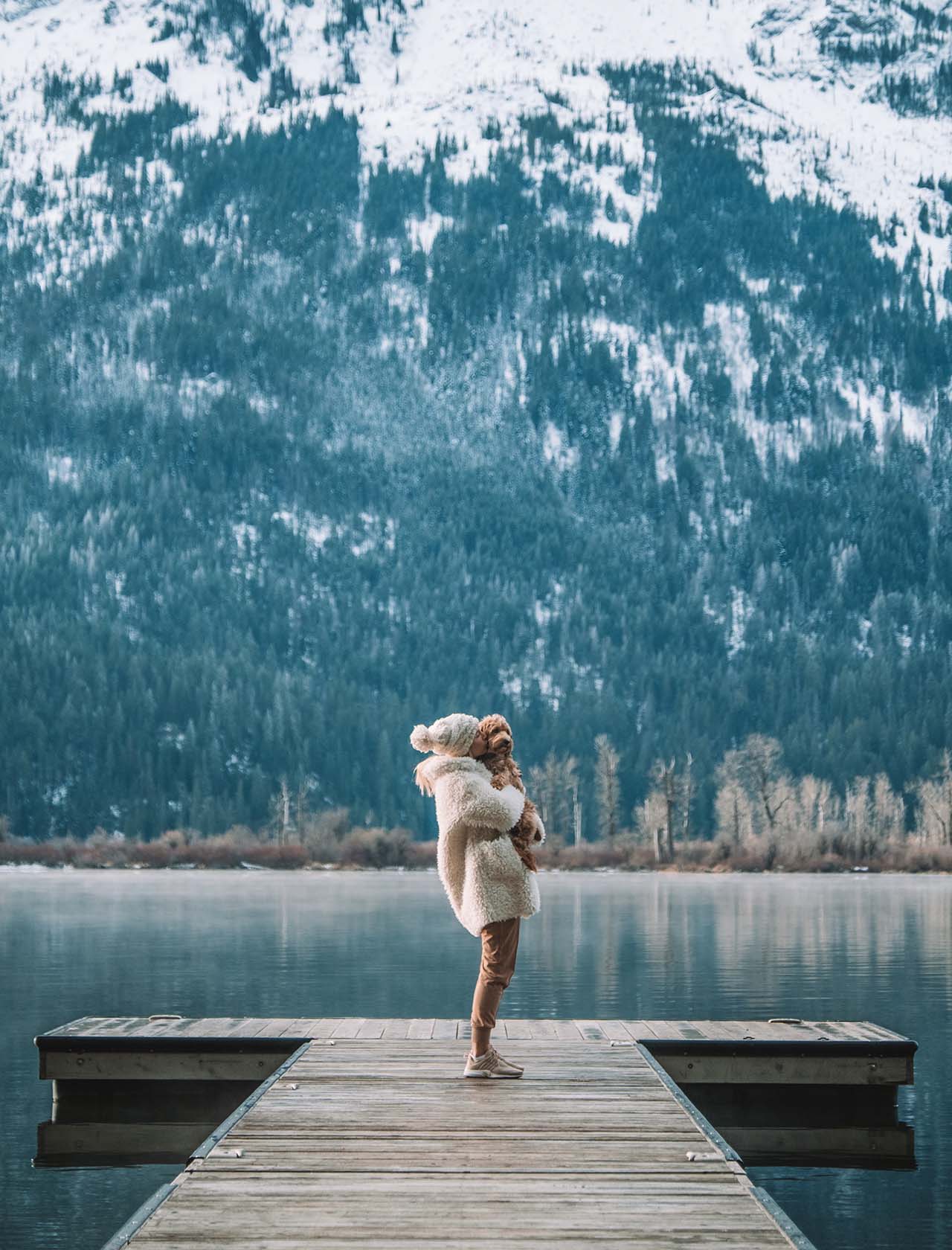 Where to Stay
We stayed in a picture-perfect cabin on Lake Wenatchee. Nestled in the forest 30 minutes outside of Leavenworth, it was a dream place to get away from it all. We adored our huge quiet house, and we noticed quite a few gorgeous holiday rentals in the area.
At Lazy Bear Lodge, you wake up to a sparkling lake beside a snowy mountain. It's remote, of course, so plan to spend your time making home-cooked meals, playing board games, and just getting cozy.
While it was a dreamy spot, it is remote. You're not off the grid but there are frequent electricity blackouts around here. After eight hours of travel, we arrived at a place with no lights. Worse yet, we had no heater in the dead of winter and even the water was gone because it depended on an electric pump.
The power did come back and all was fine, but I would recommend coming prepared. Arrive before dark and do your grocery shopping on the way here.
While this was a perfect place for family (you can sleep up to eight people), you could also check out the Posthotel if you're traveling as a couple. It's located in Leavenworth so it is a bit more convenient.
Here are some other places to stay in and around Leavenworth:
Note: When you book through these links I earn a small commission as an Airbnb Associate, which helps me run my blog + support my team. There is no extra cost to you—thanks for supporting!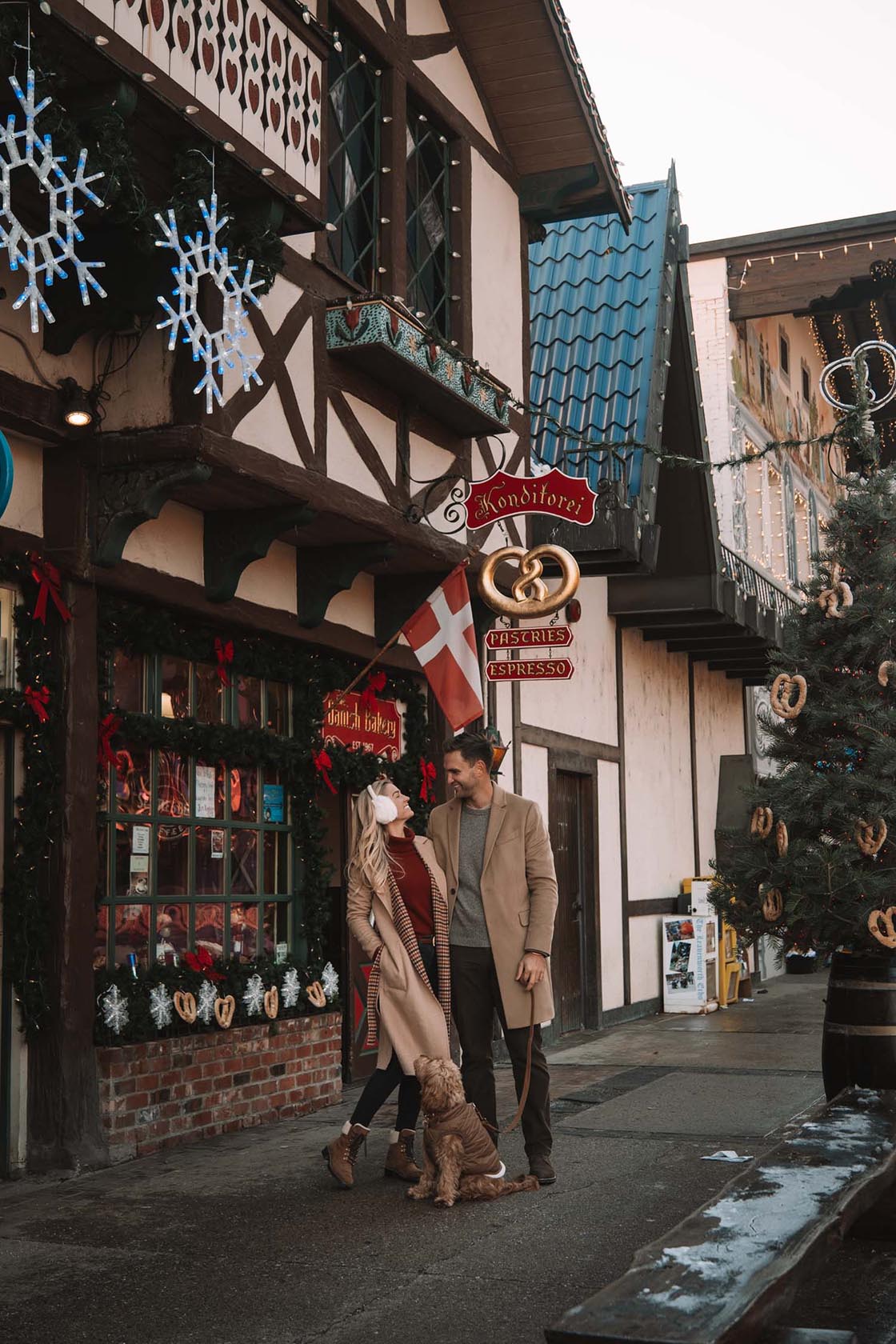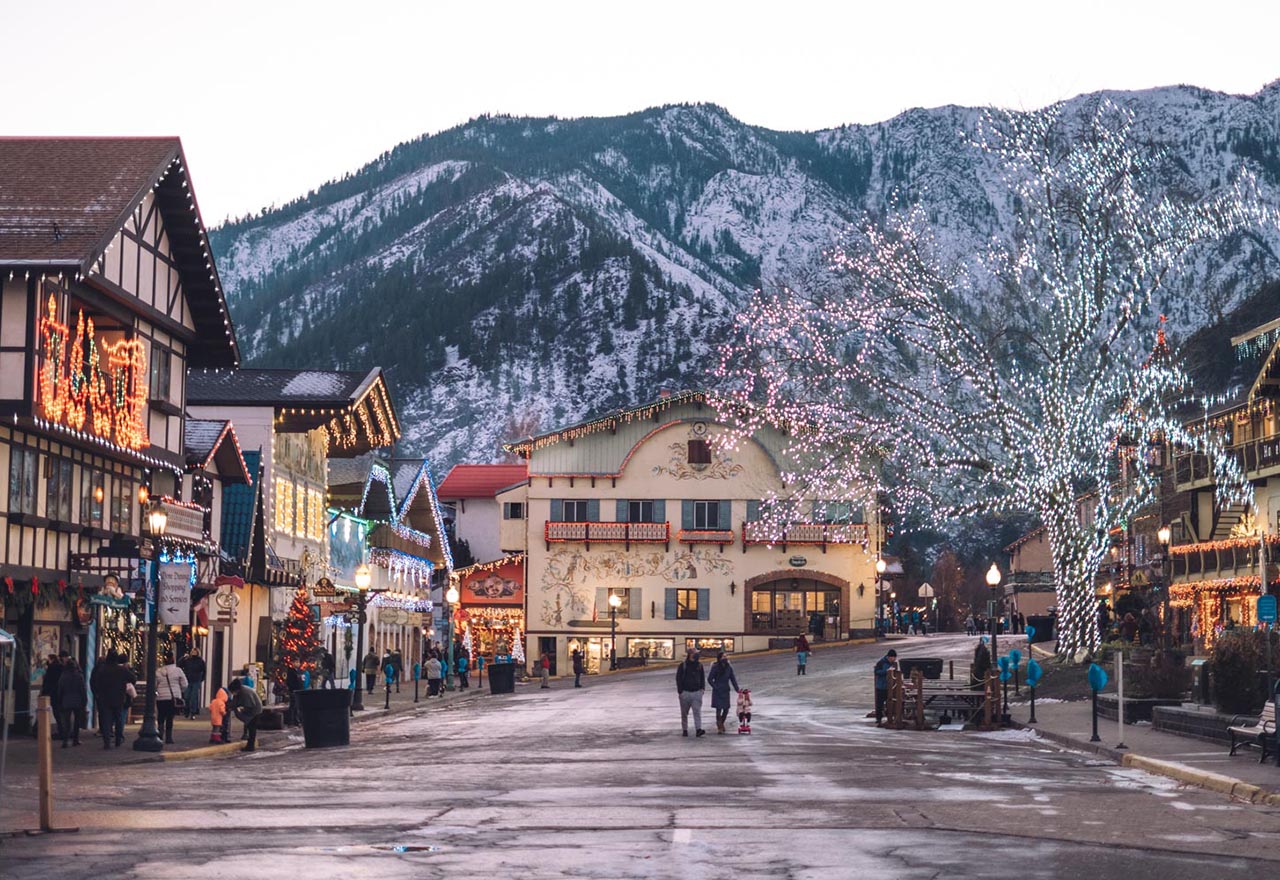 Day One
We arrived at the house around 4 pm. After dropping off our stuff, we went to Leavenworth for dinner then did our grocery shopping.
Once you get into town, you will find a good selection of restaurants and grocery stores. Coming from a long drive, I might have opted to just hang out in the cabin but we needed to eat and grab some basics so we made the best of it.
During the holidays, the town is stunning. I'd recommend going into Leavenworth at least once after dark to check out all the holiday lights and festivities!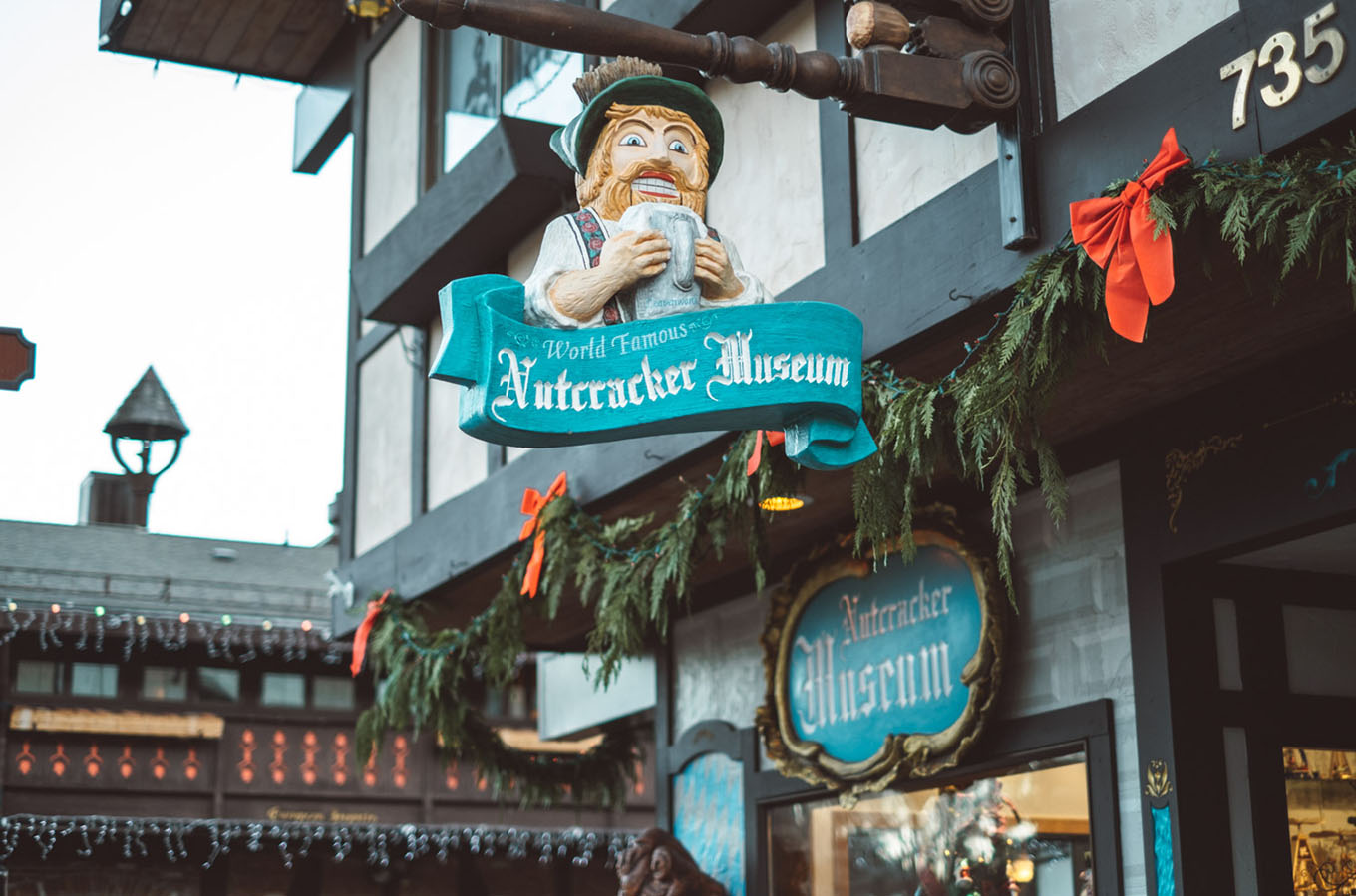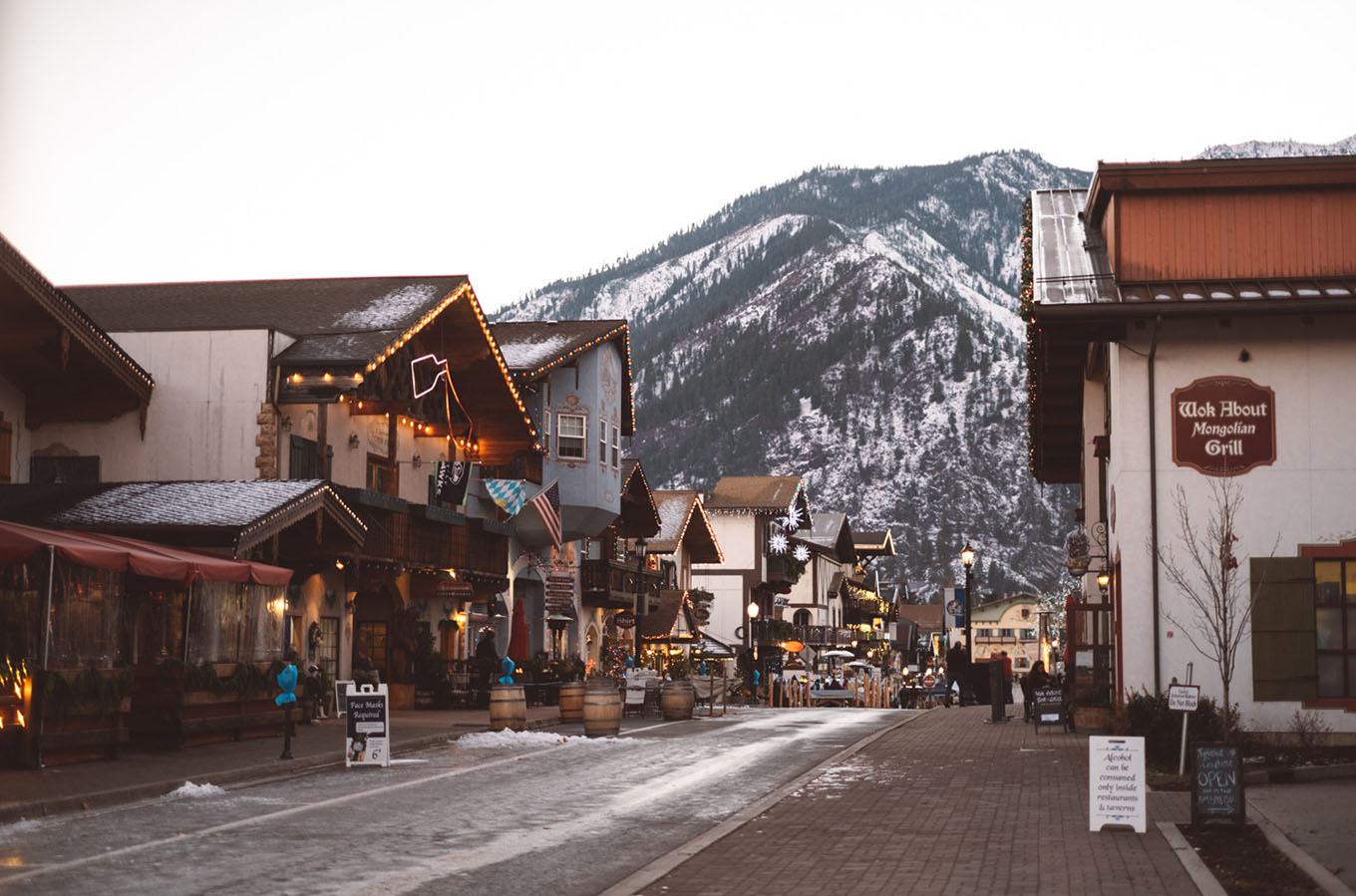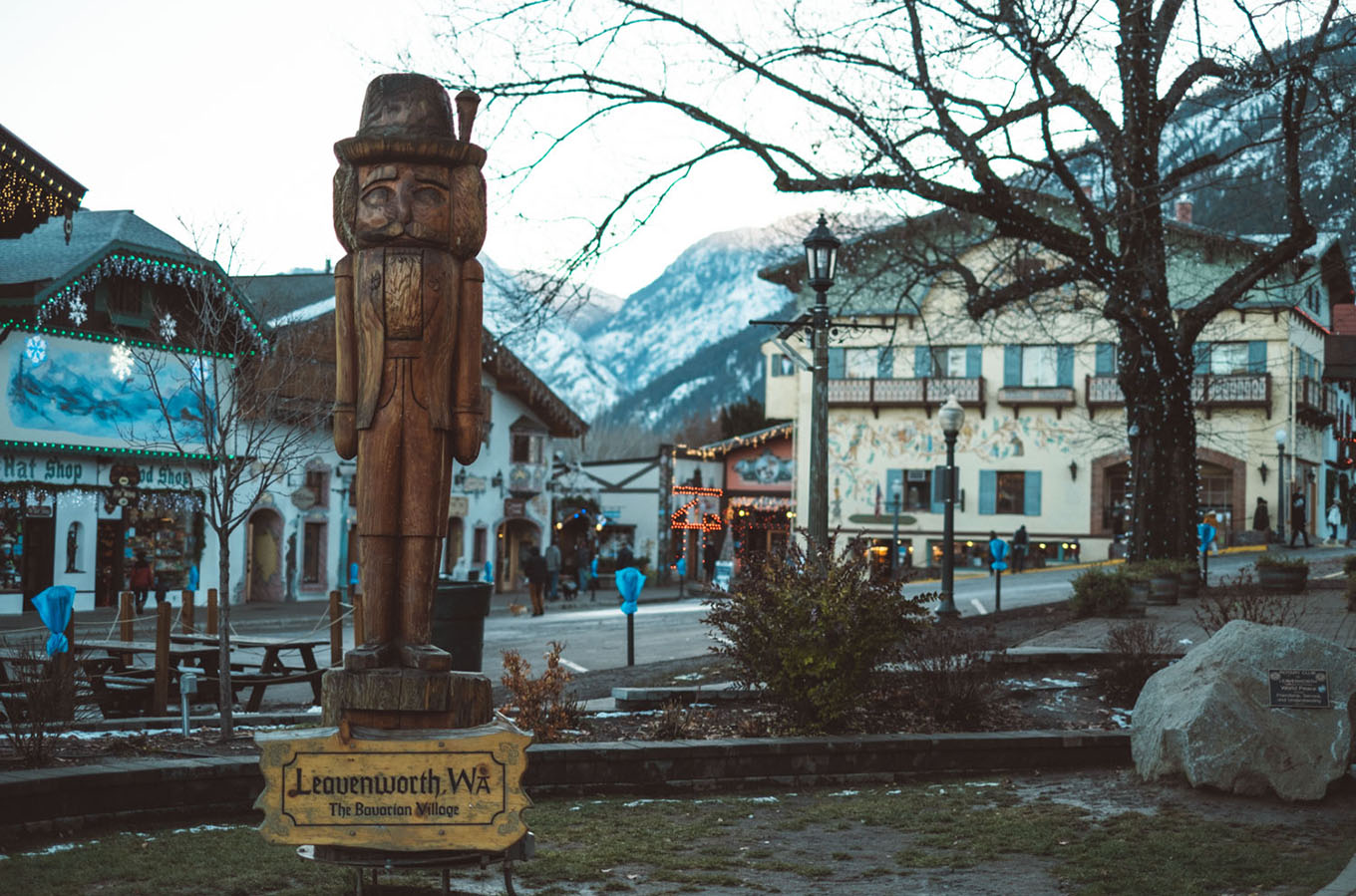 Day Two
After having breakfast at the cabin, we drove into Leavenworth for the day. We arrived around 1 pm and wandered around until we got to Rhein House for lunch.
This Bavarian-inspired eatery has serious Oktoberfest vibes.
We had Bailey along with us, so we were happy to discover that they are a dog-friendly spot with a warm outdoor patio. Famous for their giant pretzels, they have a delicious range of German picks with a range of vegan and gluten-free options.
It's an ultra-popular but socially distanced restaurant. If you can go in during the week, you'll be able to beat the crowds. If you visit during the weekend, plan at least 15 to 30 minutes to wait in line (but it's worth it!).
With a population of around 2,000 people and fewer than two square miles, you can cover Leavenworth in an afternoon.
Once you fill up on giant pretzels, grab your camera and snap a few shots of the lovely European-inspired architecture.
Where to Eat
We stayed in town until dinner then headed over to Old World Pub for drinks. After that, we then went over to Icicle Brewing Company to sample the local beers while filling up on grilled cheese, soup, and pretzels.
If you've got time, you can also check out another popular pick for even more homemade pretzels, schnitzel, and German beer: the Andreas Keller restaurant.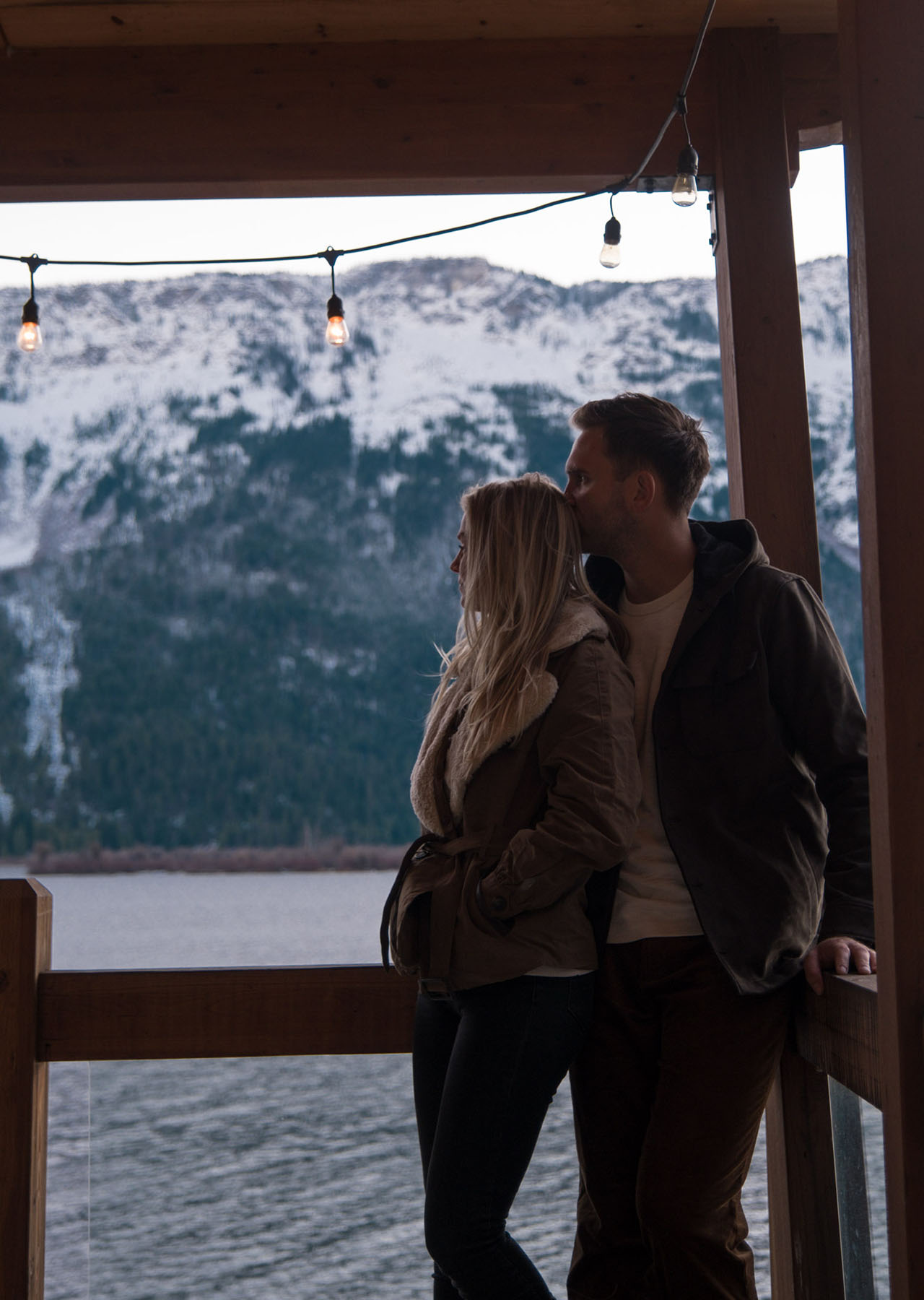 Day Three
Our last day was all about lingering in those cozy winter vibes. We hung out in the cabin all day and it was magical. We played games, cooked together, and snuggled up to soak in the stunning view of this naturally gorgeous area.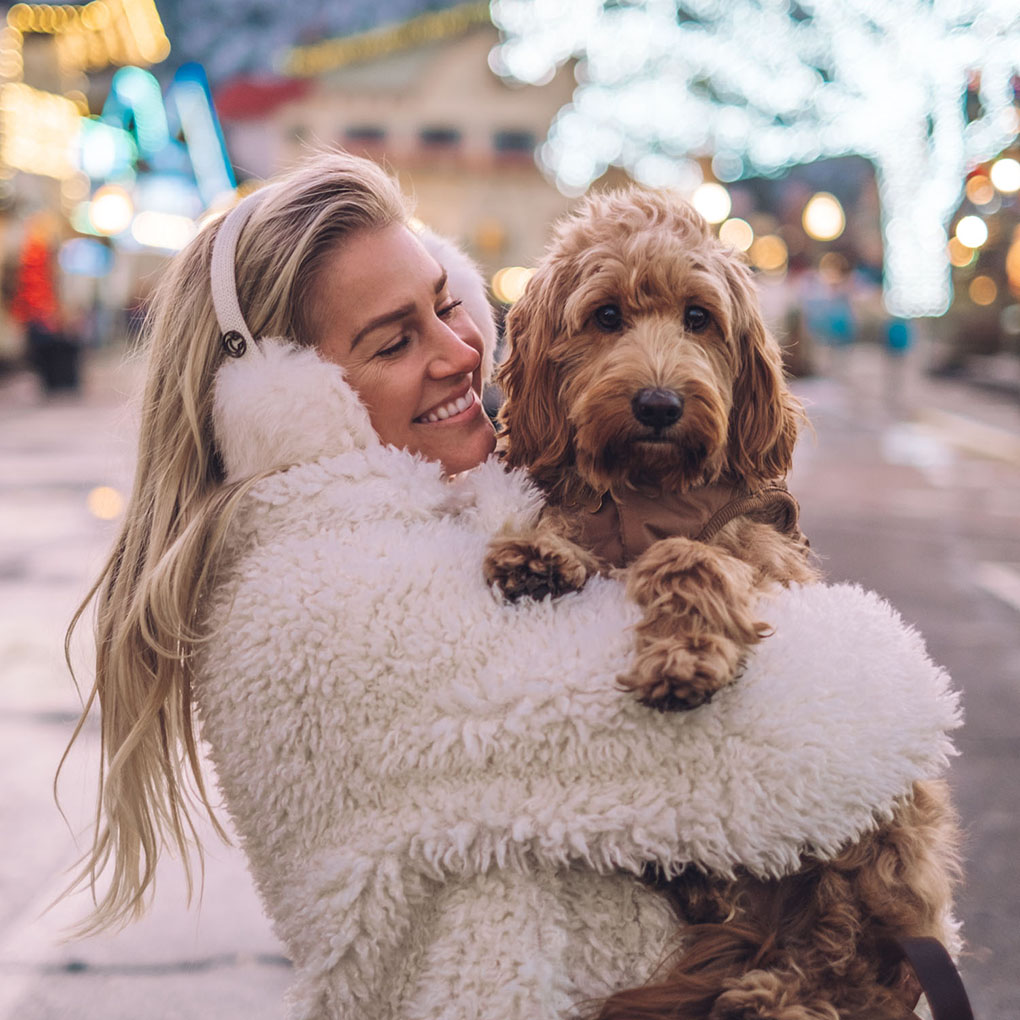 Overall
If you are looking for a short romantic escape or a quiet mini-break with the family, Leavenworth is a great option. While it's always a quiet low key spot, I'd recommend going during the middle of the week to avoid crowds.
And, if you can swing three nights, do it! Having an extra non-travel day is what made it even more relaxing for me.
Helpful Tip:
My experience was unique due to the COVID pandemic. We went mid-week in Dec 2020 and had the town to ourselves. It was easy to park everywhere and we were able to social distance.

If you arrive before dark, there are multiple parking lots and there's plenty of street parking. If you arrive during the weekend though, you will likely find more out towners sharing the space with you.