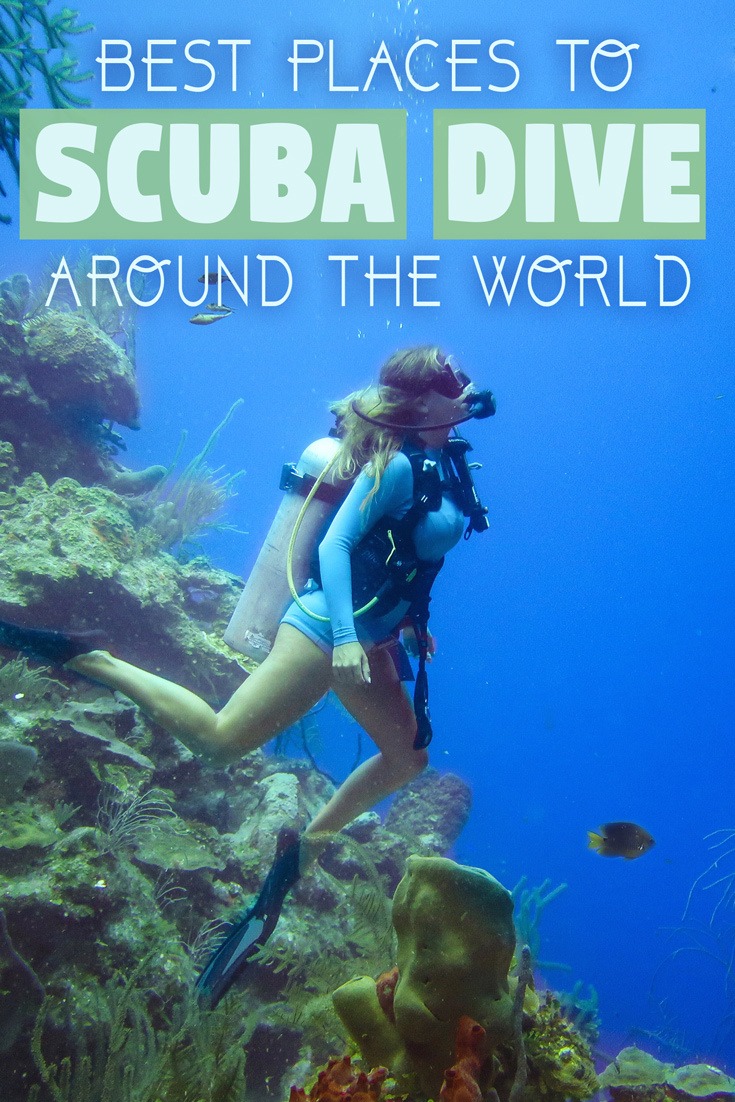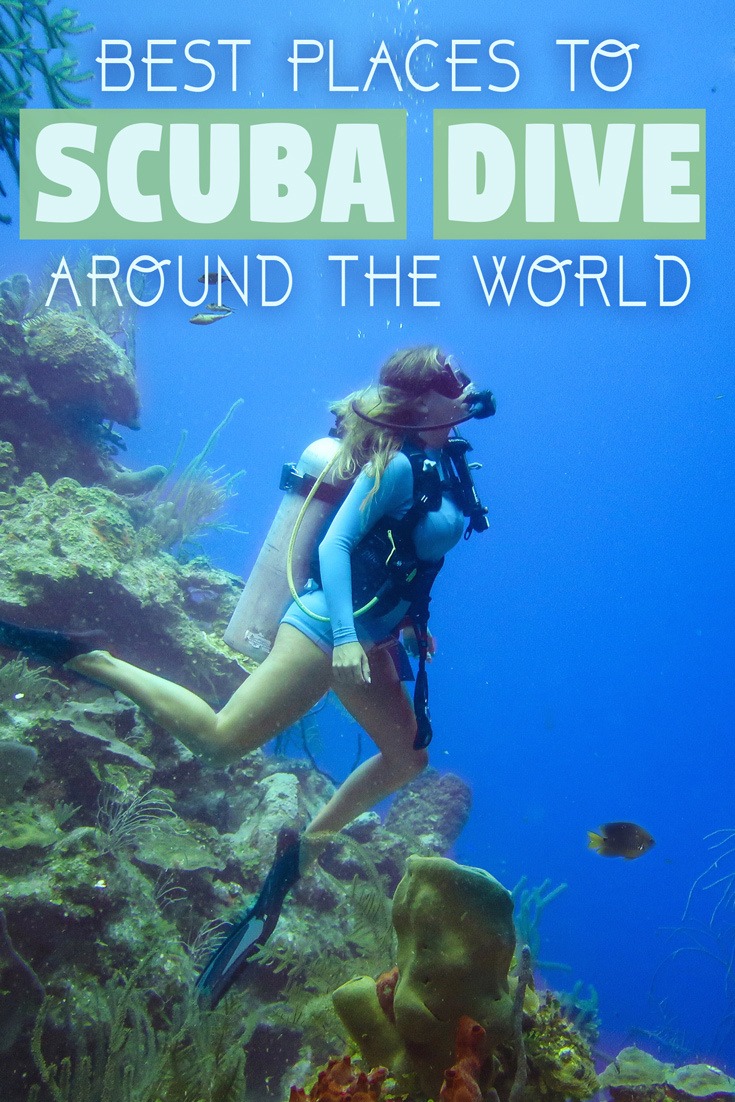 See the planet from another side! Rather than exploring the architecture and landscape, why not see something different on your next adventure? Forget about the world above, and start exploring life below sea level.
From Iceland to Indonesia, there is so much to see beneath the surface.
Whether you are thinking about taking your first Scuba lesson or you're an old pro, it's always a good time for a diving getaway.
Grab your gear and check out these ten places you need to scuba dive!

The Maldives
Of course, the Maldives are famous the world over as a tropical paradise, and the diving here does not disappoint. I was lucky enough to experience the diving around Dhigurah Island and the Maamagili Whale Shark sanctuary!
If you have never been swimming with sharks, the idea probably seems a bit scary, but these guys are just gentle giants. It is a truly amazing experience to get up close and personal with these amazing animals.
Top Dive Sites
Kuredu Express, Lhaviyani Atoll
Kudarah Thila, South Ari Atoll
Kandooma Thila, South Male AtollAri Atoll for whale sharks

The Galápagos
Ecuador is an adventurer's dream. With the Andean highlands, Amazon jungle, and a stunning coastline, Ecuador is worth the trip.
Explore the turquoise sea between the towering cliffs, swim with sharks, and dive with sea lions at Kicker Rock in the Galápagos Islands. I just visited this past month, and dove with Scuba Eden off San Cristobal Island. I was blown away by the pristine islands, reefs, and the insane amount of wildlife!
Top Dive Sites
Kicker Rock
Gordon Rocks
Wolf Island

Dominican Republic
This is a great year-round getaway. You can expect water temps around eighty-three degrees Fahrenheit in summer and seventy-six degrees in winter. There are dive spots all over the country.
Punta Cana and the wild nature reserve at Catalina Island are perfect for exploring. Advanced? Check out the Luperon Wall on the North Coast.
Top Dive Sites
Monica & Hickory and Limon Shipwrecks
Catalina Island
Luperon Wall

Trinidad & Tobago
This Caribbean nation is an up-and-coming diving hot spot– I was lucky enough to dive there over the New Year's holiday this past year along my Brazilian cruise. You'll find pristine water and the world's largest brain coral.
As an added bonus, the conditions are totally different on each side of the island, so you can quickly cross the country if conditions aren't ideal on one side.
Top Dive Sites
Diver's Thirst
The Sisters
Flying Reef

Bimini Islands
Though relatively overlooked in the Caribbean, the Biminis have always been popular because of the diverse marine life– you can see wild spotted dolphin, Loggerhead turtles, Southern stingrays, different types of sharks, and tons of tropical fish.
Located right in the middle of the Gulf Stream, Bimini attracts hundreds of marine animals and pleasant temperatures year-round!
Top Dive Sites
Tuna Alley
Victory Reefs
Atlantis Road
Bimini Barge

Yucatan Peninsula
I got my PADI Advanced certification this past summer in Playa Del Carmen and fell in love with the dives there!
Did you know that Mexico's Yucatán Peninsula is filled with underwater sinkholes and caves called cenotes? They add a whole new dimension to diving. Head over to the Yucatan Peninsula to see the country's best array of them.
Top Dive Sites
Dos Ojos Cenote
Playa Del Carmen
Cozumel
Great Maya Reef

Panama
Called the Galapagos of the Caribbean, the Panamanian archipelago of Bocas del Toro is one of the planet's most biologically diverse spots.
This UNESCO World Heritage Site is quickly becoming one of Latin America's most popular ecotourism spot. Get off the grid and stay at one of the amazing jungle eco-lodges while you are diving Bocas del Toro.
Top Dive Sites
Hospital Point
Tiger Rock
The Wreck
Portobelo National Park

Iceland
While it's probably not the first place you think of when you think of diving, Iceland has some underwater treasures. Silfra Fissure is where the North American and Eurasian continents come together– and it is a magnificent (and cold!) dive spot.
You can see science come alive just an hour outside of Reykjavik. The plates drift apart at a rate of two centimeters per year and you can dive right into the gap. I had snorkeled Silfra in 2014 but returned this year to dive it with Arctic Adventures.
Top Dive Site

Indonesia
Named one of the New 7 Wonders of Nature, my experience diving Komodo National Park with Ora Dive in Indonesia this past summer was a little slice of heaven. But, Indonesia also has so many amazing dive sites with the most diverse marine life in the world. You'll find all types of dives, great visibility and warm water year round!
I also highly recommend doing a diving liveaboard through Raja Ampat — it is truly bucket list diving!
Top Dive Sites
Komodo National Park
Gili Islands
Raja Ampat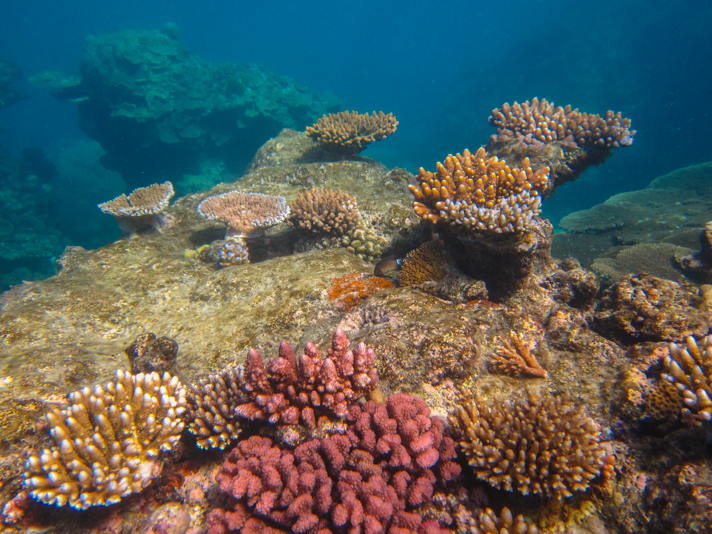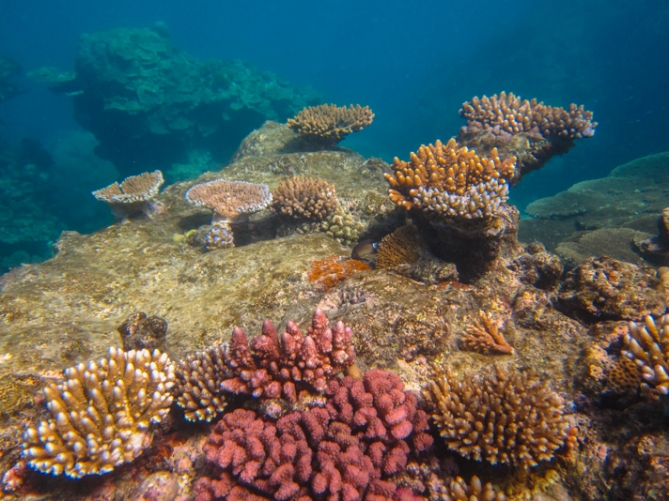 Australia
The Great Barrier Reef is at the top of many diver's bucket lists, and it was definitely at the top of mine. During my trip to Australia, I made sure to plan a day in Cairns to dive the magnificent, natural wonder.
Australia is also home to many other top notch dive sites and diverse landscapes, both above and under the sea. It is also home to MANY awesome shipwreck dives!
Top Dive Sites
North Stradbroke Island, Brisbane
Yongala Wreck, Queensland
Ningaloo Reef, Western Australia
The Great Barrier Reef
Cathedral Cave, Tasmania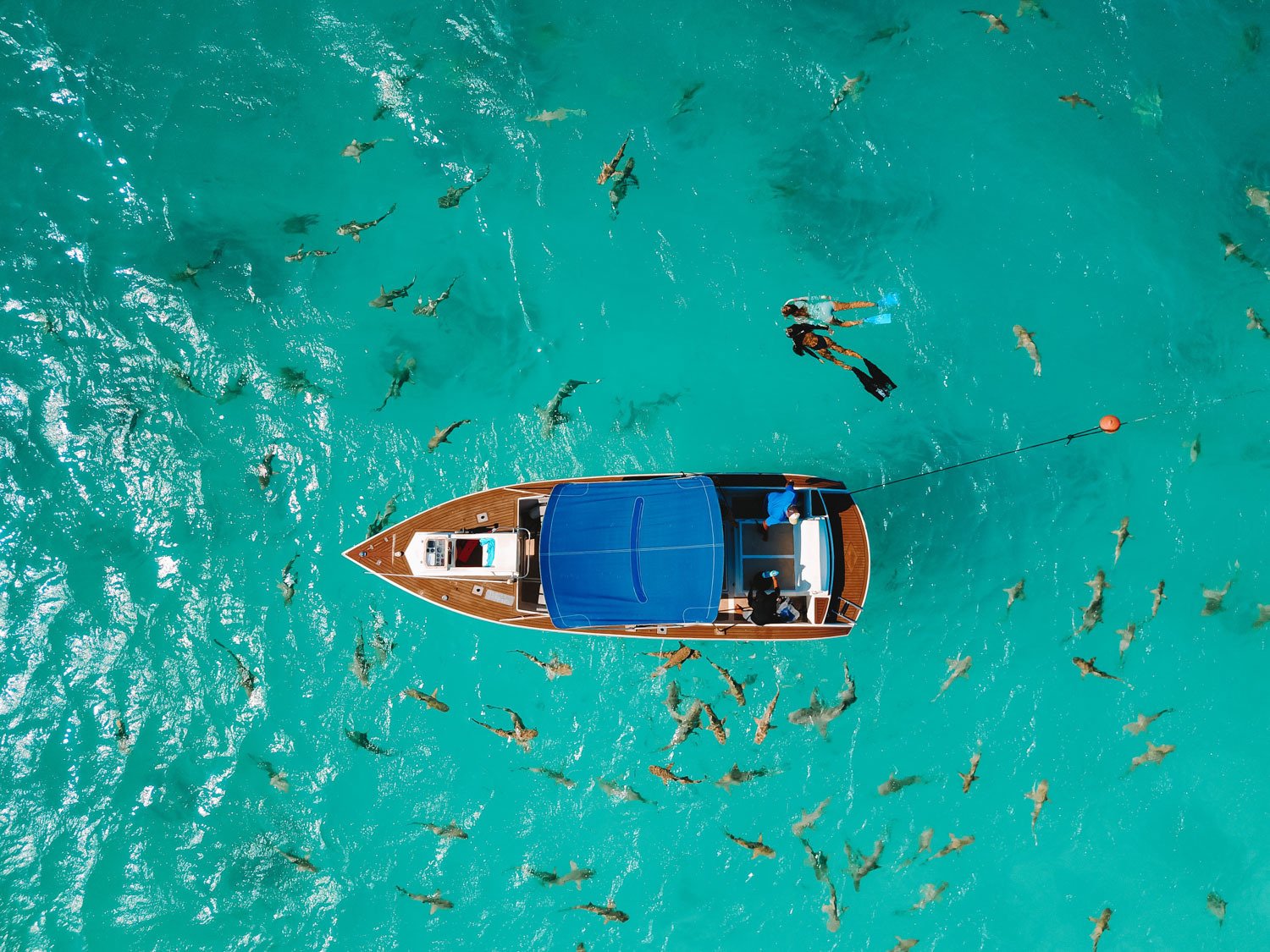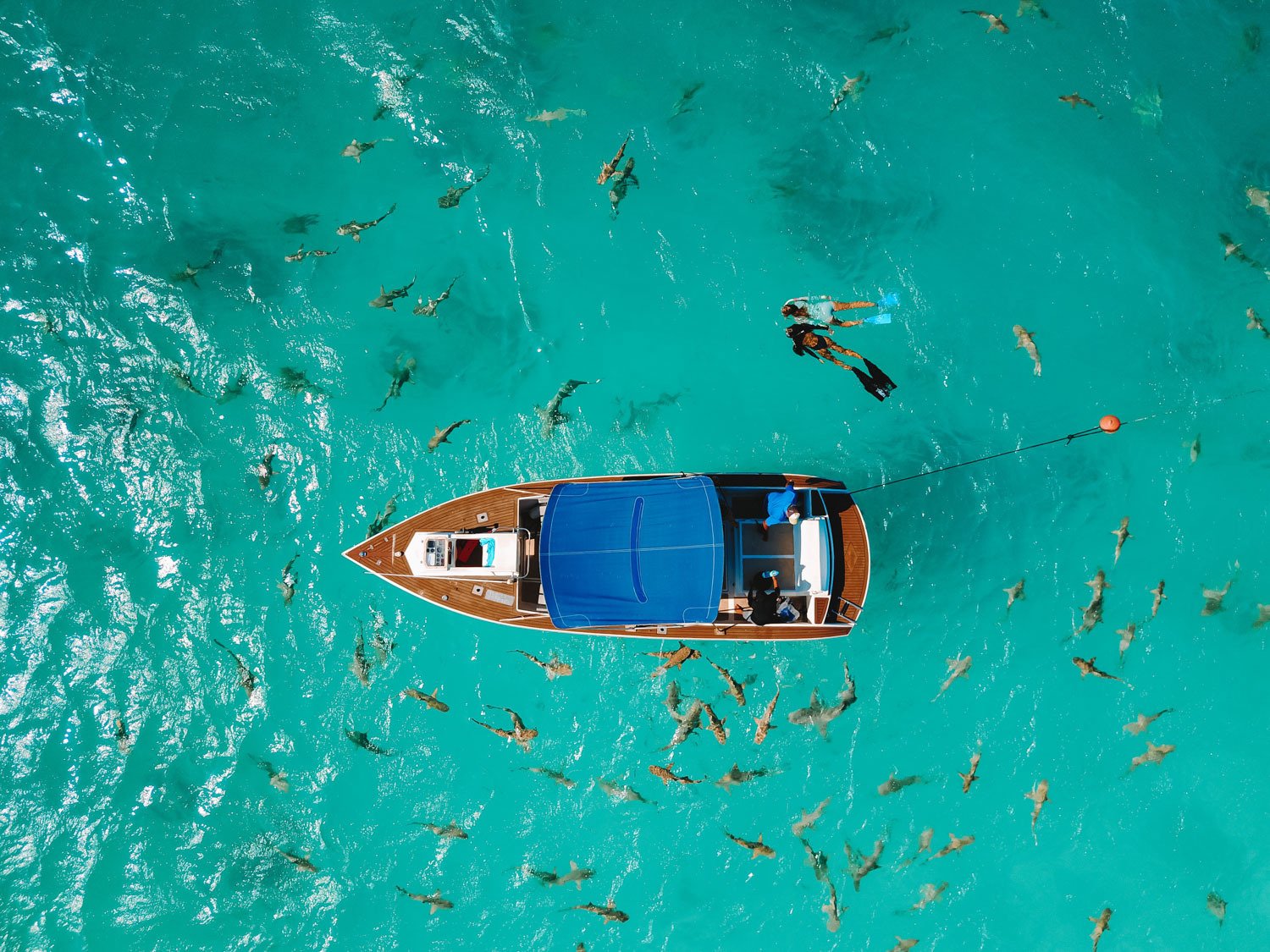 French Polynesia
Made up of 118 islands and atolls, French Polynesia is a dream. Explore the lagoons, ocean drop-offs, and passes frequented by manta rays, dolphins and sharks. From Bora Bora to Tahiti, this place is even more than you've ever dreamt it to be.
Top Dive Sites

Belize
Underwater extraordinaire Jacques Cousteau once said that Belize was one of his favorite dive spots in the world. As soon as you dive in, you'll see why this Central American country stole his heart.
Go on a drift dive in Hopkins, Belize, to explore the colorful walls and ridges, and then get over to Blue Hole. This submarine sinkhole is seriously one of the most beautiful spots I've ever seen. In fact, even if you aren't a diver, this place is worth a visit. Just sixty miles out of Belize City, the Blue Hole is otherworldly.
Top Dive Sites
Half Moon Caye (pictured above)
The Blue Hole
Glover's Reef
Caye Caulker

Watch MORE of my diving videos from around the world!