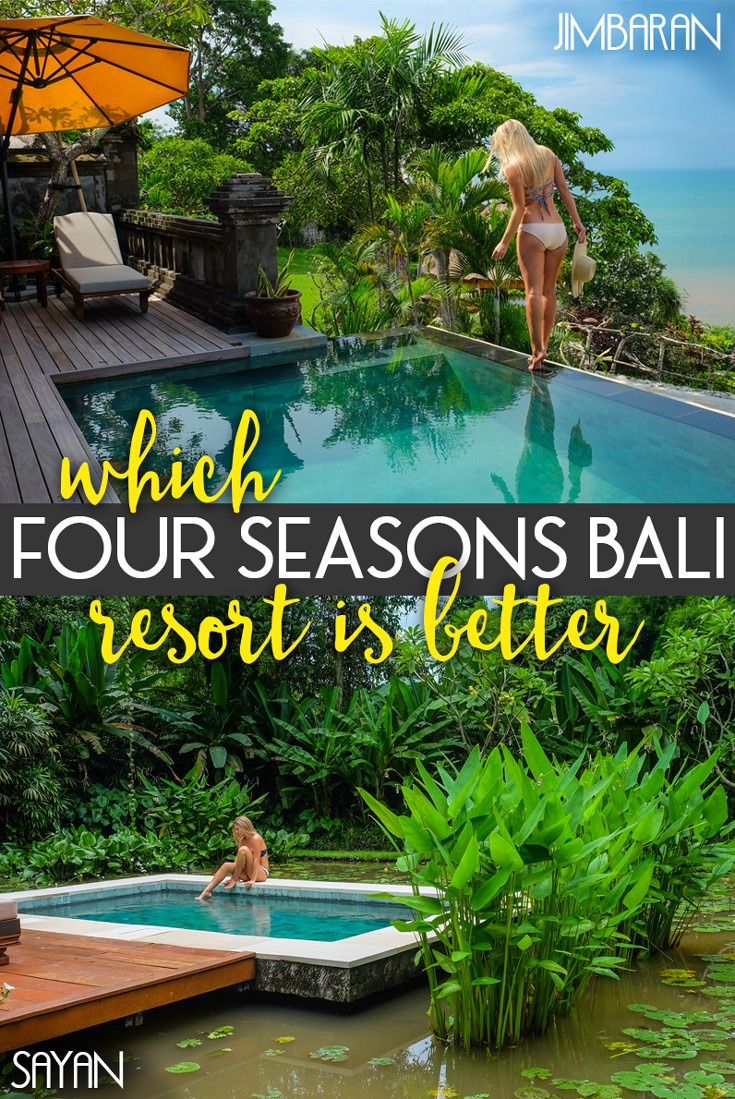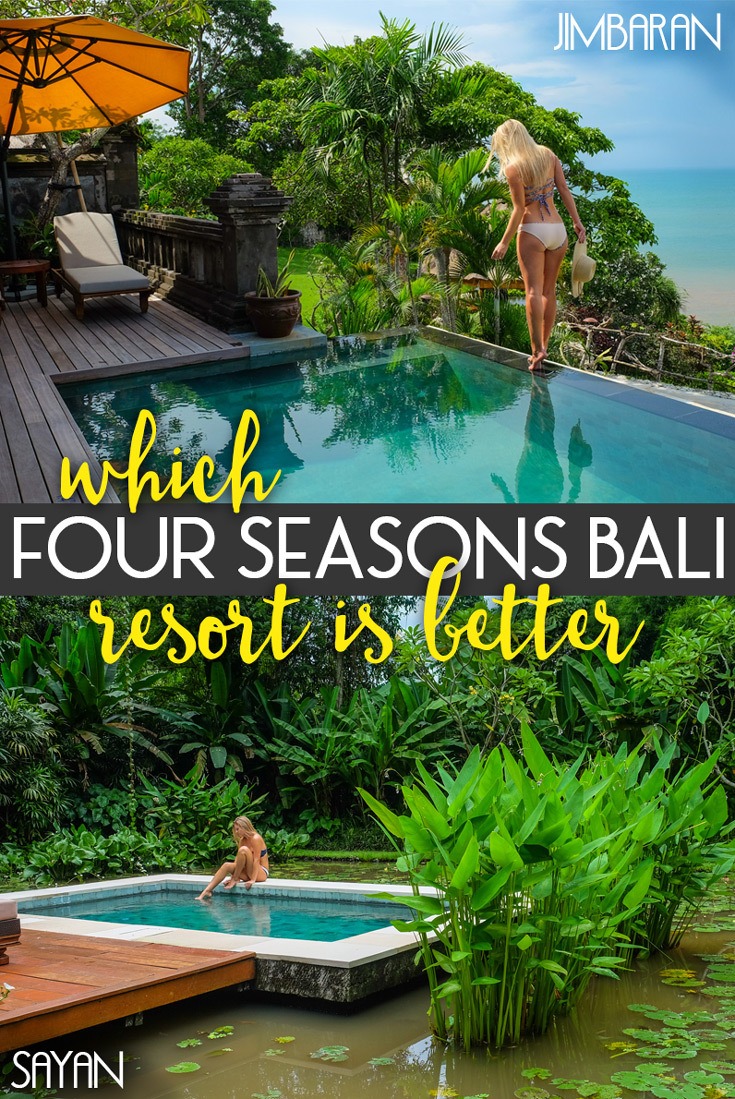 There are two Four Season Resorts in Bali—Jimbaran Bay and Sayan. I've been fortunate enough to stay with both, and experience the true luxury they offer, so here's the scoop on picking the best resort for your vacation in Bali.
I've broken down the categories that I always look for in resorts, and I believe both of these properties offer the ultimate Four Seasons and Bali experience.
Here's what I think about the Four Seasons Bali resorts!

Overall Resort
Jimbaran Bay
The luxurious Four Seasons at Jimbaran Bay is a beachgoer's delight. Winner of countless awards including Travel + Leisure's 500 Best Hotels in the World 2014, this world-class hotel features an infinity pool, a holistic spa, and three renowned restaurants with occasional themed dinners.
Seafood BBQ anyone?
I was lucky enough to stay in one of the new Premier Villas at Four Seasons Bali Jimbaran- these beautiful villas were fully renovated but maintained the authenticity of the Balinese architecture. I'm in love!
You can dine out or enjoy the privacy of round-the-clock in-villa dining. Take to the waves with water sports: paddle boarding, surfing, Hobie Cat sailing, windsurfing, and kayaking.
Recommended for: Families or friends looking to have fun!
Sayan
The Four Seasons at Sayan is a secret sanctuary far away from the hustle and bustle of everyday life. This resort is perfect for couples who are looking to relax and restore their energies under peaceful canopies.
Pamper yourself with world-class massage, yoga, and meditation at this intimate resort. The 18-acre retreat also houses two exceptional restaurants—Indonesian Ayung Terrace and the casual Riverside Café. You'll also find the Jati Bar, which specializes in high tea and cocktails.
Recommended for: Romantic couples who want a break away from it all!

Location, Location, Location
Jimbaran Bay:
The Four Seasons Jimbaran is located in the north part of the Bukit Peninsula and is about a 15-minute drive from the airport. There's no easier way to recover from jet lag than jumping into the pool within an hour of landing!
Sayan:
Unlike its Four Seasons sister the Jimbaran, the Sayan is nestled deep in the heart of Bali's jungles. The property lies on the beautiful Ayung River just four miles from Ubud.

Rooms
Jimbaran Bay:
You can rent from a number of villas or residence villas that feature two to four bedrooms. All rooms feature authentic Indonesian furniture, dining table and sitting area, and an air conditioned bedroom—some even come with an infinity edge or plunge pool.
Like I mentioned, the Premier Villas (my room pictured above) were stunning, and were completely renovated for the first time since 1993. A must stay!
Spring for the ocean view if you simply can't live without overlooking the water!
Sayan:
The hotel features 18 family and one-bedroom suites and 42 private villas to accommodate any traveler. Each room is furnished in rich teak and traditional Balinese décor and offers free Wi-Fi, flat-screen TVs, and room service. You can even get a villa with its own kitchen.
Be sure your room comes with a private plunge pool!

Activities
Jimbaran Bay:
At the Four Seasons Jimbaran, you can enjoy a world-class spa experience like no other. Balinese traditional massage, energy healing facials, scrubs, massages, salon treatments, and body wraps will cleanse your spirit and transport you to tropical bliss.
Book an afternoon at the deliciously fun Cooking Academy. This single-building school features a state-of-the-art kitchen where you can learn how to make traditional Indonesian cuisine from all over—Java, Nusa Tenggara, Sulawesi, and Sumatra.
Classes are available daily for both beginners and more experienced chefs and offer an optional tour of the fish market. There's even a kids' Indonesian dessert class once a week.
Off-campus, head to one of the many Bali beaches for year-round surfing, or party through the night just 30 minutes away in Seminyak.
Sayan:
On-site there is a pool, a hot tub, a spa, and a fitness center. You can also join the on-site cooking classes or easily rent a bike or car from the concierge for a variety of off-site activities. The Ubud area is home to many rice paddies where you can meander, enjoy tea, and learn about the daily life of a rice paddy farmer.
Four Seasons Sayan also has a brand-new Dharma Shanti Yoga Bale that sits in their Sacred River Spa, and I was lucky enough to get to experience!
Catch a ride to the ancient carvings at the Goa Gajah cave, which is less than six miles away. Hike out to the Mount Batur, an active volcano, or go on an exciting river rafting adventure. For a more leisurely day, drive into Ubud town and window-shop at the art galleries and charming boutiques.

Thank you to the Four Seasons properties for hosting me during my stay. As always, all opinions expressed here are entirely my own.