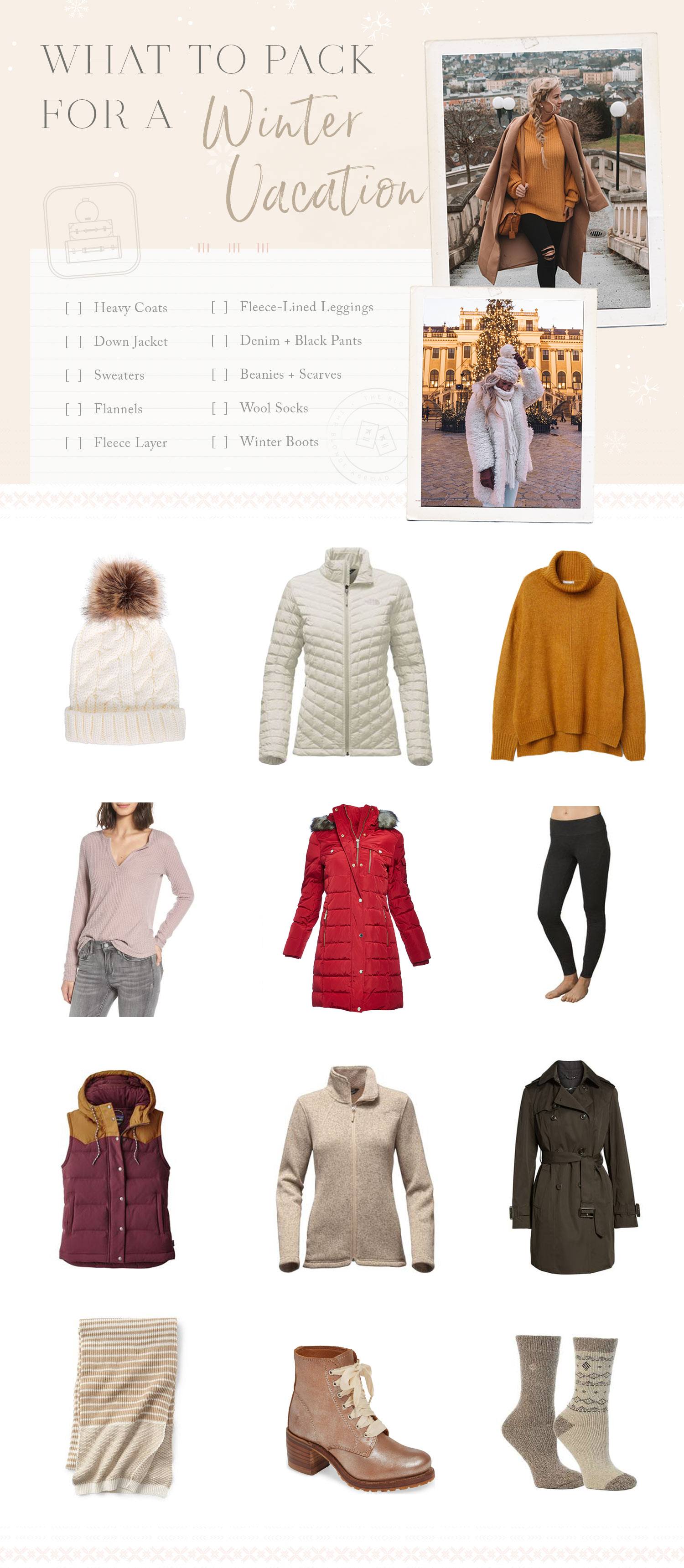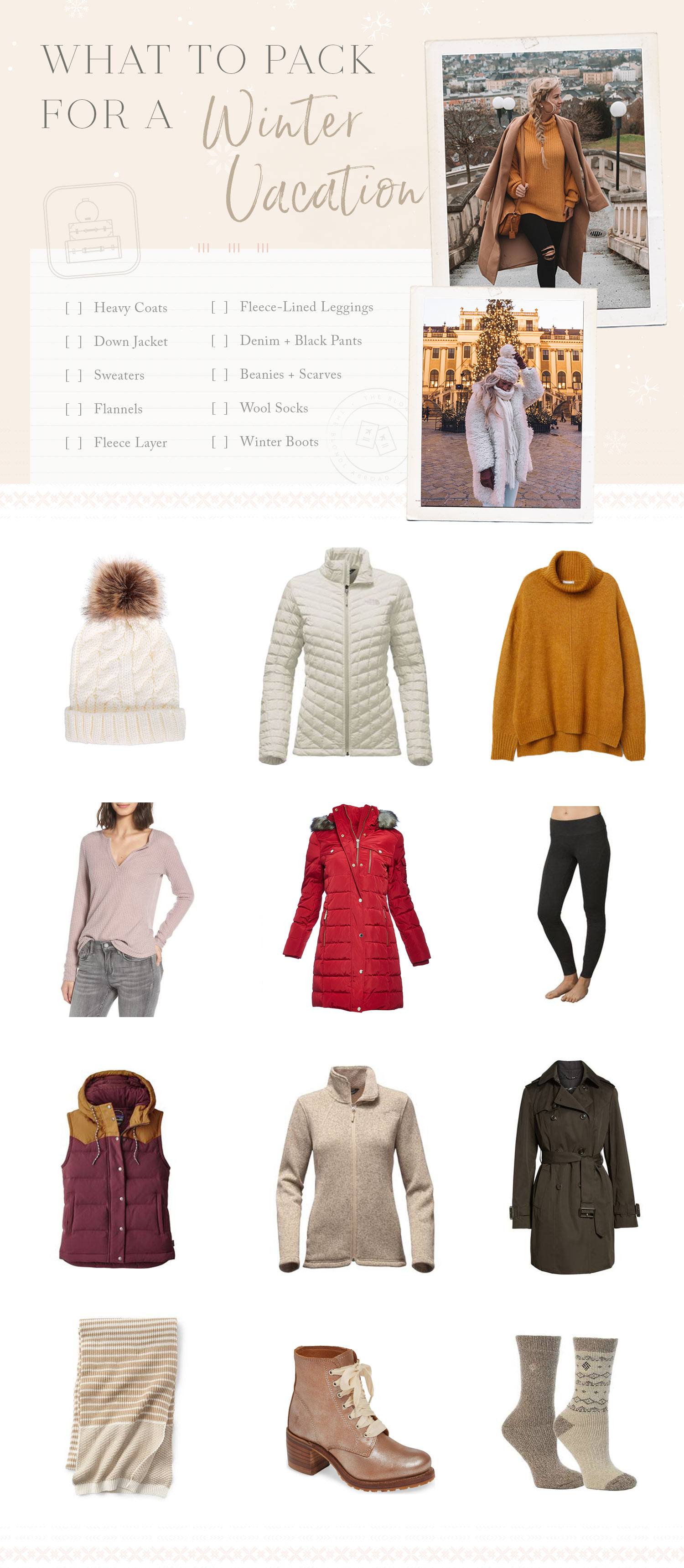 I've been lucky enough to spend the winter seasons in many different destinations around the world! I've traveled to beautiful winter destinations like Iceland, Whistler, Mont Tremblant and more recently, I spent a few weeks traveling through the Christmas markets of Europe.
Based on my trips, I've compiled the ultimate packing list on what to pack for a winter vacation.
Winter Trip Packing List:
2 Heavy Coats
1 Down Jacket
3 Sweaters
Flannels
Fleece Layers
Fleece-Lined Leggings
Denim + Black Pants
Beanies + Scarves
Wool Socks
Winter Boots
Based on the length of your winter trip, you can add a few more layers, or subtract them!

Winter Outfit Inspiration
Obviously, "winter" means something a little different depending on your destination—some places have a more mild winter (maybe with no snow in sight), while some have below freezing, icy conditions. It's a great idea to check the projected weather forecast before going, but a month is a long time, so it's better to be prepared than freezing!
Check out my favorite winter styles and winter outfit inspiration below!
Heavy Coat
A heavy jacket is an obvious essential for any winter trip. Depending on your destination, you might want a cute trench coat to dress up your warm layers! A beige trench coat is a great neutral to have on hand, and I love packing a red coat for a pop of color.

Down Jacket
Down jackets are a true lifesaver—they keep you toasty warm! If you're traveling light, sure to pack a "packable down" because they scrunch up and are very compact. If you have room in your luggage and are headed to a colder destination, a down parka is a great option.

Sweaters
Oversized, comfy sweaters are my jam—I rock them all year round, but for a winter trip, they are especially great for layering and lounging. You can pair a sweater with just about anything, and dress it up or down! I always pack a few neutral colors like beige, grey and black, as well as some fun colors like mustard yellow and burgundy.

Flannels, Fleeces and Vests
Be sure to bring along some other warm layers that you can wear under your sweaters or coats, or by themselves on a warmer day. I always bring a flannel or two, as well as a puffy vest to layer over a long sleeve or sweater.


Thermal Layers
Thermal layers are perfect for slipping under your denim pants or sweater for added warmth! Fleece-lined leggings were a lifesaver on my trip to Iceland because they're comfortable and warmer than normal exercise leggings.

Winter Boots
Boot season is my favorite! There are tons of styles of boots, but keep in mind that high-quality winter boots are waterproofed, meaning that they will hold up and keep your feet dry in sleet and snow. If you have room in your suitcase, consider bringing a second more casual pair of boots or booties you can dress up too.

Accessories
Beanies keep your head warm and add a stylish touch to any winter outfit! I usually opt for a cream or beige beanie, and pair with a big fluffy scarf. Depending on where you're going a pair of light gloves might be a good investment. I HIGHLY recommend bringing a few pairs of merino wool socks—they keep your feet warm and comfortable in boots all day long!


Disclosure: Please note that some of the links above are affiliate links, and at no additional cost to you, I earn a commission if you make a purchase. I would never recommend anything I don't personally love, and the income goes to keeping this site updated and free for everyone!