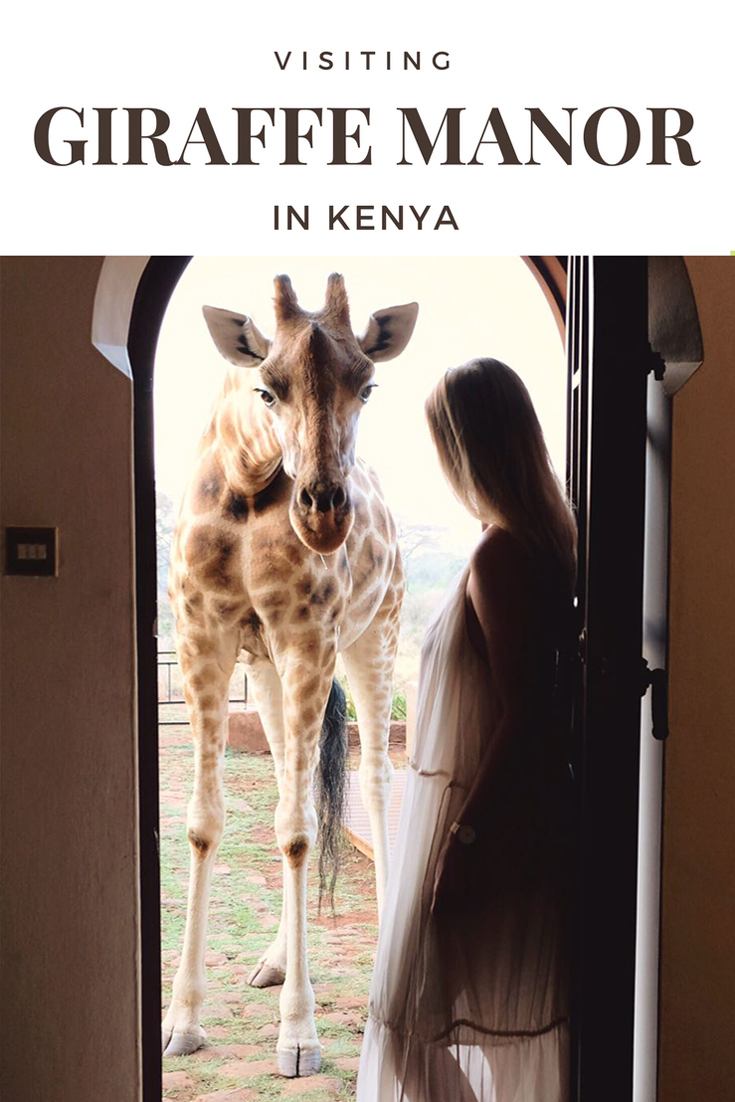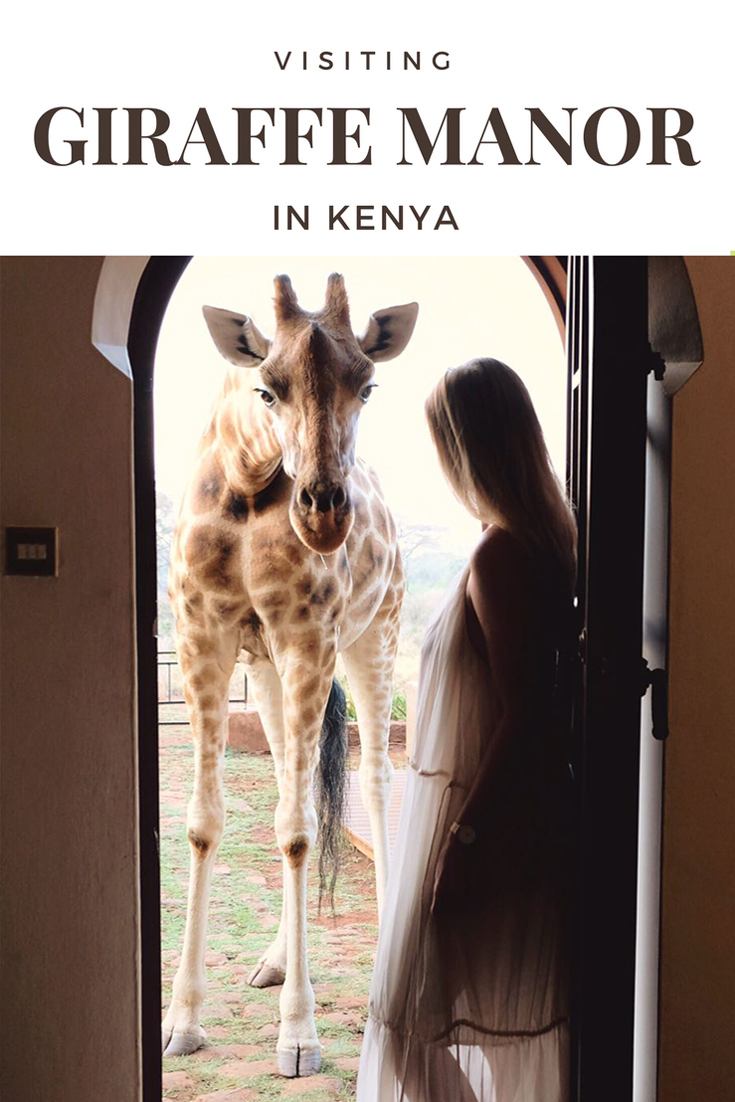 Africa is such a dynamic and fascinating continent. It's an incredible place to soak in history and learn about the past. One especially fascinating and visually stunning period here is the turn of the twentieth century.
If you want to turn back time to see Kenya the way it looked in the 1930s, you've got to check out The Safari Collection's Giraffe Manor. Incredibly preserved and sitting on top of 140 acres of land, this place is like stepping into a dream.
Here's my experience staying at Giraffe Manor in Kenya!

The Giraffe Manor
The Safari Collection's Giraffe Manor has just ten rooms, which can accommodate up to twenty-five guests. While it's definitely a luxury spot, it doesn't have the usual fitness center and swimming pool set up—it's not a place to do business or even think about your life in the twenty-first century.
With that said, it does offer Wi-Fi, massage therapists, complimentary chauffeured vehicles, and full boarding, which includes an incredible choice of international cuisine and spirits. There are 10 rooms on the property, and they each have their own stunning decor and unique personality.
However, there's usually one main reason that everyone comes to the Giraffe Manor…
and that is to see the world-famous giraffes that roam the property!

Getting to Giraffe Manor
While you'll feel like you've traveled back in time, Giraffe Manor is actually just over thirty minutes from Nairobi's International Airport in the Lang'ata suburb of Nairobi, and an airport transfer is included in your rate! It's also just a quick ride to the center of town or the Nairobi National Park.
While Nairobi is a great place to visit and Kenya has a ton to offer, you are never going to want to leave Giraffe Manor.

The Giraffes
There are around twenty Rothschild giraffes that wander around the space between the Giraffe Manor and the Nairobi Giraffe Centre. These guys are incredibly friendly and are very, very used to interacting with people.
The giraffes will eat right from your hand, and they definitely expect you to feed them! They have so much personality that the staff actually knows each and every giraffe by sight and name and can even tell you about their personalities and ancestors.
In the morning, you'll wake to giraffes impatiently waiting for you to come to your balcony and treat them to some snacks. We woke before the sun and were giddy with excitement to see two giraffe faces peeking through our balcony.
Just before sunset, high tea is served in the company of the giraffes. You can enjoy scones, cookies, and cakes along with tea or a cold glass of wine as you feed the giraffes and watch as the fading Kenyan sun lights the sky on fire with pink and purple.
And, the pièce de résistance of my experience at Giraffe manor was getting to enjoy breakfast with the giraffes. Guests gather in the dining room to feed the giraffes their breakfast, then enjoy a delicious "human breakfast" to themselves.
I should note that Rothschild's giraffes are one of the most endangered subspecies of giraffe and one of the world's most at-risk species. So while they are definitely a tourist draw, the Nairobi Giraffe Centre and The Safari Collection's Giraffe Manor are really there to help local giraffes.
The Safari Collection is all about sustainability, community, and conservation.
They work to positively affect the community and wildlife while teaching the world about Kenya's wildlife. In addition to helping these tall guys, The Safari Collection works with different organizations that help the mere 20,000 lions and 7,000 cheetahs remaining in Africa.

The Food
At the Giraffe Manor, all of your food and drinks are included so you don't have to worry about anything. Your day starts with a breakfast that can range from a quick bite of fruit to a full, cooked breakfast.
Lunch and dinner are both from a set three-course menu.
One aspect of dining at the Giraffe Manor that I really liked is that you sit down and eat family style with the other guests. The food is seasonal and varied, but you can generally expect a blend of international cuisine with fine dining touches and African flair.
It's a unique place and you get to meet people from all over the globe!

What You Should Know
The property is family-friendly – which is great for kids and families! However, if you're coming for a romantic, quiet getaway, be prepared to potentially have a lot of little ones running around.
At dinner, the guests were separated to families could eat together, while the adults traveling without kids ate in the formal dining room.

Activities
The Giraffe Sanctuary on the property is a must-visit, as well as the nearby David Sheldrick Wildlife Trust — a haven for elephant and rhino orphans.
In addition to activities around the property, Giraffe Manor creates customized itineraries for each guest. It organizes everything from horseback tours to hot-air balloon rides to camel treks to visits in local villages where you can learn about the native culture.

The Safari Collection
The Safari Collection owns and operates boutique, luxury lodges, and camps throughout Kenya. Their other properties are truly remarkable, and if you're looking to extend your time in Kenya (beyond the Giraffe Manor) here's the highlights of their other properties:
Sasaab Lodge in Samburu
Imagine nine individual cottages situated high on the banks of the Ewaso Nyiro River– that's Sasaab Ladge! The property commands breath-taking views across the arid landscape of the Northern Frontier District and offers a truly exceptional safari experience.
Solio Lodge in Laikipia
Solio Lodge is located on a private wildlife sanctuary, tucked in the valley between the lofty slopes of Mount Kenya and the peaks of the Aberdare Mountains, directly north of Nairobi. Talk about intimacy!
The Solio Reserve is also internationally recognized as the most successful private rhino breeding reserve in Kenya, so you WILL see them!
Sala's Camp in the Masai Mara
Located in the heart of the Masai Mara, Sala's Camp is one of the most intimate and luxurious lodges in the reserve. The camp can sleep up to 18 across seven luxury tents that come with all the comforts guests could wish for including en-suite bathrooms with hot showers!
This camp allows access to some of the most untouched parts in the Mara where game viewing is less likely to be shared with other tourists. Win, win!

In My Opinion
One night was actually enough time to experience everything on the property. I arrived in the afternoon just before tea, and left the following day just after lunch.
I'll be honest, I was a bit worried that it would feel like a tourist trap and I'd leave feeling like I got scammed on a place that's nothing more than an epic Instagram photo opportunity. But, that's not the case.
This place is the real deal.
Giraffe Manor is literally the coolest boutique hotel I've ever stayed at. Aside from the once-in-a-lifetime opportunity to share your breakfast with giraffes, the food, staff and accommodation truly are next level amazing.


More Information
Hotel: Giraffe Manor
Location: Nairobi, Kenya
Accommodation: Boutique, Luxury
Price Range: $$$

Thank you to The Safari Collection for hosting me during my stay. As always, thoughts and opinions expressed here are entirely my own.