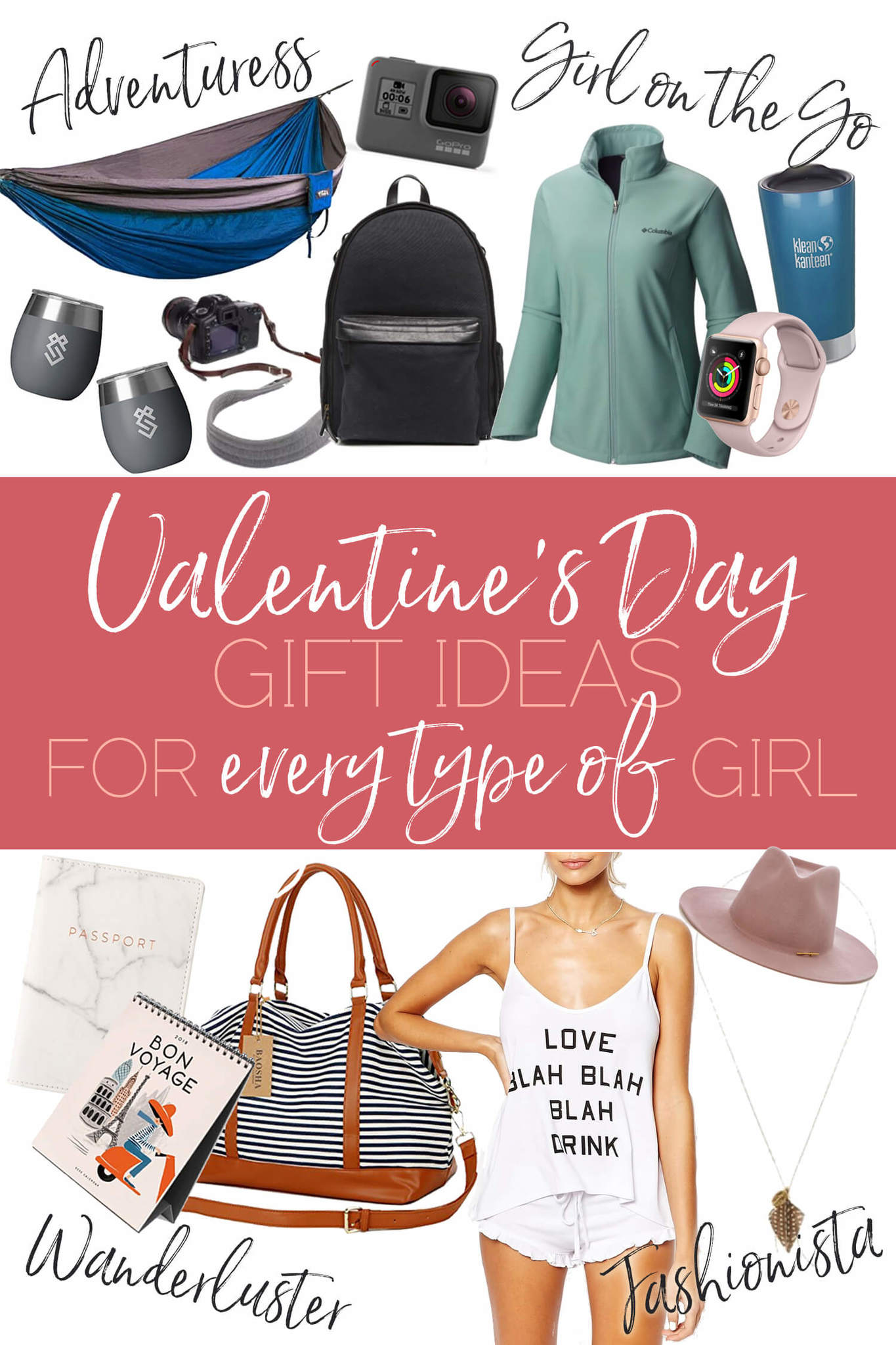 As a girl on-the-go, and self-proclaimed wanderluster, I've come across so many awesome products that any type of girl would love. Whether you're looking to treat yourself this Valentine's day or looking for something for a special lady in your life…
these Valentine's Day gift ideas are for anyone!

The Adventuress
Don't let your lady go without a glass of wine, even on a camping trip! 
Besides the fun colors, this hammock is lightweight, and strong and sturdy- you can bring it along on any adventure or just hang it up to relax for a bit.
GoPro's are the perfect tool to capture any adventure where you can't take your camera- underwater, backpacking, cliff diving, etc. I also love using the GoPro for a wide angle shot when I don't have my camera handy. This is #1 my ultimate travel gear list!
This stylish camera bag is designed with style and versatility in mind- you are able to carry your camera, a lens and a few personal items.  Remove the detachable strap and it functions as a protective camera insert and bag organizer inside of a larger bag! It is made of water-resistant and sturdy material, perfect for any adventure!
This camera strap is handcrafted with an Italian-tanned leather neckline that is padded with soft neoprene — it's heaven for a lady who carries her camera around everywhere!

The Girl On The Go
Comfort and functionality are important for any girl on the go, and style doesn't hurt either! This quart zip has quick-drying material with an insulated interior to keep you warm anywhere. I love the slimming fit and the colors, of course!
In the gym, or just out and about, a sports bra offers great support and style- in addition to being made of super comfortable material. Invest is some awesome yoga and athletic pieces this Valentine's Day that you'll (or your girl) will love year round!
This thermos can keep your drinks cold for an 20 hours or hot for 4 hours- that's a big plus for a girl who is always on the go. This tumbler has a modern sleek design with stainless steel that won't impart flavors if you switch up your drinks!
The watch is easy to wear anywhere or with anything and helps keep track of everything important during a busy day on the go — exercise, time, messages, health vitals and more!

The Wanderluster
Travel in style with this fun passport case. Airports and train stations are already boring, spice it up with some bright, cute patterns!
Travel the world with this calendar from Rifle Paper Co. It features vintage illustrations based on popular attractions from cities around the world. Fun tip: you can easily re-use pages from this calendar for wall art and DIY projects!
This book is a compilation of the 500 unforgettable sights and attractions around the world, ranked by Lonely Planet's global community of travel experts. It is the only bucket list you'll ever need!
A weekender bag is always a necessity for last minute road trips, or weekend getaways! This sturdy canvas bag can hold everything you need for a weekend, and has a few smaller compartments for anything you need to throw in at the last minute!

The Fashionista
A neutral color hat is a fun addition to any outfit, and the fedora is in style right now! This fedora is made of durable wool and structured for style.
The staple of any fashionista's closet is jewelry.
For all the 'hopeless romantics' out there, live it up on Valentine's Day with some chocolate, rosé and this comfy pajama set!