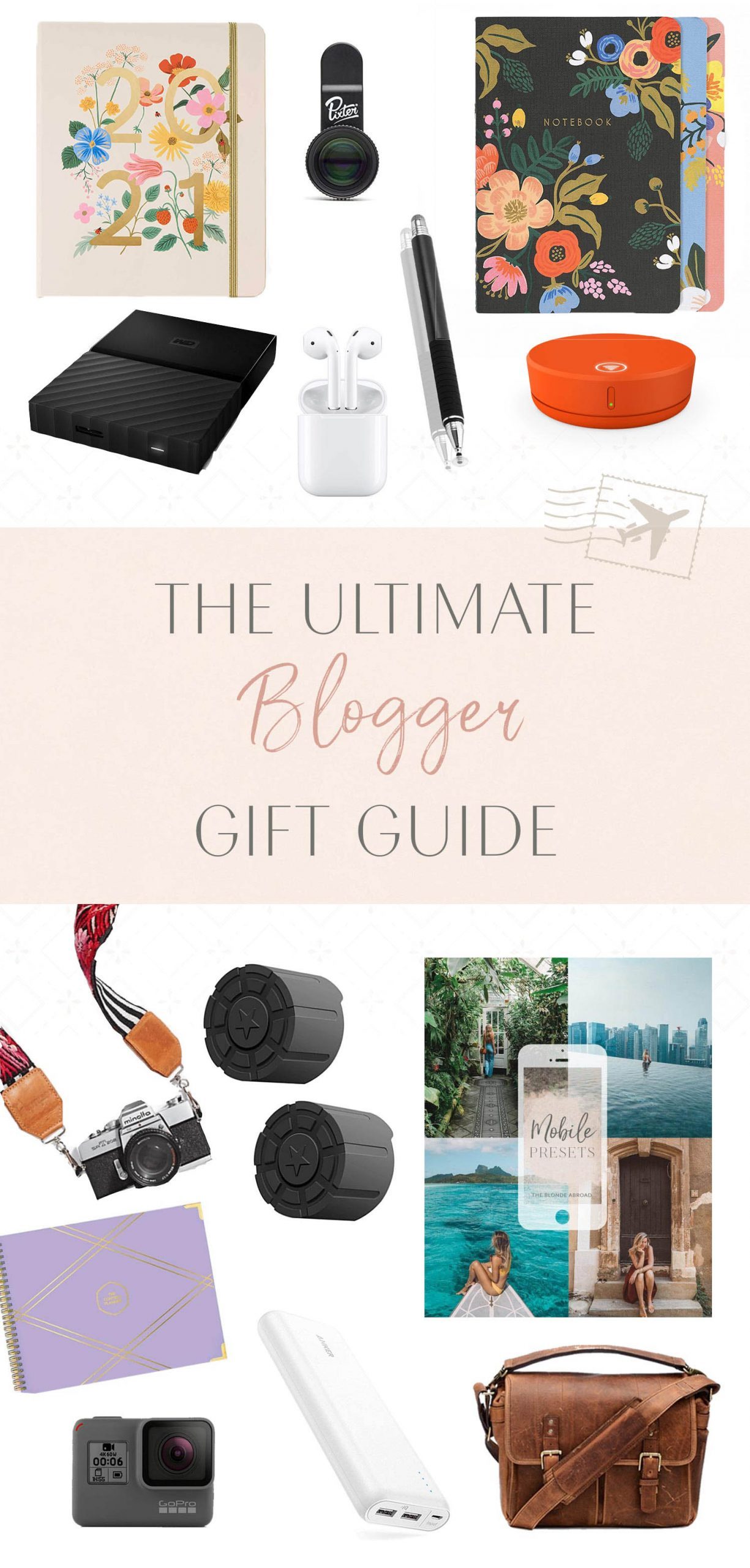 Updated: November 2022
I've found some pretty amazing products that make my life easier when it comes to blogging, social media, and staying organized AND connected while traveling. So, I've compiled the ultimate blogger gift guide!
Check out my favorite gift ideas for bloggers below!
Be sure to check out my The Ultimate Travel Gift Guide for Women too!

The secret to great photos is a great edit! Give the blogger in your life the gift of beautiful edits with the complete collection of my TBA Presets. These "preset" edits are for use on a smartphone (via the free Lightroom app) or computer (with a Lightroom subscription) in just a few clicks!
You can also add in an Adobe Photography subscription (Adobe Photoshop + Lightroom software), and you've gifted the ultimate blogger gift!

Rifle Paper Co.
I love Rifle Paper Co's products and floral designs! This 17-month planner has sections for weekly and monthly plans, yearly overviews, holidays, birthdays, and important dates—plus it offers monthly views. It's perfect for those that like to keep everything from blogging to their social life to their grocery lists organized!
Shop Now

Rifle Paper Co.
Who doesn't love to jot down notes and to-do's in a cute notebook? Let me answer that for you—every writer does. While my business is entirely digital, I use a notebook daily to keep track of my running to-do list.
Shop Now

ONA
This camera bag is from my go-to bag brand. This high-quality crossbody is the perfect size for your camera, lens, and other essentials you need for a day of exploring. Practical, durable, AND stylish, just how it should be.
Shop Now
Silicone
For me, losing or breaking a lens cap is VERY common. That's why I've recently switched over to these silicone lens covers — they're soft but durable, and can grip your lens super hard so they won't fall off. They keep your lenses free of dust and water and are super easy to clean!
Shop Now
Skyroam
I don't travel anywhere without this WiFi hotspot! It's truly a traveler's dream. Mobile WiFi is a necessity to stay connected on the road so I can post blog posts, update social media and run with my business. The new Skyroam Solis X makes this possible—super-fast portable WiFi and includes a power bank for charging along your travels!
Shop Now
Diva
This studio-grade light is a must for YouTubers or bloggers who are photographing themselves inside. This model comes with a dimmer, and a tripod so you can set up a phone or camera in the middle of the light — it provides amazing lighting to get the perfect shot
Shop Now
Pro Lens Kit
For those bloggers who like to snapshots throughout the day and don't like lugging around an SLR camera — these smartphone lenses are the dream.
Shop Now
ANKER
I don't go anywhere without my portable battery — this can charge your iPhone (or any device via USB) up to seven times! ANKER is an awesome brand across the board, and can't recommend their products highly enough.
Shop Now
Lily Cords
Sensible and stylish camera straps are always a crowd-pleaser. I love this macrame camera strap from Free People!
Shop Now
GoPro
A GoPro is a traveler's best friend. It is durable by design, AND the new HERO10 has the best quality photos (it shoots 23MP photos!) and videos (4K120) to date. The new Hypersmooth setting offers amazing stabilization — perfect for any travel video!
Shop Now
Help your favorite blogger get organized, crush their goals and grow their business with the only physical planner made specifically for blogging and social media content!
Shop Now
Apple Airpods
Wireless headphones are a must with all the technology these days. I just purchased these, and they're perfect for my day-to-day use!
Shop Now
Having a stylus for your phone and tablet is not only handy, but it's also very practical for bloggers and influencers that are sharing a lot of Instagram Stories—these pens make it super easy to draw, write, and decorate images right on their phone or tablet.
Shop Now
Give the gift of backups and photo security this year! This 4TB hard drive is perfect for the blogger who needs to back up all of their photography and writing. Backing up files is one of the best things you can do for yourself!
Shop Now

Please note that some of the links above are affiliate links, and at no additional cost to you, I earn a small commission if you make a purchase. That income goes to supporting this website and keeping it free for you and everyone else! As always, the ideas and opinions expressed in this post are entirely my own.