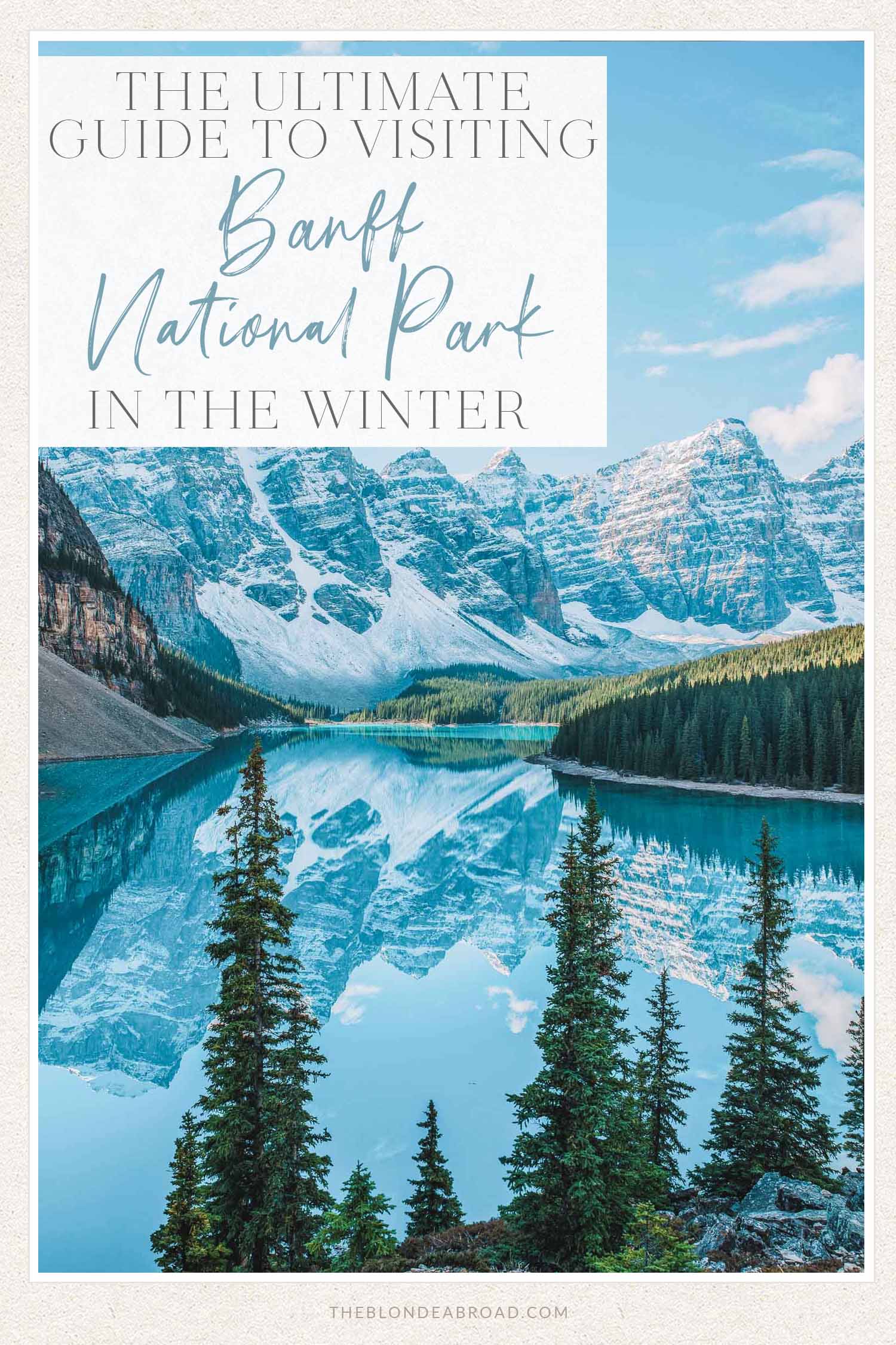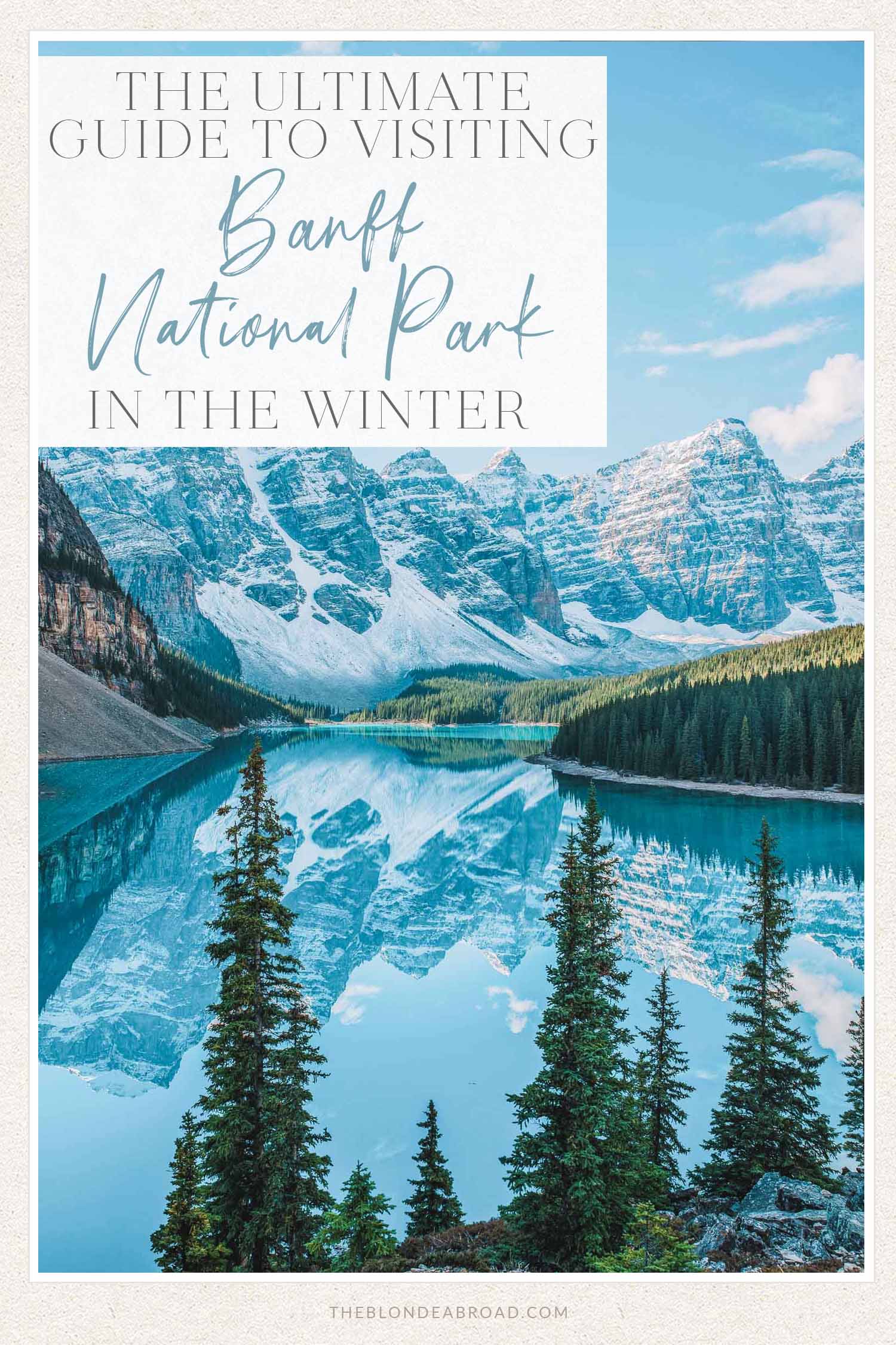 Mikaela of Voyageur Tripper —a blog dedicated to outdoor adventure — is sharing her in-depth guide to Banff National Park!
I've visited Banff National Park in the winter on four separate occasions and have tried just about every winter activity in the park.
While the majority of travelers will visit in the summer months, I feel Banff has a special kind of charm in the winter. The mountains are covered in snow and the waterfalls are frozen to a standstill.
There are some uniquely Canadian experiences to be had in the winter, like walking through a snowy canyon or ice skating on a frozen lake.
I'll be sharing my favorite things to do, where to stay, and where to eat, along with some tips for visiting Banff in the winter—like what to pack and how to drive in snowy conditions.
Here's the ultimate guide to visiting Banff National Park in the winter!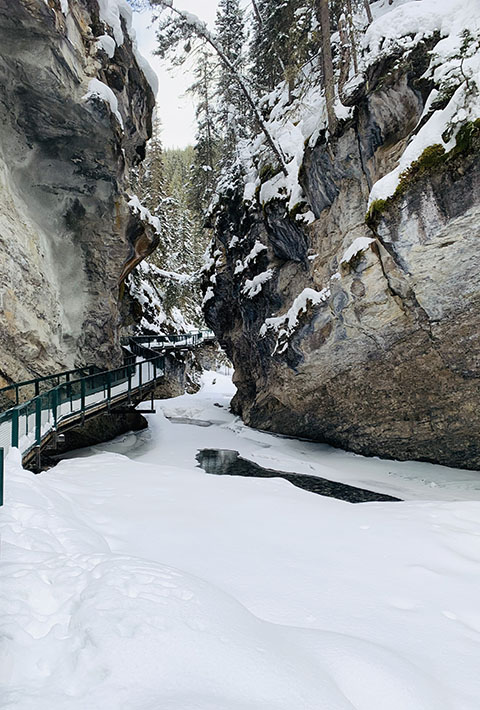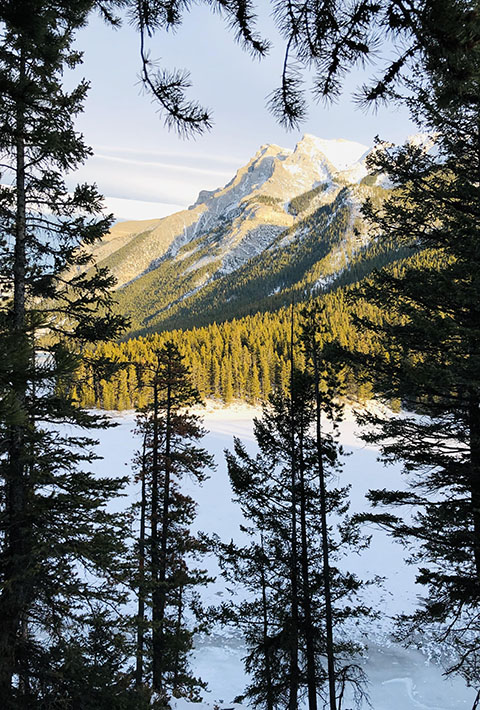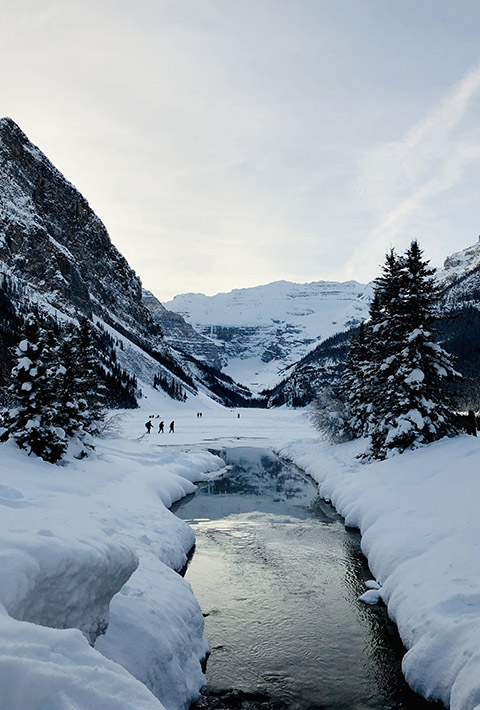 Winter Conditions
January and February are the coldest months, with a daily high of -4 C and a daily low of -14 C, although the winter months get just a few days of precipitation.
That said, most years there tends to be a period with an extreme cold weather warning, where temperatures drop below -30 C. When it's this cold the ski hills sometimes close.
Dress warmly and ensure you are prepared for the cold!

What  to Pack
There are a few additional items you'll want to be when visiting Banff in the winter:
Winter Boots – I don't find hiking boots to be warm enough, so I recommend bringing proper winter boots.
Wool Socks – These will keep your feet warm even if they get a little damp from snow or sweat.
Layers – You'll want to dress in layers while in Banff, which includes a good base layer, an insulating layer (like fleece), and a weather-proof jacket.
Hat – Bring a warm hat, or 'toque' (pronounced 'too-k') as we Canadians would say.
Mittens – Bring a thick and warm pair of mittens, but which will be especially important for staying warm while waiting for sunrise.
Thermos – Not mandatory, but having a thermos filled with a warm beverage is nice to have while waiting for the sunrise.
Ice Cleats – If you will be doing winter hikes without a tour group, bring ice cleats or buy them in town.



Where to Stay in Banff
Budget: Samesun Hostel is my favorite hostel in Banff. Located right on the main road, it has a fun atmosphere and is extremely clean and comfortable.
Mid-Range: I really like the Royal Canadian Lodge. It's a cozy hotel with a great swimming pool and spa, and it has a really great restaurant for breakfast.
Luxury: If there's any place in Canada to splurge on a hotel room, it is the Fairmont Banff Springs. I absolutely adore this hotel, mostly due to its excellent spa, which includes indoor and outdoor hot pools, a whirlpool, and a sauna. It's very dreamy.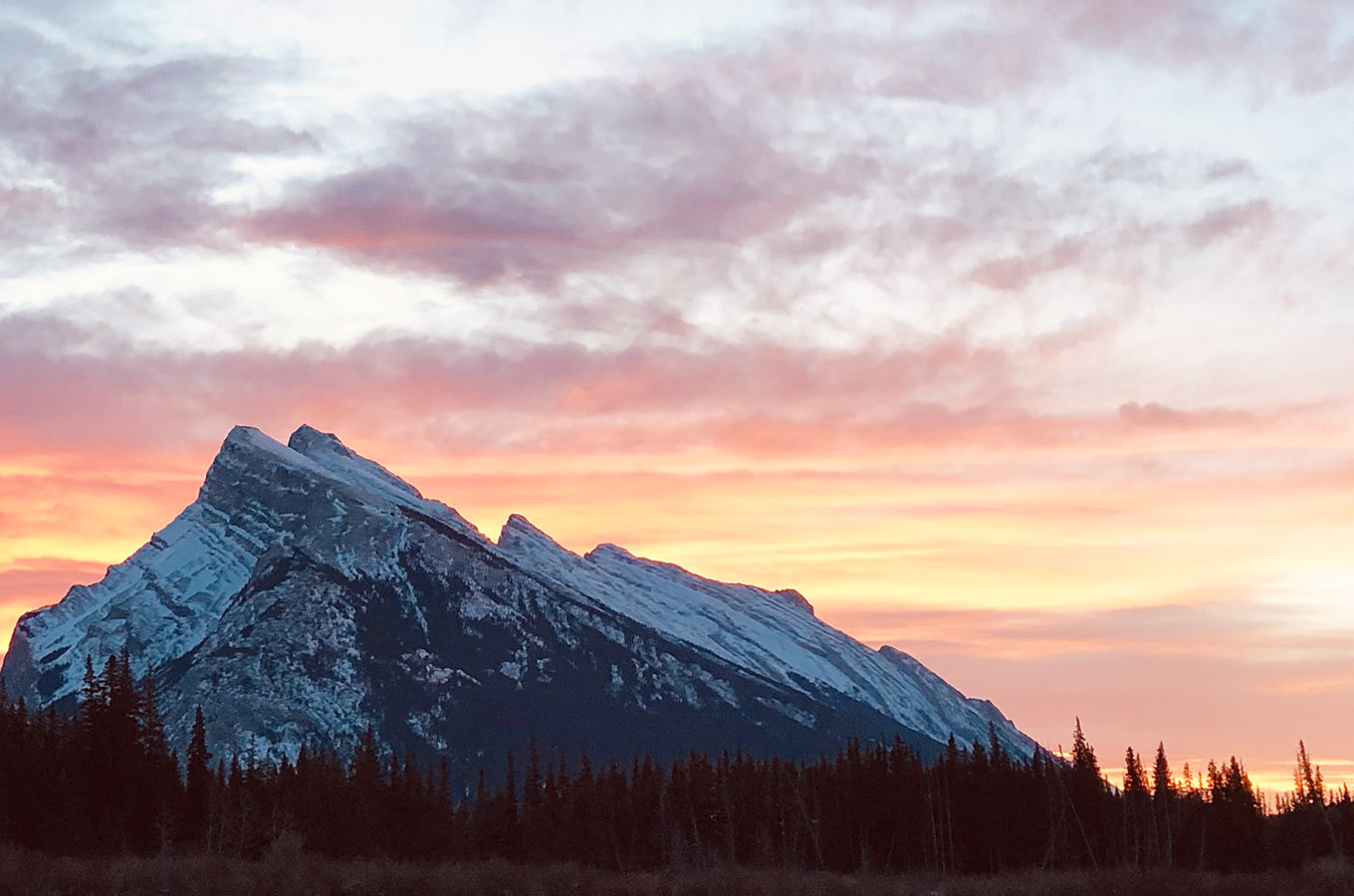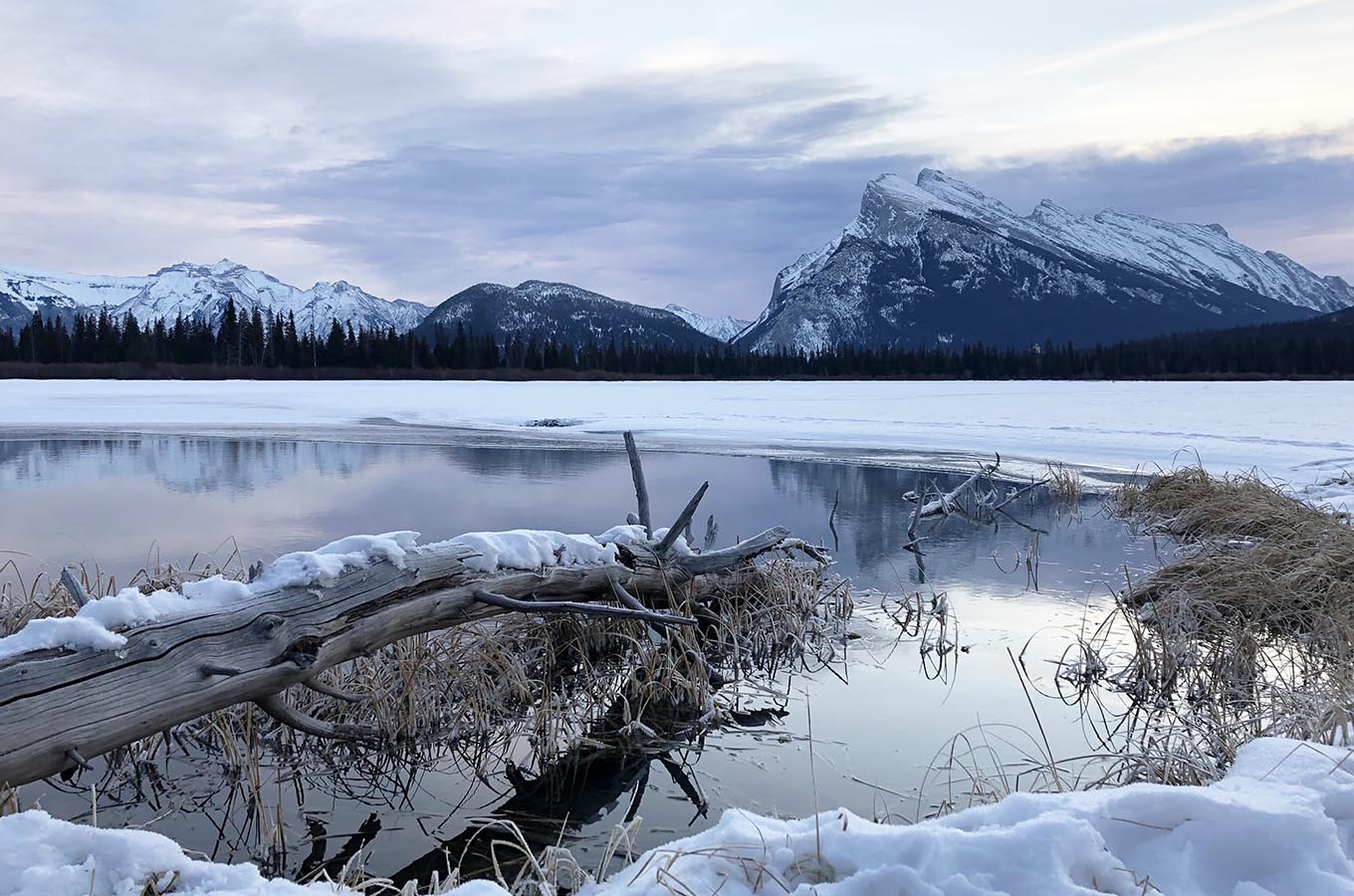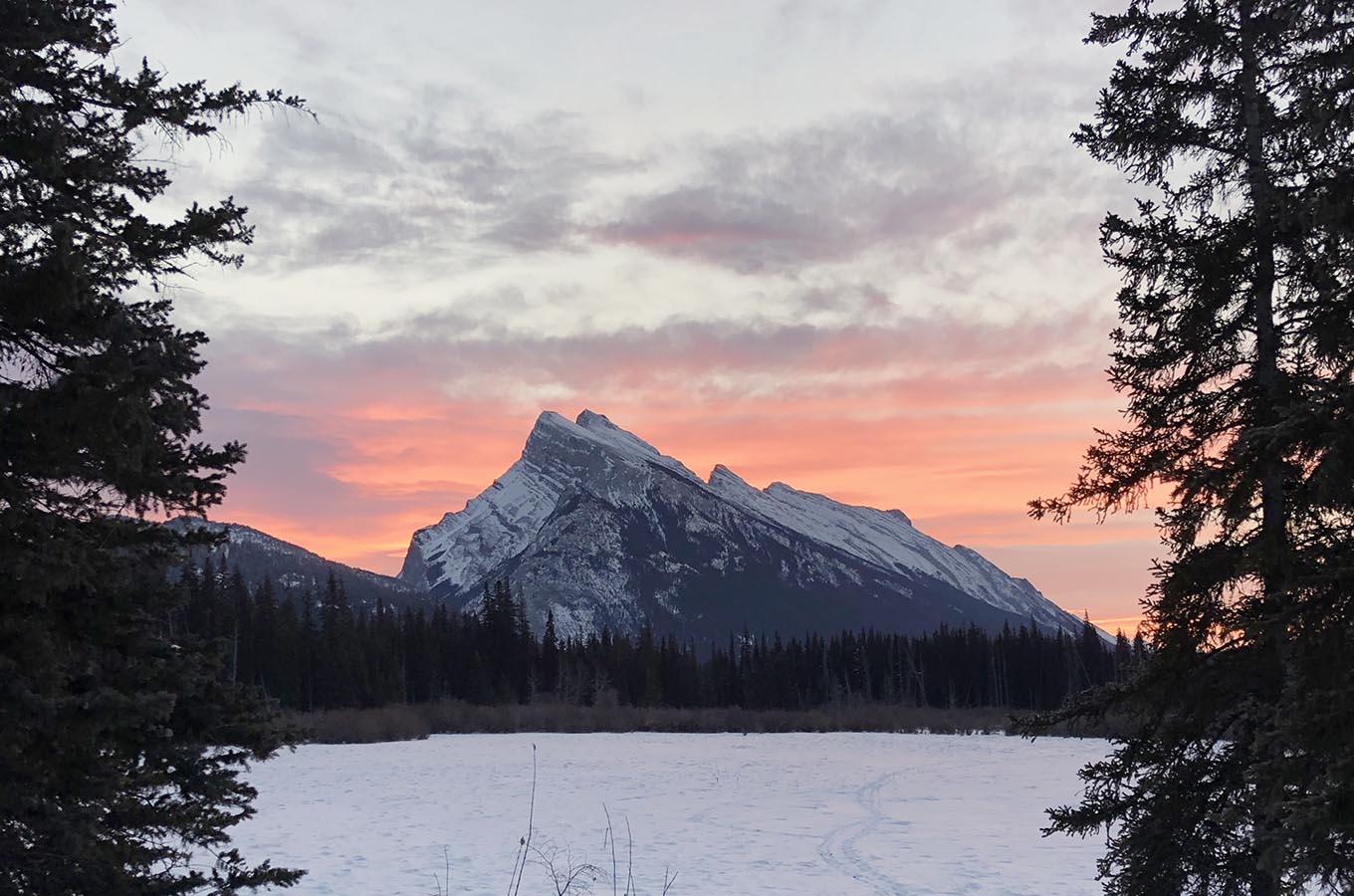 Top Things to Do in Banff During the Winter
Watch the Sunset at Vermillion Lakes
Vermillion Lake is located just outside Banff Town Centre and is the best place to watch the sunrise. Turn onto Vermillion Lakes Scenic Drive and Mount Rundle will be on your left. Drive down a little further to where there are some openings in the trees.
Anywhere along here is a great place to photograph the sun rising.
Be careful walking close to the ice, as the edges aren't always completely frozen. And bring warm mittens and a hot beverage – it's a chilly way to ring in the day.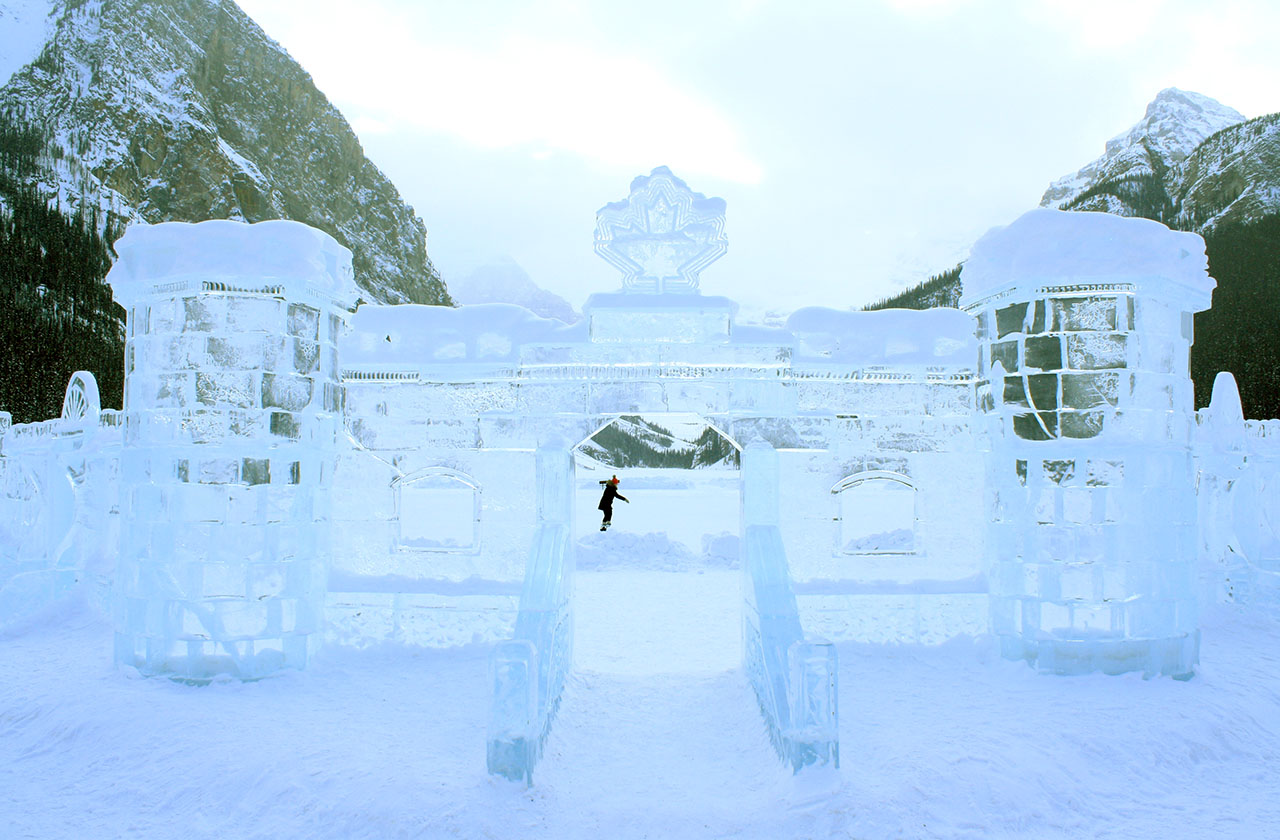 How cool is this ice castle?
Go Skating at Lake Louise
Lake Louise is easily one of the most beautiful lakes in Canada, and retains much of its charm in the winter months.
The Fairmont Lake Louise Chateau is right on the lakeshore and offers activities like snowshoeing, a horse-drawn carriage ride, and, the most popular, skating. Outside you'll also find ice sculptures and an "ice bar" which serves drinks.
Hike to Frozen Waterfalls in Johnston Canyon
Johnston Canyon has a trail that goes right through the beautiful canyon and brings you to two large frozen waterfalls.
Along the walk you'll be right up against the canyon walls, and will see numerous smaller frozen waterfalls. There is even a small tunnel to walk through that will bring you face to face with another waterfall.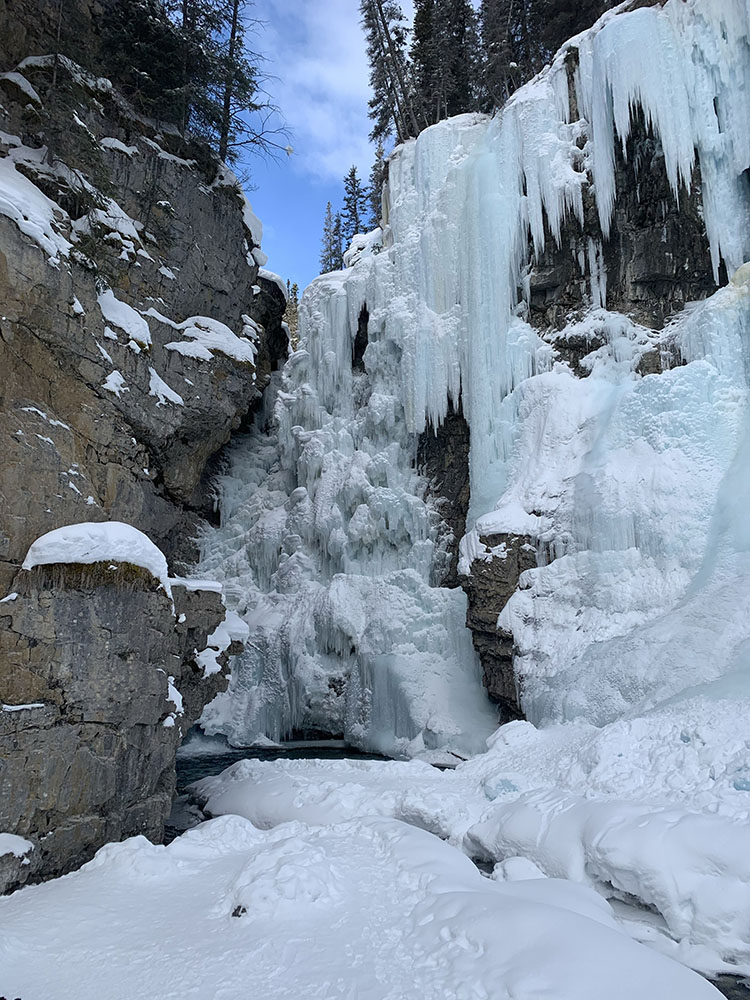 You can do the walk on your own, but I recommend joining a tour group because they will be able to explain the history and geology of the canyon. Plus, they provide ice cleats for your boots so you aren't slipping around on the trail.
If you choose not to go with a tour group, I suggest bringing your own pair of ice cleats. And definitely go in the morning – by lunchtime the trail can be incredibly crowded.
Check Out Some Iconic Photo Spots
Banff has some beautifully photogenic mountains and lakes. Grab your camera and check out some of these spots.
Two Jack Lake: This frozen lake is an excellent one to catch for sunset. The snow on the lake gets cleared away in parts to become a natural ice skating rink. You can slip around in your winter boots or bring a pair of skates with you (there isn't a place to rent skates here).
Lake Minnewanka: Walk out onto this frozen lake surrounded by mountains. When driving to the lake, you'll pass a small parking lot which offers views from above the lake. This offers a beautiful and under-appreciated angle of the lake.
Peyto Lake: Located north of Lake Louise and on the Icefields Parkway, Peyto Lake is one of the most iconic backdrops in Banff.
Castle Mountain: Head to Castle Junction (off of Highway 1A) for excellent views of Castle Mountain.

Take the Gondola Up Sulphur Mountain
Take the gondola from the town of Banff up to Sulphur Mountain. From here you'll be treated to beautiful views of the town nestled below the mountains.
At the top, there is a Visitor Centre and restaurant (with an awesome lunch buffet I might add) and a boardwalk that takes you to the peak of Sulphur Mountain.
You can buy your tickets at the counter, however, I recommend purchasing them in advance (even just the night before) because it can be a bit cheaper and you'll be able to skip the line and go straight to the gondola when you arrive.
Go Skiing at the Big 3
Banff National Park is home to three excellent ski hills – Lake Louise, Banff Sunshine, and Mt. Norquay – known as the Big 3.
You can visit one hill or get a pass to ski at all of them over several days. I spent a day at the Lake Louise ski hill, and even though I wasn't a great skier I had an excellent time – so don't think you need to be very experienced to ski in the Canadian Rockies!
Each of the ski hills has its own rentals, so you don't have to worry about bringing ski gear.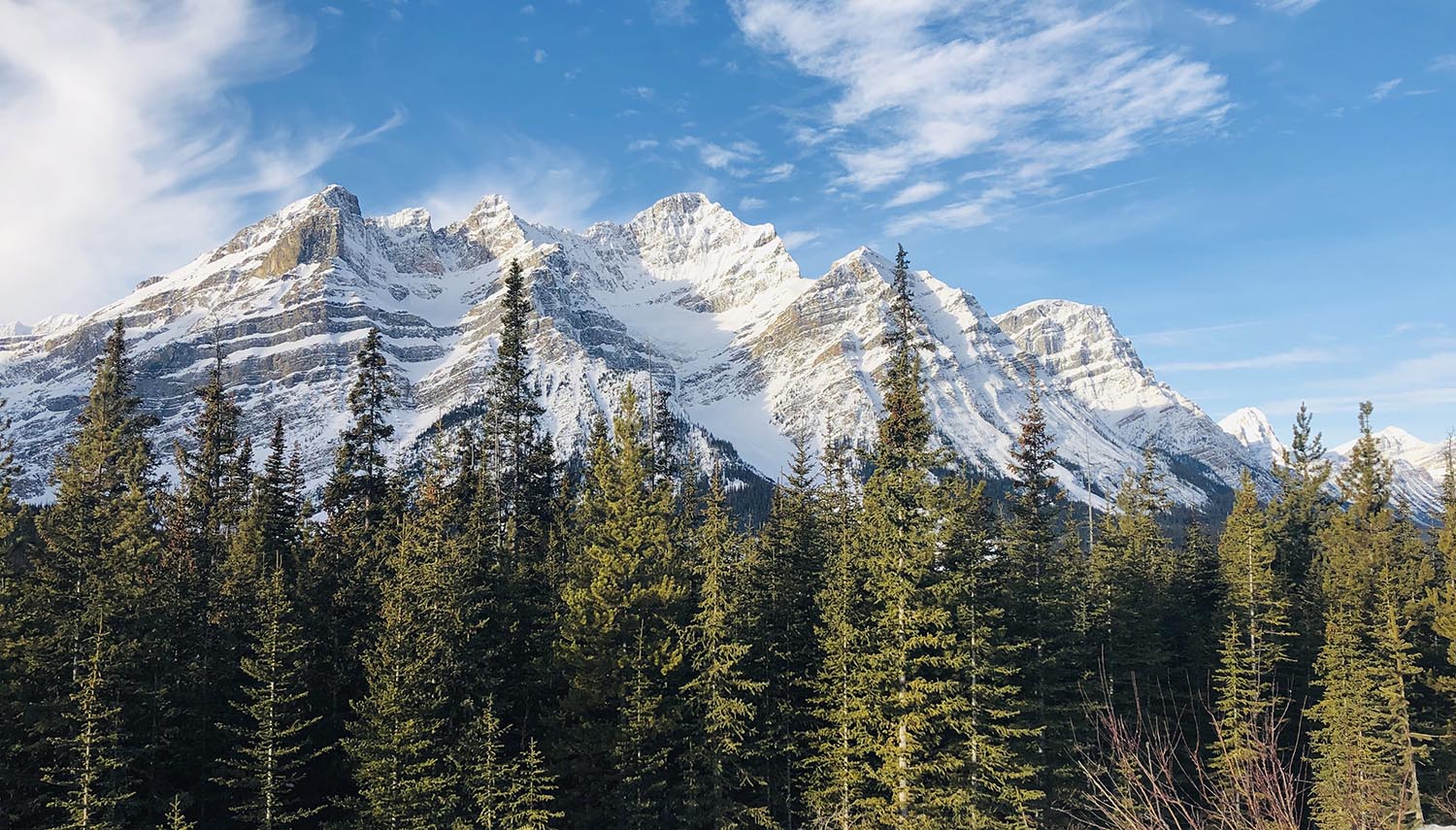 Icefield Parkway Mountains
Transportation During the Winter
There are two ways to get around Banff National Park: renting a car and public/private transport. I recommend renting a car because it'll give you the most flexibility. But if you are uncomfortably driving in winter conditions there is enough public/private transport to build a full itinerary without needing a car.
Renting a Car
Pick up your rental car in the Calgary Airport before you begin driving to Banff. There are several rental car companies and their prices are all very similar. In order to get a good vehicle with snow tires, book your rental car in advance.
Here are some tips for driving in Banff in the winter:
Snow Tires are Critical
The easiest way to get around Banff is to rent a car. The roads from Calgary to Banff and Lake Louise are regularly plowed for snow. However, the roads are not routinely maintained off the main highway and especially on the Icefields Parkway.
That's why I strongly recommend renting a car with snow tires. 4WD is also nice to have, but it's not as important as snow tires.
Don't Drive Late at Night
I highly recommend you avoid driving on the highways when it's dark. There's considerably less visibility, which makes driving on snow or ice-covered roads more dangerous. So once sunset is over, head back to the town or to your accommodations.
Avoid Driving in White Out Conditions
Although it's never happened in the four trips I've made, sometimes Banff gets blizzards and this can seriously diminish visibility. If the visibility is very poor, avoid driving, especially if you are not experienced with winter driving.
There are plenty of activities in Banff that can be accessed on foot or occur inside to fill your itinerary.
Public Transportation, Shuttles & Tours
If you'd like to avoid driving entirely, you can build an itinerary that doesn't require a vehicle. There are some top sights that will be difficult to access (or will be quite expensive to access), but it isn't impossible.
Transport from Calgary to Banff: There are shuttles that go from the airport to Banff Town Centre.
Transport within Banff National Park: There is a public bus in town that can take you from the town center (where most of the accommodation options are) to the Sulphur Mountain Gondola and the Banff Hot Springs.
Transportation with Tours and Activities: Many tours will pick you up from your accommodations and drop you off afterward. There's also a shuttle that goes from Banff Town Centre to the Big 3 ski hills.

Places to Eat in Banff
For such a small town, the Banff food scene really punches above its weight. Here are my three favorite places to eat in Banff.
Toolooloo's: This eclectic restaurant is a top choice among locals and travelers alike. With an extensive brunch menu and generous portions, Toolooloo's is an excellent choice after doing the Johnston Canyon Ice Walk or another outdoor activity. I recommend both the waffles and the eggs benny.
Eddie Burger Bar: This is the best burger joint in town (and I test out a lot of burger joints when I travel!). I recommend any burger, truffle fries, and an Eddie Caesar, which comes with a chicken wing for garnish.
The Maple Leaf: If you want something a little more upscale, The Maple Leaf is perfect. It has some excellent seafood and steak options (Alberta is home to the best beef in Canada), in addition to a few vegetarian dishes. The atmosphere is warm and cozy, and there's a great wine selection.
BeaverTails: For a truly Canadian dessert, stop by the BeaverTails shop.
Yum!
A Beavertail is a fried dough pastry that resembles a beaver tail (so kind of like a thick pancake) with toppings like Nutella, peanut butter, banana, coconut, and just about anything else you could imagine.