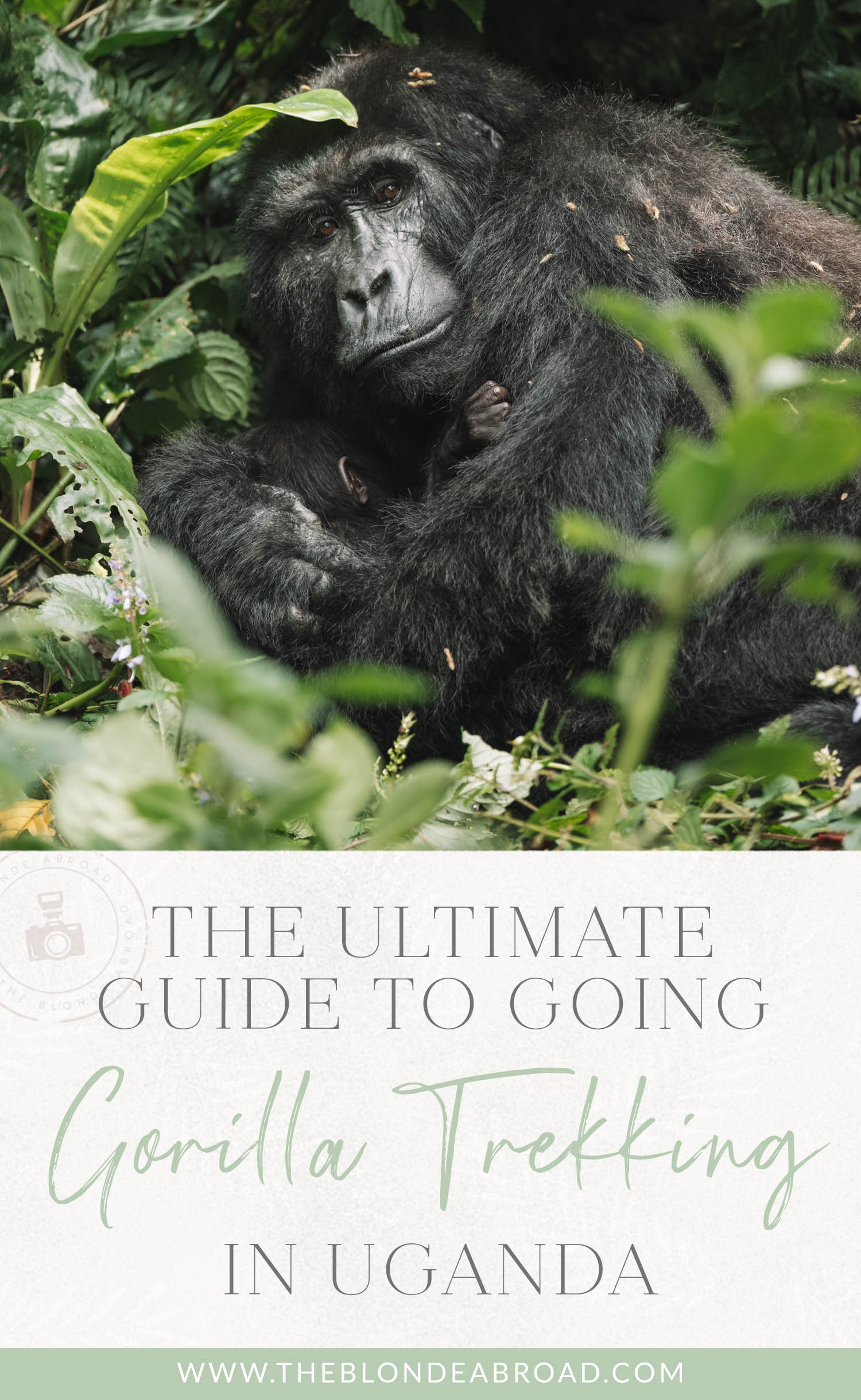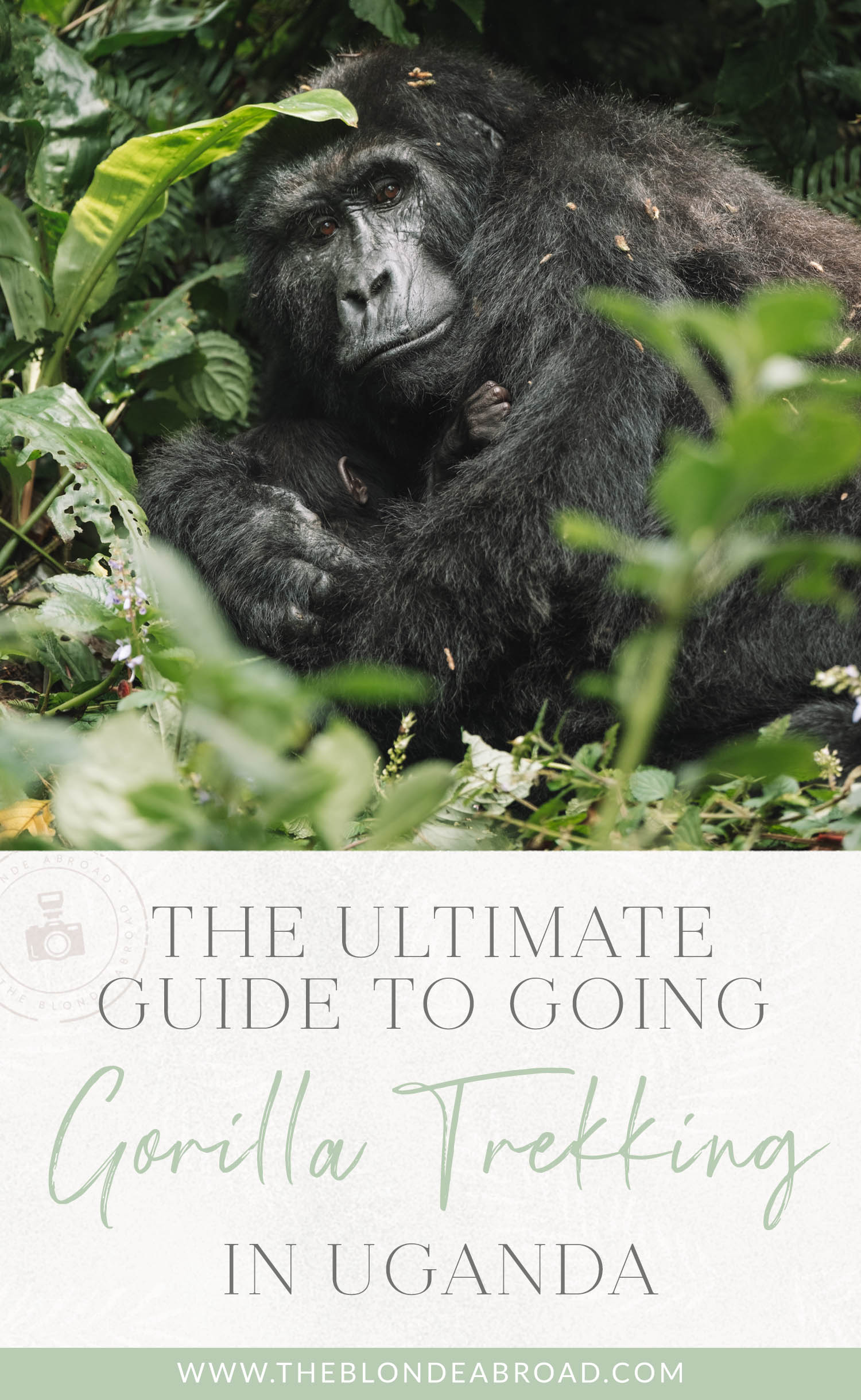 Going gorilla trekking has been on my Africa bucket list forever. There's something so humbling about being so close to these beautiful animals and sharing that space in nature with them.
Bwindi National Park in Uganda does an excellent job of preserving the natural environment and the wellbeing of the gorillas. During my most recent stay at the Sanctuary Retreats Gorilla Forest Camp, I got to check it off my list, and my goodness was it a dream come true!
After a 2.5 hour trek into the Bwindi Impenetrable Forest, we met the Mubare gorilla family. I couldn't have asked for a more incredible encounter. We spent an hour with them, watching the little ones play and explore their surroundings.
The family is led by the largest silverback in the entire forest and, let me tell you, he was HUGE.
If you're interested in going gorilla trekking for yourself, here's everything you need to know from when to go, permit info, what to pack, and what to expect!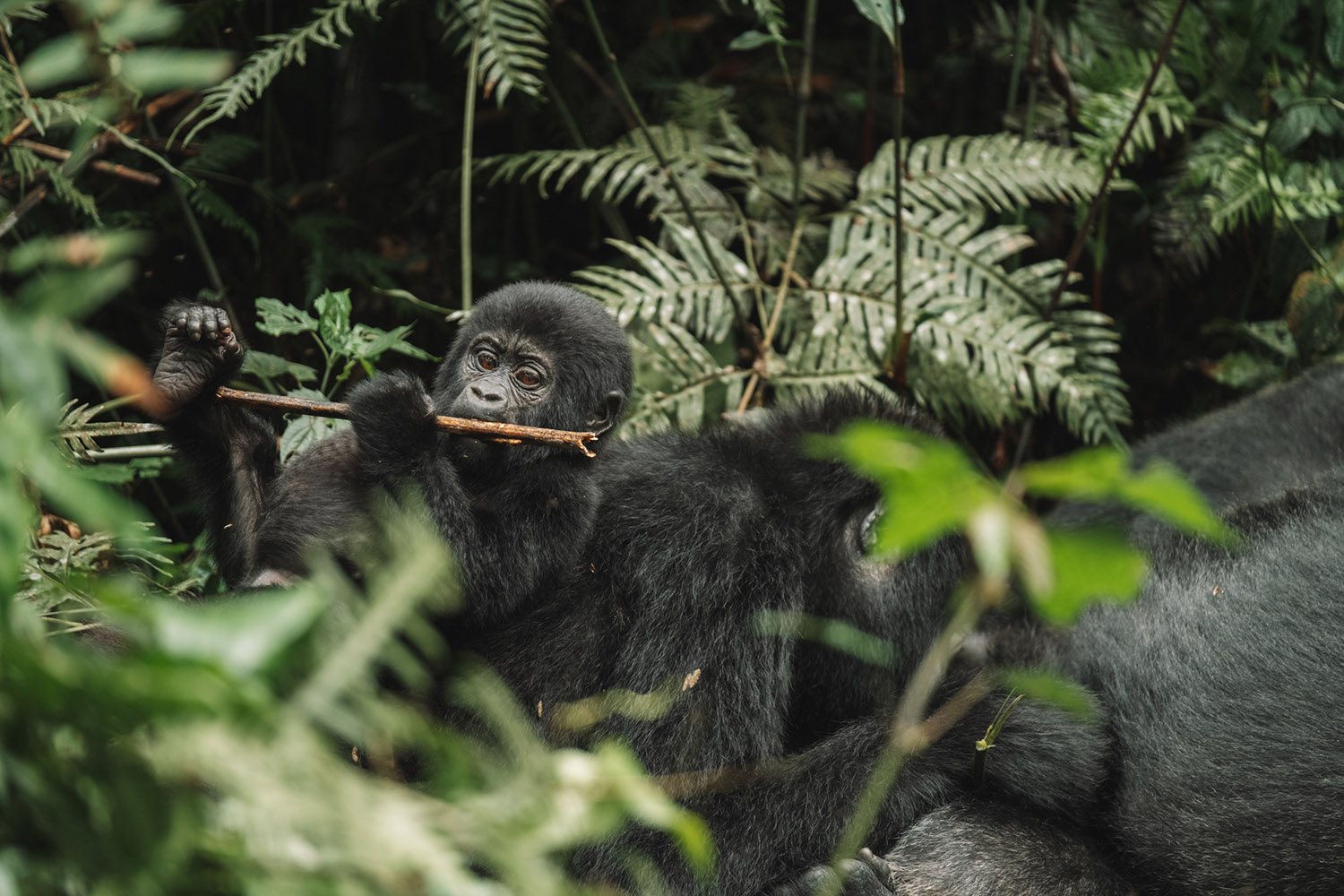 The Best  Time to Go
Due to its climate and location near the equator, Uganda is truly a year-round destination. However, there is a drier season which is ideal for trekkers. The rainy seasons run from October to November and mid-March to May. With the rain, you can still see the gorillas, but you'll likely be more comfortable when the weather is drier.
This means the best time to go gorilla trekking in Uganda is June through September and January or February. Because of this, Uganda can be quite busy during these months, especially December.
This means higher rates for both accommodations and for the trekking permits.
If budget is the main concern, visiting from March to May or October and November will help you save some cash. And don't fret about the monkeys. The national parks are still in full operation and the animals are still wandering about.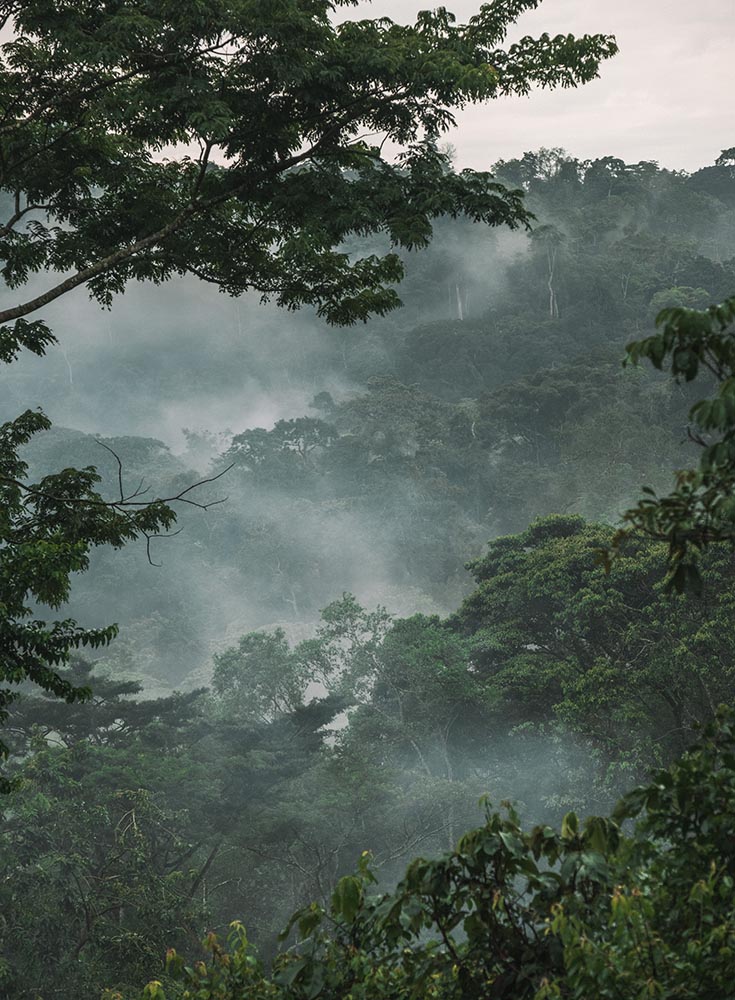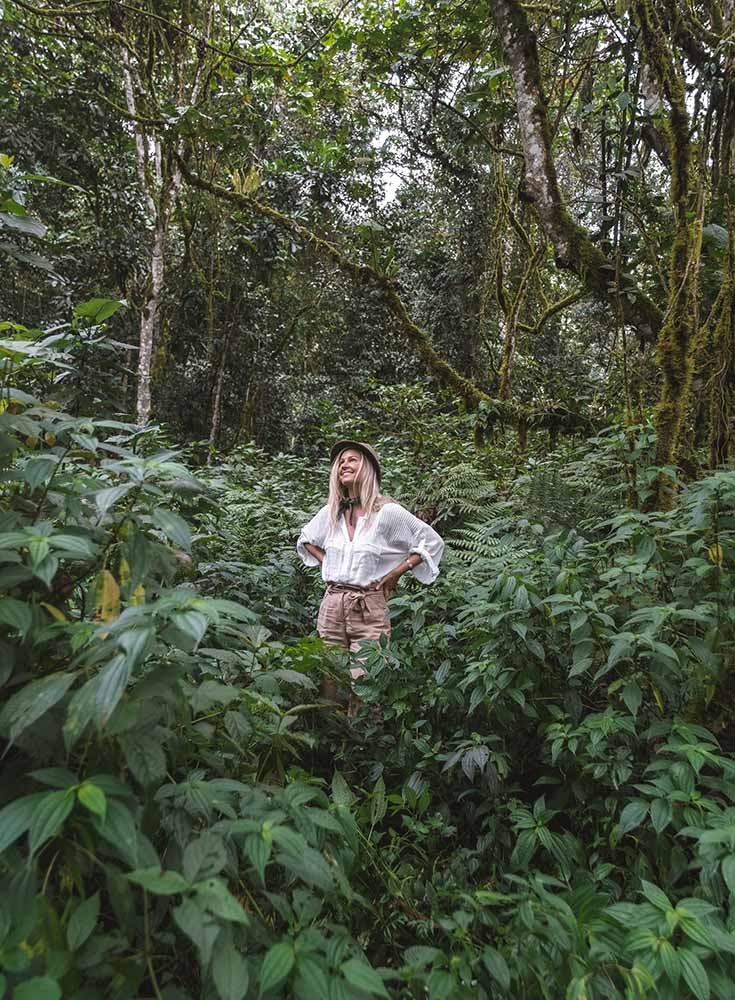 How to Get Permits and Visas
We stayed at Sanctuary Retreat Gorilla Forest Camp (which I would highly recommend) and they took care of arranging the permits and everything needed for gorilla trekking for us, which was amazing!
However, if you choose to stay somewhere that does not provide a permit, I highly recommend booking through a tour company.
You can choose to get a permit yourself—which is around $700. Or, you can book a safari tour (which includes the permit) which will average anywhere from $1,100 to $6,000 (the price truly varies depending on what kind of experience you're after), but include most or all of the things you would need to get/hire anyway (guide, porter, gear).
Regardless of how you choose to go trekking, you will also need a visa to get into Uganda.
You can get one online here. You'll just need a valid passport that can maintain its validity for at least 6 months after your arrival in Uganda. You'll also need a vaccination certification that proves that you've been vaccinated for yellow fever. Lastly, you'll need a passport-size photo of yourself.


What  to Expect
This was my experience gorilla trekking in Uganda—booked through the place we stayed: Sanctuary Retreat Gorilla Forest Camp.
It wasn't as early in the morning as I thought it would be. We left the property around 7:30 am, and at the ranger station, we had an orientation for about an hour to get us all prepped. Everyone sits facing a stage-like area, and they had local kids and musicians providing some brief entertainment while we waited for everyone to arrive.
The particular gorilla trekking center we were at has 5 gorilla families. What does this mean?
It means that of the people who participated in the orientation, they'll be split up into groups to go see one of those 5 families. From my observation, they split the groups up based on physical ability, so we were put with the group that walked the farthest and they ask you the night before how would you rate your physical ability.
They're able to accommodate anyone and everyone—even if you can't walk, you can go gorilla trekking.
The trackers and the porters are really incredible people, and you can literally be carried along the track if need be. It's important to note that you have to organize this ahead of time and pay extra, but I thought it was really cool that they had this level of accessibility available.
All of the gorilla families are located at different distances from the starting point, so if you are unable to track long distances, they will put you with a family that is closer.
We were put with the family that was the farthest and we got the full experience of being out in the jungle. We were gone most of the day and I really appreciated getting to go on a long hike to see the family (and I have the blisters to prove it!).
It took about 2 ½ hours to get there…definitely an arduous journey!
Trackers go out hours before you do to make sure they can locate the gorillas and then they'll stay with them well after you've left—basically until the last bit of daylight, so they have a good idea of where they might be the next morning.
Gorillas sleep during the evenings, so the trackers can usually find them relatively easily in the morning. They sort of always know where they are and it makes it a lot easier to trek if you know where they are!
Basically, your chances of seeing the gorillas are really, really high.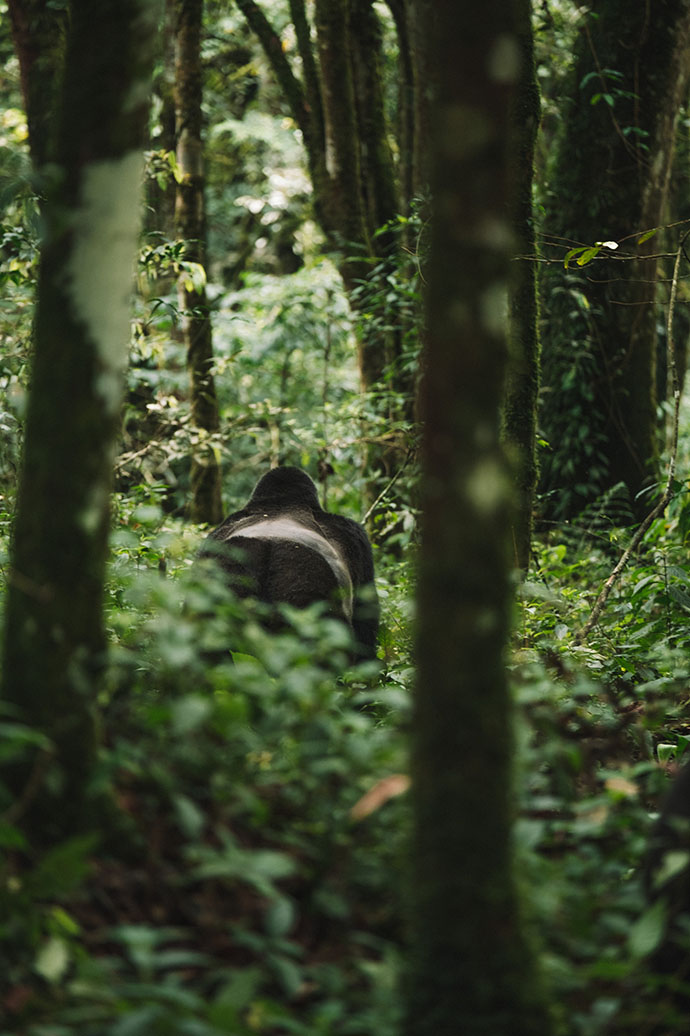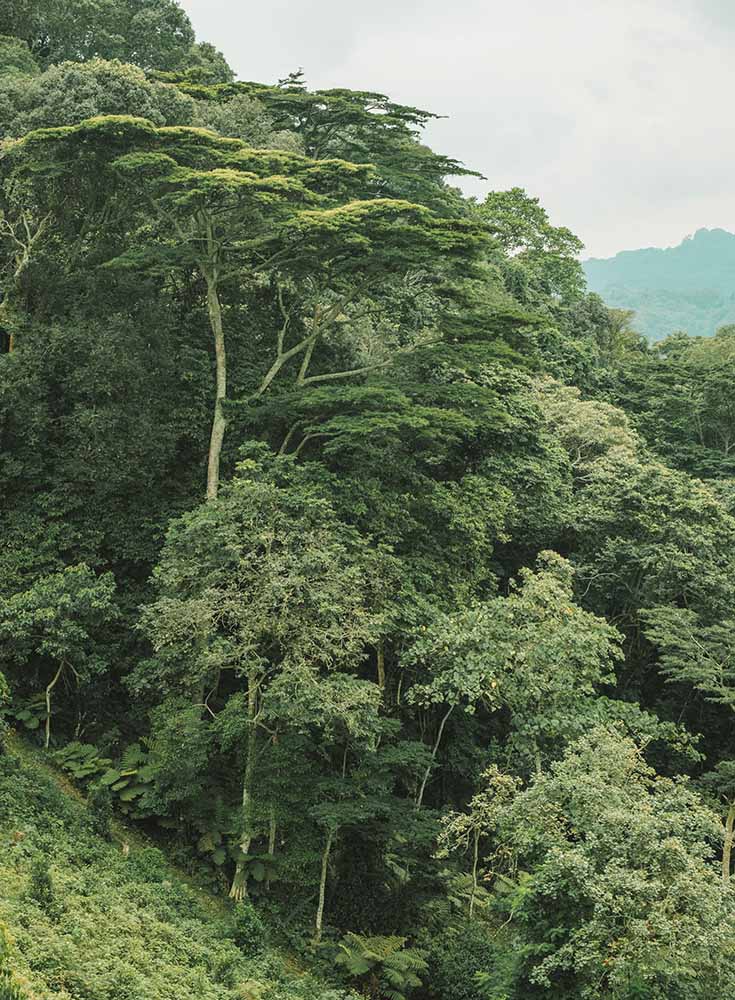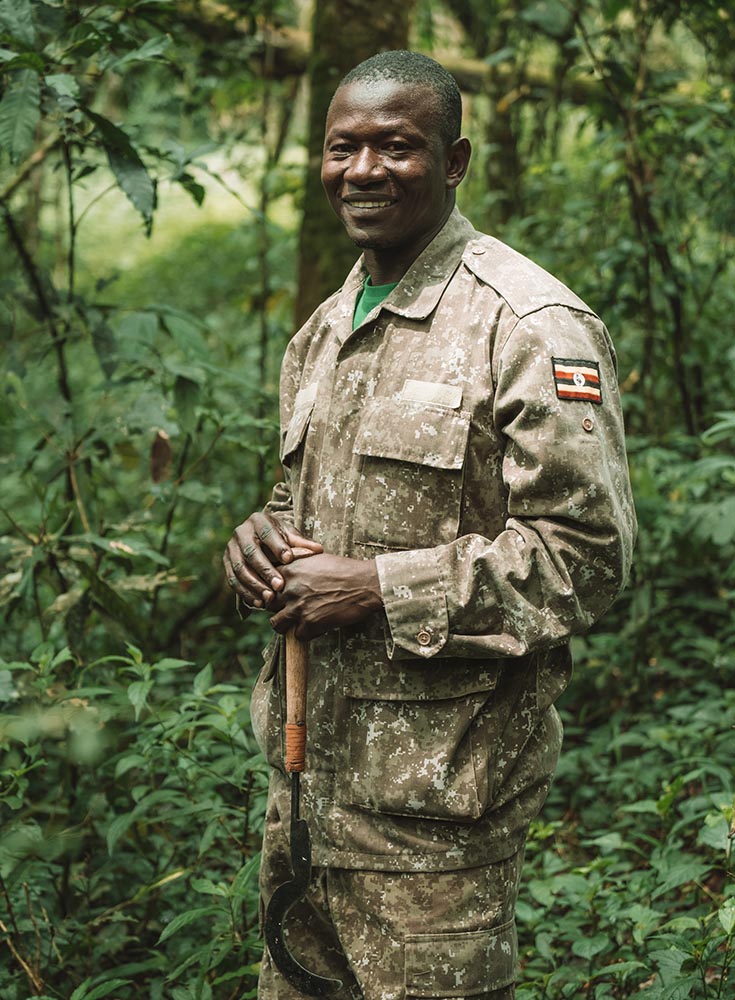 Hiring a Porter
Your group consists of 8 guests and you have the option to hire a porter. I highly recommend doing this!
Hiring a porter doesn't mean you are weak or unable to carry your own things. It gives a local a job for the day—so many people in this part of Uganda are dependent on income from tourism that we are providing. It's only $15 minimum for the day, we paid our guide $30, and we each hired a porter, both me and my boyfriend, Meyer.
They were very helpful whether they were carrying our things or not. They'll help you get up when the mud is slippery or if there's a challenging area.
And in my opinion, hiring a porter makes the overall experience much more pleasant.
Each guest can hire a porter, which can bring the group up to 16 people and then you will have your guide and two guards (one at the front of the group and one at the back). Yes, there are armed guards, but they are there for your safety.
There are some dangerous animals in the forest—not ones you might consider dangerous, but specifically elephants. If they're spooked or they don't see you coming, they can charge and can become a serious danger, so the guards are mostly there in case they need to fire a warning shot into the air. This brings the group up to 19, which is pretty much the max size.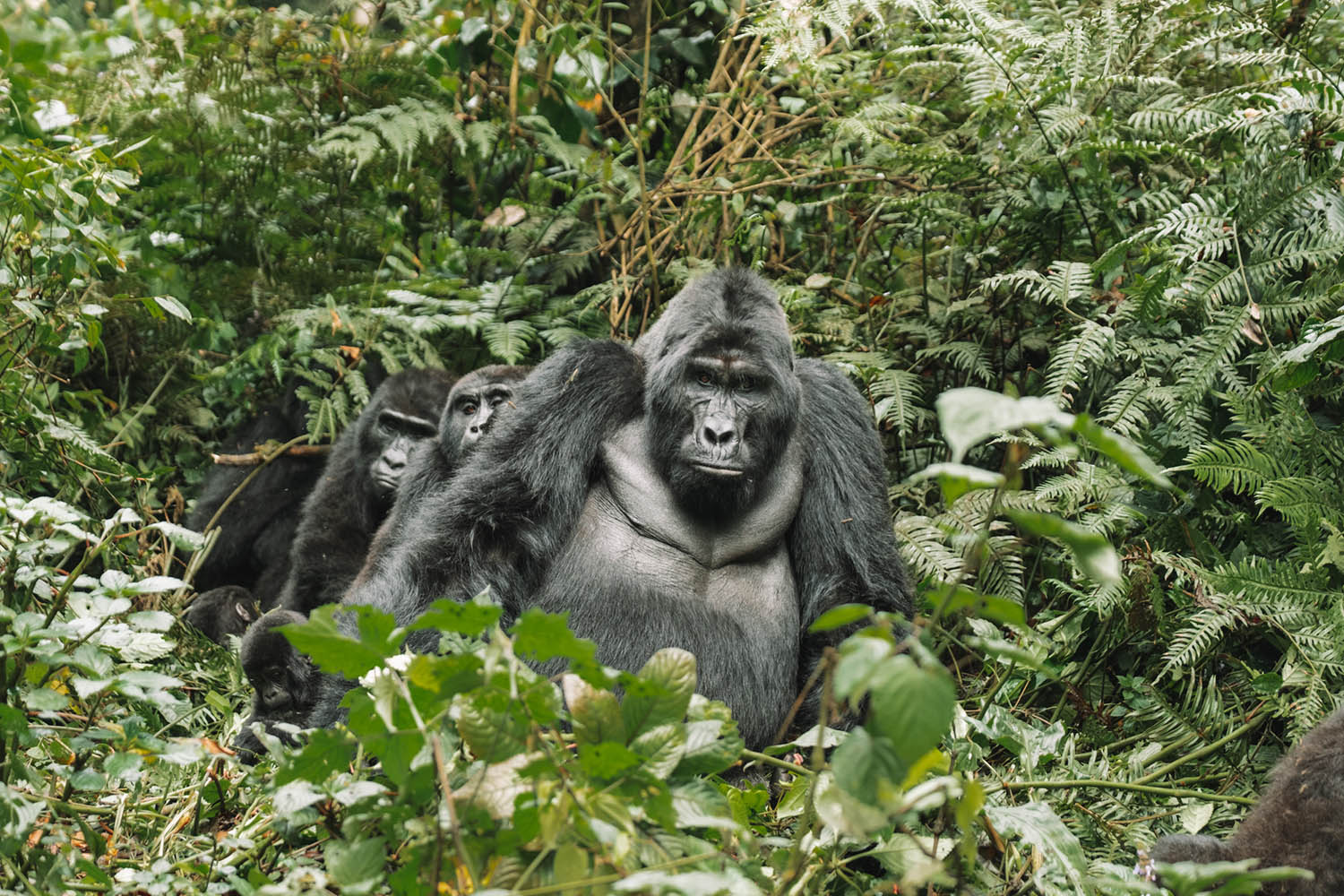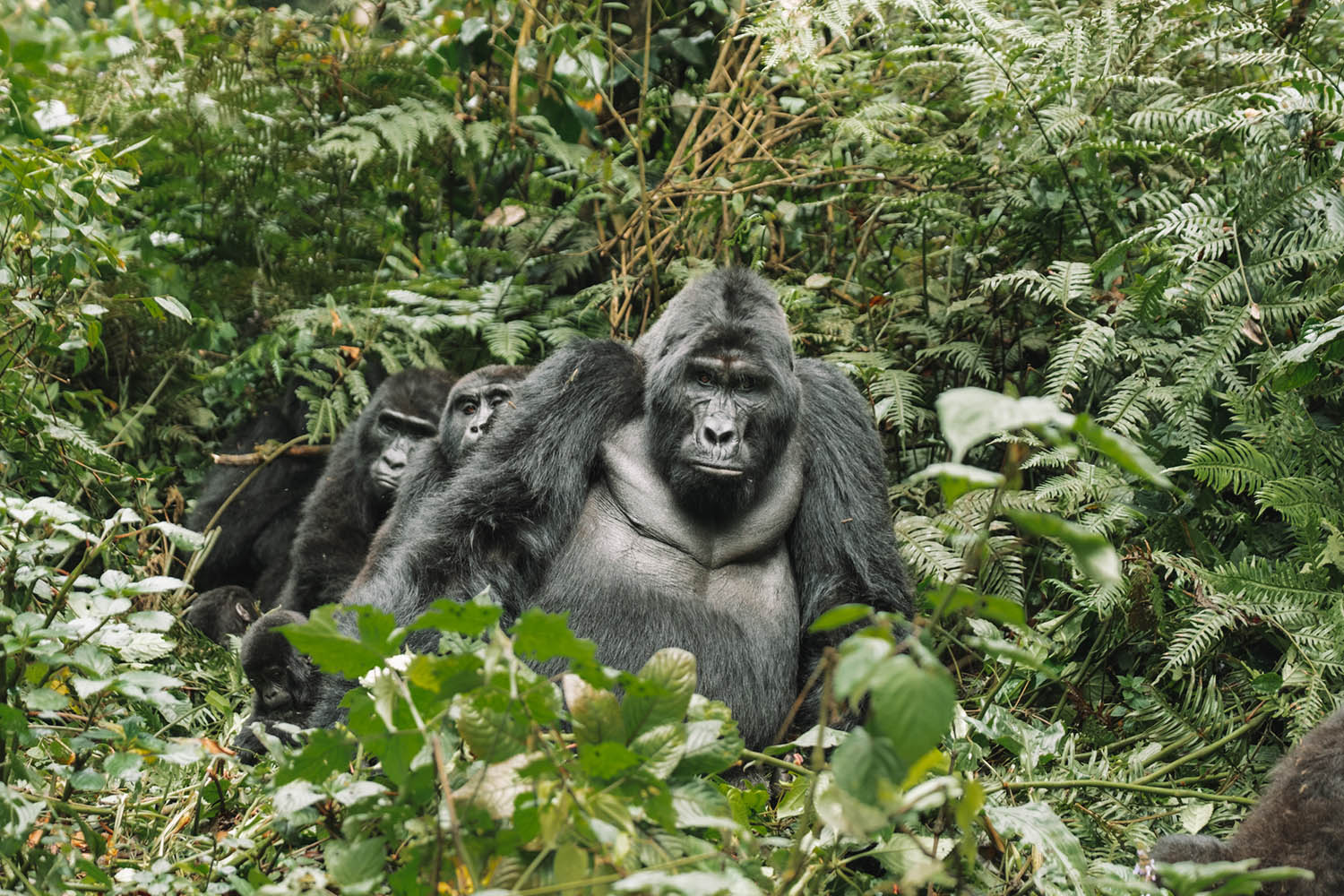 Observing the Gorillas
Once you've gone through the jungle and you get to the gorilla family, all of the porters stay behind and only your group of 8 with the two guards and the guide will approach the gorillas. So it's a very small group of people.
Talk about an intimate experience!
Before you go to see the gorillas, you'll get one final briefing from your guide and then he will run over all the do's and don'ts.
You have one hour with the gorillas.
Why this specific time period? The gorillas have been habituated, which basically means they have been conditioned to understanding that humans are part of their natural environment. Habituation takes a few months to a few years to start to understand that humans are not a threat.
Because the park is so heavily regulated, nobody is allowed to go into the forest without a ranger; there aren't risks of poaching, so it is okay for these animals to be habituated because humans are not a threat in the Bwindi National Impenetrable Forest.
They've come to recognize and expect humans to come and approach them for one hour of the day, every day. This one hour is specific for both the benefit of the gorillas and our own safety. If they expect humans to come for one hour a day—this is normal for them, if you were to stay longer than an hour, this can be distressing for them.
That is why there is a strict one-hour regulation.
Believe me, it is plenty of time to observe the gorillas and you're allowed to move about, just consult with your guide to ask about where you'd like to stand or where you'd like to go is okay, safe, and won't be distressing for the gorillas. You're advised to keep a distance of about 7 meters (~20 feet).
I highly recommend getting as many photos as you want when you get there and then just putting your camera down and observing them without your lens.
Sit down, watch them.
We were getting mixed reviews about whether or not you should look them in the eyes, but our guide encouraged us to do so.
It's an incredibly humbling experience when you lock eyes with a silverback gorilla.
Our particular family was the first gorilla family to be habituated in Bwindi and they have the largest silverback in the forest, and let me tell you…this guy was massive! He was about 5x the size of an average male human.
Holy smokes!

Necessary Vaccines
To visit Uganda, it is recommended that you are vaccinated against hepatitis A and B, typhoid, tetanus, yellow fever, meningitis, cholera, rabies, polio, MMR, chickenpox/shingles, pneumonia, influenza, and tdap.
Most of these are common vaccines that you've likely already received, but always triple check just to be safe!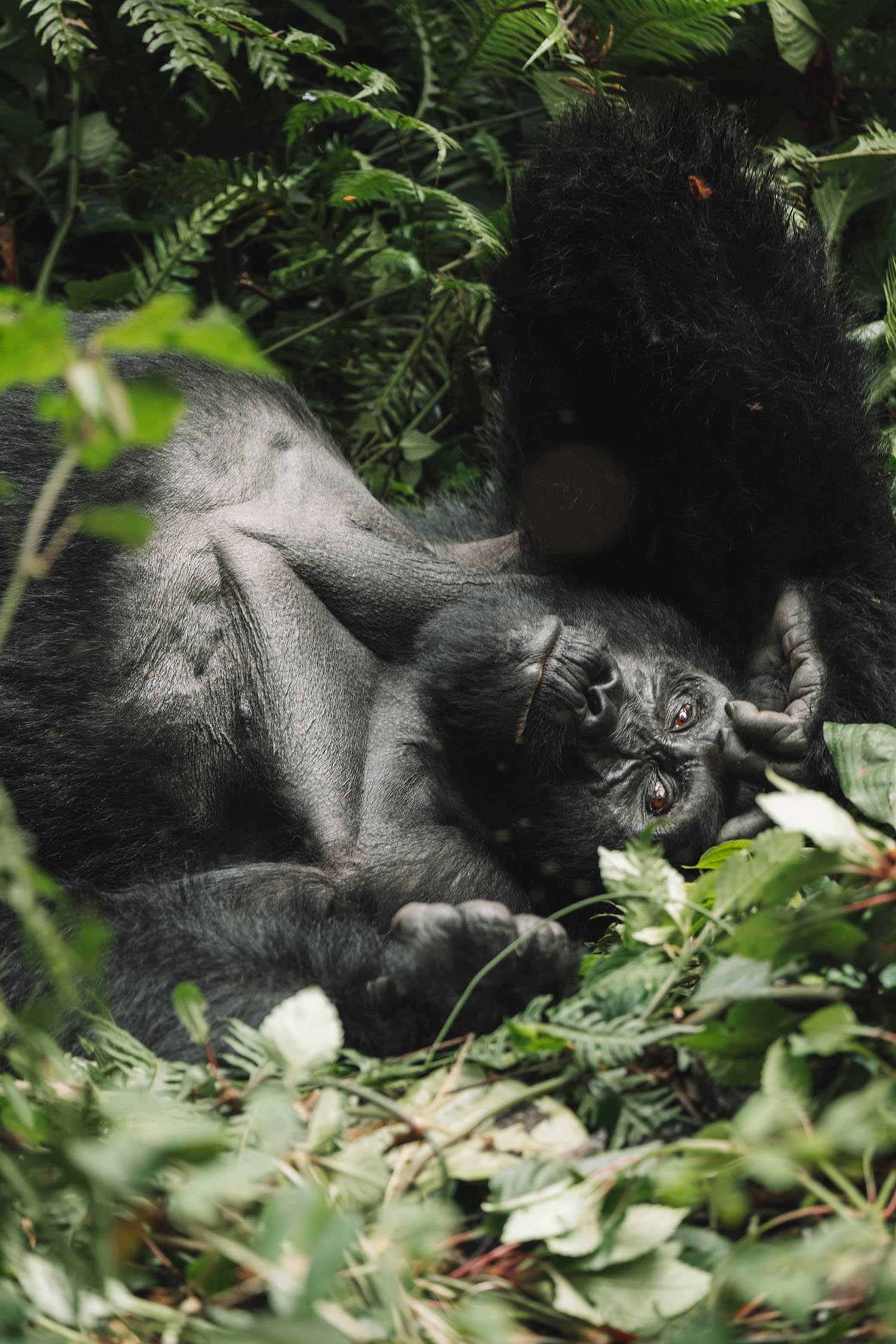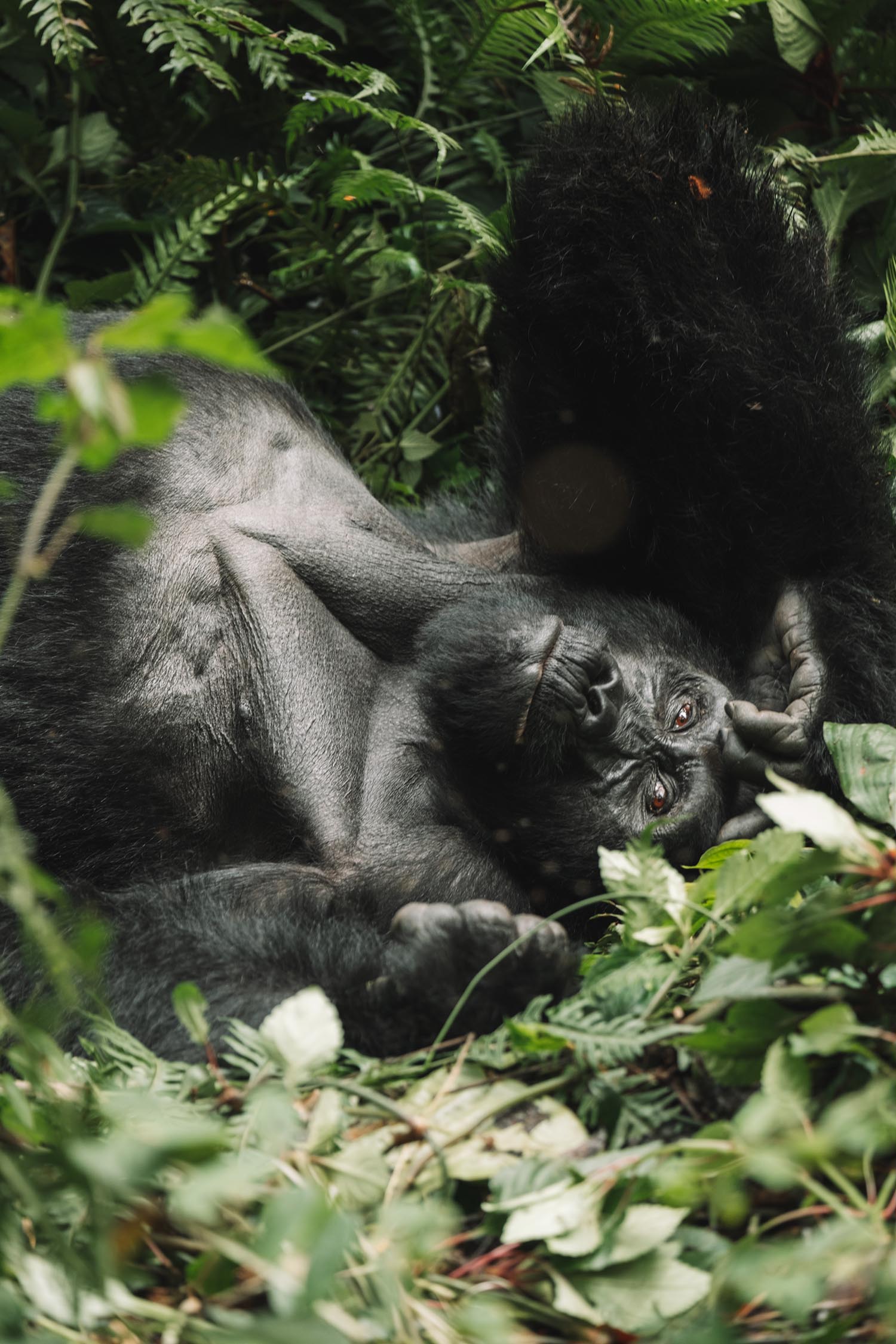 What Photography Gear to Bring
Most people told me that you get so close that you wouldn't need to bring a zoom lens for your camera, however, I'm really glad I packed mine.
I definitely didn't need my tripod. The only reason I could see you wanting or needing a tripod is if you're traveling solo or if you're into night photography. It rained most nights (all night long), so we didn't really see the stars. And this is pretty normal, given the super tropical weather.
I shot on my Fujifilm X-T3 camera. I brought my 35mm prime lens (great for portraits and details) which I really enjoyed having for walking around the community walk in Bwindi (read more about that here!).
The other lens I predominantly shot on was the Fujinon XF 50-140mm Telephoto Zoom F2.8 R LM OIS WR Lens.
I would suggest bringing a prime lens for every day and a kit zoom lens if you're close enough (something like a 16-55 2.8 could work). HOWEVER, we were at a distance where I pretty much kept my 50-140mm 2.8 lens on the whole time, even for video, because it has optical image stabilization.
This allowed me to get really lovely portrait shots with the bokeh because of the fixed 2.8 aperture. It is quite a big lens, but worth it.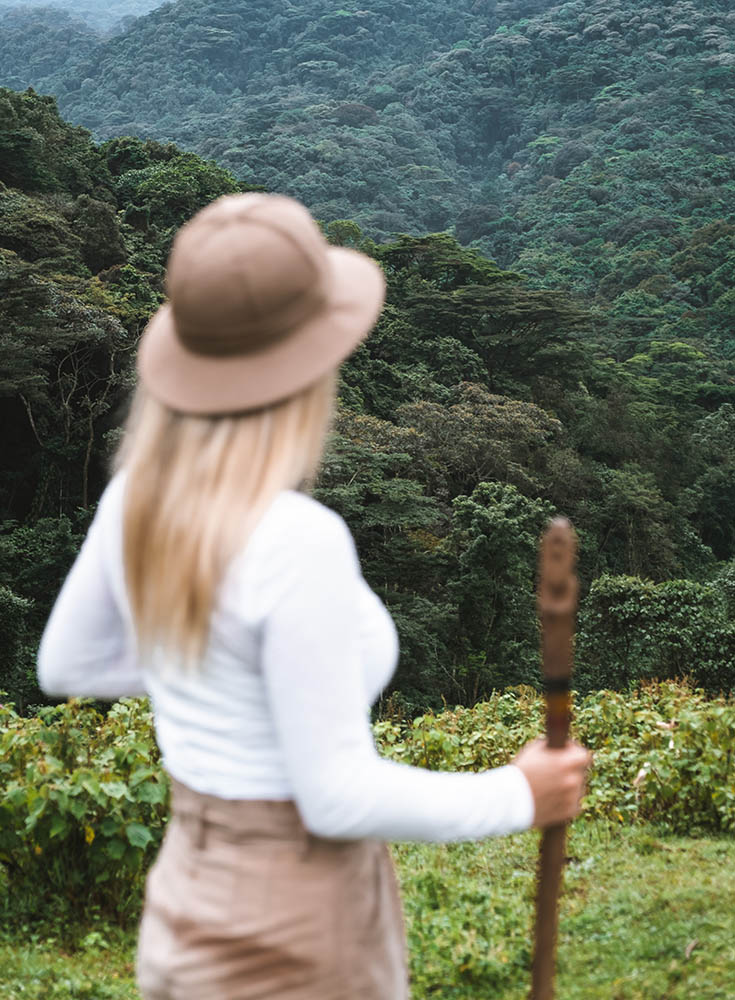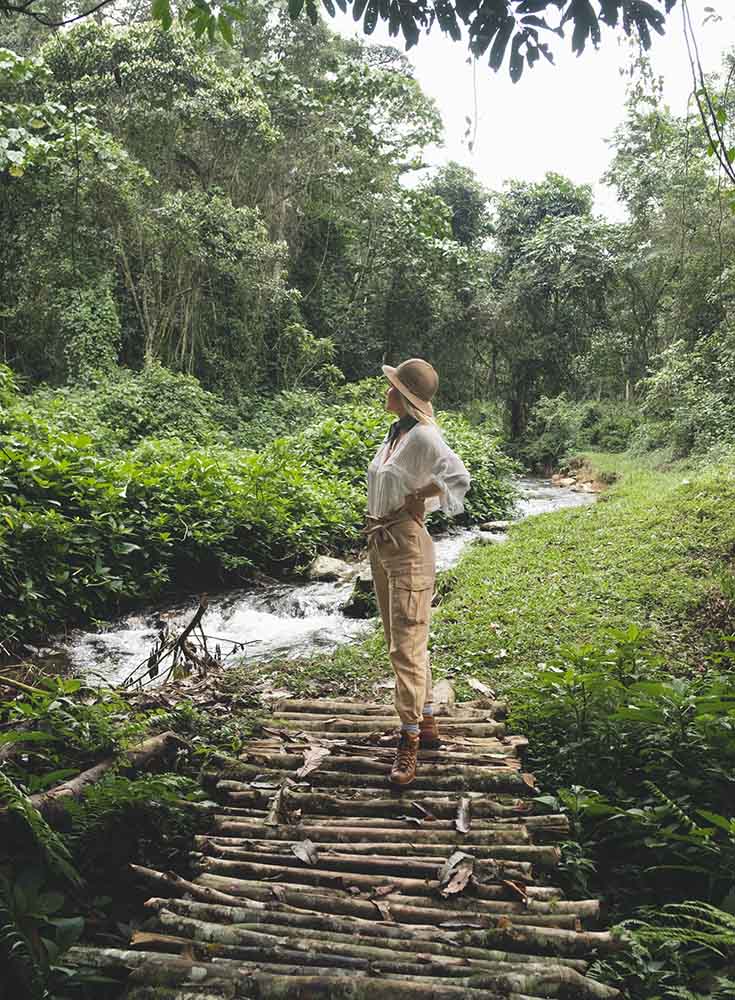 What to Wear and Pack for Gorilla Trekking
You can pack really light! If you're connecting from Entebbe to Kihihi, there are weight restrictions—just like pretty much every other bush flight you would experience in sub-Saharan Africa.
On Aerolink Uganda the weight allowance for luggage is 15 kilos in a soft-case bag. So be mindful of what you're bringing with you!

Do's and Don'ts
Do Tip Your Guide
Do Hire and Porter
Do Listen To Your Guide
Do Know Your Physical Limitations and Get with the Right Group
Do Take Photos, but Don't Spend the Whole Time Doing This (Take Time to Observe Without a Lens)
Don't Complain About 1-Hour Limit (It's Enough Time and for the Gorillas' Wellbeing)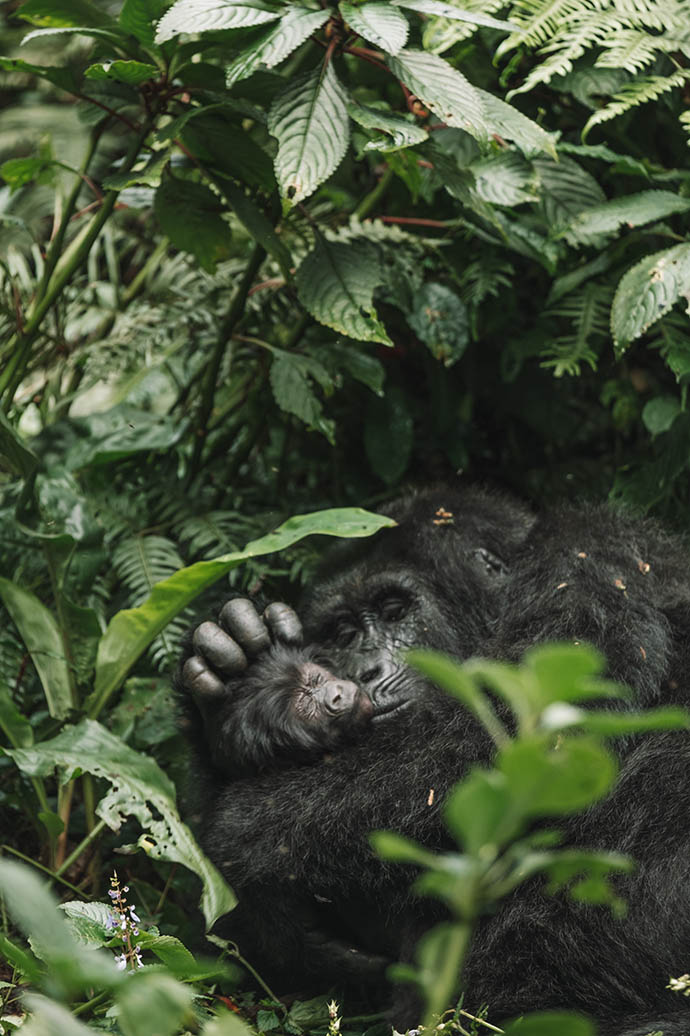 Have you ever been gorilla trekking or are you going soon? I'd love to hear about your experience in the comments below!