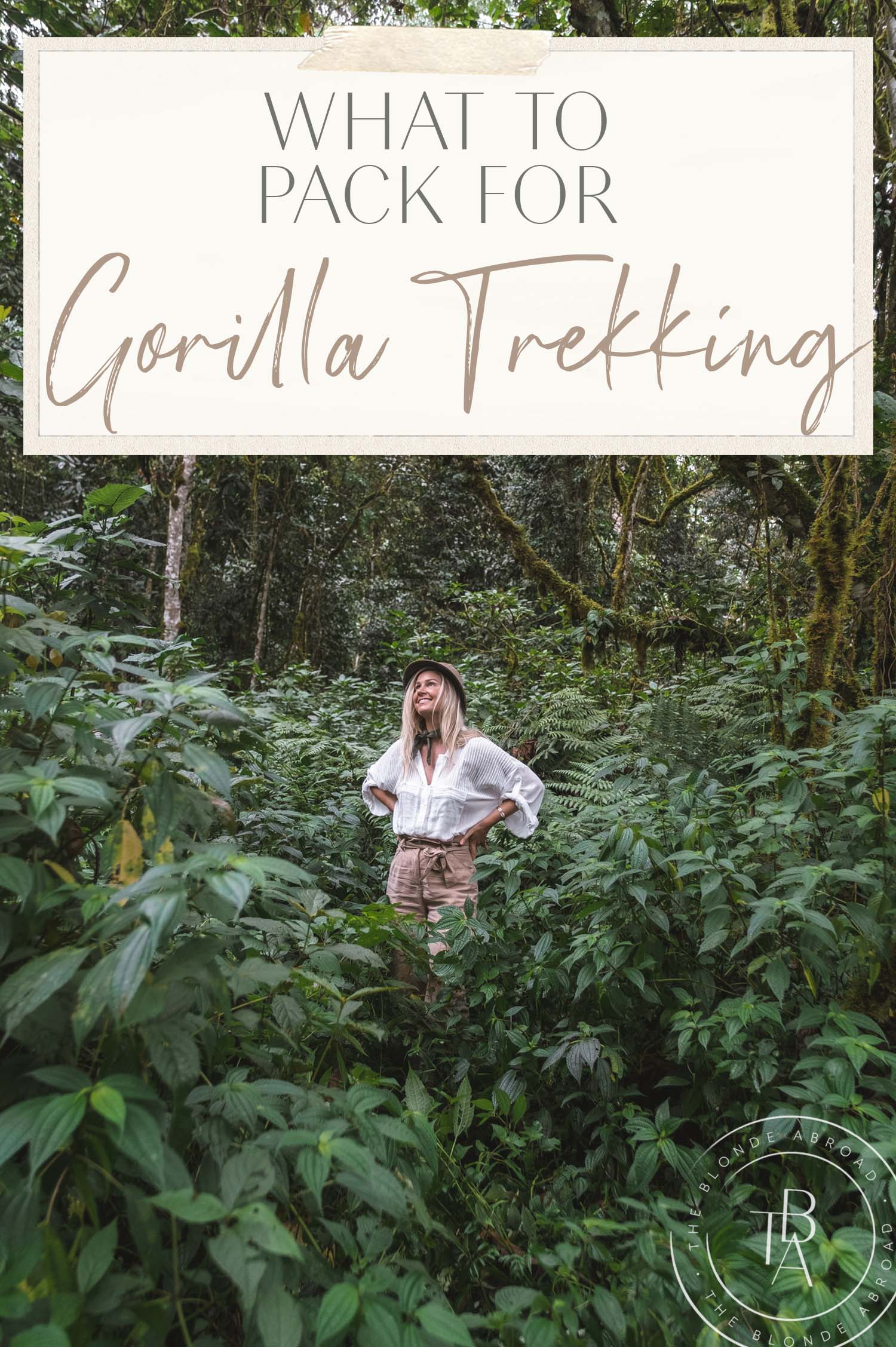 I've fallen in love with exploring the great outdoors and (ethically) seeing animals in their natural habitat. From national parks around the globe to unforgettable diving locales, some of my best memories have been far from the hustle and bustle of urban life.
Of all these magical excursions, having the opportunity to go gorilla trekking in Uganda is one of the experiences that I hold nearest and dearest to my heart.
Getting ready to go on the adventure of a lifetime and have no idea what to pack? Here are all of the things I would suggest packing to go gorilla trekking.



You Can Pack Really Light
Keep it simple! You're going to find weight restrictions on the small planes that take you out to the best trekking spots. In sub-Saharan Africa, bush flights mean small planes (I mean, seriously tiny).
If you're connecting on a flight from Entebbe to Kihihi, for example, there are restrictions on the baggage weight as well as the type of suitcase. For most flights, the Aerolink Uganda luggage policy says that you can only bring soft-sided luggage up to 15 kgs (33 lbs).
While I'd heard that you get so close to the gorillas that you don't really need a zoom lens, I'm glad that I decided to bring mine.
If you're traveling solo or planning to do nighttime photography, you might want to bring your tripod too.
Helpful Tip:
With the tropical weather, we found that most nights were too rainy to see the stars or do much photography. You'll have different luck at different times of the year. Check out the Best Time to Travel to Uganda to know what to expect.

Photography Gear
I shot on my FUJIFILM X-T4 and brought my 35mm prime lens which was perfect for snapping pics around Bwindi. I also found myself using the FUJIFILM XF 50-140mm Telephoto Zoom F2.8 R LM OIS WR Lens for a lot of shots.
A zoom lens (16-55 2.8) is great for those times you're lucky enough to get up-close and personal for gorilla snapshots.
On our trip though, I found myself reaching for the 50-140mm 2.8 lens time after time. It was an ideal choice for pics and videos because of the optical image stabilization.
With bokeh, I was able to get gorgeous portrait shots because of the fixed 2.8 aperture. While it is definitely a big lens, it was well worth it.

Sturdy Footwear
This is one walk through the park that will definitely give you a serious workout. We're talking several hours of uphill hiking so come prepared.
Find a pair of waterproof hiking boots with ankle support or rain boots.
If you aren't able to bring the right footwear, you can rent rain boots at the park headquarters when you arrive for the initial briefing. It's only a few dollars and far better than slipping around in sandals.
Unless it's an impromptu trip or you're really lacking luggage space, I'd highly recommend shopping ahead of time. Browse my rundown of the best shoes and boots for traveling, then wear in your pair a bit before you arrive to make them comfortable.
On top of hiking boots, I noticed a few other trekkers wearing waterproof ankle covers, which you can purchase at any outdoor sports store.
While I was happy enough in hiking boots, I found my socks and jeans pretty caked in mud by the end of the day.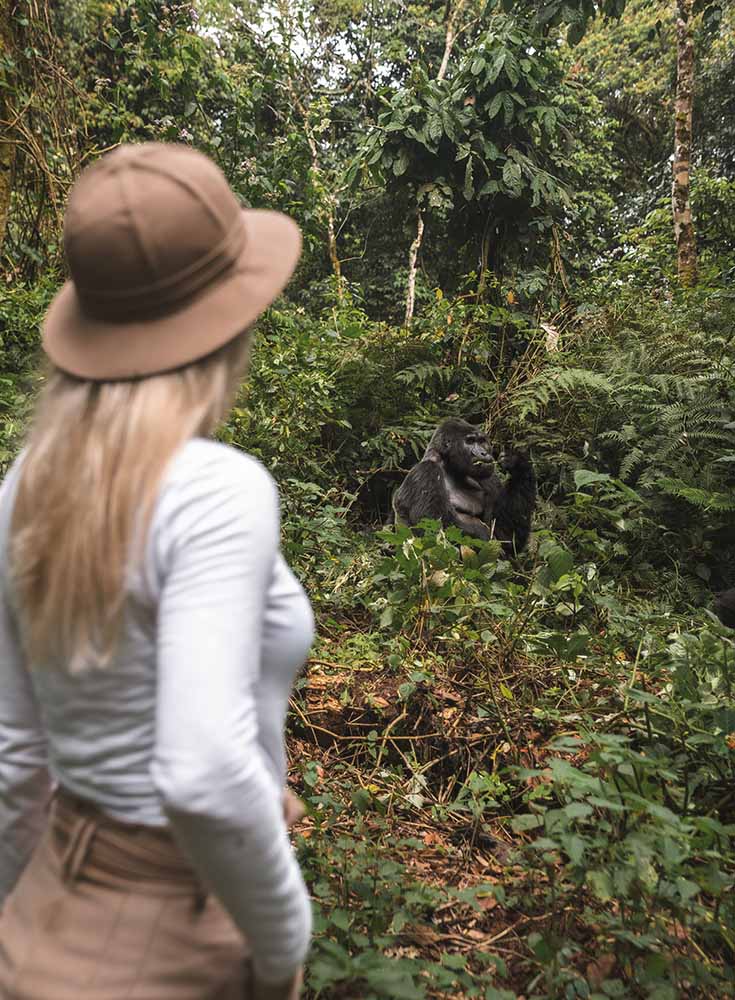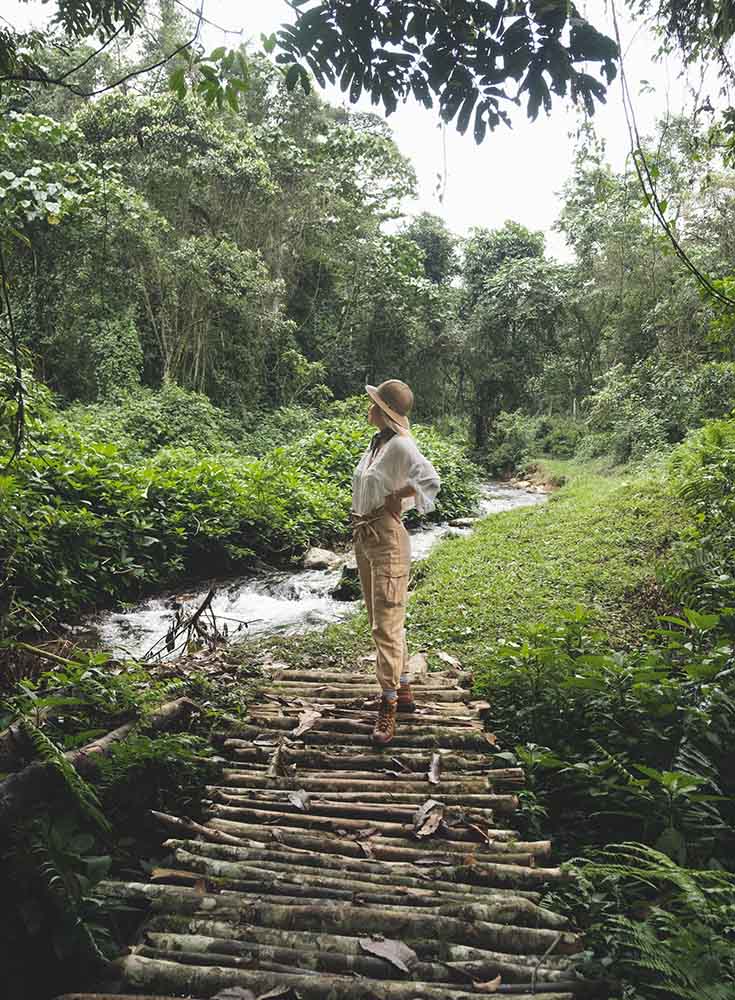 What to Wear: Clothing Made for the Rainforest
Regardless of the time of year, plan for wet weather and a long day outside. Here's a quick checklist:
Sturdy Footwear
See above, and definitely be sure to see how your new boots fare on a long walk before you arrive. They might be comfortable when you try them on, but you've got to know how your feet will be feeling after five hours of hiking.
Long Socks
I actually found a pair of socks that are "bug repellant" and they did work to stop bugs from penetrating them.
Stretchable Pants
Be sure to opt for thick fabric because you'll be walking by sharp greenery and be surrounded by bugs. Keep in mind that you will be climbing so test to see that you can get your knees hip-high without being uncomfortable.
I was relatively happy with my trekking style but wish it had the pants had a bit more stretch. Yoga pants could be a good pick, but make sure they're not a material that snags easily.

Long Sleeve Athletic Top
Your shirt doesn't have to be super thick so look for moisture-wicking material that will keep you cool.

Sunscreen
Even if it looks overcast, don't underestimate the power of the sun. Put on sunscreen in the morning before you get dressed to make sure you start with a complete layer of coverage. It's extremely sunny in the wide-open areas.
Bug Repellent
Do check with your guide on this one.
In Uganda, we were told not to wear bug repellants because they can actually attract wasps, which cause a much bigger problem. I didn't use any during the entire trip and never had a bite.
This could be something specific to the time of year (early February) so be sure to ask. Things may be different in Rwanda or DRC.
Hat
We were in the sun a lot of and having a hat made a major difference. A scarf around your neck can be helpful too. I was incredibly sweaty and getting any bit of my skin out of the sun helped.
Opt for a hat that is good for sun or rain to cover all your bases.

Gardening Gloves
It's all too easy to accidentally grab onto stinging nettle! While our lodge gave us gloves, it's nice to have your own comfortable pair.
Rain Jacket
Optional, but helpful if there is rain in the forecast. Bring a lightweight coat that will keep you relatively dry.

Flip-Flops
After the hike, it will feel oh-so-good to kick off everything and slide these on. While it's not essential, flip-flips are worth packing in if you have the space.
Binoculars
This is another for the maybe list. You will be close enough to see it all without them, but do bring binoculars on your trekking day if you're already going to have them on the trip.
Once you've picked your accommodation option, touch base to see what they provide. At Sanctuary Retreats, they provided bags, walking sticks, and gloves for us to borrow.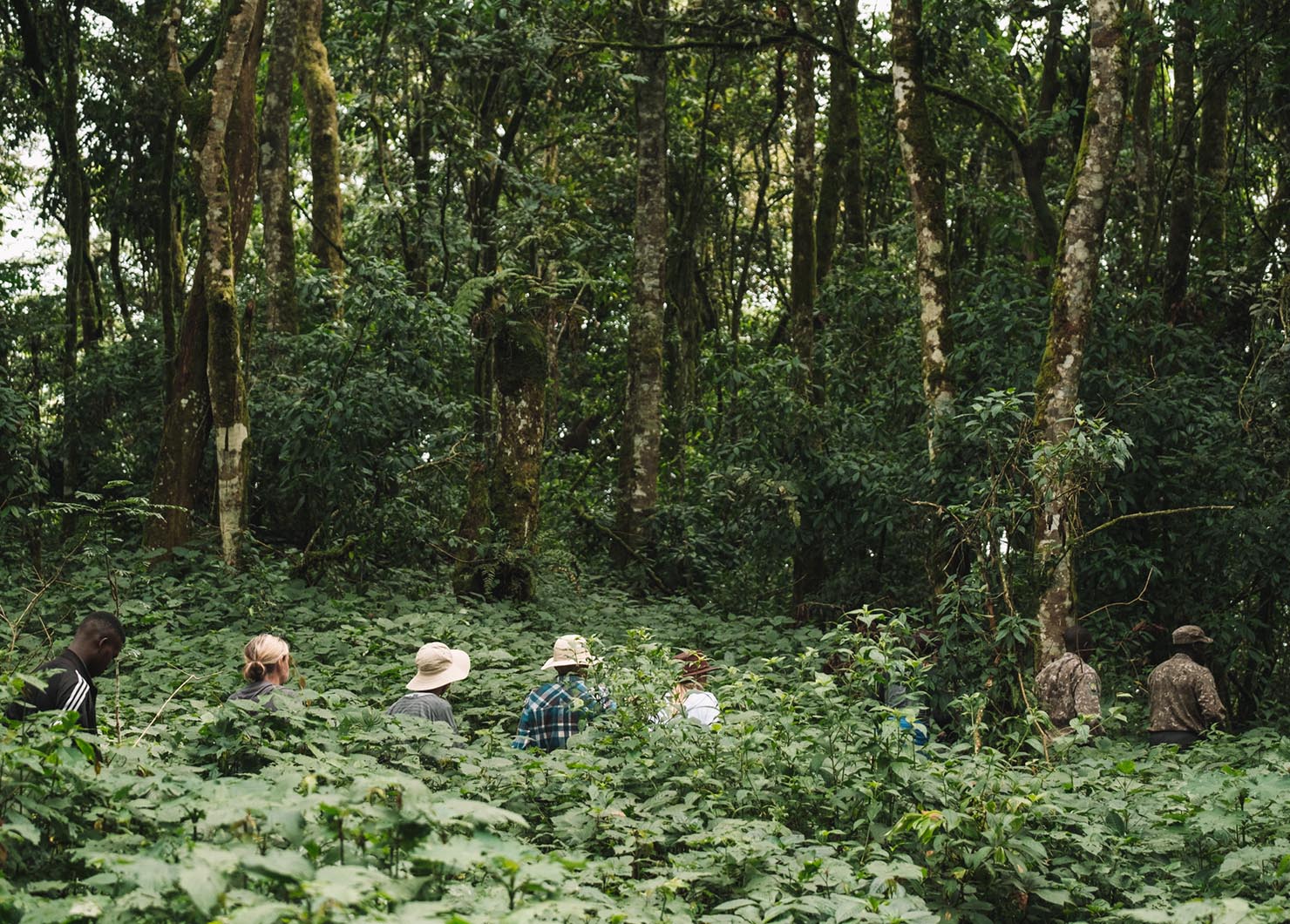 Planning your Bag
The best option for luggage is to have a small waterproof backpack. Ideally, bring one bag per person. Keep in mind that you might want to shove your rain jacket into the bag later on and you will also be bringing a packed lunch.
When it comes to food and drinks do check with your accommodation as well, but, in any case, make sure you have snacks with at least a one-liter bottle of water with you.
Helpful Tip:
I got the worst blisters from this hike! Luckily I always pack moleskin and blister pads just in case. Since it is such a long day of walking, I'd recommend wrapping moleskin around your heels before you even go out.

Ready to set off on your bucket list adventure? Be sure to grab my Ultimate Guide to Gorilla Trekking in Uganda before you go.