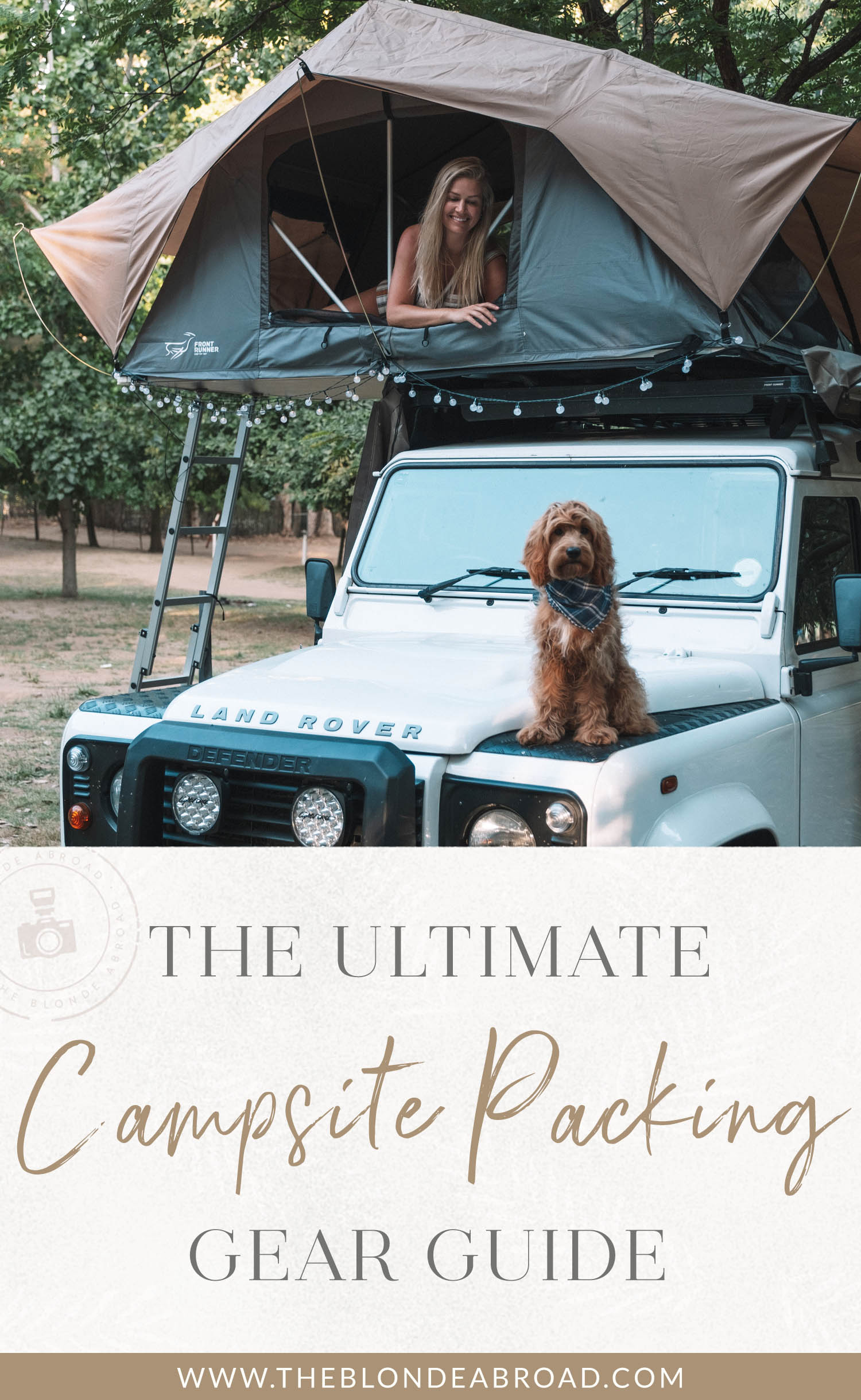 I kicked off this decade by going off the grid with my boys. Meyer and I (along with Bailey the Cockapoo, our little bundle of energy!) swam, snuggled, snacked, and camped our hearts out on trip after trip.
Connecting with nature inspired is one of the best ways to relax, rejuvenate, and remind me of what's most important. 
Wherever you live, I'd highly recommend packing your bags, turning off your phone, and simply breathing in some fresh air. However, while it sounds idyllic and laidback, there is definitely some preparation to be done before any camping trip. When you set off on your adventure, it's crucial to have all of the basics.
Ready to disconnect and get back to nature? Here is what you need to make "roughing" it comfortable and cozy for even the most luxe-loving traveler.
Here is the ultimate campsite packing gear guide!



My Current Campsite Setup
Just for context, our camping setup in Cape Town is basically for two people—me and Meyer, and our pup, Bailey.
But I have provided recommendations throughout this blog post in case you're packing for more than two people. We have a rooftop tent on our Defender, but I do provide other tent recommendations for setups, including our own.
And most of our trips are between two and four nights, so this is for weekend warriors and those who camp to getaway on the weekend. It might not be everything you'll need for living out of your car or camping—this is more recreational camping.
But it should include pretty much everything you'll need, so hopefully, this helps prepare for your epic adventure!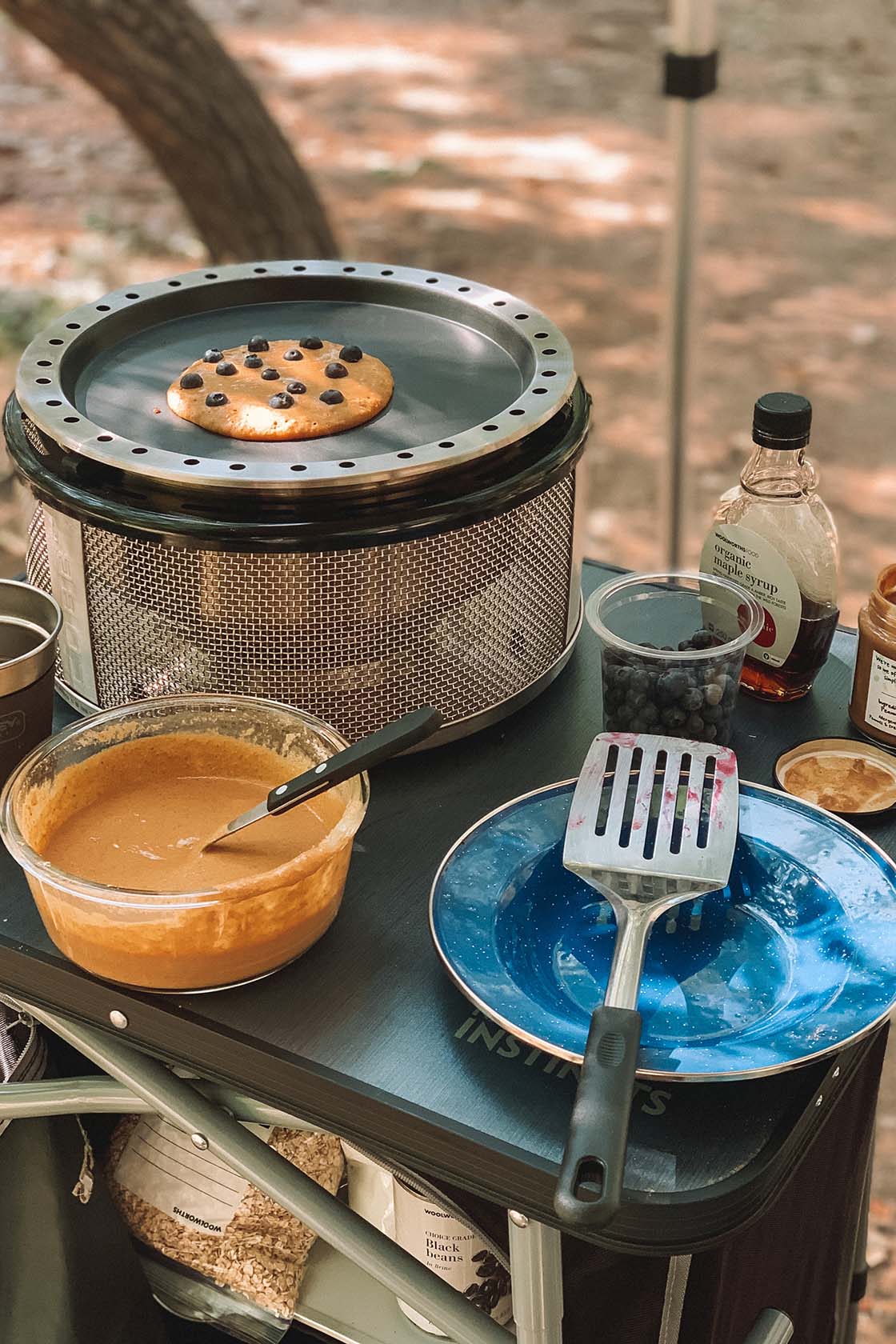 Kitchen + Cooking
While you are probably used to always having a backstock of food, it's essential to ensure you don't bring too little or too much when you are camping.
We travel with a Jetboil Mini Mo and a Cobb grill, it's nice to have the option of a quick single burner if we're just heating up a little bit of water or something small. But we absolutely love the Cobb for full meals and use it for pretty much every single meal.
Our Stovetop (1-2 people):
Our stuff is geared toward cooking for one to two people. Here's what we use:
Stovetop Option 2 (3+ people):
If you tend to travel in a larger group, go for something a bit bigger:
Coal Cooking (For Any Amount of People):
More Cooking Items:
Every true coffee lover knows that most of us have a coffee prep method very near and dear to our hearts. You'll have a few good quality options while you're camping. And, luckily, the Jetboil will boil water super quickly so you don't need a big pot, even if you're brewing for a few people.
Here are a few good options for brewing coffee:
I like to plan out meals so we don't bring too much and we have adequate space for any perishable items!
Shop Now


Utensils and Dishware:
It's all about durable and easy to transport supplies. The last thing you need is a trunk full of shattered plates! Here's how to keep it simple:
Kitchen Cleaning:
Things can get messy quickly when you don't have the right supplies. Here are a few camping-friendly essentials:
Kitchen Extras:
Here are a few basics you can use while camping, and really at any picnic:
Cool Storage for Food:

Furniture
The longer you are camping, the more you'll want to bring. While roughing is already for one night, it's essential to have some basics if you really want to settle in. If you plan to camp regularly, which I'd definitely recommend, it's worth investing in good quality gear that'll last a lifetime.
Tent Setup:
Chairs:
You'll want at least one chair per person so plan accordingly. We always bring two front runner chairs because they're small and easy to pack. We also have a big saucer chair that is incredibly cozy and perfect if you're cuddling up with a dog or kids.
Collapsible (Space-Saving):
Recliner (Most Comfy):
Zero Gravity (x2): SO comfortable!
Saucer Chair: A must if you have dogs or kids cuddling on your laps.

Tables:
Elevate the whole experience—literally! Having a few surfaces around the campsite makes it so much nicer. I like to keep a small multipurpose table by the chair and then a stainless steel table for cooking and eating.
Kitchen Shelf System:
If you camp a lot, having a little kitchen on-the-go is incredibly useful. It's far easier to find things when you can get them out of boxes, and you can create another surface for cooking.
Outdoor Mat:
While I love being outdoors, it's annoying to feel like you've always got a layer of dust on you. Using an outdoor mat lets me walk around barefoot and stay relatively clean while keeping the whole space less dusty.
RV Mat: This large mat is ideal for creating a more comfortable outdoor living space.
Outdoor Rug: Take things to the next level with a gorgeous outdoor rug. Best of all, you can use this in the patio or yard year-round rather than store for camping only.

Storage and Organization
Storage is crucial for keeping things organized. If you camp regularly you can save yourself a lot of lost time by creating a place for everything.

Bath + Toiletry Essentials
Of course, roughing it doesn't have to mean doing without the bathroom basics. Here's how I keep things hygienic!


Camp Lighting + Gadgets
Another essential piece of camping gear, you'll want to have a few different lighting options to make it easy to get around.
Because we don't camp for long periods of time and it's just the two of us, our Defender is set up with a dual battery system so that we can use a refrigerator in the car.
Pretty much everywhere we cape in the Western Cape of South Africa does not have power points at the campsites. So this setup is geared toward people going off the grid without electricity. But this would also imply that you have water and toilet facilities available at the campsite.
Lighting:
Camp Gadgets:
Hanging Fan: Traveling in literal hotspots, I've been out camping in 100+ degree weather and things can get seriously uncomfortable. To keep my cool, I hang this inside the tent at night then charge it daily with a solar panel.
Solar Power
When you're off the grid and there's no way to get power, solar is the best and most efficient way to run things. We use a small solar panel which is good for charging your phone—but you need to keep it plugged in and let it charge in the sun. It doesn't store power.
There's also a higher wattage one—it is more expensive—but you'll get a lot more bang for your buck and it will give you a lot more energy. And you can charge bigger items like your laptop, camera, or multiple things at once. But again, it doesn't store the power, so keep that in mind.
And then the solar generator is specifically for storing power. So with the solar generator, you'll want to use the 100 Watt solar panel to store power. Games + Entertainment
One of my fave things about camping is disconnecting. Ditch the screens and go for some old school fun with these.

And there you have it! That is my ultimate campsite packing gear guide.
Wondering what I pack for food? Check out my Ultimate Camping Meal Plan + Packing List!
What are you must-haves when it comes to camping? Or camping meals you love to make? Let me know in the comments below!