Updated: February 2020
Glamping, or "glamorous camping," is becoming one of the biggest trends in travel! With glamping, you still have the connection to the outdoors but have some modern luxuries like comfortable beds, beautiful tents, and even clawfoot bathtubs.
While offering some serious luxury, glamping is still all about immersing yourself in nature- whether it's on a lake, in the forest, or up in a tree!
Here are some of the best glamping destinations in the USA!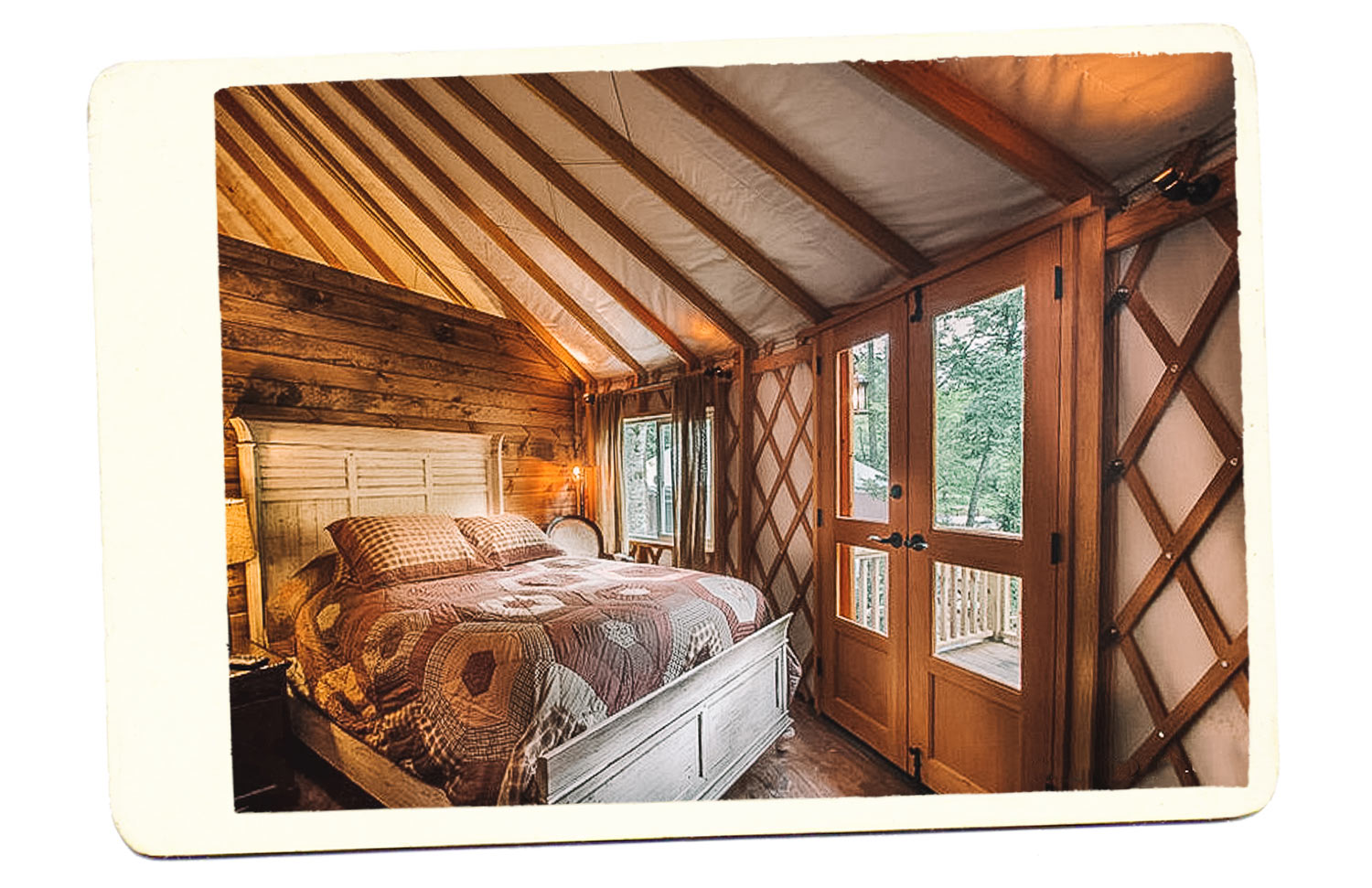 Yurt Village at Falling Waters Resort, North Carolina
The Nantahala Yurts at Falling Waters Resort are inspired by the traditional Mongolian designs and provide comfortable accommodation for your stay.
Each yurt comes with a large comfortable bed and a futon on which you can relax, a stereo, along with a stunning skylight offering a view of the stars above. Each yurt has its own deck overlooking the lake, so you can enjoy the beautiful scenery in the area.
You can also find exciting activities such as white water rafting and zip-lining around the resort for the adventure seekers out there!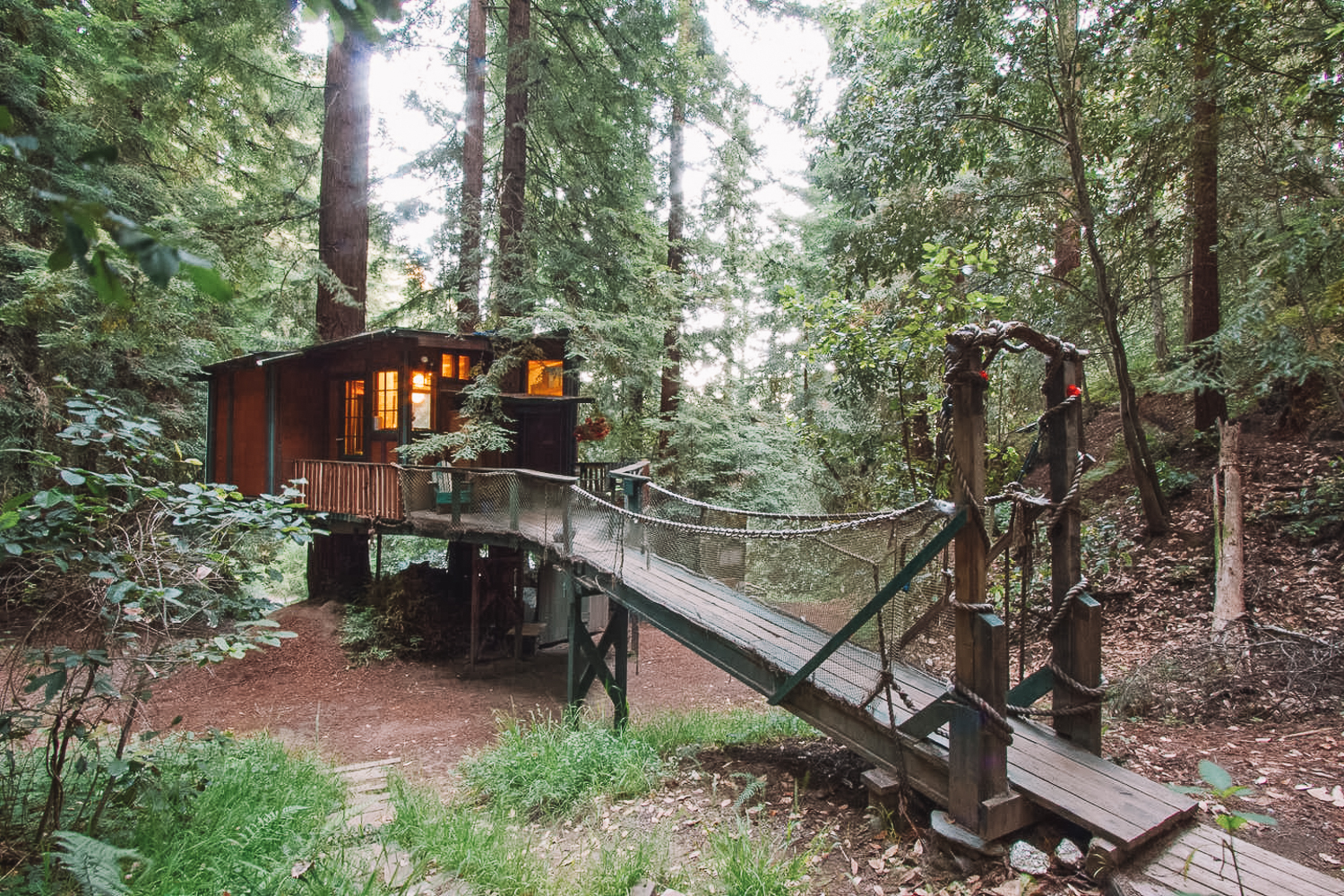 Glamping Tree House in Santa Cruz Mountains
Nestled away in the Sequoia forest in the Santa Cruz Mountains, the tree house is near the Monterey Bay area and the city of Santa Cruz, California. The tree house is equipped with a comfortable bed and a kitchen with a small stove, and a refrigerator. Talk about luxury!
There is a full bathroom and an amazing hot tub under the trees, perfect to relax and enjoy the beautiful scenery. Enjoy the wildlife around you by hiking, biking, fishing and even whale watching at some of the best Californian beaches, just 25 minutes away.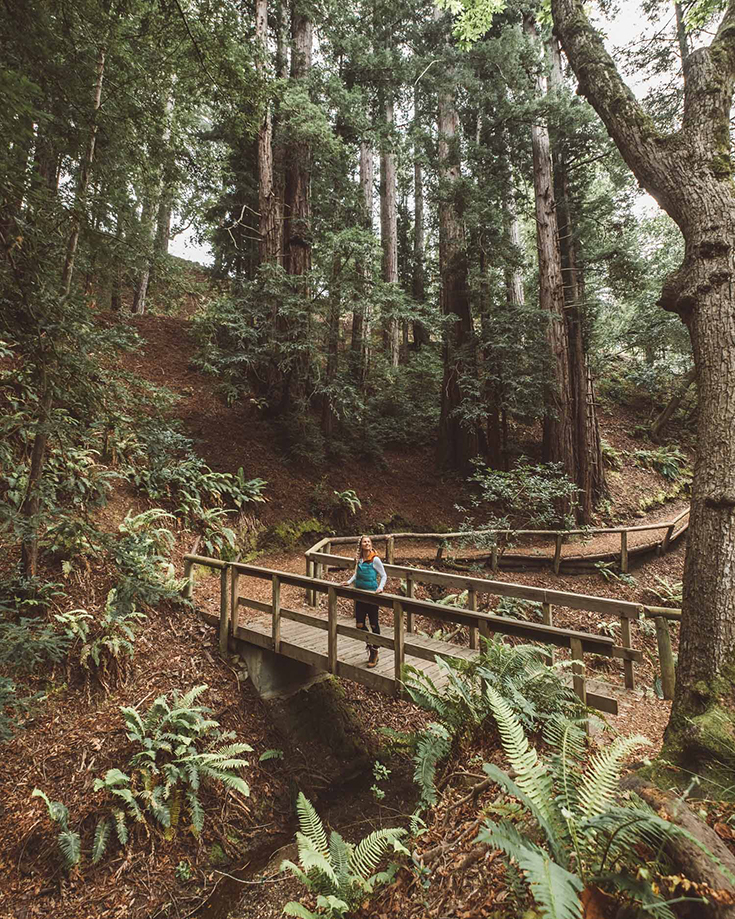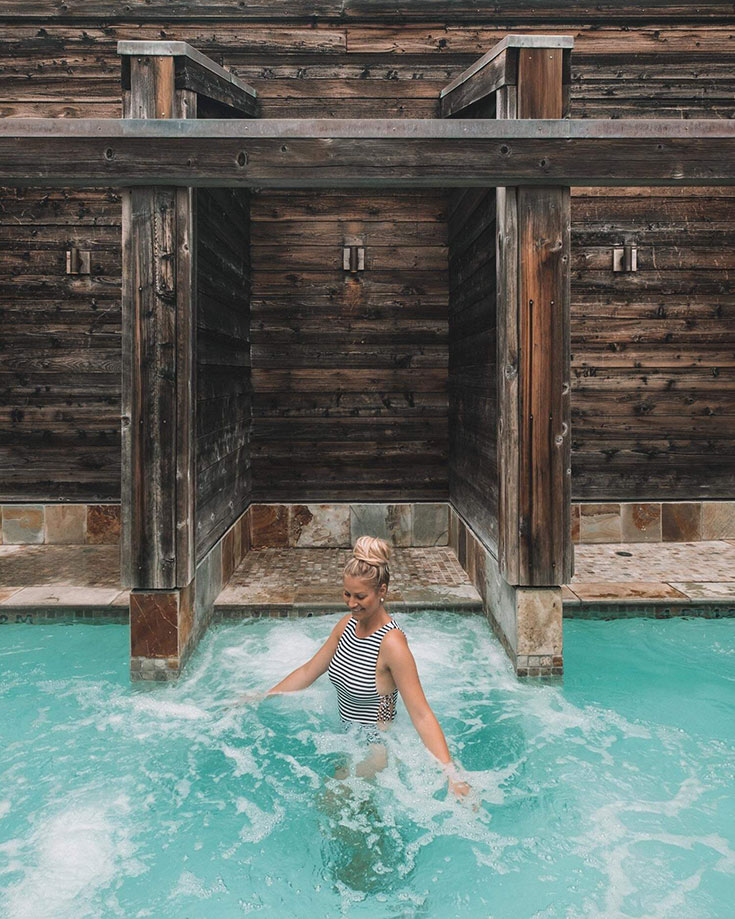 Ventana Big Sur, California
Ventana Big Sur is a nature lover's dream destination. The woodsy-chic resort sits right off of the Pacific Coast Highway, about 150 miles south of San Francisco.
With 60 guestrooms, the minute you step onto the property, you will be blown away. It features two outdoor pools, a fitness center, fireplaces, and private decks. It's also home to the best restaurant in Big Sur, the Sur House. Don't forget to try one of the 10,000 bottles of wine in the cellar!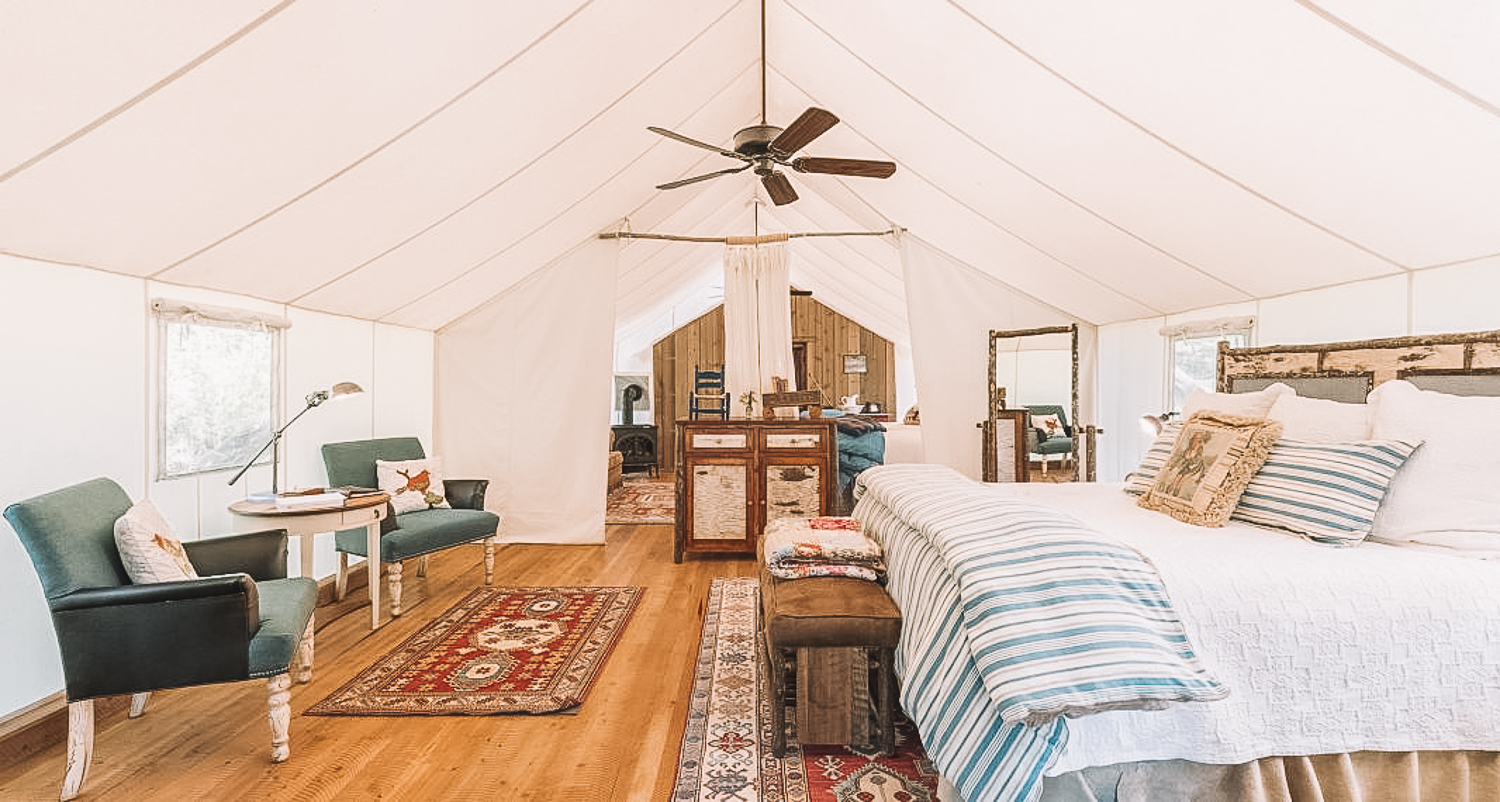 The Ranch at Rock Creek, Montana
The resort provides several different accommodation types including guest rooms in The Lodge, private log homes, or canvas cabins and tents, on an expansive and beautiful property.
This option allows you to be close to nature without being stripped of the luxury that The Ranch at Rock Creek was founded on. The Dining Room and The Blue Canteen are your two restaurant options for dining on the ranch- and breakfast, lunch, dinner, and wine is ALL included in the total price!

Pfieffer Big Sur, California
While camping at Pfeiffer Big Sur may feel like just camping, there are ways to go from boring to fab in a matter of minutes. With coastal views of the state park, large Redwood and Sycamore trees, and an 80-foot waterfall that flows into the ocean, the campground is something out of a movie.
Despite its large size (172 sites), you'll find that there's plenty of room for yourself. It never feels overcrowded and it's truly the perfect spot to stop along a California road trip.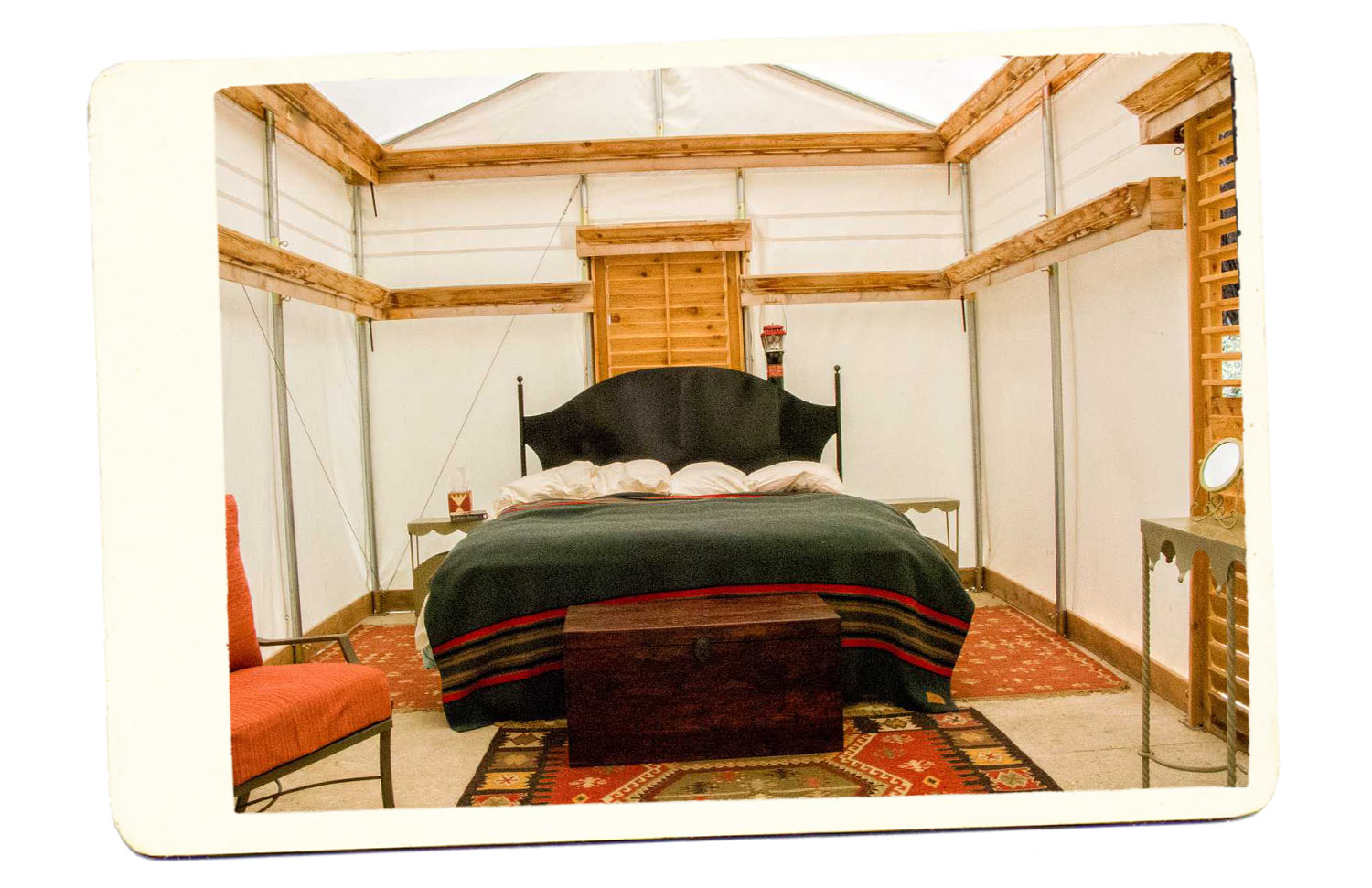 Sequoia High Sierra Camp, California
Located in the Sequoia-King's Canyon National Park in California, this camp an exclusive hike-in resort that offers an amazing glamping experience, isolated in a small part of this beautiful park.
The 10 canvas tent cabins are simple but decorated with artisan furniture and luxurious bedding, and even have lanterns to allow you to read in the evenings.
This is an isolated spot with little ambient light, meaning on a clear night you can see thousands of stars, with stunning mountain peaks in the background.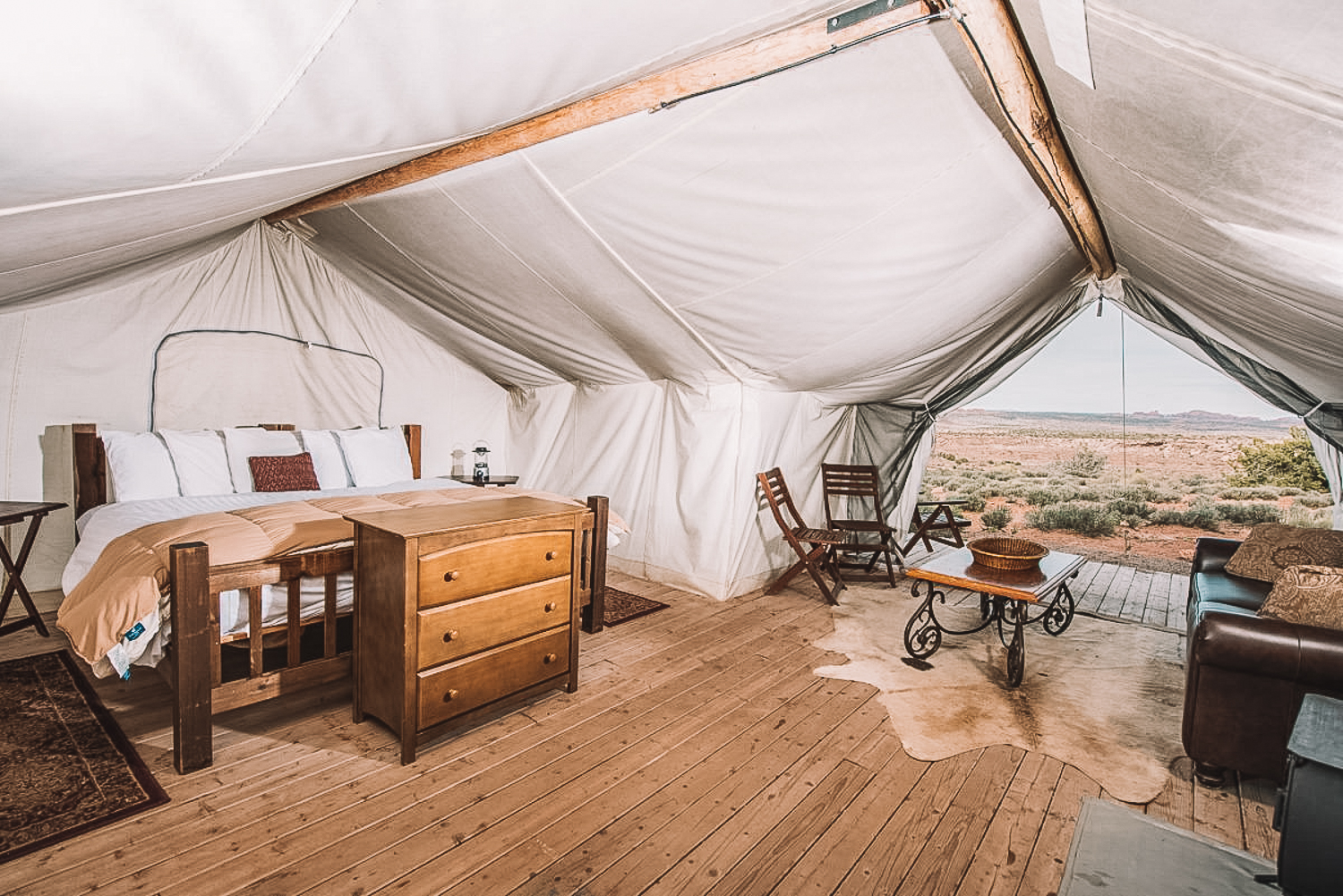 Under Canvas Moab
Located on 40 acres, 7-miles north of Moab, Under Canvas Moab is an Instagrammer's dream come true. There are 3 different tent types: the suite, the suite with an adjacent hive, and the stargazer. The suites are ideal for couples or families and feature a private ensuite, a king-sized bed, and a lounge area.
The stargazer tent includes a viewing window above the bed to allow you to stargaze in the desert. Regardless of what tent you choose, enjoy daily housekeeping, breakfast and boxed lunches, a firepit for s'mores, and complimentary activities.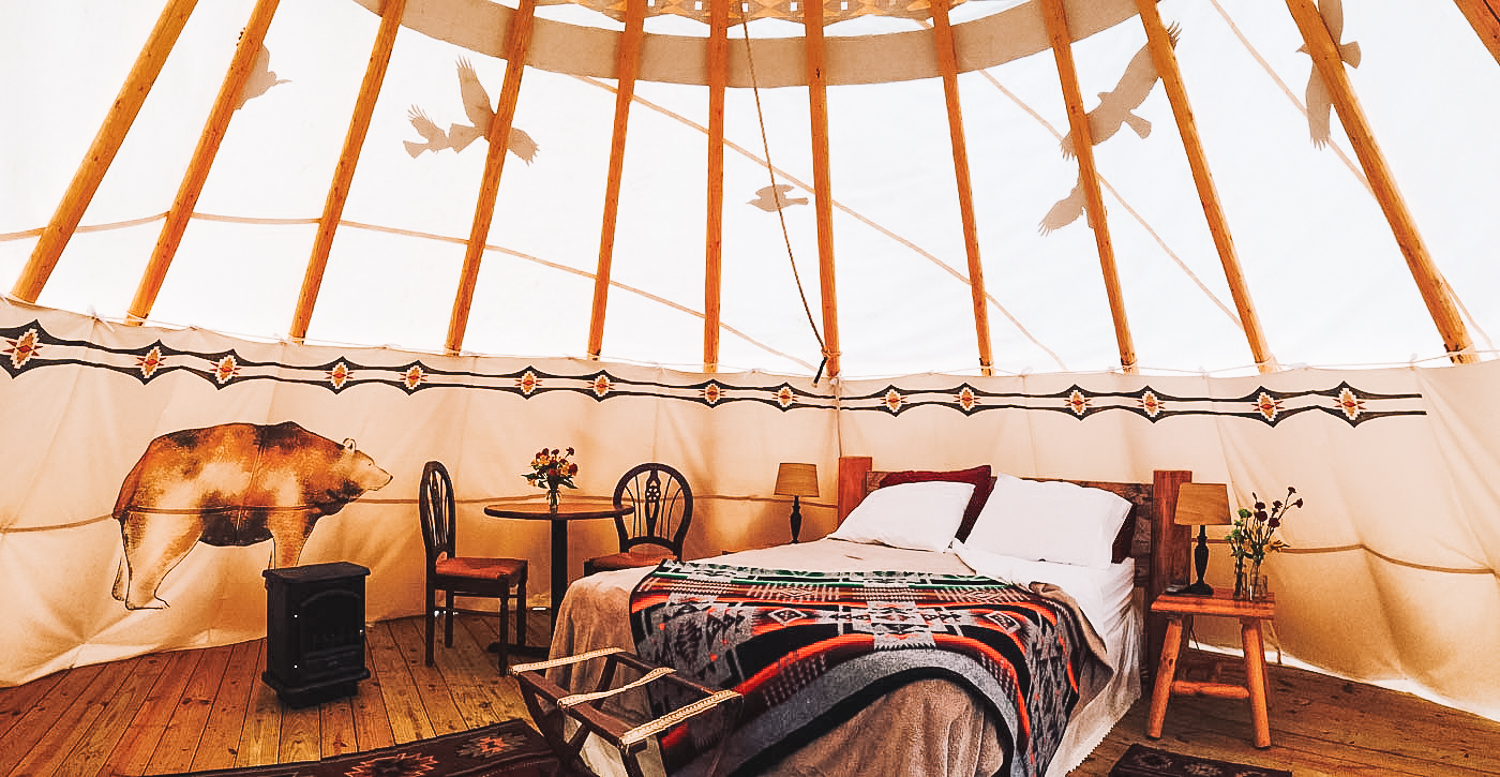 Blue Bear Mountain Camp, North Carolina
While Blue Bear Mountain Camp accepts traditional camping and has some RV spots too, the 'glamping' option on this site is to rent one of the traditional tepees that are available.
Large beds and stylish furnishings give the tepee's interior a modern touch, and they also have a private bathroom and dishwashing area. The surrounding woodlands and mountains provide beautiful scenery, and the camp has easy access to some great hiking trails.

Belcampo Farms, California
What's a cooler experience than glamping on a free-range, organic farm? At Belcampo Farms, your stay will feel like an adult summer camp. With luxury tents situated on the orchards of the farm, you can enjoy farm-to-table meals prepared by the property's chefs along with take meat cookery lessons throughout the day.
There's nothing quite like enjoying a home-cooked meal while watching the sunset over Mount Shasta.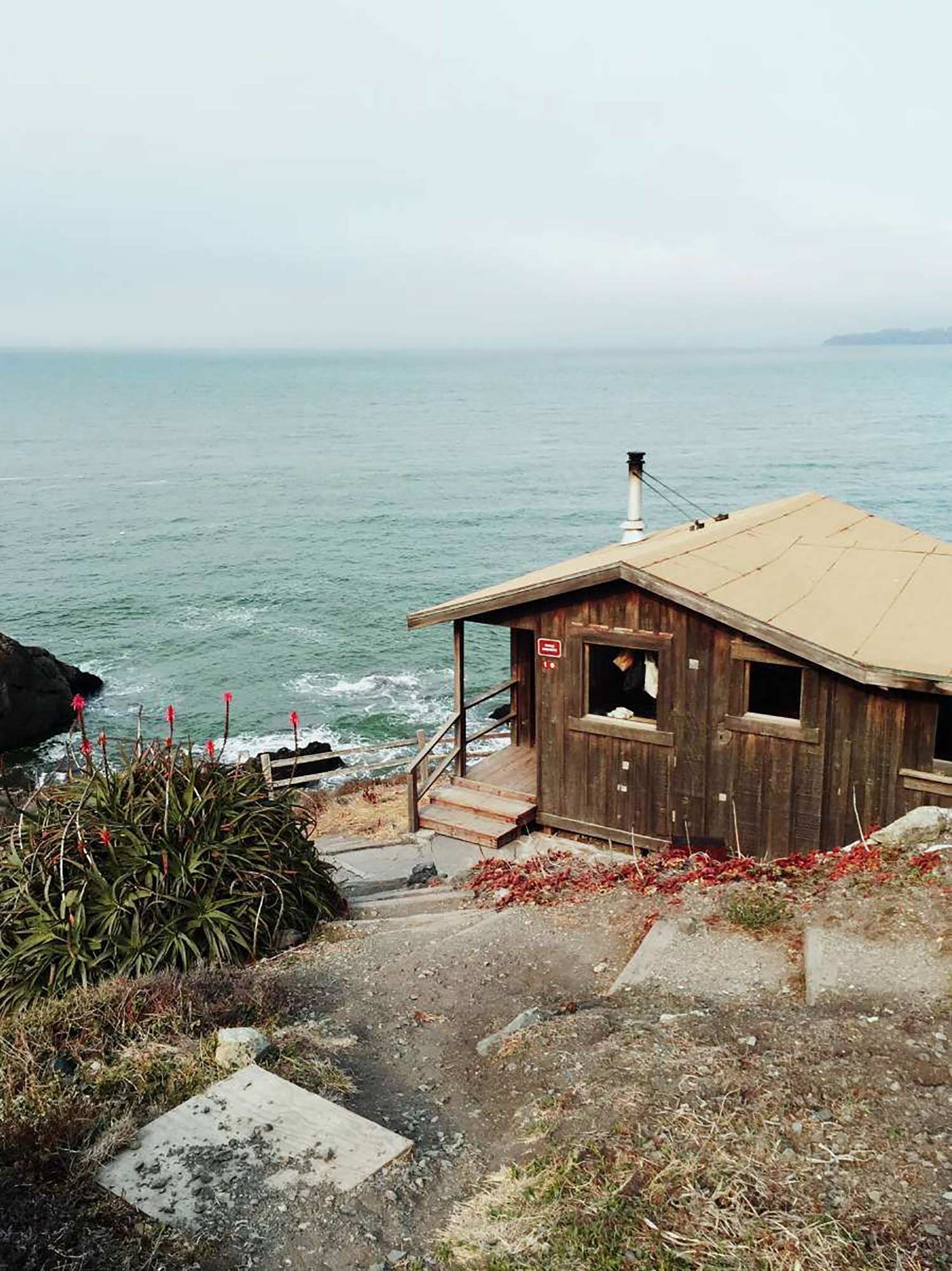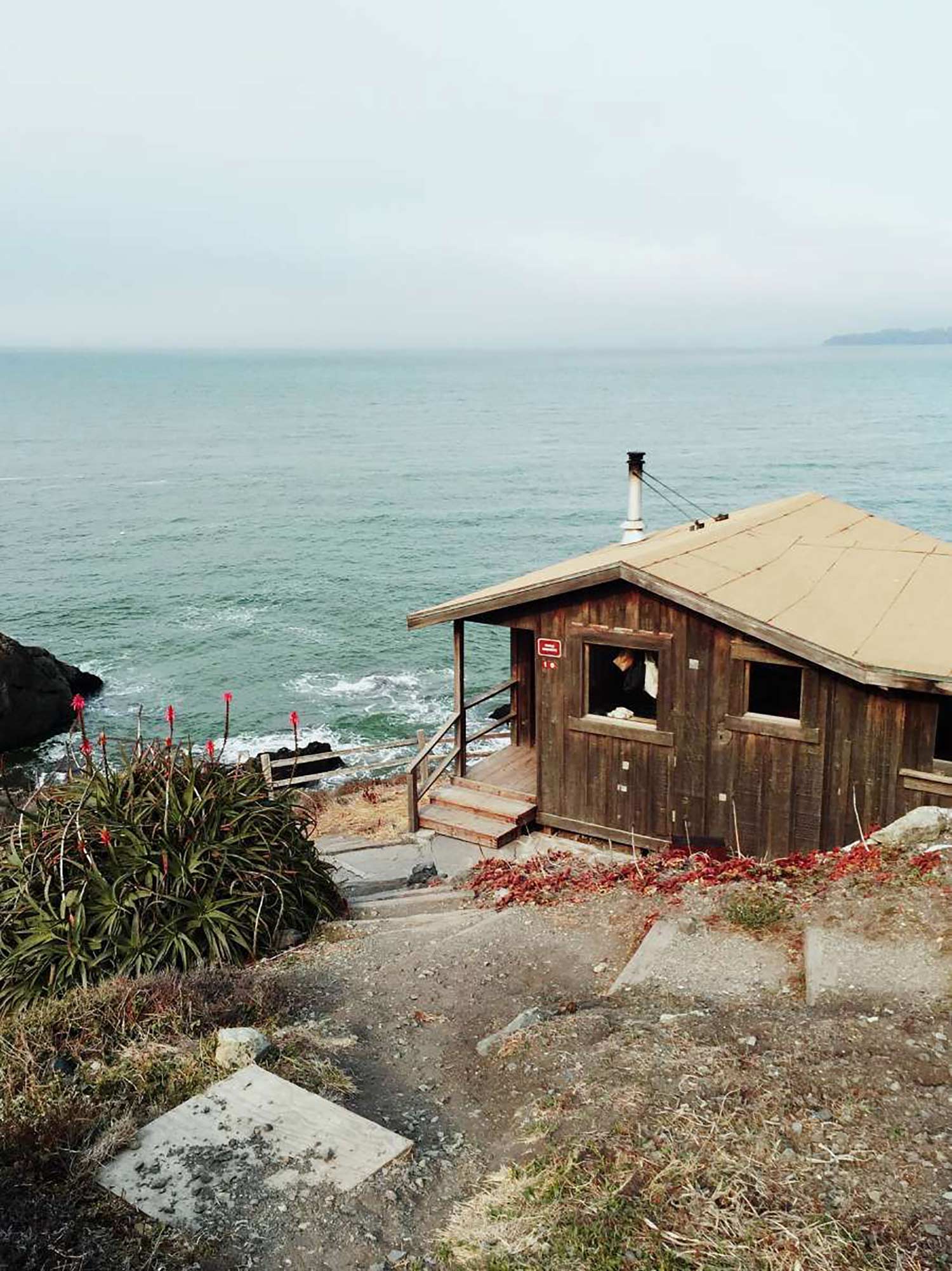 Steep Ravine, California
Steep Ravine is one of the only public camping sites with cabin lodging in California. Because of this, the cliffside location and cheap booking price, these legendary cabins book out months in advance.
While the location and cabins are absolutely stunning, inside of the cabins aren't much more than bare wooden planks for sleeping and a cute little fireplace that sits in the corner.
No beds. No electricity. No problem.
Bring your own glamping gear like pillows, candles, some wildflowers, and an air mattress and nice linens and your cabin will feel cozy in no time!

The Resort at Paws Up, Montana
The camping at Paws Up Resort is truly luxurious, as the resort has several tent suites situated on their property. The glamping tents come with a deck, comfy chairs, and a luxurious bed.
You don't have to worry about cooking your own food, because they have a camp butler and chef who will be able to help you prepare your meals, and a dining room with canvas covers to help keep out the insects when the sun goes down.
Beautiful art and ceiling fans help to make this even more comfortable- it is a 'glamping' destination in the most impressive sense of the word!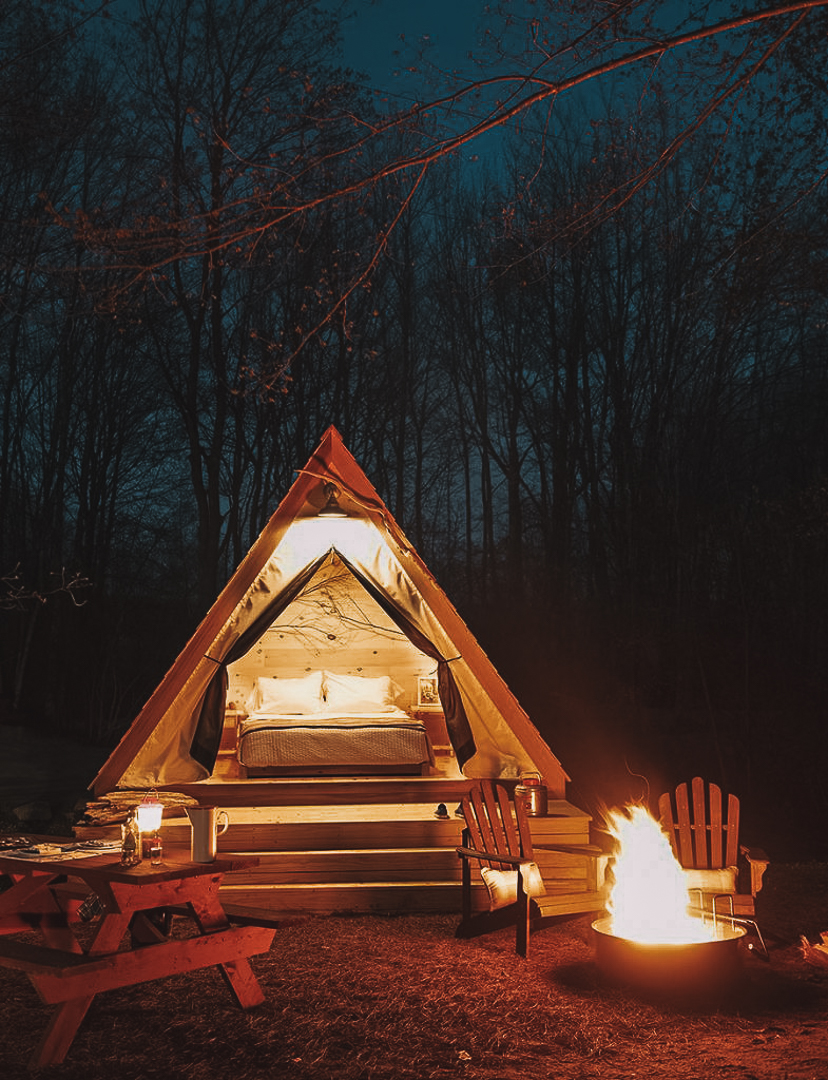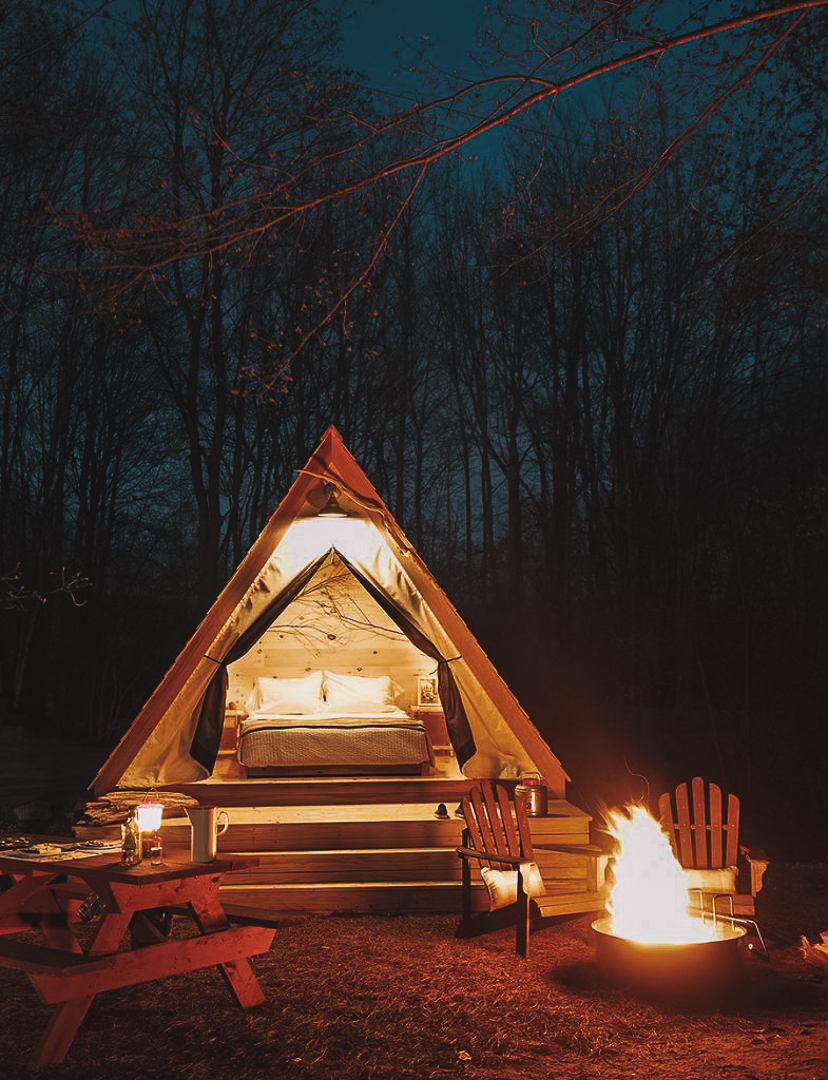 Sandy Pines Campground, Kennebunkport, Maine
Sandy Pines is one of the most unique glamping campgrounds I have yet to come across. With a wide variety of experiences, you can stay in everything from a Conestoga wagon to an airstream to a glass dome to a quaint cottage to an A-frame hut on wheels.
Regardless of your choice of accommodation, you'll enjoy large comfy beds, firepits, lounge areas, and plenty of outdoor seating to enjoy the fresh air.