Sara Pardej is sharing her adventurous Oregon road trip itinerary and all the epic hikes that go with it!
I visited Oregon as part of a one-month road trip in the western United States. I was mesmerized by the scenery in the western portion of Oregon: luscious trees climbing towards the sky, bright green moss enveloping forests, and towering waterfalls enticing visitors to marvel in their power.
While most people will venture to the beautiful Crater Lake National Park and the popular waterfalls just outside of Portland, there is so much more to see and do if you're willing to venture out just a bit further. You'll be rewarded with a great workout, fewer crowds, and unbelievably beautiful views.
Like with much of the United States, if you want to get out to nature, you'll need a car. I also recommend that you rent a high-clearance car (or be extra careful when you drive), as many of the national forest roads contain potholes that are pretty much unavoidable.
This itinerary generally involves a moderately strenuous hike each day for one week.
You'll see rainforests, lakes, climb a mountain, and get your fill of waterfalls. If that's not enough for you, these hikes are all tucked into national forests and state parks that offer a wide variety of scenery and hikes of varying difficulty.
Many hikes in the state require the Discovery Pass, which only costs $5 and is valid in both Oregon and Washington National Forests.
I stayed in two Airbnbs during my stay in Oregon: one in Bend, then one in Portland. I used these cities as a base for my travels, as they are both located close enough to parks that I never had to drive more than two hours to get to my destination for the day.
If you love camping, all of the places on this list offer campgrounds, just make sure to reserve a spot!
Here's the ultimate Oregon adventure road trip itinerary!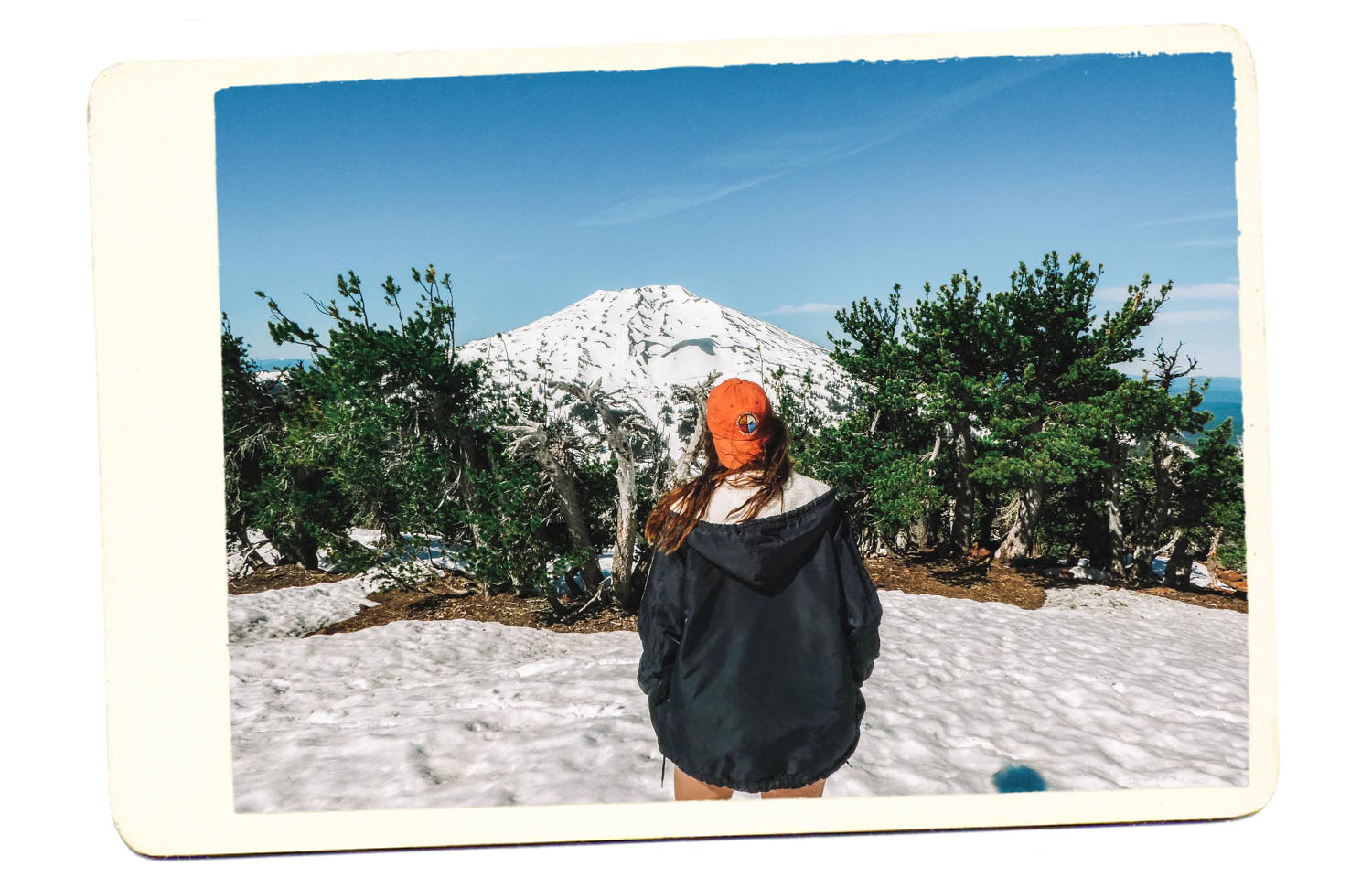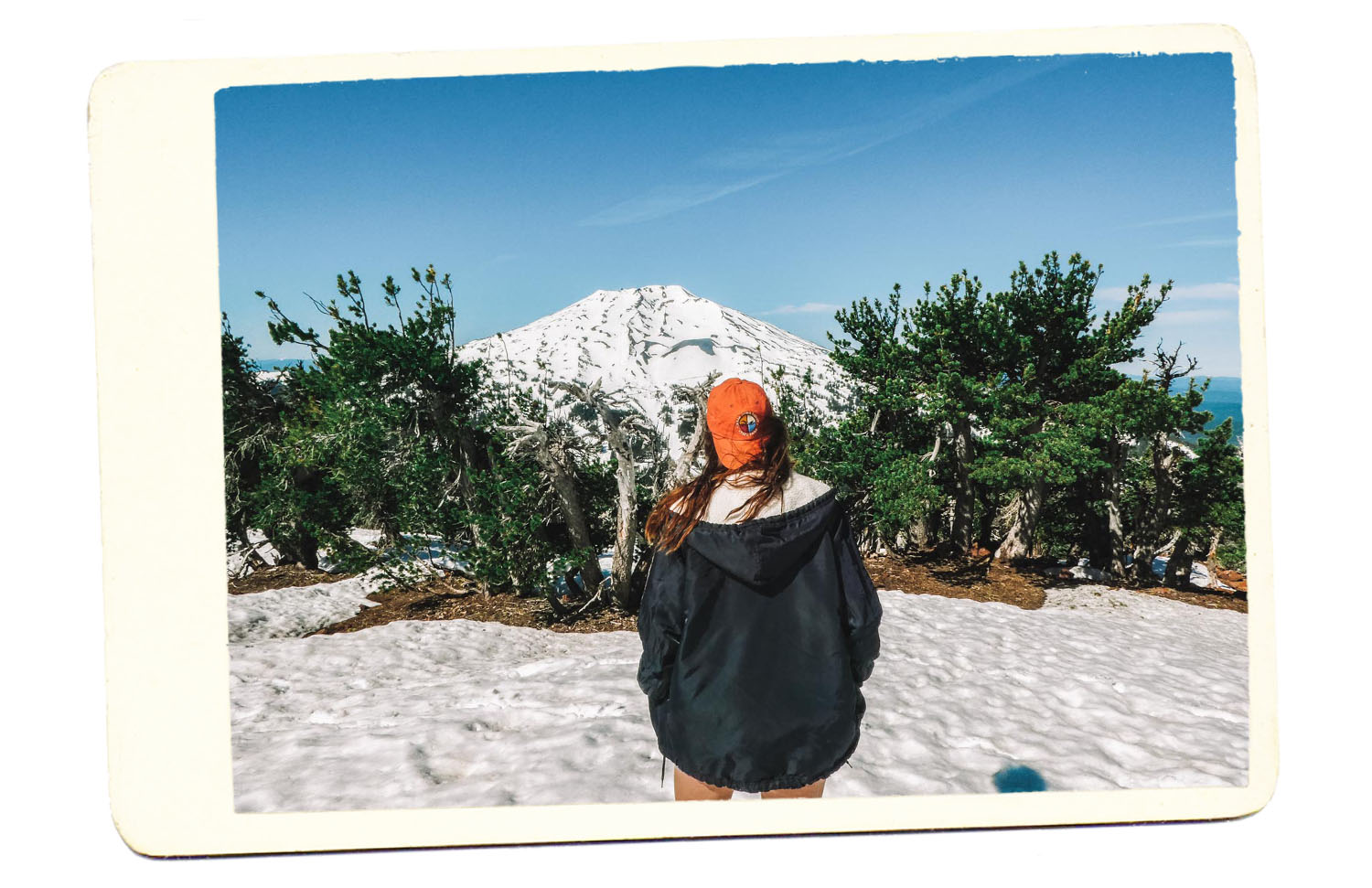 The Best  Time to Visit
Western Oregon generally has a temperate climate, meaning it probably won't get too hot or freezing cold…the catch is that it will likely rain while you're there.
I suggest leaving some wiggle room in your itinerary if you don't want to hike in the rain. If you want to minimize the risk of rain, I recommend you visit in July or August. I visited in mid-June and it drizzled and/or rained almost every day—so bring a rain jacket!
The main perk of visiting at the tail end of spring was that we had perfect hiking temperatures each day (60-70 degrees Fahrenheit). Not comfortable hiking on a rainy day? No problem!
Visit one of the ample coffee shops and/or breweries in Oregon and take a day off of hiking!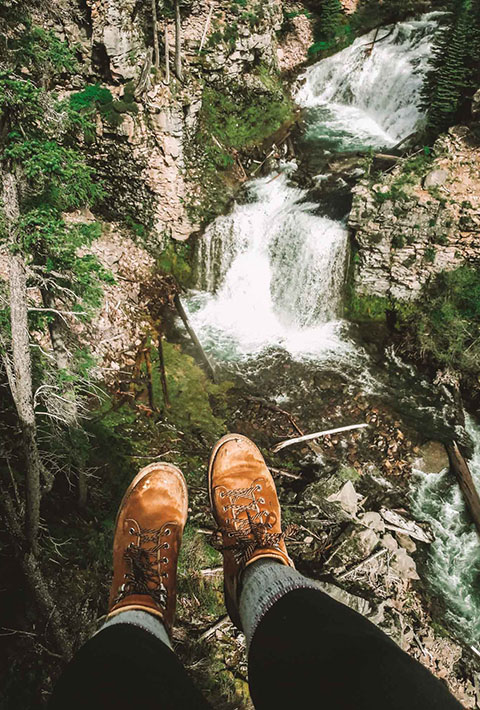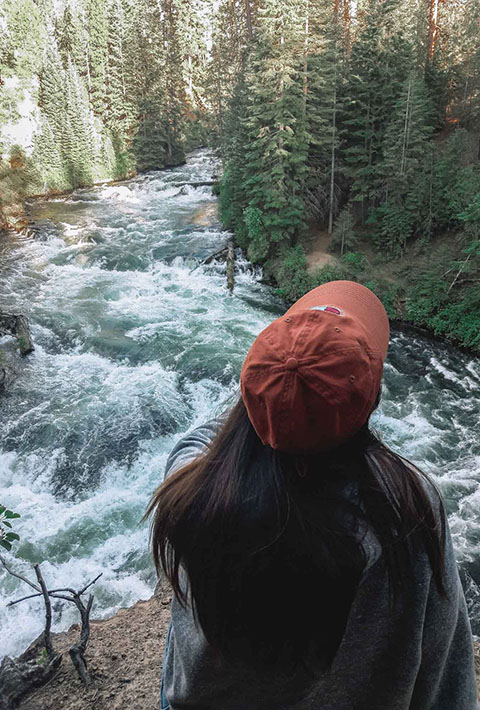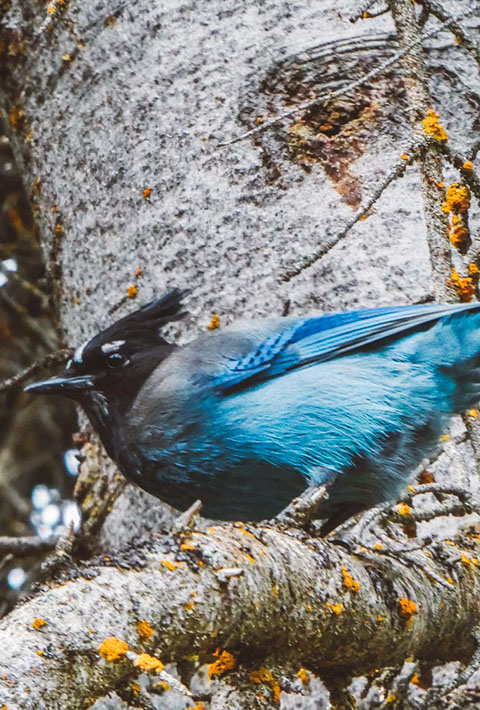 My 7-Day Itinerary
Day 1: Arrive in Bend & Benham Falls Trail
Day 2: Climb Tumalo Mountain
Day 3: Sparks Lake
Day 4: Tumalo Falls Trail
Day 5: Silver Falls State Park & Drive to Portland
Day 6: Ramona Falls Trail
Day 7: Leave Portland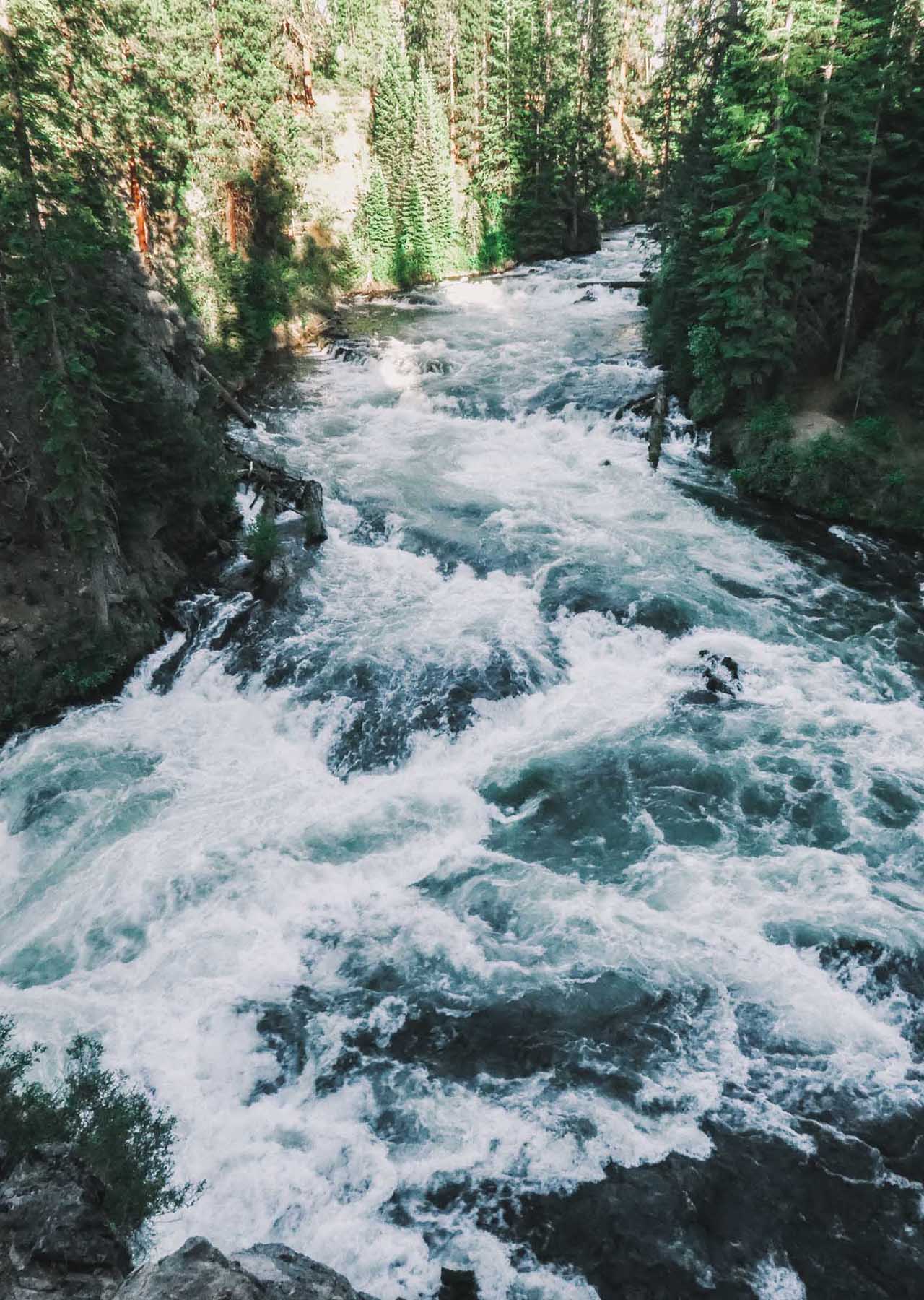 Day One: Arrive in Bend and Benham Falls
Whether you are arriving in Bend via plane, bus, or driving, you're going to want to situate yourself on your first day.
We stayed on a farm in the Deschutes National Forest, and I highly recommend you stay somewhere near or in the National Forest if you're looking for a real nature getaway. I got to wake up seeing elk grazing in my yard in the morning!
Once you're settled, I recommend you look for a nearby hike to get your bearings.
I went on the Benham Falls Trail, which was a great hike to start my Oregon adventure. Throughout the hike, you'll learn about the natural history of the area, see beautiful birds, and walk along the rushing Deschutes River.
Even though it's only a 1.5-mile trail, you'll want to account for some extra time to sit and enjoy the views.
If you're looking to eat out for dinner, consider the Laughing Planet for a yummy veggie bowl, or Dump City Dumplings if you're looking for an affordable, filling, and tasty meal.

Day Two: Climb Tumalo Mountain
[Approx. 21 miles from Bend | 25 minutes]
If you're looking for beautiful views of the Cascades and the forests of central Oregon, look no further. The out and back trail that leads you to the summit of Tumalo Mountain is 3.8 miles and well worth the steep elevation gain.
Along the way, you'll see colorful wildflowers, get increasingly stunning views of the surrounding mountains, and maybe even get a glimpse of wildlife!
If you are hiking this trail outside the summer months (July and August), the trail will likely be partially or fully covered by snow.
I recommend downloading an app to make sure you're heading the right way (I use Alltrails) or picking up a physical trail map and using a compass. I hiked in June, and about half of the trail was covered by snow.
Regardless, the views from the top are well worth the work!
For those of you who are looking for beautiful views but don't want to hike up a mountain, I recommend you visit Mount Bachelor and hop on one of their scenic lift rides. From there, you'll be able to see Three Sisters peaks, Broken Top, and sprawling forests.
While you're at Mt. Bachelor, consider zip-lining or mountain biking to really get your fill of adrenaline.
Helpful Tip:
If you purchase and download the Alltrails Pro app, you'll have access to all of the trails in this itinerary (and many around the world) for use offline. This is especially helpful when you are in the middle of nowhere and the trail is covered in snow!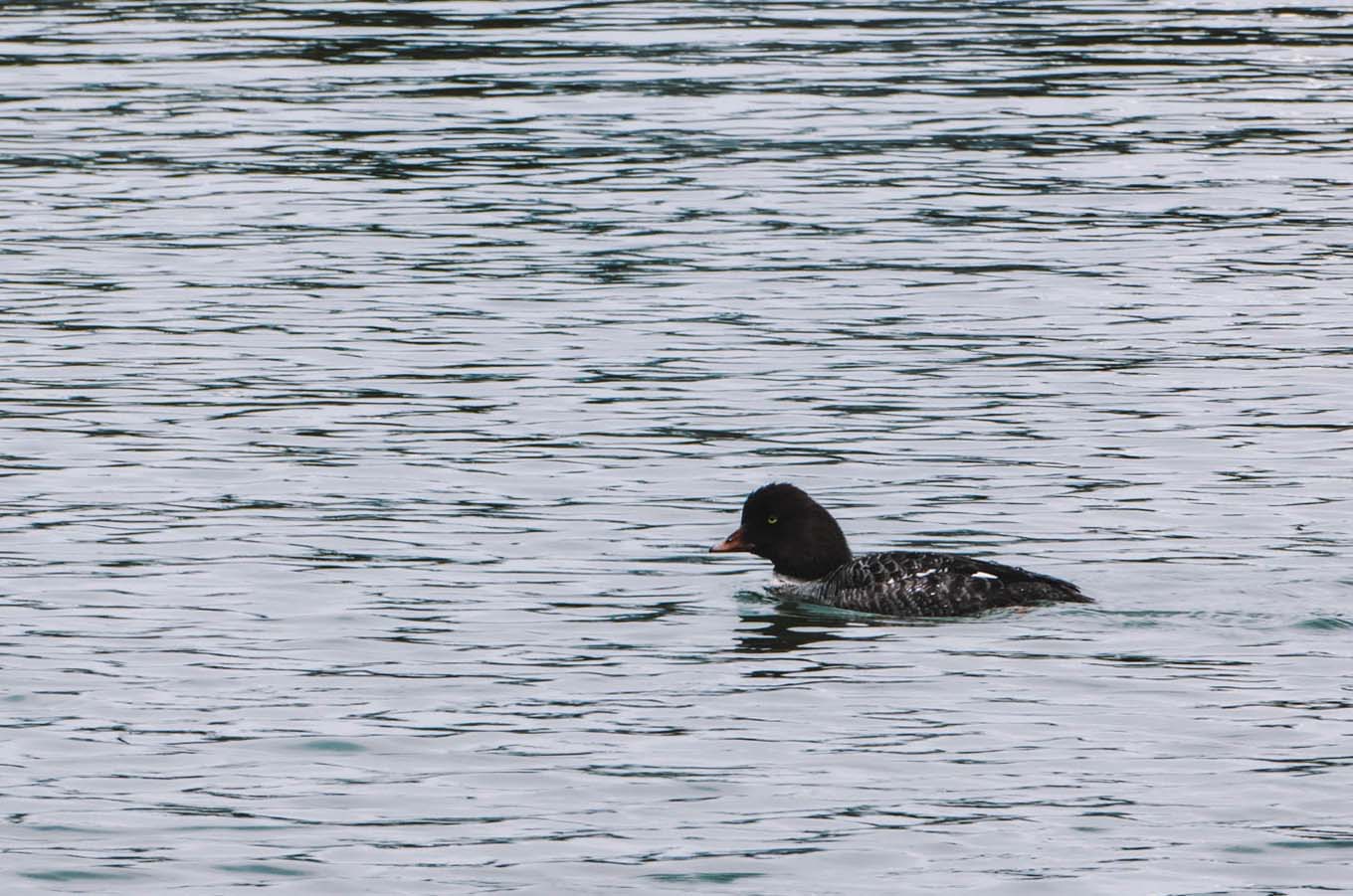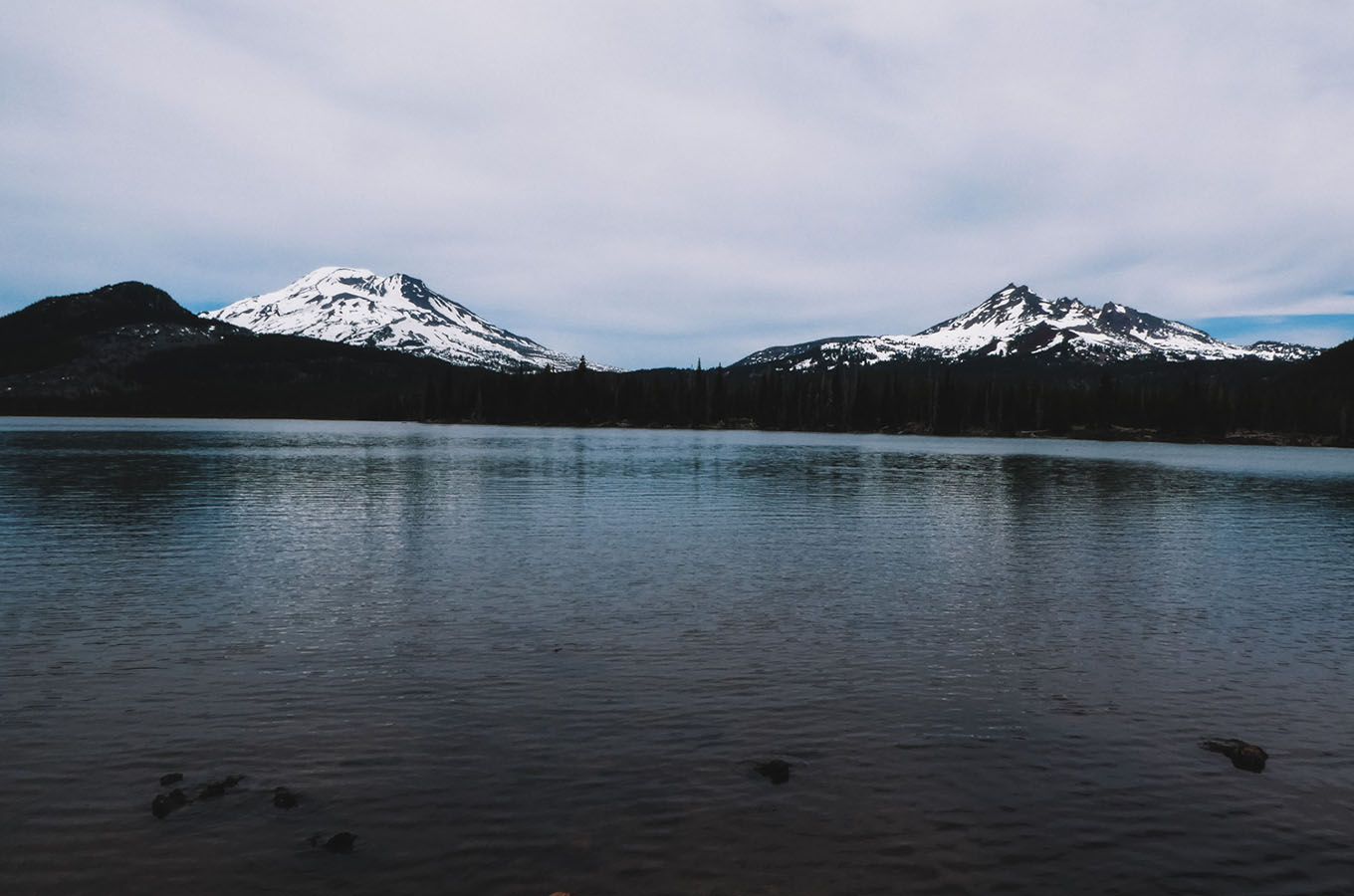 Day Three: Sparks Lake
[Approx. 27 miles from Bend | 35 minutes]
Since you're probably sore from climbing Tumalo Mountain, take it easy today at Sparks Lake. This glimmering, giant lake offers many lounging and water activities.
Once you get to the end of Forest Road 46-400 and reach the parking lot, you can hop out of your car and go directly to the sandy beaches of the lake. Alternatively, you can hike all or part of the 19.5-mile Sparks Lake Trail to find a less crowded area to have a picnic, enjoy the gorgeous mountain views, and relax.
If you're looking for a place to camp, look no further. This is a wonderful, family-friendly area to camp with breathtaking views.
Love water sports and activities? This is a great place to do them! Go fishing, rent a kayak or canoe, go waterboarding, or even bring your boat (there is a 10 MPH speed limit!). Given the size of the lake, you'll have no problem spending a whole day adventuring.
Be aware that the forest road that leads to Sparks Lake has many potholes. It is definitely doable with a low clearance car, but you'll have to be extra careful!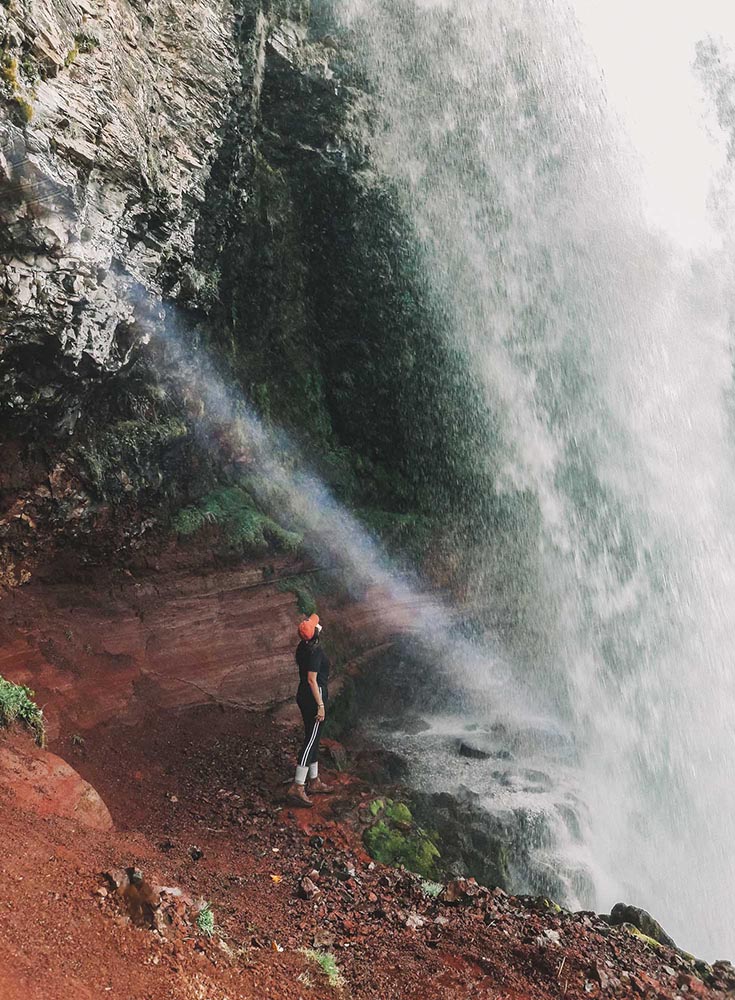 Day Four: Tumalo Falls Trail
[Approx. 14 miles from Bend | 30 minutes]
The next few days are going to be filled with rain forests and waterfalls—so buckle up!
I'm from the Midwest, so my expectations for what constitutes a waterfall are quite low. As I traveled through Oregon, I quickly learned that Oregon has high standards for waterfalls. These towering, powerful, and rushing waterfalls will leave you marveling.
I highly recommend you visit Tumalo Falls, regardless of whether you complete the full Tumalo Falls Loop or not.
Tumalo Falls is right by the parking lot, so it's a great option for anyone who is unable to hike longer distances through forests. If you're feeling adventurous (and willing to get wet!), you can walk behind the falls, which I think is completely worth it.
After you're done getting the perfect picture behind Tumalo Falls, get back onto the loop—you still have 4 more waterfalls to see! Along this trail, you'll be walking through the mossy rainforest, and you may run into some wildlife! Make sure you have your camera ready.
Be aware that the road leading directly to the trailhead parking lot closes in the winter and can be closed into the spring season.
If it is closed, you can still park your car 2.5 miles in the lot just in front of the road closure sign. Although this adds a total of 5 miles to your hike, it's still definitely worth the views.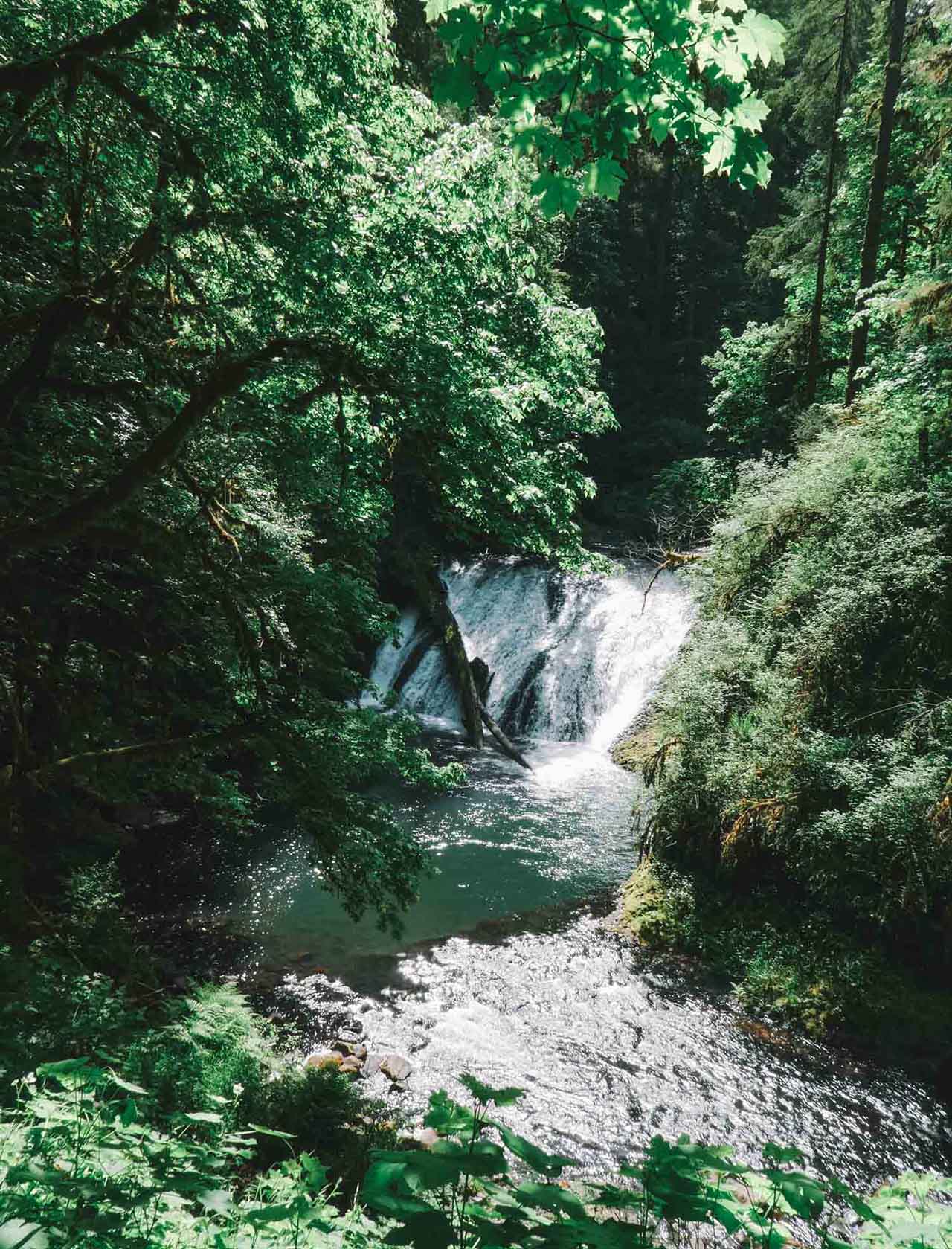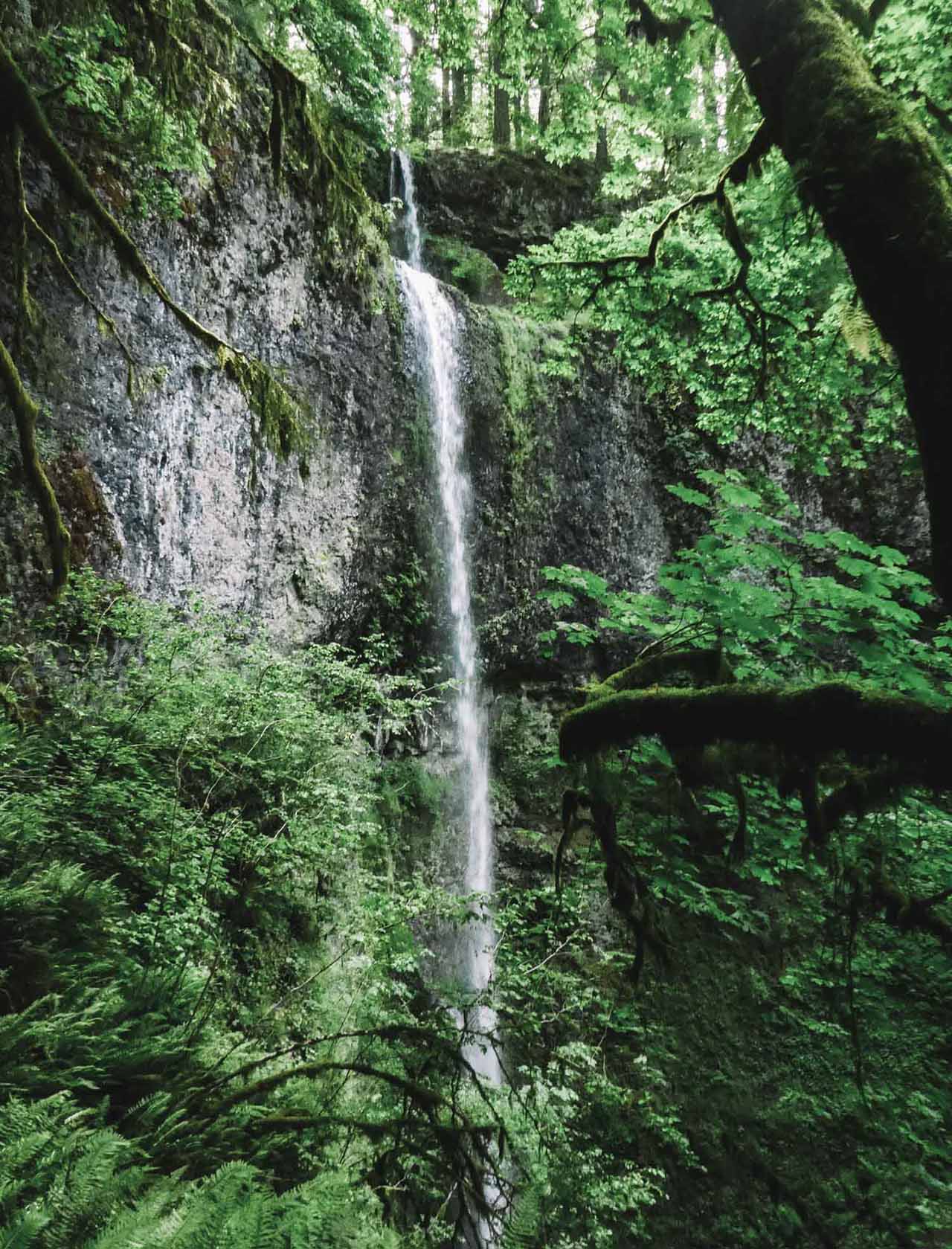 Day Five: Visit Silver Falls State Park
[Approx. 123 miles from Bend | 2 hours and 30 minutes]
& Drive to Portland [Approx. 53 miles from Silver Falls | 1 hour]
It's time to move from Bend to the much more visited Portland! While you're driving, you cannot miss the Trail of Ten Falls in Silver Falls State Park. This trail is a 7.8 mile loop, and as its name suggests, takes you through a picturesque rainforest hike to ten different waterfalls.
My personal favorites were the South Falls and Double Falls. They are both super tall, and you can even walk right underneath the Double Falls!
Silver Falls State Park offers so many different hikes and beautiful scenery for camping—it's definitely worth a visit for at least a day.
Once you're ready to leave, it's time to get back on the road and head to Portland. Portland is a vibrant and lively city.
Although I didn't spend much time exploring the city itself, I do think it's worth it to walk around and grab a cup of coffee at a local coffee shop, which are seemingly on every corner. You'll notice a lot of cool street art, parks, and Instagram-worthy industrial bridges.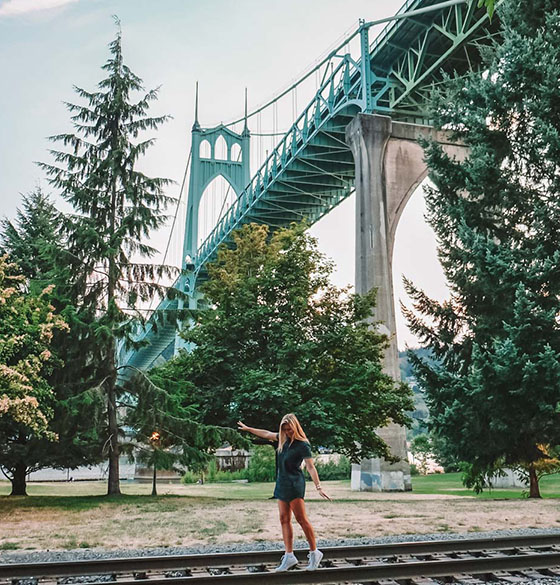 Portland continues its reputation as a hip and hipster-friendly town. With a plethora of mouth-watering restaurants and gorgeous sights, you can easily spend a few weekends in Stumptown and still not see it all.
Read More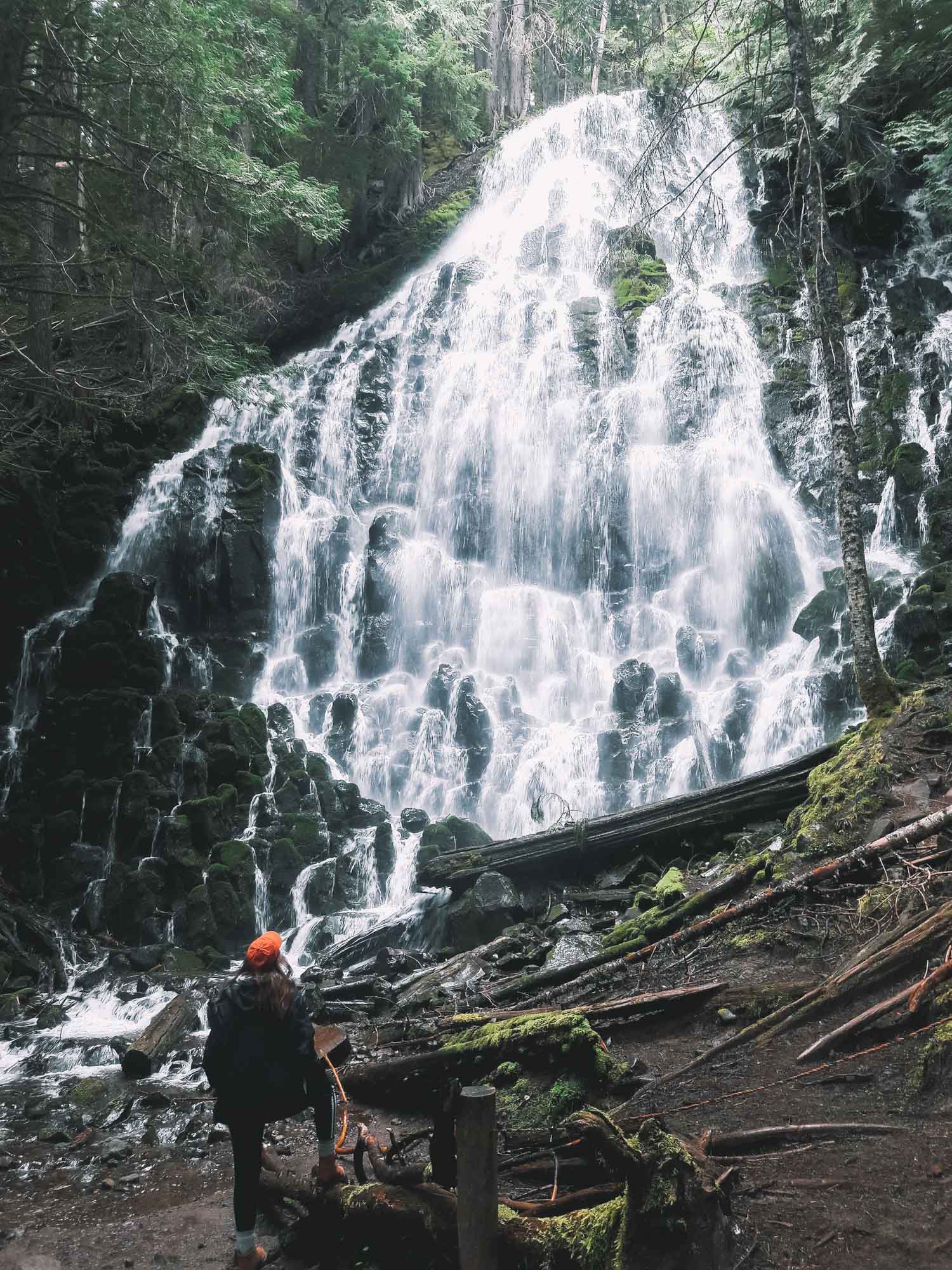 Ramona Falls
Day Six: Ramona Falls
[Approx. 53 miles from Portland | 1 hour and 10 minutes]
I have saved the best for last; Ramona Falls, in my humble opinion, is the most beautiful waterfall on this itinerary.
The trail is located in the Mount Hood National Forest, which means you also get striking views of Mount Hood along the way to the Falls. This 7-mile lollipop loop takes you through what feels like a fairytale forest, have you cross logs over a river, and leads you to the giant beauty that is Ramona Falls.
As a warning, the forest road leading to the trailhead is very narrow and filled with potholes—so be careful!
Since you've already made the drive to Mount Hood National Forest, I recommend you stay for a picnic with a scenic view—like on the Mirror Lake Loop Trail.
To congratulate yourself for your hard work hiking your way through Oregon, you should treat yourself to a nice dinner in Portland. Two of my favorites included Clyde Common (communal tables, European-style food) and Navarre (small plates).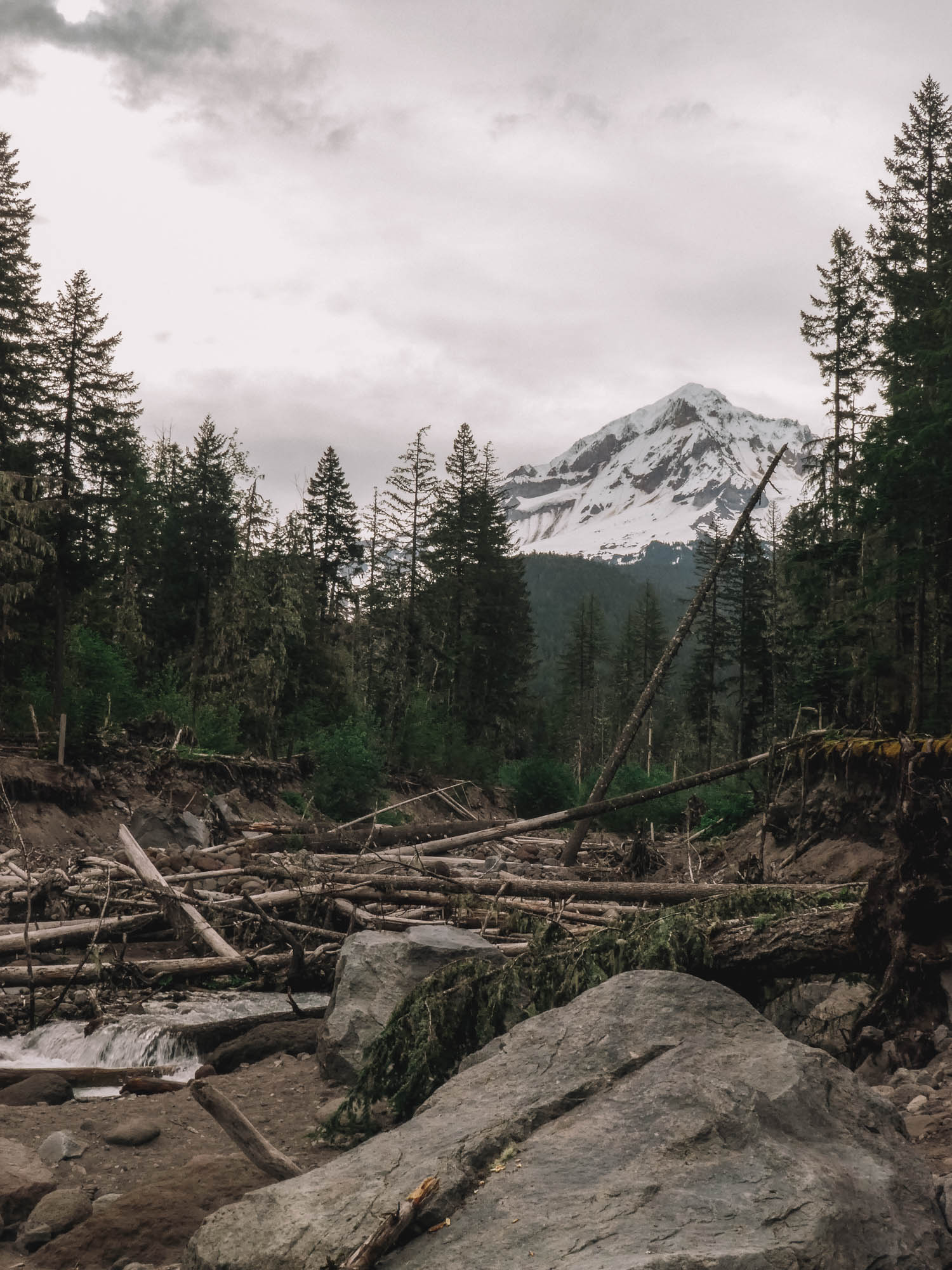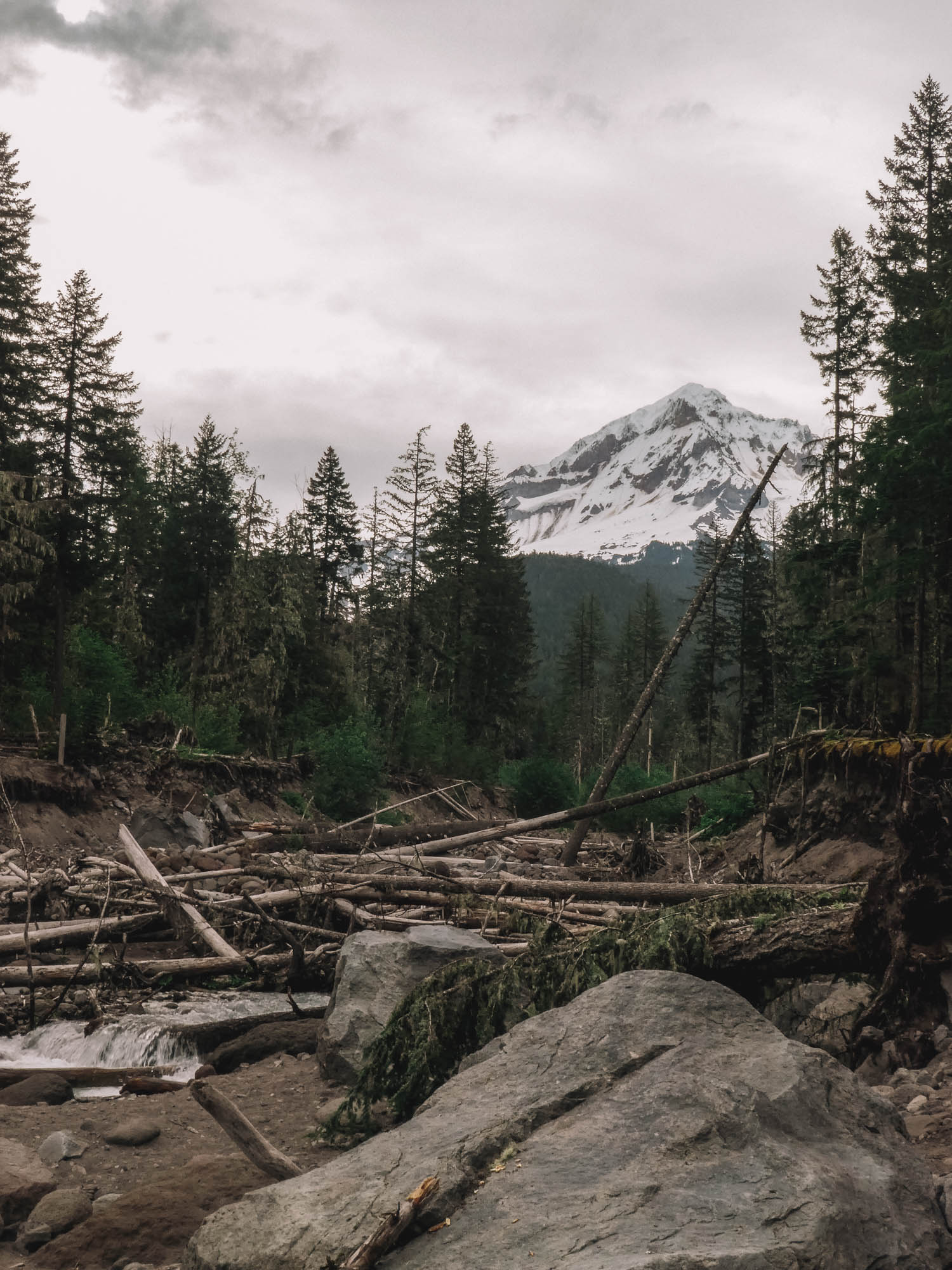 Day Seven: End of Trip
Fly out of Portland or Continue to Washington
[By driving, train, flying, or bus!]
Before you leave, pick up some donuts at Blue Star Donuts or Voodoo Donuts (or both!) and a cup of coffee.
If you're flying out of Portland, have a safe flight! If you're looking to continue your adventure, consider Washington.
An hour and a half outside of Portland you will find yourself at a massive, historical volcano: Mount St. Helens. There are ample hikes to do in the area, and they are well worth the effort.
Here are the top spots to add to your Pacific Northwest road trip itinerary!
Read More

Mount St. Helens is a gorgeous addition if you have time!
Trip Additions
Although this itinerary was intended to highlight some of the easily-accessible parks and areas that are less popular than other iconic Oregon destinations, there is a reason places like Crater Lake National Park and Multnomah Falls are so popular…they're stunning!
If you're visiting Multnomah Falls, stop by Latourell Falls and Oneonta Gorge—they are very close by and just as breathtaking. Lastly, I do highly recommend you make the drive to the Gifford Pinchot National Forest in Washington (home of Mt. St. Helens)—it's such an easy drive from Portland!

Final Thoughts
There's a reason why Oregon's travel slogan is "Oregon, things look different here."
Oregon offers a lush and vibrant escape that is difficult to replicate. There is something for everyone: casual day hikers, weekend campers, and long-haul backpackers alike.
Although it is often rainy, I found that the views at the end of a hike were always worth it. So pack a rain jacket and get ready to explore the beauty Oregon has to offer!