Easily one of the best places to travel in the United States, Denver is a dream getaway for a long weekend. Whether you are skiing the epic mountains or hiking the sun-soaked meadows, the natural beauty of the Mile High City will take your breath away (and not just because it really is a mile high!).
If you're looking to enjoy the great outdoors and good brews, this is the place for you.
A city truly made from gold, Denver's population and cash flow exploded during the mid-nineteenth century when gold mining took off.
The stunning Victorian architecture of the city nods back to its past as a cowboy's stomping grounds, but modern Denver has a vibe more akin to Austin or Portland.
These days, you don't have to set foot outside to enjoy this hip city. You can let your tastebuds lead through the foodie hotspots and world-class breweries.
If you can squeeze out a bit of extra time, I'd highly recommend visiting Rocky Mountain National Park and taking a deeper dive into this gorgeous region.
Ready to grab those hiking boots and hit the road? Here is your ultimate three-day itinerary and guide to visiting Denver, Colorado!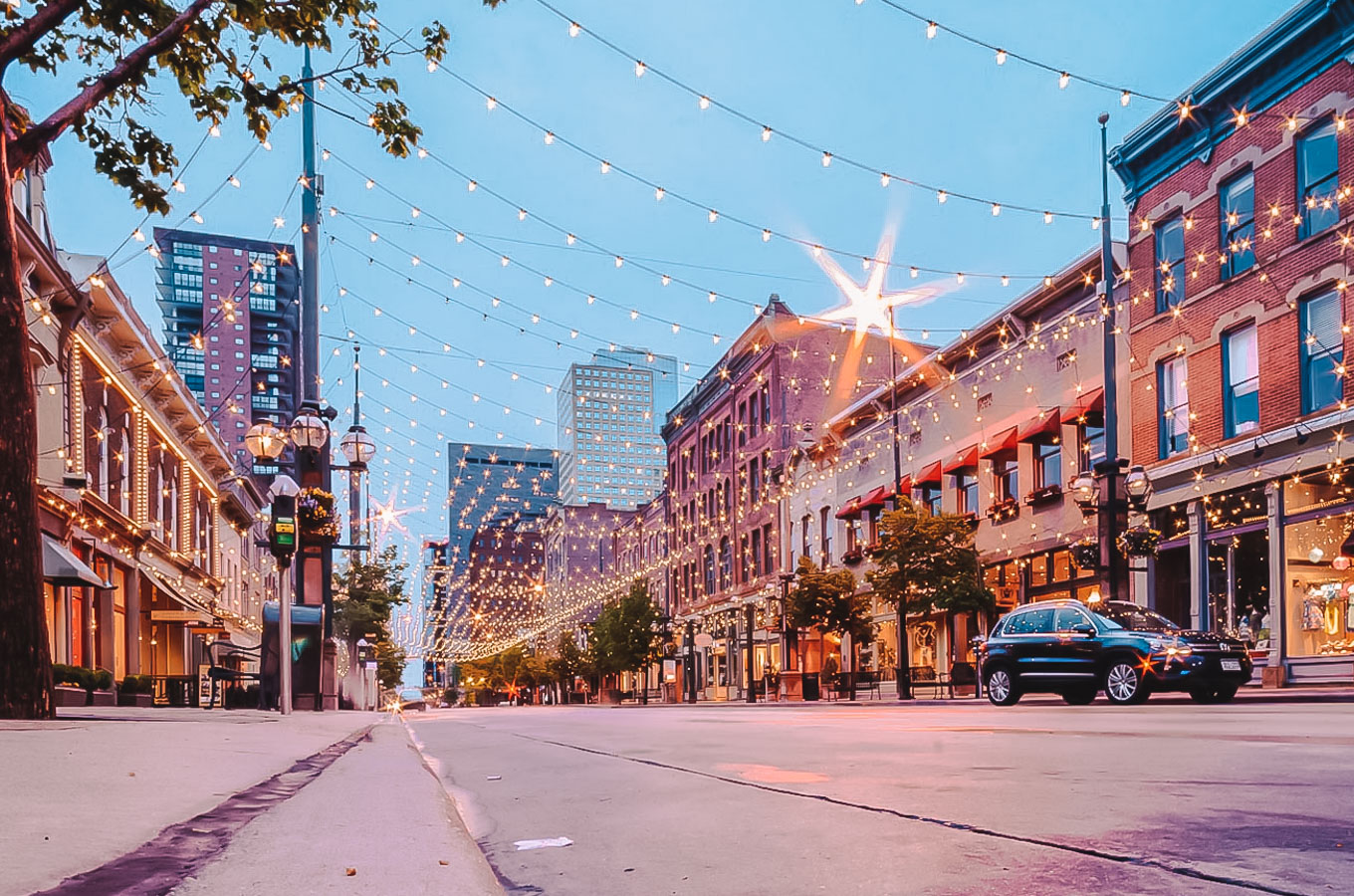 Where to Stay
When it comes to the best (and most convenient) neighborhoods in Denver, I'd highly recommend RiNo and LoDo.
River North Art District (RiNo)
River North Art District, better known RiNo, is a buzzing area just east of downtown. You'll find trendy food halls, art galleries, jazz bars, brewhouses, and a happening nightlife scene. Known for its renovated warehouses and cool factor, this is a prime base.
In RiNo, I adore the seventeenth-century French salon atmosphere of the stylish boutique hotel, Ramble Hotel.
Lower Downtown (LoDo)
Another great opinion is Lower Downtown, AKA LoDo. Tucked away between Downtown and Rio, this much-loved neighborhood is Denver's oldest neighborhood and now the hottest spot for nightlife in the city.
If you want to stay in the center of it all, check out the Maven Hotel. Located in the same building as the popular Milk Market food hall, you'll be spoiled for dining picks and have a Huckleberry Coffee right in the lobby.
And here are a few other top options:
Brown Palace Hotel & Spa: The oldest hotel in town, this luxury spot will make you feel like a royal.
The Crawford Hotel: The latest and greatest new addition, this four-star spot is located right inside of the iconic Union Station.
Hostel Fish: For an affordable and central pick, this brothel-turned-hostel ticks all of the boxes.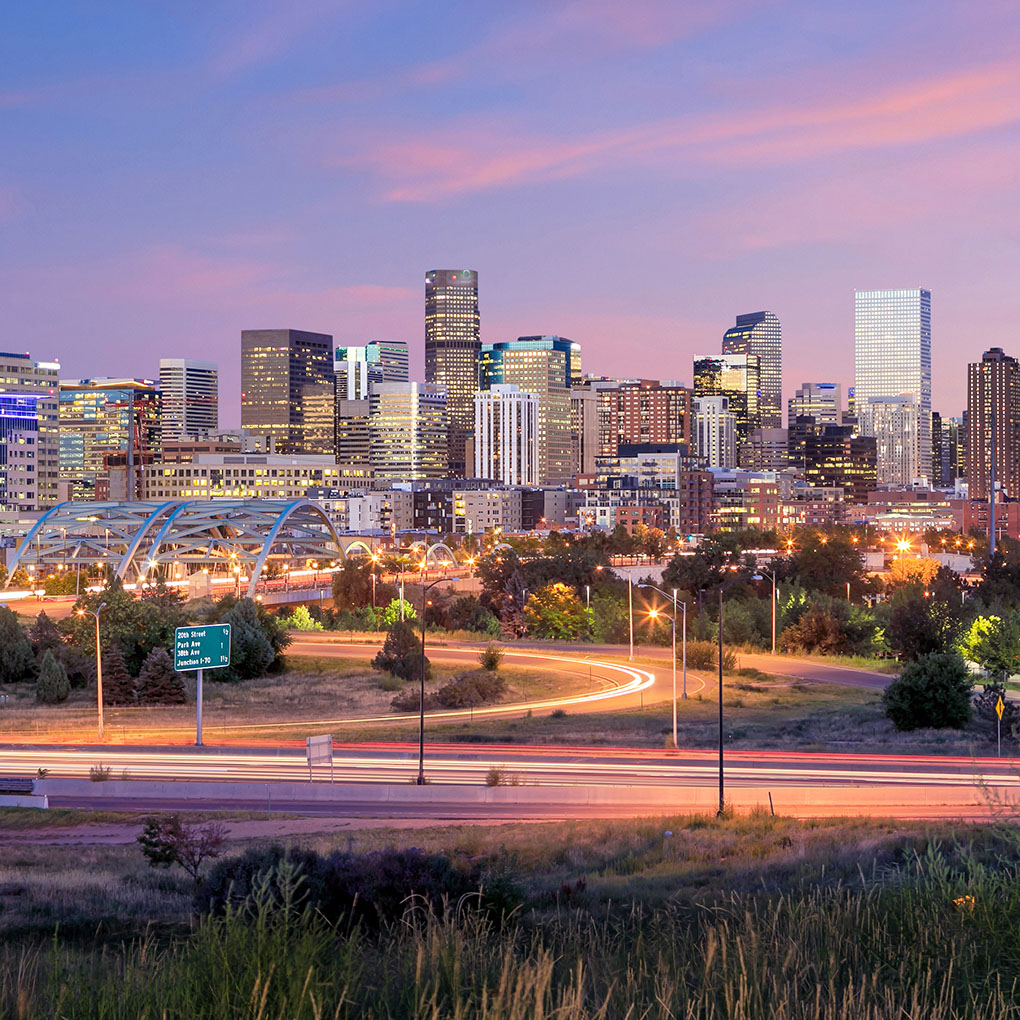 The Best  Time to Visit Denver
With 300 days of sunshine per year, it is always a good time to visit the Colorado capital. During the spring and fall, you will find afternoons in the mid-50 to mid-70s.
While you'll need a jacket at night, slightly chiller temps like this are perfect for long hikes and other outdoor activities.
During the summer, the mercury rises up into the 90s. It's a dry heat but definitely still a pretty intense one. Meanwhile, if you visit during the winter, you will face icy days ranging from the teens to the 40s.
As a perk though, you'll also find fewer tourists during the winter as most of them head west to the smaller mountain towns and ski resorts.

Getting Around Denver
If you are only spending three days in Denver, you can get around easily without renting a car. The light rail system covers the core areas of the metro and the central neighborhoods are great for exploring by foot.
To get farther afield or travel during off-hours, you'll find a range of buses and taxi options along with Uber and Lyft.
Google Maps works with all of the local public transport options so download an offline map before you go and you'll be ready to hit the ground running.
Be mindful that if you are planning to go hiking, you may want to rent a car. While you could possibly take something like Uber or Lyft — be aware that cell service could be spotted and/or available drivers in the area may be limited.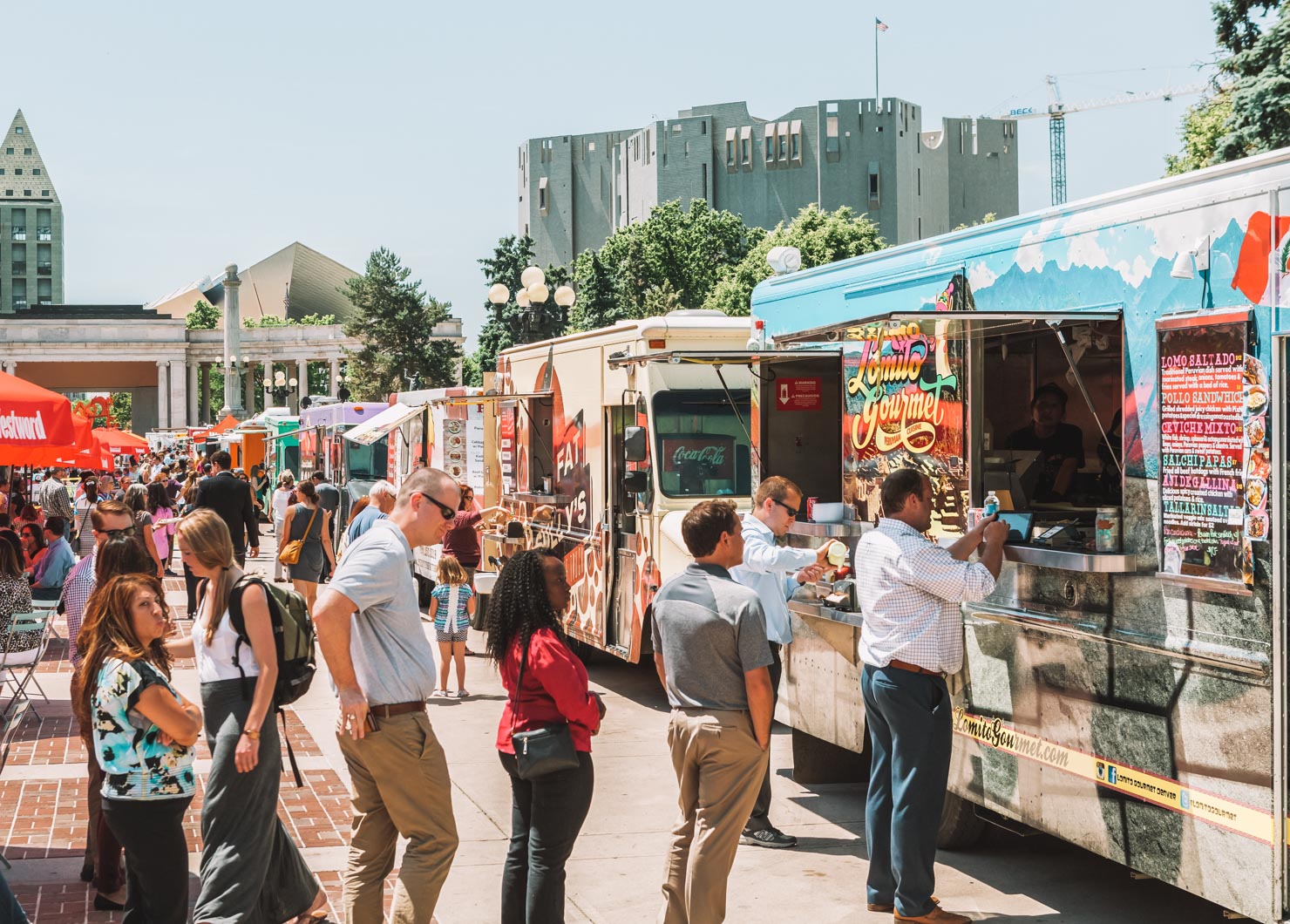 Day 1: For the Foodie
Start your Denver adventure with a foodie day. This culinary delight of a city has a dizzying array of one-of-a-kind picks. Picking the best of the best is nearly impossible so come hungry and plan to do your own taste tests.
Grab Breakfast
A local institute since way back to the 1920s, Sam's No. 3 is the place to start your day when you're looking for classic Americana diner grub.
More in the mood for a locally-sourced trendy brunch vibe of spot? Grab a seat at the popular restaurant, Snooze, An A.M. Eatery.
Explore Downtown
Once you are fueled up for the day, make a beeline for Larimer Square. The oldest block in Denver, you'll find the best shops, restaurants, and bars in town here.
Once you've wandered the square, head over to 16th Street Mall to soak in the atmosphere, do some people watching, check out the shops, and sample a bite from the unique array of food trucks.
In the heart of RiNo district, you'll find the cool cafes, arsenal bakeries, handcrafted chocolates, locally produced cheese, and more in the Central Market. Sample the local flavors or just pack some up for your hotel room later.
Grab your camera and head down to LoDo district to snap a few shots of Union Station.
More than just a historical landmark, this station is home to some of the best shopping, eating, and drinking in the city. Linger over drinks here or head back to the hotel for a bit to refresh for a night out.
Out for Dinner
If you are ready for the perfect dinner out, pull a chair on the patio at Postinos in LoHi for top-notch Italian food.
When the bruschetta is gone and the wine bottle is empty, call it a night so that you can start bright and early tomorrow.

Day 2: Boots and Beer
If there are three things that Denver is famous for, it's got to be the great grub, fantastic beers, and jaw-dropping views. On day two, let's check the last two off the list.
Start the Morning Early with a Hike
Gear up in the morning for the great outdoors to work up a sweat — and thirst for beer! Denver has world-class hiking so be sure to pack outdoor gear.
Before you go, check out my complete guide to what to pack for a hiking trip. Trust me, it's well worth adding a few extra things to your bag to be comfortable, energized, and generally just elevate your trip.
Planning Tip:
Plan your hiking route ahead of time. While there are a few good spots near the city, you'll need to rent a car to get to some of the more far-flung destinations because public transport does not extend much beyond the city.
Craft Beer Tour
Colorado is more just Coors! In fact, the state has more craft breweries than you'll find nearly anywhere else in the country. So, after your afternoon adventure, it's time to drink your way through the town.
While you can stumble through a self-guided brewery tour, it's well worth going with a guide who knows their stuff. This Denver Craft Brew + Microbrewery Tour will give you an in-depth look at what makes Colorado brews so special.
On a bit of a time crunch? You can map out a solo route with Denver Beer Trail and sample some of the best beer in the town.
Brewery Visits
Got a second wind? Want to see where the magic happens? While you will find a brewery on virtually every block in town, there are a few local faves that were recommended by beer fans in the know.
When it comes to sweeping city views, it's all about Prost. Want to mingle with locals in a high-energy spot? You're going to love Ratio Beerworks. Last but not least, Denver Beer Co is an essential stop.

Day Three: Choose Your Own Adventure
Depending on what you're after, your final day in Denver has a whole lot to offer. Here are a few spots you're sure to love.
Capitol Hill
Whether you want to learn about local politics or play board games, this is the place to be. Visit the Colorado Capitol Building and Civic Center Park, then dig into Denver Art Museum and Denver Public Library.
Tennyson Street
In the Berkeley neighborhood, you'll find the eclectic blend of boutiques, cafes, restaurants, and bars that line the famous Tennyson Street. Grab a coffee at Downpours then browse for a souvenir at BookBar.
The street is dotted with amazing restaurants so grab lunch anywhere that catches your eye.
Getting that Final Meal
Avanti
Avanti is a "collective eatery" and a serious must when you're traveling with a group!
With dozens of restaurants inside, there is truly something for everyone. Grab a seat on the massive deck for a view of the city that'll inspire you to take one more selfie before you go.
Refinery
If you are staying into the evening, be sure to sample the infused liquors at Refinery Lounge, just beside the stadium downtown. They are famous for the pickle shots, which I'd highly recommend, and their flower shots…which are a bit weird.
In this one-of-a-kind concoction, you chew on a flower, then take a shot, and suddenly your mouth is kind of numb. Strange, but worth it!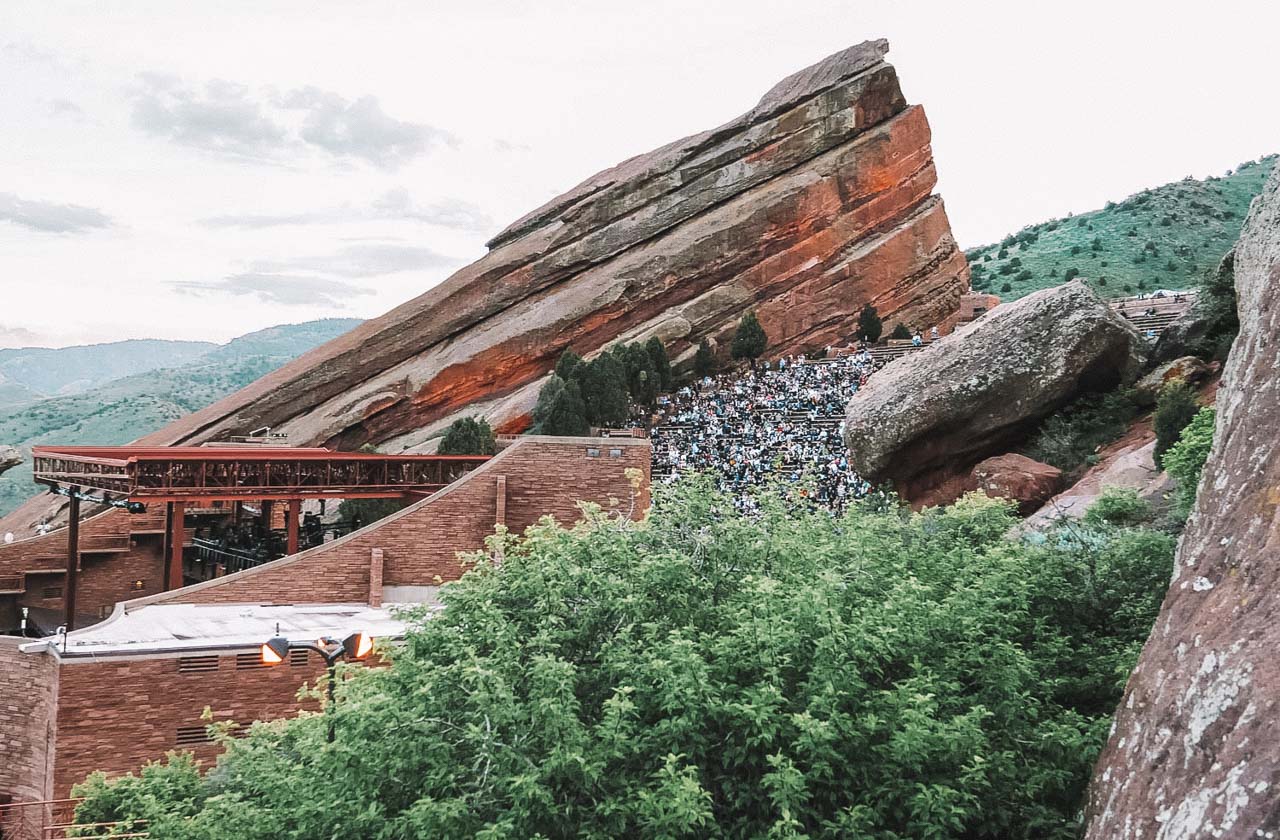 Look at the Red Rock concert schedule ahead of time or just go visit the beautiful surrounding area.
Bonus
One of the most beautiful concert venues, Red Rocks Amphitheatre, is just 15 miles outside of Denver. There are plenty of shuttle services there so you can check it out without needing a rental car.
Got an extra two hours? The Denver Graffiti tour will bring you around to some of the most impressive street art you've ever seen in your life.
Want to bring your vacation selfies to the next level? You're going to love the Denver Selfie Museum for truly fabulous Instagram backdrops.