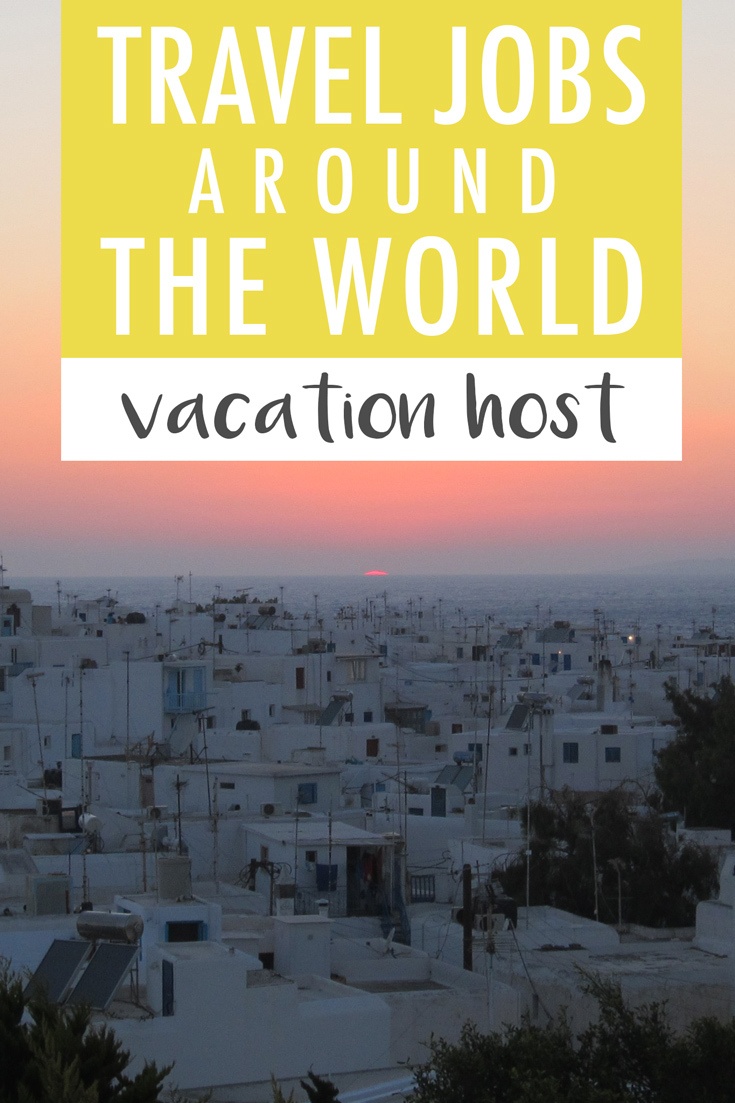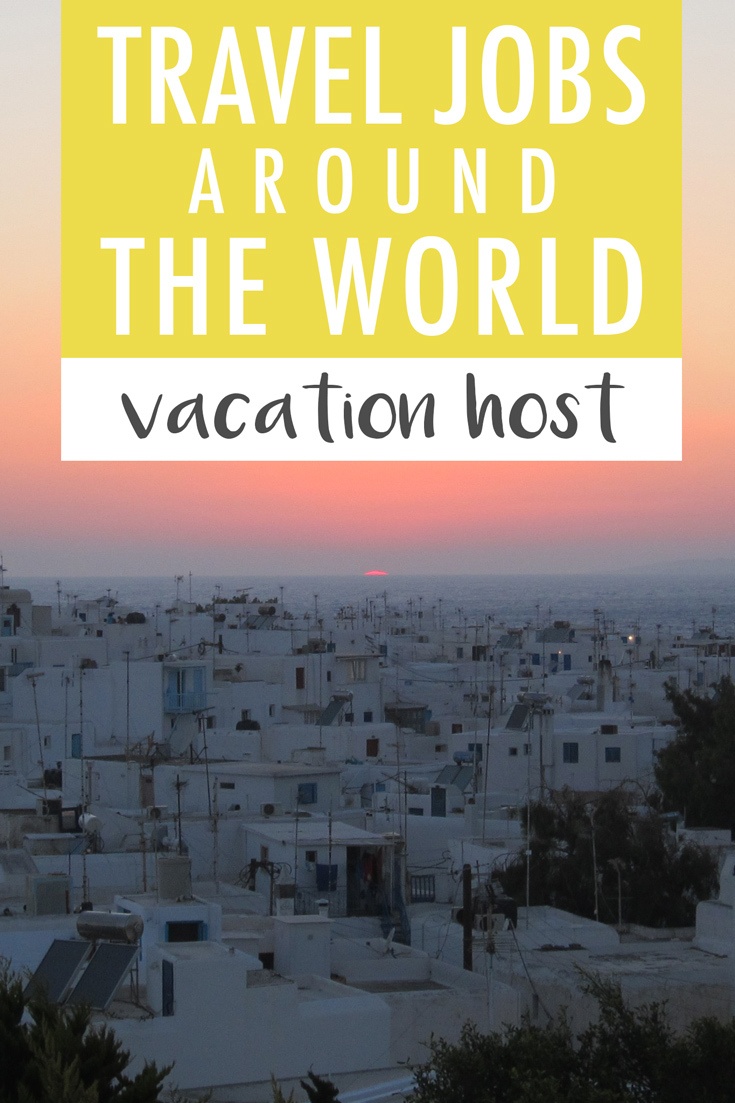 This post was written by expert vagabond, Ana, from The Art of Epic Living!
The Job Description
Well, I am not sure if "vacation host/trip manager" is the official title of the position that I am about to refer to…but I think that this name suits this role!
Basically, there are companies out there which provide packaged vacations to young people; this can include party-oriented companies which offer spring break trips and other summer getaways, or more travel-oriented companies which offer all-inclusive type trips and tours.
A "vacation host(ess)" is someone who works for one of these companies as the on-site employee who oversees all guests and activities.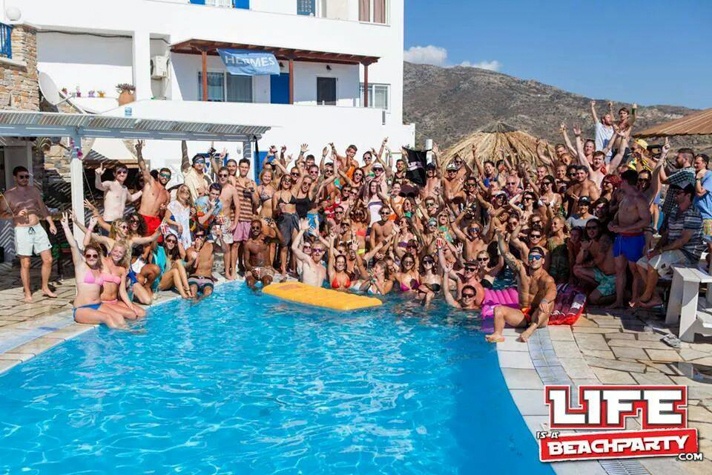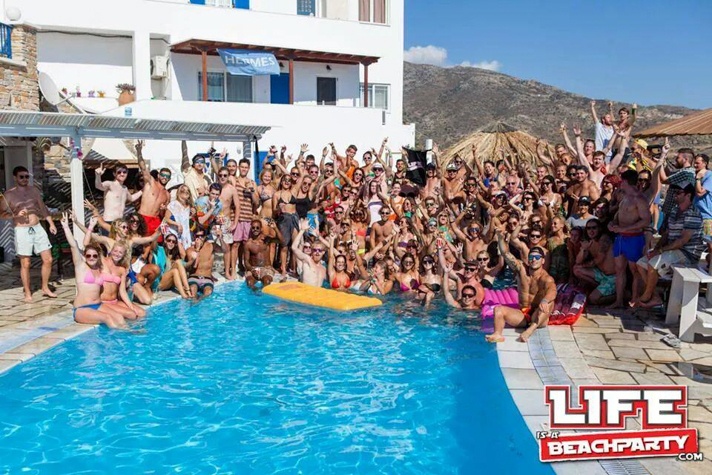 A vacation host is the mascot of these vacation companies; they are the one who represents the spirit of the company, who rallies the troops, who sets the tone for the events, who makes sure that people are loving life and loving the trip!
They help to organize and execute the activities, all while ensuring the satisfaction and safety of the guests. They are the outgoing, energetic, enthusiastic social butterfly who encourages the guests to mingle with one another, and spreads good vibes to all!

Where I've Worked as a Vacation Host
I personally worked for a company called "Life is a Beach Party", on the island of Ios, Greece. As you may have assumed by the name…this company fell more on the party end of the "vacation host job" spectrum.
Although on the surface Ios appears to be a typical quaint and charming Greek island- white buildings dotting the winding stone streets, rocky beaches, mules, gyro shops- all of that good stuff- Ios…is ABSOLUTELY WILD.
The island is home to countless bars, beach clubs and crazy times! It is a haven for young party-goers and draws huge crowds of 20-somethings every summer!
Life is a Beach Party is an Ios-based company which offers packaged vacations for young people looking for an all-inclusive type of trip in summertime paradise. They offered specials on events and accommodation, and provided its guests with a set itinerary of amazing day parties and nightly bar crawls.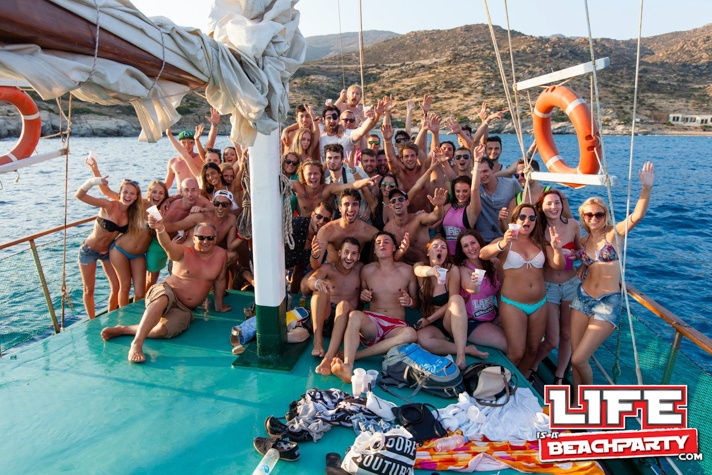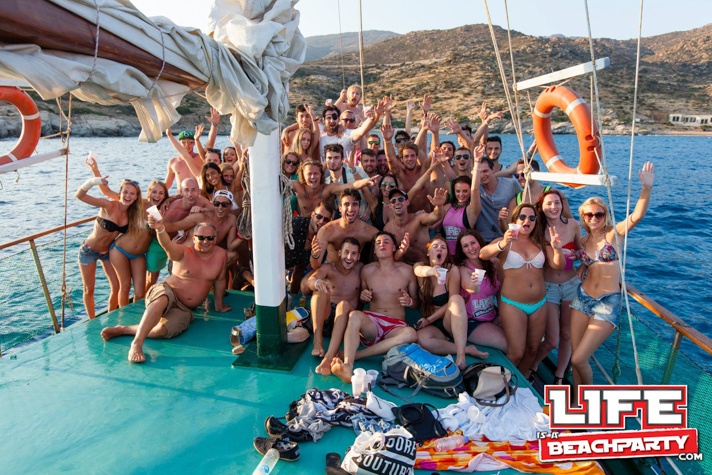 As a "Life is a Beach Party" employee, my job was to help promote, set up and execute booze cruises, pool parties, barbecues and nightlife activities. I was involved with everything having to do with the events- from selling tickets, to assisting with event coordination, to mingling with the guests, to topping off drinks.

Where in the World the Job Exists
Although Life is a Beach Party is based in Ios, there are opportunities for aspiring vacation hosts all around the world!
In the US and Canada, many vacation-package and spring break companies will have locations in popular beach destinations such as locations in Florida, Mexico or the tropical islands of the Caribbean.
Student City, STS Travel and IS Tours are some examples of spring break companies. Each of these examples provide affordable all-inclusive deals to college students, looking for sunny skies and fun times!
I have never worked as a Spring Break Destination Rep, but as a guest on an STS Spring Break vacation…l can 100% guarantee that the employees were living the dream!
The Yacht Week is another example of a party-oriented company which seeks "interns" to manage and organize activities. For more travel-oriented companies, locations vary from club-hopping trips through Ibiza, to nature treks in South America, to tours through some of Europe's finest cities.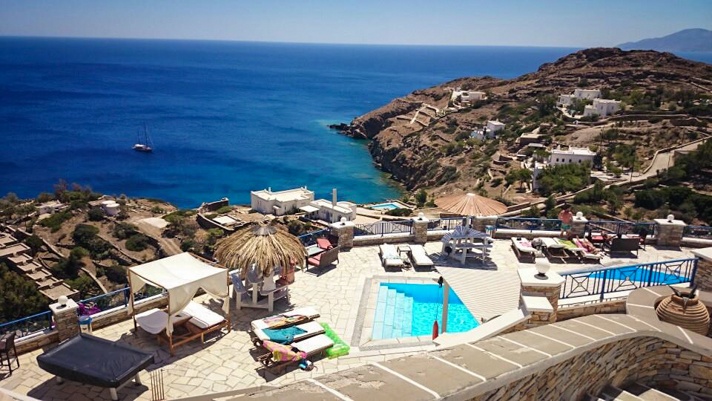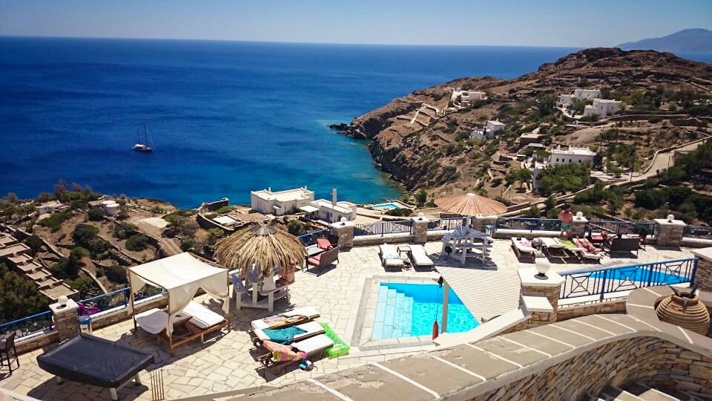 Life Before Work, Intrepid, G Adventures, Contiki and Busabout are a few examples of companies which offer trips with set itineraries to 18-35 year olds, looking to vacation in a group setting with other like-minded and similarly-aged travelers!
Although these agencies still provide fun times, the "trip managers" or "tour guides" have a bit more balance, and a lot more responsibility for these companies. A position with one of these companies, although fun, can be very demanding and exhausting.

How to Get a Job as a Vacation Host
Well, as we've determined, a "vacation host" can work for companies ranging in character and location. Consider these factors in order to narrow your focus- do you want 'girls gone wild'? Wild life of the amazon? Exploring the underground catacombs of Prague? OR exploring the underground clubs of Berlin?
Decide where you'd like to fall on the vacation host spectrum!
Once you've reached this decision, it's time to do some research! Google applicable keywords like "party vacation packages" or "tour guide jobs", google the companies that I've mentioned above, and take the search to Facebook pages while you're at it!
Once you have found your dream employer, look for the "work with us" or "contact us" tab, and apply. Even if you are applying out of season, or if there doesn't appear to be any jobs available…still send an email!
Introduce yourself, demonstrate your interest, show your support toward their vision even before you are working for them, what do you have to lose?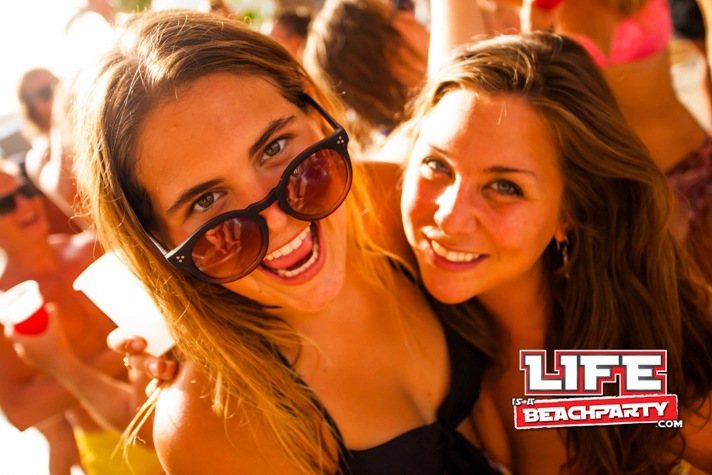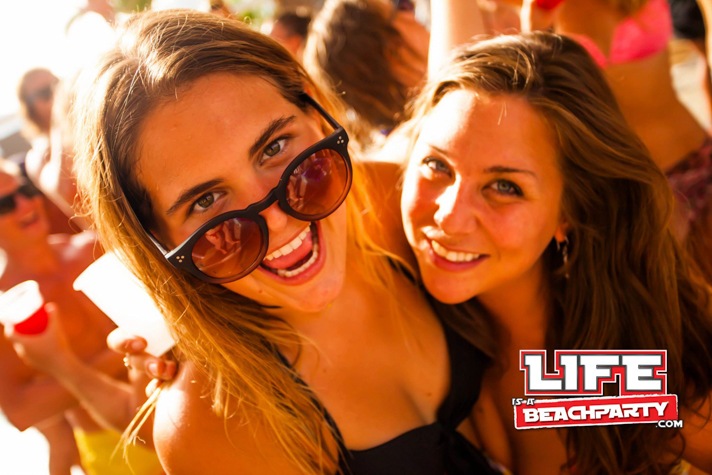 Networking is key – I have no shame when it comes to emailing employers or companies I'd like to work for. For example, even though Life is a Beach Party wasn't hiring, I emailed the founder directly, with a long message exclaiming how much I admire people who are able to create success from something about which they are passionate- which is absolutely 100% true! I am always emailing people or companies that I admire!
After corresponding back and forth, to the point of becoming friends, we eventually worked out a summer job opportunity for me! Success!
You have to be persistent- if these types of jobs were easy to get, everyone would be doing them!
Depending on the type of job you are applying for, make sure your resume is filled with experiences that showcase you as a hard worker, efficient multi-tasker, and socially proficient individual.
You have to be an energetic, enthusiastic, people-person for this type of job, so highlight positions which require that kind of character. I would also mention your ability to adapt, and to handle different roles- anything having to do with marketing, sales, hospitality, service are all relevant types of employment!
In addition to your resume, I would recommend that you write a customized cover letter, in which you can express your interest in a more personal way. As mentioned, by sending a detailed email to Life is a Beach Party, they were better able to understand how interested I was with working with them!
If you want to take it a step further- this idea might only apply to a handful of you that have the necessary experience- consider making a secondary "party resume". I actually have a "party job resume" in addition to my regular resume! HA!
My second resume focuses on my past job experiences in party-oriented roles, such as club promoter, booze cruise leader, bar crawl leader, bartender, and hostel employee. I think it further shows that I am able to balance a professional side and a wild side…which is kind of a requirement for a vacation host!
If you really REALLY want to take it a step further- make a youtube intro video! It doesn't have to be world-class filmography- you don't have to edit it to perfection- the goal is to make you stand out from the sea of other applicants, and to show how committed you are to expressing your interest!
Introduce yourself, let them see who you really are, bring some life to your resume and application!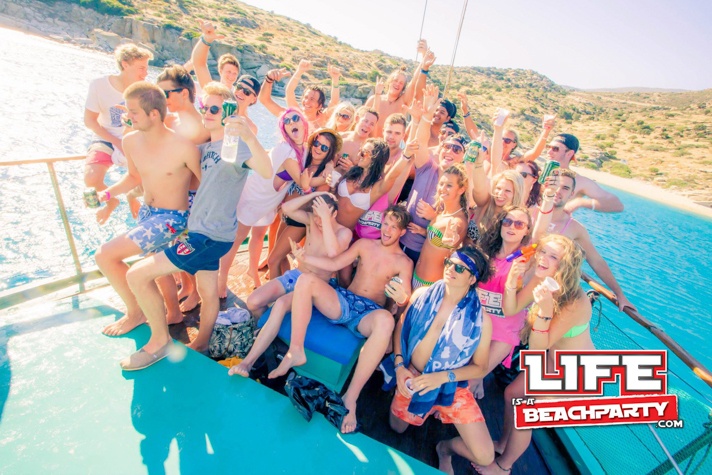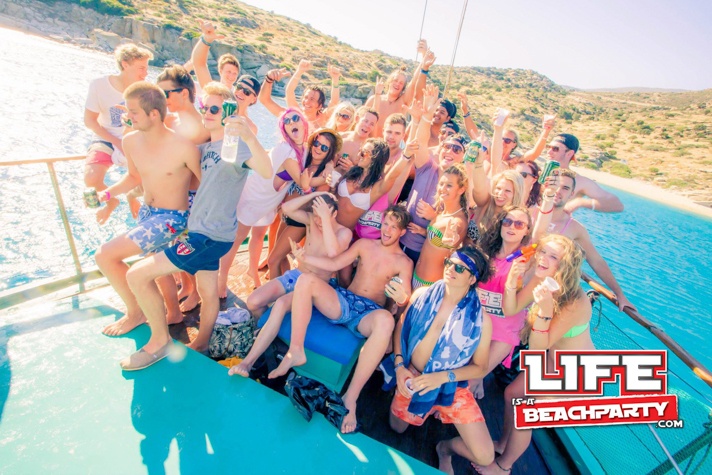 What Qualifications They Are Looking For
As long as you are a hard-working people-person, I think that you're qualified enough! It's all about personality with this role, as mentioned, so just be sure to mention previous employment or personal experiences which characterize you properly for the job.
For companies like Contiki and Busabout, the right candidates will be provided with training.

Availability & Pay as a Vacation Host
MANNNNN come on! It's not about the Benjamins! You are living the dream, remember that!
Well…you do get paid, but don't expect a whopper of a paycheck- the perks of the job are pretty great though. Payment depends on the company you work for so it is difficult for me to answer this question…but I can try!
If you are a Spring Break destination staff member for example, you will have a free vacation out of the deal! You also can get commission for trips that you sell, and depending on the company, may have a wage as well.
With my job at LIABP, I got a small weekly wage, but had free staff accommodation, parties, activities and free or discounted food and alcohol everywhere in Ios.
For more profitable and professional tour companies like Busabout and Contiki, you will have an actual salary… but it will be low. Tour guests are expected to tip, and you can also expect your travel expenses, food, etc. to be covered.
As for availability, these positions are seasonal for the most part. Availability will be in line with popular vacation dates, in accordance with good weather of a given destination.

If you would like to see more information on finding a Vacation Host job, feel free to take a look at my follow-up video: 
Watch Ana's Vacation Host & Trip Manager Guide here!