Let's face it—travel creates some obstacles to your fitness routine. Traveling with extra workout clothes and equipment isn't always an option, and who has time for the gym when there's a foreign cobblestone street calling your name?
But keeping fit on the go doesn't have to be a chore. I've compiled some awesome exercise essentials that are travel-friendly, and you can easily incorporate videos, routines and a quick jog in the park into your daily travel schedule. Problem solved!
Here are my favorite travel-friendly workouts for girls on the go!

Do POUND Fitness
POUND is cardio 'jam sesh' inspired but the energizing and heart pumping fun of playing the drums. Using their lightly weighted drumsticks, specifically made for their exercise routines, the workouts transform drumming into an incredibly effective way of working out on the go.
So, toss a few DVDs from POUND's Rockout Results System in your suitcase. This workout is a quick way to burn calories, strengthen muscles, and sculpt your body for a leaner physique with its yoga and pilates-inspired movements.
Each set includes nine badass workouts, more than 50 recipes, and even a fitness journal for those busy travel days!

Stream Yoga Classes
You can do Yoga anywhere by streaming videos from world-class instructors in the comfort of your hotel room. It can be a great way to unwind after a long day, stretch after a long flight, or just relax and get ready for the next day of adventure.
My favorite is Yogaworks's online collection includes more than 800 classes available 24/7, including of my friend, Caley's classes!
A subscription is just $15 a month and comes with a free 14-day trial, so you can test it out!

Blogilates YouTube Channel
Step into the world of Pilates with the Blogilates YouTube channel—the #1 all-female fitness channel. Blogilates is led by certified fitness instructor Cassey Ho, and you'll find a variety of videos such as "Wake Up with Me Workout" and "Quick Cardio Booty Blast" to keep your fitness goals on track.
There are so many videos to pick from, I'm sure you'll find one that will challenge you!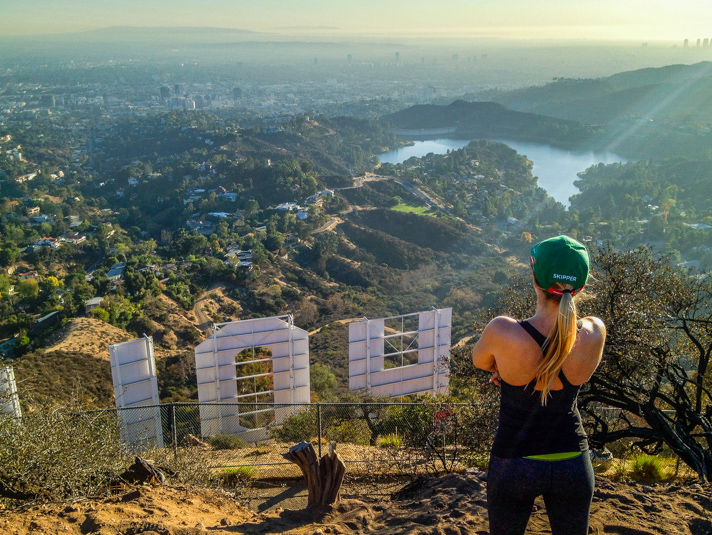 Get Outside!
One of the best ways to explore your new city is by going for a run first thing in the morning. You're exercising while checking out your new surroundings—all while the rest of the city sleeps. Head over to a large park if there is one, or ask the Front Desk where they would recommend!
It's the perfect way to get a refreshing workout and explore your temporary home!

Use Free Workout Apps
Here are a few free and popular apps to help you stay fit on the go.
Nike+ Training Club offers more than 100 workouts by Nike pro athletes and master trainers. You can also track your efforts by number of workouts, minutes, and average calories burned.
Workout Trainer

offers more than a thousand videos from hundreds of instructors. Each video has step-by-step audio instructions to keep you going.

Get fit with Sworkit

by creating your own targeted routine. Select whether you want to build strength, increase flexibility, power through some cardio, or sweat it out doing Pilates—the app will customize a routine of specific exercises designed to help you meet your goal.