"Kicking the Cubicle" is a brand-new weekly interview series on The Blonde Abroad featuring women around the world sharing their inspiring pursuits of dream-worthy jobs, how they got where they are and what a day in their shoes looks like. This week, founders of the fitness phenomenon, POUND: Rockout. Workout., Kirsten Potenza, 29, and Cristina Peerenboom, 28, share their story.
Drumming enthusiasts and fitness pioneers Kirsten Potenza and Cristina Peerenboom don't want you to workout. They want you to rock out. That's exactly why they created POUND: to make fitness as empowering, aggressive, addicting and fun as sitting behind a drum kit and jammin' out!' Thanks to the combination of POUND's lightly weighted drumsticks, Ripstix, easy-to-follow choreography and tremendous results, drumming is now "the rock star of the fitness world" (New York Times).
I first met Kirsten a few years ago, when POUND was just getting started, and it has been such an inspiration watching these girls grow a fun idea into a fitness phenomenon celebrated by women (and men) around the world. As women that have translated their passion (and rhythm!) into a successful business, Kirsten and Cristina are exactly the sort of female entrepreneurs I am excited to hear from.
[youtube id="BOMm_LLrGzQ" width="70%" height="40%" autoplay="no" api_params="" class=""]

Kirsten and Cristina, you've become a major inspiration in the fitness world, creating a program that seeks to inspire confidence, self-improvement, and freedom from the ordinary. Where did your journey as a fitness experts and POUND founders begin?
Our story both personally and professionally, was born out of struggle.
We lived in a world where the female body had be to perfected (as if something was ultimately wrong with it), and where being a successful woman, often times came with a few other names we won't mention.
When we couldn't find the solution to the many struggles we were experiencing, we decided to create the solution. We spent hours, days, months, exploring all of our options, testing everything we knew – and everything we wanted to change. We spent a few years struggling…hard… living off of Trader Joe's samples and searching for quarters in couch cushions.
Once we saw what POUND was doing for us, we knew what it could do for the rest of the world – so we set out to change the way people viewed their bodies and fitness. We wanted to create "alternative" fitness that changed the experience people had with their bodies, food, friends and life in general. We believed it could be positive and empowering, so we set out to make others believe.
Kirsten, before founding POUND you were a self-acclaimed 'workaholic', and Cristina, you were an 'obsessive compulsive fitness freak'; what career paths were you guys on, and how did you transition to the "POUND" philosophy?
K: I grew up as what my mom called a kid-preneur. I had a gift shop in my backyard at the age of 5, with my own business cards, selling homemade potpourri and puzzles. I was always intrigued with how businesses worked, so running one was a goal from a very young age. The problem I had as I entered the job market was that I had WAY too many interests. From the fashion industry, to events, to hospitality, to non-profits, to the music business — you name it, I tried it! I loved little aspects of every industry, so I naturally infused each and every one into our business. POUND is now a lifestyle brand that highlights new music, style, cooking and philanthropy — and it's a community shared by our #poundposse around the world.
C: It's funny, that when you want so desperately to be fit, you gravitate towards a career in fitness. That's why, when I moved to LA, I continued on as a personal trainer but, to my dismay, I also was working in sales at a gym. My true passion was integrating wellness strategies with science, music and movement but, my favorite part of fitness was the creativity, brand strategy, and copywriting that building a fitness brand allowed. So, "fitness" was really a simple way to dabble in entrepreneurship. I always longed to create something new in the world of fitness — a different method, a different philosophy. And when Kirsten and I saw POUND begin to materialize — and work — it was just the shift that needed to happen to show us that POUND could not only be an incredible workout, but our perfect career.
A large part of the POUND philosophy is centered around self-improvement. What would you say has been your own biggest self-improvement throughout the growth of your business?
K: Before POUND, I was very stubborn and headstrong. I knew what I wanted, and I did what I wanted, without much consideration for anything else. And although this "tuff around the edges" approach got me far in life, it also isolated people. Throughout the last few years, I have opened up, softened (a little) and, in turn, let people into my life and learned what it really means to be accepting and open emotionally. I've also learned to trust myself and let my gut lead me (it always knows best).
C: Before POUND, it was really tough for me to commit to one thing (like REALLY tough). I had a "fear of settling down," a resilient fear of picking a career that was not right for me, rotting behind a desk or selling things I didn't believe in. I wanted to write, to dance, to study, to discover, to create, but I hated the pressure of choosing just ONE of those focal points. Through POUND, I've been able to choose just one, because POUND encapsulates ALL of my favorite things. I've also gotten incredibly resilient, and anything that I would normally complain about in the past seems like absolute cake now. But, perhaps that's just the aging process, not POUND.
As friends and business partners, how do you balance both relationships and work together to run POUND?
K: This took a while. We struggled with boundaries when we started POUND and realized (through many ups and downs), that balance was the key to our health and happiness as business owners and as friends. Practicing what we preach is HUGE for us, so we always either keep each other in check, or choose people to be in our lives that will. Our friends are more like family.
C: The amount of time Kirsten and I spend together is unheard of. Hands down, we see each other more than we see our significant others, times ten. We know everything, personally, mentally, and physically, that each of us has gone through to make POUND work, and that's given us a special bond– a sense of "knowing"– that helps us relate on a deeper level. We are closer friends because of POUND but, more significantly, we have a different type of friendship because of POUND. It's more like we're parents together. Seriously. We sacrifice our comforts for POUND. We abandon our selfishness. We encourage each other to excel and succeed. This type of friendship could have only come about through experiencing something like we have together, and I'm so incredibly grateful for that.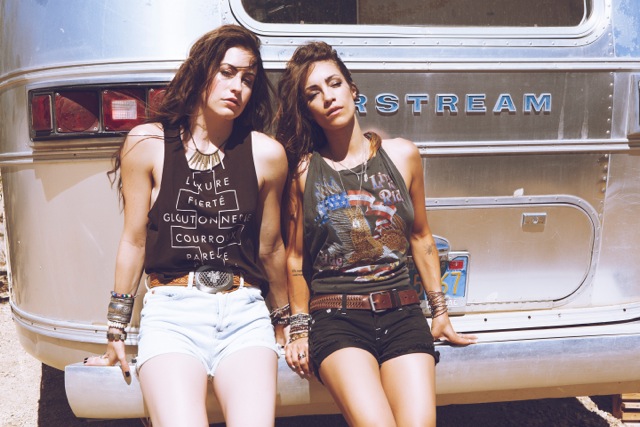 What is your typical daily routine and work schedule?
We travel A LOT, so when we get a full week in the office, it feels like a stay-cation! We usually wake up early, spend some time with our boyfriends (before they go surfing together!), grab a Starbucks iced green tea and then head into our office. The day is either filled with a ton of phone calls or creative work; like planning our next launch; special projects; filming instructor tracks or tweaks for our Pound Posse. We have a lot of different branches in POUND, so we stay busy balancing everything day-to-day. The evening usually ends around 7 – 8pm, where we either take work home, enjoy a workout or grab a drink / dinner.
What have you found most challenging about owning your own business and developing a fitness brand?
K: Time management and life balance. I tend to "go all in" with everything I do (which I always thought was a good characteristic to have) but over the last few years, I have realized that if I don't force downtime and give myself a chance to recharge, I'm not going to be giving my best self to POUND and everyone around me. BALANCE is the biggest challenge. It will never be fully mastered, but I try to consciously stay aware of it and it is something I am always working to improve.
C:  Developing our brand has been an exhilarating test of persistence, resilience, and patience. The true challenge, for me, is being at peace with the realization that we OWN this company. We have freedom but, we have no freedom at the same time. Vacations, days off, free time, and even setting a movie date with a friend have become a bit impossible at this time, since we're always sprinting at full force. The challenge for me is embracing that as often as possible.
On the flip-side, what do you love most about what you do?
K:  Everything. Honestly, I love everything about this job and the life I'm living. I wouldn't change a thing. Every struggle has been a life lesson and every high has been a huge high– five from the universe, telling me that we are doing something right. I am very grateful and will always be, no matter what life throws me.
C: The same exact element that is my challenge is also what I love most: freedom. We get to spread a vision we truly believe in, one that is the driving force behind everything we do. We don't have to pretend. We don't have to sell something that isn't true to us. We create and improve, day in and day out. That's incredible! Each time we go on a trip, like a few weeks ago to Berlin and Newcastle, I think, "We are on a business trip…for a business we created!" It's pretty unreal, in that sense.
What motivates you, and inspires you, to keep developing your business and spreading the POUND phenomenon?
K: I don't think I've ever admitted this (publicly), but when I met Cristina and we started POUND, I was working at a non-profit organization that connected at-risk children in the United States with kids in third world countries. I loved the job because I felt like I was giving back in a meaningful way. But when POUND started taking off, I had to make a decision to leave that – and it was a hard one, because I felt like I wouldn't be giving back. What I didn't realize, is that POUND would end up changing peoples lives. From instructors reviving their careers and turning their businesses around, to students finally finding a place to fit in – I realized that we created a place where everyone can feel confident. Now, we're on a mission to make everyone in the world feel like a badass! Cristina and I are rebels. And now, fitness rebels around the world finally have a place to call home!
C: Knowing what POUND means to people: that's what keeps me going. It's self discovery, weight loss, community. It's "eff dieting — I do POUND." It's the way Kirsten and I stay in shape. It's learning that your body is designed for so much more than just looking good. It's all of these things that make it so real. It's real, and that's why we will continue to nurture it and the people that make it possible.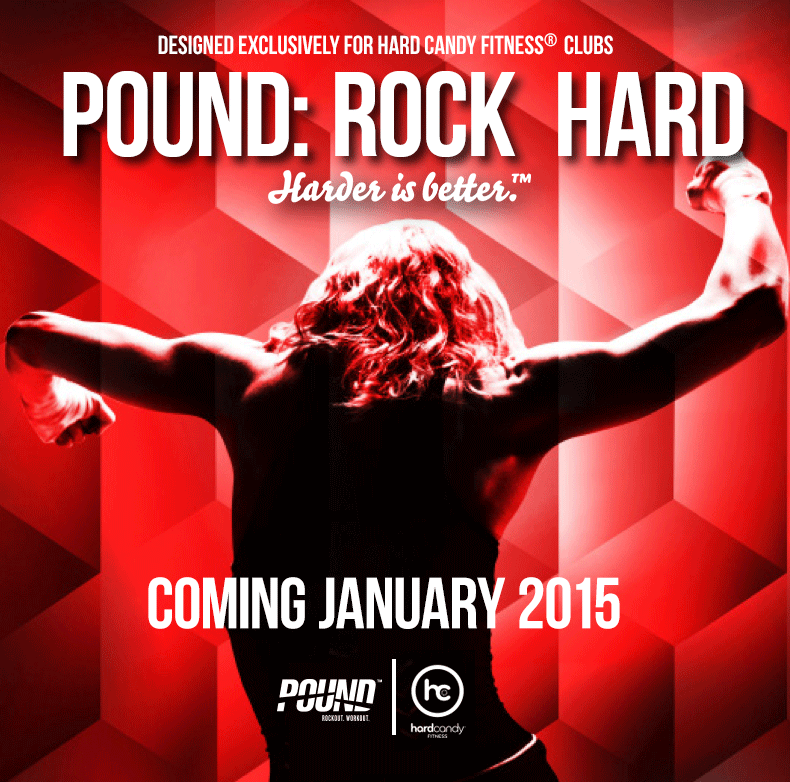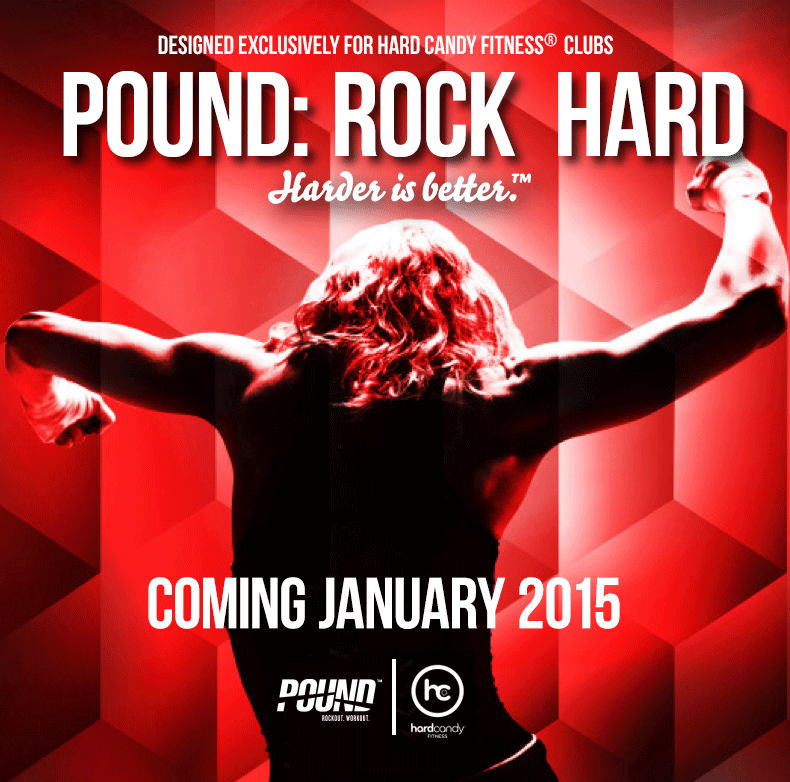 What does success look like to you?
K: To me, success is living your life the way that YOU want to. Making decisions that make you happy, that fulfill you and that will positively affect the people around you. It has nothing to do with money, or material possessions. It's very easy to pick out the people (and companies) that are driven by money. From day one, we have stayed true to what we believe in. We know, deep down, that if we try to sell something we don't believe in, we are doing a disservice to ourselves and to the world. And if that is what "becoming successful" means in society's eyes, then that's awesome, but we'll be happily unsuccessful and know that we remained true to our beliefs.
C: Success is saying, "I don't know, and always enjoying knowing that you'll never know." Some of the most successful people I've met are the first to admit when they're wrong; the first to admit that they're at a loss. And it seems that through this, they end up successfully learning, growing, and improving more than your average Joe. That seems like a successful path, to me.
What are you working on now that you are particularly excited about?
We're launching a brand-new POUND DVD in January. It's more than a DVD, it's the entire brand wrapped into one sweet, sweet, kit. We developed a new approach to nutrition, a fitness guide and a 60-day program that anyone can conquer. It's a project that we've poured our hearts and souls into for the past year and we're really happy to finally share it with the world at the end of the year.

Lastly, a few fun questions!
What did you want to be when you grew up?
K: A fashion designer, artist, interior designer, musician, business owner, chef… Ugh I couldn't ever choose.
C: I wanted to be an astronomer or a field scientist specializing in drawing lizards. Or a dancer. Or perhaps a newscaster. Or sculptor of mugs. Or a painter, like Bob Ross. (No, I could not make up my mind. Yes, I really wanted to do all of those things professionally. My poor parents.)
If you could go anywhere in the world, where would you go?
K: I want to visit the treehouse in Swiss Family Robinson… and live there.
C: I really want to go to the Amazon Rainforest- mainly to see the pink, creepy river dolphins.
Song that has you dancing:
K: What's the Time Mr. Wolf by Southside of Bombay
C: Get Low by Dillon Francis & DJ Snake
Quote that keeps you smiling:
K: "When I was 5 years old, my mother always told me that happiness was the key to life. When I went to school, they asked me what I wanted to be when I grew up. I wrote down "happy". They told me I didn't understand the assignment. I told them they didn't understand life." – John Lennon
C: "Everyone you meet knows something you don't." – Bill Nye

I personally cannot wait for the new POUND DVD to be released in January. Talk about a travel-friendly workout!
Find a POUND Rockout Workout class near you using their Class Finder!
You can find more information on the POUND website or find daily inspiration on The POUND Girls Instagram.