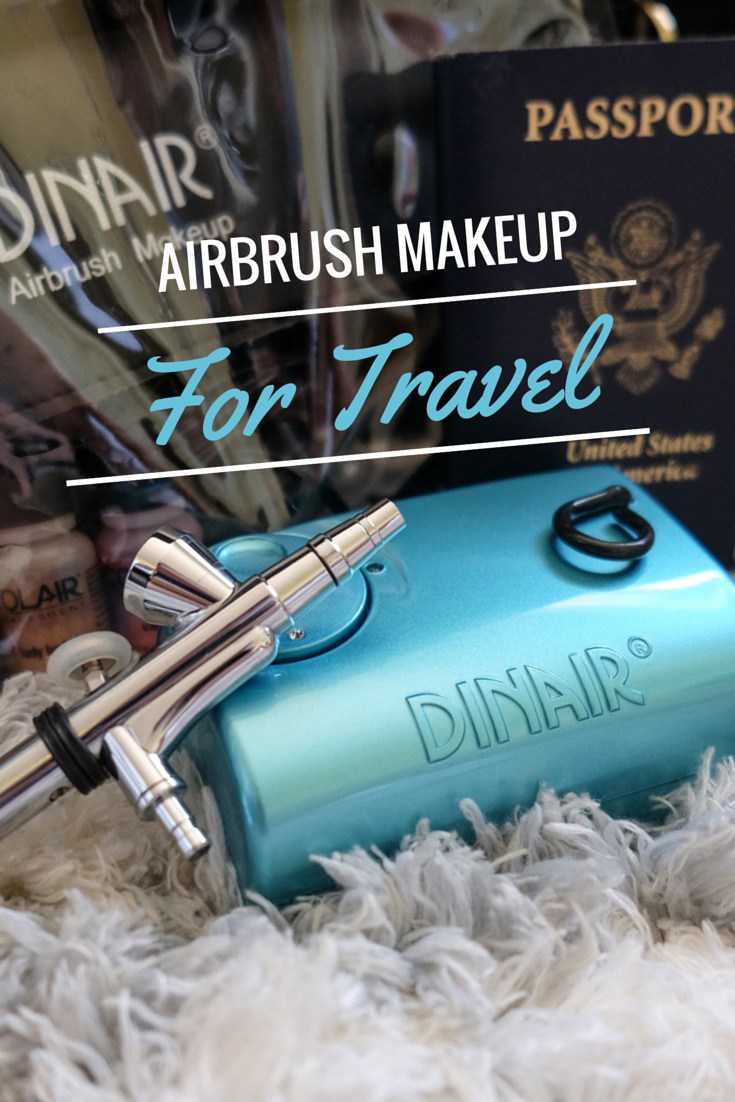 As someone who travels about 9 months out of each year, my beauty routine has gone through a series of overhauls. I tried limiting my creams, gels and powders on my trips and I tried switching between just about every brand and product out there. But, I was always compromising on my beauty routine.
That was, until I discovered Dinair airbrush makeup for travel!
[youtube id="JcsBpvg-c0w" width="712″ height="401″ autoplay="no" api_params="" class=""]

Before I used airbrush makeup, I thought you needed to be a professional makeup artist and that the machine would be over-sized and bulky. I knew it provided superior coverage to any other type of foundation, but I couldn't imagine that it would ever fit in my luggage, let alone my purse or carry-on.
When I recived my Dinair Personal Pro kit, my jaw nearly dropped to the floor!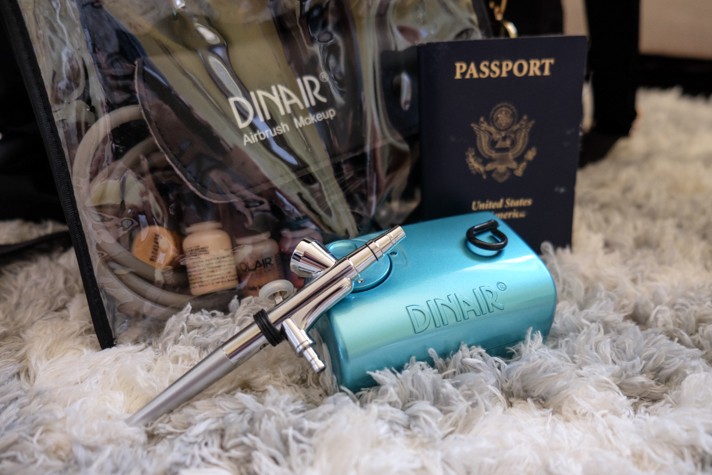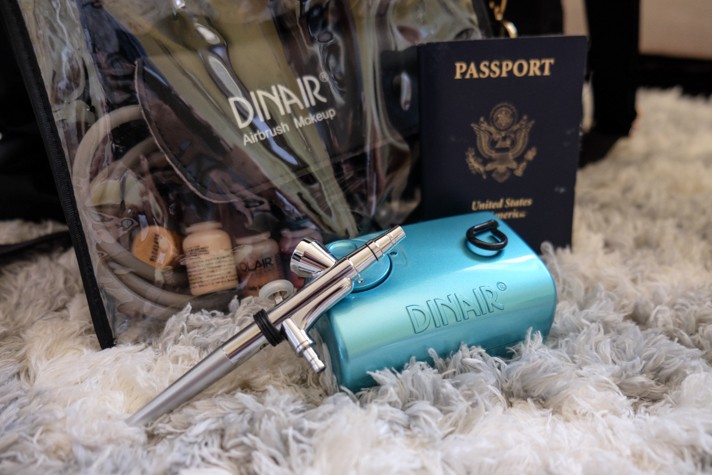 The air compressor was smaller than my hand (and even my passport) and the bottles of makeup were smaller than my pinky finger! Within a couple of foolproof test runs with some practice makeup included in the kit, I was ready to pack my airbrush makeup with me on my next trip.

– – – Benefits of Airbrush Makeup for Travel – – ✈
One of the most important things for me, when considering makeup for travel, is compact size, a quick and easy routine and all-day coverage.
Fast application during your trips so you can get out there and explore.
Small-sized compressor and makeup bottles for easy flight carry-on. Mix to make your perfect foundation shade or premix before your trip to minimize makeup bottles. Multi-use shades allow you to use foundation, blush or bronzer as a shadow, contour, or highlight.
No need for touch-ups. Simply use oil blotting paper during the day to reduce shine.
Snap-On power adapters featuring international removable parts (i.e. Euro, Aus, UK, and US).
Optional battery pack add-on (for camping, remote areas without outlets, etc.)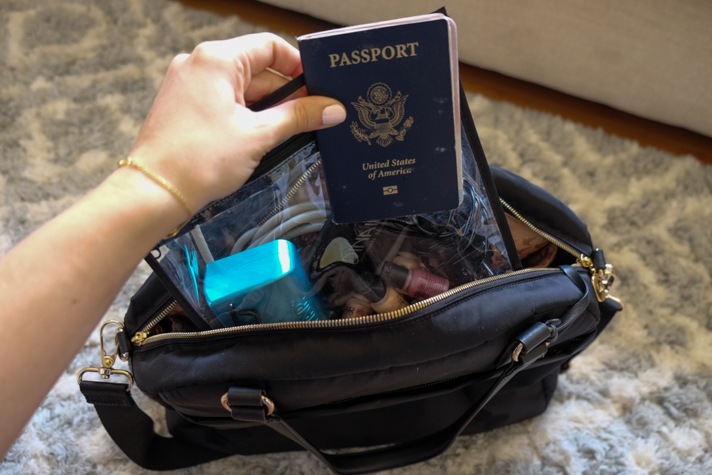 – – – Benefits of Dinair Airbrush Makeup – – ✈
As someone with acne-prone skin, I have to be cautious of the makeup I put on my face. Airbrush makeup eliminates the use of brushes, making your beauty routine more sanitary, and oil & bacteria free.
Flawless coverage (from sheer to opaque) and minimizes skin imperfections
Noncomedogenic & Hypoallergenic
Water-based formula. Oil, Silicone, Talc and Paraben Free.
Rub Proof & Water Proof
Touch-free application, no brushes or sponges necessary. Sanitary and Germ Free.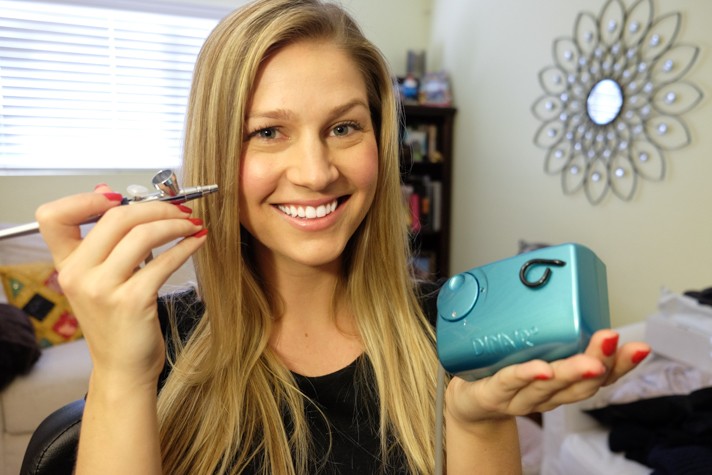 – – – What's Included – – ✈
I have the Personal Pro Airbrush Makeup kit which came with an assortment of makeup including foundation, blush, eyeshadow, eyeliner and even a "blonde" shade for filling in my eyebrows!
All-in-One 8 Color Palette
Foundation, Blush, Eye Shadow and more
Eyebrow stencils
Airbrush Cleaner (4oz.)
Spray-on Moisturizer

I just returned from a 2 week trip to Whistler where I used my Dinair airbrush makeup each day and I cannot be more excited about my new beauty routine. I can get ready in about 5 minutes with flawless, natural-looking coverage that lasts all day – even if I'm snowboarding or dogsledding!
Order your own Dinair Airbrush Makeup kit and get 20% off (for a limited time)!

[checklist icon="fa-map-marker" iconcolor="" circle="yes" circlecolor="#53c3b5" size="medium" class="" id=""] [li_item icon="fa-building"]My Dinair Airbrush Makeup Kit: Personal Pro[/li_item] [li_item icon="fa-money"]Cost: $99-$299 (depending on the kit)[/li_item] [li_item icon="fa-info-circle"]Get 20% Off: Use the code TheBlondeAbroad (case sensitive) to receive 20% for a limited-time on a Personal Pro (value $199) or Studio Pro (value $299) kit. (Valid: January 20th, 2015 – May 31st, 2015)[/li_item]
[/checklist]

Special thanks to Dinair for gifting me a Personal Pro makeup kit and helping me improve my travel beauty routine. As always, the content & opinions expressed here are entirely my own.