From mulled wine by the fire to ice skating under the stars, there's nothing better than being in San Diego for the holidays. Now that I'm based in San Diego full-time, I've fully embraced the festive season by the sea!
While we might not see a white Christmas, there's no shortage of yuletide cheer in San Diego — and you can have your pick of the lot when it comes to things to do during Christmas in San Diego.
In fact, people here are so excited to get their chestnuts roasting that the best Christmas events in San Diego tend to book out weeks (often months) in advance.
So, pick your faves, bookmark this page, and be ready to hit the ground running. Here are the jolliest activities and merriest Christmas events in San Diego!


The Rady Shell
One of the most unique and incredible holiday experiences is attending an event at The Rady Shell. Year-round, you'll find amazing performers and movie screenings.
What makes the movie screenings so special?
The San Diego Symphony Orchestra performs live to the film!
One Christmas, we saw Love Actually at the Rady Shell. The orchestra performed on stage while the movie played on multiple megascreens.
This year, we are taking the whole family to see Noel Noel — a family-friendly holiday performance. They'll even have The Nightmare Before Christmas on the night before Christmas Eve.
You can choose a table seat, but I honestly prefer the least expensive lawn option. Bring chairs and blankets to sprawl out and cozy up!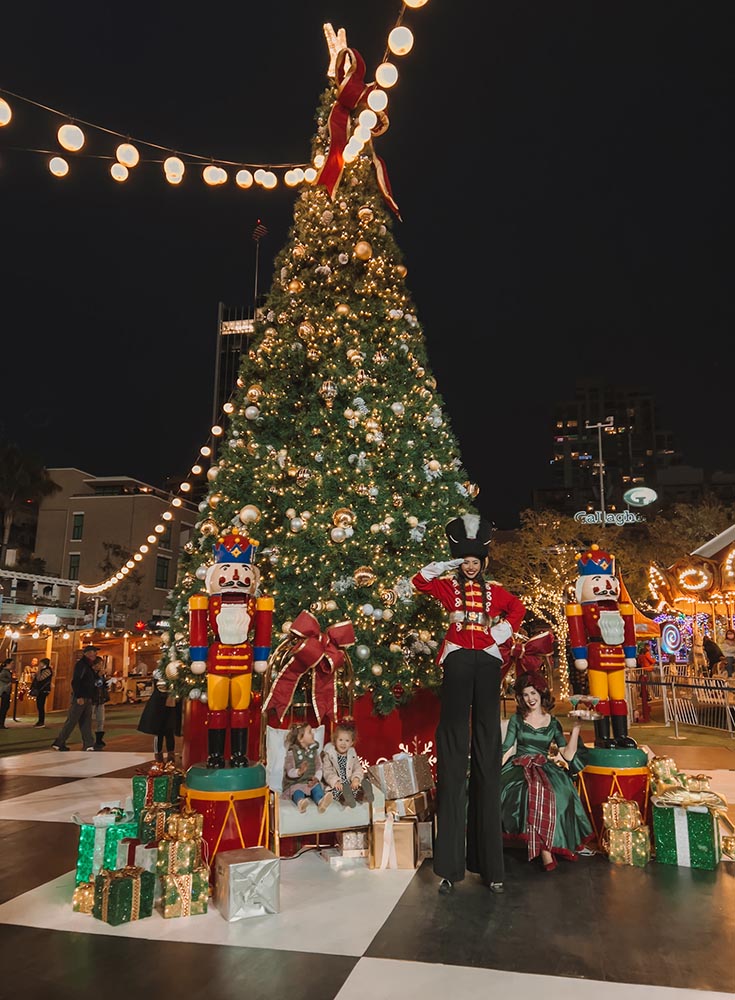 Petco Park Christmas Market
Note: Due to the Gallagher Square renovation, the Petco Park Christmas Market is TBD for 2023
Perfect for all ages, the Petco Park Christmas Market is a much-loved spot, and exploring it is the perfect way to get into the holiday spirit.
After exploring the Christmas markets of Europe, there's nothing I love more than taking in fragrant holiday recipes and walking amongst the glittering lights.
Fortunately, you don't need to cross the world to experience a traditional European market. In Gallagher Square, you can soak in the warm and cozy vibes of a classic Christmas market.
Find the perfect gift for someone special amongst the endless array of local and European artisan goods. Treat yourself to all of your favorite holiday drinks and sweets. If you've got little ones along or are just feeling nostalgic, get a pic snapped with Santa and the elves.



Candlelight Symphony Concert
Fever is one of my new go-to apps. Whenever I'm looking for a fun day out or a new experience, I browse the latest and greatest from Fever.
One of my best winter experiences with Fever has been the Candlelight Symphony Concert.
Check their listings to see what they have on offer — the one I went to was located in the old church at Liberty Station. This is perfect for a date night or a fancy night out with the girls!



Photos courtesy of So Cal Railway
Polar Express Train
This is probably the most "legit" Christmas train ride experience, but note that it's in Perris (about 2 hours outside of San Diego). I only mention it because this was a huge bucket list activity for our little one's first Christmas (as a toddler), and we wanted to do the "best" experience.
Based on the magic of The Polar Express book and movie, this one-hour trip to visit Santa is genuinely magical. As soon as you hop on the Polar Express Train, you'll have your golden ticket punched.
As you make your way to the North Pole, you'll sip hot chocolate and munch on cookies while you read along to the classic Chris Van Allsburg's book The Polar Express.


Photo courtesy of the Pacific Southwest Railway Museum Association
North Pole Limited
The North Pole Limited is a must for any kids in San Diego over the holidays. Arrive at Campo Depot at least 45 minutes early to explore the park and check out the gift shop. If you have time, the Hobo Camp next door is also worth visiting. It'll give you a deep dive into the railroad's history.
When you're ready to board, you'll head into the beautifully restored waiting area.
Once onboard the North Pole Limited, you'll listen to a popular Christmas story and get to join in singing Christmas carols. The train makes a pitstop at Santa's Workshop to pick up Santa and Mrs. Claus, who will both visit with all the passengers on the way back to Campo Depot.
The train ride lasts around 90 minutes or so (depending on how many passengers Santa needs to visit with!).

Photo courtesy of the North County Transit District (NCTD)
Coaster Holiday Express
Note: This train ride has very limited dates, so book as soon as tickets go on sale (most likely in October)!
Guests board with Santa in Oceanside for a magical experience as the COASTER Holiday Express train travels down the California coastline!
Santa Claus and his merry carolers will be on board for the hour-long trip full of fun with songs, storytelling, gifts for children, and Santa's wish list!

Photos courtesy of San Diego Zoo
Jungle Bells at the San Diego Zoo
This is one of the best all-ages holiday celebrations in San Diego. The magical 3D projections, lighting displays, and entertainment will make it one of your best nights out over the holidays.
Be sure to come hungry to sample all the best holiday treats.
If you have a membership, a visit to Jungle Bells is included. It's also free when you buy any admission, so you can come earlier and make a full day of it.

Hotel del Coronado decked out for Christmas

Skating image courtesy of Hotel del Coronado
Hotel del Coronado
This iconic hotel is another dreamy night out for all ages. Choose your adventure and make an evening of it.
For a romantic date night, book the Frostbite rinkside fire pit dining. Strap on your ice skates and create a different kind of beach memory at Skating by the Sea.
They do a light show on the Founders Lawn with "snow" every 30 minutes from 5-9 pm nightly Nov 17-Jan 7, 2024 (no reservations needed and open to the public).
We also book our photos with Santa here every year! It's a beautiful evening out for the whole family and a great Santa for photos.
The entire property is beautiful, so plan extra time to sit out and soak it all in.

See The Grinch Musical at the Old Globe Theater
Welcome to the whimsical world of Dr. Seuss! This fun musical is based on everybody's favorite winter read: How the Grinch Stole Christmas.
From You're a Mean One, Mr. Grinch to Santa for a Day, you'll be singing your heart out all night as you hear the classics performed live.

December Nights in Balboa Park
During December, there are enough free all-ages events to keep you busy every night of the week.
This year, Balboa Nights will be held Dec 1st and 2nd.
Celebrate the spirit of the holiday and enjoy Balboa Nights' amazing Family Zone with free photos with Santa, lights displays, musical performances, attractions, delicious food, and more.

Photo courtesy of Rooftop Cinema Club
Rooftop Cinema Club
Enjoy the ultimate open-air cinema experience near the San Diego coast! The stunning skyline views can't be beaten, and with a December holiday line-up featuring tons of classics, you may find yourself wanting to go back again and again…
Check out the movie screening calendar, then book early. This is an ultra-popular location every holiday season, and every show tends to sell out.
They even have dog-friendly "Wooftop" events so that you can bring your furry friends!

Photo courtesy of San Diego Bay Parade of Lights
San Diego Bay Parade of Lights
We do things a bit differently in San Diego! Forget wandering the snowy streets and admiring the light displays (though that's most certainly worthwhile here as well!). Here, we hit the beach! Experience the San Diego Bay Parade of Lights and take in the nearly 100 boats that light up the harbor.
This year, the event will take place on two evenings on  December 10 and December 17, 2023.
The parade takes approximately one hour to one and a half hours to pass any given point along the parade route.  The approximate arrival times of the parade at various locations are:
Shelter Island (start of parade)   5:30 p.m.
Harbor Island                                      6:15 p.m.
The Embarcadero                               6:45 p.m.
Seaport Village                                    7:15 p.m.
The Pier at Cesar Chavez Park         7:30 p.m.
Ferry Landing on Coronado             7:45 p.m.



Legoland
What kid doesn't love Legoland? Whether you're building your very first Lego collection or are just a kid at heart, you're going to love this place. Explore the wonders of what can only be described as art (yeah, I called Lego art!).
For you true fans out there, make an adventure of it. Go for the 2-Day Hopper Tickets and spend the night in a Lego-themed room. Get exclusive early access to the LEGOLAND Park, in-room treasure hunts, and nightly live shows. Photo courtesy of Trolley Tours
Trolly Lights Tour
Find out how San Diego earned the nickname America's Finest City. When you hop on a holiday trolley tour of Old Town, you'll discover the best of the city at its very best. Soak in the glowing lights of the city while you sing your heart out to your favorite Christmas carols.
Your elf conductor will make a quick stop at Seaport Village for a hop-off tour, then you can jump back on and see the best of Old Town, Embarcadero, Seaport Village, Balboa Park, and beyond.

Photos courtesy of TeaTime Magazine
Christmas Tea at Westgate Hotel
Forget eggnog! At the Westgate Hotel, you can celebrate Christmas with a festive tea party.
Go for afternoon tea and enjoy the artisanal teas and homemade baked goods. You can get a fragrant cuppa on dates throughout December, so check the calendar to find a date that works for your tea party crew.
Afternoon tea with light bites is $52 for adults and $30 for kids.

Cesarina Decked Out for the Holidays
Tree Lighting Ceremonies & Food
If you have time, check out one of the many tree-lighting ceremonies — from Liberty Station to Little Italy.
Little Italy has some of the best restaurants in San Diego, and it's absolutely at its prime over the holidays.
In the neighborhood of Point Loma, check out one of my favorite restaurants: Cesarina! You'll absolutely need reservations for this very popular authentic Italian hot spot, but it's a must! And it's so cute when it's decked out for Christmas.

Ready to plan your dream San Diego escape? I've got you covered!
Grab my ultimate San Diego guide and start planning!