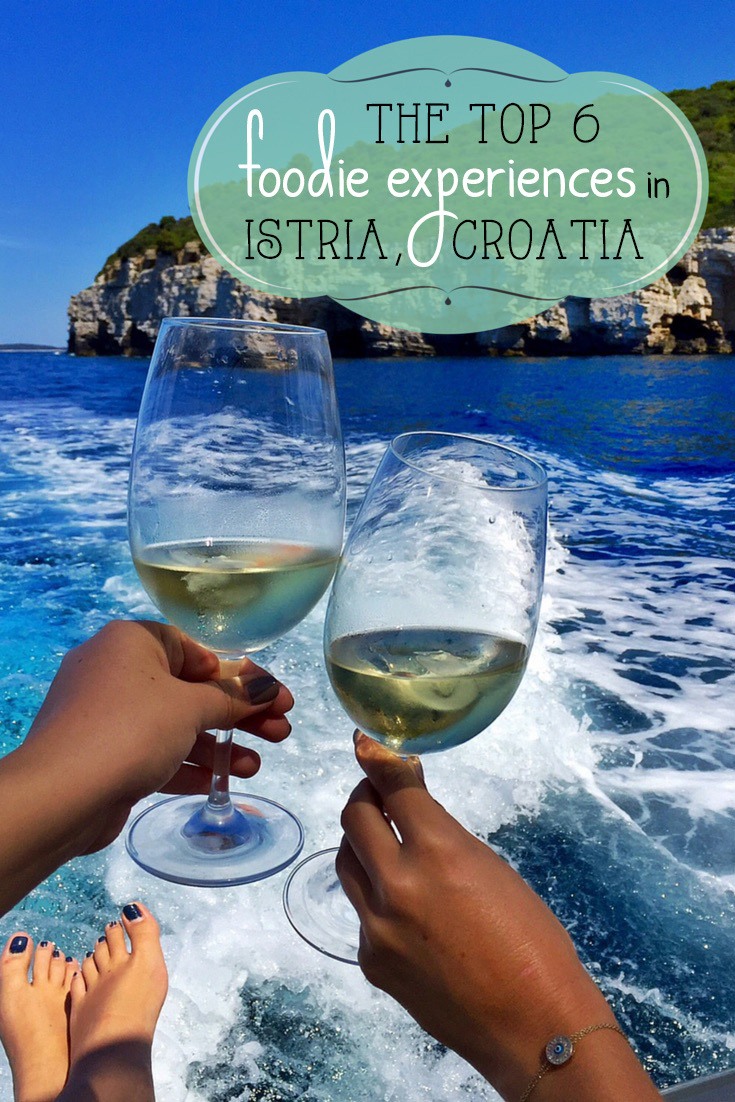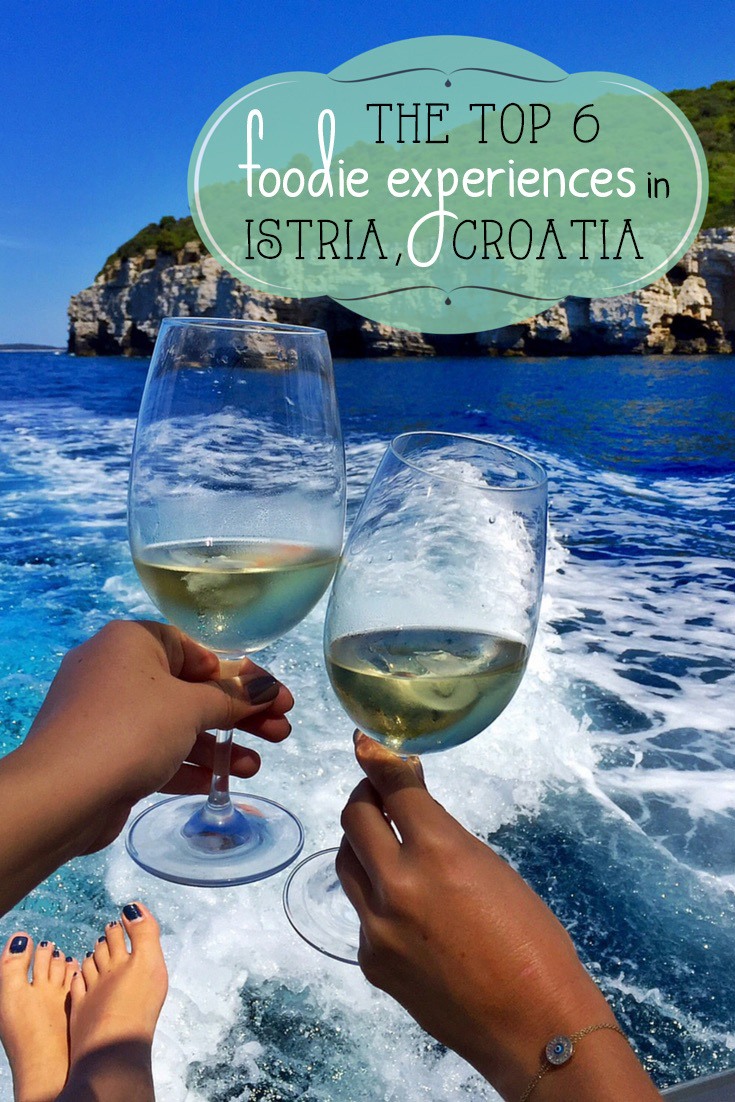 Known for its gastronomy tourism, Istria offers fresh seafood and vegetables, hallmark Istrian olive oils, signature Malvazija wines, and a myriad of delicious and beautiful culinary works of art.
Everywhere you go, you can find gourmet cooking using local sourced ingredients!
Istria is a large, triangular peninsula region of Croatia that points down into the northern Adriatic Sea, and borders with Slovenia and Italy.
Given Istria's vast history and natural resources, there are a lot of Austrian, German, Slovenian and predominantly Italian cultural influences that can be heard in their language, and of course, seen in their food.
The standard is to start your meal with the a selection of Istrian olive oils and breads, then enjoy a numerous amount of delicious courses, and end with a coffee (in some cases a double cappuccino because you need an energy boost for your next adventure)!
Here are some of the finest gastronomical and foodie experiences in Istria!

Meneghetti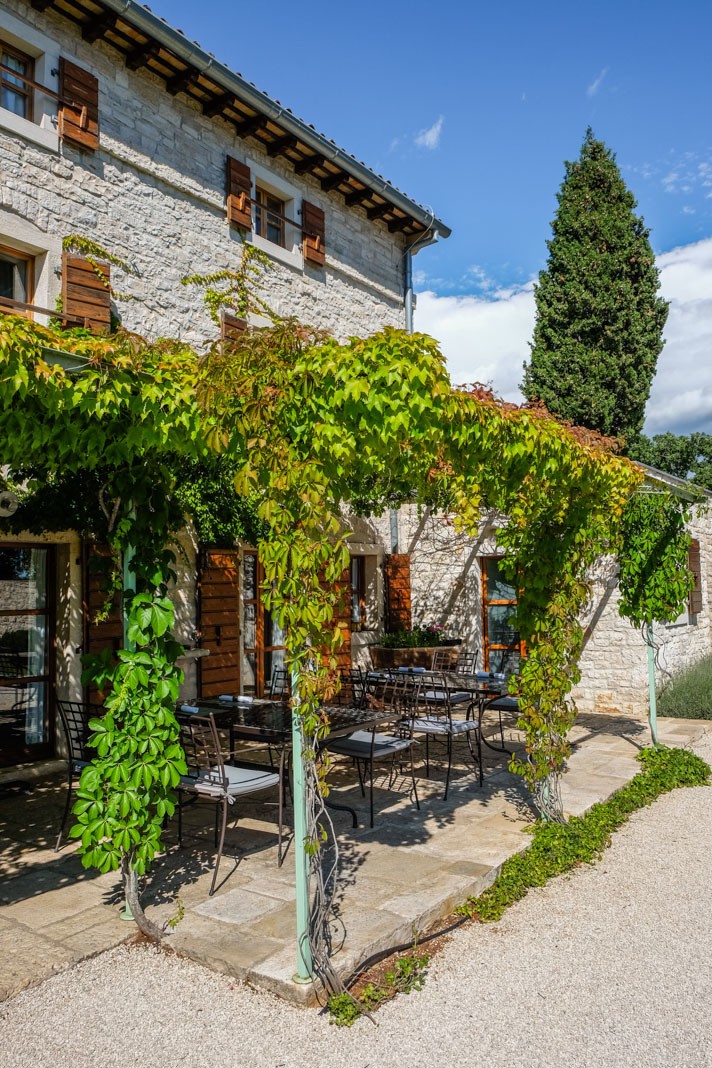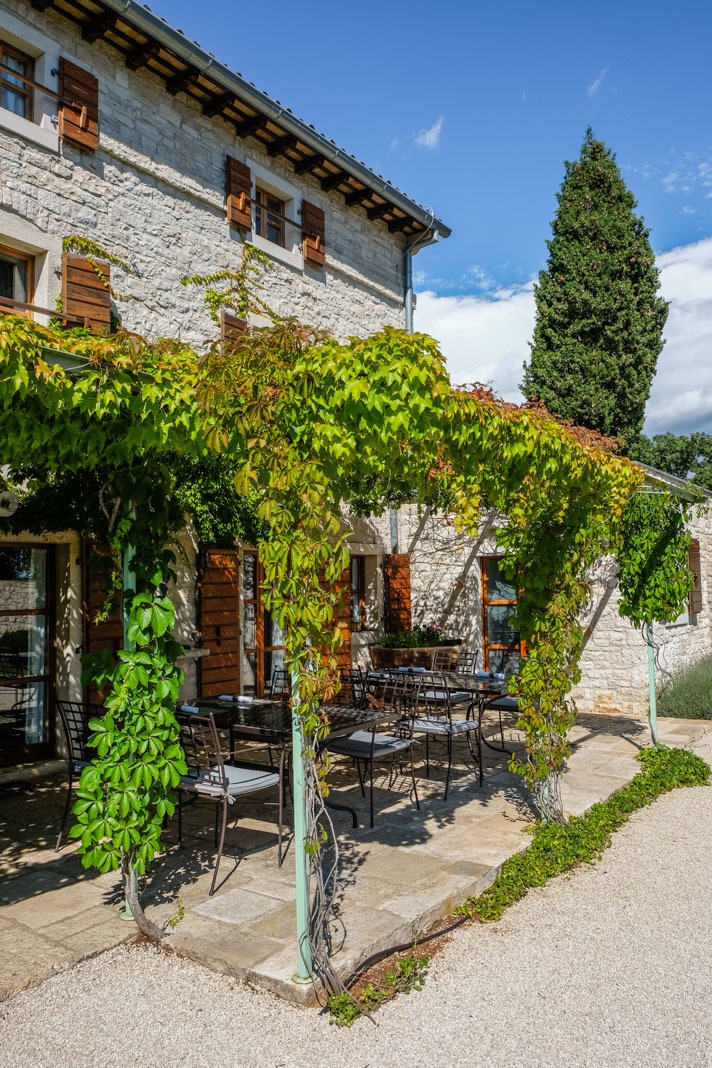 Meneghetti is an elegant country estate- home to expansive vineyards, stately villas, a relaxing pool area, and a renowned restaurant. The rustic and refined setting is as beautiful as the food itself- you can expect a memorable and authentic Istrian dining experience.
Restaurant: Meneghetti Wine Hotel, Restaurant & Winery
Location: Bale
What We Tasted:
Tuna Tartar & Turmeric and Rosemary Cakes
Fresh Sea Bass with Zucchini and Sautéed Chard
Homemade Goat Cheese Ravioli with Orange Sauce and Crumbles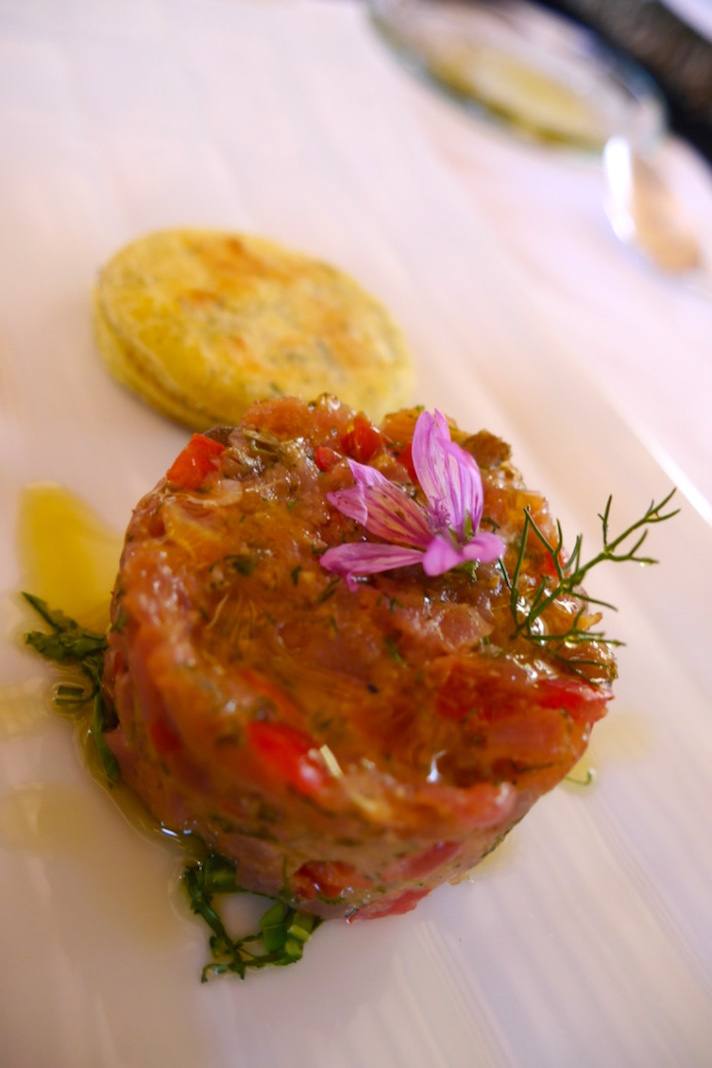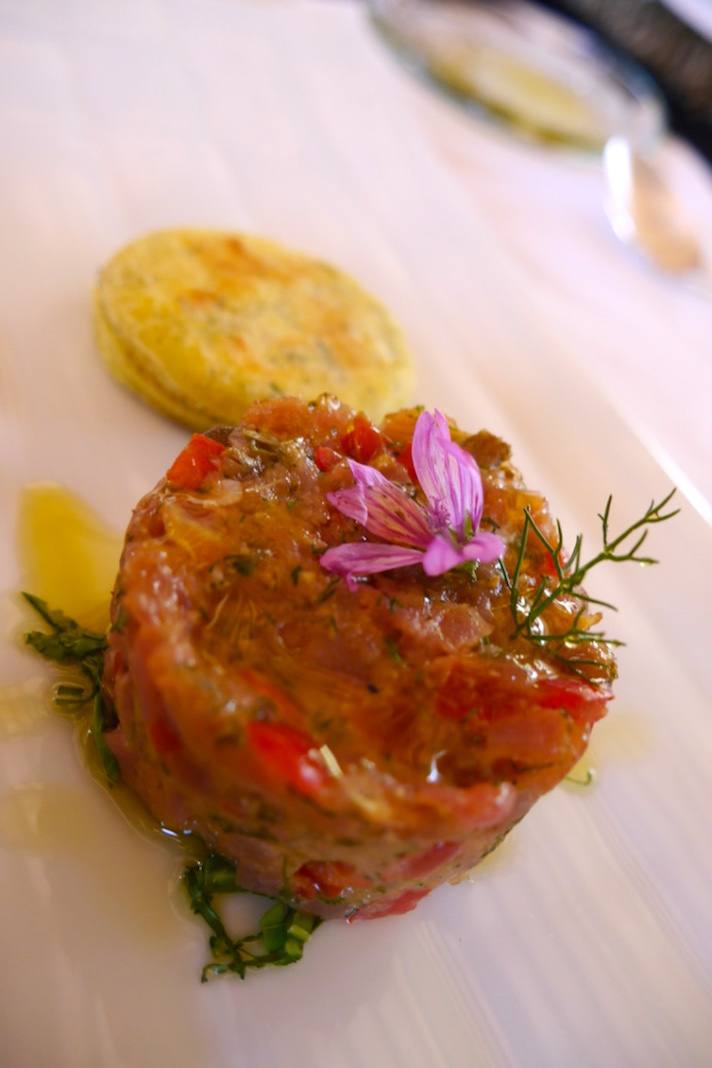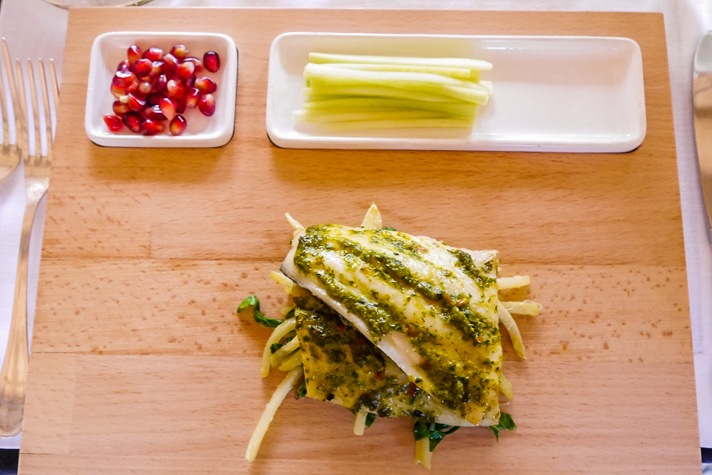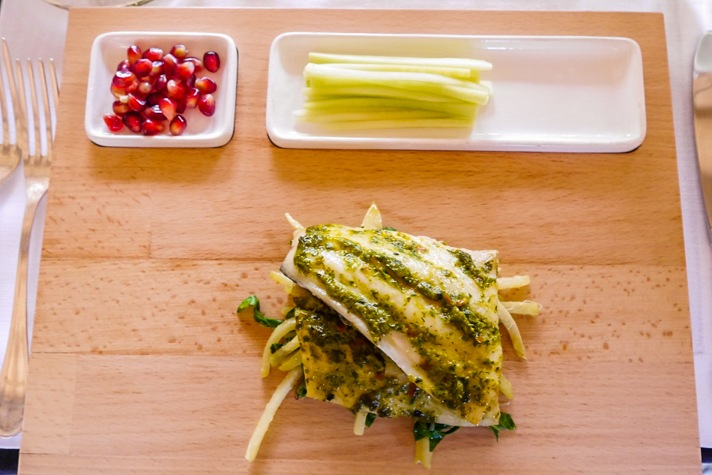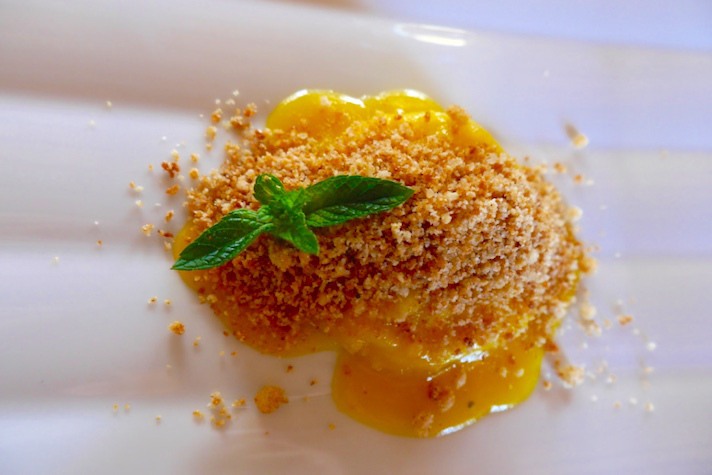 Natura Tartufi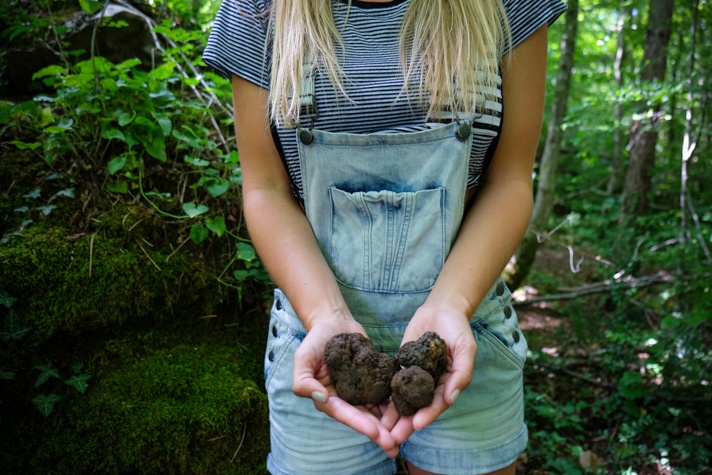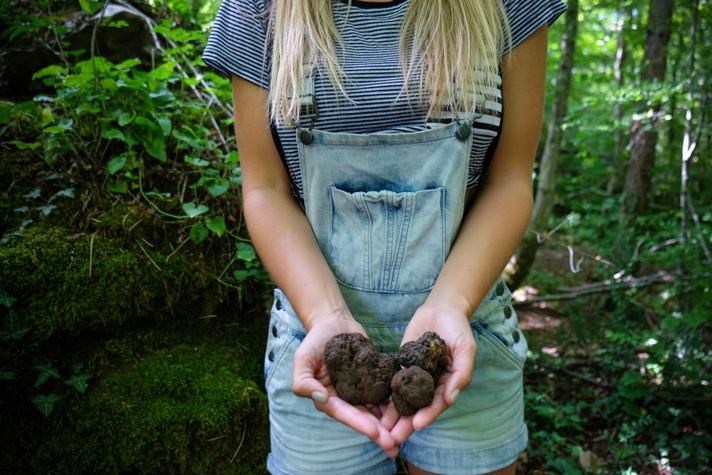 One of the ultimate gastronomic experiences, in addition to getting to go out and hunt for your own truffles- accompanied by their adorable truffle hunting dogs. Enjoy a taste test of their fine products, all containing truffles, along with an over the top breakfast of scrambled eggs topped with shavings of white truffles!
Restaurant: Natura Tartufi
Location: Buzet
What We Tasted:
Tasting Menu of Truffle-Infused Olive Oil, Mushroom Canepe with Truffles, Truffle Cream and Tomato Sauces, and Cheeses
Scrambled Eggs with White Truffle Shavings
Dessert of Panna Cotta with Honey and White Truffle Shavings, a Cocoa and Turffle Cookie, and Dark Chocolate with Truffle Shavings- to die for!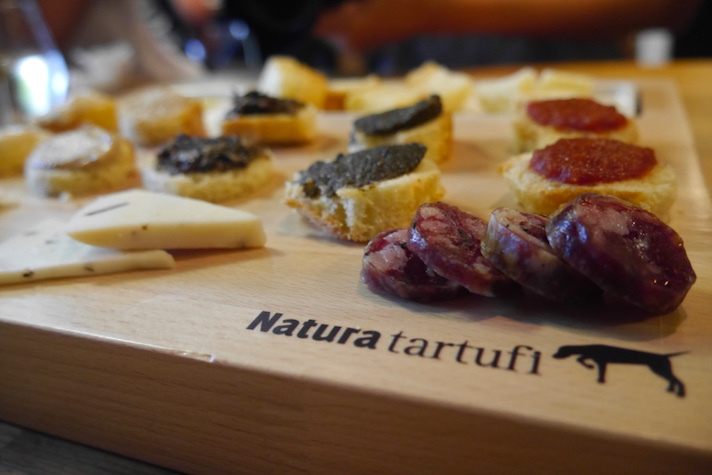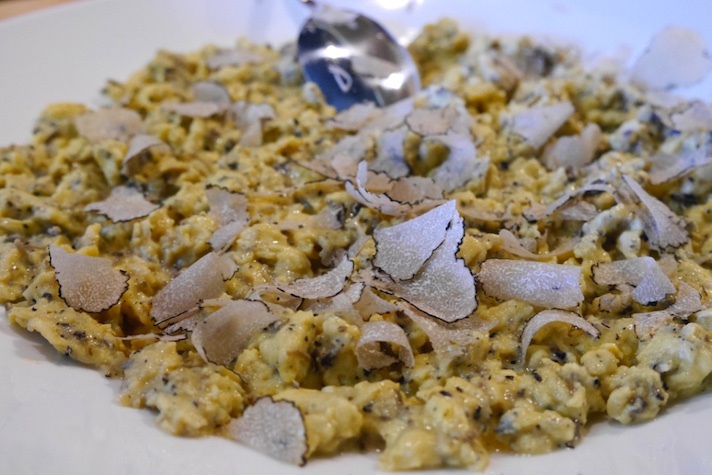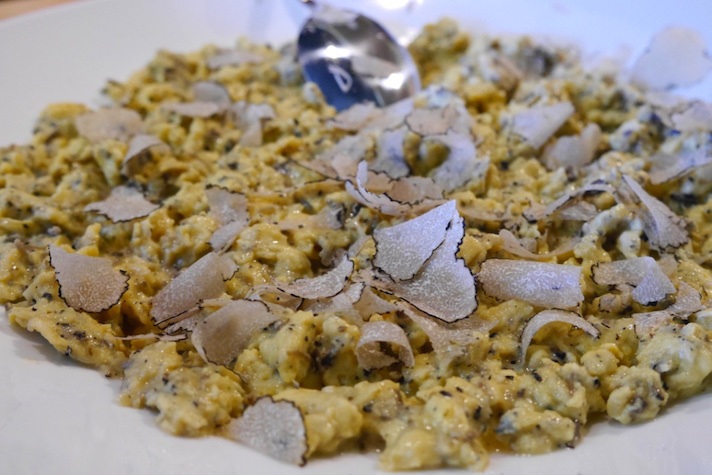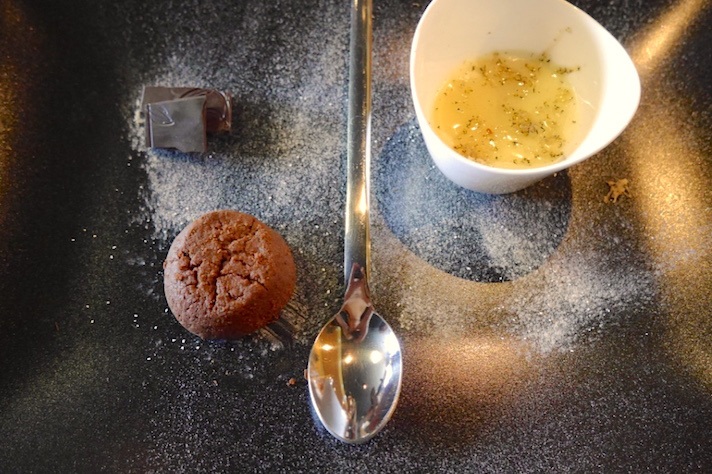 Restaurant Marina
This charming restaurant overlooks the harbor and marina, and my favorite part- there is no menu. The amazing chef, Marina, creates masterpieces from the freshest seasonal ingredients and daily catches so no menu is required! They also have their own line of olive oil from a local producer which paired well with all the courses.
Restaurant: Restaurant Marina
Location: Novigrad
What We Tasted:
Fresh Sole Fish Marinated in Citrus over Red Cabbage and Black Rice
Tuna tartar with Ink of Sepia Garnish
Istrian Bouillabaisse with Fresh Fish, Calamari, Shrimp and Mussels
Chocolate Olive Oil Torte With a Lemon Emulsion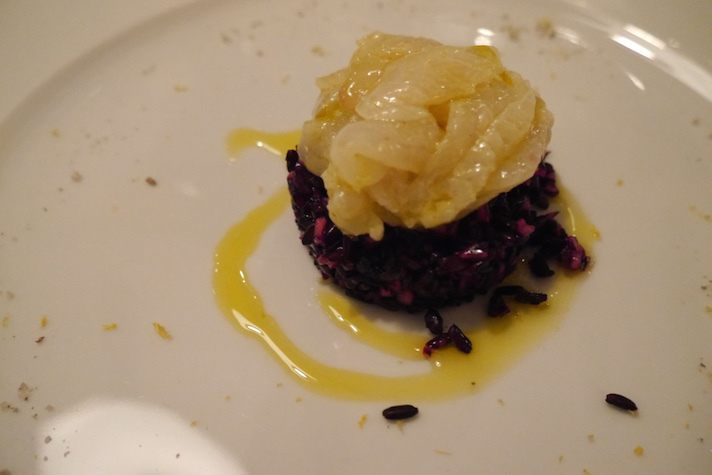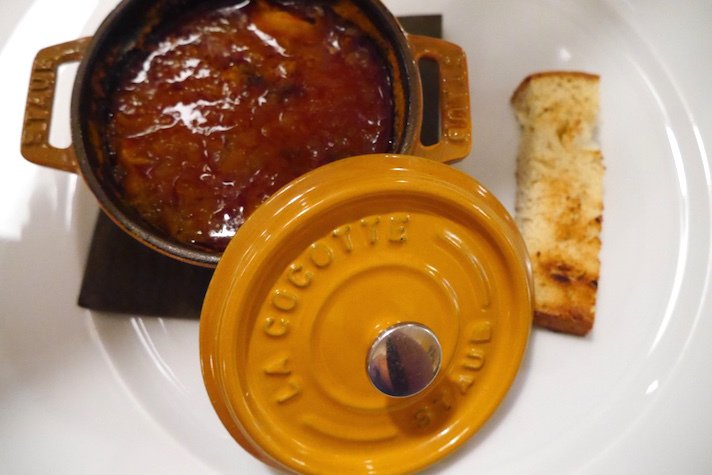 Alla Beccaccia
Alla Beccaccia is a cozy restaurant with an authentic and friendly atmosphere- the definition of farm to table. You can sit on their large covered patio, or inside the restaurant next to their large wood oven and fireplace which is used to cook many of the entrees. It is surrounded by beautiful green landscapes and country style houses for your viewing pleasure!
Restaurant: Alla Beccaccia
Location: Valbandon/Fažana
What We Tasted:
Fresh Asparagus Soup
Seafood Option: Grilled Squid with Garlic Potatoes
Meat Option: Peka Beef, Fresh Vegetables and Potatoes
Apple Strudel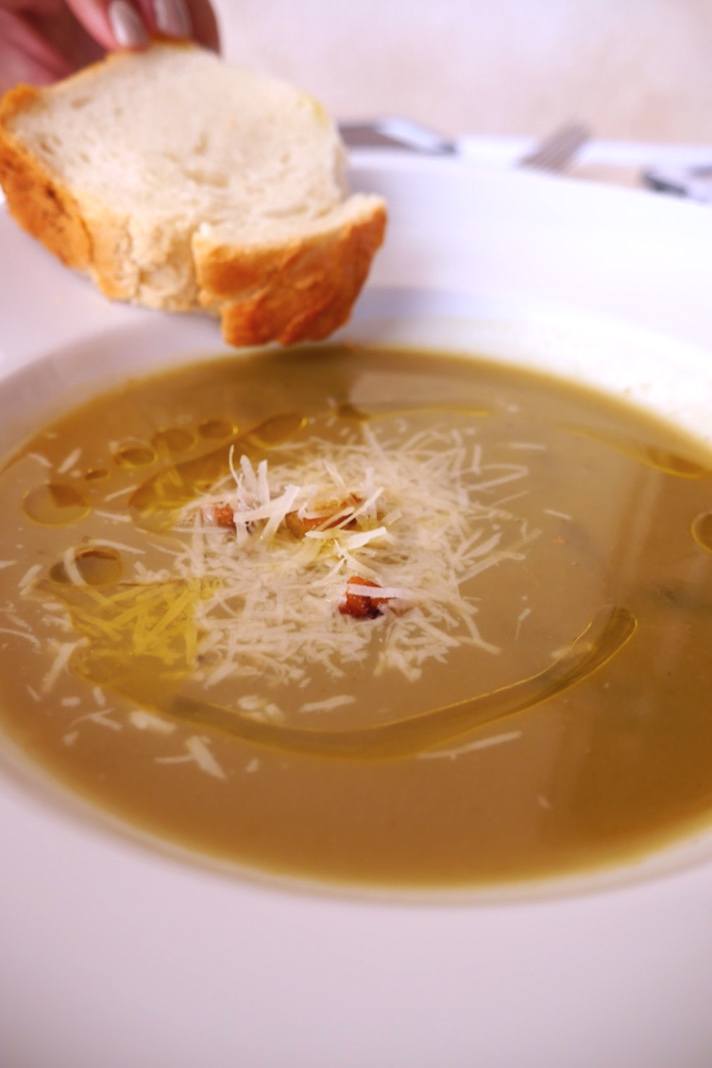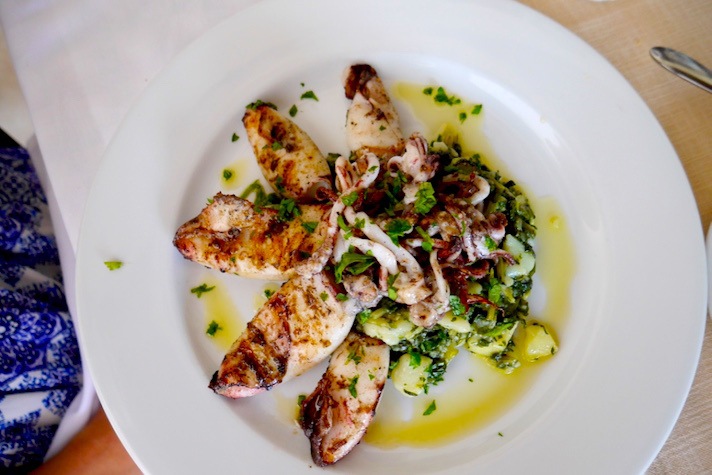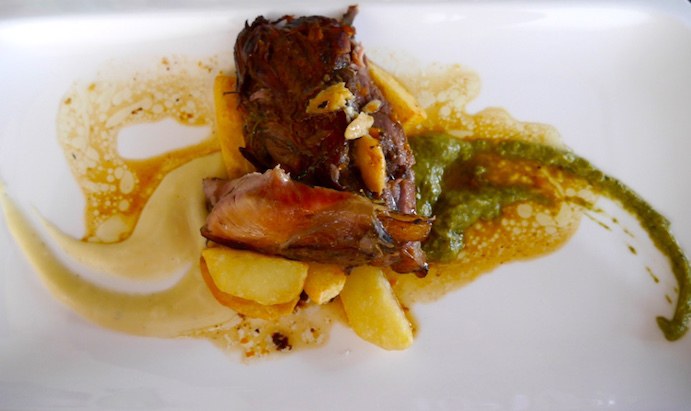 Milan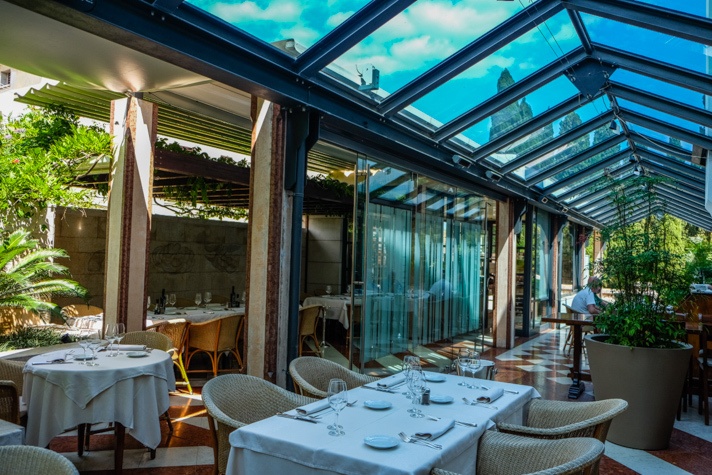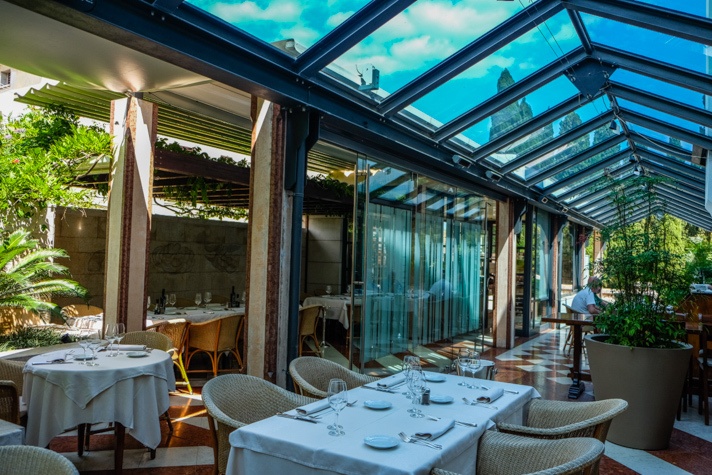 Milan is modern and sleek restaurant and hotel with an intimate setting. It has a beautiful outdoor seating area surrounded with glass and greenery, and indoors boasts a wall of stained glass. You may even spot the sleepy beagle in one of their booths!
Restaurant: Milan – Hotel & Restaurant & Enoteca
Location: Pula
What We Tasted:
Fresh seafood
Handmade Goat Cheese Ravioli with Shrimp and Spinach in a Cream Sauce
Filet of Fresh Fish and Sauteed Spinach
Cakes! Choices of Chocolate with Fresh Cherries, Panna Cotta (creme) Cake, Citron (Lemon) Cake, Apple with Sugar Crumbles and their version of a Pineapple Upside-Down Cake with Pistachio Crust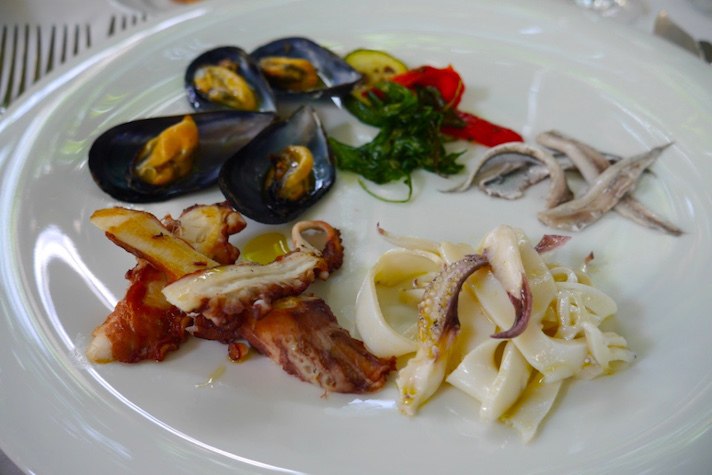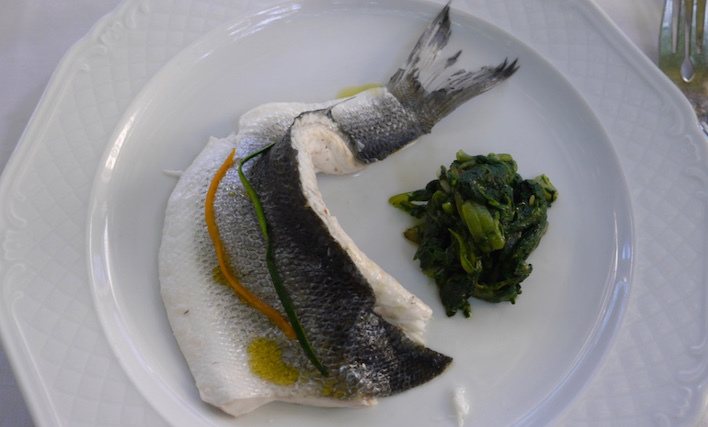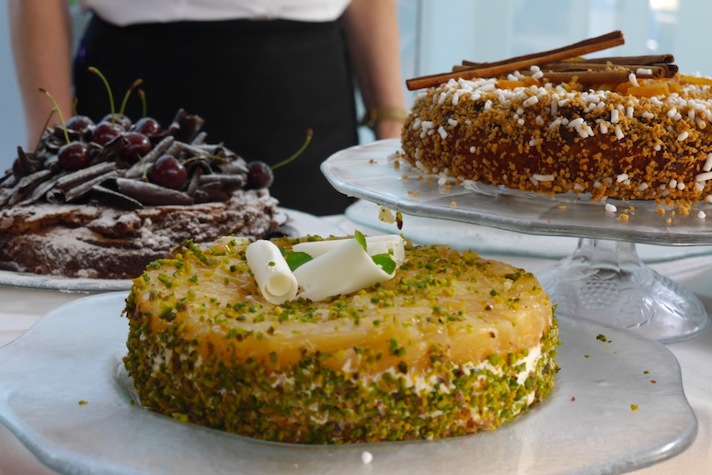 Konoba Ćakula
This charming restaurant is located right in heart of Poreč and has both indoor dining as well as tables that line the walkway outside. They offer a great selection of breads including corn bread, white bread with grains, and bread colored with ink of sepia- all delicious. You can't beat the view of the historical stone buildings and glimpses on the bay.
Restaurant: Konoba Ćakula
Location: Poreč
What We Tasted:
Fresh Pljukanci pasta with Spinach and Pancetta in a Cream Sauce
Seafood Platter with Fresh Fish, Prawns, Mussels and Sauteed Vegetables
Espresso (can't end a meal without it!)