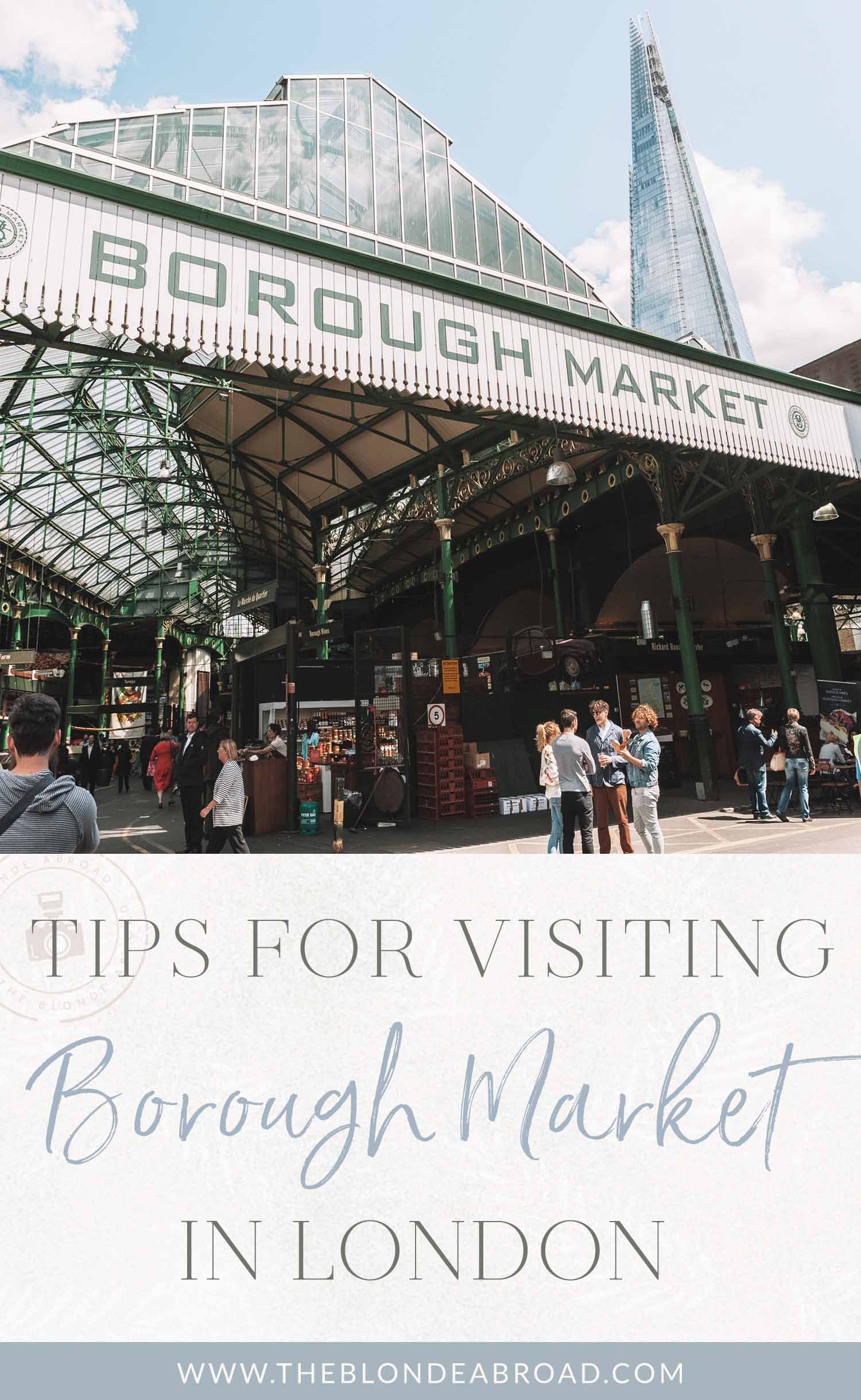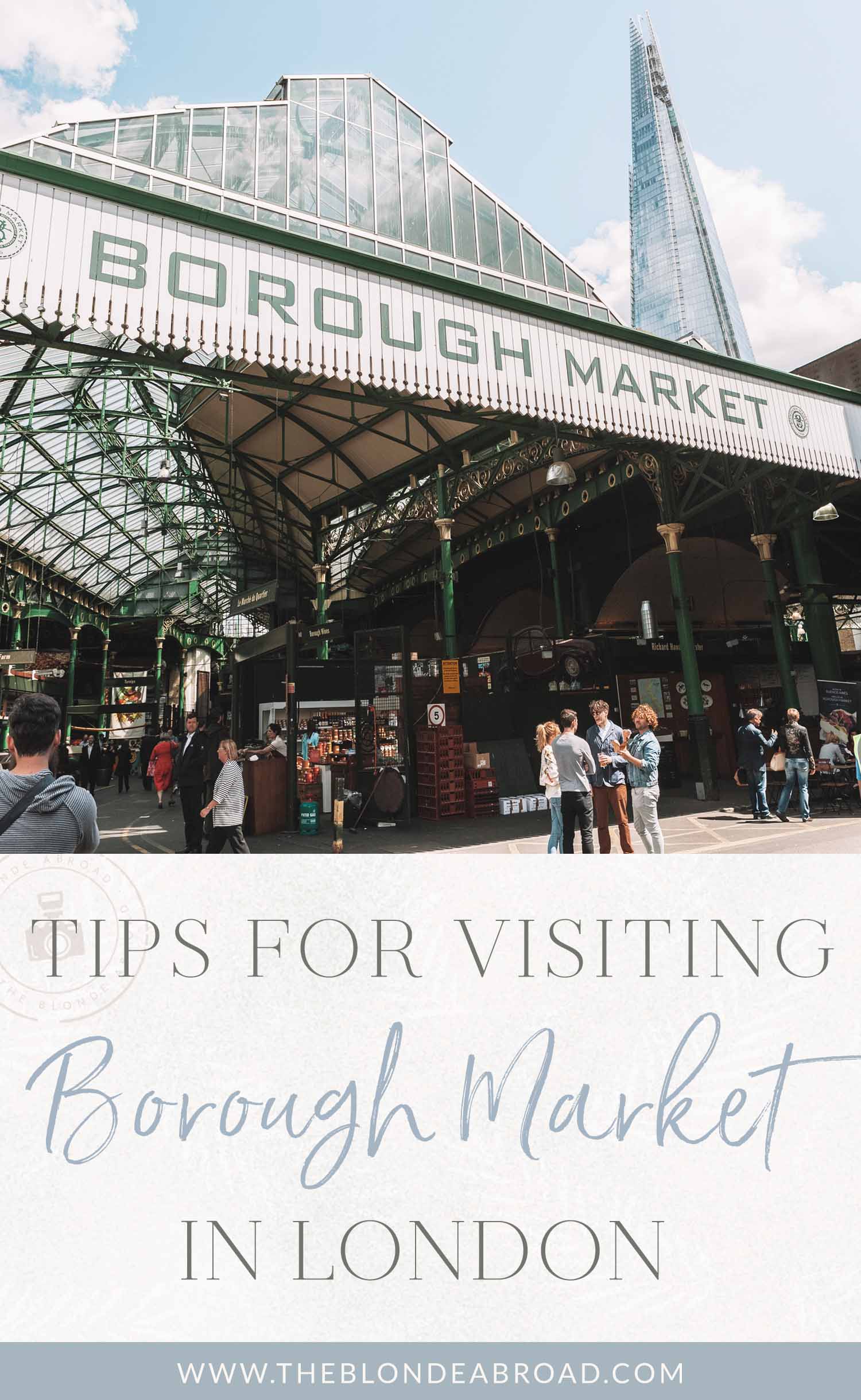 Borough Market—a veritable mecca of food and foodies, where you'll find everything from black truffle oil to pheasants to top-grade English cheeses. If you're exploring London and looking for the quintessential foodie experience, this is the place!
For 1,000 years, the market has been the center of the London food trade, where merchants and farmers can freely ply their wares. Located near the London Bridge and South Bank, you can easily lose a few hours wandering and drooling over the finds at this top gourmet market.
Here are my tips for visiting London's Borough Market!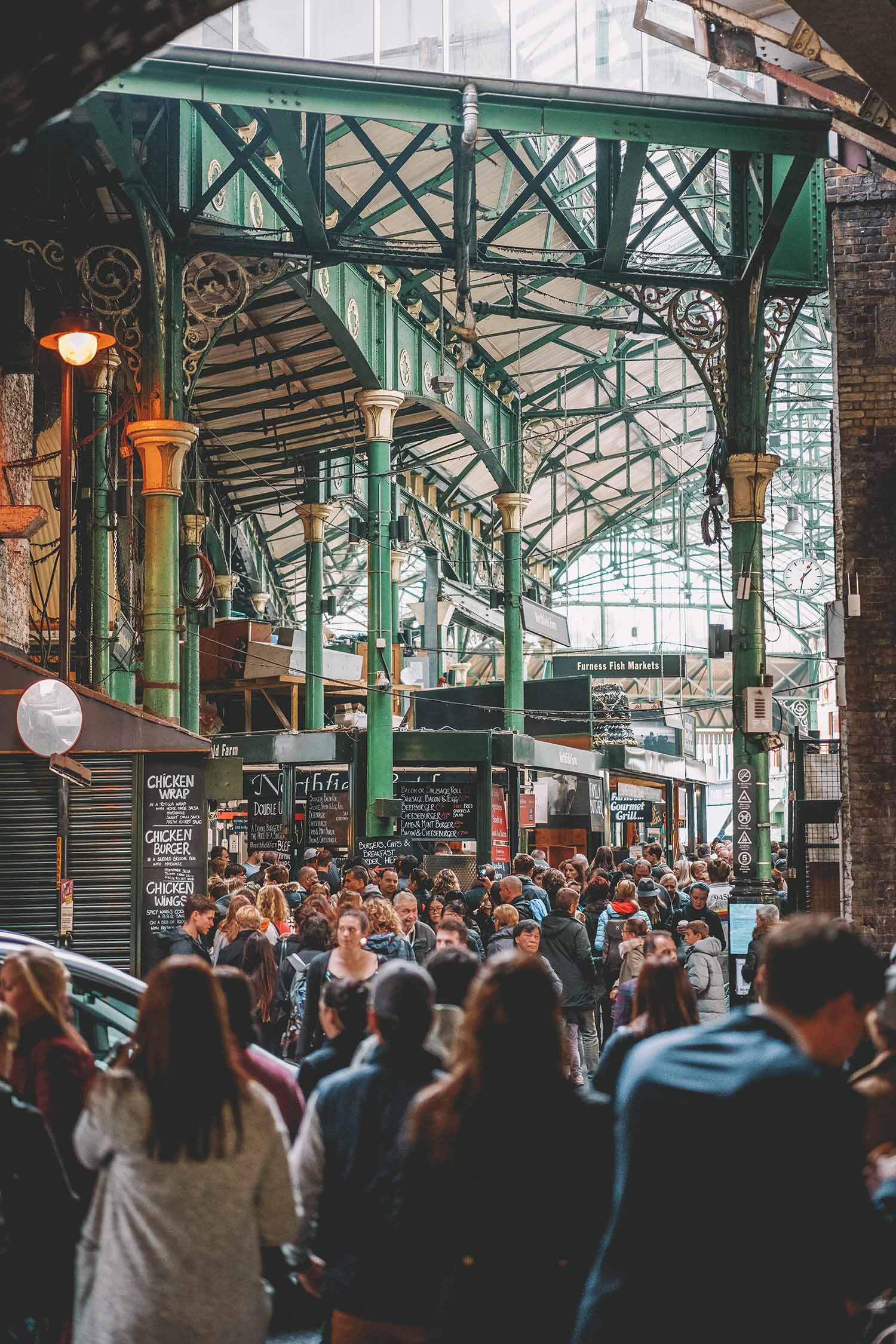 It's best to go during the quieter hours...as it can get pretty busy!
When to Go
As London's biggest market, the crowds at the Borough Market can sometimes be overwhelming. Though open Wednesday to Sunday, it's better to go during quieter hours, so the best times to visit the market are early on Saturdays or weekday afternoons.
With fewer people to walk against and squeeze between, you can take your time wandering around, perusing the items, and chatting with the local vendors.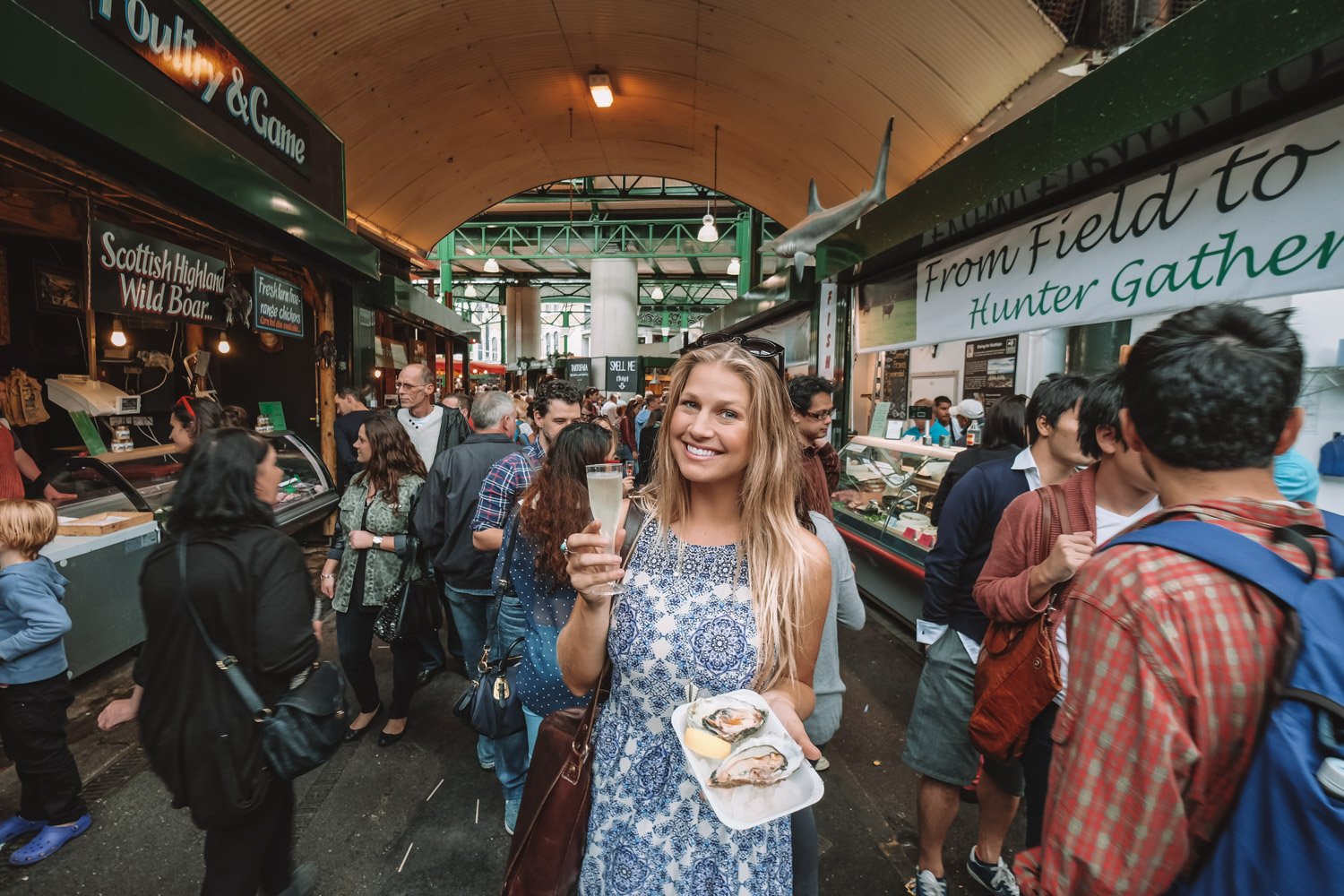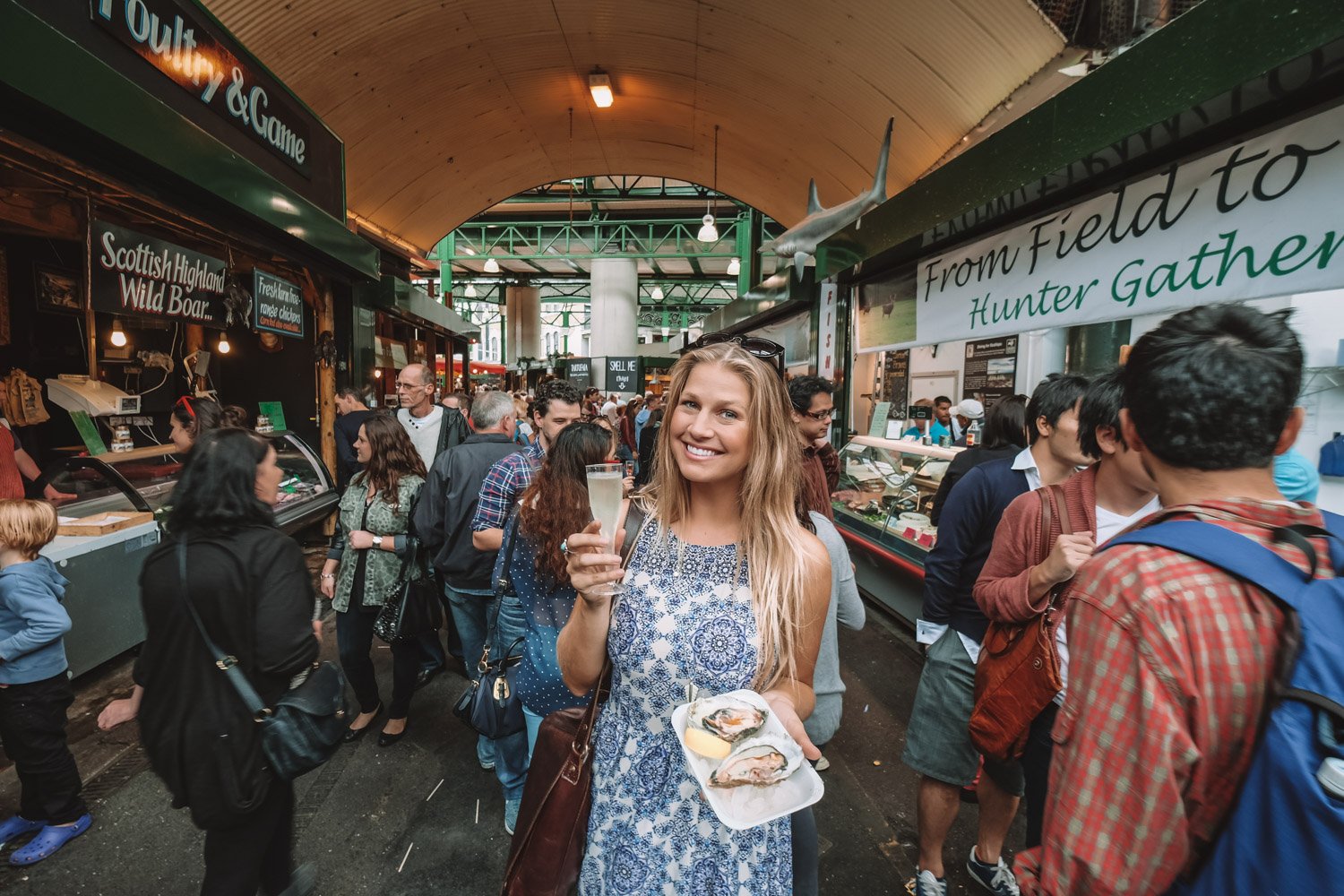 Wander First
Part of the fun is wandering around, gawking at fresh and strange ingredients, and scouting out prices and quality, so take your time before buying!
There's no better place to find that odd ingredient—sumac, wild mushrooms, bee pollen to name a few. Sample a few cubes from world-famous Neal's Yard Dairy or the aged beef from Ginger Pig. Gorge your inner English with artisanal pastries, plum bread, and pork pies.
Visit the Backhaus Bakery for the best handmade, German cakes, or the England Preserves cart where you'll find quality jams and preserves. You'll find fresh olive oil, paté, and biscotti at Sicily in London.
You won't leave the market hungry!

Sip Coffee
Buy some delicious coffee from Monmouth stand, just inside the main gates. During colder weather, this is a heavenly experience and gives you the perk you need to spend a few hours exploring.
The market is a fun place to sip on a latte and munch on sweet snacks, and people watch, of course!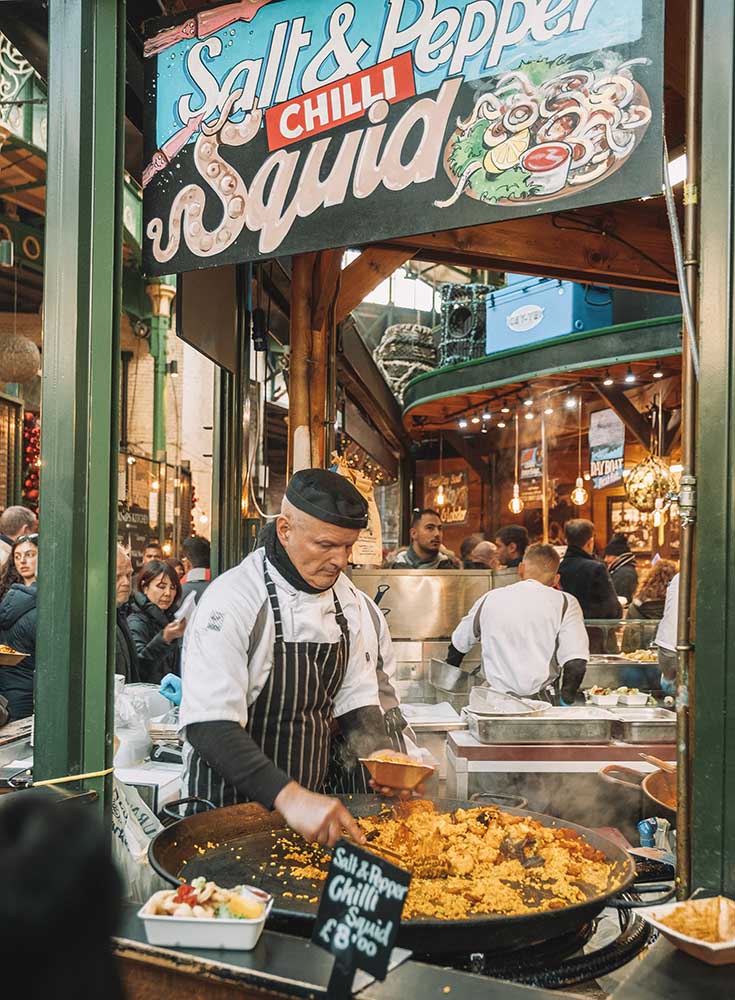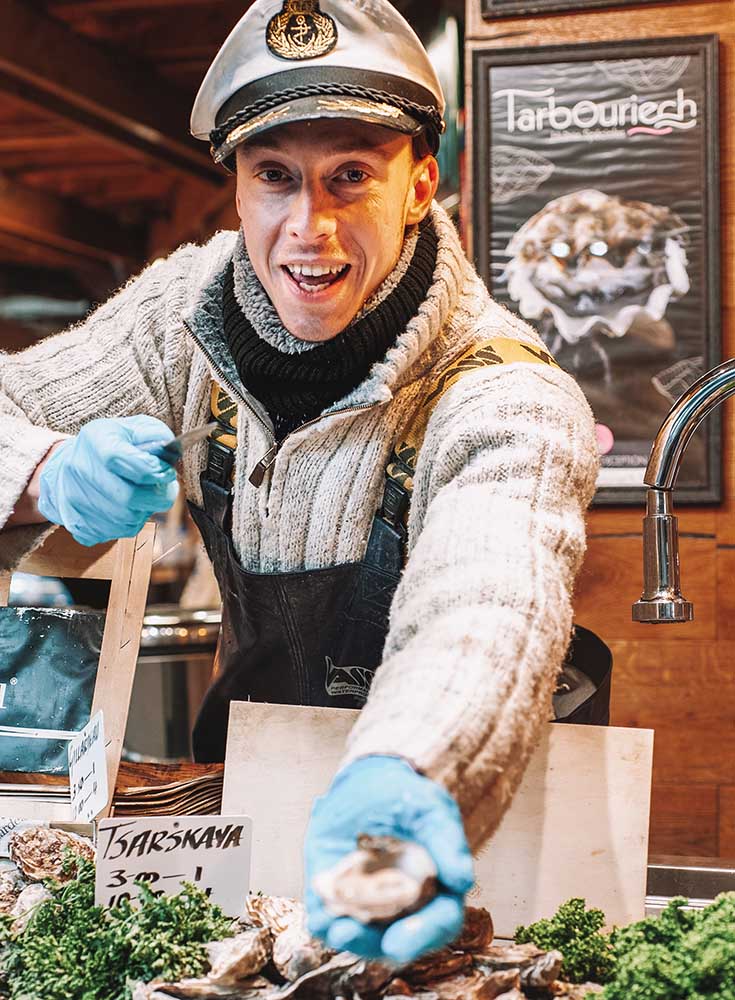 Sit Down for Lunch
After an hour or two perusing the market, grab a bite at one of the sit-down restaurants.
Tapas Brindisa offers some of the best selection of authentic Spanish small plates, or wash down wriggling oysters and fried prawns with champagne at the Wright Brothers.
Kaposein is a local favorite, that stirs the palates with their awesome cheese sandwiches and raclettes, which are melted cheese over potato.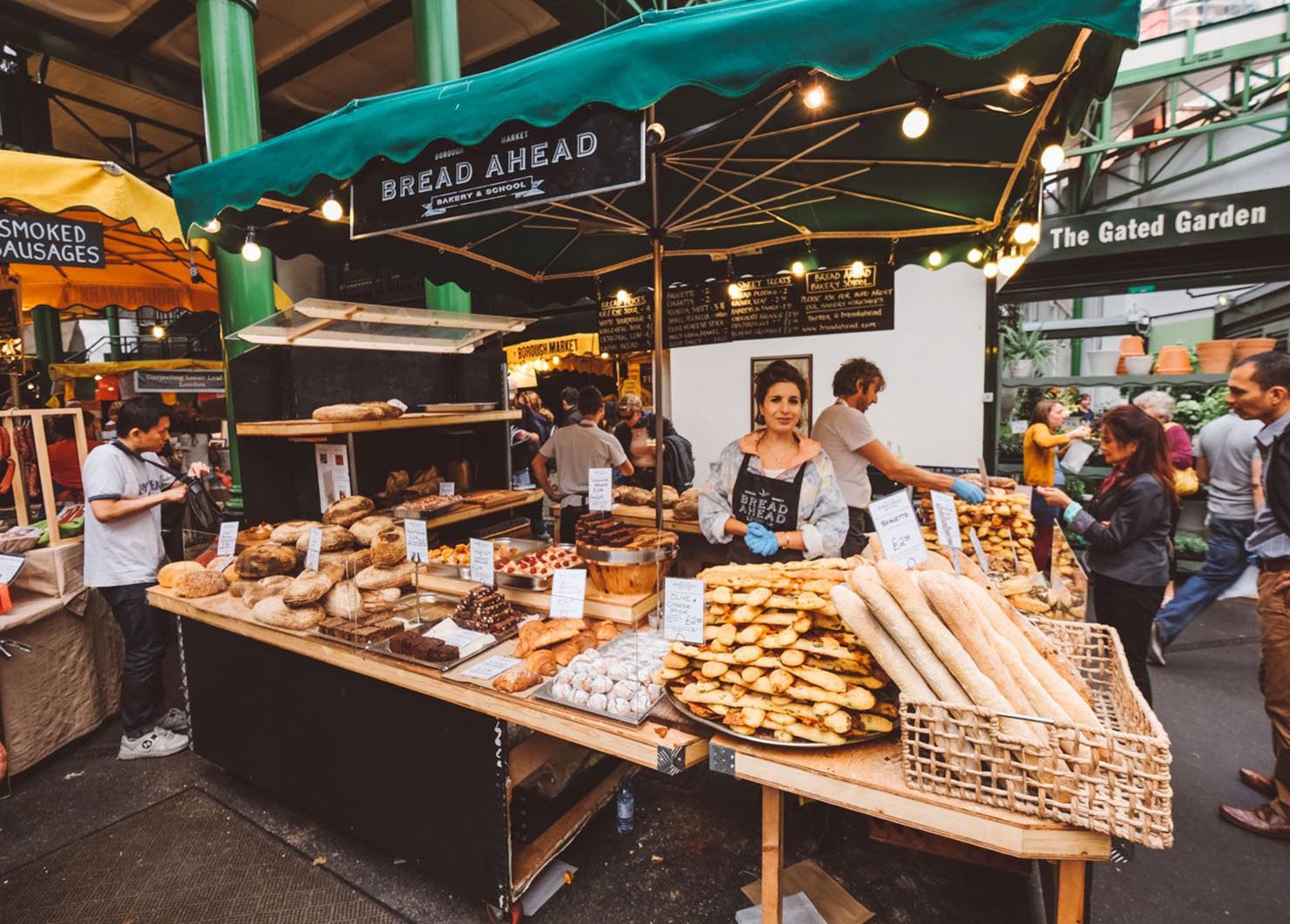 Grab a Takeaway
If sitting down doesn't sound appealing, you can grab a bite of authentic hot meat baguette at Hobbs Meat Roast or a falafel wrap at the Middle Eastern stand.
For dessert, pick up a creme caramel pot at Real France!

Catch a Pint
Get a bottle to take home at Wine Wharf or Brewers Wharf, to the west of the market, or grab a fresh pint at the Royal Oak or Gladstone Arms, both excellent pubs that are walking distance from the market.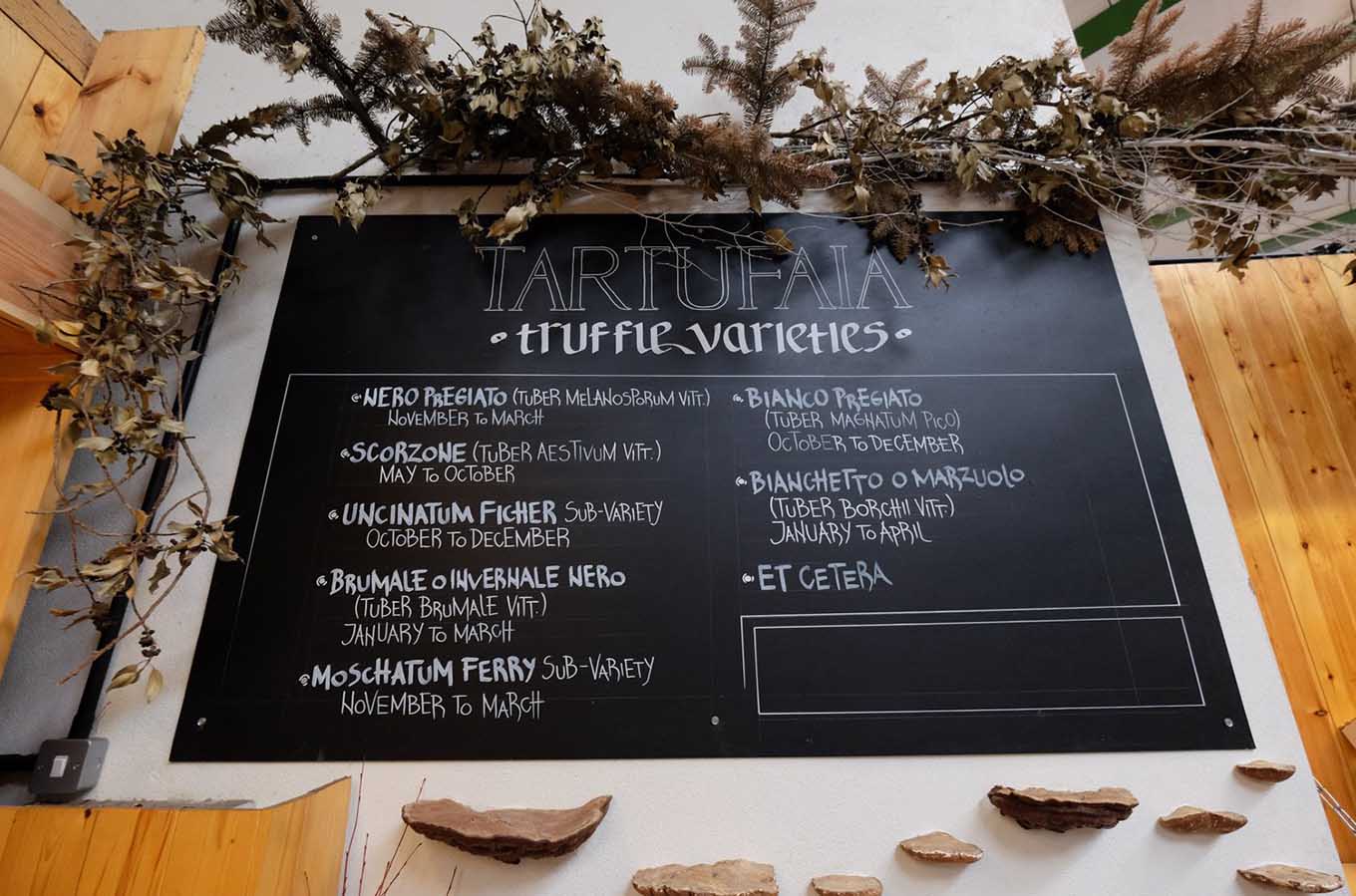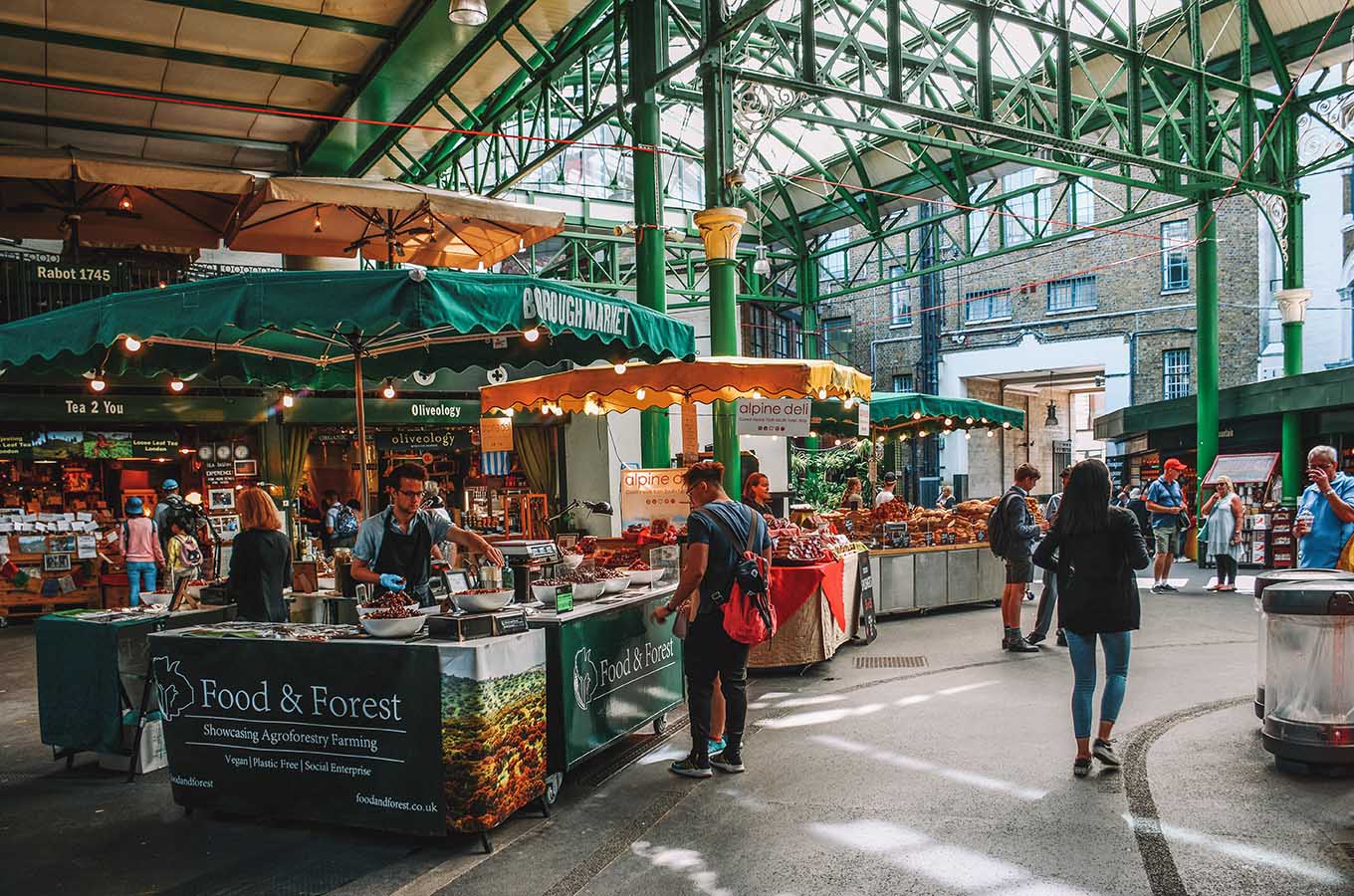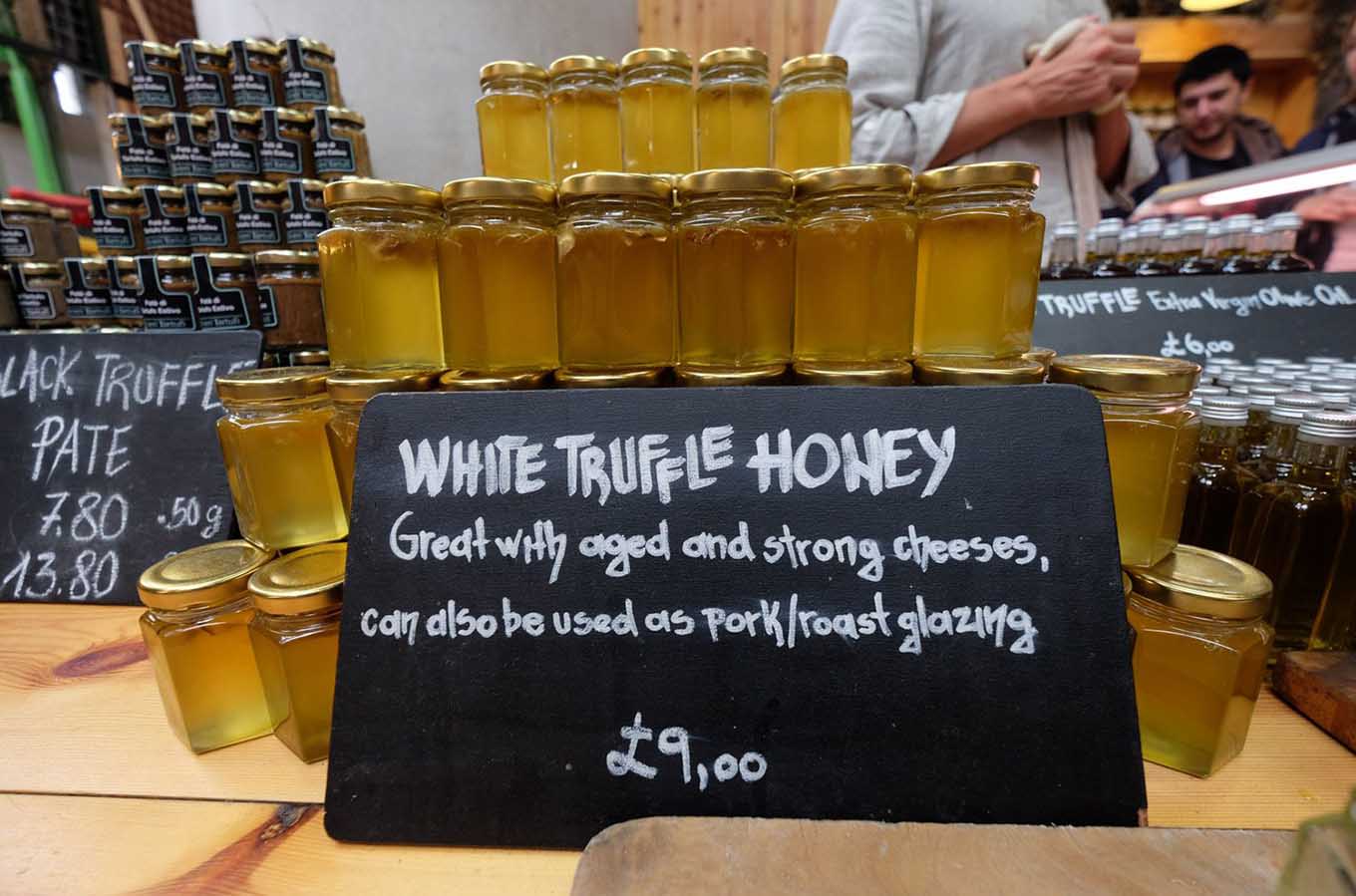 What to Buy at London's Borough Market
Alright, now that you've been at the market a while, stuffed your face full of samples and lunch—it's time to buy to your heart's delight.
My advice?
Bring your own shopping bag, made of cloth so it doesn't rip to shreds form all the goodies you'll be taking home. Watch that wallet, too—less for the pickpockets—and more for the temptation to buy nearly everything your eyes fall on.
My favorite thing to do is to buy a few picnic delights—lemonade, smoked salmon, cured olives, dried fruit, duck confit sandwich—and a handful of specialties and novelties I know I won't find anywhere else.
Hello, Argentine empanadas. Don't mind if I do, truffle honey. Yes please, Calabrian red pepper-spiked pork sausage.

Have you been to London's Borough Market before? What were your favorites? Do you have any recommended stalls for fellow travelers? Let me know in the comments below
Looking for more things to do in London?