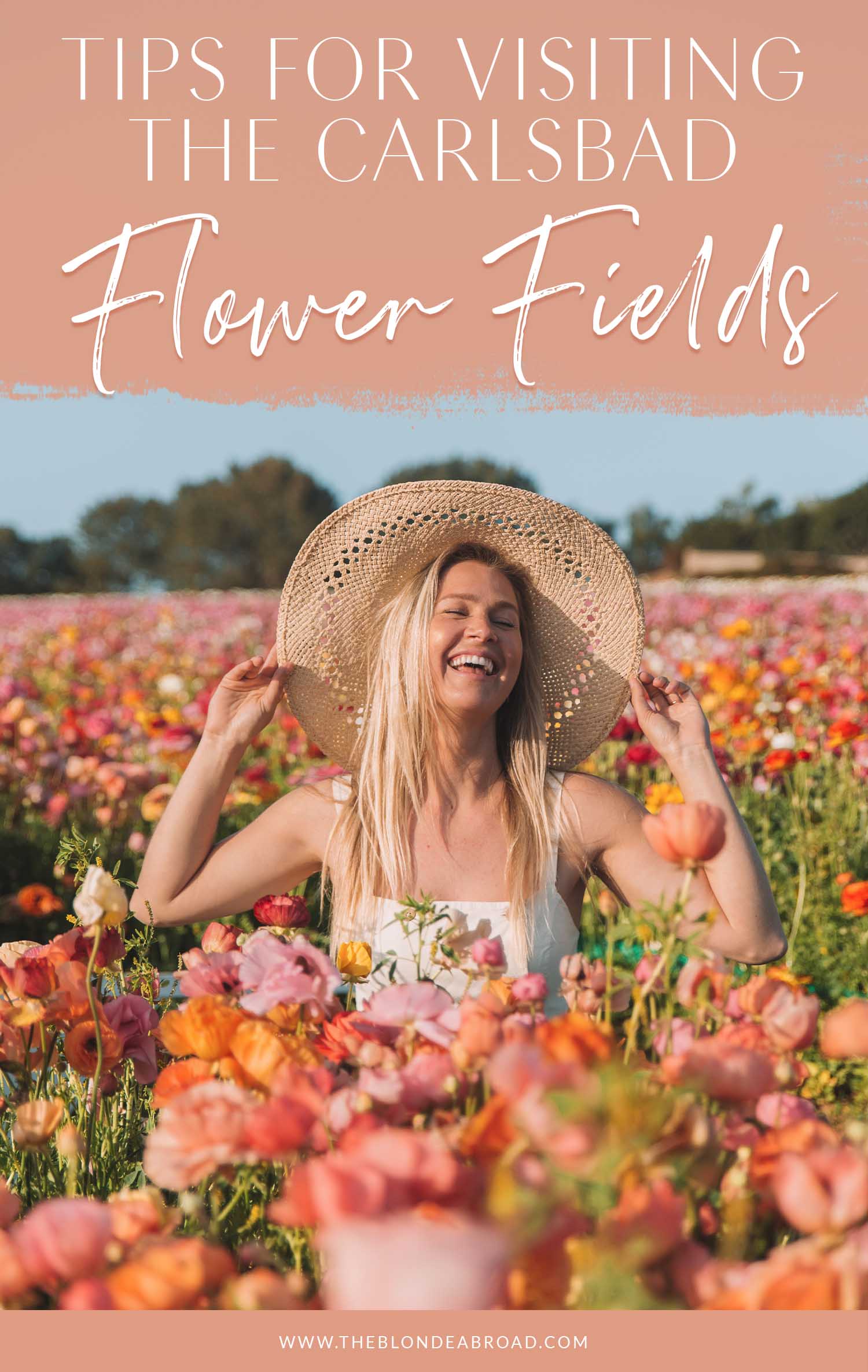 Dreaming of a flower-filled spring? How do rows of colorful ranunculus and a cool ocean breeze sound? The Flower Fields in Carlsbad are one of the most gorgeous (and colorful) highlights of spring in Southern California.
Just north of San Diego proper, the Carlsbad Flower Fields are a fantastic day trip from Orange County or Los Angeles. Located less than half a mile from the ocean and in an area with tons of great restaurants and hotels — there are tons of things to do in addition to seeing the blooms.
If you've never been to the flower fields in Carlsbad, there are a few things you should know before you go.
From what to expect to when to go for the best photo lighting, here are my tips for visiting the Carlsbad Flower Fields!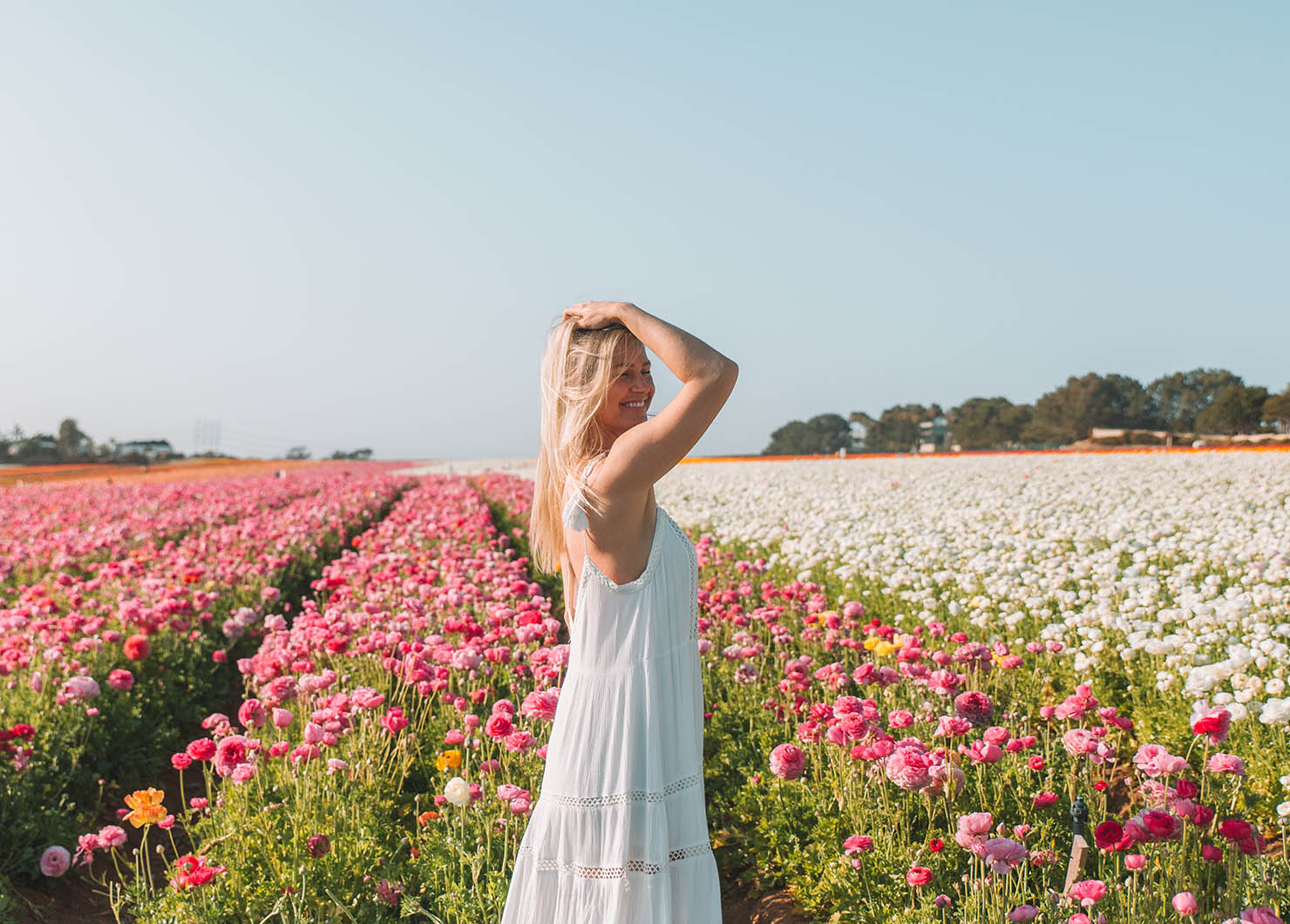 When Are the Carlsbad Flower Fields Open?
Every spring, more than 70 million vibrant flowers pop up on the 50-acre site. It's pretty darn jaw-dropping if I do say so myself.
The flower fields in Carlsbad typically open from March 1st until Mother's Day. Make sure to check their website to see if there have been any date changes.
The fields are open to visitors from 9 am to 6 pm daily during the season.

Things to Know Before You Go
Tickets used to be available for purchase on-site, but with COVID guidelines, you must purchase them online and they require reserving your spot in advance. Click here to snag your spot and tickets.
Tickets are $20 for adults and $10 for children. 
The peak time to see the flowers is usually in April, however, that's subject to change as the blooms could be earlier or later depending on weather conditions.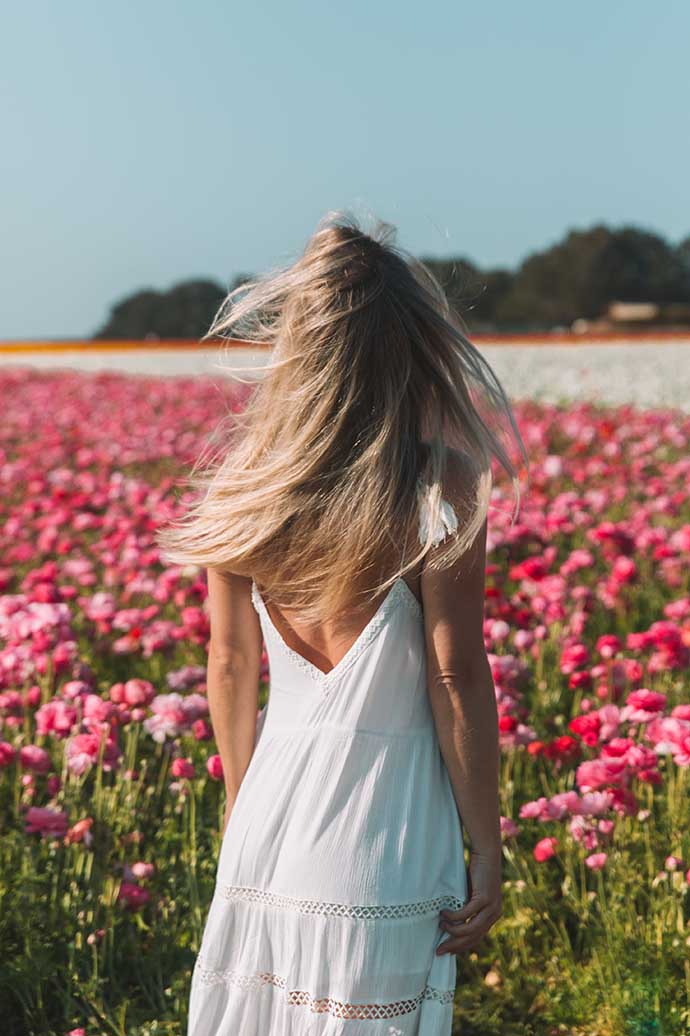 What  to Expect at the Carlsbad Flower Fields
Flowers, on flowers, on flowers!
Wondering what kind of flowers are at the Carlsbad flower fields? The gorgeous blooms are ranunculus and they come in all sorts of colors!
Because ranunculus do not have a scent nor do they require pollination, bees typically aren't an issue.
Don't Walk Over the Tape
It might *seem* like you can walk through the rows of flowers — and in a way you can — there are large designated sections for walking, but the rows of flowers themselves are blocked off to preserve the flowers.
With the number of visitors they receive, if everyone were allowed to actually venture into the fields, the blooms would end up trampled.
That said, there are inlets in the flowers made specifically for photos! You've just got to work those angles and it'll seem like you're surrounded by a field of blooms.
Helpful Tip:
Get a fresh bouquet to take home! There are fresh bouquet stands near the front entrance. Be aware they usually close a little earlier, so if you're one of the last admissions of the day, the stand will likely be closed by the time you're out.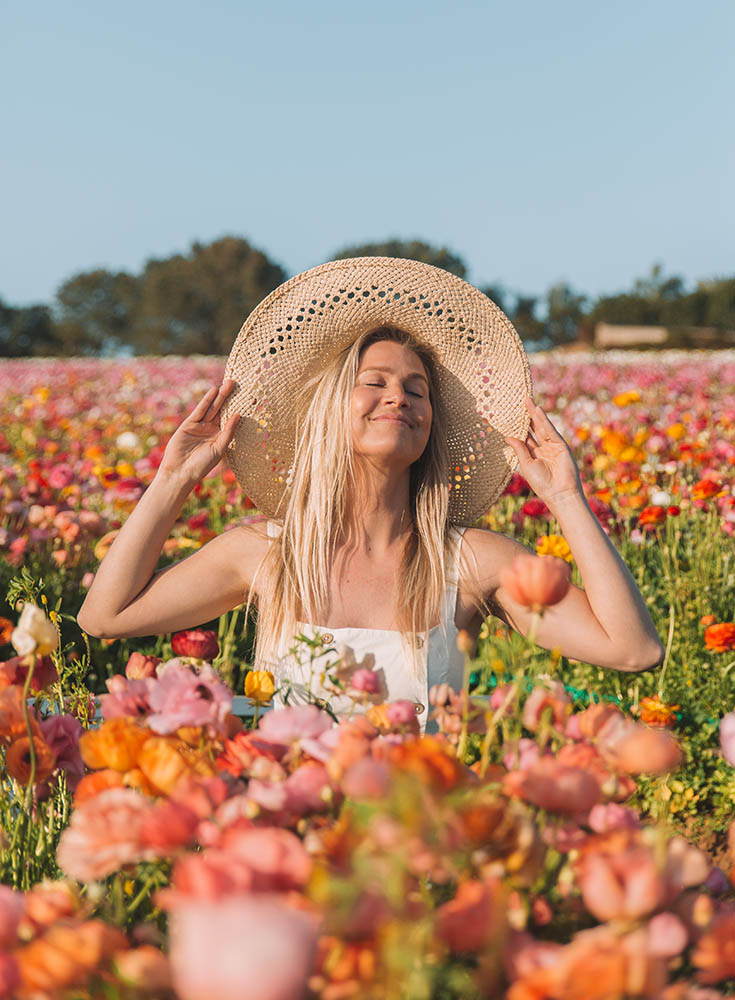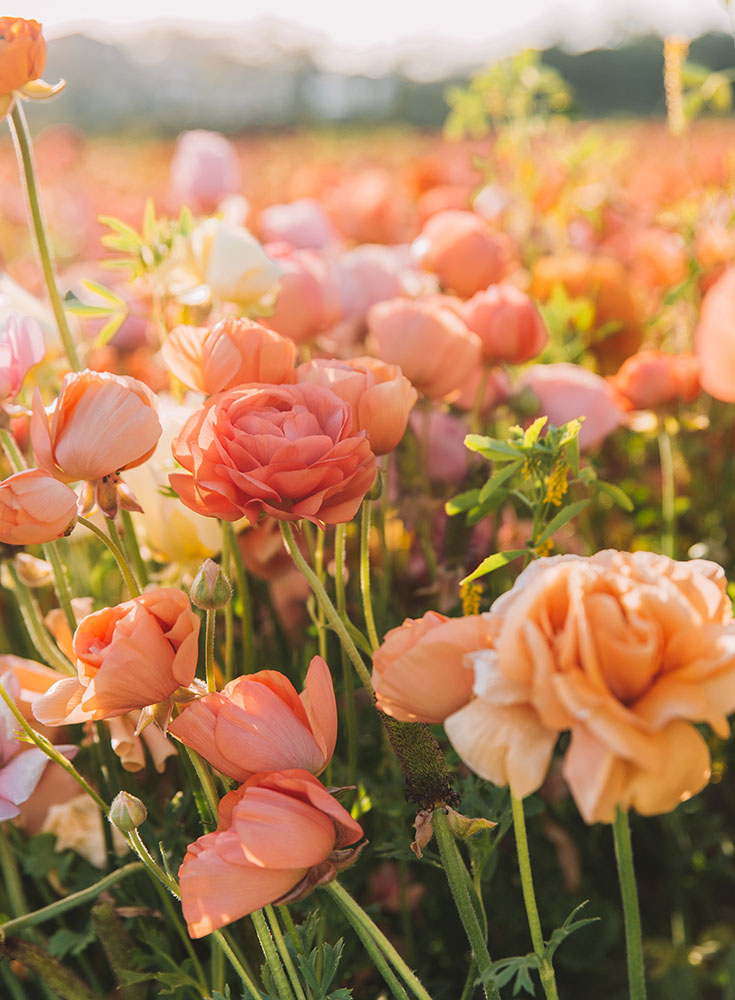 The Best  Time to Visit the Carlsbad Flower Fields
Particularly if you're trying to snap photos…
I would recommend either going in the morning or late afternoons and absolutely going on a weekday. You'll find fewer crowds, which makes it much easier to avoid photobombers in your shots.
I found that the best lighting for photos was in the late afternoon. Check what time Golden Hour is (and keep in mind that it will change when we "spring forward"). Generally, 4 pm is a prime time to start getting that glowy golden light.
If you're going in the morning, there's a good chance you'll encounter the marine layer. On most days it burns off mid-morning, but if it's still a bit foggy, you can use it to your advantage and have it act as a huge softbox — meaning soft, diffused light and no harsh shadows.
Be aware that Friday, Saturday, and Sunday are the busiest days at the flower fields. If you are visiting on a weekend day but still trying to avoid as many crowds as possible, book your ticket for before noon.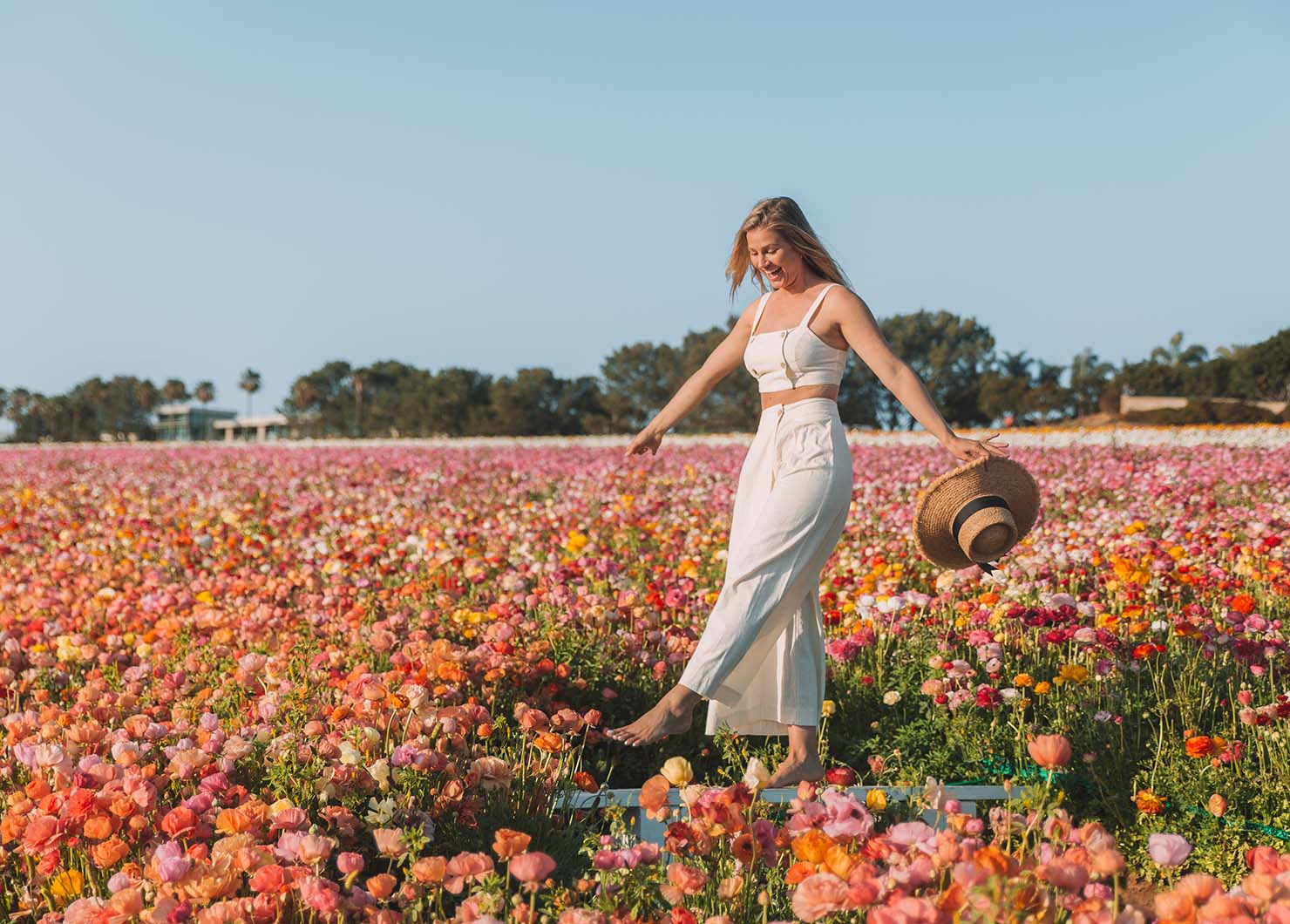 Tips for Shooting Photos at the Flower Fields
I'm going to repeat this again: you are not allowed to go off the designated paths at the Flower Fields. Workers patrol the area and will ask you to get back on the path…or kindly escort you out.
But not to worry, it's relatively easy to snap those dreamy flower field photos. Heads up, if you're visiting in the afternoon, you may have to wait in line for your turn at some of the designated spots.
These spots, mini platforms, or "islands" will be your best friend. Set up your tripod or ask whoever you've ventured to the field with to photograph from a distance, set up your shot, and snap away.
One trick is to kneel down low and work that angle. I'm telling you, angles are magic.
Another tip is to go toward the fields in the back — yes, they are a farther walk, but that usually means most folks don't venture that far…as in, you're more likely to have the area to yourself. Use this to your advantage to avoid photobombers!
Helpful Tip:
You'll want good walking shoes as the flowers stretch over 50 acres. The dirt paths are not paved, so be mindful that your shoes will get a little dirty.

Sunscreen is also a must as there isn't much to cover under when you're wandering the fields.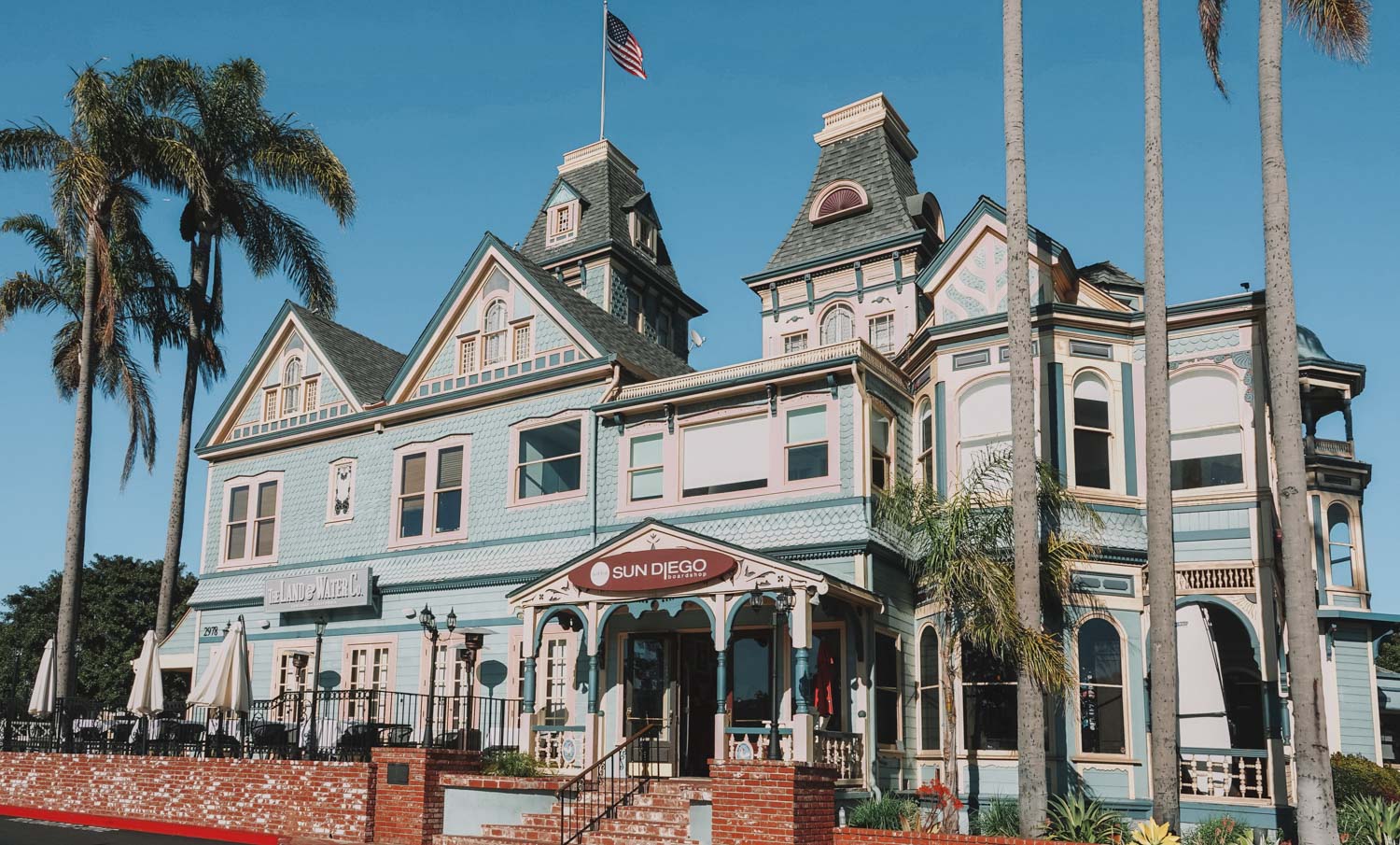 What  to Do in Carlsbad
Want to make a day trip of it? Here are some of the best things to do in the area!

Where to Stay in Carlsbad
You'll find a mix of charming and modern hotels in the area, as well as tried and true staples.
Luxury
Mid-Range
Budget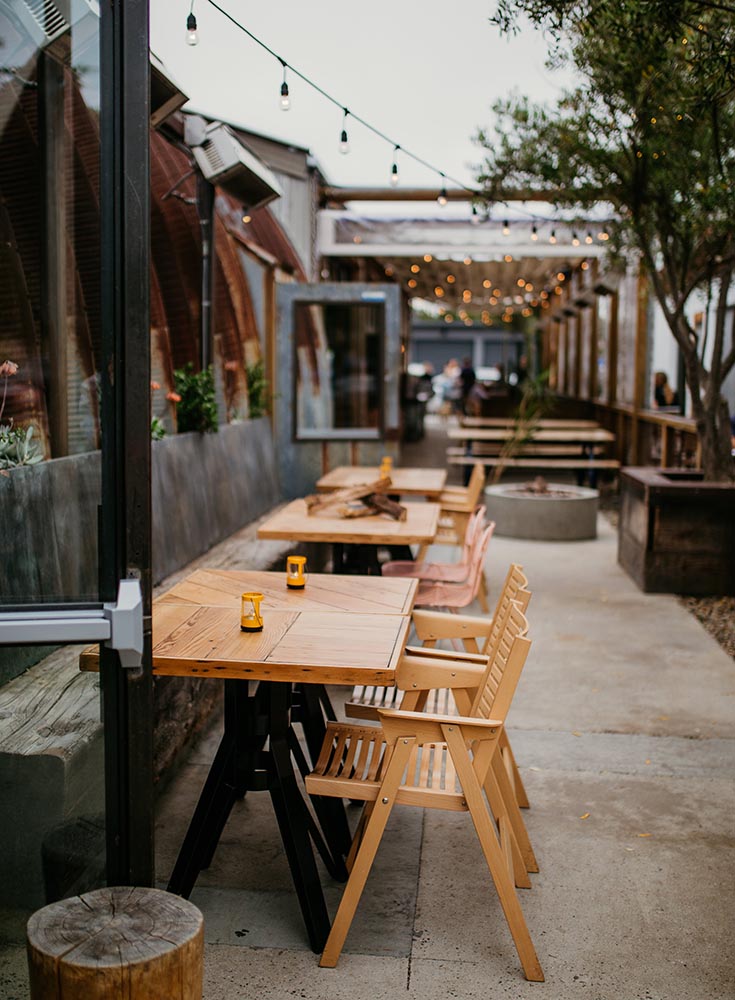 Images courtesy of Campfire
Where to Eat in Carlsbad
Campfire: You'll absolutely need reservations well in advance for this place. Come for the wood-fired American fare, stay for the atmosphere.
The Naked Cafe: If you're coming for breakfast, this is a great spot for breakfast and light eats, as well as coffee.
264 Fresco: Looking for an elevated Italian meal? This stylish place features pizza, seafood, stead, and specialty cocktails.
Casa de Bandini: Dive into the classic Mexican dishes here and enjoy the ambiance of the colorful dining room and roving mariachi bands.
Vigilucci's Cucina: Fabulous Italian food and award-winning service, Vigilucci's is nestled in the heart of downtown Carlsbad and the perfect spot for a night out (especially if the Flower Fields was a date!).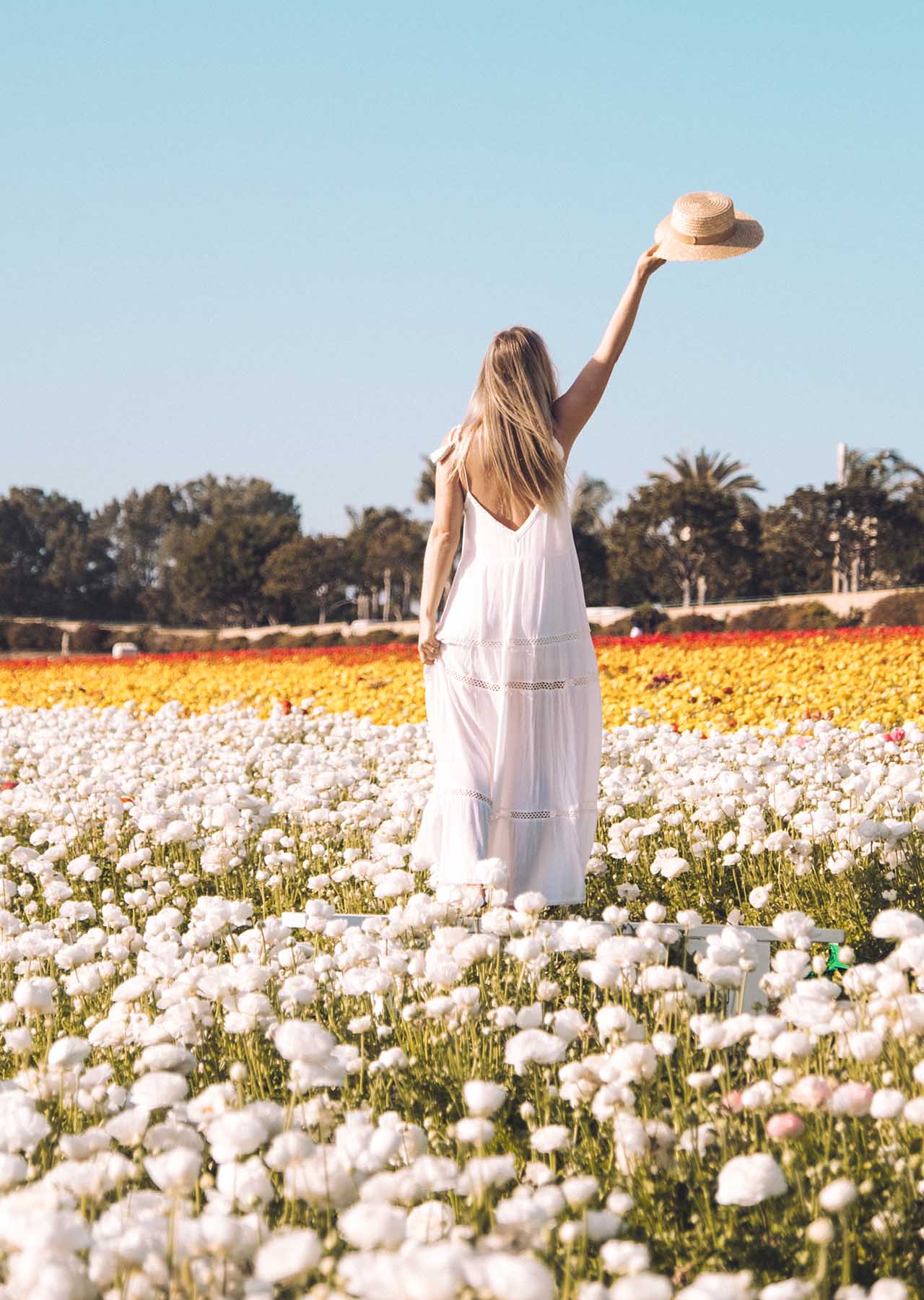 Have you visited the flower fields in Carlsbad before?
Want to share your experience at the flower fields or have any questions? Let me know in the comments below!