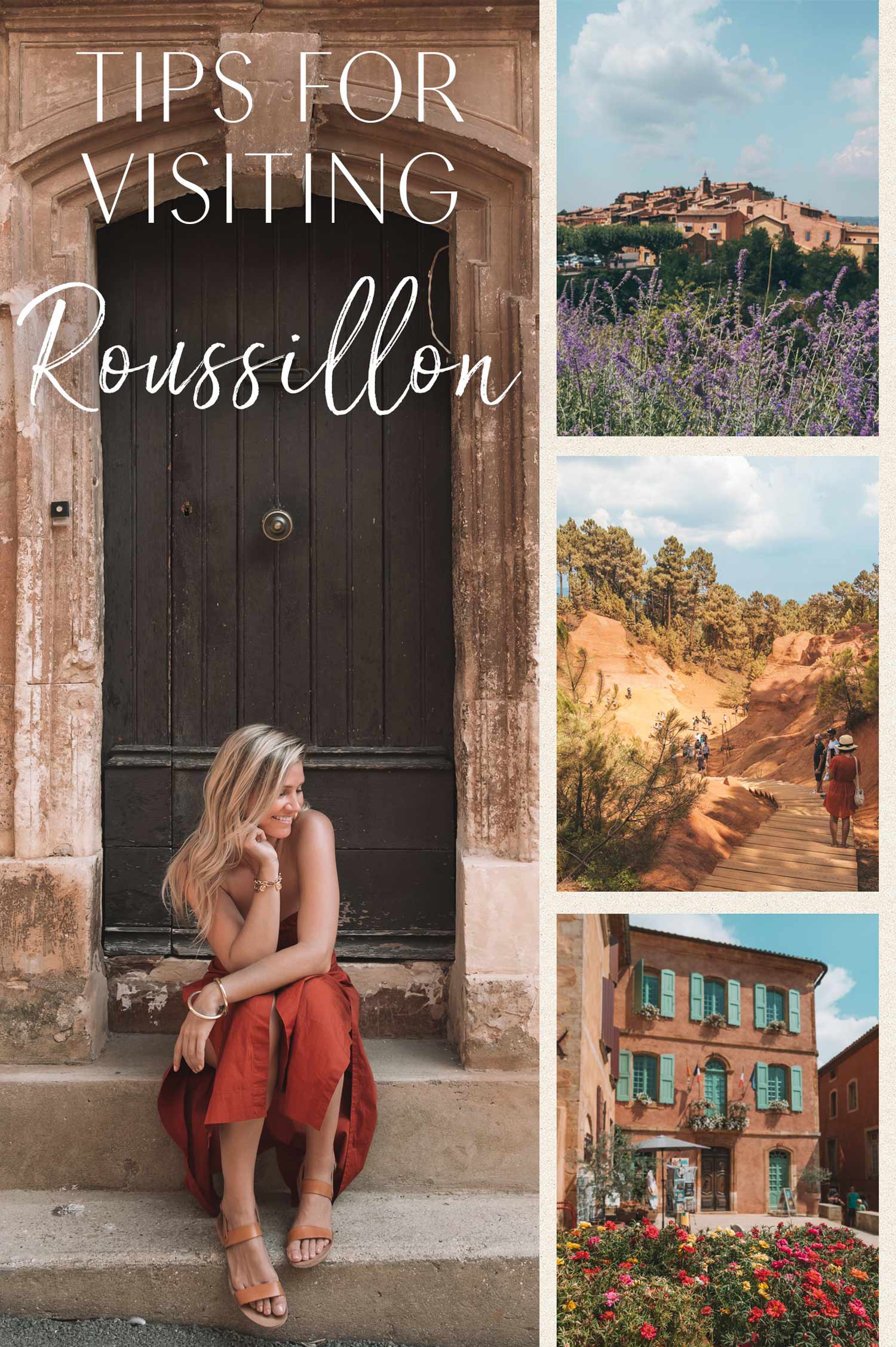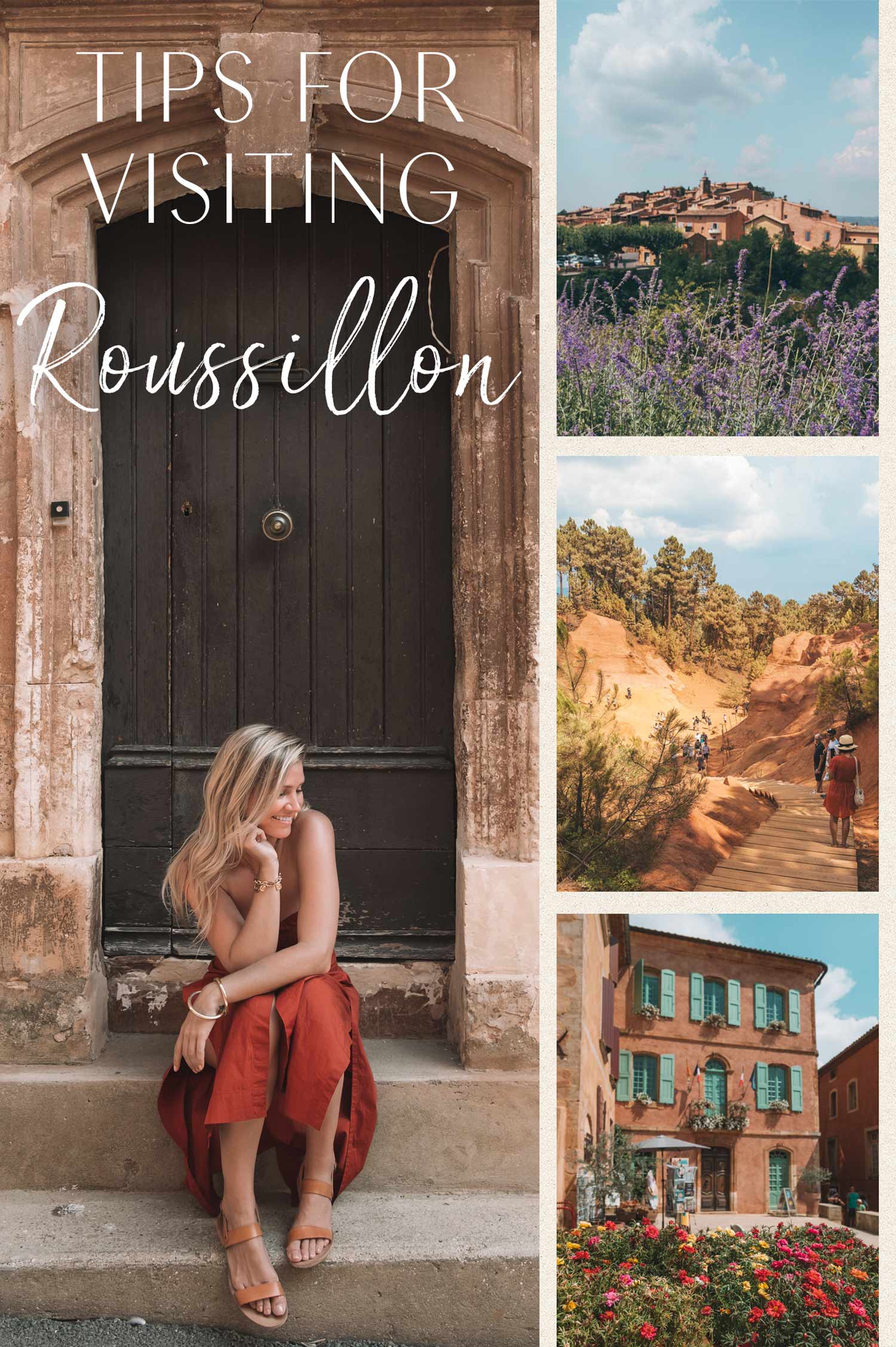 Roussillon is a tiny colorful village in France that's full of picturesque cafes, galleries, and souvenirs. With hues of orange, yellow, and reds to match the nearby ochre mines, it's a must-see stop on a road trip through the Provence region.
During a day of exploring the region, I started my day at the nearby village of Gordes, then made my way towards Roussillon to wander past the ochre trails, galleries, and beautiful buildings.
Ready to discover this picturesque hillside French village? Here are my tips for visiting Roussillon!


Getting Around in Roussillon
If you're driving through the Provence region, it's easy to find parking in Roussillon. I parked by the secured lot at the top of the cemetery, and it was a quick walk down to the center of town.
However, if you're visiting during France's high season (June to August), parking will be difficult to find. Instead of driving around trying to find a free parking spot (which is rare), it's easier to budget for a €2 parking spot for the day.

The Roussillon Market
One of the highlights of my trip to France was all the markets I got to visit. If you're visiting Roussillon on a Thursday, there's a small market that's open from 8 am and has over 30 vendors.
You can buy items like:
Fresh fruit and vegetables
Soaps
Wines
Household Goods
Clothes
Charcuterie Products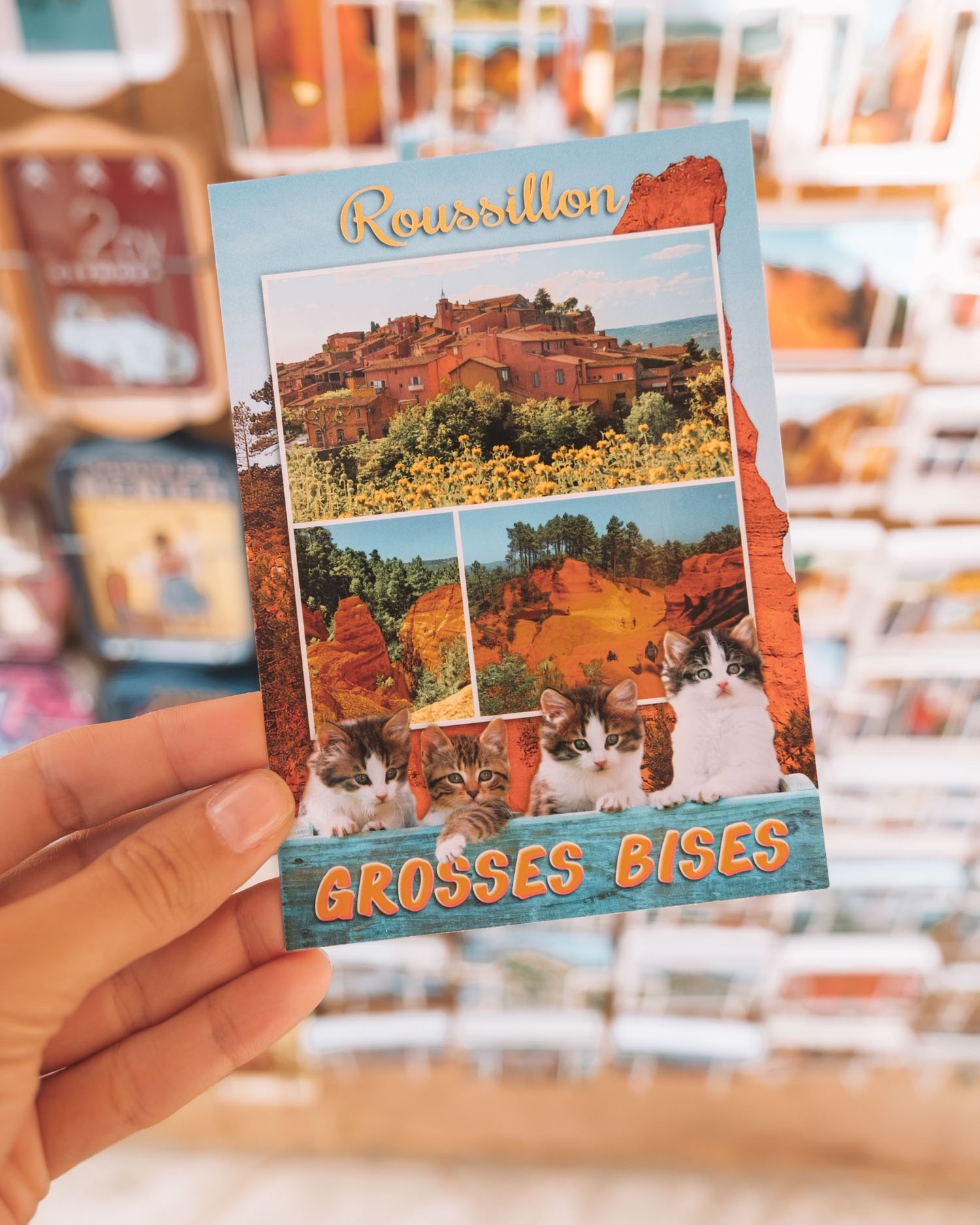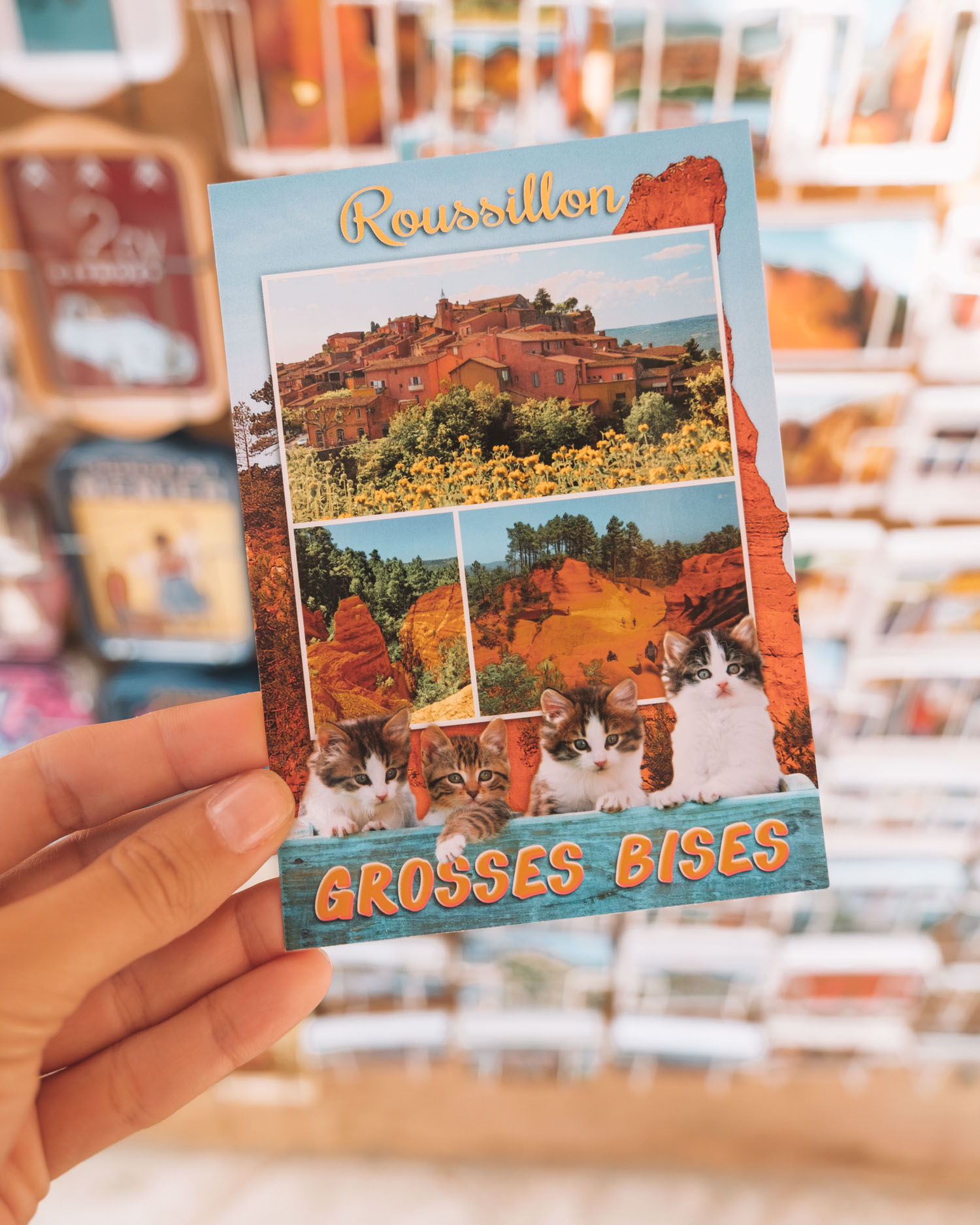 Where to Eat in Roussillon
Roussillon is perfect for people watching. The town has no shortage of charming cafes and restaurants that serve up delicious local and international cuisine.
La Grappe de Raisin: La Grappe de Raisin offers a French/European lunch and dinner that is phenomenal and affordable. The terrace overlooks Roussillon, making it one of the most beautiful restaurants in the village.
Restaurant David: Restaurant David is a fine dining restaurant that offers breakfast, lunch, and dinner with a view of the ochre cliffs that change color when the sun sets.
Cafe De La Poste: If you're looking for something a little more casual and a little less expensive for lunch, head over to Cafe De La Poste. Situated in the main street next to the square, it's a quintessential French cafe where you can enjoy croissants, pastries, and a good cup of coffee.
Chez Nino: Chez Nino is a little piece of Italy in the French countryside. The bruschettas, bolognese, and lasagna are absolutely delicious! If you're visiting during the summer and want to sit out on the terrace, you'll need to make a reservation before you arrive.
La Treille: La Treille serves up a simple French and Mediterranean menu. Along with delicious food, they take pride in offering great service, and they are experts when it comes to helping you choose a wine to pair with your food.


Where to Stay in Roussillon
I visited Roussillon for the day and didn't stay overnight. However, there are lots of cute options for accommodation!
Airbnb: Roussillon has a wonderful selection of Roussillon has a wonderful selection of Airbnbs options, perfect for solo travelers or large groups. Most options in Roussillon will only cost you around $50 to $100 a night. Whether it's a B&B, apartment, or villa, there's something for everyone and every budget.
Le Clos de la Glycine: Le Clos de la Glycine is a boutique hotel located in the heart of Roussillon. It boasts picturesque views of the village, the red cliffs, and the valley. Each room comes with AC, free WiFi, and charming Provencal decor. A continental breakfast is served every morning under the wisteria or the comfort of your guest room.
Mas Destonge: Located 2.7 miles from the Ochre Trail, the property of the Mas Destonge offers a garden, a terrace, and a shared lounge, an outdoor swimming pool, and a shared kitchen.
La Coquillade: If you're looking to splurge while in Roussillon, book a stay at La Coquillade. The property is located just outside of the town and features an on-site spa, restaurant, and a massive outdoor pool.
Some links in this post are affiliate links—at no extra cost to you, I earn a small commission if you purchase products through these links. Additionally, as an Airbnb Associate, I earn when you book through these links.

What to Do in Roussillon
Ochre Trail: The ochre quarries and cliffs have made Roussillon one of the most famous sites in the Luberon region. You can stroll past the red and gold landscapes and take in the town's beauty. The walk only takes about 30 or 60 minutes depending on the trail that you choose.
Walk the Town: There's so much to see in Roussillon by foot. Because the village center is pretty small, wandering the streets won't take you very long. A couple of my favorite things to see are the 19th-century clock and bell tower and the ancient sundials.
Art Galleries: Roussillon is full of art galleries! There are eight galleries around the town, and a few of my favorites were OKHRA and Valenti.
Visit Place de La Marie: Place de La Marie is also known as the Town Square. There's plenty of shops and cafes around the area, and it's a great place to spot for a bite to eat or souvenir shopping.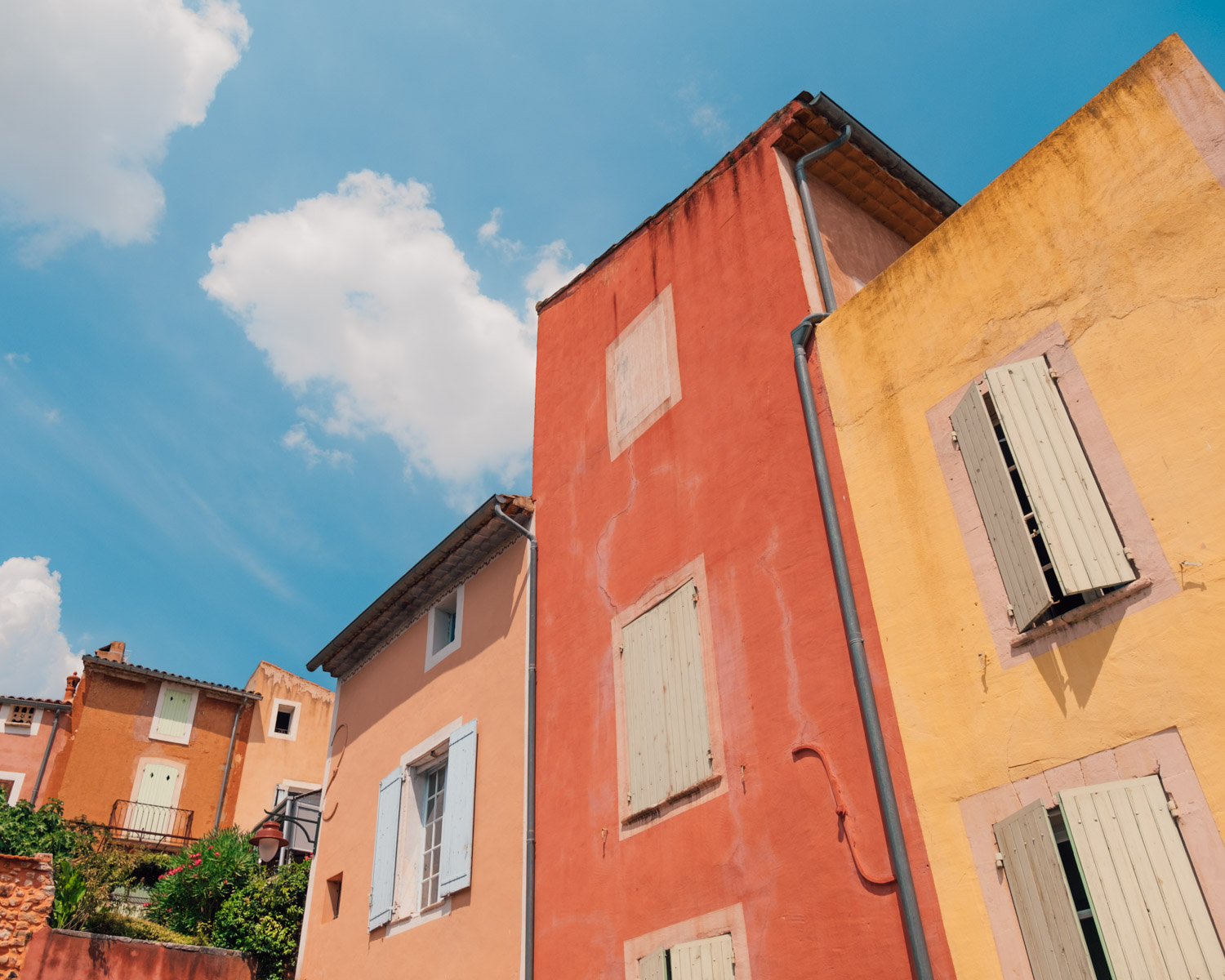 Overall
Roussillon is straight out of a fairytale, making it the perfect pit stop on your French road trip. With a local market that can't be beaten, colorful cliffs that are out of a painting, and cafes galore, you'll never get tired of exploring the village.

Are you planning a trip to Provence? Let me know in the comments below!